W4x200Fr – China Lead Rush Under World Record Ahead Of USA & An Aussie Conundrum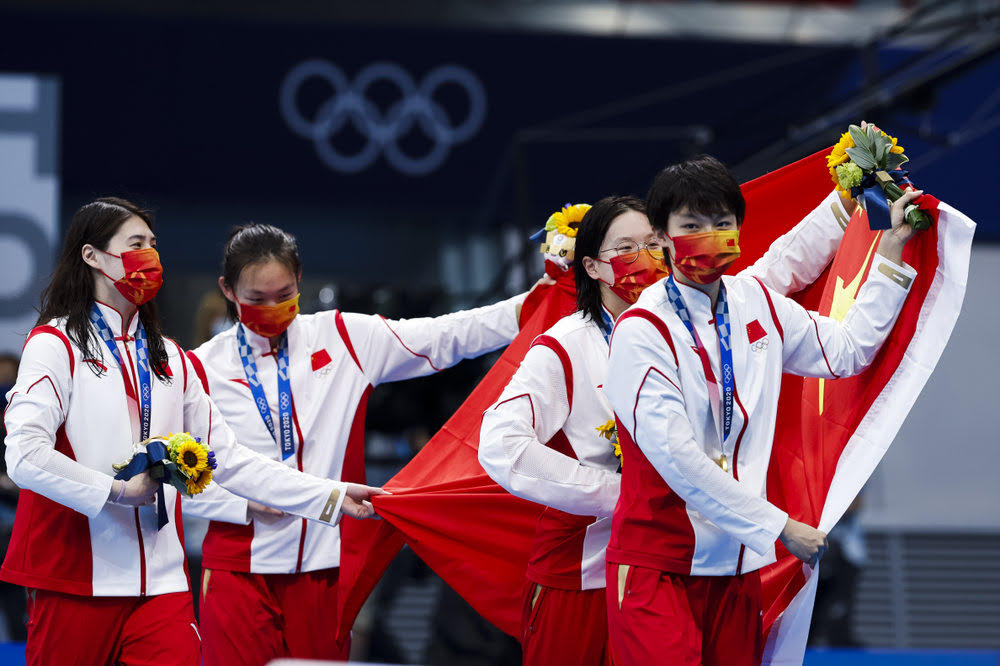 Don't blame the athletes – sterling job, from all podium placers – such speed; such a scrap; such raw racing as China topped a battle of belt and braces, rolled-up sleeves and knuckles exposed: 7:40.33, World record. USA next home, 7:40.73. Then Australia, 7:41.29.
The old global standard, set by Australia at Gwangju 2019 World titles was felled by three teams on the clock but only one gets to count as a standard.
But there's this, too: Australian didn't win. China did, the USA came second – and there was a moment you can only hope that all who had a hand in the Aussie relay strategy here in Tokyo today will stare at long and hard in the weeks and months ahead and resolve never to let it happen again.
Katie Ledecky. She of the five golds coming in and three silvers and a gold so far this week. The silvers appear to have been taken as a sign of weakness and waning. Well, if so, Ledecky had any of that well hidden when she came off the wall with 100m to go and took a glimpse across the lane line not unlike Bobby Finke did when inviting the king of pain to park in his bones for 26 second of hell on the road to eternal glory.
Ledecky dug deep and broke into a sprint as if to say "we've got the Aussies". Li Bingjie, of China got it too: having been caught by the American over the first 100m of the last stand, she bolted about the same time. Sharks behave like that when they smell blood.
The fresh meat was thrown into the pond by coaches who apparently thought they'd worked out that a fastest up front, slowest last in descending like the reverse of a great set in training would be the way to go (in the rush, perhaps they forgot the 'ld' at the end of go… ), come what may.
It's the last three words where we find the problem: in Olympic waters, no relay, and certainly no relay order can be planned two years out, as was suggested had been the case by coaches addressing some of my Aussie colleagues. It comes down to the day … and plenty are the results that have quartets and their coaches who seized the day by firing in the right order when others fired in the wrong order.
Look at every lineup either side of Australia on the result sheet and what do we find: the beasts are the bread, the more vulnerable the filling.
With sharks like Ledecky, Li and a fair few others who are dangerous even without a hunt and lethal in one, the team facing them must surely weigh up every possible best-scenario and calculation recall not imagined, based on what's trending and how that may change the dynamic of the fight and what you might be do to mitigate something you can only see when an Olympics is underway and patterns start to form in the water.
Look at the number of "contenders" who didn't make finals in Tokyo – like Pink Floyd's lunatic, every day … brings more.
Australia looked a shoe-in for gold but then paper exercises rarely work out quite the way they're written, especially when the writer his using a crystal ball for a desk.
Swim fans far and wide have called these Olympic Games far too fast. That's fine. They're fans and what they say will happen is often simply what they want to happen.
What actually happened is what counts but there is one set of people who must have rune-reading skills second to none. No, not fans, media but coaches in charge of relays.
Here's what actually happened:
China weighed in to battle with its heavyweight from go, Yang Junxuan, up against Ariarne Titmus, newly crowd 200 and 400m champion as the rival who ended the Ledecky winning streak, and the United States put up Allison Schmitt from go, the London 2012 200m champion.
Yang, 1:54.37, Titmus 1:54.51 (it's been a heavy week and there's more to come); Schmitt, 1:56.34.
Next in: Tang Muhan, 1:55.00; Emma McKeon, 1:55.31; Paige Madden, 1:55.25.
Next in: Zhang Yufei 1:55.66; Madison Wilson, 1:55.62; Katie McLaughlin, 1:55.38
So, we come to the last shift with Ledecky staring at a deficit of a slither under 2sec, China and Australia level.
Li Bingjie, 1:55.30; Ledecky 1:53.76; Leah Neale, 1:55.85.
As said, not a single athlete in any of that has any reason to bow their head. Some were off their best best by 1-2 secs. Hardly unheard of and not all that unexpected at a Games that have delivered a specific set of challenging circumstances.
Bottom line: What a race!
Worth noting this, too: Summer McIntosh, Rebecca Smith, Kayla Sanchez and Penny Oleksiak: a Canadian record of 7:43.77.
And in the mix, this: Zhang Yufei has become the first woman to race (unassisted by a garment) inside 2:04 over 200m butterfly for gold earlier in the session. In order not to distract her, the story went, she was not told of her inclusion in the 4x200m relay until after her 'fly final and only then could she get her head – and body – round it. Said Zhang:
"I didn't know I was doing it until I'd finished the 200 butterfly and our coach told me, 'you're in the relay'. I didn't even know how to swim the 200 free, although I have the training qualities and levels for the 200 distances. At the Chinese National Championships, I went very fast, so maybe that's why the coaches asked me to join the relay."
Good tale but Zhang raced heats of the 200m at trials in order to lay down a relay standard and Chinese swim fans were including the 4x200m in her well-boasted seven-event program here in Tokyo. Zhang surely had an inkling.
Here's Australia's question to answer and mistake:
Q: Did all the other main teams get it wrong and have they been doing so for all these years when it comes to beats ups front and back?
M: Mollie O'Callaghan, 17. Heats, 1:55.11 lead-off. Australians could have been 1.5sec faster in all likelihood.
The coaches let that chance slip.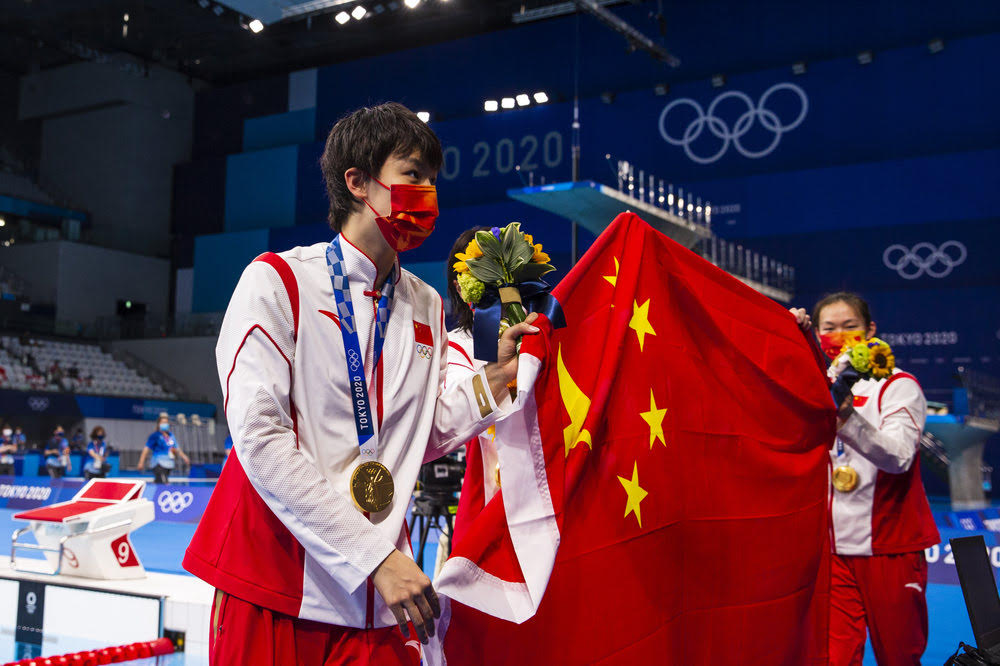 The Result:
CHN 7:40.33
USA 7:40.73
AUS 7:41.29
CAN 7:43.77
RUS 7:52.15
GER 7:53.89
HUN 7:56.62
FRA 7:58.15