Katie Ledecky Vs Ariarne Titmus – The Heart Of USA Vs AUS Battle In The Tokyo Tank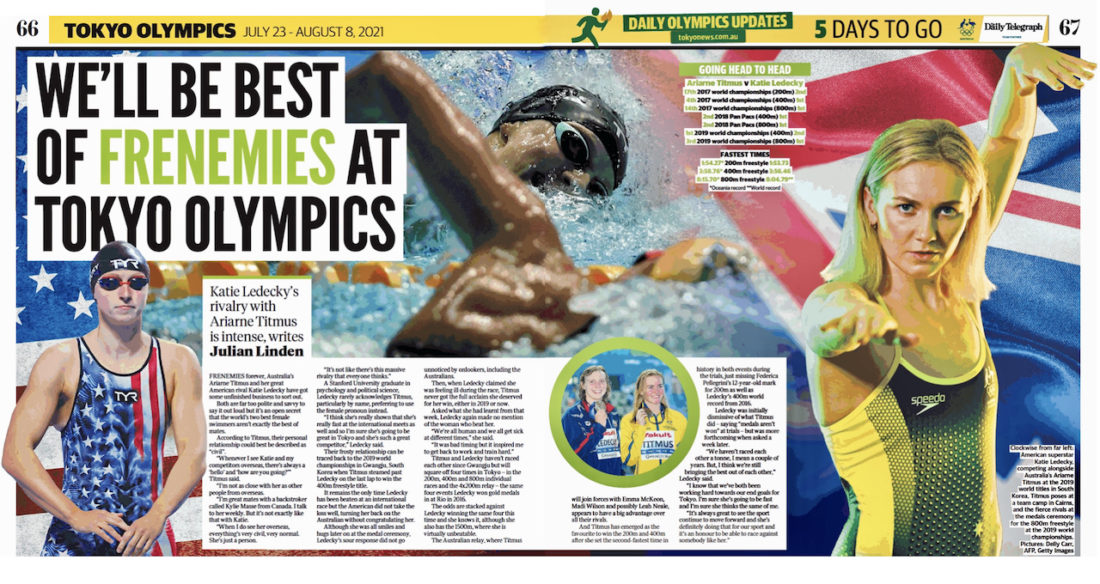 Katie Ledecky Vs Ariarne Titmus and Caeleb Dressel Vs Kyle Chalmers are the billboard posters for the brewing clash of aquatic armies from the United States and Australia at the Tokyo 2020 Olympic Games.
The USA and AUS have topped the medals table, in that order, at four of the past five Olympic Games, while Melbourne 1956 was the last time Australians got the better of Americans in the ultimate arena for their sport. Down a level and Fukuoka 2001 World Championships marked the last time Australian defeated Americans on gold count at a global gathering in the pool.
Omens don't have much to say in performance sport, where champions make their own luck and build their own fortune over years of sweat and tears, test and toil. Still, Australians have fared well in Japanese waters, as have Americans, despite the silver lining on gold count at Fukuoka 2001 adrift an Aussie triumph delivered in the days of Don Talbot at the helm of a team with powerhouses Ian Thorpe and Grant Hackett firing on full power.
Thorpe and Hackett, like Phelps and Ledecky 2016 and Ledecky and Dressel in 2021, packed a 1-2 punch for their nation that hauled in medals in measures that the vast majority of other nations can only dream of when they contemplate historic medal counts for their countries.
In Tokyo, the outcome of Ledecky Vs Titmus and Dressel Vs Chalmers will be one of several game-changers in the balance of battle. It will not only come down to how they fare against each other, of course: it only takes a Pellegrini to go out with a bang or a Popovici to arrive with a bang to shift the dynamic of any duel that may blind us to six other fast folk in a final.
That said, the looming tussle in the women's 400m freestyle is a standout on the program in Tokyo and one that, from day 2 of finals on Monday July 26 could tell us in definitive fashion which way the wind is blowing.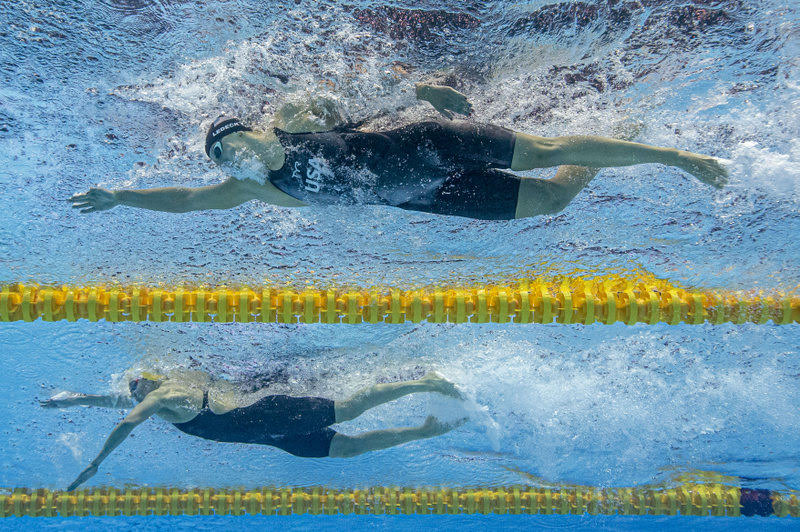 Ledecky could take six medals home from Tokyo, depending on her form and relay choices yet to be confirmed, perhaps not yet made because the flow of the meet and the form of individuals must be known before quartets can be finalised. It is fairly easy to pencil the American in for a Shane-Gould tally of three gold, a silver and bronze if things go really well, not perfectly.
Imagine Titmus is in the form of her life around her trials times, however. The 200m is probably her's at 1:53.09 (no guarantees, of course), while if both American and Australian are in 3:56 form on the day, a couple of 3:55s might be the result given the fight in both women.
Impossible to call. Best left to the day and the battle. Whatever pans out, the Ledecky Vs Titmus battle will play a significant role in the balance of strength USA Vs AUS. There's Kaylee McKeown on backstroke, Emma McKeon and Cate Campbell on sprint freestyle, Kyle Chalmers and Elijah Winnington on freestyle high own the list of key swing events, while pockets and American strength and Australian relative weakness as well as the reverse, where Australians have the edge on the form guide. But the Ledecky Vs Titmus bouts carry a billboard punch that reaches into the realm of game-changer, either way.
The perspective of both athletes heading into the

Ledecky

Vs

Titmus

fight:

Unusually, the U.S. and Australia trials overlapped. It meant that Ledecky, her focus on what she needed to do in Omaha, paid scant attention to the amazing times Titmus was delivering in Adelaide.

Beyond trials, Ledecky did acknowledge the "awesome" trials efforts of Titmus but Aussie media have noted that "she never refers to her by name".

Ledecky's singular focus on what's "in my control" and the job she came to do has been part of her phenomenal success story and energy management role-modelling since she claimed an upset 800m freestyle gold as a 15-year-old at the London 2012 Olympics.

At Rio 2016, she added gold in the 200m, 400m, 800m and 4x200m free relay, with a silver in the mix as part of the 4x100m free quartet that finished second to Australia's world-record breakers.

Ledecky has insists she won't be worrying about what her rivals have to bring. Even so, she's very much aware and appreciative of having a genuine rival in the Australian nicknamed "The Terminator" (in Germany, she's been described as the Tasmanian devil).

"I can't control if someone has some really fast swims and beats me and things like that," Ledecky said. "So I just tried to focus on my goal times and how I want to swim each of my races."

The 400m is the first freestyle battle of the Games and the new 2019-2021 form guide promises a thriller. Ledecky holds the World record at 3:56.46 and has had a comfort zone of at least 3-4sec over the best of the rest for most. Of the years since her World-title breakthrough over eight lengths in 2013.

Titmus inflicted the first defeat on Ledecky since when she took the World crown in Gwangju in 2019. Then at Australian trials last month, Titmus gave warning that she's after the big one, with a 3:56.90. No-one has come remotely that close to Ledecky ov er 400m on the clock in her eight years as queen of eight-length pace.

Said Ledecky of Titmus's blistering efforts at Australian trials, including a 1:53.09 World textile best over 200m:
"It was so awesome to see. It's always great to see the sport continue to move forward and she's definitely doing that for our sport."

Katie Ledecky
Owner of the 23 fastest 800m free times in history, Ledecky remains a heavy favourite in that event and in the 1500m, in which she has the best 11 efforts ever.
Victory over 30 lengths would make the winner the first Olympic 1500m champion among women ever, the event one of three new races on the schedule in Tokyo, along with the 800m for men – delivering gender parity in events for the first time in Olympic swimming history – and the 4x100m Mixed medley, ever – delivering the first Olympic race in which men and women will race together.
The Legacy of Ledecky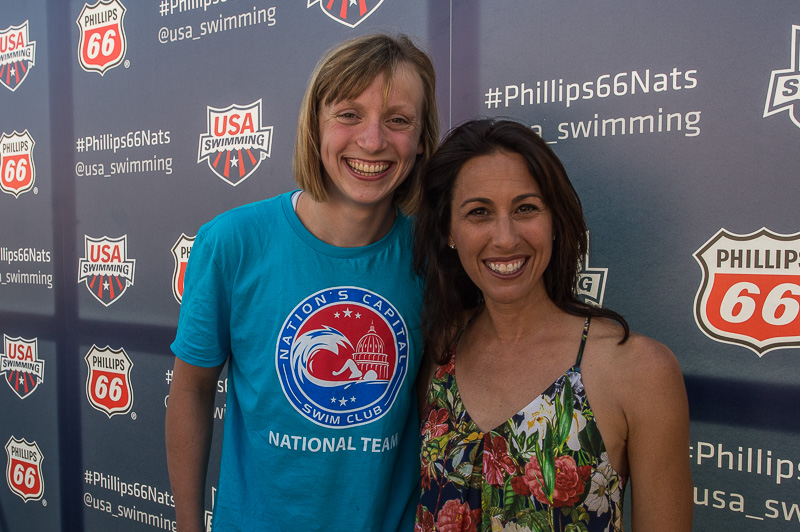 Ledecky would extend a legacy of American greats in swimming down the years, Jane Evans the standout on freestyle before her, in the mix a 4:03.85 World 400m record for gold at Seoul 1988, a standard that stood until France's Laure Manaudou, the 2004 Olympic champion from France, finally felled it with a 4:03.03 at French nationals in May 2006.
Recalling Evans, Ledecky said: "Hopefully we can do her proud in Tokyo."
The addition of the 1500m grants freestylers yet one more chance at medals, while all additional events render historic medal-haul comparisons incomparable. Some measures remain: victory over 800m for Ledecky would grant the fourth ticket in history to the Triple-Crown Club of 'threepeaters': after her wins in 2012 and 2016, she would join the exclusive lounge occupied by Dawn Fraser, Krisztina Egerszegi and Michael Phelps.
Meanwhile, what the 1500m also does is ensure huge programs for a handful of women who could make the medals across the 200-1500m range, Ledecky the only one who is a medal prospect in all of those distances. Unphased and a World champion over all distances 200 to 1500m during her reign, Ledecky, the ultimate endurer of multi-distance challenge, says:
"I just like the work that you have to put in to be good at that race," Ledecky said. "It requires really good pacing, probably more so than the 800, just being cautious up front and knowing how much you can push it."
Michael Phelps, he of 23 golds atop 28 Olympic medals, summed it up like this: "She's challenging her imagination and that's awesome to watch."
Ledecky's uncle Jon (also Ledecky) is American businessman and a co-owner of the NHL team New York Islanders and their AHL affiliate Bridgeport Islanders. His niece has long felt at home in the company off big sports stars.
In 2020 she tweeted a "family video" of herself as a toddler, as NBA great Michael Jordan played peek-a-boo with her in the owner's box of the NHL's Washington Capitals, which her uncle Jon Ledecky co-owned until 2001.
"My family always laughs at the fact that I've always been relaxed in those environments … not fazed by anything," Ledecky told the New York Post.
Coach Greg Meehan said attention to detail is key for Ledecky as she strives to stay ahead of the chasing pack. "We're trying to find the little things that she can constantly get better at and use that as a good motivating tool," Meehan said.
Ledecky doesn't spell it out but she will bypass the hype and stick to the goal she has set herself: "The most important expectations are the ones that I have for myself. I do a pretty good job of sticking to those and not seeing what kinds of medal counts or times that people are throwing out about what I could accomplish if everything goes perfectly."
Titmus: Ledecky Is The Champ To Chase Down
Perfection for Titmus would to be "absolutely at my best form. Emerging from a sensational trials effort, Titmus said: "I was quite happy with my performances. I didn't expect to swim as fast as I did in one of my races. The biggest thing for me is looking at where I could still try and find improvements. I'm going to have to be absolutely at my best form to obviously win this. Katie's in the field and she's the reigning Olympic champion so it's going to be a tough one to get my hand on the wall first but I definitely hope that I can be in the mix.
"Routines are important but if they get put out of whack a little bit, it's not the end of the world. So I think that that's been really great for us mentally."
Asked about the "rivalry with Ledecky, Titmus replied: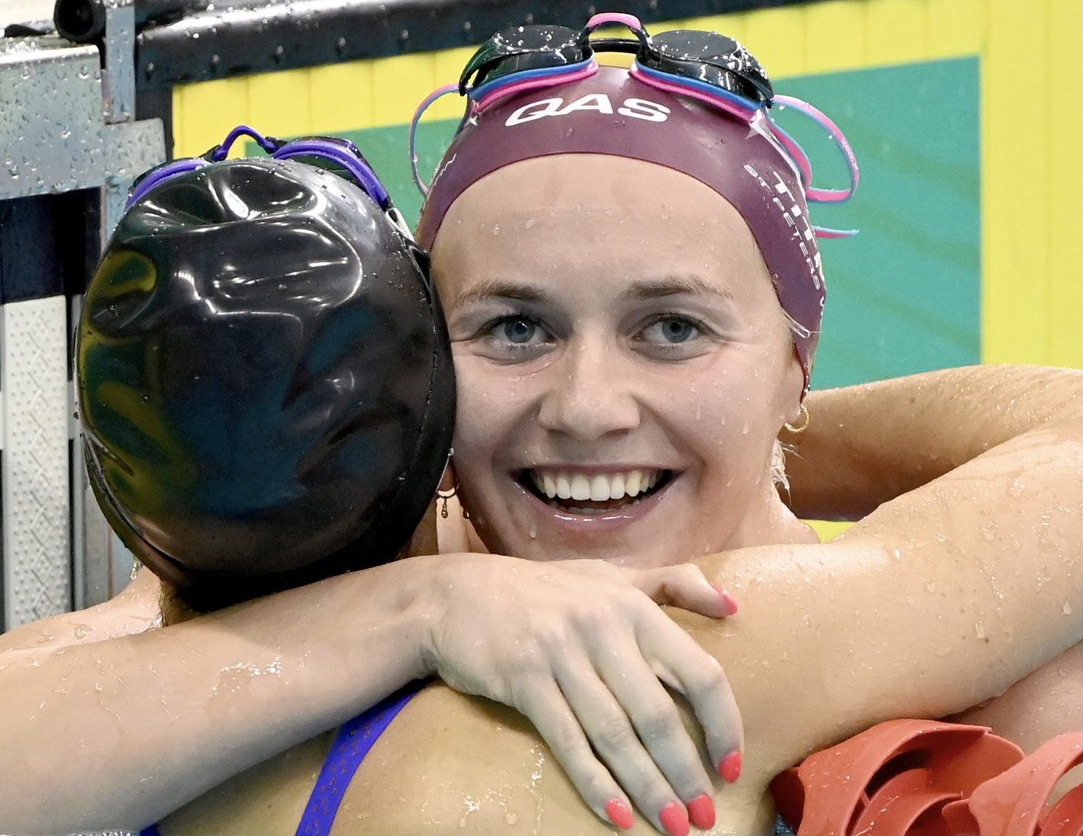 "I think you guys like to play along with it like it's a nice story for everyone. I obviously have to look at Katie and see what she's doing. I'm her number one competitor at the moment. But for me, I just think about what I have to do to be able to perform my best. She's just another swimmer in the field that I'm going to be racing so I'm just thinking about what I have to do. And I still believe that, I'm going into my first Olympic Games. I'm unsure what to expect. I'm not the reigning Olympic champion. And it's still going to be very high pressure for me. So I still feel that she has more experience in this than I do. And I try to look at it that way.

"I'm definitely still saying I'm the hunter. She has way more experience than me in this competition. This is her third Olympic Games and she's dealt with the pressure before and I'm kind of coming into unknown territory. I've obviously been to world championships and become world champion. But I think Olympics is another level and these Olympics especially are going to be even more distracting. I think there's going to be more distractions than ever. So I think it's going to be tough to manage that, but I think all of us will be able to handle it."

Ariarne Titmus – courtesy of Swimming Australia
The matter of Ledecky not using her name is raised. Says Titmus: "Whenever I see Katie and my competitors overseas, there's always a hello and how are you going? And everything's very civil and I get along with her. I mean, I'm not as close with her as other people from overseas. I'm great mates with a backstroker called Kylie Masse from Canada. And I talk to her weekly. But it's not exactly like that with Katie. But when I do see her overseas, everything's very civil, very normal. She's just a person. It's not there's this massive rivalry that everyone thinks."
Did Titmus feel the weight of the nation on her? "I think that the pressure that I put on myself and my coach puts on me to perform is higher than the pressure that I feel from the public," says Titmus. "And honestly, I don't know whether it's something in my mind or the way I am, but I don't feel the pressure too much like I see things and read them but I just kind of go like, 'oh, yeah, whatever'. They're not the ones that have to do the race. And I kind of look at it that way.
"Pressure is a privilege and it's something that I have to use to help me sswim fast that I have to use my nerves as well. And I know that when I'm nervous and excited it means that the race matters and I'm going to get the best out of myself when I feel that energy. So I just have to take it all in and utilise it as best as I can and hope that I could perform for our country."
Titmus, who trains under the guidance of Dean Boxall in Brisbane, would be celebrated back home in Tasmania among an elite group of standout Olympians, while god would be a first. However, when asked for her thoughts on "pressure" and "back home", she says: "Honestly, thinking about records or stats like that doesn't motivate me. If that's the thing that motivates me, then I think, I'm in the wrong game here. I'm worried about trying to become an Olympic champion because it's my childhood dream and it's something I want to achieve for myself, my coach, my country and my family. And I mean, to do it as a Tasmanian and be the first one would be unbelievable. But that's definitely not the end of it all."
Could she really get to Ledecky and beyond her? Titmus smiles and says: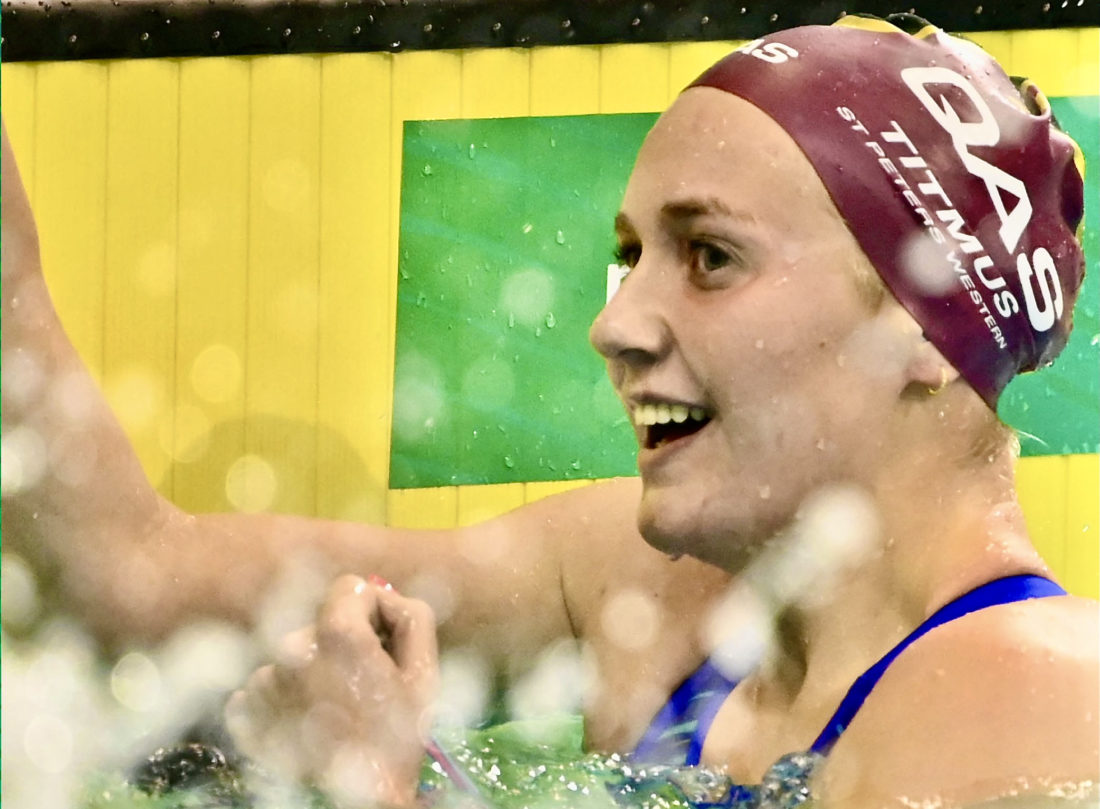 "You like to know everything, but I'm not going to be able to give all the secrets away. We've definitely looked back at all the races thoroughly with my team, and there are a few little things that I can hopefully fix. One thing was that I was slightly circling the line, which is really stupid. So I'm sure I can pick up a little bit of extra time there. But there's obviously things that I want us to be working on, my skills has being something that I've been trying to fix for the past few years and they're definitely on the improve.

"They were definitely better at trials, but I still think that I can squeeze a bit more out of them. I also think that when I have someone next to me, hopefully the race will help me swim faster. It's very tough to be out on your own and kind of you have to run on instinct and understand where you are by feeling. So having someone next to me, I hope it will push me along, even more."

Ariarne Titmus – courtesy of Swimming Australia
Olympic Debut
Tokyo will mark Titmus' first Olympic Games but as she notes: "Even though this is my first Olympics, I've actually been on the team since December 2016 so I feel like I've definitely made my way into the team and I feel comfortable with everyone and I feel like I can play a role in the team and try to be my best for the team and that's something that's really exciting."
She looks back at a steep learning curve and arrival in her 20s feeling like the experience others are looking up to: "When I first made the team I was 16 years old and I was quite young and naive and looked up to other people, but now it's crazy to think as a 20 year old, I'm now someone who's kind of like, what do call it, a resident on the team? But it's nice. I feel like the whole team is very close.
"Looking back on world championships 2019, I think that was the best team I went away on. And I think the reason why we were able to perform so well was because of the closeness of the group and not just the swimmers but with the staff and the coaches. And I feel that same energy on this trip. And I think that that will help us perform our best."
On your marks … set …