Brits & Canadians @Tokyo2020: Sprint Relay Fight For Medals Ahoy As Willmott & Litchfield Check Into 400IM Finals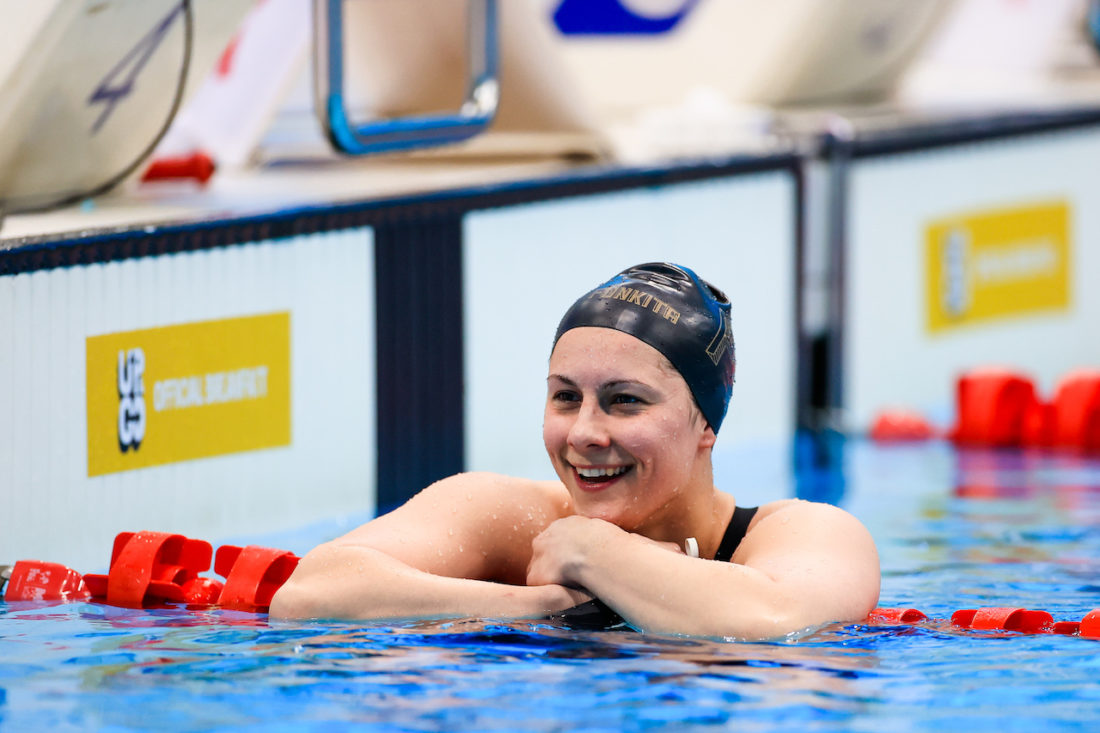 Aimee Willmott and Max Litchfield booked tickets to their respective 400m medley finals and the TeamGB Women's 4x100m freestyle relay quartet cracked the national record to go through to the showdown in fourth spot on the opening evening of heats at the Tokyo 2020 Olympic Games.
There was 57.56 from Adam Peaty at the helm of pace in the 100m breaststroke, too – and the man who took silver behind the Olympic champion's gold at World titles in 2019, James Wilby, went through to the final as a member of the sub-59 club, on 58.99.
Summing up after his opening swim, Peaty said: "Very fast, very solid. You know it's a bit weird when you come to an arena like this, you never know where you're going to be – you can do all the preparations you can do but tonight it was all about shaking the cobwebs out, and I haven't done something like that in a long time so I'm looking forward to seeing where we can build off that."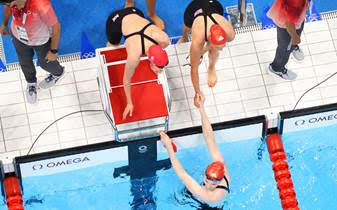 Having broken the British record at the European championships in May, the relay quartet of Lucy Hope, Anna Hopkin, Abbie Wood and Freya Anderson (right) combined once again in the final event of the opening session of swimming at the Tokyo 2020 Games – lowering the British marker to 3:34.03.
That meant, of course, that the quartet of Kim Busch, Ranomi Kromowidjojo, Marrit Steenbergen and Femke Heemskerk (51.90) were faster today in heats, on 3:33.51, than they were when racing to silver at Europeans, while the Canadian relay looked strong too, 100m defending champion Penny Oleksiak splitting a 52.38 (see Canadian report below) to bring the Maple squad home in 3:33.72.
Hope set the foundations for the Britain team with a solid lead off, with Hopkin and Wood putting in a tremendous shift before Anderson anchored the team home at the helm of heat 1.
British Swimming noted: "A stern test awaits in the final". Hopkin summed up the delight of the team at getting their Olympic campaign in positive form, saying: "It seems like we've all been itching to get going so yeah happy with that. I think it's nice going out as a four for the first race on the first day so we can all support each other."
Wood said: "It's a first Olympics for us all, so I think to have that first race out the way settles any jitters and it's really quite nice to do it with the team. We're trying to treat it like any other meet in like a good way, and with the confidence coming off the back of Europeans it doesn't seem as scary a stage to be performing on as it might have done a few years ago."
In the 400IM, Max Litchfield and Brodie Williams were the first members of TeamGB to take to their blocks in Tokyo. Litchfield, coaches by Dave Hemmings, lost his Commonwealth record of 4:09.62, to Kiwi Lewis Clareburt, before Australian Brendon Smith took it on a touch further down towards a crack at sub-4:09. The final may see that happen – and possibly by more than one of the three top 400IMers in the Commonwealth.
Speaking after confirmation of his finals place, Litchfield said: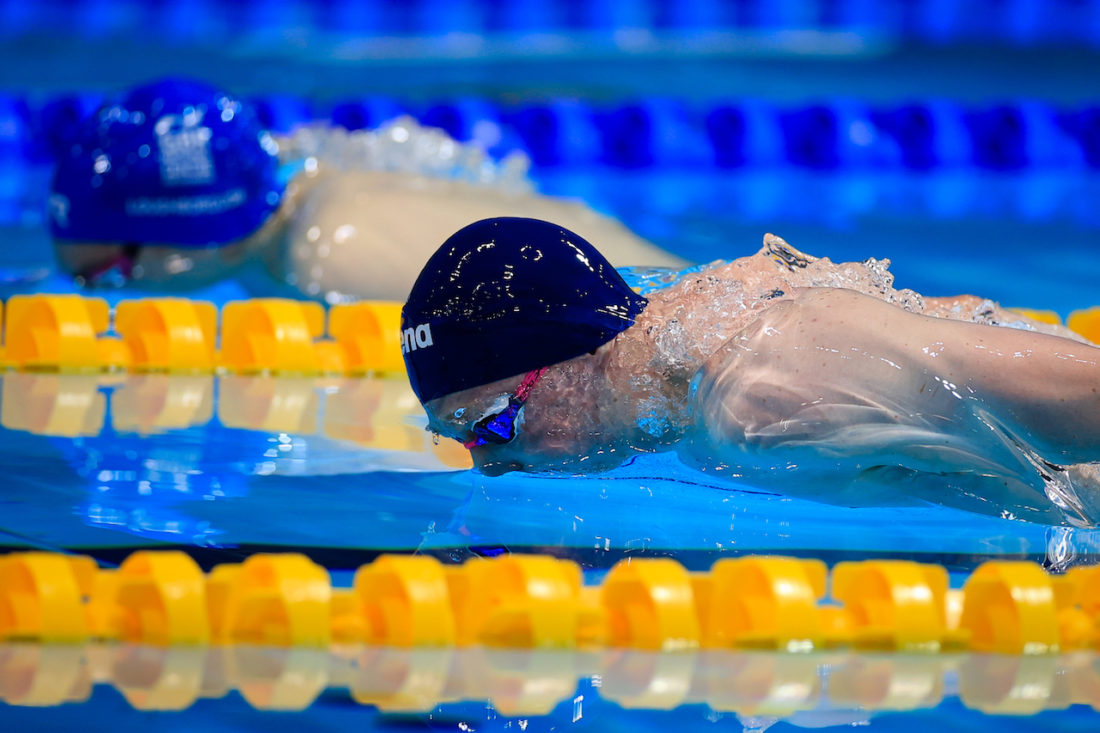 "I think I was more nervous waiting at the end there than I was for the race! I'm just happy to be through there, it wasn't I don't think my best swim but good enough and that's all you need in a heat. We'll look at the race footage and at how my splits paced out and then see what we can do in the morning. It is different preparing for a morning finals, we've practiced it so I know what's coming and it's going to be a dogfight as it's pretty close there."

Max Litchfield – by Georgie Kerr, courtesy of British Swimming
Williams, making his Olympic debut, was short of the personal best he set in April. He'll be back in the 200m back later in the week.
Competing at her third Games, Aimee Willmott, coached by Steven Tigg, went through to the final of the 400IM in second place with a solid 4:35 effort. Willmott emerged to say: "I'm chuffed, I knew I had to get in and just swim as fast as I could – didn't have a clue where that was going to put me, I just know I couldn't leave anything left. So to finish and see the scoreboard flash up as second was obviously a nice surprise, but I'm almost going to park that and not even think about it. I'm just going to go to bed, come back tomorrow and race again."
Saturday's session also saw Harriet Jones and Kieran Bird make their debut Games appearance. Bird placed 20th in the Men's 400m Freestyle ahead of his 'targeted' 800m Freestyle later in the week, with Jones ranking 21st in the Women's 100m Butterfly.
Describing her first Olympic experience, Jones commented: "It's hard to prepare for, but I just wanted to stay relaxed and take it all in. The whole experience was enjoyable, and just racing here was a big thing and it leaves me wanting more for sure."
British swim fans: set alarms for 2.30am for live coverage on Eurosport and Discovery+. BBC One, BBC Red Button.
Swimming CANADA writes:
Canadian women start off strong in Tokyo pool
After a year's delay, Canada's swim team finally dove into competition at the Olympic Games. Canadian women, including a World champion and a relay, bookended Saturday's opening preliminary session with strong performances at the Tokyo Aquatics Centre.
First up for Canada were two women in the 100-m butterfly. World champion Maggie Mac Neil (HPC – Ontario/London, ON) swam in 56.55, the fastest time of her heat, ranking in fifth for the semifinals, which will take place on Sunday morning at the Tokyo Aquatic Centre. (Saturday evening in Canadian time zones).
"It was good to come out and get my first race under my belt, see what I can improve. I feel like my second 50 wasn't as strong as I would like, so that's the goal for tomorrow. I'm really inspired by Penny and Taylor after seeing what they did in 2016, knowing they are my age. It gave me chills and it's really exciting to be here with them," commented Mac Neil.
Katerine Savard (Club Aquatique Montreal/Pont-Rouge, QC), who recently started swimming the event again after a few years focusing on freestyle, swam in 57.51, her fastest time since 2015. She qualified for the semifinals in 11th place.
"I'm really, really happy. If anyone had told me a year ago that I would swim the 100 fly in the Olympics semifinals, I wouldn't have believed it. I was swimming in the outside lane, I couldn't see the other girls, so I was really able to focus on my own race. I'm trying to make the most of my third Olympic experience and live in the moment," said Savard.
The women's 4×100-m freestyle relay team finished the session by posting a time of 3:33.72 in the heats, ranking them in third place heading into the finals, behind Australia (3:31.73) and the Netherlands (3:33.51). Kayla Sanchez (HPC – Ontario/Scarborough, ON) started off the relay in a personal best 53.45, followed by Taylor Ruck (HPC – Ontario/Kelowna, BC) in 54.16, Rebecca Smith (HPC – Ontario/Red Deer, AB) in 53.73, and Penny Oleksiak (HPC – Ontario/Toronto, ON) in 52.38.
"I think we just all went out there and did our best to get into the final. We'll definitely have more speed tomorrow after a full night of sleep, we're very excited to see what we can do," said Oleksiak, for who the sprint relay was just one of
"After not having a big meet in a long time, swimming here and seeing the big lights and the big pool make it that much more exciting and made us swim even faster," Sanchez added.
Other Canadians in action were Tessa Cieplucha (Markham Aquatic Club/Georgetown, ON) in the women's 400-m IM, who ranked 14th in 4:44.54, and Gabe Mastromatteo (Kenora Swimming Sharks/Kenora, ON), who swam the men's 100-m breaststroke in 1:01.56 and ranked in 38th place. Both were making their Olympic debut.
No swim for Sydney Pickrem (HPC – Ontario): she entered in the 400-m IM, withdrew from the event due to medical reasons unrelated to COVID-19.