Grousset Gold In 50.14 Puts Frenchman In All-Time Top 5 Year Out From Paris Olympics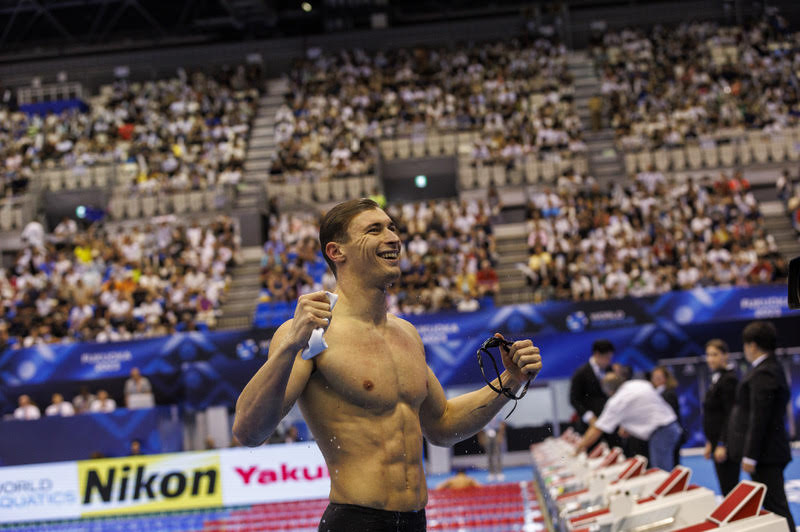 Maxime Grousset rocketed his first World title in his pantheon in a 50.14 French record  over 100m butterfly at the 20th World Championships today, his time the fifth fastest in history a year out from a home Olympics in Paris.
The silver went to Josh Liendo in a Canadian record of 50.34, American Dare Rose taking bronze in 50.46, the absence of Olympic 1-2 Caeleb Dressel, USA, and Kristof Milak, HUN, at the championships and in this race noticeable on the clock but also because of the way the 2023 podium placers responded so well to the open field left to them.
Grousset had already claimed bronze medals in the 50 'fly and the 100 free, while his win delivered a fourth French gold to add to Leon Marchand's victorious march in the 200 and 400m medley and the 200 'fly. That put France in fourth on the medals table and level with the USA on gold count. An extraordinary state of affairs after seven days of racing, relative to historic counts. 
Grousset's profile rises with each passing international, with Budapest 2022 the closest he had come to gold until today: he took silver in the 100 free at 2022 Worlds and then silver in the 50 'fly at the European Championships in Rome later that season.
Second at the turn behind Nyls Korstanje (23.20), Grousset roared into the lead on the way home and with 20 metres to go had done enough: he tightened a touch in the closing metres but the gold was gone by then, Liendo home in a time just 0.02sec inside his own national record set at trials back in spring.
Grousset emerged to say: "Pretty good. I am feeling great…..to be here in Japan and to be a world champion. I am in good shape and good confidence for the next year (ahead of Paris). Let's go."
The Result in full: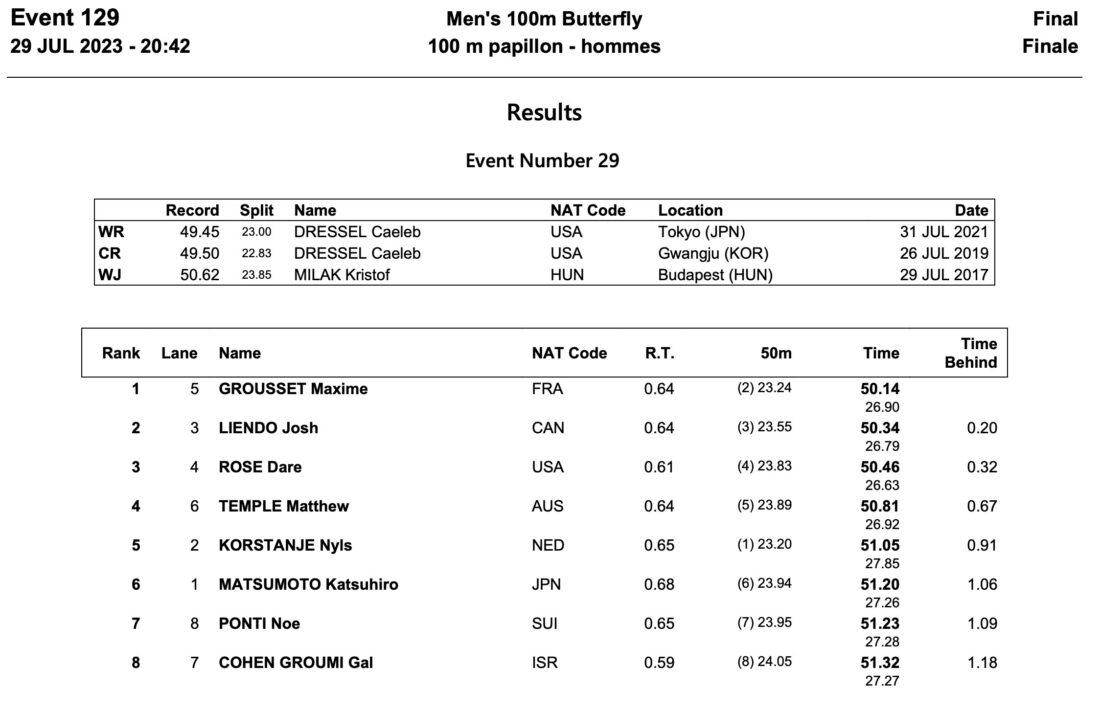 Meanwhile, Liendo, the Commonwealth champion based at the Gators in Florida, pulled out of the 50m free to give himself his best shot in the 100 'fly, both events following the same schedule through rounds and into final.
He was happy with his choice: "It was good. I wanted to focus on this event. Obviously the 50m freestyle was fast and my 50 wasn't that on, so I made the decision to scratch it and go all out on the fly and it paid off. I just trusted my race, trusted my strengths, and I tried to work on stuff that I found were my weaknesses, and I think it paid off."
Liendo, the Commonwealth champion, announced in August last year that he would move to the University of Florida to work under the watchful eye of Anthony Nesty.