2025 Swim Goal: Peaty, Simmonds, Gunning Join Speedo-Backed Campaign To Ensure Every Child In UK Leaves Primary School A Swimmer

Adam Peaty, Ellie Simmonds and Michael Gunning today pledged their support for a joint campaign which aims to ensure that "all children leaving primary school in the UK in 2025 should be able to self-rescue, or swim 25 metres".
Peaty, the triple Olympic champion who in Tokyo last year became the first British swimmer ever to retain an Olympic title, Simmonds, recently retired multiple Paralympic champion and medallist, and Gunning, recently retired former international for Britain and Jamaica and rights campaigner, have joined Speedo, the Black Swimming Association, Swim England and Active Black Country, to highlight the persistent crisis of large numbers of children being unable to swim. 
The barriers to learning and participation in a sport that includes mastering life-saving skills are highest among ethnic minorities and communities in which families struggle to make ends meet, particularly at a time when world events, including the Covid pandemic and Russia's war on Ukraine, are having an impact on economies far and wide.
Research from Swim England shows that:
Only 42% of school children in the most deprived areas of the country can swim
95% of Black adults and 80% of Black children in England do not swim
93% of Asian adults and 78% of Asian children in England do not swim
More than half a million children from ethnic minority communities have missed out on swimming due to the pandemic
In a statement issued today, Speedo notes the following (with some videos added from SOS):
It is estimated that more than half a million children from ethnic minority communities have missed out on swimming lessons due to the Covid-19 pandemic, further highlighting the stark inequalities that the campaign exists to address.
With more than half of Black Country residents living in the top twenty percent of areas of deprivation, the health of people across the region is largely negatively driven by socio-economic status. Schools in these deprived areas are considerably more likely to have lower 25m attainment levels than those in other parts of the Black Country.
1 in 4 children currently leaving primary school unable to swim, and this could increase to 60% of children leaving school in 2025, a figure that has been exacerbated by the Covid-19 pandemic.
Phase one of the Speedo Swim United programme engaged 35 schools and 3,000 children across London to reignite children's interest in swimming through activity packs. Over 1,000 intensive two-week swim courses are also running through the schools, to help those children who need it the most build much needed confidence and skills in and around the water. The programme is now set to engage a further 40 schools in the West Midlands region.
This is informed by Swim England research* showing that one in four children who leave primary school were unable to swim 25 metres. Although swimming is part of the National Curriculum and all primary schools receive funding for swimming lessons, its use is not ring-fenced and therefore at a risk of not being used on this vital life-skill.
To avoid this possibility, which puts so many children in danger, Speedo Swim United is calling on the public to pledge their support along with Adam Peaty, Ellie Simmonds and Michael Gunning to sign the Change.org petition (www.change.org/Speedoswimunited) which asks the UK Government to:
---
Ring-fence funding provided to schools for swimming lessons and include this as part of Ofsted inspections to ensure all children leave primary school able to swim.
Provide urgent support for swimming pool operators to remain open amid rising energy costs and to enable them to increase pool time for swimming lessons and train new teachers.
Invest in community engagement to reach community groups who may face cultural and systemic barriers to swimming
---
The children unable to swim are also most likely to come from low income, Black and Asian backgrounds. The work of the Black Swimming Association is helping to increase understanding of the social, cultural, practical and economic barriers that these children and their families face, which can inform new programmes that are more effective in helping them learn to swim.
Peaty, Simmonds and Gunning pledge their support for Speedo's Swim United programme
The coming together of the athletes and organisations took place in Smethwick, which operates in a region of the UK where all children live half a kilometre from a body of water, yet half of them would drown if they fell in.
Adam and Ellie, who both began their swimming journeys in the Midlands, took to the water with fellow swimmer and Birmingham 2022 Pride House ambassador Michael Gunning, as well as local pupils from The Cape Primary School, to encourage more pupils to engage with swimming and develop this life saving skill.
Children should have access to swimming lessons before leaving primary school
Breaststroke phenomenon Peaty said: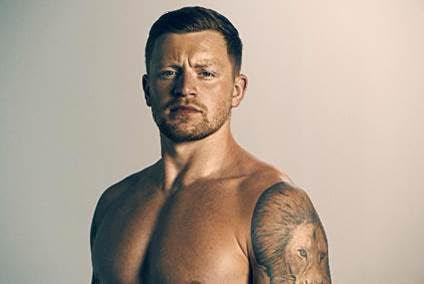 "Swimming is a fundamental life skill and to hear that one in four children leave primary school without being able to swim is a truly shocking statistic which highlights the urgency needed to tackle this rapidly-growing issue which needs long-term, systemic change.

"We have just seen the greatest ever performance from a Team GB swimming squad at the Olympics, but it means nothing if we are not using that momentum to help inspire the next generation of swimmers.

"However, if kids aren't being given the access to swimming lessons at school then they could potentially be left behind. This isn't just about sport or meeting curriculum requirements, it's about physical and mental health and, most importantly, saving lives and safeguarding our children. We need the Government to support campaigns and initiatives such as Speedo Swim United if we are to give ourselves the best chance of success in the future."

Adam Peaty – image courtesy of Speedo
Peaty broke his foot on a recent training camp and will be unable to defend World titles in Budapest this month but is in rehab and recovery with the intention of racing for England at the Commonwealth games in late July and for Britain at the European Championships in Rome in mid-August:
A genuinely life-saving skill
Five-time Paralympic Gold medallist, Ellie Simmonds, added: "I was lucky enough to start swimming at the age of five, and I'm passionate about ensuring that young people are able to develop their skills. Swimming is not only enjoyable and rewarding, but a genuinely life-saving skill, too. I'm excited to be working with Speedo to address the barriers faced by communities which prevent them from taking part in swimming lessons.
"One of the biggest barriers is undoubtedly the associated costs for many families and the easiest way to ensure they have access to the water is through school swimming lessons, which are vitally important for so many youngsters. It is crucial we do all we can to protect these lessons. But it's also important to understand that there are more considerations that vary by community, that influence their ability to learn."

Ellie Simmonds
Swimming needs to be more inclusive for all!
Competitive swimmer and ambassador for Birmingham 2022 Pride House, Michael Gunning said:
"Growing up as a mixed-race boy, I didn't have a swimming hero who I felt I could truly relate to, and it can feel like a lonely place at the top sometimes. I had to overcome many barriers to become a professional athlete in the sport that I love, and my swimming journey hasn't been an easy one.

"After many years of fighting and campaigning to make swimming more equitable for all, it's amazing to see a brand like Speedo join forces with other influential swim organisations to highlight these issues, and act as a catalyst for change. The majority of children who can't swim are from ethnic minority communities and this statistic really needs to change. Swim United is just the beginning and I am wholeheartedly behind driving this change and making a positive impact to the world of sport.

"Success in swimming isn't just defined by winning medals, it's about the character swimming creates and the multiple challenges you overcome along the way.  Swimming is a sport for all, and we all have a chance to be part of that legacy moving forward."

Michael Gunning
Global Brand Director at Speedo, Kev McFadyen said: "Today marks an important milestone in Speedo's Swim United programme as we announce a shared ambition with our partners – the Black Swimming Association, Swim England and Active Black Country. We are calling on the public, swimmers, coaches, teachers as well as other brands and organisations to pledge their support via our Change.org petition. And together we are calling on the UK Government to intervene – a move that will surely save lives.
"In Adam Peaty, Ellie Simmonds and Michael Gunning we have the backing of some the UK's most iconic swimmers, and we also stand shoulder-to-shoulder with these fantastic swim organisations in a shared mission to ensure that 1 in 4 does not become 6 in 10."
To pledge your support for this ambition, sign your name to the petition to Government at www.speedo.com/swimunited and to read more about the work of the organisations mentioned:
ENDS
End of Speedo statement.
Here's co-founder of the BSA, Ed Accura discussing the latest progress in his "Blacks Can't Swim" campaign to show that they can indeed swim but there are specific reasons why they don't, each barrier, be it built outside the black community or within it, capable of being broken down: