Swimming To Put Transgender Inclusion Policy To Vote Of Nations Sunday With Fair Play For Women The Make-Or-Break Issue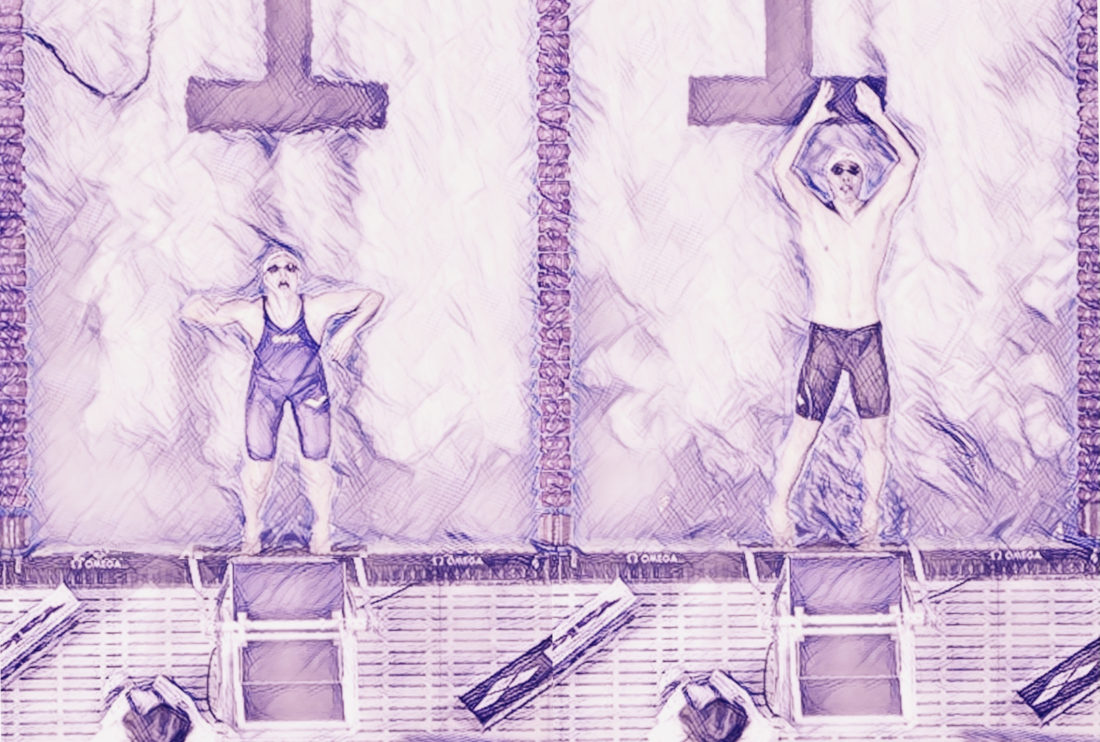 Swimming will become the first Olympic sport to put transgender inclusion and its impact on fair play for women to a vote of nations on Sunday, according to senior sources.
Delegates at an Extraordinary Congress of FINA, the global regulator for Aquatics, were set to "discuss" the issue but senior sources say they will actually be asked to give their verdict on the first version of what the global aquatics regulator intends to an "industry gold standard" on the highly charged issue handed back to International Federations by the International Olympic Committee last year.
While Olympic bosses believe that each sport should formulate rules and policies on transgender inclusion to reflect the nature of their discplines and the strength of argument for keeping male physical advantages pout of women's sport, controversy knows no borders in the debate.
After the International Cycling Union (UCI) issued new eligibility rules for transgender athletes this week, campaigners claimed that the governing body has admitted it is promoting inclusion over fairness for female riders.
The UCI sharpened its rules by requiring transgender women to demonstrate low testosterone levels for two years, rather than one, after transitioning, while the maximum accepted level of testosterone has been cut in half, from 5 to 2.5 nanomoles per litre (nmol/L). That still leaves the level a touch above that which could trigger a positive doping test for a woman: men usually have 10 to 35 nmol/L, while a woman's level is usually 0.5 to 2.4 nmol/L.
That policy ignore the views of scientists who note that testosterone reduction cannot mitigate for a whole range of other male advantages already in place when a boy grows through puberty to a man before opting to transition.
The World Swimming Coaches Association recently submitted a position paper to FINA in which it calls for the women's sports category to be protected and for trans inclusion to mean access to a new "open" category.
The coaches statement includes: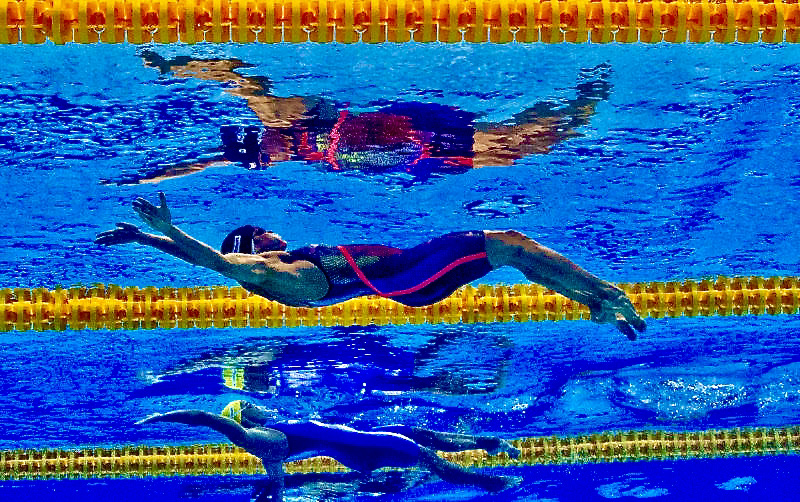 "Competitive fairness cannot be reconciled with self-identification into the female category in a gender-affected sport such as swimming. The average differences in strength, stamina, and physique between the sexes is significant. Transgender females are, on average, likely to retain physical advantages listed above even if testosterone suppression is utilised."

WSCA – Will women have all the lanes and life trajectories they deserve when the regulators are done? Photo by Patrick B. Kraemer
All eyes on the FINA policy. Sharron Davies, a campaigner for justice on GDR Doping, told The Times: "I am bitterly disappointed by the UCI, who failed to consult female cyclists over this decision. I just find it extraordinary. We now have the Fina announcement on Sunday and I am really hoping they do not go down the same path."
Thomas Bach, president of the International Olympic, is understood to be among those who will be present for the vote at FINA Extraordinary Congress in Budapest.
The nature of the FINA policy, developed with input from scientists, athletes, lawyers and human-rights experts, has been kept under tight wraps, with only "a handful" of people in the know, since work began last year after the International Olympic Committee returned the matter to International federations such as FINA with instruction for each to create rules appropriate to the nature of their individual sports.
During that process, swimming made the headlines when Lia Thomas become the first transgender NCAA American college women's swimming champion in history and prompted protests from fellow swimmers and the Save Women's Sport campaign group and supporters who say there is no place in women's swimming (among other sports) for any athlete grown through puberty from boy to man before making a transition.
Sports governors have relied on testosterone reduction therapy to determine the eligibility of a trans athlete wishing to race as a woman but objectors notes many other advantages over women in sport from being male, including size of lungs, limbs, angle of buoyancy (no breasts, much narrower hips, for example) and preparation in training that is never disrupted by menstruation cycles from puberty onwards.
Two season before NCAA victory at 22, Thomas was competing as Will Thomas, a man whose best middle-distance place ranked him outside the best 800 in the world. That status changed dramatically as Lia Thomas, in a breakthrough college season in 2021-22 was swimming at a pace worthy of a world top 10, at worst top 20, ranking among women.
The feud-like debate that followed was often highly acrimonious and emotional in the very place organisations such as FINA are seeking to find balance between transgender inclusion for female athletes.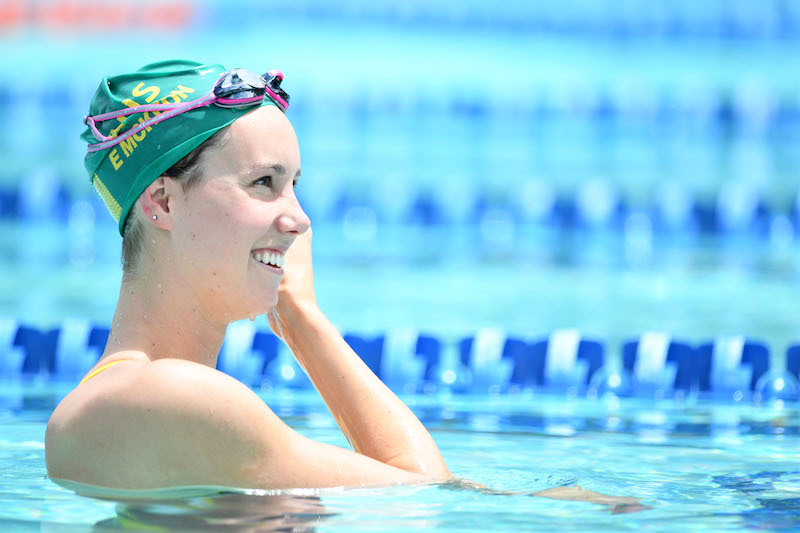 Current swimmers such as Australian Emma McKeon, winner of a record seven medals in Tokyo last year, Aussie backstroke ace Emily Seebohm, and former Olympic stars such as Davies, Tracy Stockwell, nee Caulkins, and Nancy Hogshead-Makar, the American women's rights lawyer and advocate for women's sport, have weighed in against inclusion at the cost of fair play for women.
Davies believed "women have had to be thrown under the bus" over the Thomas row and noted that the "toxic" debate had led to her receiving "several threats" to her personal safety and work.
"Its quite simple," Davies told The Times. "Male inclusion in women's sport is unfair. Allowing anyone who has grown from boy to a man and then carry those male-development advantages into women's sport is biological sex-based decriminalisation."
Aware that any decision relating to the transgender issue – no matter which way it goes – will set off a firestorm of complaints, FINA' leaders have gone to extreme lengths to keep the pending policy top secret.
The ruling 30-person board of FINA would normally decide on the introduction of new policy at the federation but News Corp understands that FINA will put the trans policy to a vote of all member nations. Not all 2006 nations are in Budapest for the World Championships but more than 150 nations are expected to vote on the hottest issue to be put to Congress since non-textile suits were banned form the sport in a 2009 vote after the record books came under assault through the use of materials that gave swimmers, as Britta Steffen, the Olympic and world sprint champion from Germany, put it in 2009 "an outboard motor … a bit like Formula 1".
Shiny suits, as this author named them, sank from the start of 2010. Now, women swimmers want the notion of male advantage being allowed in women's swimming sunk too.
Sources say that three separate groups, each with their own independent recommendations, have been working on the new policy: beyond a panel of distinguished international scientists, top human rights experts and lawyers are said to be the second group, while athletes, including trans athletes, The Times understands, make up the third group of people consulted.
The athletes do not include some of the biggest advocates on the issue who have already complained that they have not had their voices heard. Hogshead-Makar, triple Olympic champion of 1984, said: "To have our voice excluded from this conversation is criminal."
Hogshead-Makar, founder and CEO of Champion women, highlighted the big divide between women who want Fair Play to include 'not male advantage in women's sport' and transgender lobbyists such as Joanna Harper, among those who has advised the IOC on trans issues, who believe some retained male advantage should be tolerated in the interests of inclusion. Hogshead-Makar noted in a tweet:
Related SOS coverage: