Adam Peaty On The Back Foot As Broken Bone Rules Him Out Of Budapest World Titles – Aims To Be Back For Commonwealths
Adam Peaty is out of the World Championships and will not defend of his two solo global crowns nor the 4x100m medley relay title for Britain in Budapest next month after breaking a bone in his right foot in an accident in the gym on training camp in Tenerife.
Announcing the news, the 27-year-old Olympic 100m breaststroke champion of Rio 2016 and Tokyo 2021, said from the camp at Tenerife Top Training: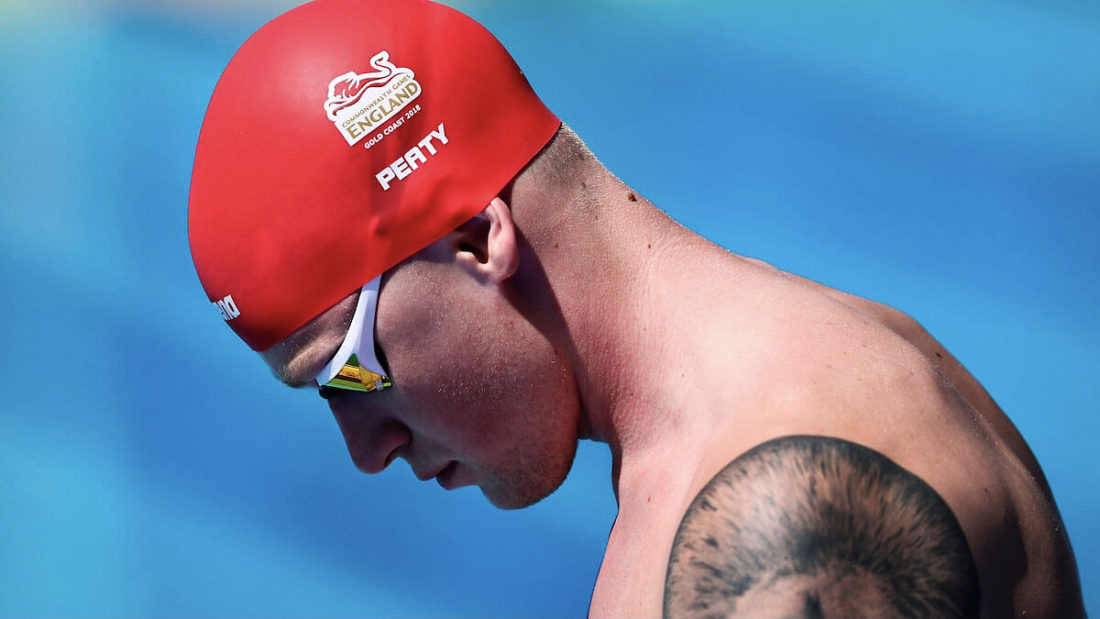 "I'm devastated. I work extremely hard and have dedicated my life to my training so I can be the absolute best I can be in the pool. I was on track for a huge summer so, like when anything doesn't go according to plan, it's a really challenging time."

Adam Peaty, who aims to be back in the hunt at Commonwealth Games in late July – image courtesy of Team England
An athlete who has risen to the challenge on the straight and at every turn of his career, winning every 100m breaststroke race since his breakthrough in 2014, Peaty noted that he would use his fate as fuel for the future, noting: "I will use this time to reflect on what the sport means to me and what it feels like to watch someone else win a race I should be in. It's not going to be easy!"
Peaty, who recently joined Team Speedo, posted his statement in full on social media with a broken heart:
Having taken a break from the pool in a temporary switch of focus for "Strictly Come Dancing" after becoming the first British swimmer in history to retain an Olympic title in Tokyo last year, Peaty had worked his way back to peak fitness of late.
Notes from camp in Tenerife suggested that Peaty was in shape to add to his growing legend in what would have been the busiest competition summer of his career, with targets World, Commonwealth (England) and European following one after the other between June and August.
Only three days ago, Peaty posted a video from Tenerife of evidence of fine programs, noting after a flume speed test:
Peaty Makes It 13 World Titles That Will Not Be Defended In Budapest
Peaty's withdrawal brings to 13 the number of solo World titles that will not be defended in Budapest, seven among men and six among women.
Men:
Women:
Simone Manuel (USA) – 50 and 100m freestyle, courtesy of time out from competition
Federica Pellegrini (ITA) – 200m freestyle, courtesy of retirement
Ariarne Titmus (AUS) – 400m freestyle, through choice to bypass World titles
Regan Smith (USA) – 200m backstroke, courtesy of a third-place finish at U.S. Trials
Yuliya Efimova* (RUS) – 200m breaststroke, courtesy of the ban on Russia
Peaty's absence leaves Dutchman Arno Kamminga and Italian Niccolo Martinenghi, the two who followed him on to the Olympic podium last year, to slug it out in the sprint events with Americans Nic Fink and Michael Andrew among others, including Britain's James Wilby, second to Peaty at Gwangju 2019.
'Back In Time For Commonwealths'
Already the most decorated breaststroke swimmer in the history of World Championships, first held in 1973, Peaty had prioritised the 50 and 100m breaststroke World titles in Budapest after a record run of doubles at the 2015, 2017 and 2019 Championships. Those three events also accounted for five of his 14 World records.
Now, Peaty has been told to take six weeks out for the break to mend, ruling him out of contention for the global showcase that gets underway in the Hungarian capital on June 18.
His absence from Budapest deals a blow to Britain not only in his solo events but the 4x100m men's and mixed medley relays. In Gwangju at 2019 World championships, Peaty raced 1.5sec faster on the breaststroke leg than any other in the men's medley relay final to make a towering contribution with Luke Greenbank, James Guy and Duncan Scott, to Britain's defeat of the United States for the first time in swimming history, including the Olympic Games.
In a statement, Peaty confirmed: "Earlier this week whilst training in the gym, I fractured a bone in my foot. I have been advised to rest for 6 weeks which unfortunately takes me out of contention for the FINA World Championships in Budapest next month.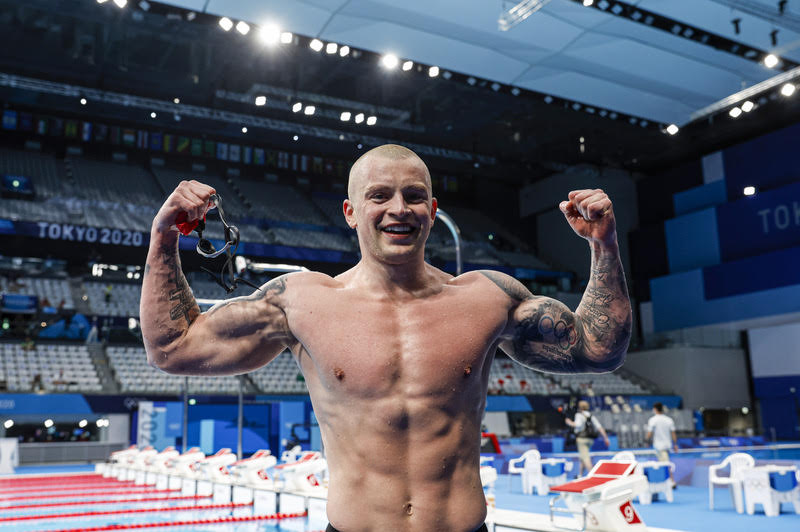 "I've fortunately never had to deal with an injury in my swimming career so this is a real blow and a new challenge for me. But I am surrounded by a superb team who will support and guide me through this period and get me to where I need to be. I'm already in great hands and starting to recover but, honestly, I'm devastated.

Adam Peaty
"I work extremely hard and have dedicated my life to my training so I can be the absolute best I can be in the pool. I was on track for a huge summer so, like when anything doesn't go according to plan, it's a really challenging time."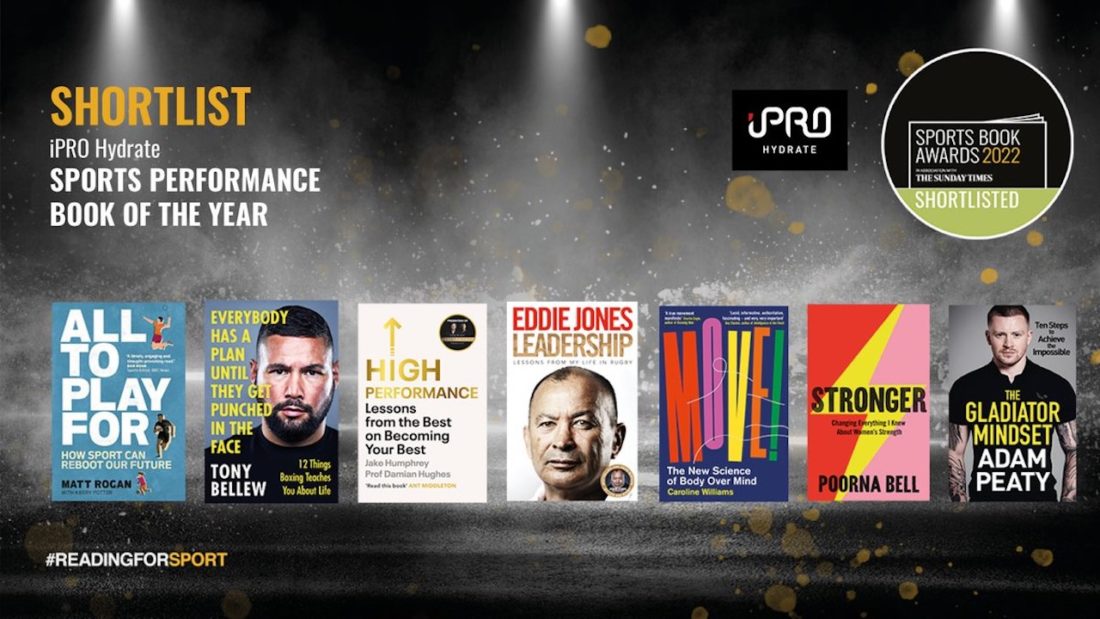 Peaty, whose book 'The Gladiator Mindset' is shortlisted for the Sunday Times Performance Sports Book of the Year in Britain, turned to his experience of taking advice from mentors such as his coach Mel Marshall, doctors and sports scientists at Loughborough University when noting: "I won't compromise my recovery … I'll never shy away from a challenge but on this one, I've got to use my head more than my heart. But I will be back in the pool just as soon as I can be with my focus now on recovering and building up my strength ahead of the Commonwealth Games this summer."
In Gwangju at 2019 World Championships, Peaty collected a fourth medal when the Britain mixed 4x100m medley relay claimed bronze. Two years on at a delayed Games in Tokyo, Peaty celebrated a second gold medal, with Guy, Kathleen Dawson and Anna Hopkin, in the inaugural Olympic mixed medley relay.
James Wilby, who finished second in the 100m to his teammate at the 2019 World Championships and helped Britain qualify for the final in both medley relays, is not likely to step into Peaty's place. That will provide him with a chance to put the trying circumstances of his Tokyo Olympic campaign behind him: Wilby was down on his best form and selectors did not want to risk upset in the heats of relays that had a shot at gold so Peaty raced both heats and finals. For Wilby, that meant no medal and no nomination for a Queen's Honour alongside all other relay heats swimmers who helped set up a medal in Tokyo.
On the eve of leaving for camp in Tenerife, Peaty could be found practising his favourite role: a dad taking his son swimming. Here is is with young George:
Before leaving for camp, Peaty took George for swim ride … and joked "5 more meters and I would've drowned…" April 27