Razzetti Responds To Rome's Demand For A Champion For 1st Gold Of Euros In 400IM Duel With Verraszto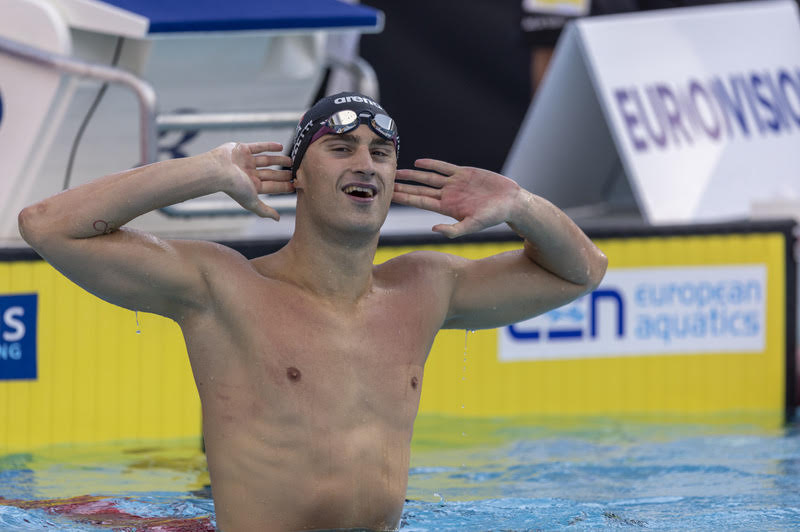 Alberto Razzetti seemed to understand from go that when Rome demands a champion, it must have one in the very first bout and battle to get the crowd baying for more: in 4mins 10.80, the 23-year-old gave the hosts a perfect start to the Rome 2022 European Championships in the 400m medley, the first final of seven days of them to come.
Backstroke was his weak point but Razzetti, with silver and gold in the medley finals two years ago in Budapest as his only long-course honours for Italy until today, was stronger on all three other strokes than closest challenger David Verraszto.
The Hungarian three-times winner of the crown (2014, 16, 18), Verraszto, son of 1975 World-champion backstroker Dr. Zoltan Verraszto, delivered history with silver in 4:12.58: after second-place finishes in 2010 and 2012 behind teammate and five-times champion Lazslo Cseh, Verraszto is the first man to make six podiums in the European 400m medley final, with 3 gold, 3 silver.
The battle for bronze continued the Italy Vs Hungary battle – and also went to the hosts, too: Andrea Matteazzi pipped Hubert Kos 4:13.29 to 4:13.77.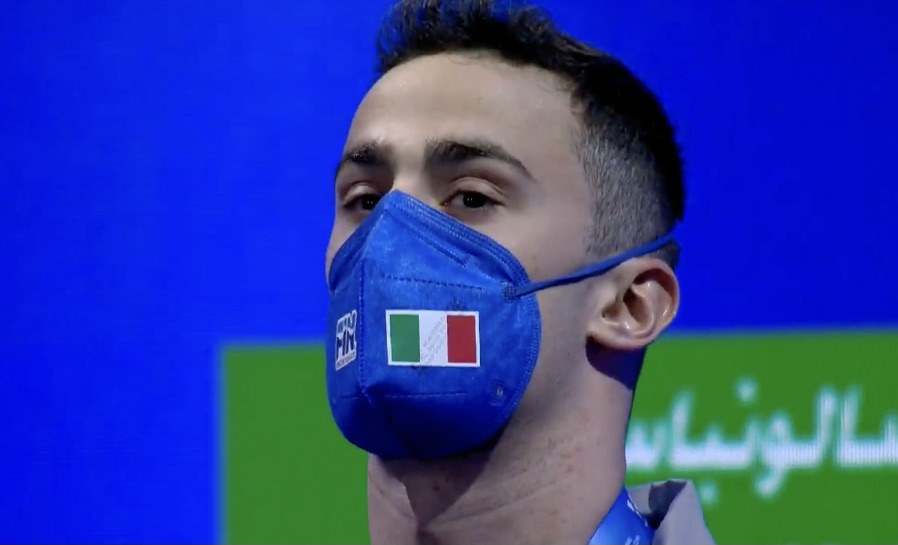 The ebb and flow:
55.93; 2:02.97; 3:12.53; 4:10.60
57.10; 2:02.00; 3:13.59; 4:12.58
58.55; 2:03.00; 3:14.34; 4:13.29
58.78; 2:03.26; 3:15.89; 4:13.77
Razzetti impressed with a time 0.72sec shy of one of the longest-standing Italian record – 4:09.88, set by Luca Marin on April 1 – no joke – at the 2007 World Championships in Melbourne.
Razzetti said: "My time is normal. It wasn't that important, I thought I could go 4:09 but it doesn't matter. The goal was to finish first at the end, the pressure was tremendous here in Rome, in front of our fans. I did it, I'm overjoyed. I know my rivals very well, I knew I had to stay close to them and stay focused for all the race. I did that, I gave my all and I'm really happy to open the championships with a gold."
Verraszto, 34, took pride in the challenges of ages: "This is the reality today, a 4:15 in the morning, and a 4:12 in the afternoon, taken into account that in February I was off for the Maldives, had a fine vacation and weighed 85kg (now 69). There I decided that I still had the will to go on, even after the disappointing 4th place at the Olympics.
"Trained in Austria with my former coach, and after we managed to find the common path, the last two months were real workouts and over the final three weeks I felt that things are coming together. This time is a sign that it's worth going on. After all, I managed to beat guys ten-fifteen years younger than me."
Razzetti Gold Eternal But Worth Toasting Absent Friends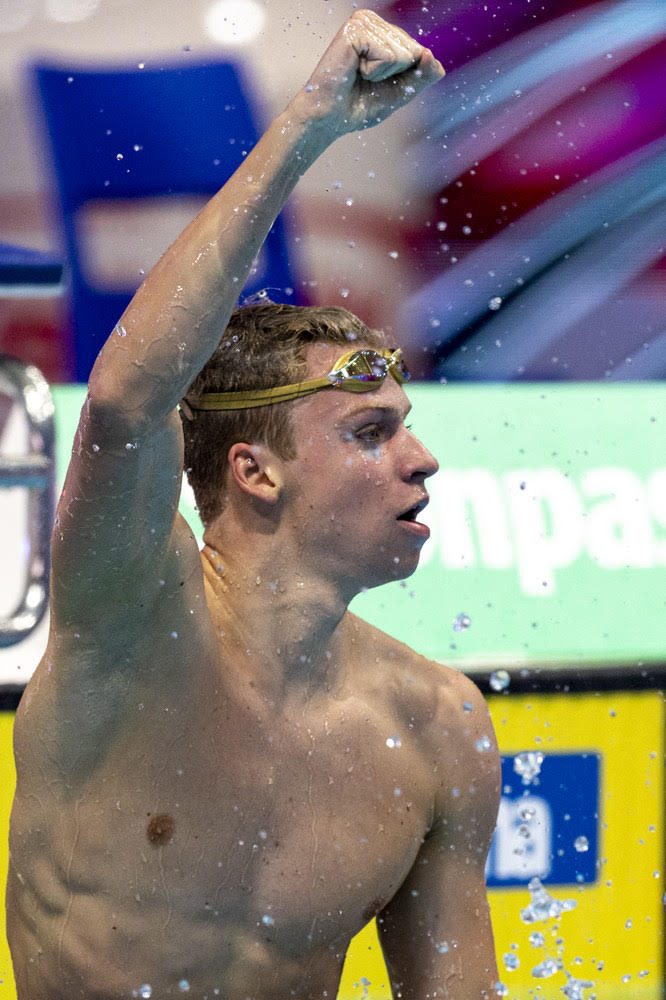 As good a home-crowd stirrer as it was, Razzetti's win in this season of so much plenty its painful requires us to toast absent friends, so to speak: the World champion Leon Marchand, on 4:04 in the fastest textile time in history in Budapest late June, is among the fair few who have bypassed the European beat as they set their sights on a steady-as-she-goes approach to the Paris 2024 Olympic Games.
As the 4x200m free relays showed, Brits know that feeling better than any this summer.
Britain arrived in the Eternal City at the tail end of what feels like an eternal summer season of racing: courtesy of historic allegiances, the national team had a treble challenge in the past six weeks that no other nation faced, with World Championships in late June followed by the Commonwealth Games in Birmingham and now, less than a fortnight later, the continental championships.
Six weeks is considered to be a minimum training cycle in swimming, one of the reasons why it is rare to have two major events scheduled close together, let alone three, but the World Championships in Budapest was an unexpected addition to the calendar that Britain's performance leadership said at the start of the year would require compromises and care taken to "look after the physical and mental welfare of athletes preparing for the longer term goal of Paris 2024", said head coach Bill Furniss.
Milak Fires A Shot Across Popovici's Bow With 1:44 Split That Grants Gold To Hungary In Four-Way 4×200 Battle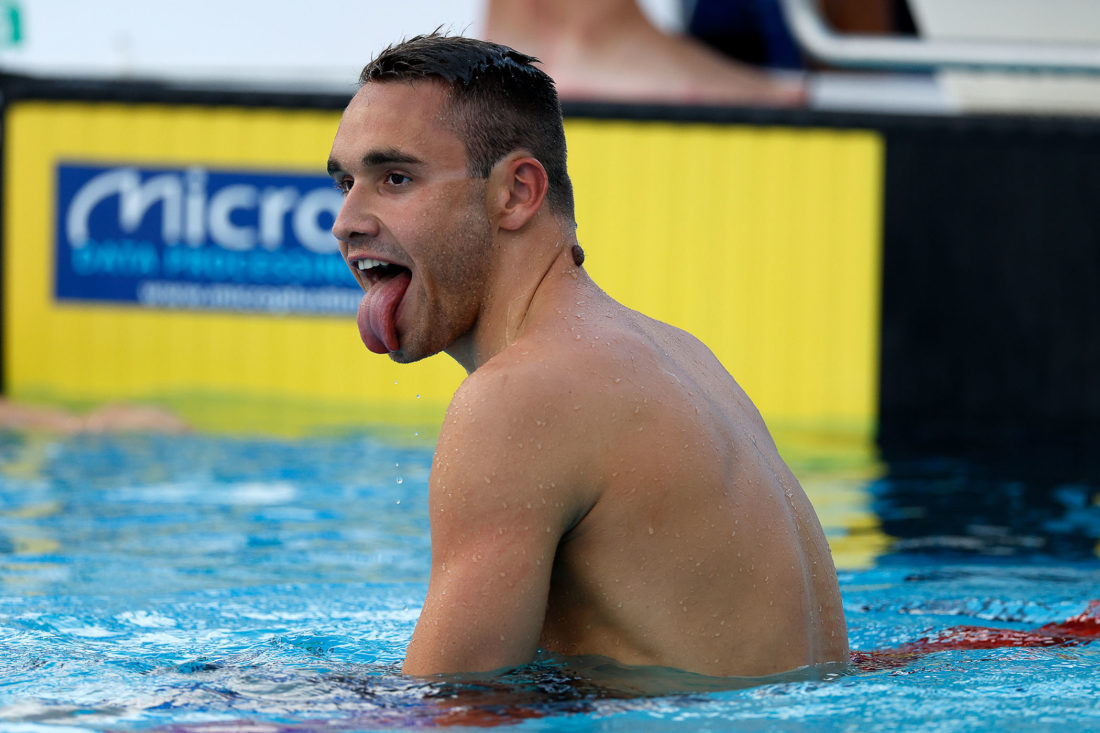 Britain, as Olympic champions with a sub-7-minute best, might have walked it under different circumstances but then this is 2022, a season of three major internationals in a tad over six weeks, that timeframe of a traditional, single training cycle.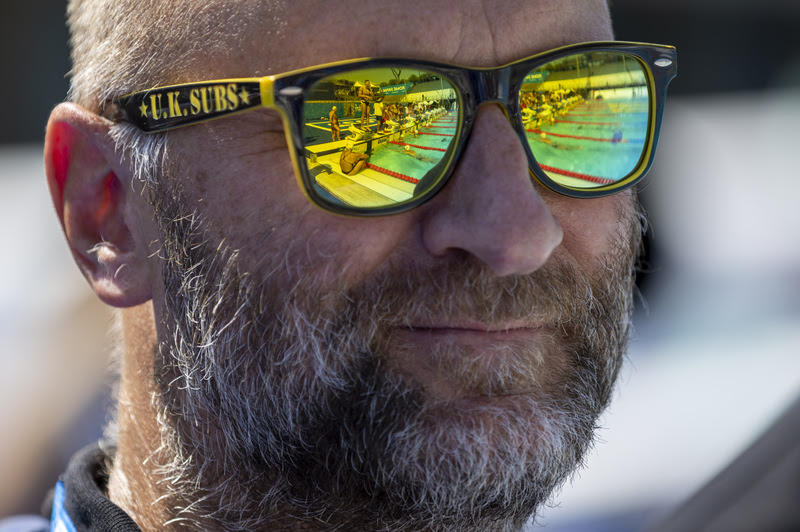 Here in Rome this day, battle raged without them, four teams in the mix, Hungary taking gold in 7:05.38 ahead of Italy and France on 7:06s, with Switzerland on 7:08 (see result below), and never far from causing upset throughout, a testiment to the world of the team, their coaches and the steer of Swiss head coach Dirk Reinicke.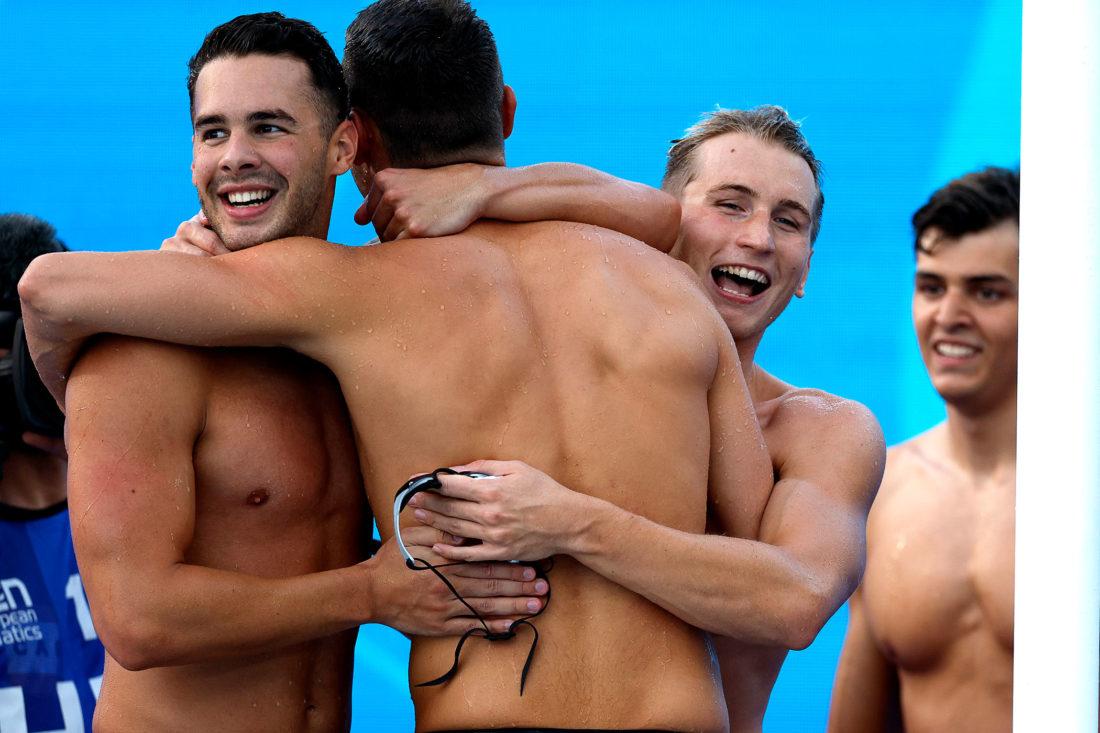 Nemeth Nandor, Richard Marton and Balazs Hollo had kept Hungary in contention a second shy of France and 0.07sec adrift Italy by the time 200m butterfly Olympic and World champion Kristof Milak left his blocks.
A 1:44.42 blast later, the Hungarians had gold around their necks, ahead of Italian silver and French bronze.
Milak emerged to note the milestone he delivered for Hungary: "It was easy to finish it off like this after my three fantastic buddies did a brilliant job. This was a great race and we all feel great to win Hungary's 100th European Championship gold medal in swimming. I think it's more than fitting that we really achieved that. Everyone took it very seriously and swam to his maximum, and that brought us victory. Now we just need to carry on like this in the coming days."
The defenders are not in town: Russians are banned from international sport and are staring at exclusion for the foreseeable future, in to and past the Paris 2024 Olympic Games as a result of the illegal war on and indiscriminate destruction of Ukraine waged by Putin and his Kremlin cronies.
Closest to a defender, Britain, silver medallists in 2020 en route to Olympic gold a year later in Tokyo, were never in contention, having made the final by just 0.02sec ahead of Bulgaria and in Rome without Duncan Scott and James Guy.
That all left the fight in the middle of the pool for Hungary, Italy, France and Switzerland:

Dutch Delight As Brits See Crown Slip by 0.66 But Take Heart In Silver Lining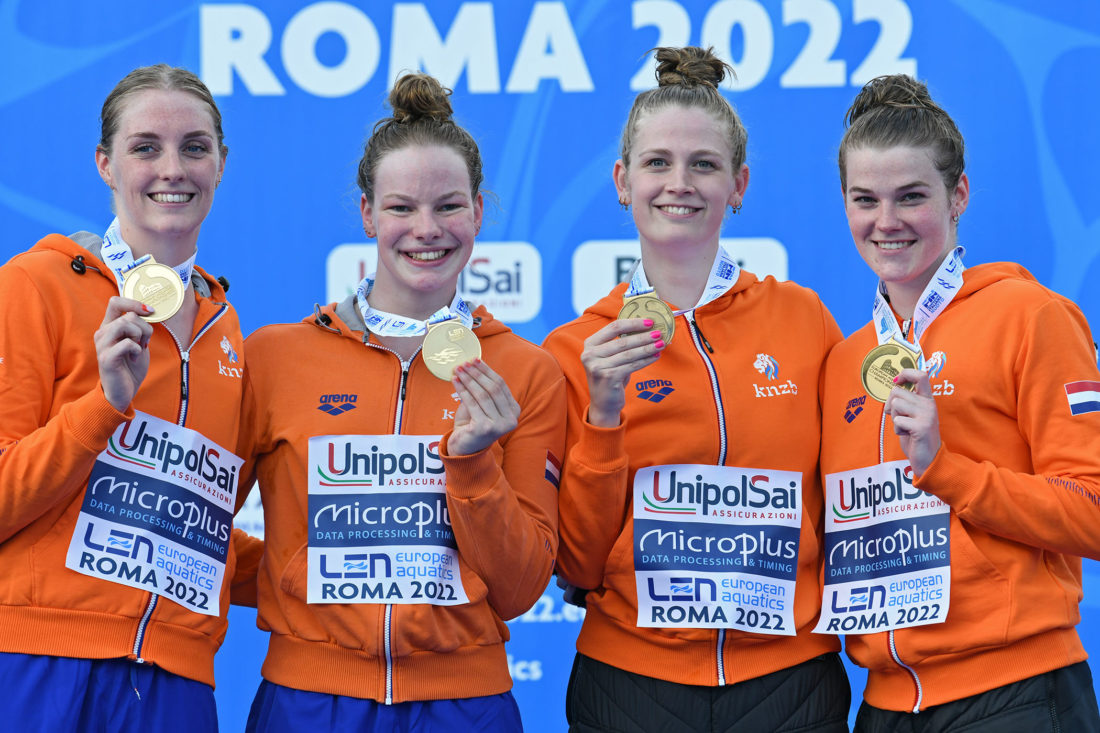 The Netherland, Great Britain, out in lane 1, and Hungary made it a three-way rush for gold. In the end it came down to the fine form of the hour mustered by Marrit Steenbergen to delight of her teammates Imani de Jong, Silke Holkenborg and Janna ven Kooten and the Dutch with gold 7:54.07 to 7:54.73 for Britain's Freya Colbert, Lucy Hope, Medi Harris and Freya Anderson.
Hungary took bronze in 7:55.73, which delivered a record 97th international medal for Katinka Hosszu, the triple Olympic champion of 2016 who keeps being asked about retirement but certainly will not be retiring until she becomes the first swimmer in history to make 100 podiums for her country in senior championship waters.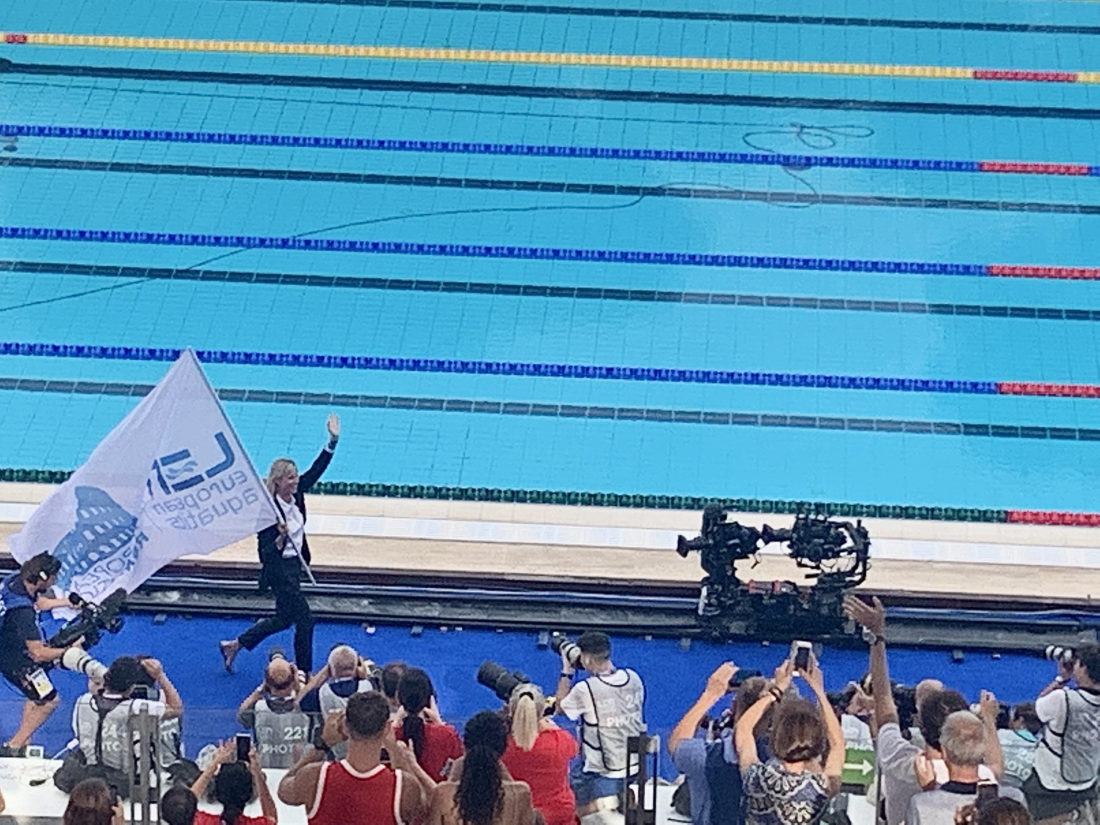 Federica Pellegrini, the retired queen of the 200m freestyle, drew the first great roar of the championships when she did a lap of the pool deck, giant championships flag flying from her hand.
With her in the 4x200m, Italy would likely have taken gold. As it was, the hosts took fourth and a very large void is there for the filling.
The Dutch-Brit battle was all-but stroke-for-stroke: the 200m splits were never more than 0.2sec apart until the last 100m of battle, when Steenbergen, a different summer and level of reserves to draw on, had the edge on Freya Anderson, who dug deep and knows there'll be a bigger day.
Steenbergen said: "We are shouting out our happiness, we are very satisfied as this is our first medal in this event. It's long a time that we haven't swum together so we are so glad to be together. We knew that we could get a medal, but there were seven more teams in the final and one can always better you. However, today we were the best ones. We are happy to win this gold."
Anderson, who with Hope, raced on the 2020 winning team, described the third goal of the season as "physically and mentally quite draining but added: "Being in this amazing outdoor pool with such an amazing crowd is really uplifting so we've got the team in the medals and we'll keep the ball rolling."
At 7:54, Britain's newest 4x200m quartet has work to do if it wants to contend for a medal in Paris  in 2024 but Hope, who raced in the rival Scotland camp to her English Britain teammates at Commonwealths, noted: "This is the first time we've swum together as a quartet, so we're just looking to build on that."
The top 4: