Leon Marchand Chases Down Phelps World Record With 4:04 Global Textile Best As France Relishes Golden Prospect For Home Paris Olympics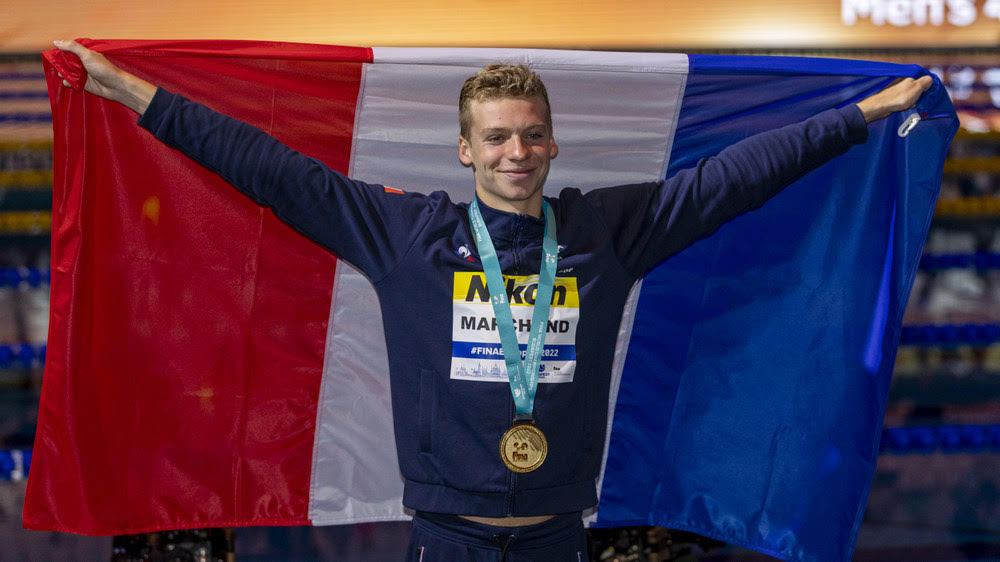 400m Medley final – Leon Marchand, 4:04.28, World-Championship and European record but more than that and both of those standards, the first Frenchman to claim the global crown in an event at the top of the food chain of grind and pain is now the fastest man ever in a textile suit a muscle twitch shy of Michael Phelps in his might of mights.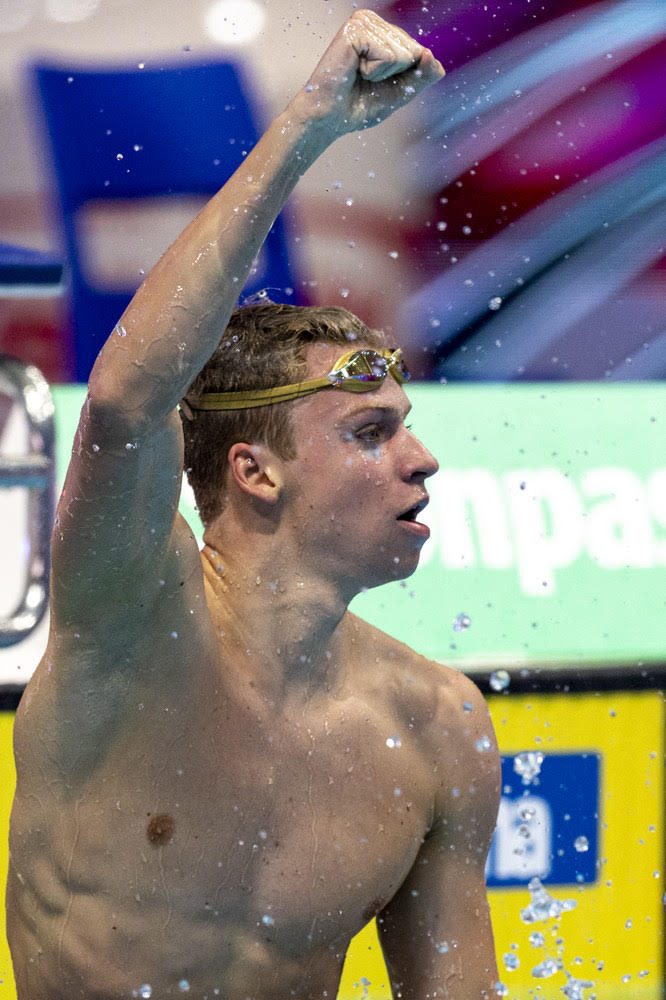 Say what you like about American competitiveness and will to win but it has often been accompanied by a form of sporting altruism through the coaching of and sharing of knowledge with race-day opponents from around the world.
Marchand, developed to Olympic level by French coach Nicolas Castel, the sports director at Dauphins du TOEC in Toulouse, has been guided at Arizona State University (ASU) for the past year by Bob Bowman, the author of "The Golden Rules" that helped Michael Phelps become the Marvel man of Olympic history, a swimming superhero and caped crusader in bathers who travelled at pioneering pace.
At ASU, the home of the Sun Devils swim squad, the t-shirts bear a blivet alongside words of warning: "Fear the Fork". Perhaps they'll do a special print run with a few reading "Fear The Frenchman" on the way to the Paris Olympics.
Not every day you see a 4:04.28 over 400m medley. In fact, it's just the second time ever anyone got down that way. Marchand fell just 0.44sec shy of Phelps at his and history's supreme 4:03.84 best at the start of his Olympic eight-gold-medal campaign in Beijing back in 2008, a touch on non-textile in his leggings. In that battle of Beijing, Hungarian Laszlo Cseh, who joked about taking three silvers behind "The Alien" (Phelps), set what until today had remained the European record, 4:06.16.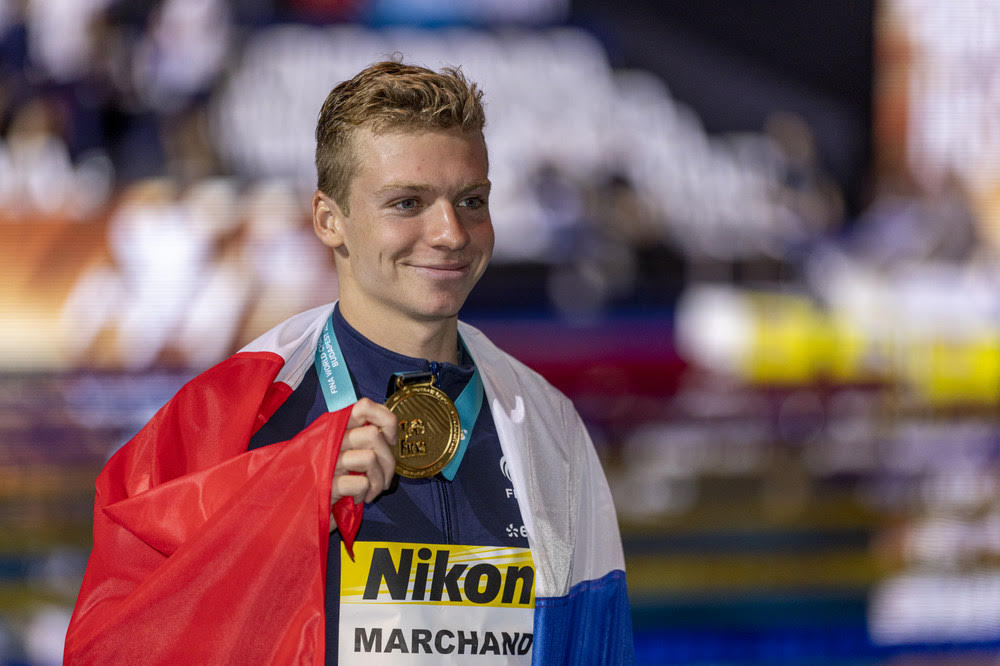 The new Championship record is also faster than Phelps ever swam in pure textile (chances are, the timing of events having played a part…); faster than the textile best of 4:05.18 set by the other American medley grandee Ryan Lochte; only the second man ever to race inside 4:05; and inside the 4:05.90 best of American Chase Kalisz when the American lifted the same 400IM World title in the same Duna Arena pool in Budapest back in 2017 on his way to Olympic gold four years on at a delayed Tokyo 2020ne Games.
In timewarp context it means more than 3sec inside the pace at which Mark Spitz held the world 400m free record in his youth; up with the 1969 pioneering pace of Germany's Hans Fassnacht on freestyle; and a flick away from the 4:03.85 at which Phelps holds what is considered to be among the toughest World records to crack, a time that matches that at which Janet Evans held the global women's 400m freestyle standard between 1988 and 2006.
Legendary stuff. Marchand is working among living legends of the swim, too. After keeping at bay the top two Americans of the day, Carson Foster, on 4:06.56, and Kalisz, 4:07.47, Marchand noted that he'd never met Phelps, was looking forward to meeting him but was already in touch with him through text messages. A few split times exchanges perhaps.
Here's how the parts of a sizzling sum unfolded today: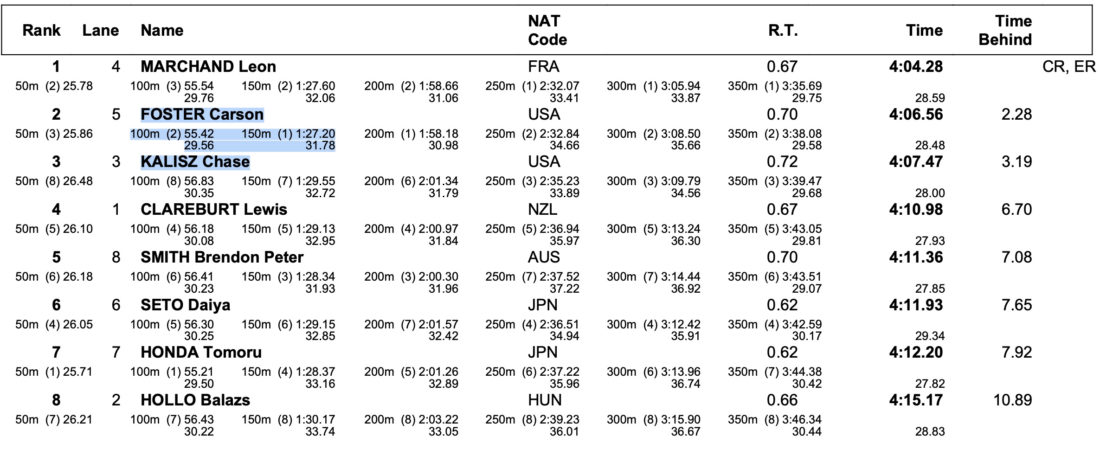 The Race Video:
Gold was not only the first medals of any colour for France in the men's 400IM at World titles but was the first medley medal in any men's medley event since Leon's dad Xavier Marchand (see family history below) claimed silver in the 200m at the Perth 1998 global long-course showcase.
Bowman, as his Golden Rules note, works on goals over the long term: process, steady, constant and consistent is where you'll find his factory and fun, Marchand indicated.
He got a pat on the back from Bowman after a French national record of 4:09.09 in heats. Said the new World champion after his 4:04: "He was very happy with my swim this morning because I did exactly what I had to do and got a good lane in final."
His instruction from the American mentor ahead of the showdown was to swim the first half of the race faster than he ever had before: 2mins 02sec. Marchand turned in 1min 58.66, a touch adrift Foster's 1:58.16 and ready to back up the work that had produced his best backstroke speed ever by capitalising on the same intense focus on breaststroke.
As battle turned to freestyle, Marchand had established a lead of 1.5sec over Carson, with Kalisz a further 1.5sec back. Game on. And not just for the title. Marchand was now 1.11sec inside Phelps' World-record pace but faced a race against the speed of an Olympic and World 200m freestyler who held the global record in that event for a while before shiny suits were born on their way to an early bath attached to a ball and chain.
How well Marchand has been taught: no talk of being 'gutted' too miss the Phelps mark, no sense of 'what if'. It was all about how good it felt to come this far on a journey with a fair stretch of road and goals and work ahead yet.
I ask him to say a little more about the steady, step-by-step process with Bowman. Marchand notes the work he's been doing to improve his backstroke and breaststroke and says, breaking his words with laughter: "With Bob, we are trained step by step, little by little … my goal was to go 4:06/07 so I just went 4:04 so I don't think that's a little [laughter] I I don't know what to say."
Marchand's comments on his American coach and preparation amounted to an invitation for Bowman, mentor to Phelps, the greatest Olympian in history with 23 golds atop 28 medals in all, to take a bow. Bowman returned the compliment, telling SOS: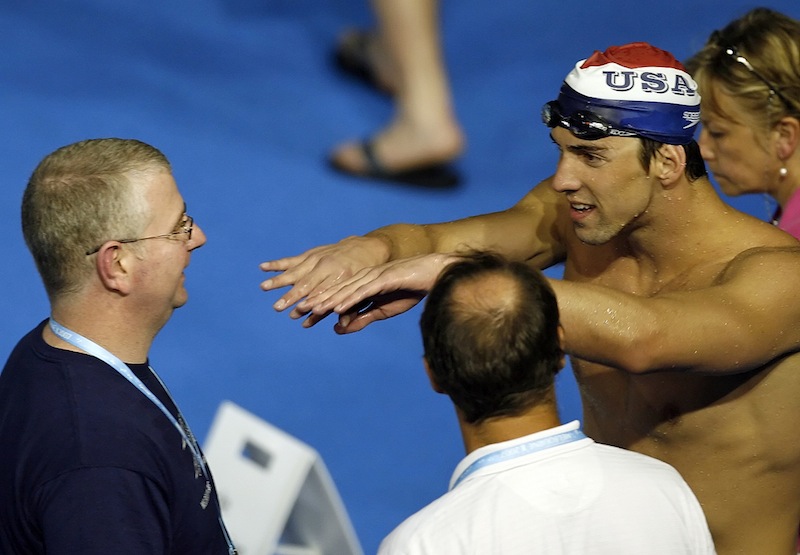 Léon's club coach in France Nico Castel has done an amazing job bringing him along. He deserves the credit for this performance. Léon is a joy to coach. He is humble,kind and extremely hard working. I feel he can continue to make significant progress in the 400 IM and other events. His breaststroke is his main weapon in the IM and tonight he used it quite well. I think he can bring the free back stronger as he matures. This is a nice step forward.

Bob Bowman – image: Michael Phelps (R) talks to his coach Bob Bowman (L) at the Susie O'Neill pool during the Melbourne 2007 World Championships in a week that produced one of the most magnificent and complete major championship campaigns in history. (Photo by Patrick B. Kraemer / MAGICPBK)
Marchand Family Tradition & The Performance Path Top Paris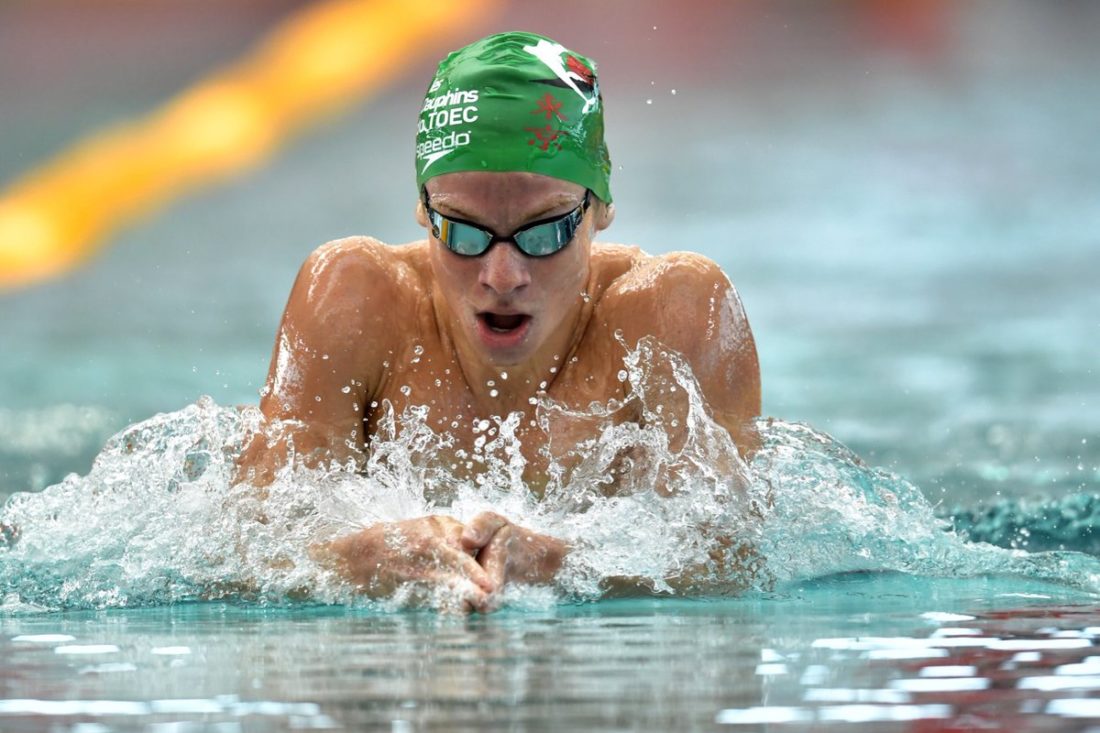 The son of Xavier Marchand, Perth 1998 Worlds silver medallist over 200IM atop a career that included European silver and bronze medals and the Mediterranean Games title in the same event, Léon Marchand caught up with dad on the clock as a 17-year-old in 2019: 1:02.3 on 100m breaststroke to 1:05 for dad; 54.28 in the 100 'fly, 55.45 for dad; 2:00.66 in the 200IM, 2:01.08 for dad … and so on.
Then on day 1 at French nationals last year, he turned the sailboat in which he sailed past Xavier's 4:21 best 400IM in 2019 into a speedboat with a 4:09.65, which stood as the French record until this morning here in Budapest. That passage of rites from junior to big senior prospect marked the latest extension of a steep trajectory for the son of Céline Bonnet, the French 1992 Olympic swimmer and teammate of French 200 'fly legend and national-record holder yet, Frank Esposito when he claimed Olympic bronze: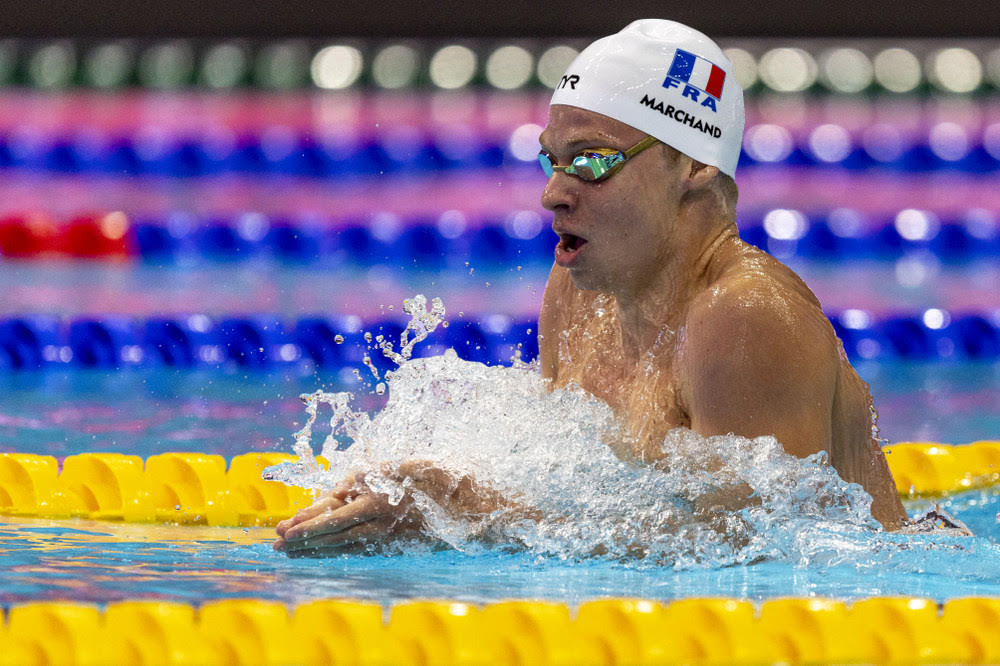 Leon's Progress
2022: 4:09.09 in Budapest heats; 4:04.28 CR, ER, Textile world best and World title
2021: 4:14.97 then that 4:09.65 on the way to a ticket to Tokyo and race in his first Olympic final
2020 best – 4:16.81
2019: 4:19.78 was the moment he got past dad on his way to a 4:16.37 best that season, with three other 4:19s in between and three efforts in the 4:20s.
2018: 4:35.37 at 15, with his eye on dad's 4:21.33.
Asked about the family Olympic swimming tradition, Leon says: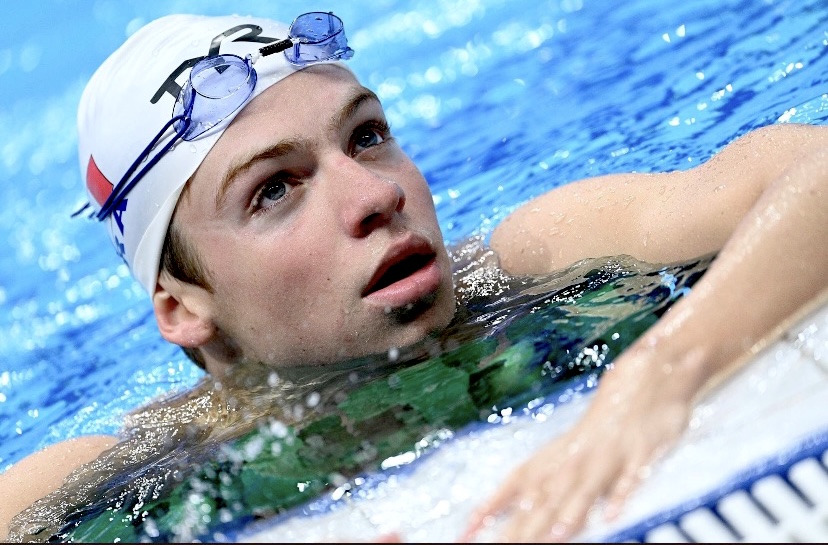 "It is very special because my father supports me every day. He gave so much advice about swimming, about everything, so I am just very happy to bring him this medal, to keep going (with) this swimming family.

"He told me very early that swimming is very hard and to be able to be at this level today, you need to train a lot. I think it's been five or six years I am just dedicating my life to swimming, so I think that is a good gift for me and for my family because they have to wake up with me every day, bring me to practice and that is pretty cool."

Leon Marchand – image courtesy of the French Swimming Federation – FFN
Performance guru Jacco Verhaeren, at the helm of the France's preparations for a home Olympic Games in Paris just two years away, told SOS that the presence of Marchand can only serve to motivate the medley ace's national teammates and Olympic-team prospects: "It was a great swim. So fun to watch. Having him there is great motivation for the French team and the whole national program. He's a very exciting swimmer and that was really fun to watch."