M200bk – Evgeny Rylov Takes Down U.S. Bull Run With 1:53.29 OR Win Over Ryan Murphy & Luke Greenbank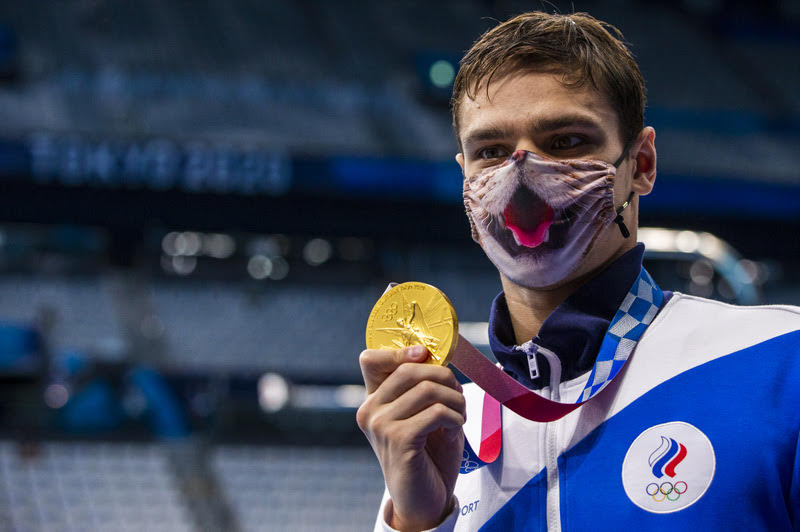 Tokyo 2020 Olympic Games, men's 200m backstroke – Evgeny Rylov and a 1:53.29 Olympic record made the COVID-delayed Games the first at which an American has not emerged champion of the 200m since 1992. The same happened ins the 100m.
A 29-year bull run on backstroke is over – and Rylov was the man responsible in both the 100 and 200m as the eighth man in history to claim the double since German Roland Matthes got the club started in 1968 before backing up in 1972, a double-double never since repeated.
Rylov, of Team Tchaikovsky, kept at bay the American defending champion Ryan Murphy, on 1:54.15, and Great Britain's Luke Greenbank, third in 1:54.72 a hand shy of the British record he established in the semi-final yesterday.
Rylov led from go to gold, his edge built over all four lengths, fractional blow by blow. The first length was the only one that did not produce the finishing order of things – and then only by a factor of 0.09sec:
26.81; 55.18 (28.37) 1:23.93 (28.75) 1:53.27 (29.34) OR Rylov
27.11; 55.63 (28.52) 1:24.65 (29.02) 1:54.15 (29.50) Murphy
27.02; 55.72 (28.70) 1:25.08 (29.36) 1:54.72 (29.64) Greenbank
After the race, a chilly breeze of Cold War cut through the heat and humidity here in Tokyo when the "D" word and Murphy pointed to the elephant in the room behind the plughole where Team Tchaikovsky's tale is told.
Back in the pool, Rylov became the first Russian to claim the title since Igor Polianski for the Soviet Union in 1988. The Olympic record set at 1:53.41 by American Tyler Clary in 2012 is gone but the on 1:51.92 World record set at the 2009 shiny suits circus World Championships in 2009 by another American, Aaron Peirsol, the most decorated Olympic backstroke ace after Matthes, survived.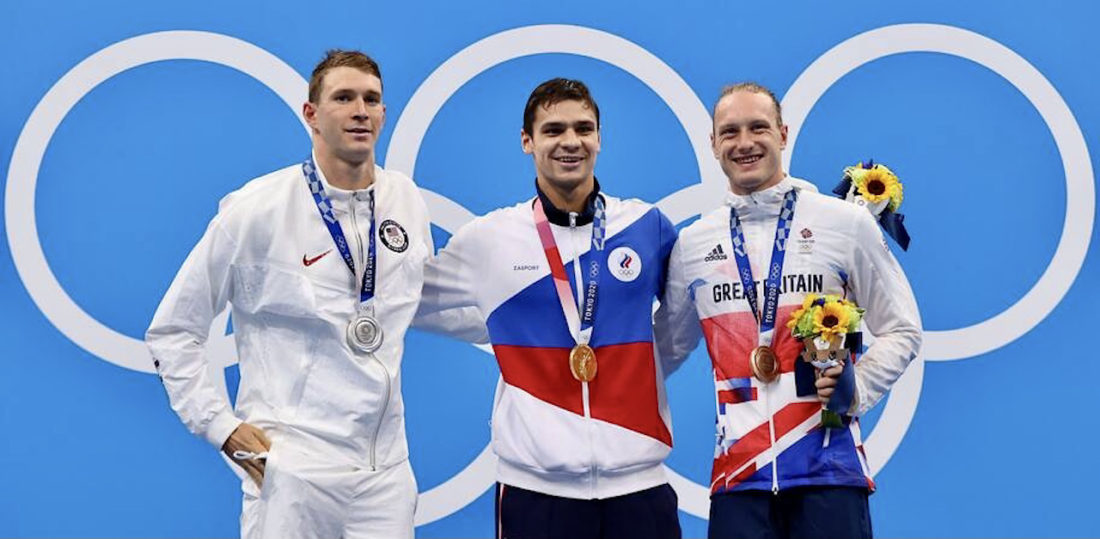 Murphy would have been the 10th American winner but instead became the eighth silver liner for the U.S., while Greenbank mad history for his country as the first 200km backstroke medallist ever and only the second medal winner in any men's backstroke race, joining Herbert Haresnape, the bronze medallist all that way back in London, 1908, the year that remains Great Britain's best in the pool, with four gold atop seven medals in all.
The TeamGB class of Tokyo 2020One had already set a modern-era record of three golds atop 6 medals and looks set to go beyond the 1908 count hauled in when the Olympic world was very young and the world a very different place.
Greenbank – who grew up in swimming with teammate Duncan Scott, back on the podium today with silver in the 200m medley, was, like Scott, born in 1997 and the two have raced each other on all strokes for more than a decade: Greenbank's development coach Sean Balmer has a video showing the two as 11-year-olds at Scottish age-group championships racing alongside each other over 200m butterfly.
On his status as an Olympic medal winner, Greenbank, 23, said: "It's amazing, a dream come true. I'm so happy, over the moon and I'm lost for words.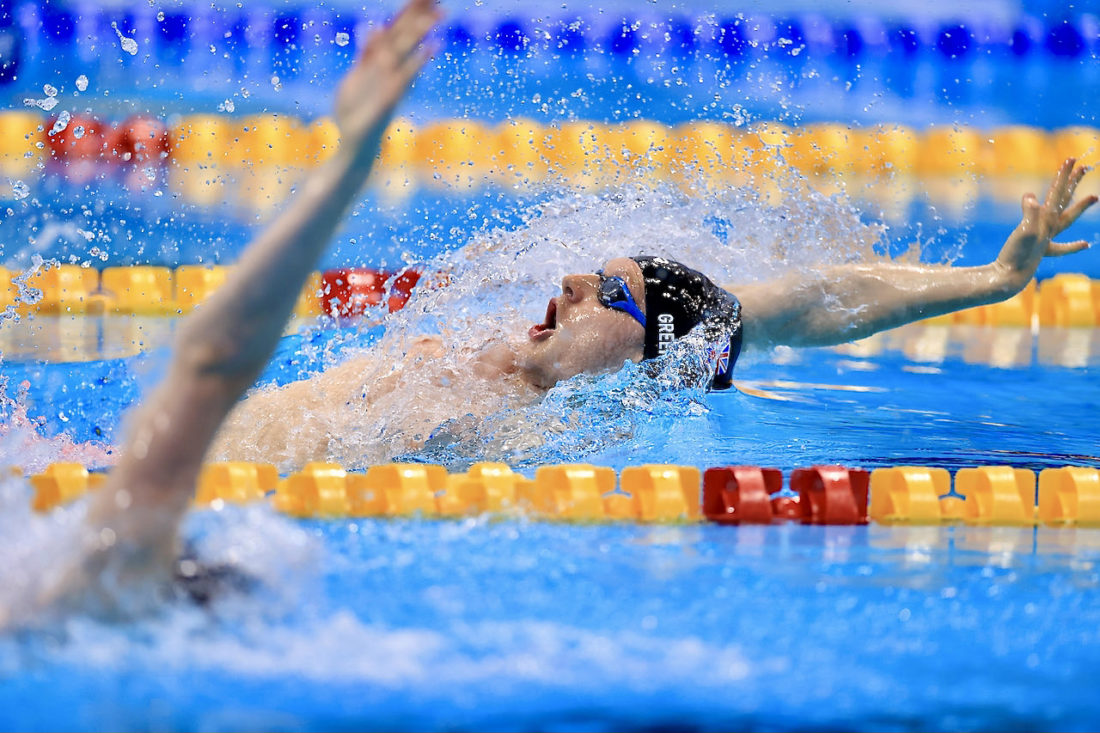 "My first memory of swimming was watching the Beijing 2008 Olympics and it's always been a long ambition of mine. To come away with an individual medal, it's absolutely amazing. We [he and Mel Marshall, coach] get on really well together, we bounce off each other and she's helped get the best out of me. Hats off to her.  We've made some great progress this year but there's definitely more in there. I can't wait to get back in the pool."

Luke Greenbank – by Georgie Kerr, courtesy of British Swimming
Tokyo 2020 is Greenbank's Olympic debut but he has been a member of Britain teams since he was 16, his first major success a bronze at the 2019 World Championships before the pandemic struck.
An Olympic final was "next level" but Greenbank said: "It is a big occasion but I tried to not let the nerves get the better of me. I tend to swim my best when I have got a cool head and I know what I am doing and not overthinking stuff, so here it is all about positions rather than times. It is a very unique situation where we have finals in the morning and it is not really comparable but I am happy with the time, the race and take it into next season."