W100Fr – Emma McKeon Goes Solo To Gold In First Olympic Sub-52 (51.96) Ahead Of Siobhan Haughey & Cate Campbell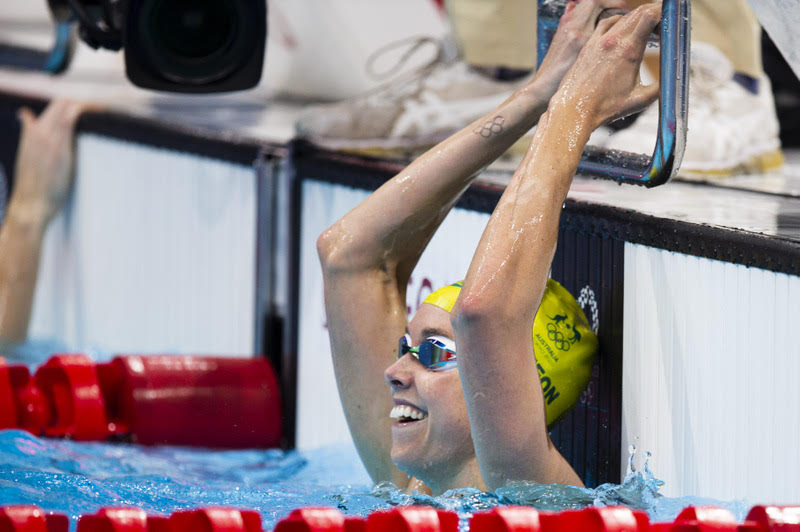 Tokyo 2020 Olympic Games, Women's 100m freestyle – Emma McKeon bagged the solo gold that had eluded her in Olympic waters with the first sub-52sec blast over two lengths in Games history, her 51.96 an Olympic record that granted Australia its first 100m free title since Jodie Henry in 2004.
Before then, you have to go back to Dawn Fraser, with her 1956-64 triple of triumphs, to find another Aussie winner. Then back to the beginning in 1912, when Fanny Durack swam to the title in a time 30.24sec slower than McKeon was today.
McKeon had swum 52.19 at Australian Trials last month at the helm of the first domestic 100m line-up to produce four 52-plus swims. Today she became the second member of the sub-52sec club founded with a 51.71 from Sarah Sjostrom leading off Sweden's 4x100m free quartet at World titles in 2017.
McKeon's 51.96 also makes the the fourth person to swim inside the 52.07 at which Germany's Britta Steffen set the global standard for the 2009 shiny suits circus at Rome World Championships.
The silver went to Siobhan Haughey in an Asian record of 52.27, joint sixth best ever. In the depths of bronze in 52.52 for Australian Cate Campbell is a story of a day going down, a recovery process, a story of courage, resilience and perseverance.
The top 4 are all from the Commonwealth, which will holds its Games next year. Where the medals were won:
25.08 – 51.96 – McKeon OR Oceania and Commonwealth
25.10 52.27
25.19 52.52
25.42 52.59
Four years ago, Campbell was the hot favourite: she had shattered the World record, had her hand held aloft by none other than Fraser on the deck at the last trial a month out from Rio 2016.
It may have been too soon; it may have been too much. Whatever may explain it, Campbell suffered a bout of nerves that took the edge off her ability to perform at and under 52.5 time and time again. Campbell had made a habit of 52-sec swimming.
In the final, tank drained before journey's end, she stopped the clock over 53, the title gone in a snap at 52.70.
There is gold in a bronze that kept at bay one of the 2016 champions, Penny Oleksiak, the Canadian who fell shy by the measure of Bond (0.07) in 52.59. Third home last time, Sarah Sjostrom, of Sweden, was close, too: 52.68.
Then came Femke Heemskerk, of The Netherlands, 52.79; Britain's Anna Hopkin, 52.83; and the only swimmers home in over 53 in the fastest Olympic line-up ever, Abbey Weitzeil, on 53.23, her USA teammate and joint champion with Oleksiak in 2016, Simone Manuel, watching from the stands after having overtrained to a point at which a sub-54 in semis at trials was beyond her.
These COVID-delayed Games are being held in abnormal and challenging circumstances but at the heart of the actual swim meet is this: racing is winning the battle with clock-watching.
That's not to say the speed is not there, just that the racing has often been tight, the 100m free final a case in point, first to seven inside 0.9 and five of those spots falling in line within 0.31.
A great spectacle, with McKeown the pioneer from a country that has led the charge on two-lap speed in a relay tradition building momentum between generations.
Consider the 12-year bands of progress measured in Olympic gold:
1976-1988: 55.65-54.93 (GDR era)
1992-2004: 54.64-53.84 (China Crisis to Jodie Henry)
2008-2021: 53.12- 51.95 (the era of Aussie focus on 4×100 speed)
"I'm so proud of you," Campbell could be heard telling McKeon over the lane rope after the race. McKeon later told reporters: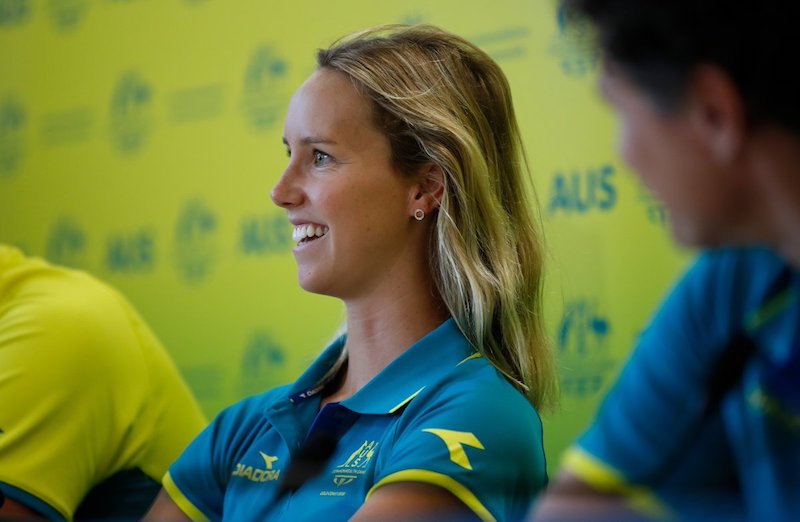 "Honestly, my emotions are a bit all over the place right now. I know all of my family back home are watching and I felt them with me in my race. I know all the support they've given me over all the years of me swimming. They're part of it all."

Emma McKeon – Photo courtesy of Swimming Australia
McKeon paid a special tribute to her coach Michael Bohl: "He's just put so much hard work in and I honestly wouldn't be here without him. I can't believe it. Honestly. It doesn't feel real."
Delighted For McKeon – Campbell Talks Of A
"Really Long Journey"
A tearful Campbell reflected on her Olympic journey after battle and thanks those who have travelled with her and supported her. She told Channel Seven: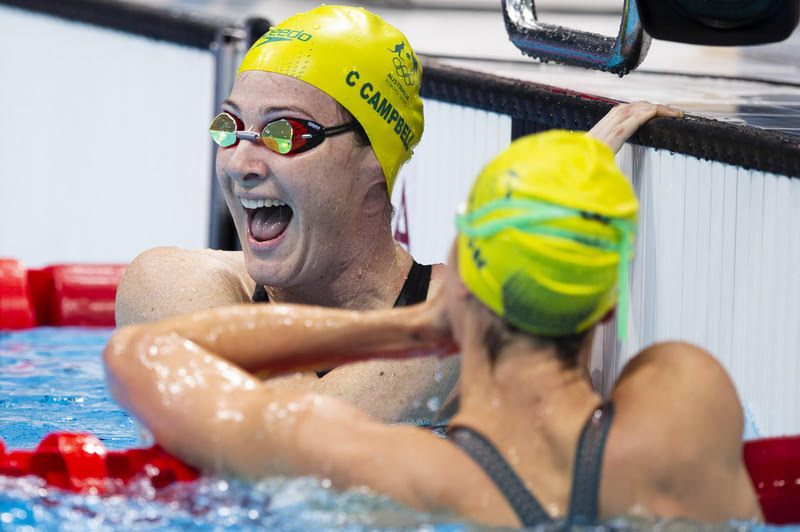 "I think that coming into this morning's performance, I really wanted to put forward my best performance. And that is pretty much a season's best, and to do that in an Olympic final, off a very, very challenging year that I've had, I'm really happy. My emotions are going to start to get the better of me. But it's been a really long journey to get here and I'm incredibly proud of that performance. These aren't sad tears at all. I'm so thrilled and I just want to thank everyone who stood behind me and got me to this point. Because I couldn't have done it without them."

Cate Campbell – delight after the fight, by Patrick B. Kraemer