Zhang Yufei's Stellar Season Of Plenty Boosted By 56.06 World Cup 100 'Fly Mark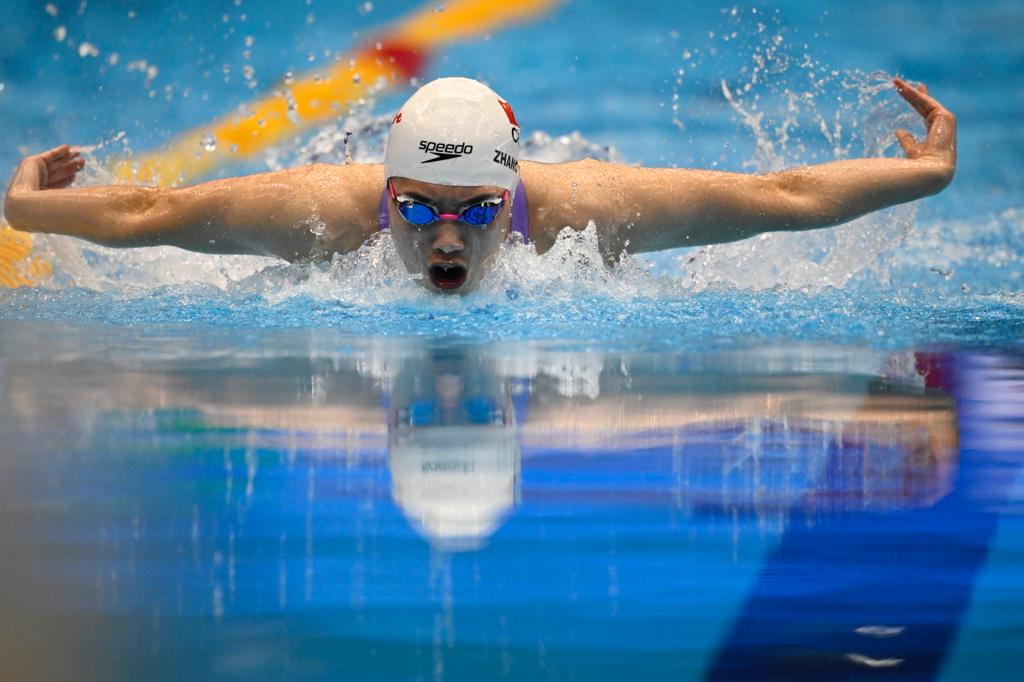 Zhang Yufei is on a roll, a 56.06 World Cup record in the 100m butterfly as the Athens round of the World Cup drew to a close this evening joining a bull run of podium punches stretching back to World titles in Fukuoka at the end of July.
Her winning time was faster than the 56.16 in which she claimed the World title back in late July. Zhang's extraordinary spree of speed includes: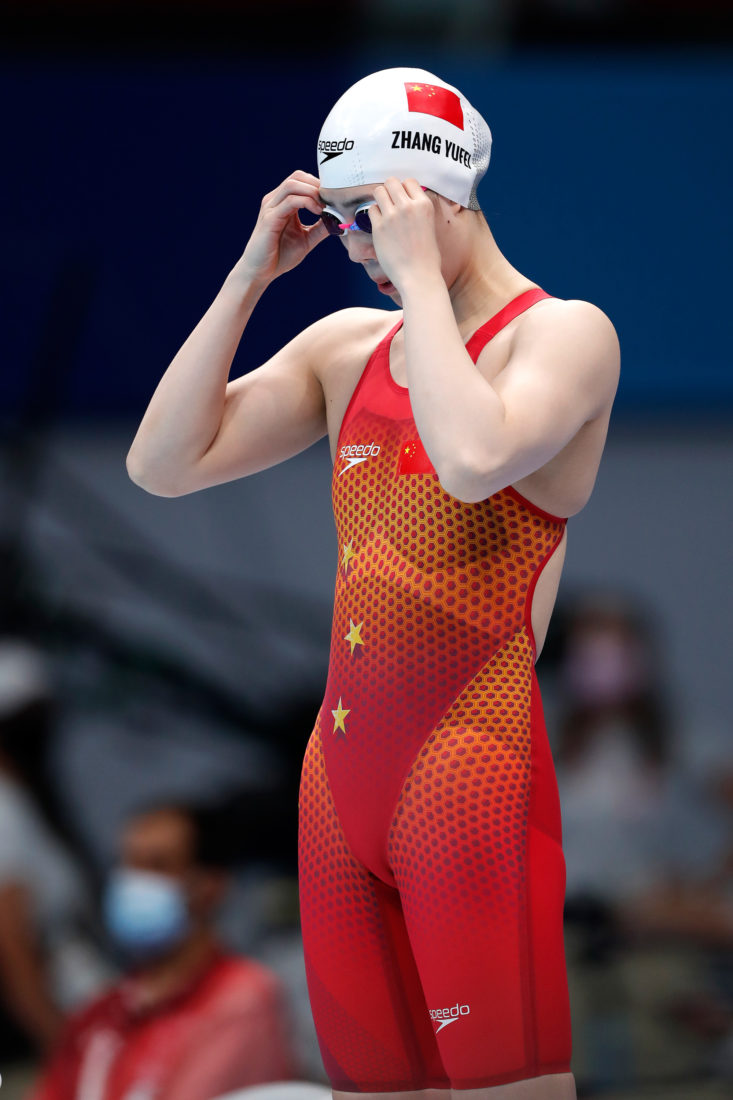 World Championships – July 23-30
2 gold (100m butterfly, 4×100m mixed medley); 1 silver (50m butterfly); 2 bronze (50m freestyle, 4×100m freestyle)
Asian Games – Hangzhou September 24-29
6 gold (50m free; 50 100, 200m 'fly; 4×100 free, 4×100 mixed medley)
World University Games – Aug 2 – August 8
9 gold (50, 100m free; 50, 100 'fly, all five relays open to women, two in mixed quartets)
No-one could ever say Zhang is shy of race practice. Today, the 25-year-old fell 0.58sec shy of the World record held since Olympic gold in 2016 by Swedish sprint queen Sarah Sjostrom.
Sjostrom had also held the World Cup record, at 56.46, going into the race in Athens before Zhang zipped down the opening length in 25.98, 0.03sec inside the Swedish sprinter's world-record pace, and returned in 30.08, for her dominant 56.06 victory.
Sjostrom, who's homecoming length in Rio was a sizzling 29.47, had set the Cup mark back in September 2018, a month beyond peak summer season of the European Championships as she returned to the fray.
Zhang Racing At Fourth Peak Of The Year
Zhang is racing at the overspill of taper off the back of that successful Asian games campaign described above, the Cup representing her fourth major moment of championship speed and multi-eventing in just three months.
If Zhang was delighted, after having entered the race "very nervous", Sjostrom was just as happy, to place second in 56.92 at this stage in her Olympic preparations almost three years after she broke her elbow on the way to the Tokyo2020ne Olympics. Her chances of defending the crown suffered a blow and she missed the podium after a 56.18 in heats remained her swiftest effort of the three rounds. Despite that, Sjostrom rose to the occasion on the last day of racing in Tokyo to take silver in the 50m freestyle adrift Australian Emma McKeon, winner of a record seven medals.
"I'm super happy," said Sjostrom. "It's just an honour to be in a heat with all these super girls. It was almost like an Olympic final." Third place went to Torri Huske, of the USA, on 57.12 in her last session of the 2023 World Cup: no Budapest finale next weekend for several swimmers who will head home to get back to working on their key focus: Paris 2024.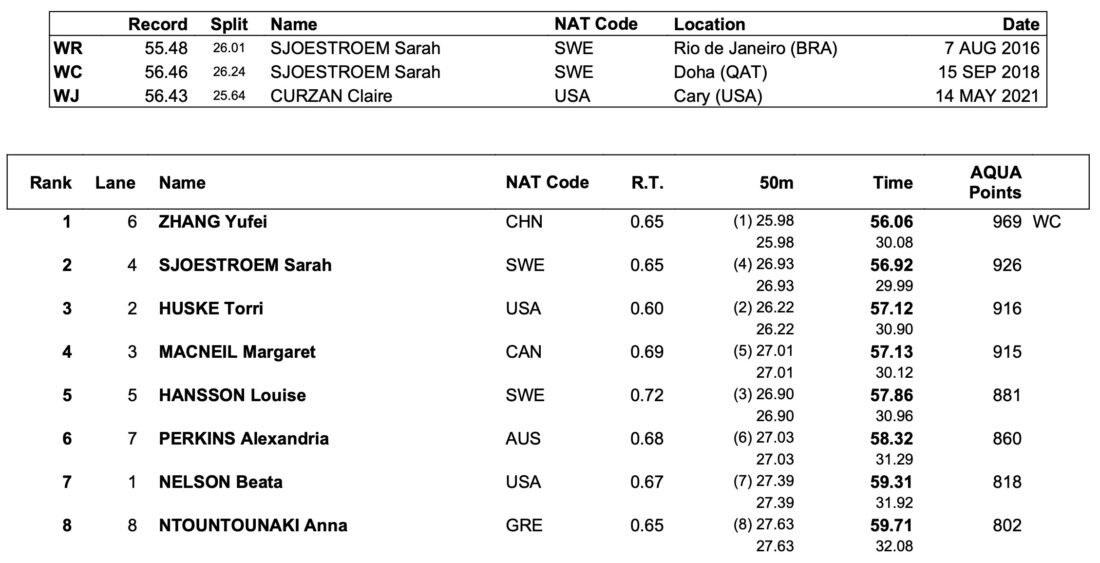 W200 Back: McKeown Cracks Cup Record In 2:06.02
Kaylee McKeown ended her meet in Athens with another three backstroke wins for six in six on tour with a 2:06.02 Series record inside the 2:06.47 at which she'd left the standard ion Berlin last week.
The Australian built a lead of 1.7sec over American Katie Grimes by the half-way to turn in 1:01.26, just 0.53sec shy of her world-record pace. That record chase ended down the third length but there was no catching McKeown, Grimes second in 2:08.01, Canada's Kylie Masse third in 2:10.77.
McKeown is getting faster with each passing round, as planned by swimmer and her coach Michael Bohl. The series looks set to witness a World record fall to McKeown in Budapest as the three-times Olympic champion and triple World champion brings her campaign to a speedy conclusion.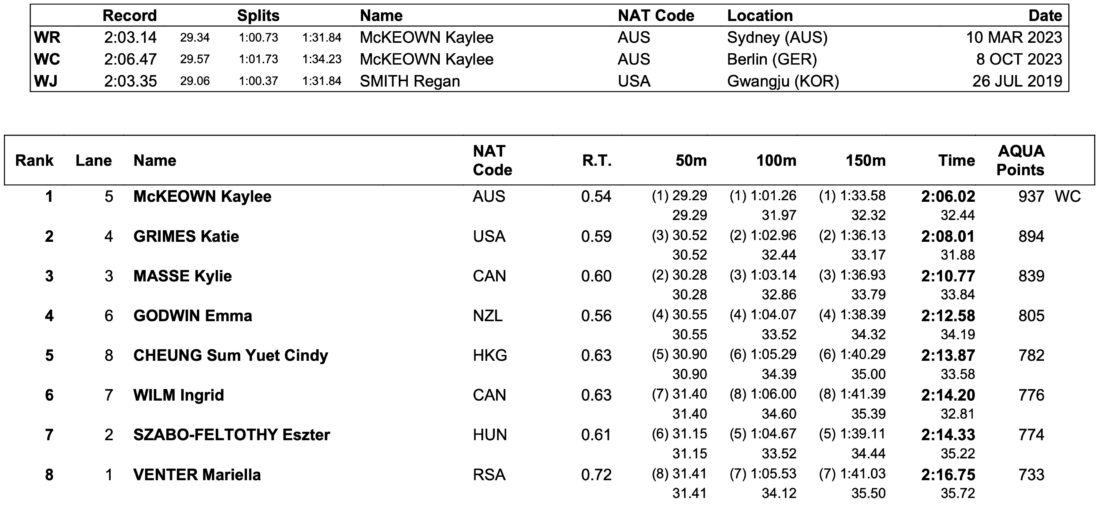 W1500m Free: Pallister Sets Inaugural Cup Standard With 15:55 Win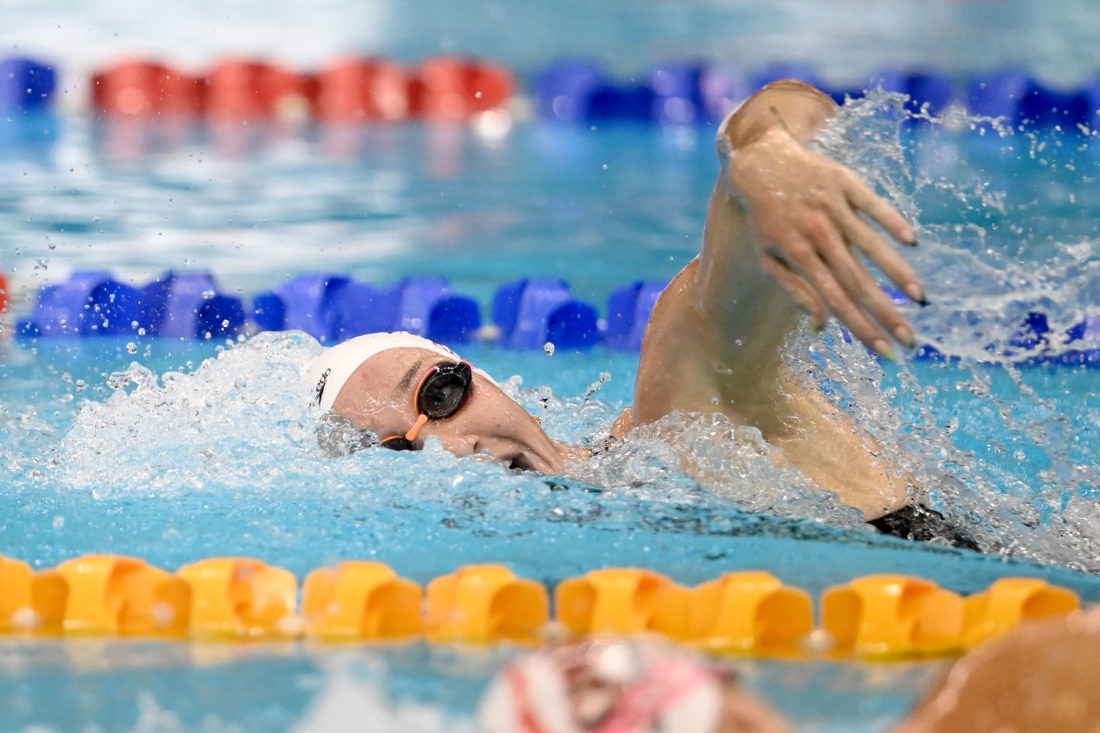 Lani Pallister dominated the 30-length race all the way to a 15:55.73 victory to establish the inaugural World Cup record for an event that has never been raced in a long-course pool on Cup tour before.
The series is traditionally held in short-course pools but in recent years has switched to long-course in the pre-Olympic season.
Pallister's time compared to her best of 15:48.96, No15 all-time, and The Australian record of 15:46.13, set by Maddy Gough in June 2021.
The 1500 tends to be one of the events that highlight ion stark terms the lack of depth on World Cup tour beyond the handful of world-class stars: Shane Gould, Australian legend, would have finished sixth today with her 1973 World record.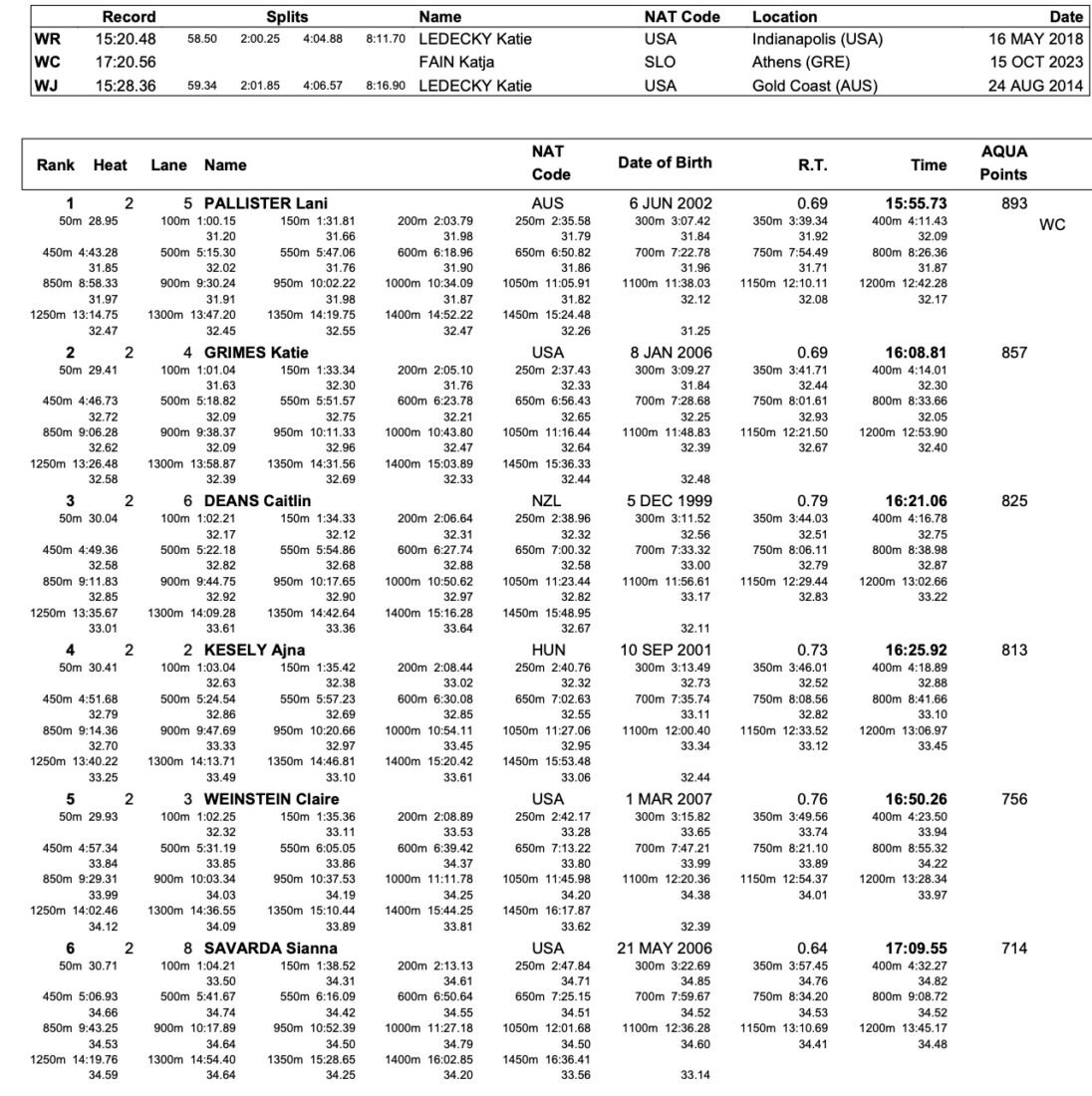 The men's 50m butterfly final was marked by controversy when winner Abdelrahman Sameh, of Egypt, revealed that he'd received deaths threats over his support for Palestine in the aftermath of the bloody Hamas attacks on Israel.
In other finals: