Zhang Yufei Tops 2021 World Ranks With 1st Sub 56 100 'Fly Of Year As Sun Yang Handed Ticket To Tokyo 2020, CAS Case Pending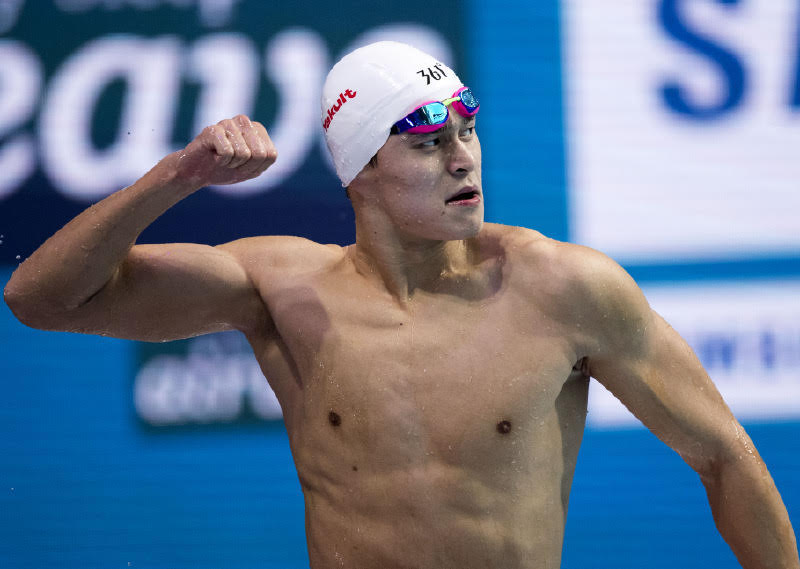 Zhang Yufei got her Chinese Olympic Trials campaign off to a swift start with a 55.96 in the 100m butterfly heats today in Qingdao, Shandong Province, as news came through that the country's swimming authorities have handed Sun Yang an automatic ticket to the Tokyo 2020 Games should he be cleared by the Court of Arbitration (CAS) in a pending anti-doping retrial next month.
Sun is not racing in Qingdao at an event that doubles as Chinese Swimming Championships but the Chinese Swimming Association has announced extra policy lines for Tokyo 2020, Chinese swim fans noted, including pre-selection for any swimmer who claimed gold at the 2019 World Championships: there were just two swimmers, one of them being Sun.
Zhang's time, easily the Olympic A qualifying time of 57.92, is the fastest in the world so far this year as the first sub-56sec, inside the 56.20 clocked by American teenager Claire Curzan last month. It also marks Zhang's second foray under 56 seconds after her Asian record of 55.62, established in heats at the Chinese Championships held in the same pool last September.
Before that, the national record had stood at 56.07 to 2008 Olympic 200m champion and current world record holder Liu Zige, from the Chinese National Games on October 18, 2009 in the closing days of the shiny suit era (the same meet where she established her other world 2:01.81, an effort that is a candidate to be the last serving stint suit standard come the day.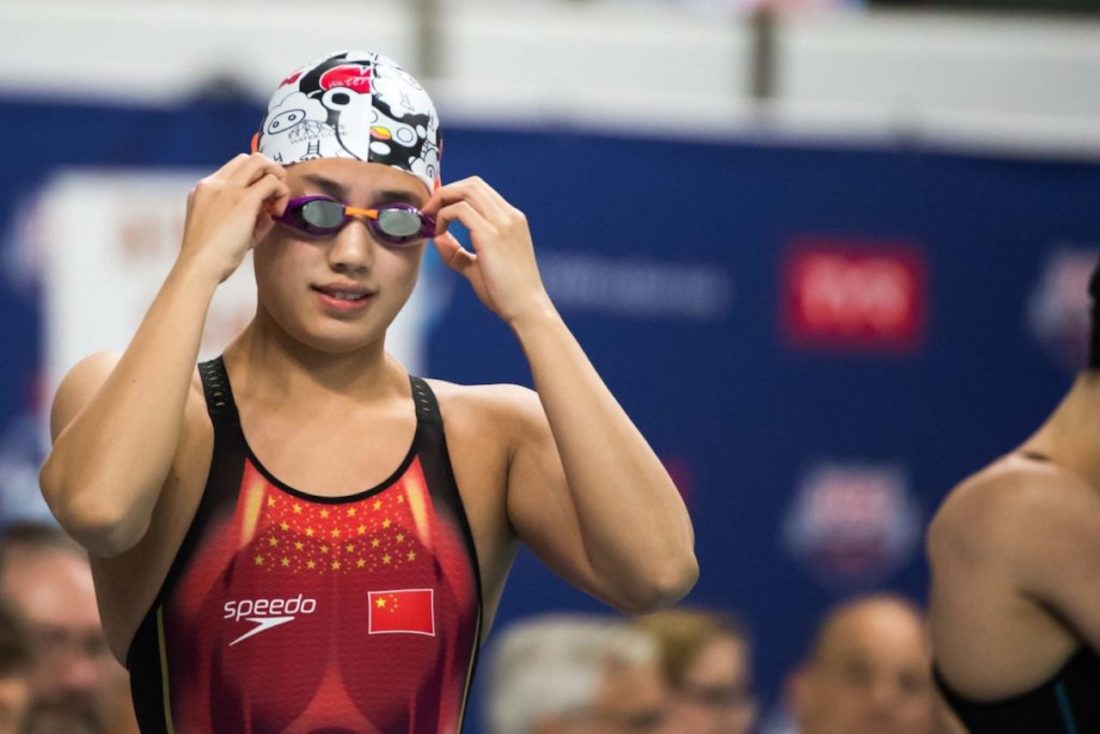 Zhang Yufei's previous best had been a 57.29, from the heats at 2017 World Championships when she was 18. Now 22, she clocked a swift unrested 56.40 at the Chinese swim series in Zhaoqing two months ago.
The Olympic Trials in Qingdao will run to May 8 and follow the Tokyo 2020 program, with evening heats and morning finals.
The bulk of the China team will be selected after this meet but there is one more chance for selection in events that do not produce two qualifiers in the eight-day meet unfolding: May 31 to June 6 marks the Summer Swimming Championships in China, which fall after Sun Yang's final hearing at the Court of Arbitration for Sport and will determine whether he has any chance of making it to the clocks at Tokyo 2020.
Sun is said to be training through but is not competing in Qingdao this week. If cleared by CAS the second time round after a controversy over the racists comments of one of the judges in the hearing in November 2019 that led to Sun being given an eight-year suspension by the World Anti-Doping Agency (WADA), Sun has been handed an automatic qualification in a newly announced criteria for Olympic selection to the China team for Tokyo.
In a previously unpublished policy line, Chinese Swimming has declared that it is now operating a pre-selection policy: all 2019 World Championships gold medallists are automatically on the Olympic team, in common with several other nations.
That would include Sun, courtesy of his controversial wins over 200 and 400m freestyle. The only other person covered is 100m backstroke champion Xu Jiayu.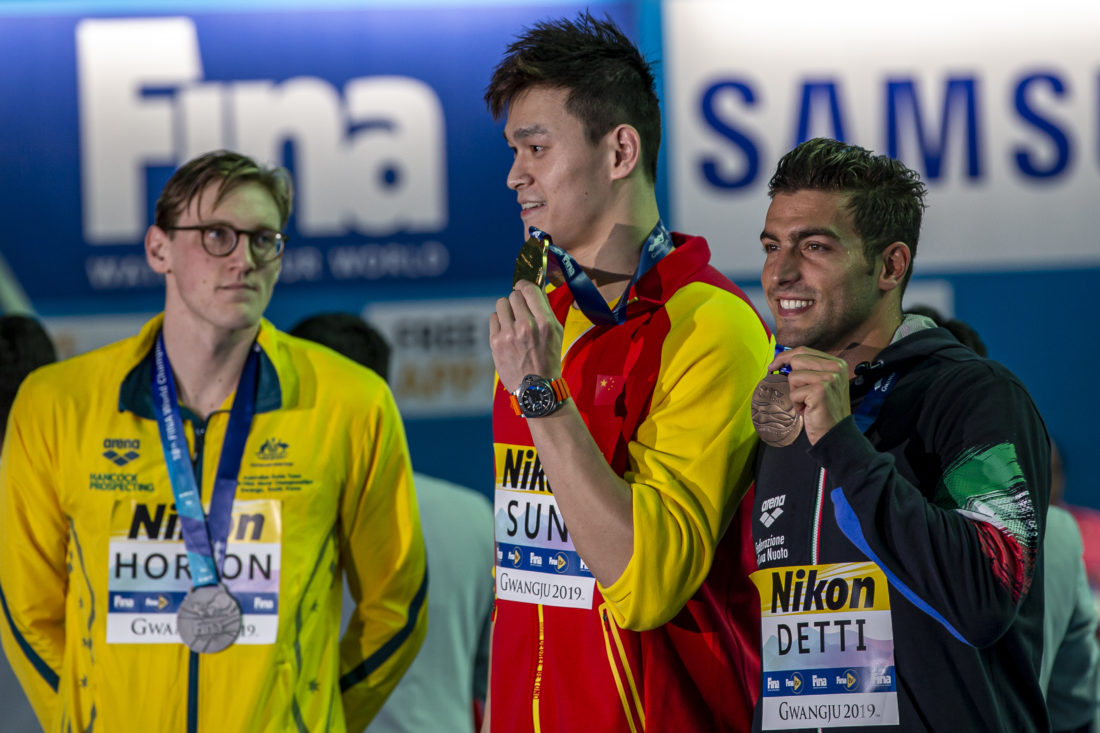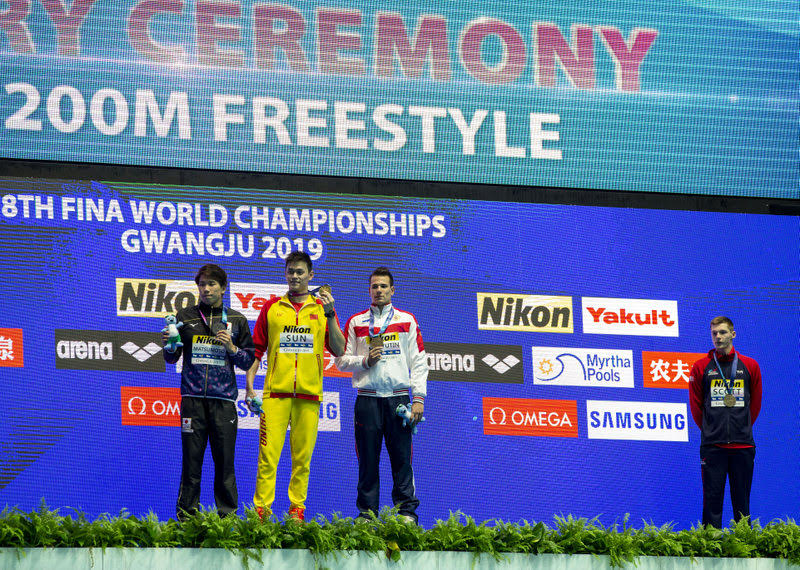 After Sun was allowed to race at 2019 World Championships in Gwangju, Korea, pending a CAS hearing in November that year after WADA challenge a FINA ruling that let Sun off with a warning following an acrimonious visit of a Chinese anti-doping team to his home in September 2018, rivals expressed their objection to his presence, given that he had already failed a doping test in 2014. Peaceful protests were staged by Mack Horton and Duncan Scott in Gwangju while FINA slapped all three men with warnings for their "behaviour" on the podium.
Other China Olympic selection policies for Tokyo 2020:
In solo events where no swimmer makes the FINA A cut at Trials and the meet in June, then the first swimmer home inside the B cut in Qingdao over the coming eight days will be handed the China berth for that race in Tokyo.
The roster for relay-only swimmers will be decided after the championships are over based on finishing order in Qingdao, with a limit of two relays per swimmer allowed.
At the June meet, those who finish first inside a FINA A cut will be added to the team if there are remaining places open in the relevant event.
On the first evening of heats, the others who booked tickets to lane four in the next round were Yan Zibei, on 1:00.58 in the 100m breaststroke; Yu Yiting, on 4:41.32 in the 400IM; Zhang Ziyang in the 400m freestyle; and Wang Shun, on 4:18.45 in the 400IM.