Zac Stubblety-Cook Turns Up Pressure Cooker In 200 Breaststroke Battle With WR-Rattling 2:06.28 Commonwealth Mark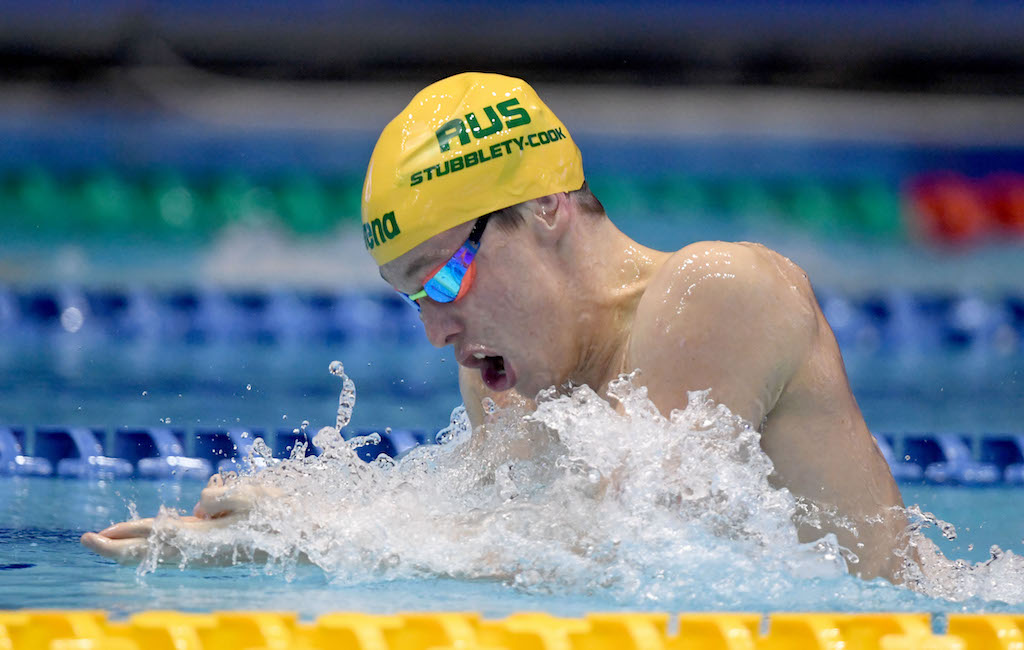 Zac Stubblety-Cook piled pressure on Russian World record holder Anton Chupkov and the dam building to the 2:05 over 200m breaststroke with a storming 2:06.28 Commonwealth record that elevated him to all-time No2 just 0.16sec shy of the global standard.
On another fast day at Australian Olympic trials in Adelaide, with two finals sessions to go, the latest big leap for Stubblety-Cook, coached by Vince Raleigh at Chandler, raises hopes among Australians of a fine slice of history being written: the last Dolphin to claim the 200m breaststroke crown was Ian O'Brien … at Tokyo 1964.
There was heartache in a second place with no obvious silver lining: previous Commonwealth and World record holder Matt Wilson, blocked from selection by a whisker four years ago, when selectors said 'never mind, he'll be back in four years time', missed the cut by 0.34sec with a 2:08.52 in second place. Whether any COVID-challenge discretion will be applied remains to be seen.
Third place went to Daniel Cave in 2:09.62. He led at the first turn but from there, it was all about Stubblety-Cook Vs Wilson, at least for the next two lengths before Wilson, who established a World record of 2:06.67 in semis at 2019 World titles on the way to Chupkov claimed the crown in 2:06.12, felt the pace in the hunt for home:
29.40; 1:01.73 (32.33) 1:34.24 (32.51) 2:06.28 (32.04)
28.85; 1:01.35 (32.50) 1:34.51 (33.16) 2:08.52 (34.01)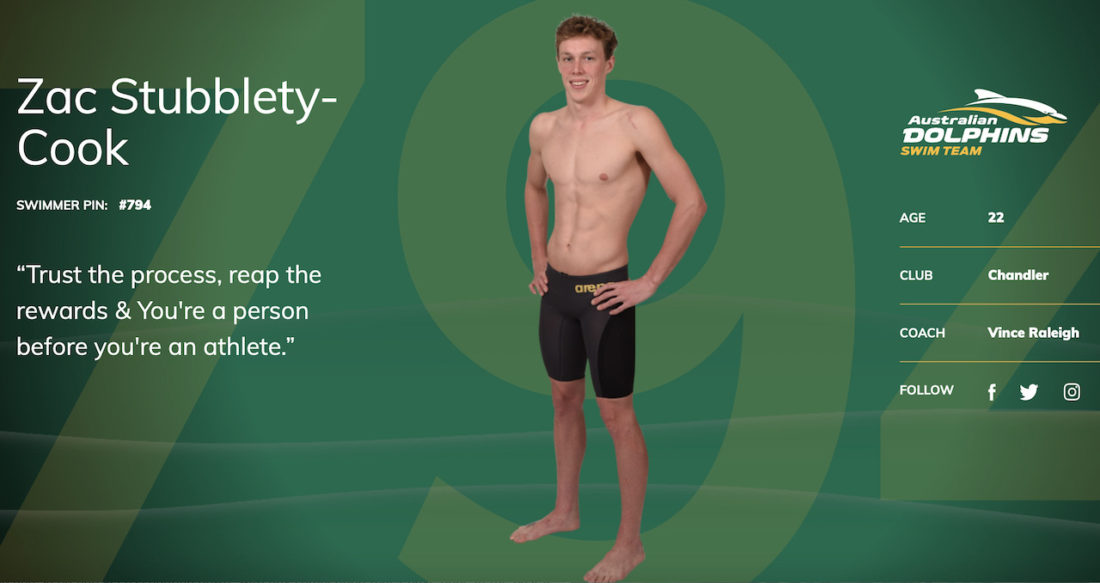 On 2:07.00 at the Sydney Open earlier this season, Stubblety-Cook not only became the sixth member of the sub-2:07 club today but is now knocking at the door of a 2:05 club thirsting for its founder member on the way to the Tokyo 2020 showdown delayed by a year by a pandemic of winners and losers.
Wilson may not be there, European champion Chupkov will be there but cannot wear RUS nor will his national flag fly up the pole should he make the podium as part of the whole-nation penalty served on Russia by the World Anti-Doping Agency (WADA) after authorities in Moscow were found to have manipulated data and test results when being chased down by investigators trying to get to the bottom off the biggest systematic doping scandal since Oral Turinabol was all the rage in the GDR and with the likes of FINA honouree Dr Lothar Kipke, who retains his award to this day despite being handed a criminal record for abuse of minors in 21 years ago.
Stubblety-Cook will arrive in Tokyo able to wear his national colours, sing his anthem and have a pop at becoming the first Aussie since O'Brien Ito claim the 200m crown. This is how things are stacking up: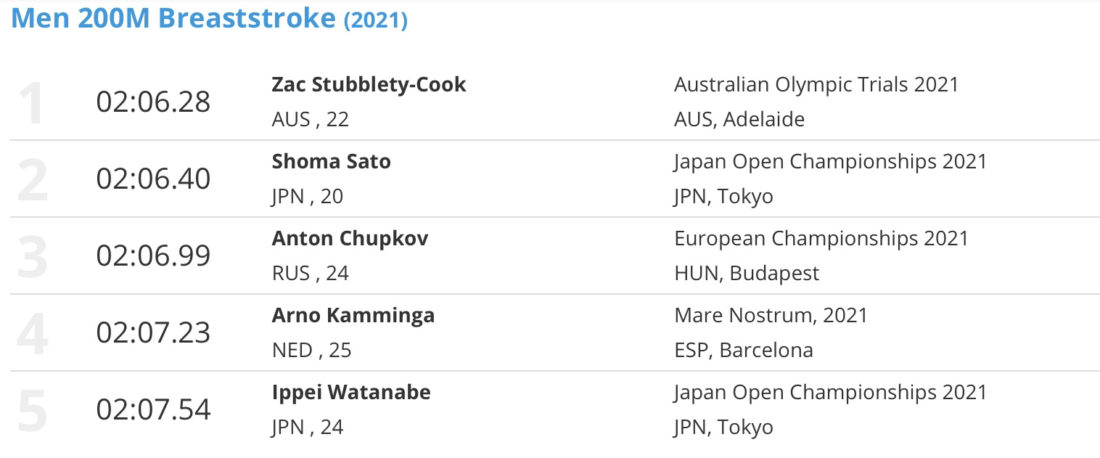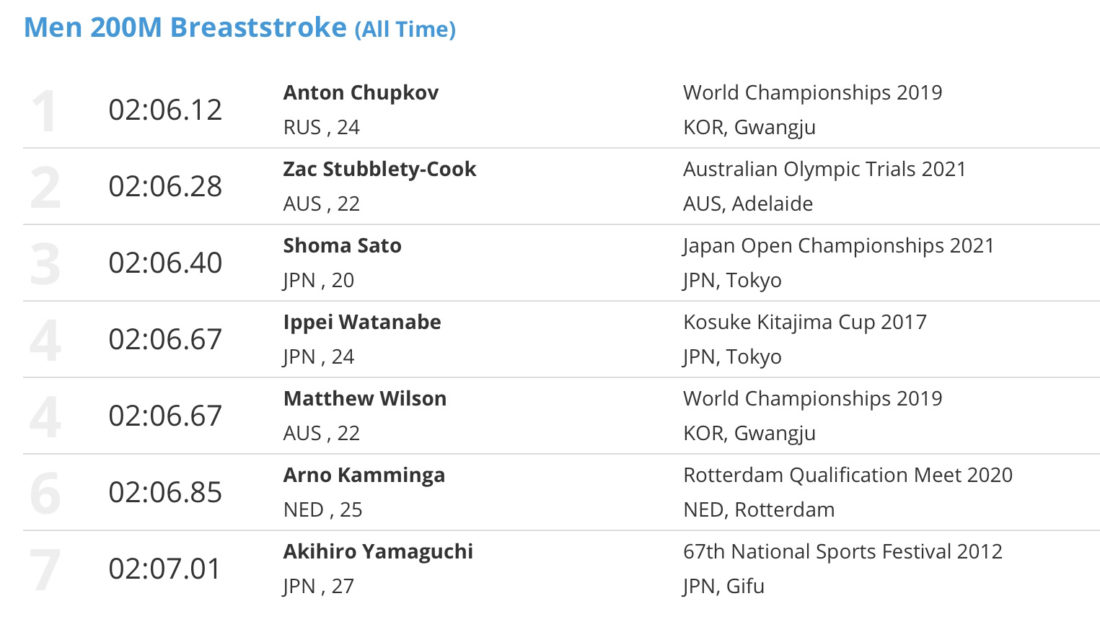 Men's 100m freestyle
– Kyle Chalmers Books Olympic-Title Defence On 47.5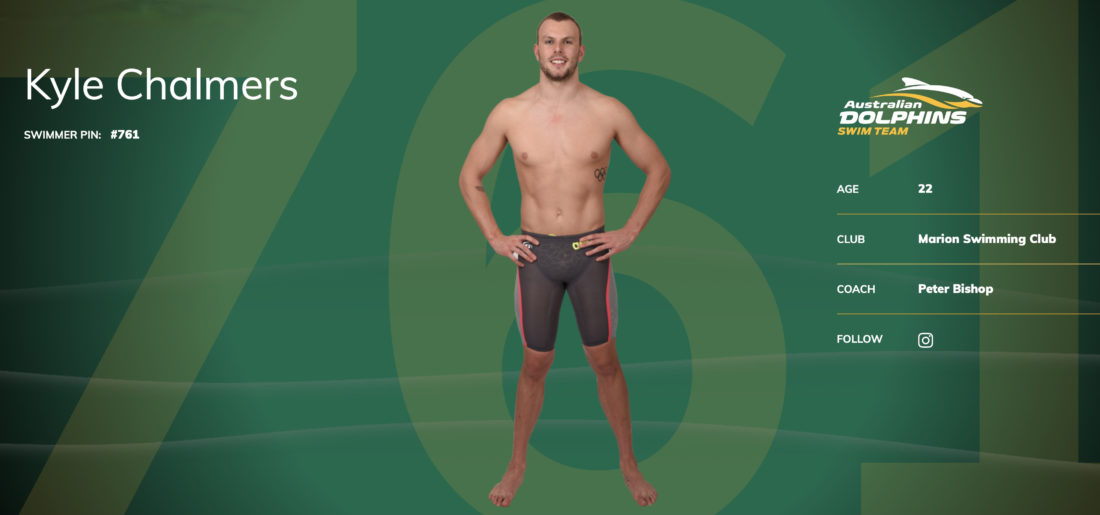 Olympic Champion Kyle Chalmers turned on three of his four rockets to muscle up to No3 in the world so far this year with a 47.59 blast to book a ticket to the defence of the 100m freestyle crown in Tokyo.
Chalmers took charge from the blocks, turned at the helm in 23.03 and dashed home in 24.56 for the seventh best time of his career on a list of 12 sub-48s topped by the 47.08 in which he claimed silver behind American Caeleb Dressel and a 46.96 at the 2019 World titles, the last time the best in the world gathered for battle in peak form.
If Chalmers looks in a good position in the solo event, the Australian relay has progress to make if it is to make the Tokyo podium this time round. Closest to Chalmers with a ticket to Tokyo in his grasp was Matt Temple, on 48.32, jus 0.01sec inside the cut.
Next home was Australian record holder on 47.04 at Olympic trials in 2016, Cameron McEvoy, today on 48.49, off 23.20, Zac Incerti, off 23.28, completing the top 4 in 48.51, Alexander Graham the only other sub-49, on 48.65.
Coached by Peter Bishop at Marion, Chalmers did the job he needed to do today, no need for record-rattlers given his supremacy in domestic waters. Here's how the space is stacking up, Dressel yet to fire at his trials in Omaha: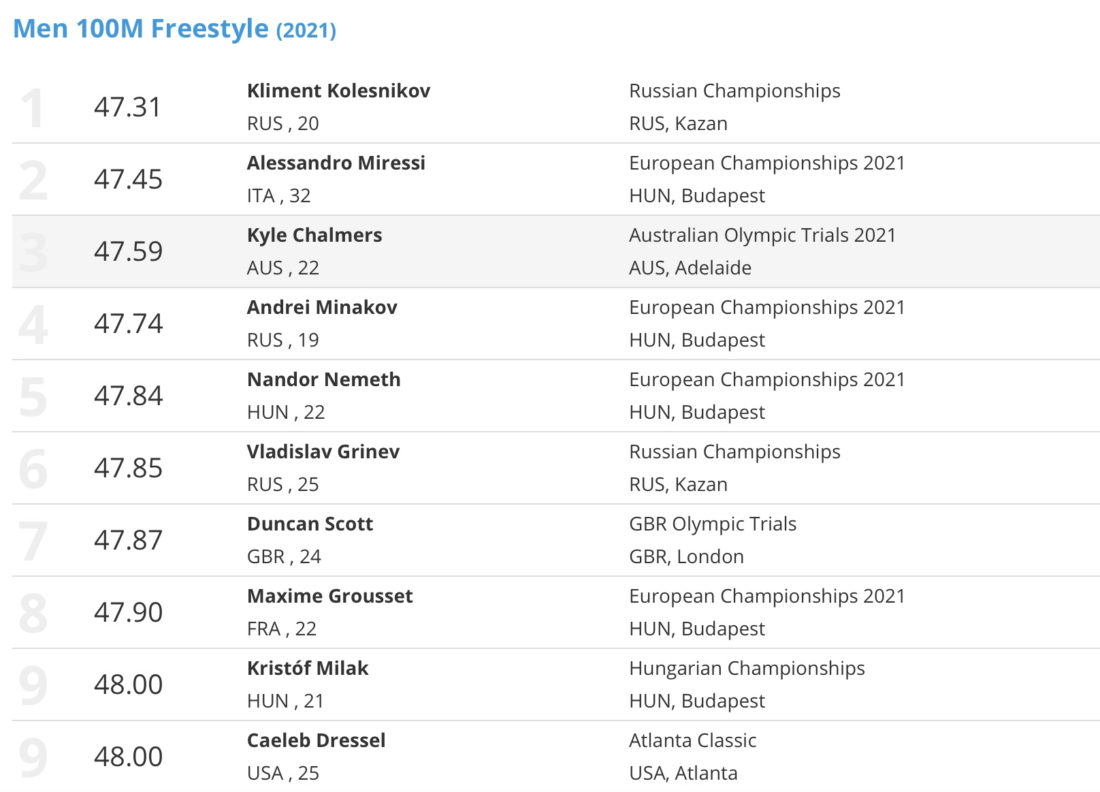 Women's 1500m freestyle – Maddy Gough Into All-Time Top 10 With 15:46 Aussie 1500m Record
Maddy Gough, coached by Chris Nesbit at TSS, brought day 4 action to a close in Adelaide with an Australian record of 15:46.13 for a ticket to the inaugural women's Olympic 1500m. The first four home raced inside the cut, the second ticket going to Kiah Melverton in 15:57.14, Moesha Johnson in third on 15:59.96 to complete a sub016min podium, while Kareena Lee was not far away, on 16:02.31.
The Australian standard had stood to Jess Ashwood at 15:52.17 since 2015.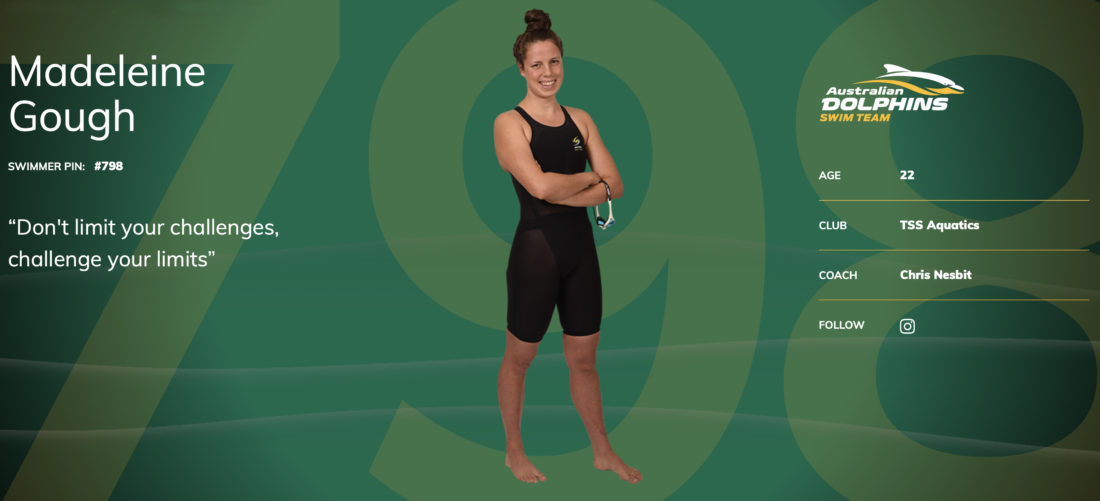 Gough's splits:
29.80 1:01.50 (31.70)
1:33.35 (31.85) 2:05.30 (31.95)
2:37.07 (31.77) 3:08.92 (31.85)
3:40.52 (31.60) 4:12.14 (31.62)
4:43.66 (31.52) 5:15.39 (31.73)
5:46.92 (31.53) 6:18.59 (31.67)
6:50.01 (31.42) 7:21.63 (31.62)
7:53.04 (31.41) 8:24.77 (31.73)
8:56.28 (31.51) 9:28.05 (31.77)
9:59.39 (31.34) 10:31.26 (31.87)
11:02.66 (31.40) 11:34.41 (31.75)
12:05.69 (31.28) 12:37.38 (31.69)
13:08.76 (31.38) 13:40.46 (31.70)
14:12.04 (31.58) 14:43.83 (31.79)
15:15.19 (31.36) 15:46.13 (30.94)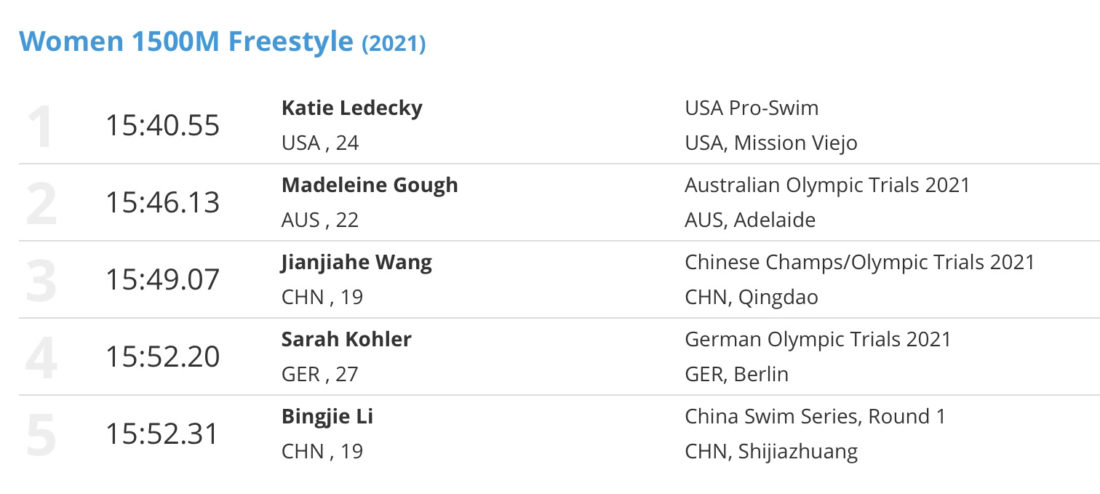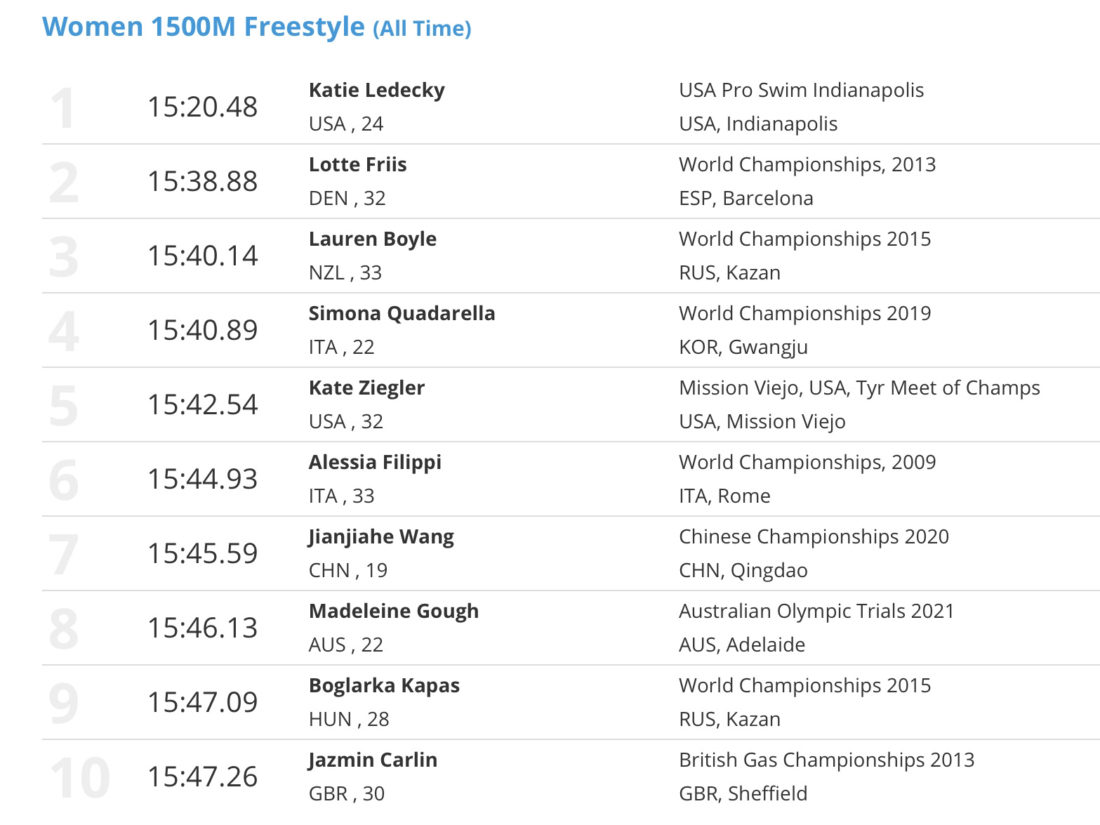 Women's 200m butterfly
– Tokyo Ticket For Throssell
The race went without Olympic silver medallist Maddie Groves, missing for all the wrong reasons. In her absence, there was one ticket to Tokyo: it went to Brianna Throssell in 2:07.63. Elizabeth Dekkers, 17, led for the first three lengths but the pressure of the hours perhaps cost her nervous energy and that appeared to show on the homecoming lap, a 2:08.57 falling 0.14sec shy of the cut she needed for Olympic selection.
Dekkers had clocked 2:07.25 at Australian age championships this year and looked to be on course for a repeat of that pace until the hunt for home, which saw her just hold off Laura Taylor, third in 2:08.74:
28.51; 1:01.09 (32.58) 1:33.85 (32.76) 2:07.63 (33.78) Throssell
28.56; 1:00.72 (32.16) 1:33.62 (32.90) 2:08.57 (34.95) Dekkers
Throssell's effort was just shy of her best this season, a 2:07.20 from Club Championships, which is currently No6 in the world so far this year on a ranking topped by China's Zhang Yufei, on 2:05.44 at Chinese nationals and Olympic trials.
More on events in Adelaide later…