Zac Stubblety-Cook Stunner – 2:05.95 World Record Bursts The Dam Of 2:06 Pressure Building In The 200 Breaststroke Ranks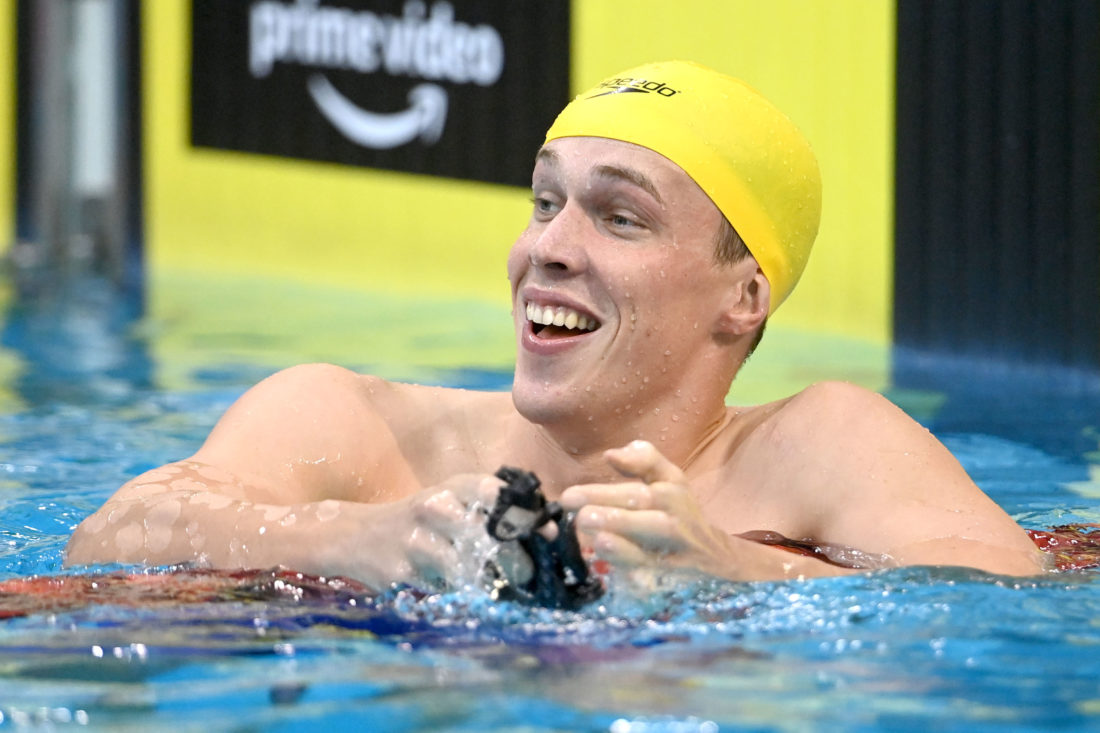 Olympic champion Zac Stubblety-Cook cracked the World Record with a 2:05.95 victory in the 200m breaststroke at Australian Championships in Adelaide with a sizzling performance that burst the 2:06 dam of pressure that's been building since Japan's Ippei Watanabe became the first man ever to race inside 2:07 in 2017.
This year marks the 30th and then 20th anniversaries of the fight for 2:10: in 1992, American Mike Barrowman produced a phenomenal 2:10.16 win at the Barcelona Olympic Games atop a podium with Hungarian Norbert Rozsa (HUN) and Nick Gillingham (GBR) that would remain the fastest Olympic top 3 until Athens. 2004; and then at Busan in 2002, Kosuke Kitajima, of Japan, made history with the first sub-2:10, on 2:09.97 for the Universiade title on his way to becoming the only man in history to claim the Olympic 100-200 breaststroke double at two Olympics, 2004 and 2008.
Zac Stubblety-Cook, Coached by Vince Raleigh at Chandler, claimed the Tokyo2020ne Olympic title with a dominant 2:06.38 OR, an Olympic record, last year. Today, the 23-year-old from Brisbane in Queensland move the global pace on with another smart approach to pacing a race that has proved tricky for many a generation to master.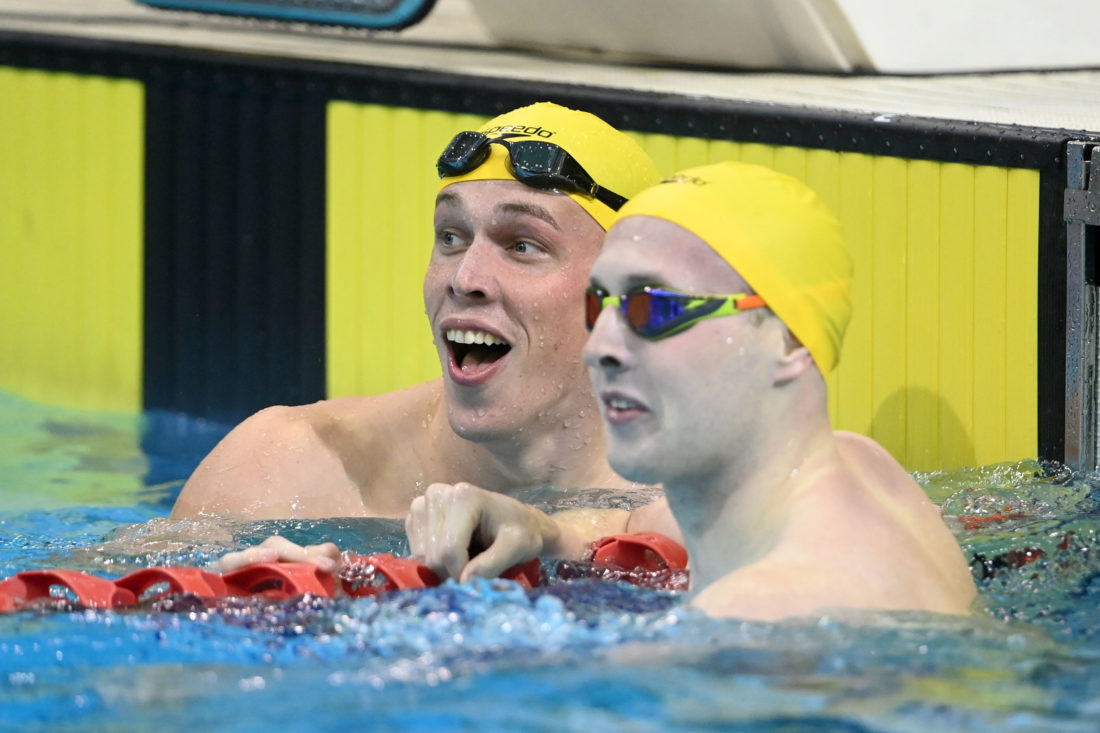 More than 4 seconds back in second place and just inside the qualifying standard for World titles in Budapest next month, Matt Wilson clocked 2:10.14, almost three years on from a World-titles semi in which he matched Watanabe's World record of 2:06.67 on his way to silver in the final behind Anton Chupkov, of Russia, in what until today had been the global standard, 2:06.12.
The Zac Stubblety-Cook Stunner
29.43 1:01.89 (32.46) 1:34.32 (32.43) 2:05.95 (31.63) WR Zac Stubblety-Cook
29.22 1:02.17 (32.95) 1:36.03 (33.86) 2:10.14 (34.11) Matthew Wilson
The splits are telling in the way they were in Tokyo last year – 29 and steady as he goes, then 32s all the way home (today, he popped a 31.63 storm of a last length):
29.35; 1:01.72 (32.37) 1:34.17 (32.45) 2:06.38 (32.21) OR Zac Stubblety-Cook Gold
28.14; 1:00.09 (31.95) 1:32.98 (32.89) 2:07.01 (34.03) Arno Kamminga Silver
28.96; 1:00.85 (31.89) 1:33.35 (32.50) 2:07.13 (33.78) Matti Mattsson Bronze
29.66; 1:02.38 (32.72) 1:34.26 (31.88) 2:07.24 (32.98) Anton Chupkov
In third place in Adelaide today was Adam Selwood, on 2:13.68.
Zac Stubblety Cook is the fifth Australian ever to hold the 200m breaststroke standard and takes the honour 70 years after John Davies claimed the Olympic title in Helsinki to become the first man from Down Under to set the global high bar on the clock (2:34.4). The new 2:05.95 is the 69th World record to be set since official records began with Britain's Frederick Holman clocking of 3:09.2 for the 1908 Olympic crown at home in London.
The Picture of Progress Since Barrowman's Bomb In Barcelona:
| Time | Swimmer | Date | Place |
| --- | --- | --- | --- |
| 2:10.16 | Mike Barrowman USA | July 29, 1992 | Barcelona, Spain |
| 2:09.97 | Kosuke Kitajima JPN | October 2, 2002 | Busan, South Korea |
| 2:09.52 | Dimitri Komornikov RUS | June 15, 2003 | Barcelona, Spain |
| 2:09.42 | Kosuke Kitajima | July 24, 2003 | Barcelona, Spain |
| 2:09.04 | Brendan Hansen USA | July 11, 2004 | Long Beach, United States |
| 2:08.74 | Brendan Hansen | August 5, 2006 | Irvine, United States |
| 2:08.50 | Brendan Hansen | August 21, 2006 | Victoria, Canada |
| 2:07.51 | Kosuke Kitajima | June 8, 2008 | Tokyo, Japan |
| 2:07.31 | Christian Sprenger AUS | July 30, 2009 | Rome, Italy |
| 2:07.28 | Dániel Gyurta HUN | August 1, 2012 | London, United Kingdom |
| 2:07.01 | Akihiro Yamaguchi JPN | September 15, 2012 | Gifu, Japan |
| 2:06.67 | Ippei Watanabe JPN | January 29, 2017 | Tokyo, Japan |
| 2:06.67 | Matthew Wilson AUS | July 25, 2019 | Gwangju, South Korea |
| 2:06.12 | Anton Chupkov RUS | July 26, 2019 | Gwangju, South Korea |
| 2:05.95 | Zac-Stubblety-Cook AUS | May 19, 2022 | Adelaide, Australia |
Kylie McKeown 4:31 Win In 400IM Sets Up Prospect Of Multi-Medal Haul At Worlds & Commonwealths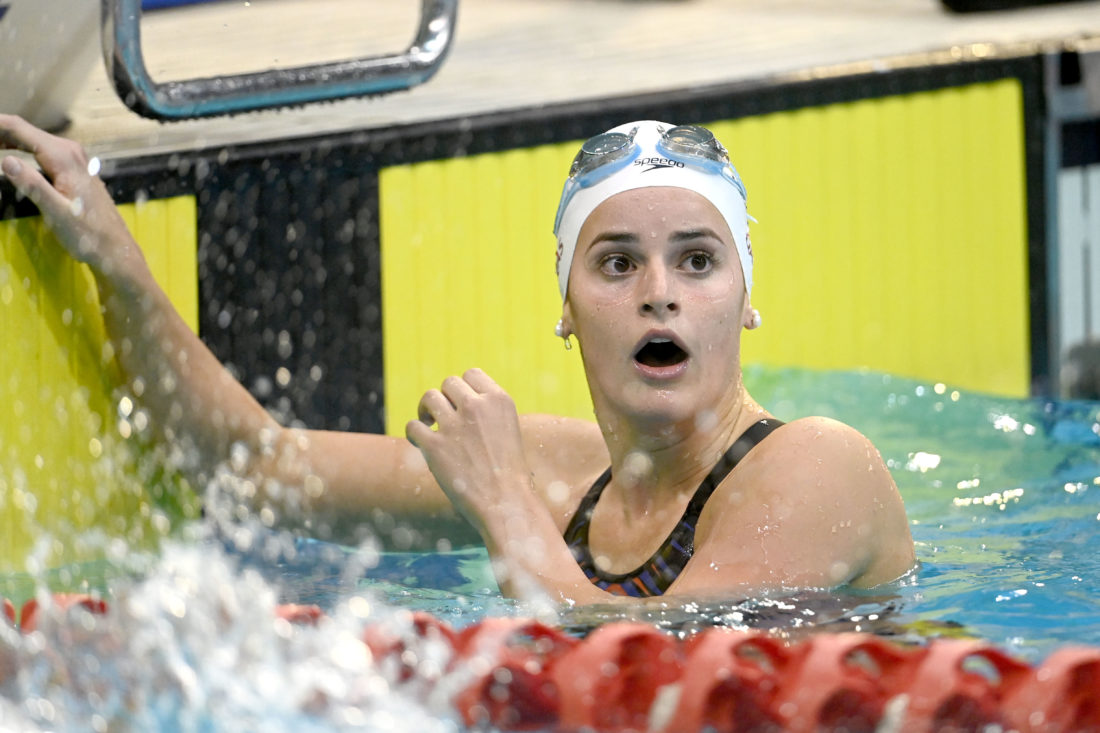 On any other day, a 4:31 400IM at a national championship might well have been the headline but Stubblety-Cook put all other swims in the shade.
Even so, no hiding the sunshine and promise of more to come in the performance of double Olympic backstroke champion Kaylee McKeown, who raised the prospect – though not necessarily the likelihood – of a a seven-medal haul at World Championships in Budapest next month with a 4:31.74 victory in the 400m medley.
McKeown's new high bar lifts her from 14th (with her 2020 best of 4:32.74) to 11th – and 7th in textile – on the all-time global 400IM rankings. Already the second-swiftest Australian ever, McKeown may now have her eye on Stephanie Rice's 4:29.45 Commonwealth and Australian record, which back in 2008 was good for Olympic gold in World-record time, the ahead-of-era pace courtesy of the short-lived shiny suits and the surfboarding saga they delivered.
In textile, McKeown became the fastest Australian ever in 2020, ahead of Rice's best of 4:33.45, and today extended that lead in a race that saw 18-year-old Jenna Forrester claim a ticket to her World-Championships debut in 4:36.77. Third home and in line for the Commonwealth-Games medley battle was Kiah Melverton, already ion the team bound for Birmingham, courtesy of her second-place finish in the 800m freestyle behind Lani Pallister yesterday.
The splits for McKeown and Forrester:
1:04.19; 2:12.55; 3:28.29; 4:31.74 McKeown (GUSC)
1:03.91; 2:13.58; 3:32.61; 4:36.77 Forrester (St Peters Western)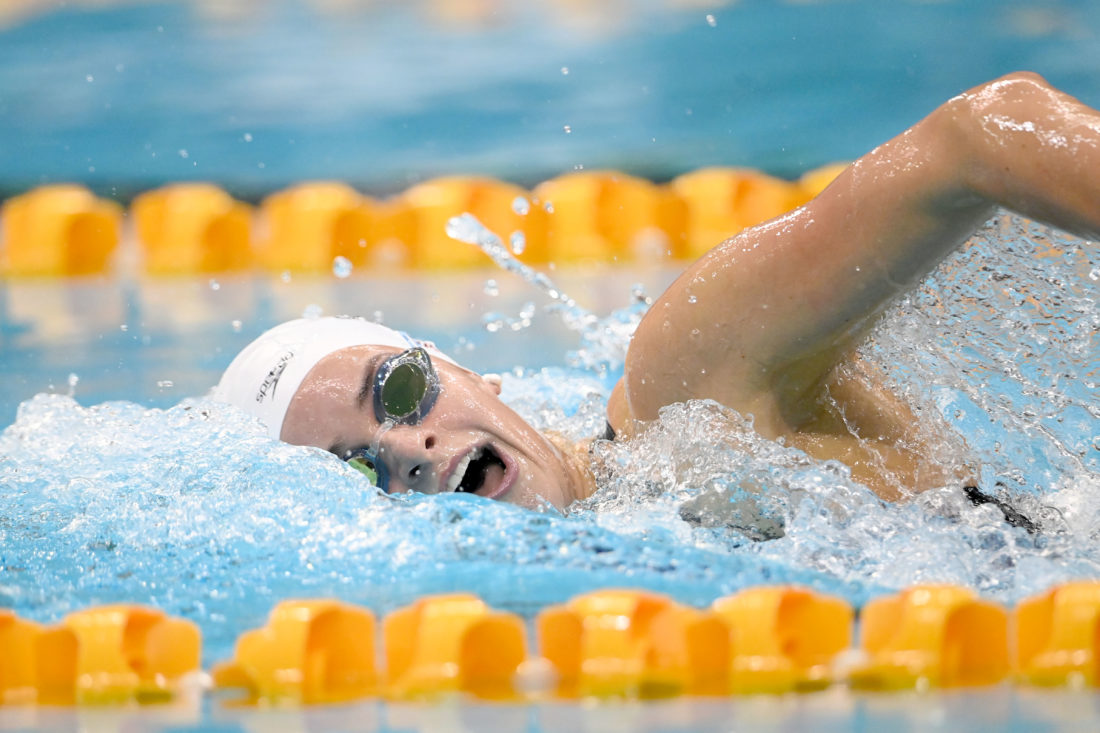 McKeown will race the 200m medley on the last day at trials in Adelaide on Sunday. By then, she is likely to have qualified for the 100 and 200m backstroke, 400m medley, 4x100m medley women and a potential swim in the 4x100m Mixed medley. Add in the 200IM and the possibility of racing in the 50m backstroke and a seven-event program with the prospect of a medal in each event is clear, at Worlds and Commonwealths.
Choices are another thing, of course and McKeown bypassed the medley events at the Tokyo 2020ne Olympic Games to focus on the backstroke campaign that turned pure gold, victories in the 100 and 200m bolstered by her role in the triumph of Australian women in the 4x100m medley as the action in the Games pool came to a close on the ninth day of racing.
Chalmers & Simpson: The Heat Is On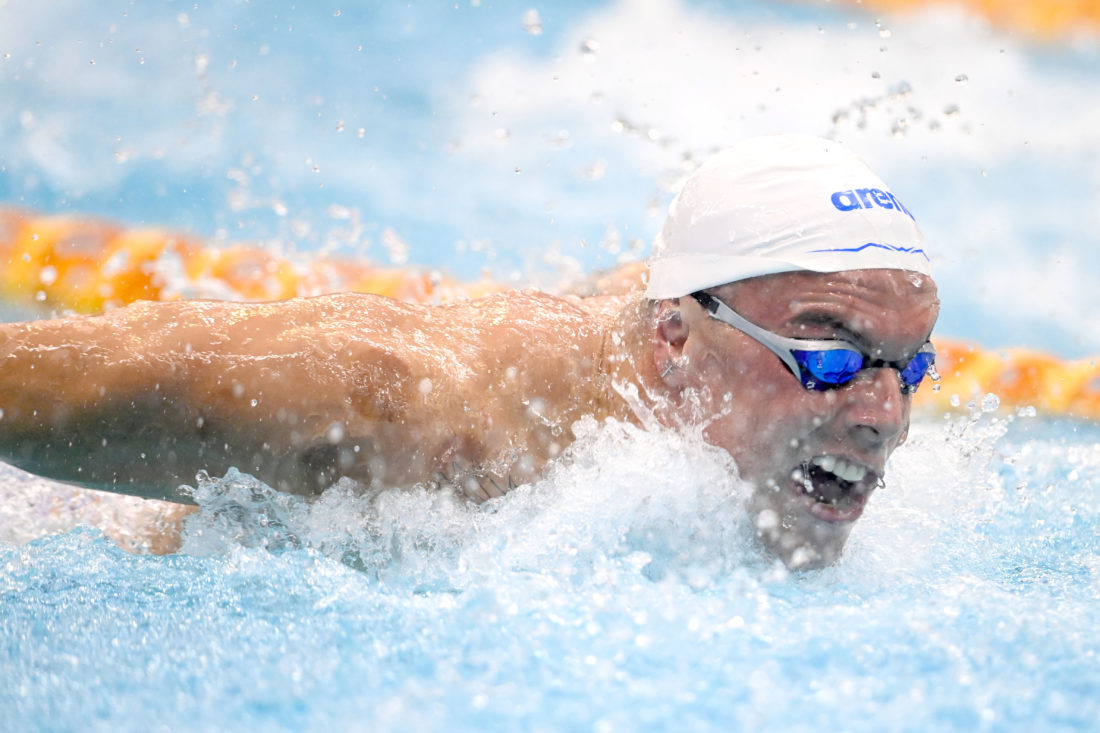 Kyle Chalmers, Marion, clocked 23.21 to win the butterfly dash a day after silver in the 100m adrift defending champion Matt Temple. Will Yang and Isaac Cooper took second and third in 23.50 and 23.53 respectively, Cody Simpson, the bronze-medal headliner in the 100 yesterday, locked out in fourth.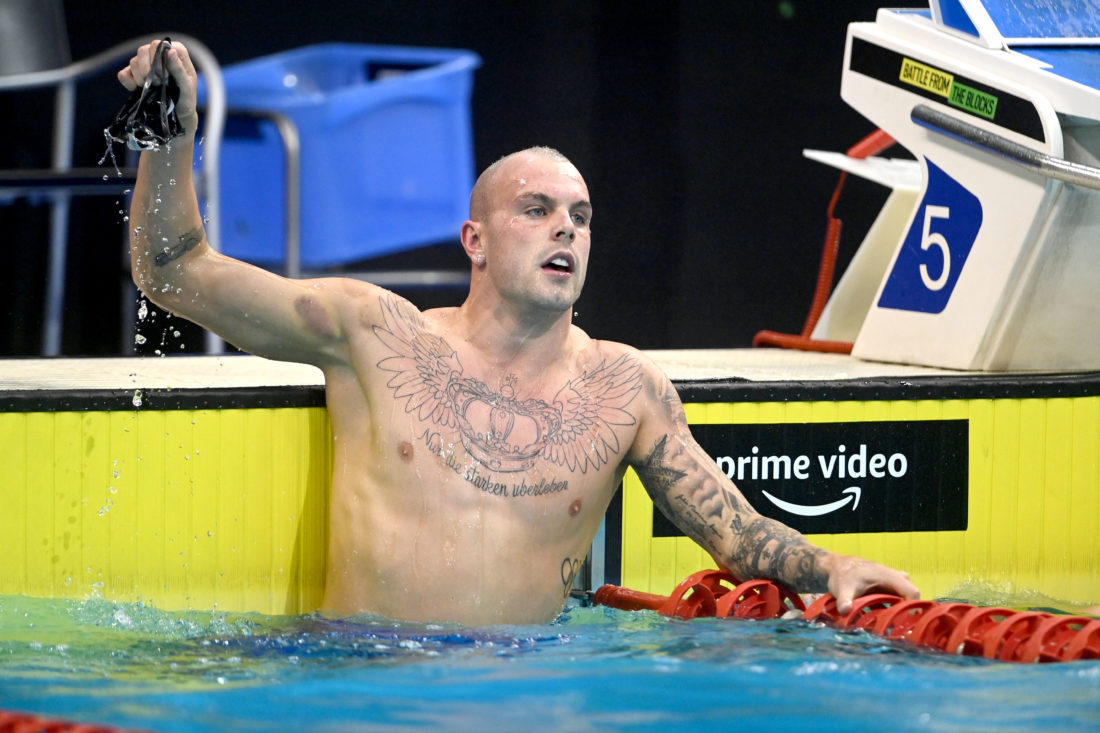 The win further emboldened Chalmers to rethink his decision to bypass Budapest World titles. Coaches and other advisers may have some wisdom to share with him as he sits down to talk to them in "the next couple of days".
The 100m butterfly final in Adelaide was not the fastest of affairs but the qualification in third place of pop star Simpson made headlines around the world. Chalmers had said he would bypass World titles in Budapest next month. The big meet is just a month away but the 2016 Olympic 100m freestyle champion who feel just 0.06sec shy of retaining the crown in Tokyo last year, is having second thoughts.
Should Chalmers opt in, Simpson would not make his World-Champs debut in Budapest but is likely to race for Australia for the first time come the Commonwealth games in Birmingham in July.
Chalmers' newfound enthusiasm is accompanied by a backdrop that includes doubt over whether a trip to Budapest would be the wisest move for the longer term, given two key factors:
only this week, Chalmers, back in the training pool for just two months, said he felt like a 40-year-old at 23 because of the pain he has had to live with as a result of two shoulder surgeries, one each side.
a 51.6 in the 100m butterfly is not competitive in terms of the Worlds final, let alone the podium. Chalmers would have top wipe a massive 1.5sec or more off his best to of 51.3 to join battle with the likes of Olympic champion Caeleb Dressel (USA) and silver medallist Kristof Milak. Then there are at least a final full of 50-second swimmers to consider, including his own teammate Matt Temple, who's best is the Oceania record of 50.4.
Chalmers has a Paris 2024 campaign in mind but given the gap between his best 100 and the best of the best, would flying under the radar for a while as he works on a 49-point swim not be the better option?
Time will tell. For now, Chalmers explained to reporters in Adelaide: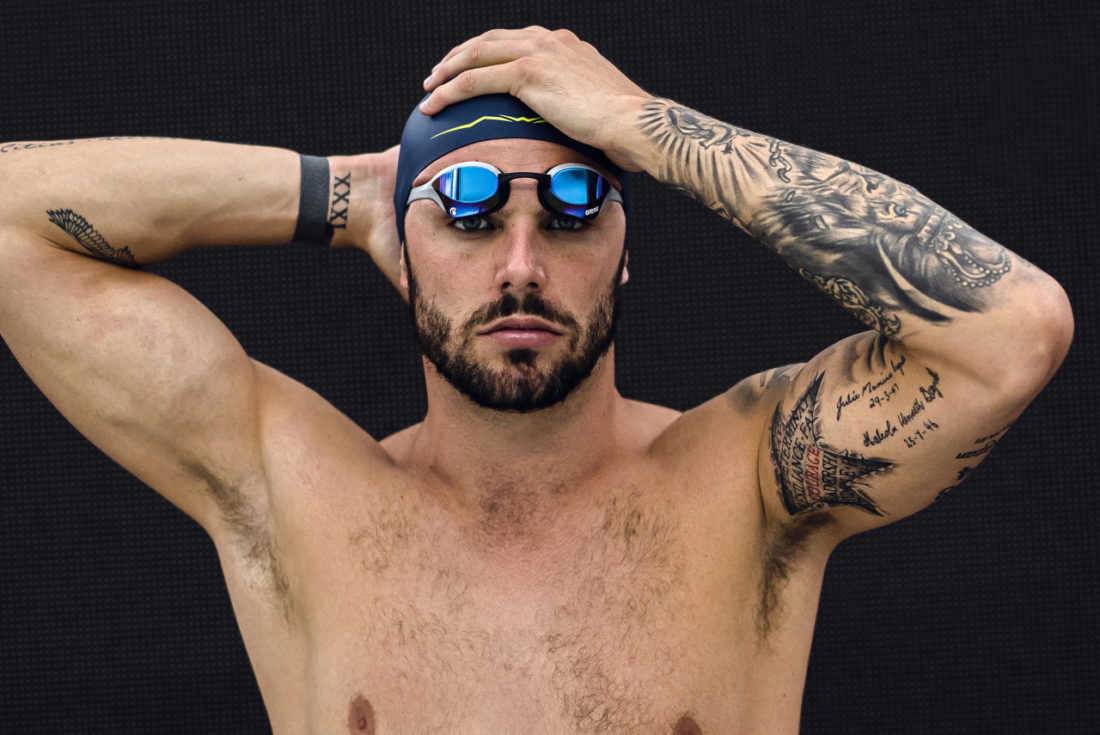 "For me, I have to have a serious sit-down with my coach and team around me and have that discussion over these next couple of days," Chalmers said. "Obviously I look at my preparation eight weeks ago and I wasn't in the pool at all, potentially not going to swim at all, potentially maybe never even going to swim again. My shoulders were in a whole lot of pain. I was extremely burnt out. Personally I think [going to worlds] is going to be the best thing for me personally moving forward."

Kyle Chalmers, by Joel Spear, courtesy of arena
Another Zac, Incerti, Leads the 4×200 Chase
Australia's 4x200m men were World Champions in 2019. In Tokyo last year, Olympic gold went to Britain, Team Tchaikovsky was second and the Dolphins took bronze.
Zac Stubblety-Cook was not the only winning Zac today in Adelaide. The 200m free final in Adelaide today had Marion Olympian Zac Incerti up top on 1:45.80 in his home pool. Next home was 400m winner of yesterday Elijah Winnington, on 1:46.01, the third solo berth for Commonwealths to Mack Horton, second in the 400 yesterday, on 1:46.70.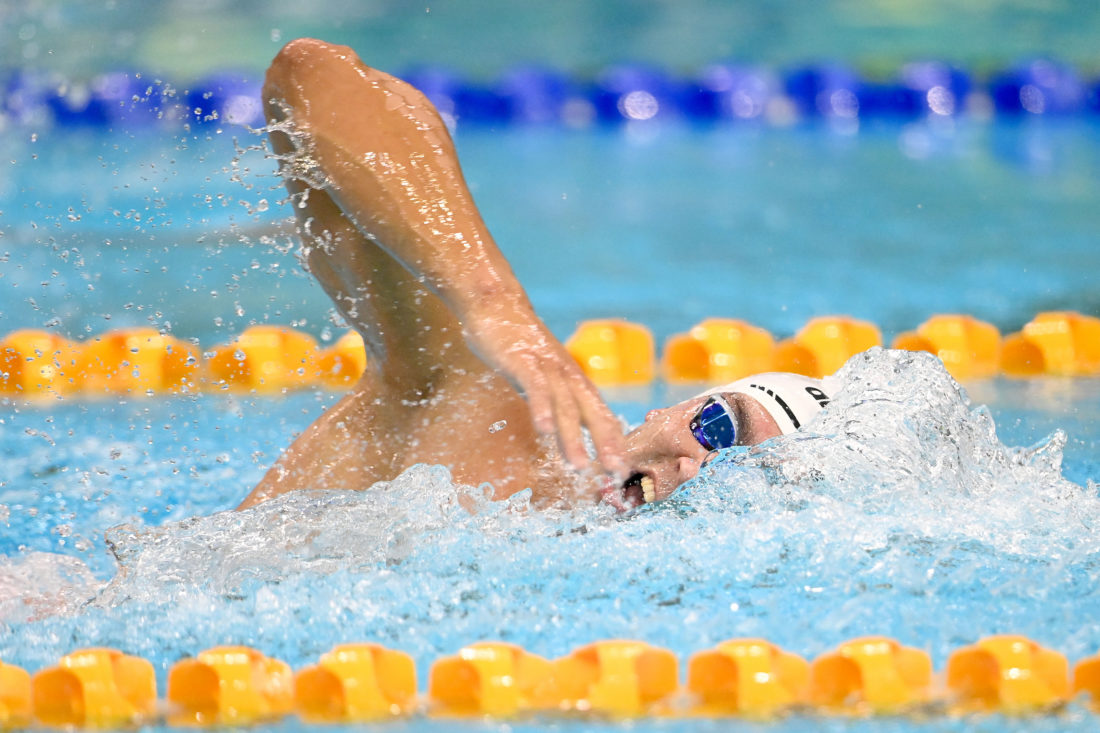 They will provide the relay lead pace, while the key to how competitive Australia can be in a game of four cylinders firing in the same race followed: Flynn Southam, just 16, based at Bond, and on a best of 1:46.82 today. Reserve spots are open to Sam Short, on 1:47.35 the first of four 1L47s all the way to the end of battle, including two teenagers, Charlie Hawke and Kai Taylor, split by a man already on teams World and Commonwealth, Matt Temple.
In other action:
Women's 100m Butterfly: Brianna Throssell set the standard in the opening final of the night with a dominant display in the Women's 100m Butterfly Final to secure her second Australian Title.
Brianna Throssell 57.31
Alexandria Perkins 58.39
Gemma Cooney 58.93
Women's 50m Breaststroke: Chelsea Hodges then broke the first Australian Record for the National Championships, coming home in just 30.15 seconds in the Women's 50m Breaststroke Final! It was 13 years in the making for the record to be broken and the Southport star couldn't have been happier with her improved night two performance.
Chelsea Hodges 30.15
Jenna Strauch 30.82
Mia O'Leary 31.31
Women's 50m Backstroke: St Peters Western Olympian Mollie O'Callaghan claimed her second Australian Title in as many nights taking home the Women's 50m Backstroke Final in a personal best time. Yesterday, O'Callaghan stormed to a 52.49sec victory in the 100m freestyle for the top performance of day 1 in Adelaide.
Mollie O'Callaghan 27.46
Bronte Job 27.62
Minna Atherton 28.31