Zac Stubblety-Cook Rattles The Door To 2:06-Club & Matt Wilson's Aussie Mark With 2:07.00 In Sharp Sydney-Open Showstopper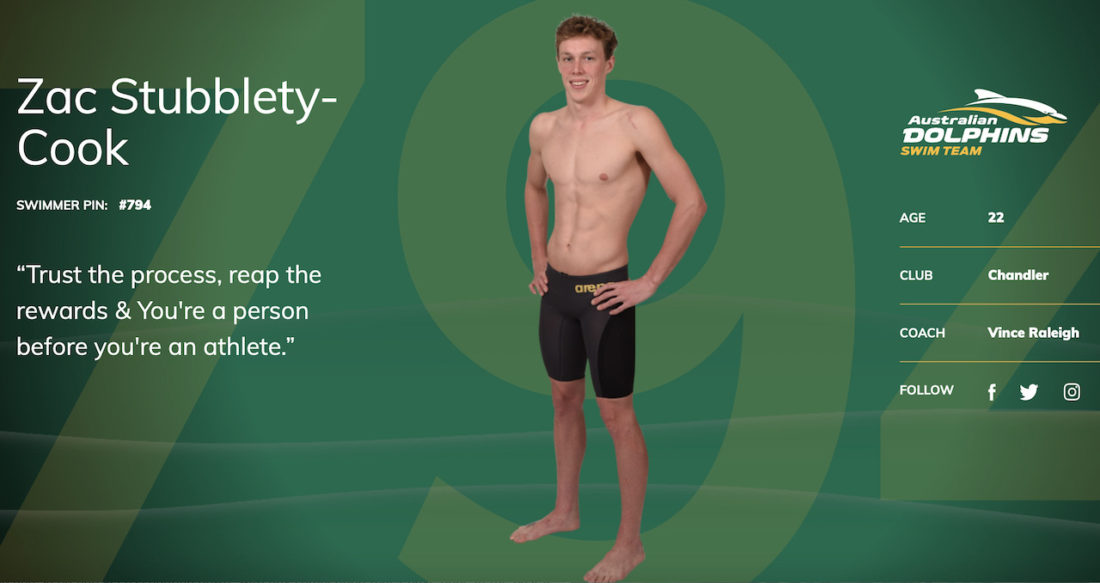 Not much is capable of knocking Kaylee McKeown and a 2:08.7 200IM off top billing in the pool Down Under this unrested season but a 2:07.00 career high over 200m breaststroke from Zac Stubblety-Cook in a Sydney Open final that lifted him to 6th in the world all-time managed to do just that.
Kaylee McKeown, Commonwealth-record blasts of 57.63 and 2:04.31 in the bag on backstroke, clocked a 2021 world-rankings topper 2:08.73 in the 200IM to remind the medley sorority that she has her eye on their patch, too, at the Tokyo Olympic Games this July.
All eyes on here but also, now, Zac Stubblety-Cook. His gauntlet-chucking effort cracked the 2:07.36 career high he set at 2019 World Championships and rattled not only the door to 2:06s but also the former World record and current Australian standard held by Matthew Wilson at 2:06.67.
Stubblety-Cook, 22, clocked 2:08.92 in heats, adrift a 2:08.60 from Wilson, who matched the then World record in semis at World titles in Gwangju before Anton Chupkov shattered the mark for gold in the final. Wilson opted out of the final in Sydney today and kept his powered dry for trials.
From the deck he will have got a good view of what he's up against. Out in 29.75 , at the 100m mark on 1:02.32, Stubblety-Cook came home with splits of 32.52 and 32.16 to leap ahead of Christian Sprenger and his 2:07.31 then world record from 2009 for No2 on the Australian all-time rankings.
Five of the all-time top 10 are set to be in Tokyo, on current standings and trials pending, with Stubblety-Cook the fifth fastest among them, Ippei Watanabe, one of five who set the World record in their careers, the one current swimmer who did not make the cut for Tokyo 2020 and a shot at home-Games glory.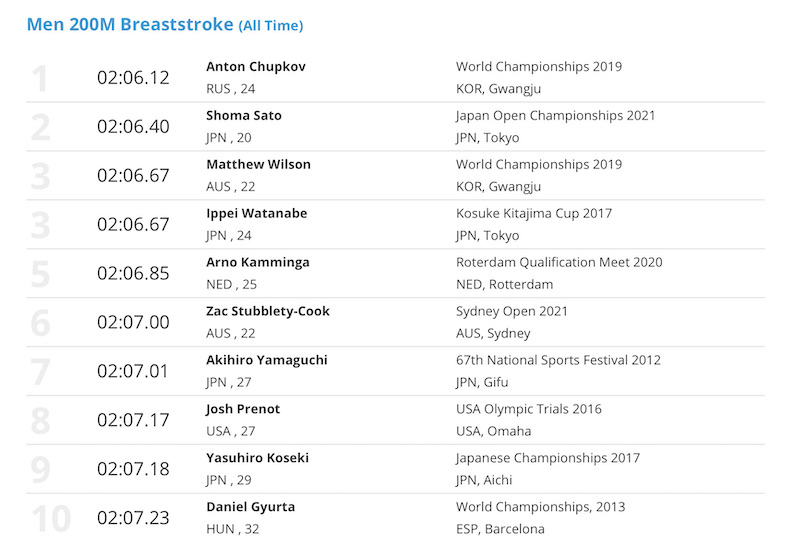 Australia, like the United States and Canada, is yet to hold its Olympic Trials. Everything still to play for, while for many other nations, trials have rarely been the only qualification event, pre-selection has played a much bigger part in teams taking shape this time round, meaning that some big names have yet to swim unrested, and the European Championships are just about to get underway in Budapest, where many teams will use the meet as their Olympic qualifier or last-chance saloon.
Some things are certain, of course. No-one else has yet raced inside 2:09 over 200m medley this year but then the form guide in Covid-19 Year II is not something to go strong on beyond the obvious, which includes Kaylee McKeown's obvious potential to do some big damage in Tokyo.