Yohann Ndoye Brouard At The Double With 1:56.10 French-Record Stunner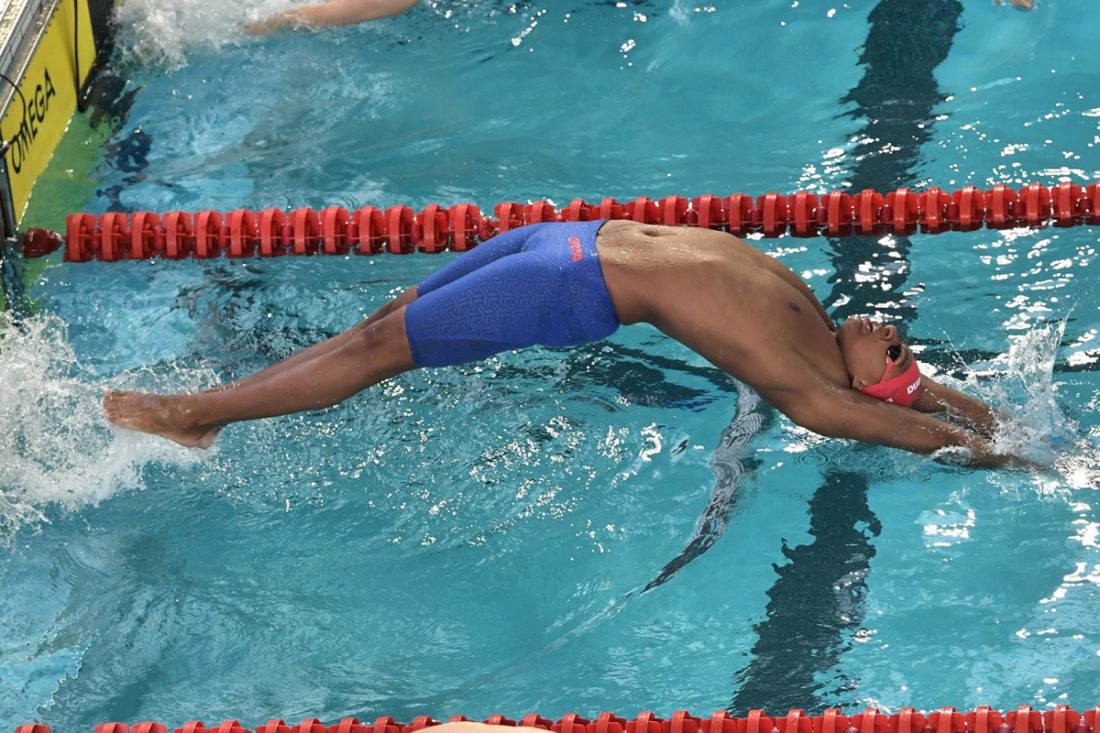 A day after a storming 52.97 over 100m backstroke yesterday for a ticket to the Tokyo Olympics, Yohann Ndoye Brouard claimed the first French record of his career with a stunning 1:56.10 victory in the 200m on the second day of the Marseille round of the Camille Muffat Golden Tour.
The French standard had stood almost a decade, the 1:56.39 of Benjamin Stasiulis having survived since French nationals in 2012.
Until this year, the 1:58.04 Ndoye Brouard clocked in Luxembourg just over a year ago was his 200m career high in his first season inside 2mins, after a 2:00.10 effort in 2019 as a 19-year-old.
Today, after a 2:02 in heats that left him on the wing in lane one, Ndoye Brouard produced an outside-smoker of a victory.
The record splits of Yohann Ndoye Brouard:
26.87; 56.51 (29.64) 1:26.76 (30.25) 1:56.10 (29.34; 59.59)
The effort places Ndoye Brouard a fingertip away from Olympic champion Ryan Murphy (USA) at the helm of the early 2021 World rankings (1:56.06) and a touch ahead of the 1:56.33 raced by Britain's Luke Greenbank in Manchester last week in a lonely test against the clock. Greenbank took bronze at World titles in 2019. Ndoye Broard is in fine company on the cusp of breaking into sub 1:56 waters.
Five others broke the 2-minute mark today in Marseille. Providing Ndoye Brouard with the closest contest was Geoffroy Mathieu, of State Clermont Natation, on 1:57.60, Greek visitor Apostolos Christou third in 1:58.58 just ahead of a 1:58.79 from Amiens' Mewen Tomac, the teen who finished close to Ndoye Brouard on 53.19 in the 100m final yesterday.
Ndoye Brouard paid plaudits to Tomac after the 100m final as he spoke about making the grade for the Tokyo Olympics.
Another Rattler From Arno Kamminga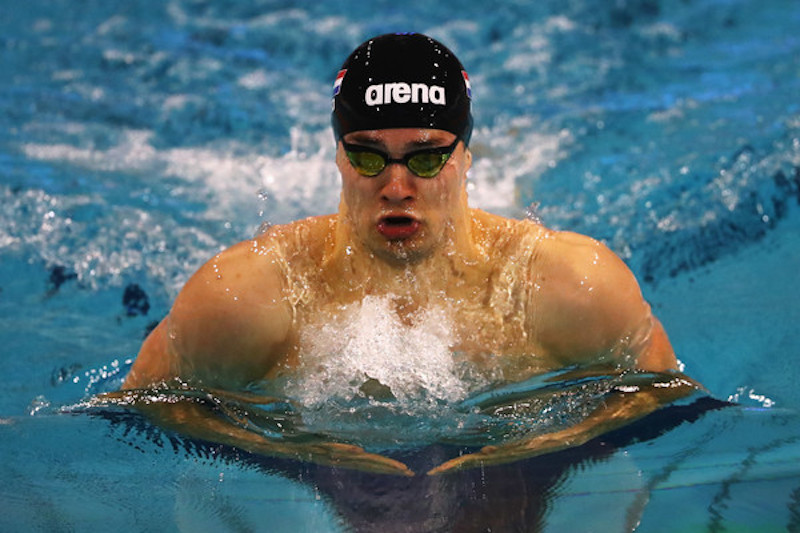 The points swim of the day came from Dutch challenger Arno Kamminga, who rattled out a 2:08.08 way out ahead in the 200m breaststroke. Another consistently fast effort in the vault on the way to Covid-delayed Tokyo 2020, Kamminga looks back to December last year in Rotterdam for a career high of 2:06.85, a time that m makes him one of several Olympic podium shots building pressure on a dam about to burst and make sub-2:07 a relative norm not an exception.
Closest to Kamminga today was Austrian Christoph Rothbauer, on 2:11.43, with former world s/c champion Marco Koch, of Frankfurt and Germany, on 2:11.72, Mulhouse's Antoine Marc on 2:11.95.
Day 2 came to a fast close when Marseille sprinter Marie Wattel took the 100m free in 53.32 ahead of Dutch ace Femke Heemskerk, on 53.41, both efforts over the 900-point mark, and French record holder Charlotte Bonnet, off Olympic Nice, on 53.70. Also inside 54sec were Italian 200m legend Federica Pellegrini, on 53.84, and Olympic 50m champion Pernille Blume, of Denmark, on 53.89.
Léon Marchand Takes Down His French 400IM Record
The session witnessed a second French record: 17-year-old Léon Marchand, of Dauphins Toulouse clocked 4:14.97 in the 400m medley. He had held the national standard at 4:16.37 since claiming bronze at the World Junior Championships in 2019.
Closest to the man celebrating a career high and his nation's high was Emilien Mattenet of Charlesville-Mezières, who almost got to the old French standard too, with a 4:16.45 best. Third place went to Mulhouse's Clément Bidar in 4:22.11.
Solid Wins For Rapsys and Joly
Danas Rapsys, the Lithuanian 200m freestyle ace for whom a start too fast at World titles in 2019 deprived him of the global long-course crown to add to his 2018 short-course title, became the third man this year to crack 1min 47 in his signature event.
At 1:46.98, Rapsys held off Genève Natation training partners Nils Liess and Roman Mityukov, on 1:47.40 and 1:47.44 respectively. The early world rankings are led by Japan's Katsuhiro Matsumoto in a sizzling 1:45.13 from the 2021 Kosuke Kitajima Cup back in January. Matsumoto claimed silver at World titles in Gwangju in 2019 after Rapsys lost then gold and three others were promoted to one spot better than their hand finish before judgment.
Damien Joly, of Montpellier, delivered the distance performance of the session, his dominant 14:55.94 a 900-plus pointer to better in the peak season ahead. Closest to him was a fellow Frenchman aiming for the Olympic marathon podium come Tokyo in August, Marc-Antoine Olivier, Dunkirk, on 15:07.06. Third place went to Czech visitor Jan Micka in 15:16.53.
In dash finals, the sprint of the day came from Kira Toussaint, at the helm of a Dutch duel with Maaike de Waard that ended 27.87 to to 28.12, third place to a teen a decade their junior, Creteil Natation 15-year-old Mary-Ambre Moluh, who raced to a French age record of 28.37.
The men's 50 'fly saw Florent Manaudou, at home in Marseille, finish a rare fourth on 23.55. At the helm of battle was Swiss visitor and 100m winner Noe Ponti, for Nuoto Sport Locarno, on 23.39. That had the edge on respective efforts of 23.52 and 23.54 from Maxime Grousset, Amiens, and Dutch visitor Nyls Korstanje.
In other finals, Cyrielle Duhamel, State Béthune Pelican, took the 200m medley in 2:13.52; Lilou Ressencourt, Olympic Nice Natation, was first to stop the clock in the 200m butterfly, on 2:11.88; ; and Swiss visitor Lisa Mamie, of Rari Nante Torino led the 200m breaststroke in 2:25.88 ahead of 2:26.93 from Kristyna Horska, of the Czech Republic.