World Cycling Joins Aquatics & Athletics: No Ticket To Female Races For Post-Puberty Males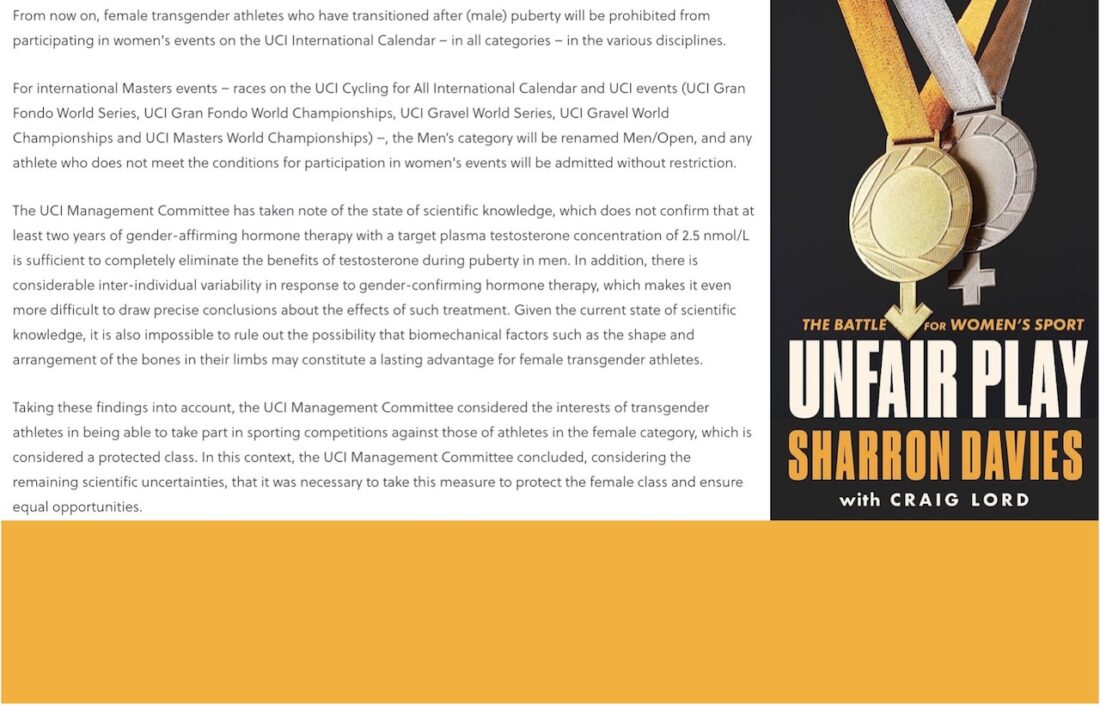 The Union Cycliste Internationale (UCI) today joined World Aquatics and World Athletics in the club of Olympic sports that rule any athletes who experienced male puberty out of the women's category.
The UCI, the global regulator for competitive cycling, issued a statement updating its policy just two months after defending the presence of transwomen in female reaching. Now, any athlete who "transitioned after (male) puberty" will have no ticket to the women's category in international racing.
Inclusion is guaranteed: they are welcome to compete in the men/open categories. More than a year has passed since World Aquatics led the way among Olympic sports seeking ways to protect women's sport in recognition of the critical importance of sex-based categories at the gateway to competitive sport. During that time, the UCI, which earlier this year ruled that a plasma testosterone concentration of 2.5 nmol/L would deliver fair play for women, has witnessed waves of transwomen (post-puberty males and in sporting terms largely mediocre-standard males) winning races, making podiums and taking prizes away from female rides at elite and masters levels.
The UCI now accepts that it got it wrong and a toxic trend will now come to an end as more domestic federations adopt the international ruling reinforcing safety, fair play and equality between binary sexes: male and female. The UCI will now divide those into Open and Women.
That follows the same move by British Cycling last month, when Emily (nee Zach) Bridges accused the federation of "genocide" of trans athletes in remarks that were heavily criticised in turn.
It was March over The Pond when Champion cyclocross rider Hannah Arensman quit the sport after losing to a male rider. Arensman explained the move in a statement in a Supreme Court filing on the issue. Affter she emerged from the UCI Cyclocross National Championships in late December 2022, "4th place, flanked on either side by male riders awarded 3rd and 5th places" the cyclist issued a statement shared by the Independent Council on Women's Sports (ICONS). It included:
"I have decided to end my cycling career. My sister and family sobbed as they watched a man finish in front of me, having witnessed several physical interactions with him throughout the race. Additionally, it is difficult for me to think about the very real possibility I was overlooked for an international selection on the US team at Cyclocross Worlds in February 2023 because of a male competitor."
In her filing, she noted that It had "become increasingly discouraging to train as hard as I do only to have to lose to a man with the unfair advantage of an androgenized body that intrinsically gives him an obvious advantage over me, no matter how hard I train. I feel for young girls learning to compete and who are growing up in a day when they no longer have a fair chance at being the new record holders and champions in cycling.
"I have felt deeply angered, disappointed, overlooked, and humiliated that the rule makers of women's sports do not feel it is necessary to protect women's sports to ensure fair competition for women anymore."
The statement from the UCI today included a deal of linguistic garbage, such as: "female transgender athletes who have transitioned after (male) puberty". A transwoman (male) cannot be a female athlete of any kind, including "female transgender".
Despite its imperfections, the news was welcomed by athletes and scientists, among others, who have long campaigned for fair play to be returned to women's sport, this from Ross Tucker explaining why in simple terms:
And from Cathy Devine:
The decision is a victory for the efforts of female cyclists such as Inga Thompson and Alison Sydor, who have been tireless in their efforts to point out the unfair nature of allowing males compete in female racing. Both have been the targets trans-activist aggression, some of it from within the cycling media:
Some of the misogynistic coverage of toxic events suggested that niche cycling media was afflicted by both or either of these viruses: a total lack of editorial independence; complete ignorance when it comes to the nature of sports that are sex-based for very sound reasons.
The UCI statement noted:
"The meeting of the UCI Management Committee was held following a seminar on the conditions for the participation of transgender athletes in women's cycling events, organised by the UCI on 21 June, at which the various stakeholders – transgender and cisgender athletes, experts from the scientific, legal and human rights fields, and sporting institutions – were able to present their respective positions.

"From now on, female transgender athletes who have transitioned after (male) puberty will be prohibited from participating in women's events on the UCI International Calendar – in all categories – in the various disciplines.

"For international Masters events – races on the UCI Cycling for All International Calendar and UCI events (UCI Gran Fondo World Series, UCI Gran Fondo World Championships, UCI Gravel World Series, UCI Gravel World Championships and UCI Masters World Championships) –, the Men's category will be renamed Men/Open, and any athlete who does not meet the conditions for participation in women's events will be admitted without restriction.

"The UCI Management Committee has taken note of the state of scientific knowledge, which does not confirm that at least two years of gender-affirming hormone therapy with a target plasma testosterone concentration of 2.5 nmol/L is sufficient to completely eliminate the benefits of testosterone during puberty in men. In addition, there is considerable inter-individual variability in response to gender-confirming hormone therapy, which makes it even more difficult to draw precise conclusions about the effects of such treatment. Given the current state of scientific knowledge, it is also impossible to rule out the possibility that biomechanical factors such as the shape and arrangement of the bones in their limbs may constitute a lasting advantage for female transgender athletes."
The significant presence of males in female cycling had become a toxic issue since the International Olympic Committee (IOC) made radical changes to its trans-inclusion policy, including scrapping the need for genital surgery before an athlete could compete in the category of sex opposite that of their birth. While insistence on surgery was widely frowned on, it was the only barrier to males identifying as women towing male advantage into female competition and making the women's category in sport a palace for unfair play.
That IOC shift came too late for Rio 2016, making Tokyo 2020ne the first Olympics in history at which males could compete among females on the strength of self-ID and a farcical testosterone-reduction period. Testosterone reduction has been rubbished by scientists as a red herring when it comes to mitigation of male advantage: 18 peer-reviewed studies have shown that there is mitigating to the point of fair play when it comes to male advantage in female sport.
The IOC, meanwhile, in large measure abdicated a leadership role on the inclusion issue when it handed the matter down to international federations to formulate their own rules and policies. The logic was that sports had the greater knowledge about the likely impact of males in female sport across a spectrum of disciplines but the guidelines that Olympic "experts" and politicians issued to global regulators such as World Aquatics failed to fully and categorically preserve fair play for female athletes, in contravention of equality rules and legal provisions.
As Nancy Hogshead-Makar put it:
The above themes and many others are covered in the book Unfair Play, co-authored by Sharron Davies and this author: