World Cup Records For Sjostrom, McKeown & Qin, Candidates For Swimmer Of The Year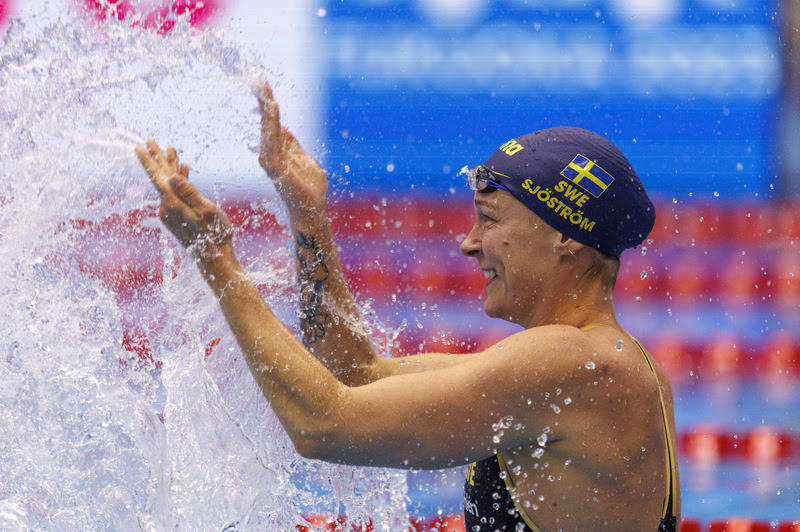 World Cup records kept falling on day 2 of 3 at the opening round of the World Aquatics series in Berlin, Kaylee McKeown on 57.95 for a commanding victory in the 100m backstroke, Sarah Sjostrom on 25.06 in the 50m butterfly and Qin Haiyang on 26.29 in the 50m breaststroke.
If McKeown and Qin can look back at World Championships in July as triple champions on their respective strokes, Sjostrom can peer over her shoulder at the spectacular feat of becoming the most medalled swimmer in the history of the global long-course showcase back to when it all began in 1973.
Today in Berlin, Sjostrom put on display the phenomenal sprint power she possesses in reaction to being pressed by China's Zhang Yufei, their nothing-in-it battle lasting from block to fight for wall, the gap revealed by the clock that off 25.06 to 25.14 courtesy of a masterclass of an aggressive finish from the Swedish ace who had held the cup standard at 25.22 since 2018:

World Cup Racing Where Fast Starts Start
On 25.69 in heats, Sjostrom found herself in lane 5 for the showdown, Zhang in 4 after she chucked a 25.44 gauntlet in heats. "I didn't know what to expect in the final," said Sjostrom. "I'm really happy I was able to get down to that and do my best swim in the afternoon."
Beyond the money, what's the purpose of a World Cup tour? Sjostrom tells SOS: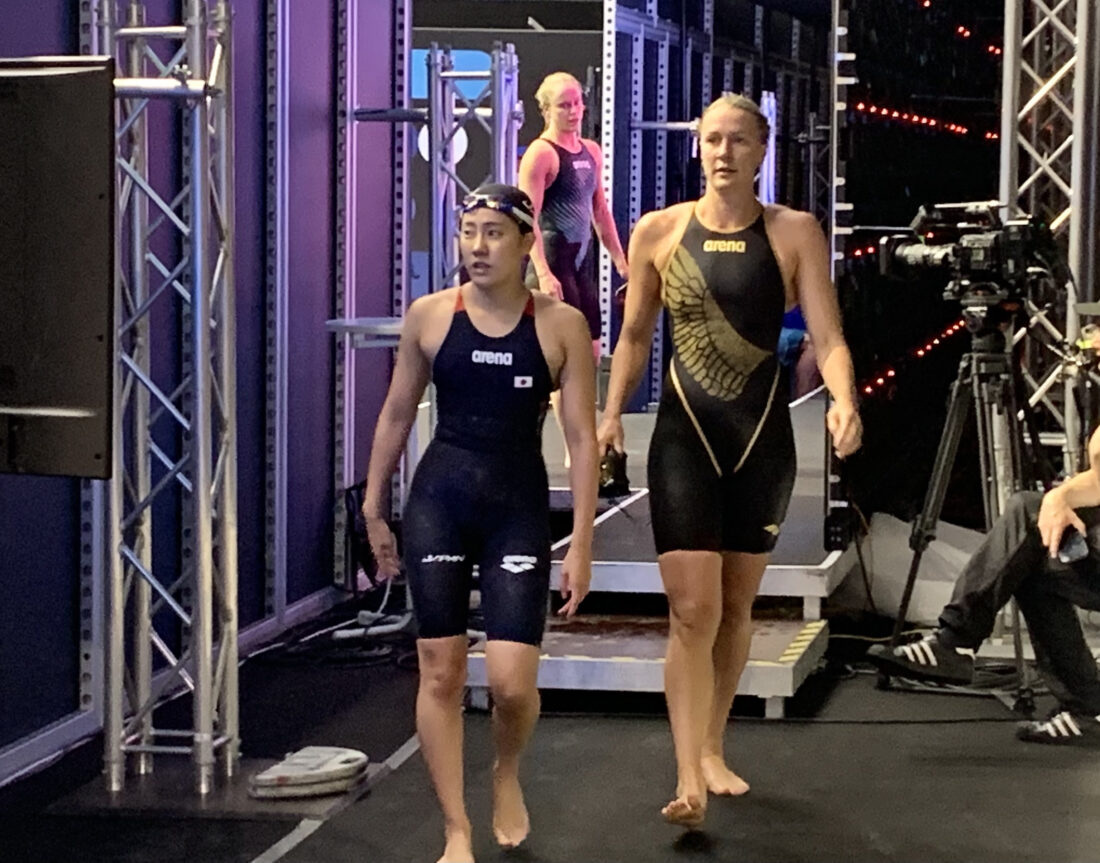 "Getting some good races in against some of the best in the world. For me, I know I get better when I practice starts in race mode. It's hard for me to practice starts isn training so that's one of the big reasons."

Sarah Sjostrom – image – beyond battle in Berlin – by Craig Lord
In winning the 50m freestyle on the last day of action in Fukuoka, Sjostrom boasted an all-career Worlds medals tally of 21, greater than those of American giants Michael Phelps and Katie Ledecky. The record was achieved the day after a sensational 23.61 World record in the dash semi 15 years into an international career of stellar proportions. Take into account all that Sjostrom has achieved and battled her way through, like the broken elbow on the way to Tokyo 2020ne that kept her from best on 'fly but could not stop her making the freestyle dash podium, and Sjostrom may well have an edge on all others for swimmer of the year in 2023.
W100 Back: McKeown Mashes Her Rivals For Cup Pioneering Sub-58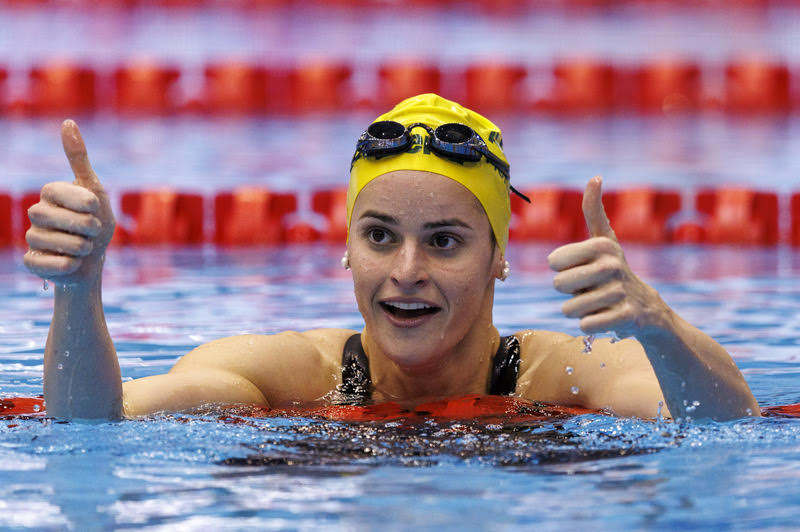 Kaylees McKeown is having a stellar year once more, with triple World titles in July a year after three golds for Australia at the Tokyo 2020ne Olympics.
Today, she made the calmer waters of World Cup swimming a little more wild than they're used to being. The cup standard had stood at 58.34 to fellow Aussie Emily Seebohm, with whom she shared the 200m podium in Tokyo two years back.
The Cup now has its first sub-58sec, from the world record holder gearing up for the defence of her Olympic crown after just three years courtesy of the first, Covid-shunted, five-year Olympic cycle Rio to Tokyo.
The Berlin Battle: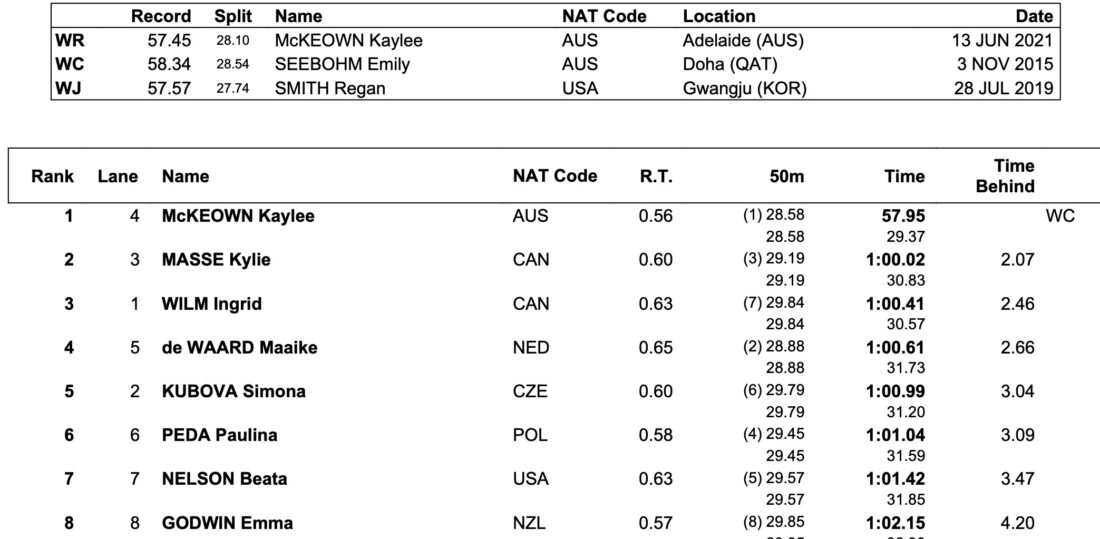 M50 Breaststroke: Qin Makes It 2 World Cup Marks In A Day
Qin Haiyang's 26.30 World Cup record in heats showed just how rare it's become in the past decade for the top breaststrokers to use the World Cup as a peak-form meet. The cup standard had stood to 2012 Olympic 100m champion Cameron van Der Burgh of South Africa at 26.74 since 2015.
In the final, Qin lowered the mark to 26.29, still a decent slog away from his ambition of taking down Adam Peaty's sensational 25.95 World record from 2017. This day, Peaty made the top 3 in what was his second race since returning to competition after a period of recovery and rehab initiation from the breakdown he lived through early this year.
The 2016 and 2020ne Olympic 100m champion and World record holder is not back to best, of course – not even close. But today, there was a hint of old spark in a man that is yet to begin the "aggressive" phase of his Paris 2024 preparations and hadn't sprinted all year until this week in Berlin: Peaty even dipped under 27, at 26.98 just 0.01sec shy of Arno Kamminga, the Dutch double Olympic silver medallist and the closest to Peaty in the 100m at the Tokyo Games.
Qin won it at the start and was already a head, shoulders and chest ahead of Peaty breaking into stroke, something the Brit remarked on in terms of his current starts-and-dives status (see below). Kamminga was similarity topped off the blocks: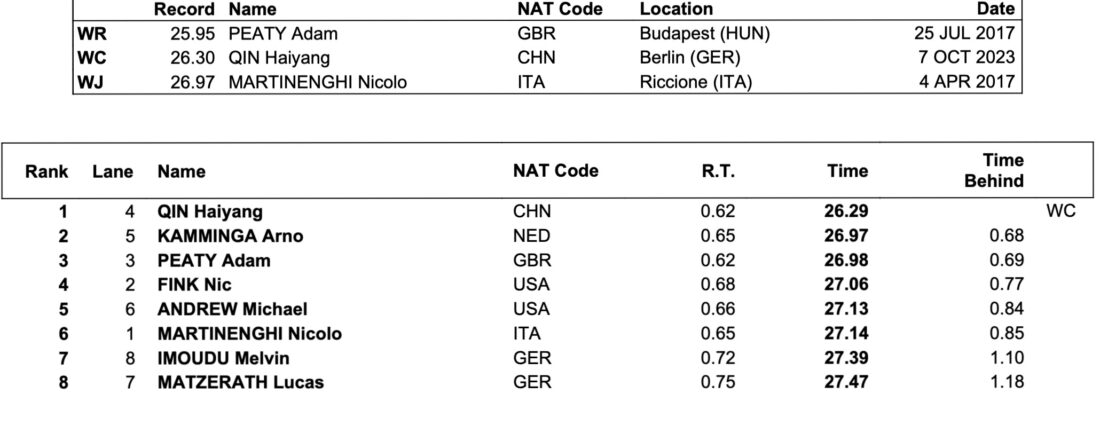 The Chinese triple World champion of July has just come from the Asian Games and another 50-100-200 bull run of world-leading swims. By the time he ends this Cup tour, if he continues in current mode, he will have put in 15 of the fastest 50-100-200m times ever recorded on breaststroke in the course of three months. One more for the book of fascinating trajectories and travelling at high-bar level many times over in a way that his rivals cannot say they ever managed on their way to podium contention on the biggest of occasions, let alone maintained it when they got there.
Qin has managed it by peaking in July, re-peaking two weeks ago for Asian Games glory and is now carrying that form with him at the start of the cup. It will be fascinating to see whether that form can hold – and worth an editorial if he gets faster.
Meanwhile, Qin earned plaudits from Peaty, who noted of his own efforts: "I haven't really done any sprints this year. We've been focusing on getting a bit more aerobic and VO2 work in, so it's good. I'm very happy."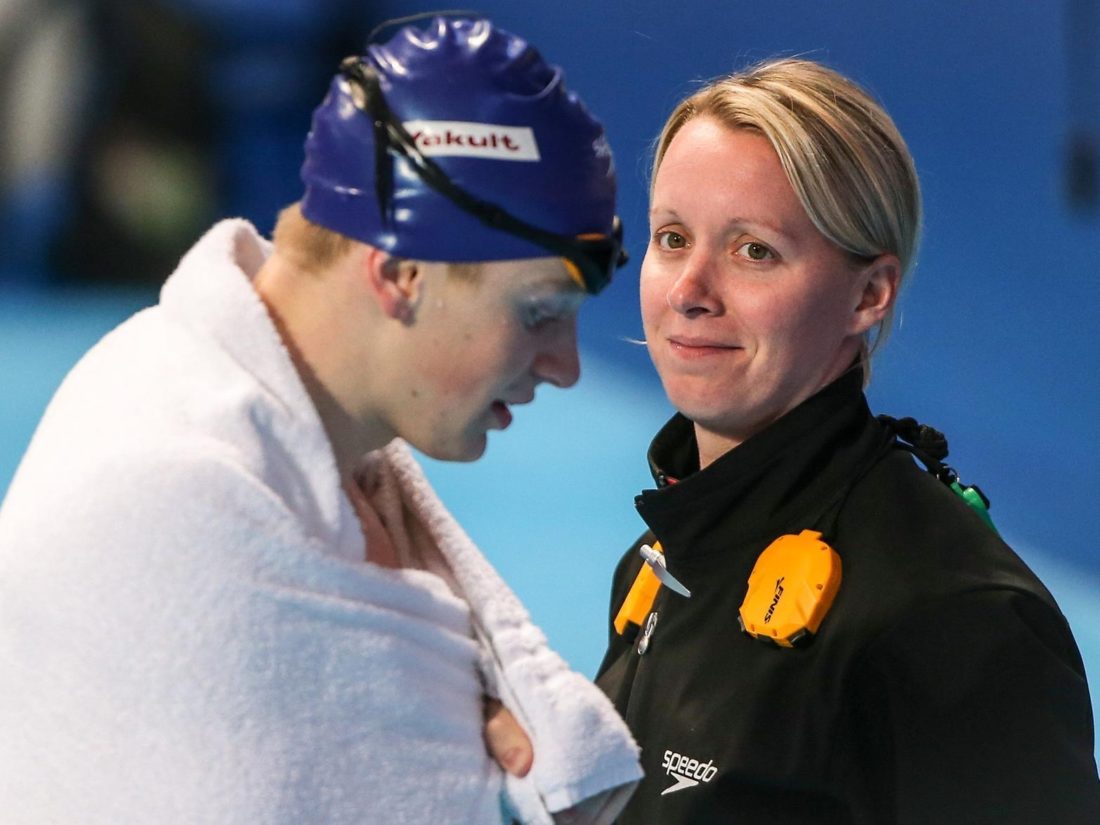 Peaty is using the tour with his coach Mel Marshall as "an information-gathering exercise".
It's a very interesting process and you've got to detach yourself from the emotions that come with "winning"; meaning, he's been used to winning for many years, so top accept that he can't at this point, is "something I have to get my mind round".
That said, he added: "There was a bit of disappointment in yesterday's 100m, not really anything to do with losing that race or whatever; I just felt like I was better than that, but that's the sport. It will beat you down, it will just shock you sometimes."
He would continue to work on the process and "see what we can improve on step by step through the series". Peaty added: "You have to face reality at the end of the day. The scoreboard is reality, a kind of metaphor for life: you can't run from it. I'm looking forward to debriefing that data and seeing what's going right, what's going wrong, and put some focus on my starts and turns, which have been quite s-h-i-t."
He noted he's not raced much in the past two years since the Tokyo 202one Olympics and that's made him race and skill rusty. He said: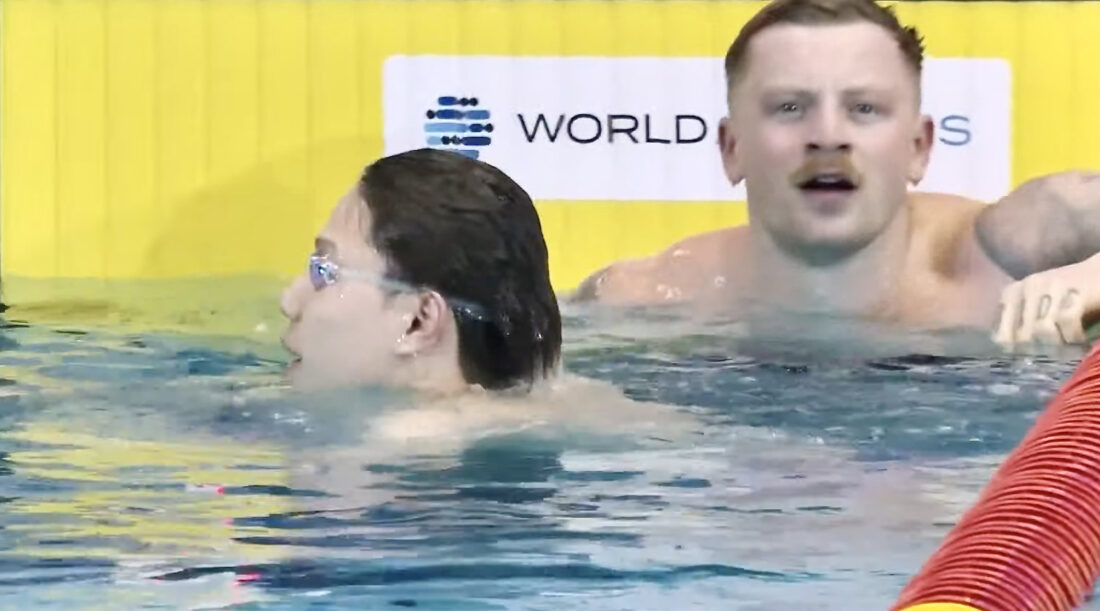 "The more racing we do, the sharper I'll get, the easier it will feel down the front and at the back end. I'll start to feel like I'm doing breaststroke instead of 'spin-stroke'. So, we've just got to race and expose ourselves to it. When I look back at my experience on the ISL, I was losing for four or five weeks, popped out, debriefed the data, shaved down and broke the World record. I'm not breaking any World records on this tour nor even aiming to, obviously but its the same process to follow to get sharper and see what you get so we can work out what needs to happen next."

Adam Peaty – image – Peaty soaks up a sub-27 and his first top 3 on return to racing in Berlin as Qin floats by…
Marshall confirmed as much when she told SOS: "These three meets are a real information-gathering space; where are the places he's progressing in; where are his starts; where's the back end; where is the stroke rate, has it changed; where's the rhythm? It's part of a process. We came knowing that if he makes a final on this tour, it's a big chunk of Olympic-final line-up: Kamminga, Martinenghi, Qin, Fink and so on. We'll learn a lot from this part of the process and be really aggressive going back into preparation in terms of what's needed … to get back to a really well-prepared Adam."
Meanwhile, Peaty noted: "Eighteen years on (since he started swim training) and God knows how many 50 breaststroke's I've done, I'm still learning – and I'm still wanting to learn and still wanting to be up there with the best and that's what matters to me. I'm very grateful for that.
"If I'm stagnant, I will stop sport. If I'm not learning, if I'm not enjoying it, I'll stop but I'm still learning. I'm still enjoying it, most of the time – you can't enjoy all of it all the time, it's hard work and a brutal sport – but most of the time.
"I've come here, and in my first race back, I'm still up there with the best sprinters in the world. So," he adds with a beaming smile, "who knows where we can get to …".
M100 Free: Ceccon Back Below 48 To Claim Form-Guide Win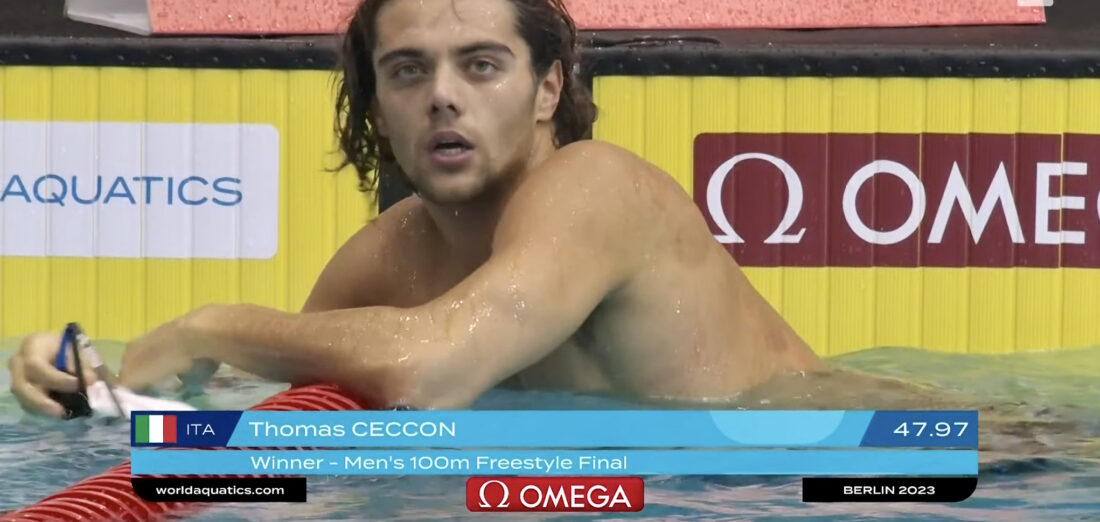 Someone needs to have a quiet word with the live stream commentator and let him know that Italian World backstroke and butterfly champion Thomas Ceccon has a best time of 47.63 over 100m freestyle and therefore a 47.97 victory by a comfortable margin today in Berlin was not a moment that "no-one saw coming" unless their goggles were filled with muddy water.
Ceccon flipped in 22.83, 0.09sec shy of the World-record pace set by David Popovici in 2022, but that didn't merit nearly as much fuss as the commentator and poolside interviewer made over it: Ceccon is a twanging, twitch-fibre dash king on two strokes, is working on aspects of his performances that will make him much faster still come the drop. Yesterday, he won the 200m backstroke, a mark of the stamina work he's putting in to crunch down his back end pace for those 100m times – the shortest Olympic distance on two of the three strokes he might excel at come Paris 2024. The Olympic goal in the 100m freestyle is clear: Italy has long been a contender for freestyle relay podiums and Ceccon and mates have a mission in mind.
At 47.97, Ceccon was, of course, impressive and just 0.19sec shy of Vlad Grinev's World Cup record from 2019, not around this season because of the ban on Russians imposed because of Putin's illegal and murderous war on Ukraine, her people, her athletes and her sporting infrastructures, alongside schools, hospitals and so on and so forth.
The Berlin Battle: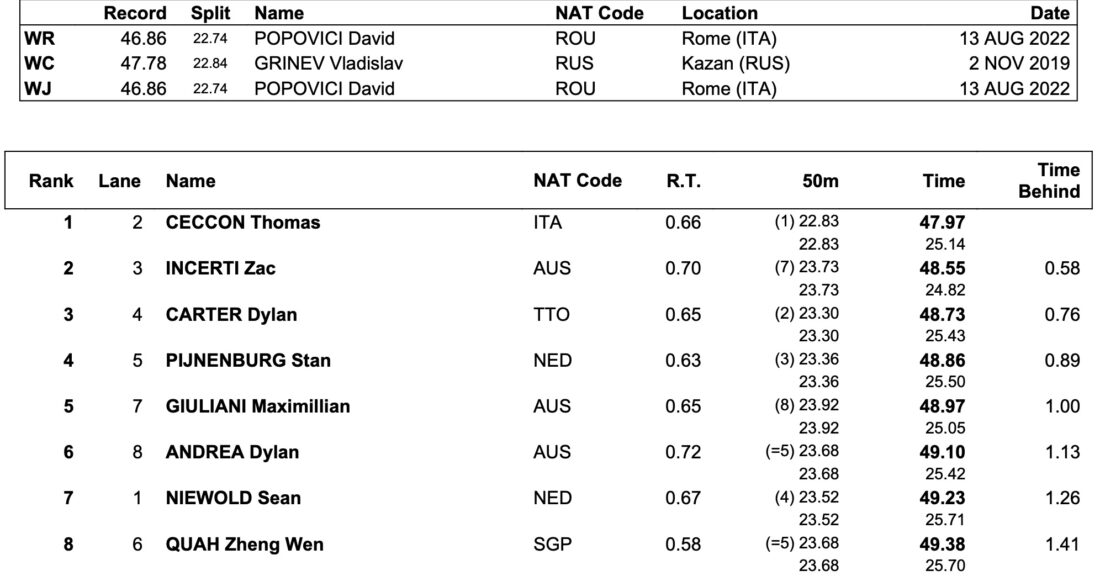 Matt Sates At The World Cup Double
The World Cup records were safe by comfy margins in the men's 200m medley and butterfly finals but Matt Sates, of South Africa, took solid wins in both events as one of those with a proven record of success in his focus on cup campaigns that pay his way in the sport.
M200 IM:
Nothing over 1:55 is going to cut the mustard and nothing over 1:56 is going to set 200m medley battles ablaze at the sharp end of business these days. So a 1:58.01 win for Matt Sates was solid and efforts of 1:59.69 and 2:00.07 for freestyle aces Danys Rapsys and Kieren Smith showed them working on all-rounder skills and stamina. Sates led on all but the backstroke length: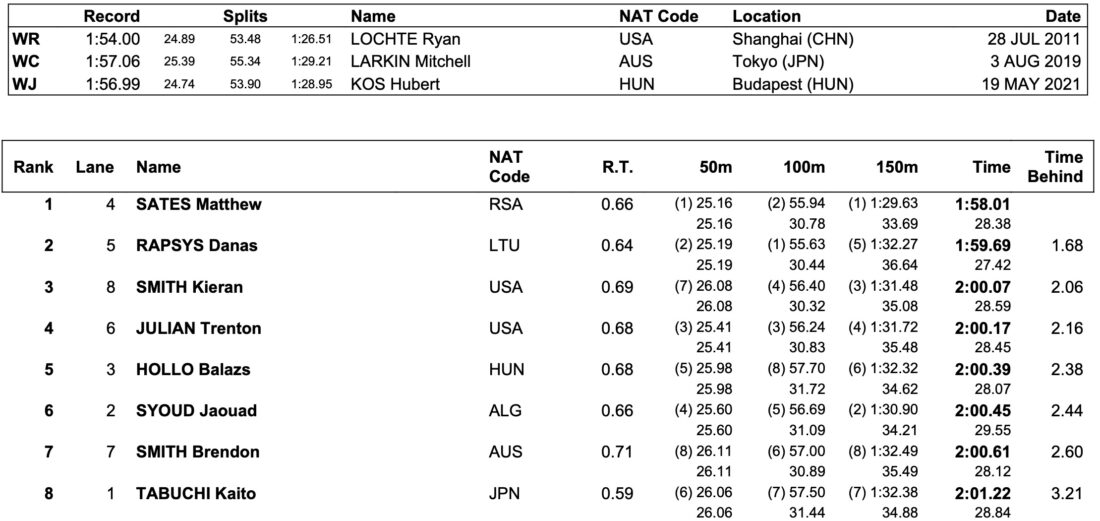 M200 Butterfly: Sates At The Double In Tussle With Trenton
American Julian Trenton took the helm on the second length and led South African Matt Sates by more than a second at the last turn. Their battles will get more interesting as the tour progresses and some the relative in the balance of what constitutes a rested swim narrows.
Today, Sates had far more in the tank than Trenton coming home: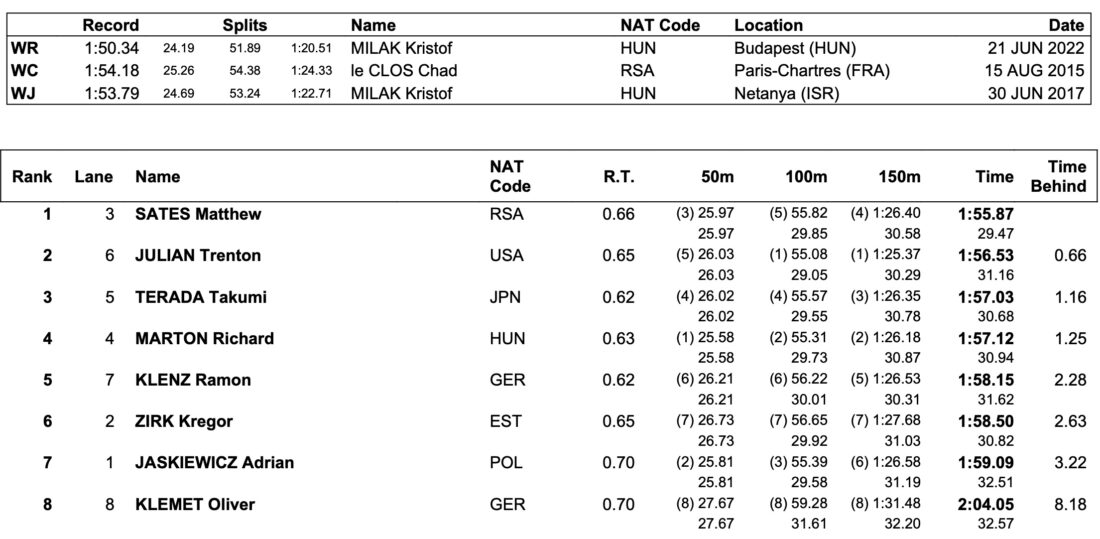 W100 breaststroke: Jefimova Tops A Tail Of Two 1:06s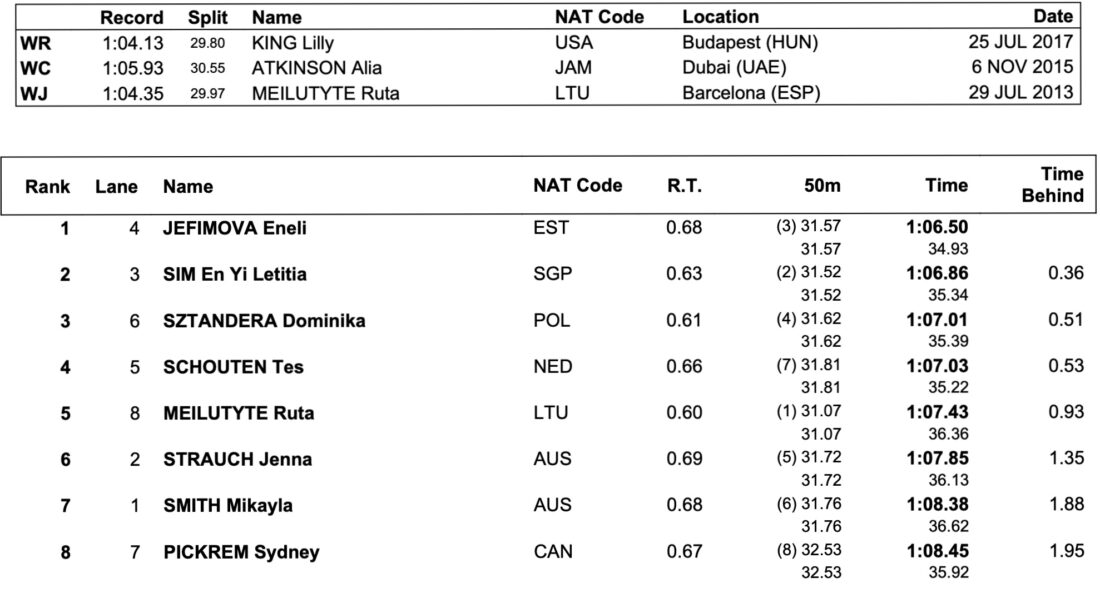 More Day 2 Finals: Haughey Makes It A World Cup High Inside Hosszu Standard On 1:55.1 200 Free