World Aquatics Leaders Vote To Allow "Neutral" Russia & Belarus Athletes Back In … Despite The Fallacy Of Neutrality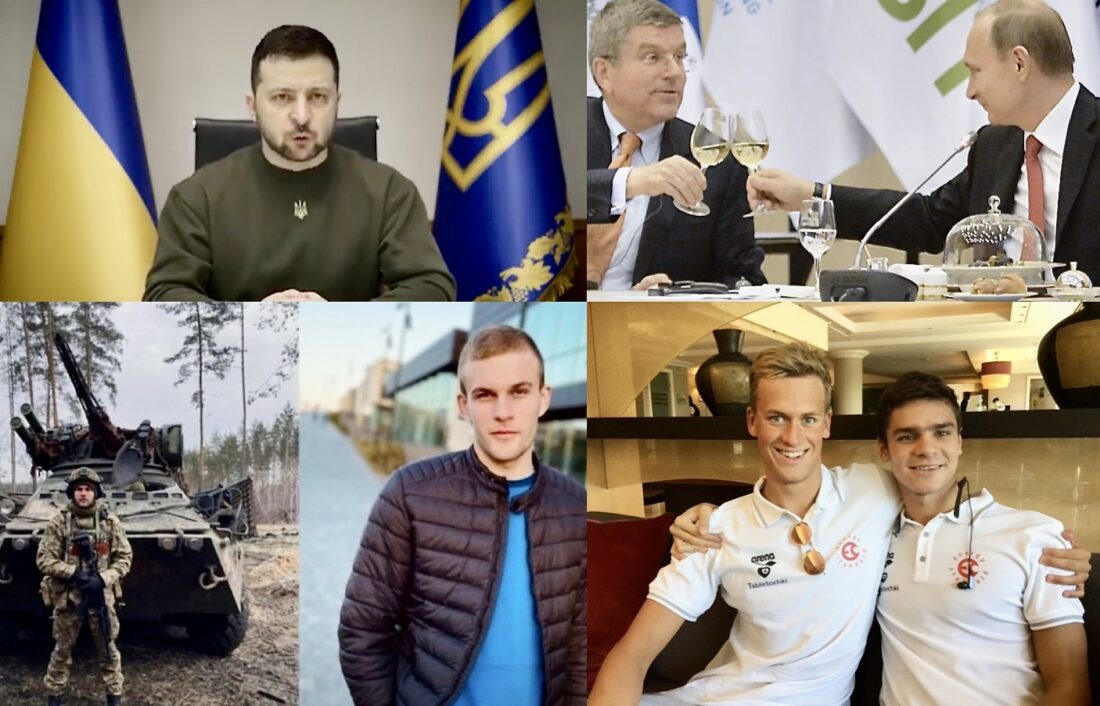 Editorial, first reaction to the news release at the foot of this file: World Aquatics has opted to let athletes from Russia and Belarus back into global competition on the basis of "neutrality", a concept almost impossible to test but one that will be measured by criteria determined by the Aquatics Integrity Unit (AQIU).
Restrictions and controls of athletes from the aggressor nations in the illegal war on Ukraine include strict adherence to anti-doping rules (which apply to all athletes) and a maximum of one entry per event, as opposed to two per nation when athletes compete for their countries and under their national flags. The restriction to one athlete per events rules out all team events across all disciplines.
No Russian or Belarusian flags or livery will be allowed nor country codes and identities recognised.
Any athletes and accompanying personnel from Russia or Belarus who want to compete must apply to the AQIU. The policy states: "Upon receipt of the application form, the AQIU shall carry out verifications to ensure compliance with the applicable requirements for such status of Neutral Individual Athlete, as set out above and with the assistance of an independent international agency if needed. The AQIU shall not be held responsible for any competition missed by the Athletes and their Support Personnel while their application is being reviewed."
Furthermore, any reasons to suspect a lack of neutrality may cause permission to be withdrawn: "If, after granting the status of Neutral Individual Athlete, the AQIU becomes aware of a breach of the criteria or conditions of participation, the AQIU may withdraw the status of Neutral Individual Athletes."
Even so, the debate will now begin: what is neutral, what constitutes neutrality?
The criteria central to today's World Aquatics Bureau decision can be found on the independent Aquatics Integrity Unit website here. That criteria is clear about links to the military and declarations in support of war being barriers to participation.
The question is how to test silence.
How, for example, can an athlete declare or show their neutrality or lack of it when Putin has made illegal in Russia, for example, to say the "special operation" in Ukraine is a war, let alone an illegal war that all free citizens should be allowed to condemn in a democracy.
Neither Russia nor Belarus citizens live in a democracy. Measuring the neutrality of athletes in an exercise is bound to have Putin in stitches as he falls about laughing at the lunacy of allowing athletes forced to be loyal to the state back into competition in the absence of any genuine test of how they feel about an illegal war instituted by their country.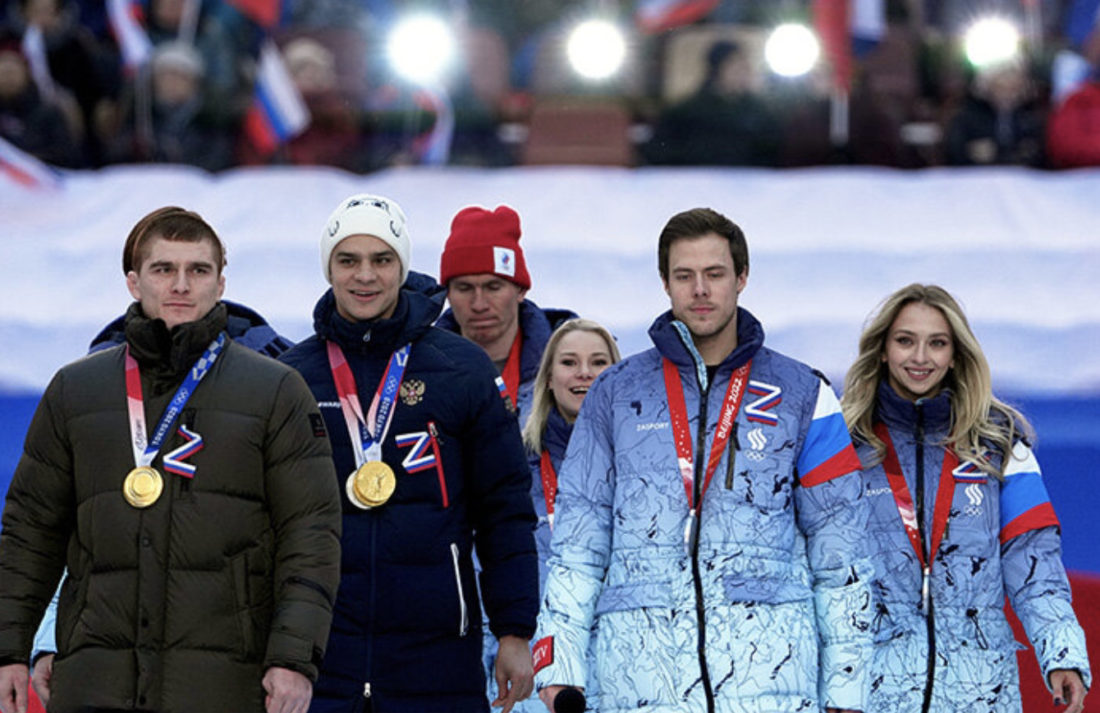 Where will Evgeny Rylov fit? He's out. Having served a suspension for wearing a Z symbol on his sports kit at a Putin rally, the double Olympic champion will not be allowed back in, He has never been asked to issue an open apology to Ukrainian athletes, or issue any declaration of empathy for those athletes and former friends, such as Mikhailo Romanchuk, who were forced to feel their homes, forced to live abroad, forced to leave at home with guns in their hands the adult males in their families and among their friends and colleagues.
In that sense, many would agree: persona non grata. However, there may be others who through luck and silence will escape the scrutiny Rylov will never escape because of his role in the police: in that state role, he would have had no choice but to appear at the Putin rally in question alongside many other state-sector workers bussed in to show the world that the man with blood on his hands had the support of citizens of an undemocratic nation.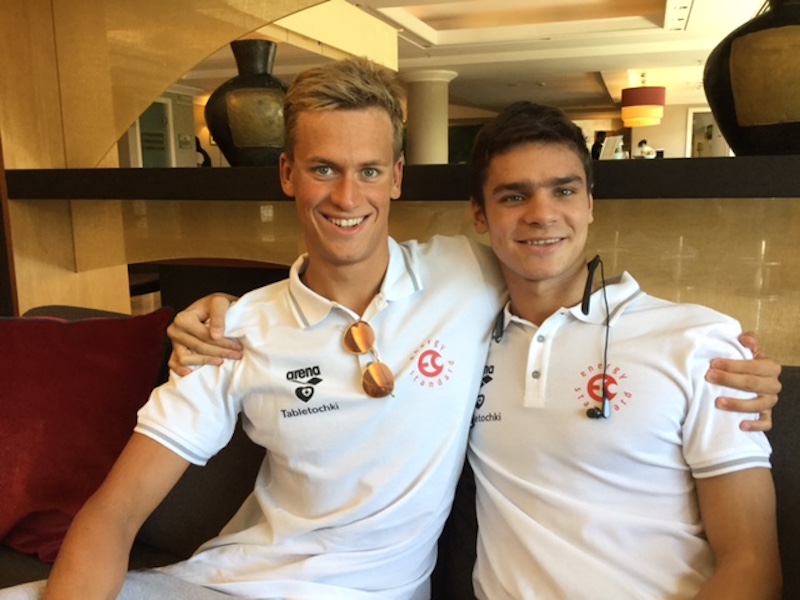 The World Aquatics policy is a nod in the direction of International Olympic Committee (IOC) thinking on the way to the Paris 2024 Olympic Games but 35 leading countries have declared that they stand with Ukraine.
The risk of boycott is very real: if Ukraine's Government maintains its opposition to athletes form the aggressor nations being allowed to compete in Paris, and continues to have the support of a vast majority of Ukraine athletes, other nations are likely to want to show solidarity, including calling the IOC's bluff. Even the Mayor of Paris has declared her opposition top Russian involvement next year given. that the war in Ukraine is nowhere near close to resolution and Putin continues to threaten and blackmail the West and control the flow of important food from Ukraine, as he did today.
The IOC's message is currently going down like a lead balloon among many nations spending a fortune and seeing their economies struggle as a direct result of Putin's illegal actions. Sport is part of that economy, Olympic sport the most heavily subsidised end of the sport's spectrum, be that the hidden Bank of Mum and Dad or the investment of all taxpayers and lottery ticket buyers in ring-fenced systems that support Olympic sport.
Here is the message to the IOC – and all international federations by default – from the Nordic nations. That's where this is going if the World Aquatics line is held. Only athletes will suffer in the end, not just those from aggressor nations but those from all nations. Back to 1976-84 (and before that, too) we go…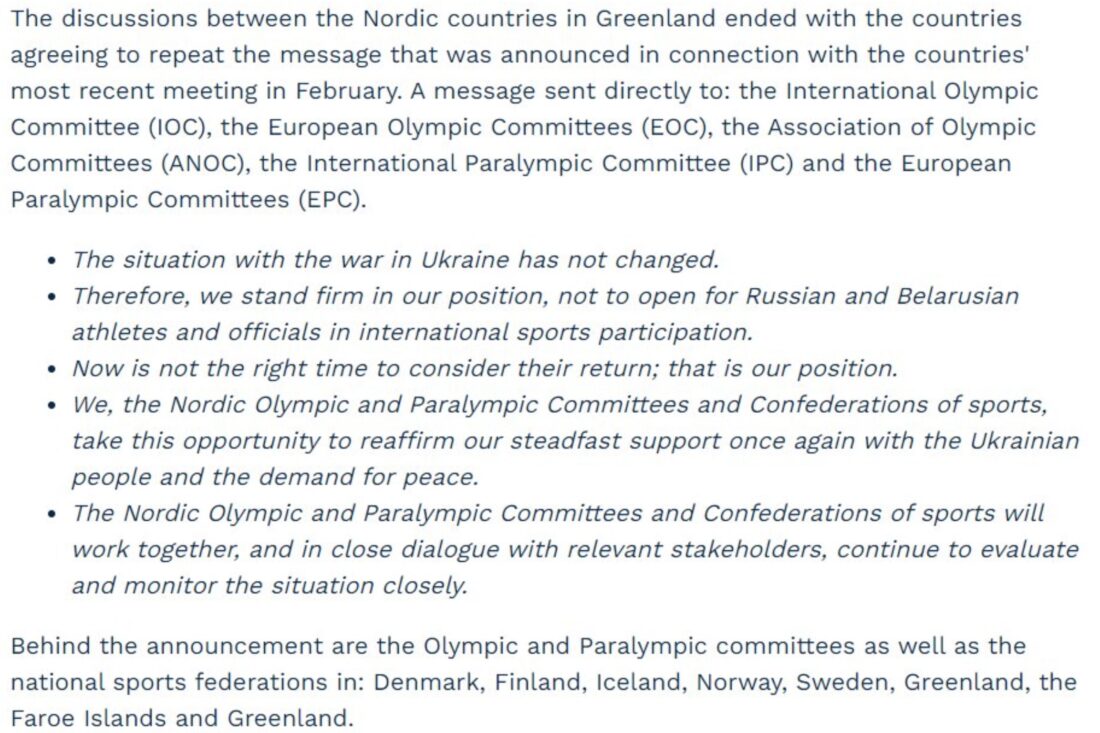 Meanwhile, IOC and other Olympic sports leaders continue to see themselves and the realm they govern as one outside the world but happy to quaff with Putin and others when the mood takes them, as we saw in 2014 when Russia invaded and took Crimea for its own. In sport, there is no genuine neutrality and that has one big consequence: harm to athletes.
We saw it in 1936, we've seen it many times since, and we've seen IOC leaders cosying up to dictators and bad folk with bad intentions for decades. In such a toxic environment, neutrality is a fallacy and falsehood.
The World Aquatics statement on Russia and Belarus in full:
Lausanne, Switzerland, 4 September 2023 – Following extensive consultation and deliberations, the World Aquatics Bureau today unanimously decided on a set of criteria that would allow aquatics athletes with Russian and Belarusian passports to participate in future World Aquatics competitions as Individual Neutral Athletes.
The opportunity for athletes from the two national federations to compete as Individual Neutral Athletes will be implemented by the independent Aquatics Integrity Unit, set under strict criteria that include robust anti-doping measures. These criteria were developed by a specific taskforce established by the Bureau on 5 April of this year.
Surveys were also conducted among respondents drawn from international junior, elite and masters athletes. The results demonstrate strong support for the key criteria established, including the absence of active support for Russia's invasion of Ukraine and the omission of national flags and anthems. Sixty-seven percent of athletes support the participation of individual neutral athletes who meet the strict criteria.
Individual Neutral Athletes will only be permitted to compete in events where a time or result is established by the performances of a single athlete. A maximum of one Individual Neutral Athlete from Russia and one from Belarus per event will be allowed to compete at World Aquatics competitions.
"The World Aquatics Bureau recognizes the dedication, commitment, and talent of athletes, regardless of their nationality," said World Aquatics President Husain Al Musallam. "Despite the challenges we face on the international stage, we acknowledge our responsibility to foster a competitive, fair, and inclusive environment for every competitor. I would like to thank all those involved in developing the strict and fair approach we have agreed today."
The criteria central to today's World Aquatics Bureau decision can be found on the independent Aquatics Integrity Unit website here.
Reports on the ongoing anti-doping work that applies to athletes – including those from Russia and Belarus – can be found on the independent Aquatics Integrity Unit website here.