World Aquatics & European Federations Confirm They Neither Received Nor Requested Doha Worlds Be Shifted Over Latest Middle East Horrors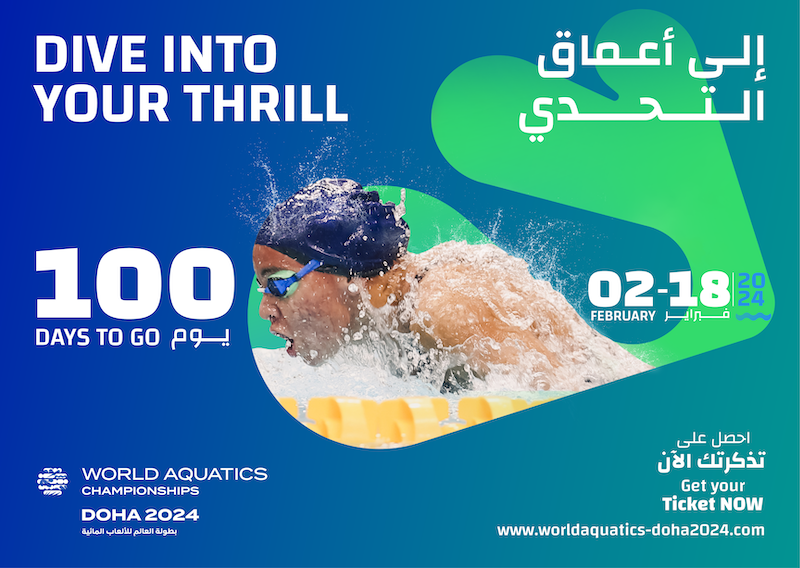 Claims that European "officials" have called on World Aquatics to scrap the Doha 2024 World Championships scheduled for Qatar in February and move the whole event elsewhere have been exposed as false.
A report in the Israeli newspaper Haaretz claimed that "officials from Luxembourg, Czech Republic, Slovakia, Azerbaijan, the United Kingdom, Germany, and the Scandinavian countries" had asked World Aquatics to relocate its showcase event over Qatar's links with the Hamas terrorist organisation behind the slaughter, rape and mutilation of around 1,400 jews in attacks on Israel two weeks ago.
Hamas governs the Gaza Strip and its Palestinian residents despite carrying the official United Nations status of a terrorist organisation. In the wake of its attacks, thousands of Palestinians have been forced to flee their homes, some 5,000 are reported to have died in retaliatory shelling of the Gaza Strip and the conflict threatens to escalate to a full-blown war with consequences for the whole world.
Against that backdrop, a swimming championships and where its held seems somewhat trivial, just as it might be described as highly irresponsible in a time of high tension and polarised debate over events in the Middle East for a U.S. niche outlet to repeat claims, proven false within hours, without the due diligence of journalistic checks and balances.
A simple exchange of a few emails involving SOS this morning brought confirmation from five federations, including Britain, that they made no requests to World Aquatics for Doha's events to be moved to another venue. They confirmed that they had not been contacted before the claims in the Israeli paper were published nor reports of that report reprinted in nice swimming outlets.
Further, World Aquatics director Brent Nowicki, told SOS: "We have no national federations (or officials of government entities) seek the removal or cancellation the Doha event. To the contrary, we have only received comments from national federation rebuffing any such assertion. We look forward to fantastic and full field of aquatics athletes in Doha chasing down their Olympic dreams."
Federations believe that the source of the false claims emanated from a swimming official who had contacted European federations asking them to put pressure on World Aquatics to move the global showcase event. Those requests came to nothing but still made it to media reports.
It is understood that the American niche website that published the claims from the Israeli newspaper was contacted by some of the European federations complaining that they had not been approached for comment, noting that they did not engage in global politics, while confirming that they had made no requests for the Doha events to be moved elsewhere and asking for the community website to improve its professional standards.
Doha won the hosting rights for the World Championships before Covid struck and like other hosts had its plans shunted by the pandemic. In order to honours contracts, swimming is living through a time when the showcase event, held every two years since 2001 and every four years between 1978 and 1998, is scheduled every year between 2022 and 2025.
As such, absenteeism of some big names is unavoidable next February as swimmers prepare for Olympic trials season ahead of the Paris 2024 Games. It will be the first time in history that a World long-course championships and an Olympic have been held in the same year.
It is as yet unclear as yet whether Ukrainian swimmers will feel able to compete in the presence of and Russians and Belorussians who may have qualified for a return to global action under a World Aquatics accreditation scheme in which athletes from the aggressor nations in the war one Ukraine must conform with certain criteria in order to be eligible to race as neutral athletes.
Similarly, it remains to be seen whether Israelis will be able to compete in Qatar, issues of safety paramount.
Even so, many of there World's leading athletes in all aquatics disciplines are scheduled to be in Doha next February. Tickets for the event went on sale yesterday.
World Aquatics Doha Tickets On Sale
The global regulator stated yesterday on the 100 days countdown: "Tickets are now available for the first ever World Aquatics Championships to be held in the Middle East. The World Aquatics Championships – Doha 2024 will take place 100 days from now in Qatar from 2-18 February 2024. Qatar is preparing to welcome more than 2,600 elite athletes from over 190 nations, as well as dignitaries and fans from across the world to kick off the most exhilarating competition on the global aquatics calendar.