Wilby Takes Gold For England As Adam Peaty Eight-Year Bull Run Ends in 4th, Loss Of Title & Start Of A New Chapter & The Art Of "If"
James Wilby the champion for England, Adam Peaty, the 2016 and 2020ne Olympic champion defeated for the first time in more than eight years over 100m breaststroke and off the podium altogether: it will go down as the upset of the Commonwealth Games swimming in Birmingham, whatever follows.
The last time Peaty had lost any 100m breaststroke race it was 2014, when Ross Murdoch pipped Peaty 59.56 to 59.59 at trials for international selection on the cusp of Peaty's big breakthrough of European and Commonwealth titles in 2014.
In 2013, Peaty first broke the minute with a 59.92 for the national junior title. At senior championships that year, the crown went to Murdoch ahead of Michael Jamieson, the 200m Olympic silver medallist from 2012, Peaty taking bronze.
Today, Wilby on 59.25, Peaty was fourth in 59.86, a time he has swum faster than on 79 previous occasions.
Back to the drawing board, then, for a man bringing his 80th best to the Commonwealth party, Wilby's win also well shy of his best on the clock, outside his best 15 efforts, in fact.
The pathway to Paris is brought with peril, it seems, but for the Dolphins it was another day of leaping, Zac Stubblety-Cook and Sam Williamson taking the medals behind Wilby and ahead of Peaty before Sandwell witnessed a World record for Australia: in the women's 4x200m freestyle, Madison Wilson (1:56.27), Kiah Melverton (1:55.40) Mollie O'Callaghan (1:54.80) and Ariarne Titmus (1:52.82) became the first women's quartet to race inside 7:40, on 7:39.29. Canada took silver, England bronze (more on that tomorrow).
Meanwhile, Peaty looked like a shoe-in for yet another gold after a 59.02 in semis that would have walked the final, Wilby on 59.25 for the crown and the first major international title of his career. But then came the moment and the truth would out: Peaty is not yet back to winning fitness and his reason for being in Rome at the European Championships is now in doubt (he suggested it might be off in post-race rush), even if he his self-description post-shocker was sport on: "I'm a fighter."
But not a winner this day, as Wilby noted: you have to "take your chances" when they present themselves, even if he expects his teammate will "kick my arse" later in this season, next or sometime when.
A year ago on the way to Tokyo, where Peaty would become the first British swimmer in history to retain an Olympic swimming crown, Wilby noted, correctly, that no-one is unbeatable:
The circumstances and occasion count, of course.
First at the turn in 27.43, Peaty, slower than he often has been but still looking the part, Australian Sam Williamson on 27.56, Wilby on 27.86 and 200m World and Commonwealth champion Zac Stubblety-Cook on 28.42 as the last man through.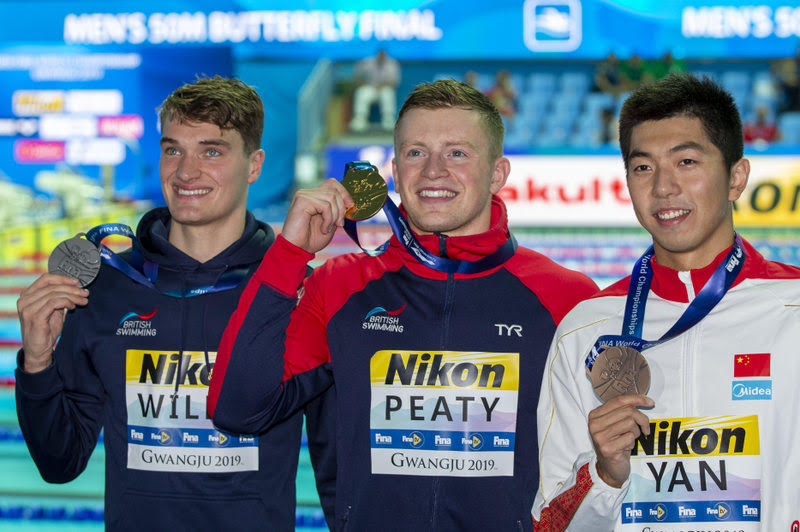 Then something unfolded that we haven't seen before at any time during Peaty's illustrious and pioneering career: his form deserted him on the way to the end wall and three men got past him: Wilby was followed on to the podium by Stubblety-Cook, who produced a the swiftest homecoming split of them all, at 31.10, for silver in 59.52, and Williamson, who made it two bites for the Dolphins in 59.82, 0.04sec ahead of the World record holder, whose 56.88 best was a distant dream this day.
Peaty. 4th. Unthinkable, even with a broken foot. Here is a man who has often looked as though he could wear metal boots and a fur coat and still take everything the rest have to throw at him and his coach Mel Marshall.
A man with 14 World records in his pantheon, Peaty has notched up 44 medals for Britain and England since 2014, 31 of them gold.:
| Event | 1st | 2nd | 3rd |
| --- | --- | --- | --- |
| Olympic Games | 3 | 2 | 0 |
| World Championships (LC) | 8 | 1 | 1 |
| World Championships (SC) | 0 | 3 | 0 |
| European Championships (LC) | 16 | 0 | 0 |
| European Championships (SC) | 1 | 2 | 1 |
| Commonwealth Games | 3 | 3 | 0 |
| Total | 31 | 11 | 2 |
Now starts the art of true comeback and "If":
If you can dream—and not make dreams your master;
   If you can think—and not make thoughts your aim;
If you can meet with triumph and disaster
   And treat those two impostors just the same;
If you can bear to hear the truth you've spoken
   Twisted by knaves to make a trap for fools,
Or watch the things you gave your life to broken,
   And stoop and build 'em up with wornout tools;
If he is to make it to gold contender a third time in Paris, Peaty may yet find this day useful … if hunger follows. Wilby, meanwhile, was delighted: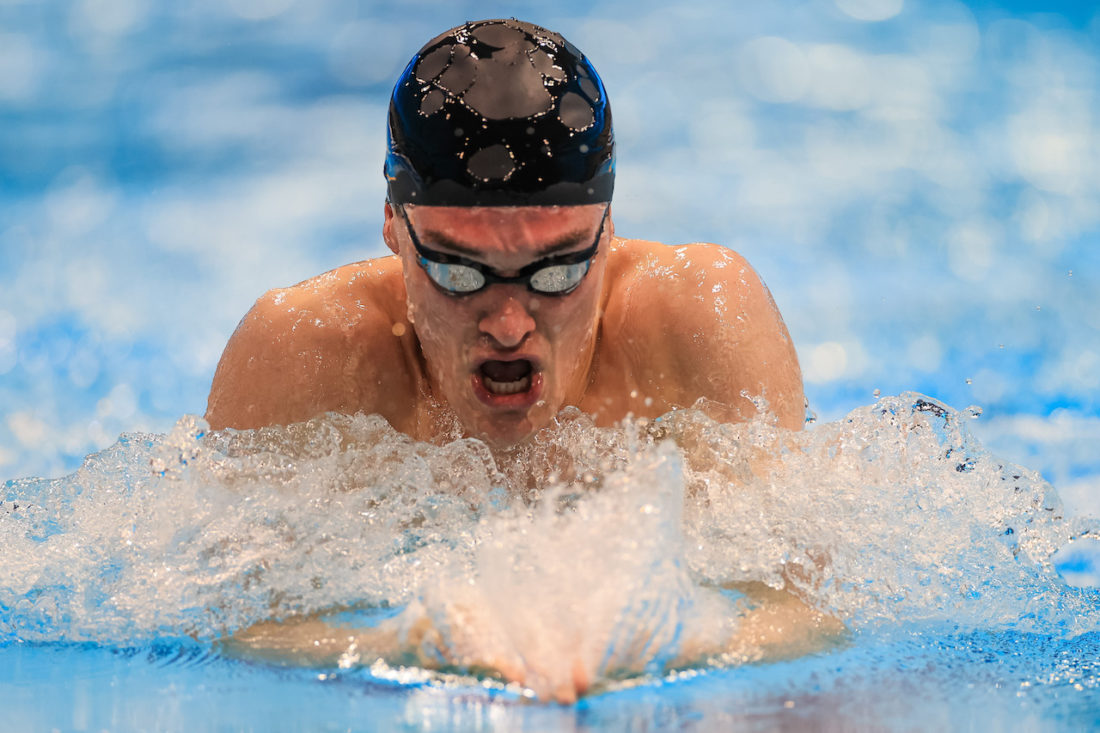 "I'm overwhelmed and amazed. I've always chased him. He's a phenomenal athlete and he'll probably kick me in the arse later in the calendar. But I'm proud of that."

James Wilby – photo by Georgie Kerr, courtesy of British Swimming
Peaty & The Post-Tokyo Trail To Paris
Peaty took a very long break after claiming his second successive 100m Olympic title in Tokyo. He took on TV celebrity show Strictly Come Dancing, engaged in commercial pursuits and then, early this year, made his way back to the place the had been home for a decade: the pool, where singular pursuit of excellence delivered at every time os asking over 100m, Olympic, World, European, Commonwealth and national levels. Never defeated.
Until today. And then no medal in 59sec Commonwealth waters he would have drunk and spat out like mouthwash at any time during his years on the crest of a very tall pioneering wave.
Today marked something of a crashing on rocks but also a stepping stone on the way to Paris 2024 and a shot at more Olympic pioneering. Peaty opted in, swam 59.02 in semis, a time slower than we are used to seeing him cruise through to showdowns in. A return from a broken bone in his foot too soon? A stage in recovery and the start of rebuilding for Paris 2024? A miscalculation? A turn of the tide? Time and explanations will tell.
Wilby The Latest In Line Of English Victories
This day, Wilby was champion and England celebrates with a man who was faster when he fell shy of best form at the Tokyo Olympic Games and got left off the medley relay in heats that would have granted him a silver medal, the heats of the mixed medley relay that would have granted him gold and and MBE from Her Majesty on common with Britain's other heats swimmers.
Wilby, who broke down in Tokyo when asked about the heroic role his mother, a nurse, played in the pandemic as a volunteer rolling out injections to hit back at Covid, was silver medallist behind Peaty four years ago when Peaty became the first ever to retain the crown four years after Glasgow 2014. Adrian Moorhouse, the 1988 Olympic champion for Britain. Also claimed the Commonwealth title twice, eight years apart in 1982 and 1990.
The eighth Englishman to claim the title in 14 times of asking since 1970, Wilby reinforces English dominance in the 100m breaststroke event as the 19th from his country to take a medal in the 42 chances since 1970.
Peaty emerged from the shocker to say: "It took a broken foot to get it away from me. But I chose to fight."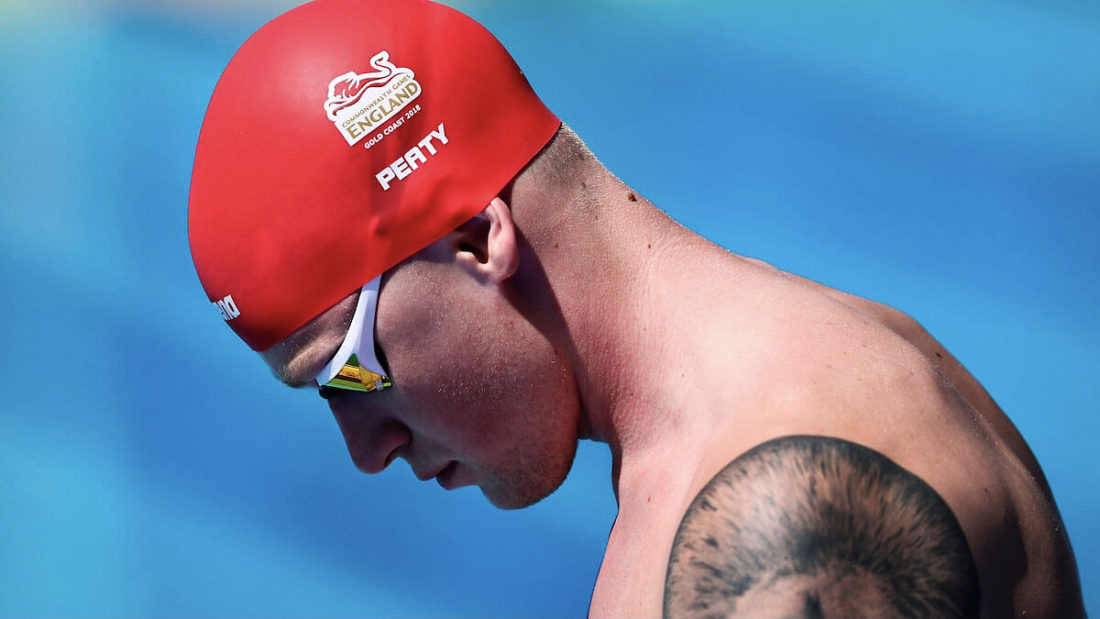 "I felt really good to 50m," admitted Peaty. "I just don't know what went wrong. With 25m to go I had nothing in the tank. I felt good, but it's two seconds slower than the Olympics. There's something obviously gone majorly wrong in that cycle."
"There would be a "major reset", he said, before adding: "There's obviously a lot going wrong in my training programme. But sometimes when you don't race all season it bites you when it matters."
Three seconds down on best over two lengths equals a long way to get back to. Says Peaty: "It was a very slow final for me, I can't even remember when I went that slow. Of course it's a shock. Of course it's disappointing but that's where you have those moments to go faster next time."
In other action:
Women's 50m Freestyle – Emma McKeon Leads Dolphin Sweep
Olympic champion and queen of Tokyo Emma McKeon led the third Dolphin sweep in the poo, at the Games in a sizzling 23.99 ahead of Meg Harris and Shayna Jack, on 24.32 and 24.36 respectively.
McKeon's win, gold her first medal of any colour in the dash in Commonwealth waters, marked the 7th Dolphin victory in 10 times of asking since the dash was introduced in 1990 and the crown went to Lisa Curry, while the sweep was the second by Australia, and any nation, in history, after a 2006 podium of specific significance: Libby Lenton and Jodie Henry, both 100m ('fly and free respectively) Olympic champions by the close of their careers, led Alice Mills, who was the volunteer basket girl who carried Henry's kit from poolside to collection area at the 2004 Olympics when Henry lined up for a race from which she would emerge as Olympic champion.
Women's 200m breaststroke – Tatjana Schoenmaker Keeps the Crown
Olympic champion and world record holder Tatjana Schoenmaker was a class apart as she claimed the crown in 2:21.92 for a successful defence four years after her first victory made her a South African pioneer at the 2018 Gold Coast Games.
Australian Jenna Strauch took silver in 2:23.65 after a tight tussle with the second South Africa to make the medals, Kaylene Corbett, on 2:23.67, Englands'; Molly Renshaw and Australian Abbey Harkin, locked out in respective times of 2:24.00 and 2:24.07.
Men's 200m Butterfly – Clareburt End Le Clos Run At Three
Lewis Clareburt claimed a second gold medal in as many days with a 1:55.60 victory after he turned third at the last turn before passing Chad Le Clos, the South African gunning for a record fourth straight title since 2014, and England's James Guy in the battle for home.
Fourth at the half-way mark in 54.81, Clarenburt trailed Le Clos, the 2012 Olympic champion when his defeat of a Michael Phelps heading into retirement sparked the greatest comeback of all-time, by 0.74sec, with Guy on 54.40, 0.33sec behind Le Clos.
The third length left Le Clos, Guy and Clarenburt stacked up 1:24.68, 1:24.85 and 1:25.18. Game on. The 400Im champ had the greater fitness of the three and it showed: a last length of 30.42 delivered gold in 1:55.60, Le Clos on 1:55.89 for silver, Guy on 1:56.77 for bronze.
Clareburt joins a line of Kiwi winners in the 200m butterfly, Anthony Mosse the 1990 and 1994 champion, Danyon Loader the 1998 champion and Moss Burmester the last champion from New Zealand before today, back in 2006.
Guy claimed bronze a touch ahead of Australian Bowen Gough, 1:56.84, and Scotland's champion all-rounder, Duncan Scott, on 1:56.89 as he headed for semis of the 100m freestyle the day after 200m freestyle gold and 400m medley bronze behind Clareburt.
In those semis, 2016 Olympic champion Kyle Chalmers, the Australian defeated for at his home Gold Coast Games for the Commonwealth crown by Scott, chucked down a 47.36 Games-record gauntlet to take lane 4 for the final. Either side of him will be England's Tom Dean, the only other inside 48, on 47.83, and the second Dolphin home, Will Yang, Canadians Ruslan Gaziev and Josh Liendo followed, with the busiest Scot, Scott, keeping his powered dry on 48.78 as sixth fastest through, his role in the final a defending champion as potential smoker but not on the out of outside.
Women's 100m backstroke – Gold In Games Record For Kaylee McKeown
The Olympic champion Kaylee McKeown took gold in a Games record of 58.60 ahead of Canada's Kylie Masse, on 58.73, bronze going to Medi Harris of Wales in 59.62.
more later.