Why Bach Should Answer Zelenskyy's Call To Visit Bombed-Out Bakhmut & Bury IOC Fake Neutrality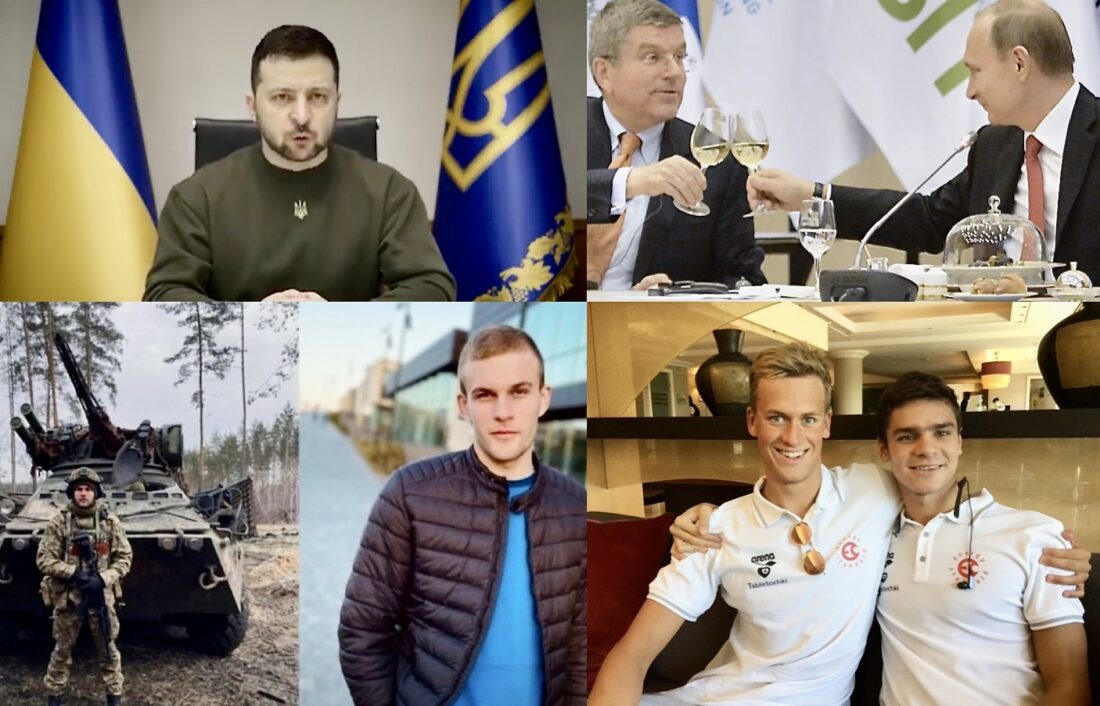 Editorial, Weekend Essay – Ukraine's President Volodymyr Zelenskyy, described in The Times as the "Jewish defender" of his country's democracy (so much for Putin's excuse for going to war), has called on Thomas Bach, current occupier of the IOC throne* to visit bombed-out Bakhmut in a Donbas region destroyed by Russia missiles and have a chat about neutrality and the former German fencer's penchant for having Team Tchaikovsky in town for the Paris Olympic Games come 2024.
Here's the invitation:
And here's a summary of what Bach would hear as he shuffled round Bakhmut, his boots filling with the dust of what used to be family homes, kindergartens, schools, shops, hospitals, swimming pools and other sports facilities: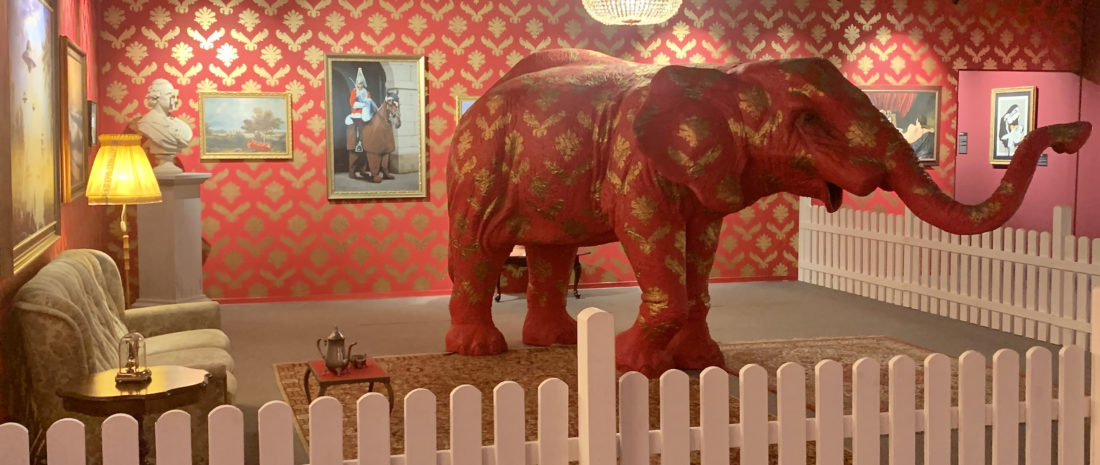 "If you are neutral in situations of injustice, you have chosen the side of the oppressor. If an elephant has its foot on the tail of a mouse and you say that you are neutral, the mouse will not appreciate your neutrality."

Desmond Tutu – image: the elephant in the room with its foot on the tail of a mouse … photo by Craig Lord, courtesy of "The Mystery of Banksy", a celebration of the work of the British street artist
When the Reverend Desmond Tutu – the South African Anglican bishop and theologian who played a key role in bringing apartheid to an end in his country – passed away a year ago, Bach and the IOC were among those paying plaudits and pointing to him as a beacon of hope and inspiration. Hypocrisy is one of the key messages in the messaging of the IOC when it comes to words that suit and deeds that don't. Yes, the Rev Tutu was (and remains) a beacon of hope and inspiration but his message clearly fell on deaf ears at the IOC.
The IOC is quick to cite Human Rights and the conventions it's signed up to when it suits but as Rob Koehler, head of Global Athlete, notes, let's extend that conversation to the hypocrisy of Olympic bosses:
Quite. What About the Uyghurs? Didn't the IOC tell athletes not to mention human rights during the Winter Olympics? Raising human rights only when it suits the politics of the IOC is the game Olympic bosses have long played. It won't wash.
Situations of injustice. Like this one – and in context of the invitation to Bach, how about this one among many similar that Thomas Bach and others at the IOC are wilfully blind too, even where there are direct links to sport:
It's why the British Government responded to Bach's creep towards getting Russians back in in time for Paris 2024 with firm criticism, Government minister Michelle Donelan stating: "We will strongly condemn any action taken that allows President Putin to legitimise his illegal war in Ukraine – a position the IOC previously shared. We, and many other countries, have been unequivocal on this throughout, and we will now work urgently across like-minded countries to ensure that solidarity continues on this issue."
Herr Bach should imagine himself in a room explaining his logic and neutrality to the Androshchuk family, the athlete's teammates from local community and club level through to the last time he ran in a life that would be cut short by the ego, aggression and illegal acts of an Olympic Order honoree.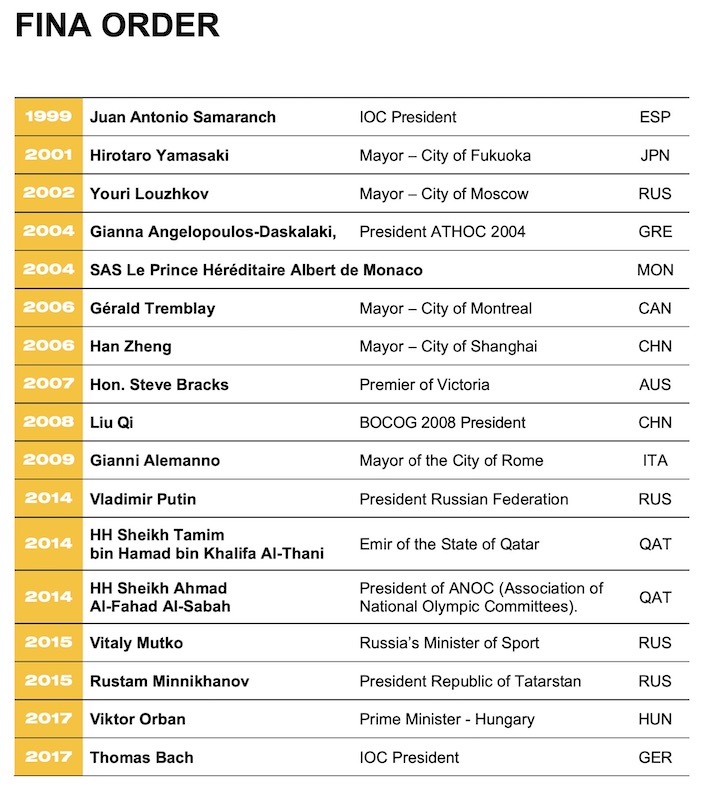 The image to the right dates back to pre-reform days at FINA, now World Aquatics (with a leadership that also stripped Putin of the FINA Order he was given in 2014, after invading Crimea and on the cusp of the biggest doping scandal in world sport since the 1970s and 1980s and the days of the GDR). The picture is just part of a canvas of the same across the entire Olympic Movement. Question: how does any of that match the neutral and apolitical stance claimed by the IOC at its convenience?
Yes, Putin was stripped of that honour but not before time, and, frankly, if IOC members were serious about never mixing politics with sport, it would never have granted the Russian or any other president or state leader what it describes as its highest honour (and there were all of us thinking that was an Olympic gold medal won by clean athletes who worked for it).
Not all gold medals end up in the right hands, as we know from the GDR doping years and the harm done, most perniciously to female athletes who are discriminated against to this day in a number of ways in Olympic sport. Discrimination and harm that the IOC, to its eternal shame, has never done anything about.
Almost a year ago, we got yet another glimpse of what it means to be one of those Russian athletes allowed to compete at the Olympics despite eight long years of excoriating revelations about systematic doping involving state security cover-ups linking government to anti-doping processes and, ultimately, abuse of teenage athletes.
At the Winter Olympic Games in Beijing in 2022, the case of Kamila Valieva, the 15-year-old Russian figure skater who tested positive for doping before the Games. Much controversy later, Valieva was cleared of any wrongdoing by Rusada in recent weeks but now faces a challenge to that ruling by the World Anti-Doping Agency (WADA) at the Court of Arbitration for Sport (CAS), the timing on that dependent on when Rusada can be bothered to respond to WADA's request for the full report into the case and the reason why the anti-doping agency thought a positive drugs test should add upon to "free to go".
All of that unfolded in Beijing against the backdrop of a Peng Shuai saga that highlighted the ludicrous consequence of what many see as the fake neutrality of the IOC. Why fake? While we may well believe that Bach and Co are serious about trying to keep athletes and politics apart, there are two issues that torch any such ambition: a, their own behaviour, including cosying up to Putin, the leadership of North Korea, and awards for rogues and dubious dictatorships down the decades; and b, the harm done to athletes by what might very generously be called the naivety of sports leaders wanting to build their business with rich and influential people, seemingly at all costs on occasion.
SOS has already looked at the Peng issue and how it reminds us of cover-ups and obfuscation we've seen all too often from China in swimming, the death of national junior champion Qing Wenyi in 2015 among the most disturbing events to raise questions never answered – nor even asked, it seems, by sports authorities, neither at home nor abroad.
Safeguarding is a massive issue in sport.
Just seven years on from a complete lack of official questioning of China in the after Qing's death, we find Winter Olympic headlines heaped high with controversy, from the genocide, torture and rape of Uyghurs alleged by the victims and national governments working with rights organisations; Iran's fielding of a flag bearer on steroids in the wake of putting an Olympic athlete to death despite worldwide condemnation that led to no meaningful intervention from the IOC, and the open threat of "shut up and compete" from Chinese officials to any athletes who dare to exercise their right to free speech and mention China's abysmal human rights record and what foreign nations and independent rights watch agencies have referred to as crimes.
The Peng case raised questions about the safety of young athletes and whether the tennis player was effectively a prisoner of the coercive system of control, as suggested and studied by academics, Human Rights Watch and peer organisations, as well as several leading asylum refugees from China.
Some inside China recalled their own experiences of torture, forced compliance involving telling lies in public statement under instruction from a state that defends its system and refuses to allow the truth to be told if inconvenient to the political classes. Even Chinese citizens of dual nationality, such as Australian academic and writer Dr Yang Hengjun, found themselves in detention and forced to endure "torture and lengthy interrogation" for years on end because their views – and even the facts they teach – displease Beijing.
All the while, Thomas Bach was effectively high-fiving with Xi Yinping and Co, citing Olympic Charter Rule 50 and telling athletes to button their lip or pay a price. Yes, there is a good reason why you don't want the Olympic Games to turn into a mass demonstration of world affairs and the many differences of opinions and cultures out there but there are also reasons why sports organisations should in no way appease leaders who sports wash their filthy laundry and rope athletes into the mire, willingly or otherwise. For example:
Rule 50 & "Neutrality" In A Troubled Sports Realm
Rule 50 would make much more sense if it applied to everyone, if Bach and Co did not give prizes and honours to world leaders, if they did not steep themselves in politics. It's our hypocrisy. A few outcomes:
trimetazidine is the substance that Sun Yang tested positive for in 2014, the reasons for the imposition of a lenient penalty called into question by documentary evidence unearthed by SOS that anti-doping authorities are aware of but have not revisited since the Chinese swimmer was banned for four years and three months as a result of a manipulation case exposed by this author and accepted by two panels of the Court of Arbitration for Sport on the strength of arguments forwarded by the World Anti-doping Agency. Sun Yang's case dragged on because of the leniency of those in charge of FINA at the time; related issues drag on because of the leniency shown to Russia in the biggest doping crisis since the days of State Plan 14:25. Meanwhile, neither the IOC, WADA nor CAS do anything about this: four Chinese men admitted in open CAS hearing during the Sun Yang case that they threatened the young woman heading the out-of-competition testing team that Sun had his argument with and all four acknowledged that they had intervened directly on the night in question and been party to putting pressure on the chief tester and then encouraging the athlete to remove a blood sample from the chair of command he had already signed it into. Not one of those four men, including a doctor with two WADA penalties to his name, has been called to account or served a penalty. Why?
in all the coverage of the case of the 15-year-old Russian skater, how many times have you spotted references to the how and who in the background, the people who must have supplied the banned substance? Too few is a reasonable answer. We are left to ask questions and search for references that may give us clues, as we see in this exchange between two journalists at the forefront of Olympic and doping-watch coverage:
3. "A form of epo" is cited by Andy Brown in his tweet in the mention of a supplement allegedly given to the skater. Whatever the truth of it, if and when we get the truth, the mention of epo in Russian context takes us back to reports in The Times I contributed to and others on SwimVortex in 2016 at the heart of controversy over whether Russian swimmers would or would not be able to compete at the Rio 2016 Olympic Games.
It was March 2016 when The Times published the first part of an investigation into how deeply the doping culture in Russian sport affected swimming. The findings sparked calls for the World Anti-Doping Agency to extend its probe from track and field to swimming and other sports.
At the time, the positive-test count in Russian swimming exceeded 20 swimmers between 2009 and 2015 when it hosted the FINA World Championships in Kazan. Among the 20 were teenage swimmers in a country that has a distinct record of dominance in European junior waters before fall-off among senior athletes, the fast-tracking of very young athletes a notable feature of Russian sport. The Times findings included:
Sergei Portugalov (right), the doctor who masterminded doping in Russian athletics, attempted to get Russia's Swimming Federation to build its program around performance-enhancing drugs. [Portugalov was subsequently banned for life but, according to reporter Nick Harris in Britain, has since been witnessed dispensing 'nutrition' advice to Russian athletes in training camp in Portugal].
Two youth swimmers tested positive for EPO, the blood-boosting agent, but their cases never made it to anti-doping authorities outside Russia…
That's where we alight from past reports and take ourselves into a room in Russia where a meeting is being held between senior officials from the Russian Swimming Federation, including FINA Bureau member Vladimir Salnikov, and a doctor named by the two teenagers who tested positive for EPO, a banned substance in play in a few of the positive cases mentioned above.
Salnikov and Co were on the trail of truth and willing to do the right thing when a local police chief entered the room, according to whistleblowers in close vicinity on the day. A relative of the doctor, the police chief is reported to have said "this ends here". And so it did. The cases were never reported to WADA, never made public, the young athletes never named – and the doctor, identity protected, was able to work on with other youngsters in sport.
FINA asked The Times to reveal its sources. Journalists don't do that, nor should any organisation even ask the question, rather they should understand the put a whistleblowing policy in place and fortify it with best practices including independence and other factors that builds trust in witnesses and victims for whom it is never easy to come forward and report what they know or believe to have happened that ought not to have happened.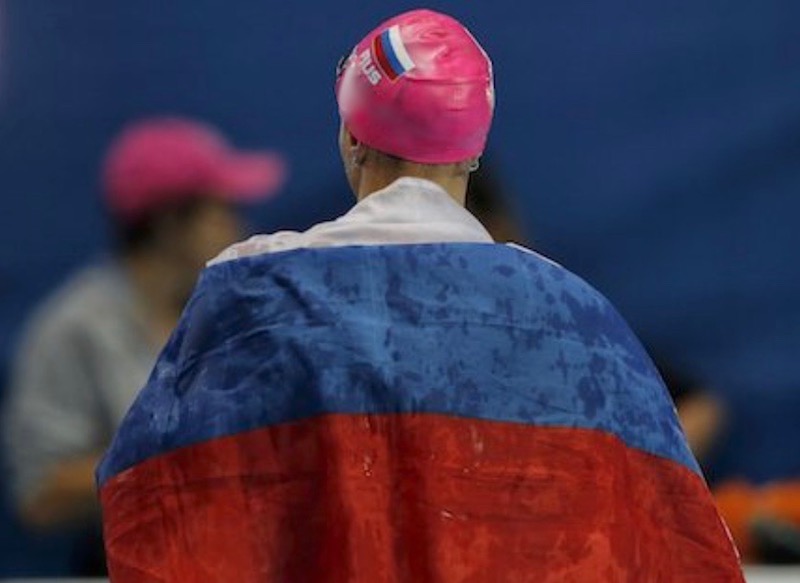 Instead, The Times simply noted to FINA that it might ask its vice-president to report the two EPO cases and provide the witness required for justice to have a chance.
If what whistleblowers reported to me in that case is true – and this reporter has no reason to believe that they have told anything but the truth and the whole truth – then, it is clear: the WADA Code was broken in more than one place. No action was ever taken against any individuals, while the whole-nation ban on Russia was deemed sufficient to cover a variety of allegations, some investigated and proved, some not in a crisis of systematic cheating still under scrutiny and playing out this very week in Beijing.
And in the wash of unreported EPO cases among teenage swimmers, FINA gave official development centre status to Kazan in Russia and boasted of the benefits to youth. The details of the contract are unknown – and FINA has never publicised any clause, if one exists, that tells the development centre (or any of its others in the world) that its status will be removed if … fill, in the void of words that would be required to reinforce a clean-sport message and the threat of penalty should red lines be crossed.
As Alex Perry notes in his outstanding "Outside" feature: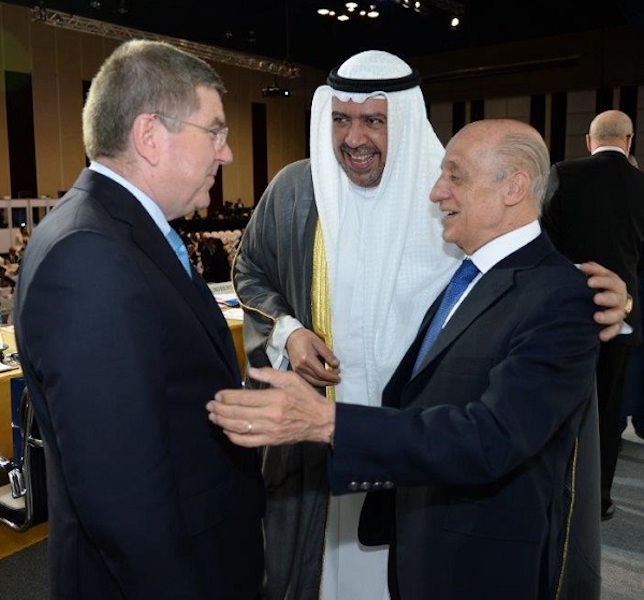 In 2014, Maglione presented Putin with his organization's highest honor, the FINA Order, declaring Russia "one of the most important and major powers in world sport." Maglione has since become a regular companion of Putin's, sharing the stage with him at FINA's 2015 World Championships in Kazan, in central Russia, accompanying him at international sports conferences, and attending his third presidential inauguration, in 2018, at his invitation. When I asked Vlasenko about the warmth between the two men, he beamed. "Our president adores him," he said of Maglione. "He loves him."

Thomas Bach, IOC president, with Sheik Ahmad and FINA's Julio Maglione
Not one of those involved in any of that have ever been called to account, though it may well be argued that World Aquatics and its reform process began precisely at the point Cornel Marculescu's departure marked the start of genuine reform.
There are some truly encouraging signs in the World Aquatics Reform process. This month, the Aquatics Integrity Unit opened for business and anti-doping is in different hands on at least some levels, including removal of the global regulator from most of its previous direct involvement.
These are early days and there's a very long road ahead before we can say 'great job' or even 'you did the right thing'.
Words Of Wisdom From Rev. Tutu
So, back to President Zelenskyy, IOC boss Bach and Rev. Tutu and his role in the Truth & Reconciliation Commission and an inquiry predicated on the fundamental principle "To forgive is not just to be altruistic, [but] it is the best form of self-interest.".
There will be no forgiveness for the IOC if it proceeds with its latest suggestion that Russian Athletics be allowed to compete at the Paris 2024 Olympic alongside Ukrainians. That's pure politics of a kind guaranteed to kill trust and any hope of reconciliation
The IOC should heed the wise words of Tutu when he notes that forgiveness requires truth and reconciliation and is "not about patting each other on the back and turning a blind eye":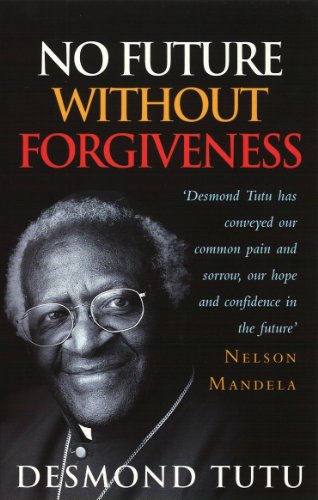 "Forgiveness is nothing less than the way we heal the world. We heal the world by healing each and every one of our hearts. The process is simple, but it is not easy. Forgiving and being reconciled to our enemies or our loved ones are not about pretending that things are other than they are. It is not about patting one another on the back and turning a blind eye to the wrong. True reconciliation exposes the awfulness, the abuse, the hurt, the truth. It could even sometimes make things worse. It is a risky undertaking but in the end it is worthwhile, because in the end only an honest confrontation with reality can bring real healing. Superficial reconciliation can bring only superficial healing."
Here's the kind of reference, from the Truth & Reconciliation Commission, that tells the IOC why it must drop any further talk of statutes of limitation because reconciliation, not retribution, is the goal; that tells media reporting on the issue to do their homework and understand why they need to go back to the IOC and its lawyers and say "irrelevant, please consider the question again":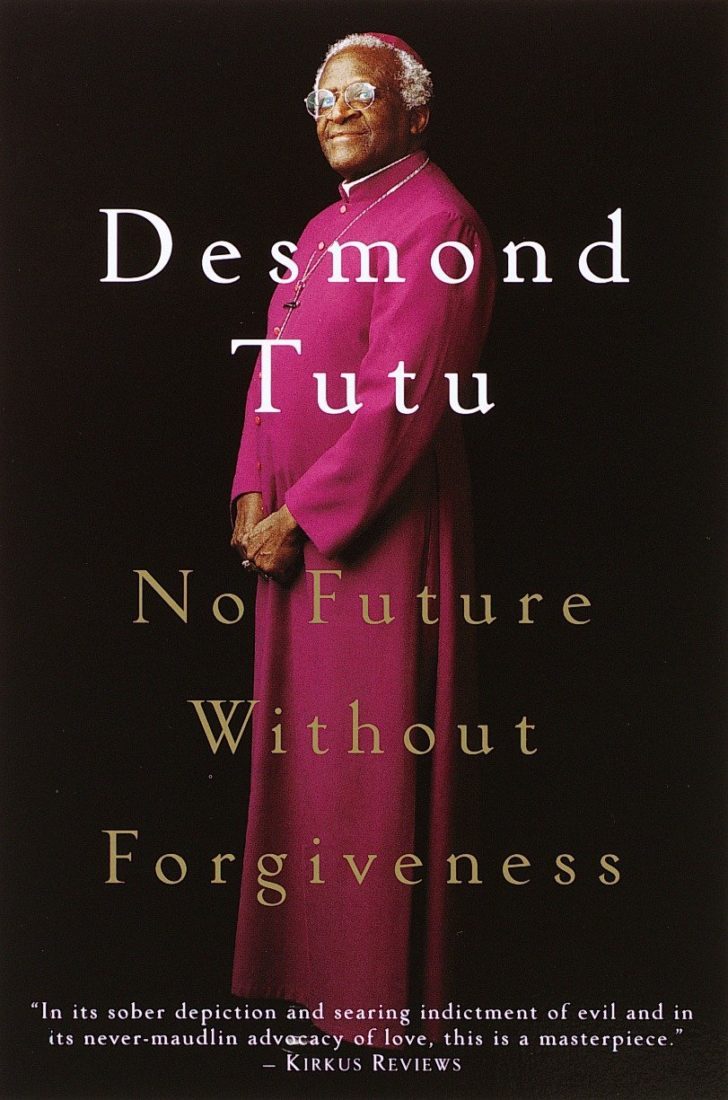 Forgiveness: The primary objective of the inquiry was to preach forgiveness in order to heal the emotions and wounds of hatred or anger that had been created by the apartheid system. There was no place for retaliation in the new society that emerged after independence. It was envisaged that "one who forgives becomes a better person than the one being consumed by anger and hatred." By the same token, it was also argued that "If you can find it in yourself to forgive then you are no longer chained to the perpetrator. You can move on, and you can even help the perpetrator to become a better person too." Nevertheless, the process of forgiveness also required acknowledgement on the part of the perpetrator that they have committed an offence. The Chairman of the Commission noted that he had actually "witnessed so many incredible people who, despite experiencing atrocity and tragedy, have come to a point in their lives where they are able to forgive." Take the Cradock Four, for example. "The police ambushed their car, killed them in the most gruesome manner, set their car alight" in the Eastern Cape in 1984. When, at a TRC hearing, the teenage daughter of one of the victims was asked: "would you be able to forgive the people who did this to you and your family?" She answered, "We would like to forgive, but we would just like to know who to forgive."

Truth & Reconciliation Commission of South Africa
Bach should take up that offer to visit bombed-out Bakhmut. Only then, perhaps, will he begin to understand why asking Ukrainians to set aside their differences with the aggressor and oppressor and embrace Russians in the next lane at Paris 2024 is insulting, inappropriate, ignorant and an appeasement to a smiling Putin who wants all of the crimes he's committed and continues to commit to be normalised.
The invitation comes with a clear explanation of a reality that Bach and Co have so far turned a blind eye to: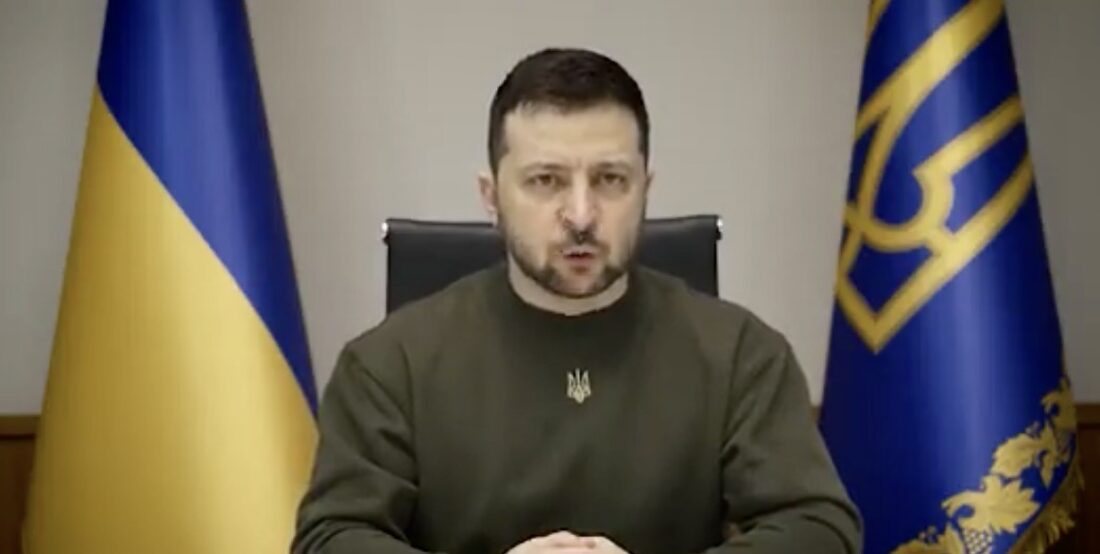 We know how often tyrannies try to use sports for their ideological interests. It is obvious that any neutral flag of Russian athletes is stained with blood. I invite Mr. Bach to Bakhmut. So that he could see with his own eyes that neutrality does not exist.

Ukraine President Volodymyr Zelenskyy