Why Australia Did Not Only Win On Gold Count But Was The Best Team At World Championships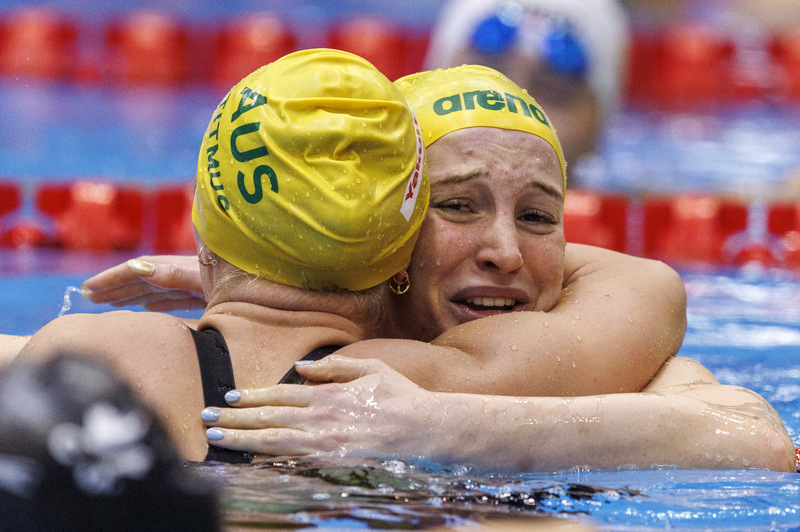 Editorial: Australia's status as the No1 swimming nation at the 20th World Championships that ended last weekend was not only secured on gold count alone but as the best team in the pool on a points score that better reflects the state of swim nations in the specific context of the long-course showcase.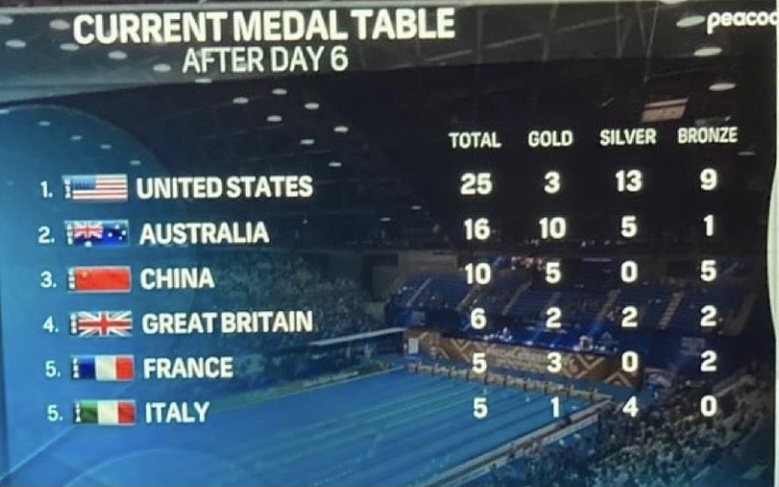 On gold count, the Dolphins won the meet by a factor of 13 to 7 for the USA and 5 for China. There should have been no dispute over that but a U.S. broadcaster's insistence on placing the USA at the top of the medals table at a point in battle when the Americans had 3 golds and Australia 10, sparked a row that begat another one.
Then came the cow-bells-at-dawn storm. Cate Campbell's heart-on-sleeve-cum-tongue-in-cheek interview with Channel 9 went down like a led balloon with some Americans, particularly those conditioned to wave a flag not just on July 4 but wherever mindset fixes on the notion of nationality (in some cases nationalism) as a status greater than that we all share on a planet that sees no borders when it comes to existential matters: human.
Crashing down from the stars to the shire of elite swimming competitions, there's no disputing which nation topped the World Championships on the first measure of success on any medals table: winning, AKA the gold count.
World Aquatics announced soon after Americans had picked up both medley relay golds to end the meet on a high that the USA was the "best team" in the pool at the championships. No details of how that was calculated were given in the announcement but World Aquatics does publish online the detail of how it calculates its meet Trophy for Best Team.
The system is simplistic, unreflective, gives almost no weight to winning or making the podium or even making the final. It rewards quantity over quality in key areas, such as counting down to a depth of 16 in individual events, giving double points for relays and granting as many points to a nation that placed swimmers in 8th and 9th as the nation that boasts the World champion.
And it does not factor in "progress and pioneering" in specific relevance til the World Championships: World and Championship records are not reflected in how the regulator measures the state of nations and their relative success at the meet.
Their count goes 18, 16, 15, descending to 10 points for a place in finals, then 8 descending to 1 for those placed 9th to 16th. Similar structure applies to relays but only down to 8th, 36 points for gold, then 32 for silver and descending from there in 2s.
There are, of course, no perfect ways of assessing such things but there's certainly a better way than the system currently in place. Here I suggest a different model in raw form that would definitely have led to Australia lifting the team trophy.
To my mind, these are the factors that decide a meet:
Gold, then silver, then bronze, in that order, the overall medals simply a reflection of the columns before it and only relevant when we start granting points to each colour and the places in a final thereafter.
My count did not go down to 16 but stayed at 8, finals, for both individual events and relays.
I also factored in points for Word records and championship records but no other records. The focus must be on quality in relation to the world in the title: World.
To award a team trophy that does not reflect the kind of stellar and pioneering efforts of the Australian women's team and the coaching and momentum behind it weakens and waters down the point of having a team trophy.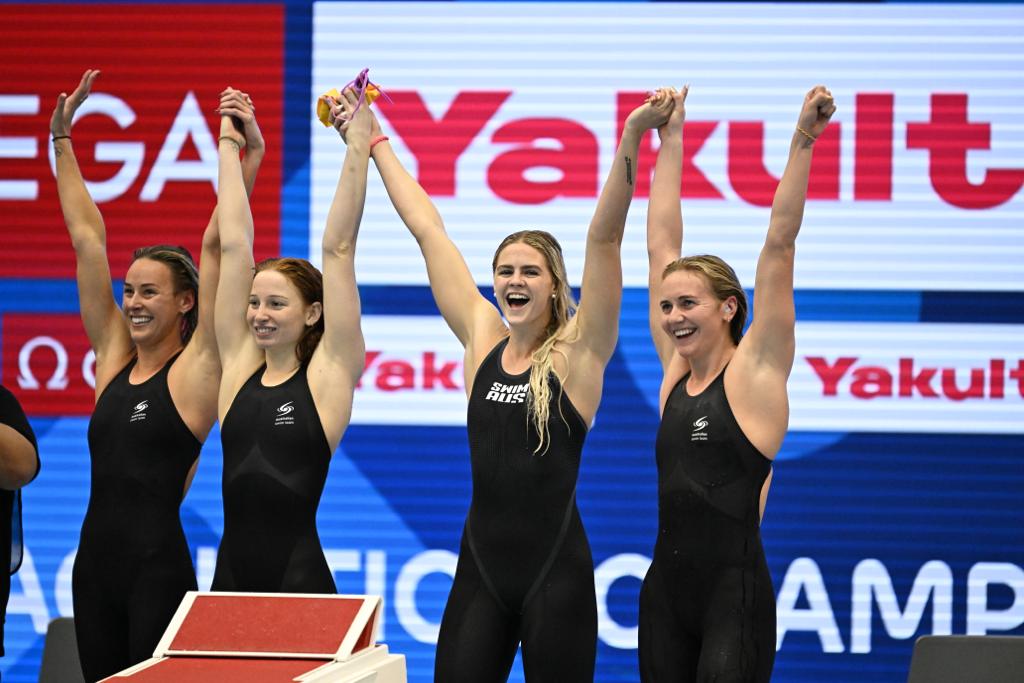 As said, there's no perfect way but here is what happens when you start to weight what should be weighted, when you weigh what should be weighed (and no, I did not attempt any pre-calculation before counting was done).
The Points
Gold – 20 points; Silver – 12; Bronze – 8; then 4th to 8th get 5, 4, 3, 2 and 1 points each.
World record = 20 points.
Championship record = 5 points.
It's also simplistic but it lends weight to the gold, to the podium, to the final and to "progress" in the pool, the pioneering factor. There may be an argument on what weight to grant to gold and what follows, and to records, but giving no weight to such things, as it is with the World Aquatics system, fails to provide fair assessment of an event called a "World Championship", at which gold is the highest currency, as decided by the regulator and long-standing tradition.
A weighted model, under prevailing circumstances, should avoid points down to 16. To my mind, doing so reflects a) not the quality of national swim programs but the selection policies of nations and b) the restrictive format and definition of what a World Championships is and should be. Explanation:
Point a) – the 30.06 sec swum by Imogen Clark over 50 breaststroke at the British Summer meet during the World Championships would have got the bronze in Fukuoka but British Swimming policy is to only select dash contenders if they qualify in the 100m event, the program funded largely on Olympic results (and therefore the Olympic program). Similar can be found in various guises through the world of swimming and feeds into the next point…
Point b) – Since Australian coach Bill Sweetenham, at a time of leading the Britain program, urged the European Swimming League to adopt a system in which the top four from any nations were eligible to compete at the continental championships, alongside a limit of two-per-nation in finals, FINA, now WA, has been able to see a way in which it might improve its definition of "World" championship. So far, that has meant "the world can take part", not "the best in the world from wherever they may be".
World Aquatics has chosen not to change its mind and in so doing, world Nos 4, 7, 9, 12, 14, 15, 16 etc, stay home. As such, the final in current World-Championship format, is a far more solid measure of "best team" than counting down from 18 to 1 with hardly a nod to weight and worth.
So, to the outcome and a footnote on it all.
The Gold, Silver, Bronze & Records Battle AUS Vs USA:
Fukuoka 2023 – gold, silver, bronze, finals and records:
AUS = 563
USA = 524
The footnote: World Aquatics, like many global regulators, spends a small fortune on anti-doping, so it would seem only fair and natural to build such costs into the incentives of nations to keep their programs clean and educate their ranks in the ways of "thou shall not cheat".
How to factor such a thing into a best-team trophy? Well, for starters, every team entering a meet should arrive at zero, minus a measure of any doping cases, including spent suspensions and active penalties. Any minus score would be deducted from the meet-end tally of any nation that arrived at the championships in the red in search of gold, silver, bronze and other forms of gain.
There'll be those who find any number of excuses and reasons not to pursue such ideas and finding a fair model of accountability alongside success but the power in team and the collective that drives the positive type of positive outcome could be harnessed happily as an assistant to those big budgets being spent on warding off the negative side of positive.
And for level 1 flag-wavers, put any "anti-U.S." accusation out of your tiny mind: the weighting and weighing proposed above would, if anything, actually benefit the USA because its team, at any event, while built on a program stacked with quantities others can only dream of, is also about quality, the kind that has made it the world No 1 swim nation for the past century, with a few blips along the way, such as that we witnessed in Fukuoka as the human Dolphins punched above their weight in water.