When Judging Klete Keller In A Political Storm, Don't Ignore The Bruises Of An Olympic Bubble Burst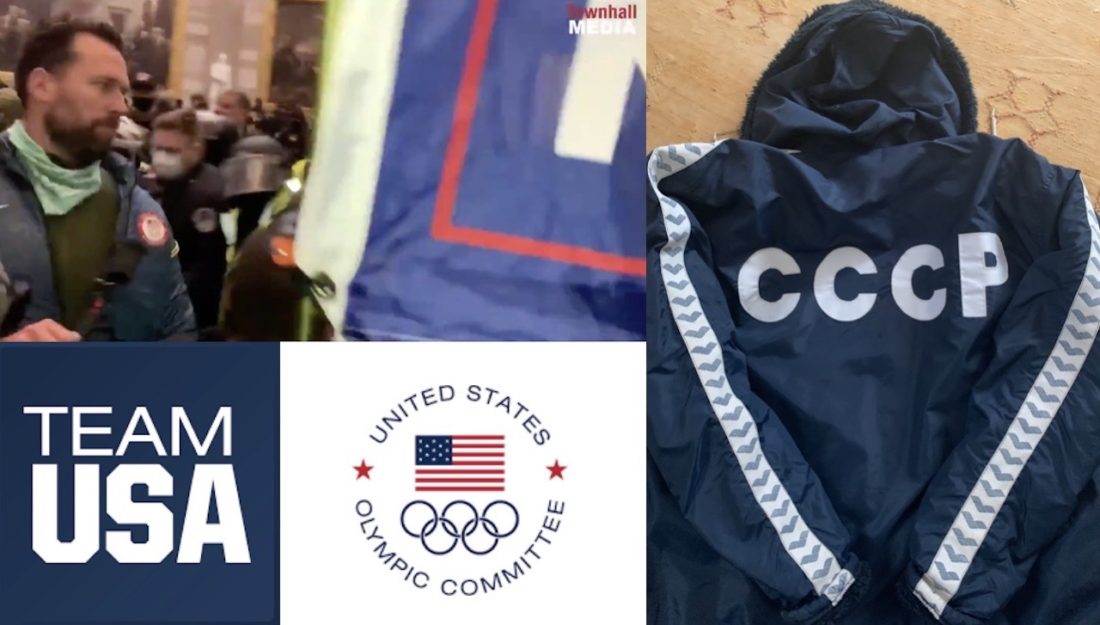 Editorial – Klete Keller; Silly boy: Sick man. I use 'boy' not to insult: when you grow up in the Olympic bubble, serve as a soldier for Team USA and then find yourself spat out the other end, lost, wondering how you went from from hero to zero, from burning Olympic deck to 'never-cut-out-to-do' office job in a matter of weeks, the slow creep of mental-health issues about to get to grips with another unsuspecting victim, then …
Well, I believe that boy from a bubble burst, the three-times Olympian who never grew out of his Stars and Stripes must be acknowledged at the core of the sick man we saw at a failed overthrow of democracy still wrapping himself in a flag pinned forever to his identity on questionable grounds and wearing yet a Team USA metaphor of a coat that may well be the only thing left that gives the fallen swimmer any sense of remaining pride.
Don't misunderstand me: Klete Keller still wears entitlement on his sleeve, the Olympic coat a symbol of the respect he feels he is due – and he will answer for what he did, having now been charged.
In the process, however, let's not overlook – at a time like this, when Keller is facing calls for him to be stripped of honour and status – that Olympic-realm bosses wearing their five rings performed a Nazi salute as Hitler walked in; turned a blind eye even though they'd been told gymnasts were being abused; left in place every Olympic result 1976-1988 while knowing that the GDR doped an estimated 10,000 athletes (and left in place the honours given to those who doped them).
And here's what the Olympic system of checks and balances continues to get wrong in a way that undermines credibility and threatens the welfare of athletes.
Yes. Indeed. Take a deep breath… and… exhale. Nameste.
When we look at this:
… we should be prepared to put our hand over the side of the boat and let it sink into still waters that run deep.
Let's start with the symbolism of coats and rings and flags.
In my collection of memorabilia from the trail of 30 years of covering Olympic swimming, I have a team coat, too (see main image on this story): it's a warm, full-length, fur-lined arena "CCCP" team coat given to me by a member of a Soviet team way back when. I have worn it: to a fancy dress party as a last-minute thought when finding a huge hole in my Sherlock Holmes outfit ( 🧐☺️ ) and been asked if it meant "Cardiff City Car Parks". I would never wear it on any other occasion, just I wouldn't ever wear anything that came with five rings and a flag I have no association with, not the Team USA cap, the Dolphins suit, the GBR t-shirt nor any other similar memento from a trail of such things all the way back to the autograph book graced by the names of Shane Gould, Forbes Carlile, Mike Wenden, Roland Matthes, Debbie Meyer, Karen Moras and many others I met as a young boy in London.
Keller, of course, has a right to feel differently about his Team USA coat but there's a fine line between time and place, pride and prejudice and such treasures are tainted when the flag they are wrapped in moves from the pole over the podium to the pole over politics.
In wearing his USA Olympic Rings to a riot, Keller gave us a glimpse of the Hyde in his Jekyll – and he did so while the whole world was watching. Whatever his reasons for his part in break-and-enter folly at an extraordinary episode of American and World history that has led many, me included, to believe the removal, if not jailing, of a USA President should be the next step, Keller did the wrong thing.
As such, easy to understand those who judge him to have tainted his sport and easy to see that national law and the rules of swimming allow for him to be punished if law/rule enforcers find him to have lapsed. At least at the surface.
Few may wish to see the other angle right now but that Team USA coat hints at the Olympic swimmer, a boy, a man, lost. Klete Keller, in fact, was something of a lost soul some time ago.
In the military world, we find organisations such as The Wounder Warrior Project, Help for Heroes and similar organisations and charities around the world. Some of that work was a long time coming and even now so much of the good relies on charity because state funding in the countries the men and women served falls shy.
Olympic athletes can also be said to serve: they wear flags and march along to their anthems in pursuit of victory over others. I'd want to say they don't risk their lives and while that is the norm, it isn't the rule, as the life and preventable death of Fran Crippen reminds us.
In writing some of the lines from the stories of Sippy Woodhead, Deena Deardurff and many others down the years, it is impossible not to notice what might politely be described as the wilful blindness to life-long wounds among guardians and governors in a wealthy Olympic realm that appears to see no link between "Olympic athlete" and "duty of care" and the consequences inherent in relationships that come with responsibilities.
There's been good news of late. A challenging 2020 also witnessed fine progress with the signing of the athlete Empowerment Act, ironically by the man who ought now to be jail-bound. Trump had little choice but got the job done nonetheless: both Houses granted athlete welfare and protection overwhelming support in the face of atrocious leadership at organisations such as the United States Olympic Committee, USOC (now USOPC, the Paralympic added) and USA Gymnastics, among others.
That hand over the side of the boat need not go so deep as to pull you overboard. There are simple clues not far below the surface, such as heads of sports federations buoyed beyond measure on well over a million a year; the Kellers of the world left to flounder in a bog-standard job of modest wage, his three medal-winning Olympics counting for nothing, his portfolio void of any steer in preparation for the world that would follow his call of sporting duty.
Here are the highlights in a nutshell:
Keller, at USC in 2000 and 2001, then coached by Bob Bowman and Jon Urbanchek at Club Wolverine and the University of Michigan in Ann Arbor before it was back to USC in 2007 to complete a bachelor's in Science and Public Policy. Along the way, he claimed 5 Olympic medals, three of them with USA teammates, one of them helping Michael Phelps to those all-time record eight golds in eight at Beijing 2008.
Klete Keller Collection:
Sydney 2000 – silver, 4x200m freestyle; bronze, 400m free (American record)
Athens 2004 – gold, 4x200m free; bronze, 400m free
Beijing 2008 – gold, 4x200m free
Keller also helped the USA 4x200m freestyle quartet break the World record at the Melbourne 2007 World Championships at which Phelps put together what is arguably his best meet performance ever, a record seven golds in the mix.
And here's what happened next:
Keller once told the Olympic Channel podcast how he had struggled with post-swimming life because the sport had set high expectations, involved thrilling achievements, caused him to feel "entitled" – and all of that had contributed to a sense of frustration and feeling lost in the world of relatively dreary and humdrum work beyond his swimming days. Fair to note that many go through similar need to adjust. Among the many who manage are many who actually appear to manage, Phelps among those who have spoken out about the pressures in performance sport that lead to mental health problems and can make the adjustment to "normal life" all the more challenging. Keller tells the Olympic Channel:
"I'll be honest I wasn't a good employee … for the longest time because I expected it all to come to me as easily as swimming did. Once things started going south. I lost that enthusiasm."

"It's a slow lead-up of shirking responsibility, and just letting the little things slide every day … it eventually builds a critical mass and once that critical mass is built it's that last final straw that breaks the camel's back."

Kelete Keller
'Going south' was not confined to job: he became homeless and in 2014 he and his wide divorced. Keller's car was his home for the best part of a year after the split, that contributing to him having no visiting rights to see his children for four years.
Keller told the Olympic Channel that his gradual comeback was underpinned by the "love and acceptance" of his family, his sister and Athens 2004 Olympic teammate Kalyn Keller providing shelter at a time when he was making a slow return to a better life, teaching swim lessons and running swim clinics.
These days, Keller works as an independent contractor for Hoff and Leigh, a real estate/ property agency based in Colorado and Ohio. His presence at Capitol Hill may now jeopardise his future.
Along the way, he became disenfranchised and suffered mental health issues. While such things cannot be an excuse for anything deemed to have been a felony, if that is what his identification in the storm leads to, we should also ask what the likes of USOC and USA Swimming and their extremely well-paid leaderships (many deputies on well over half a million a year) could have done and should be doing to better prepare their sporting soldiers for life after war and honour.
The question is all the more pertinent when coupled to a woeful history that includes such stories as that of Deardurff, who reported abuse in the 1970s, repeated her claims in the 1980s, 1990s, into the 2000s but waits yet for justice as an Olympic gold medallist not included in the International Swimming Hall of Fame even though the man she says sexually abused her between the ages of 11 and 14, coach Paul Bergen, is in the Hall and has not been added to the vast list of those banned for life on grounds of sexual misdemeanours, often with minors.
Legal arguments too often sound like excuses – and those excuses will be overrun. It is simply a matter of time. Here's military precedence that delivers a huge ray of hope for girl-to-women athletes regardless of when their abuse took place.
Not all woe has been related to abuse. The swimming life of Dagny Knutson and swimming death of Fran Crippen in a life with so much to celebrate are among stories that spring to mind when we consider outcomes that raised questions for guardians and governors, some of those questions yet to be answered at the heart of a sport that is on course to elect as its global president a man cited by the U.S. Justice Department as a co-conspirator to fraud. What will USA Swimming and its representative at the world top table, Dale Neuburger, say; what will they do? How will they justify the absence of an Independent Integrity Unit and the lack of scrutiny of such matters?
Will such people ever answer such questions as: why does the criminally convicted Dr. Lothar Kipke, central to GDR doping when a member of FINA's Medical Commission, still have the honour global governors have him for services to swimming, even though they've known for at least 22 years that his services belonged to the realm of abusing under-age girls in a brutal fashion described in Stasi documents saved from the shredders when the Berlin Wall fell?
As niche swim websites in the United States focus on the error of judgement in a wounded soldier, where is their demand for the most powerful swim federation in the world to exert its obvious influence at the top table of FINA and start to put wrong the woes of history that left so many of its own athletes among victims of state doping perpetrated by rivals who brought politics to the pool with them in a realm that tells athletes "leave your politics at home".
There are calls for Craig Beardsley to make the Hall of Fame because the boycott of Moscow 1980, decided by his own country, robbed him of the status, then and in life, that he would almost certainly have enjoyed in fair circumstance. I have no issue with Beardsley, but whither the call for Wendy Boglioli, Ann Osgerby, Maggie Kelly, Enith Brigitha and many, many more, when it comes to their status and their right to be in a Hall that celebrates dozens of GDR swimmers knowing that Oral Turinabol fuelled their speed. Why must an American gold medallist be left waiting for the call from the Hall 50 years on while the coach who sexually abused her keeps his place because of systematic weakness of dealing with – or failing to deal with – reporting?
Will we ever get to hear from swimming bosses why two recent members of the top table of FINA have also kept their honours despite criminal convictions?
I raise such questions because this day we find Keller facing calls to hand back his medals, to be stripped of Olympic status because of his role in a riot and actions that bring his sport into disrepute. That latter offence is one held over the heads of athletes, former or current, and others by federations far and wide, the USA included, even though the leaders who might trigger such rules have often looked the other way when the disrepute and taint came from their own ranks.
Those calls for Keller's Olympic medals to be taken away from him? It won't happen – nor could it, at least without rewriting the history of others, including the most decorated Olympian of all-time, Michael Phelps.
The International Olympic Committee (IOC) is the only body that can remove medals. Keller can breath easy: 30 years after the fall of Berlin Wall, 20 years after a library of evidence, names, dosages, dates, doctors, the lot, were poured out in the German doping trials that handed criminal convictions to some, not all, involved in the Sporting Crime of the 20th century, the GDR's State Plan 14:25, not a single result was changed, not a single medal claimed by GDR swimmers was handed to a rightful owner, no reconciliation process was ever triggered, no shadow medals presented.
Two GDR girls did actually hand in their medals, pushed them across the desk at Juan Samaranch before the Spaniard, the then IOC president, pushed them back to the swimmers with lament for excuse: "Keep them, you were not the only ones".
In that act, the head of the IOC tainted generations of clean athletes and failed to act on the knowledge he had, failed to act on the wave of Stasi documents that flooded the gutters of sporting history as Olympic bosses, international and domestic federations looked on praying for the drains to do their work so that they might declare 'behold how the sun shines once more – let us focus on the positive not the positives that amount to negatives'.
You'd have to ask Keller but maybe one day we might hear his thoughts on disenfranchisement and what could be changed in swimming and other Olympic sports to ensure better and smoother transitions from the supreme preparation for Olympic heights to the woeful unpreparedness of the low of a life more ordinary.
Klete Keller has suffered trauma in his life – but so have many others who have lived with injustice for decades (and some who have perpetrated injustice and been sentenced for it) and still find a way to balance frustration, anger, acceptance, forgiveness and much else with the need to live a life as well as they might. If Keller pays a price for his part in a storm of consequences, he must face it with the strength of the great athlete we saw in the pool all those years ago. After all, he thought nothing of coupling the dubious (if not criminal behaviour of his present to the honours of his past.
Fellow Olympians, including contemporary team members such as Jenny Thompson, one of the most medalled American swimmers in history, have expressed their sadness for Klete Keller.
Thompson noted in a social media post that she was "Wishing he had more support in troubling times." She is likely to find support for that view, despite the current fervour – and in face of fine words in statements from the likes of USOPC and USA Swimming that few would disagree with.
The trouble is, such official sentiments have not been converted to action against those who did wrong on many other occasions in the past. Just as Keller has no excuse for his actions on January 6, sports governors have no excuse for silence behind the mask of "sorry, I'm at least one step removed from direct responsibility – and though I actually have power to do something about it, and freedom to say something about this that would make a big difference, I chose not to exercise that power and freedom for the benefit of the sport I earn a lot of money from".
Meanwhile, as we contemplate and criticise Keller in his coat of tainted colours from a spectrum of questionable governance of Olympic sport and in circumstances he may well come to regret, let us not repeat the mistakes of history by placing all emphasis on the error of the athlete while forgetting to put our hand over the side of the boat to feel the undercurrent.
The athlete, though many know it not, operate in the Olympic realm surrounded by guardians an governors with responsibility, if they only realised it, to culture, mindset and the development of young people. Those leaders are too often nowhere to be found when, be it doping, be it mental health, be it hard times caused directly by the fallout of commitment to sporting excellence, the ship hits the rocks.