What Will New Doping Duchess Tell Us About Why A Russian Teen Is Skating On Thin Ice As Lawyers Work Against Backdrop Of Compromat?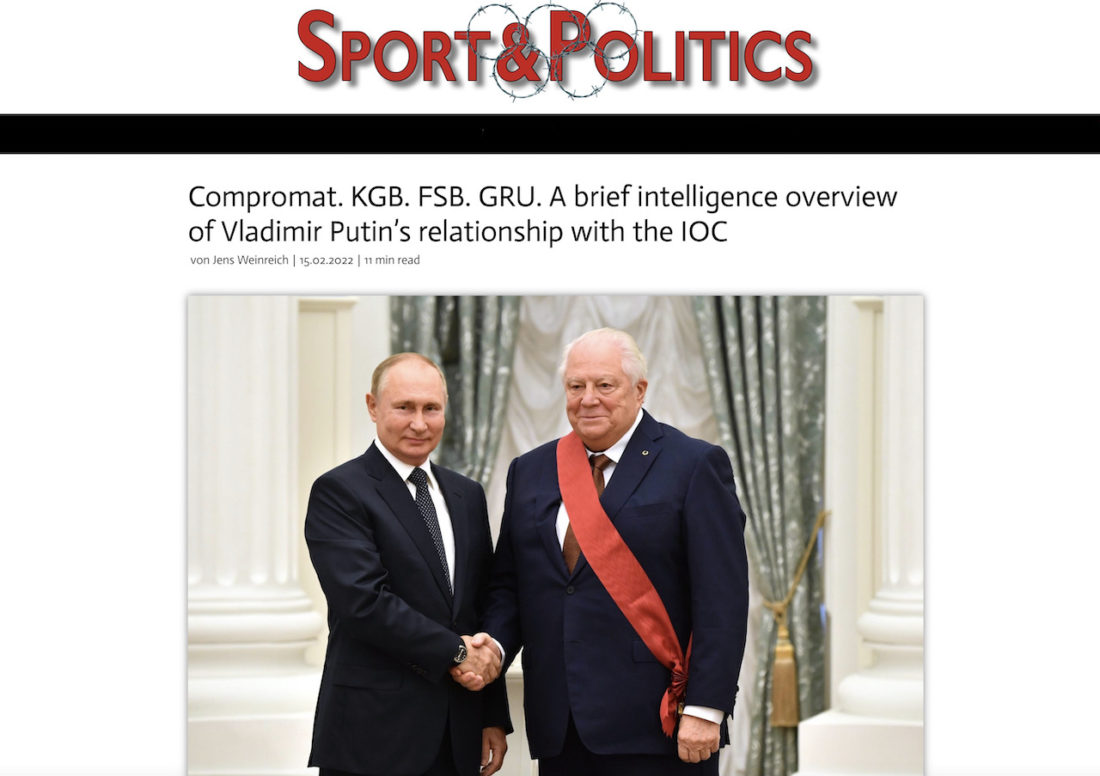 Editorial – Do we see a new doping Duchess, must we all bow as we listen to more excuses among those who refuse to see the Russian rogue in the room and are forever citing reasons why we should all think the anti-doping system the devil?
And that even when grandad's glass of water appears to have been used to toast a union of something rather more sinister than contamination lurking in the murky depths of the latest Russian bomb to blast Fair Play to smithereens, regardless of whether a 15-year-old is given a thumbs up or a thumbs down in the modern arena where evidence of a fine line between sport and slavery, success and exploitation, healthy and abusive has been all too real.
In the mix, a 15-year-old finds herself skating on thin ice in a realm under scrutiny for its links to a state known to be an Olympic champion of Compromat.
The water is frozen in this case but the issues surrounding a sport skating above the very lanes where Michael Phelps raced to a sensational record eight golds, are of fundamental importance to sports such as swimming and any who work with athletes and never want to be in a position of watching them arrive at the biggest day of their goals in sport only to find themselves deprived.
Find themselves denied, not just because someone/some program cheated but because the system is broken and compromised, because it needs fixing and ridding of old mindsets and cultures and governance structures that many working in sport feel far removed from … until they find they are not.
We must wait to hear the details from the rink and, of course, the 'explanations' as to why a cocktail of heart drugs has now turned up in the bloodstream of a Russian 15-year-old figure-skater Kamila Valieva, if documents cited by the New York Times have truth on their side. The suggestion is that one heart drug is banned, the other two heart drugs are not and registered on behalf of a world-class, peak-of-health athlete at the height of her young powers because she has a medical need of the support the drugs provide.
The New York Times yesterday revealed documents used in the teenager's arbitration hearing before she was cleared by RUSADA, before WADA and the IOC appealed that ruling and the matter went back to CAS, which decided, on grounds of the skater's status as a minor, that she should continue to compete at an Olympic Games despite a positive test for a banned substance.
In that CAS judgment, as with far too many others, 'fairness' of the one in the doping dock overrides the 'fairness' due by right and rule, to others, including those who compete clean. The questions include: how can it be 'fair' to impose a temporary suspension pending hearing on an 18-year-old and have them removed from a Games if it is 'unfair' and 'liable to cause harm' in the case of a 15-year-old who, if the presence of any variant of a doping Duchess is confirmed, has already suffered harm and abuse at the hands of someone or some people in the court of folk supposedly serving as guardians and stewards of sport and athletes?
The files cited by the New York Times claim that Valieva had three heart drugs in her system when she failed a drugs test at Russia's national championships back on December 25: trimetazidine, a banned substance, was found alongside two other heart medications that are not on the banned list, namely hypoxen and L-Carnitine, according to documents from the Stockholm laboratory that analysed Valieva's sample.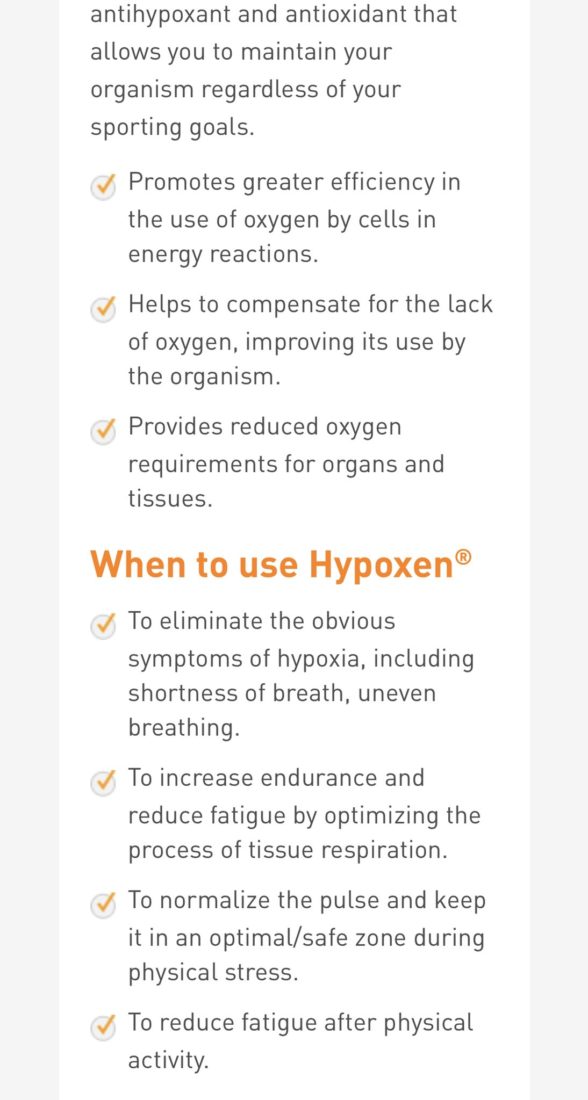 Set anti-doping aside. Consider this: if Valieva were Italian, she would likely already have been retired under laws that bar anyone from sport with the kind of heart problems suggested where a 15-year-old is seen to be in need of trimetazidine, hypoxen (benefits listed in the image) and L-Carnitine (not strictly a heart booster but widely used in sports, support for muscles, fat burning, recovery all cited as benefits, though not strictly proven benefits). And that so regardless of whether we believe that the best has been done for her health in general or to sustain her health for the purposes of continuing the intensive – and some say brutal – training regime she has endured to get her to a standard capable of winning a likely two Olympic gold medals at Beijing 2022 that she may or may never see, depending on the outcome of hearings to come. 
There will be no medals ceremonies for her in Beijing. And not just for her: yet again, because of the presence of a doping case allowed to have gone on far too long, doubtless with national authorities doing their best to ensure the 15-year-old makes it to race day, by hook or by crook, the other athletes who have a right to celebrate any medals they earn in Beijing will not have their day when they deserve it.
Fairness for the one and relief for any rogues in the room; bugger the clean, the ethical, the victims and the many alongside them. Surely a new mantra for our sporting times.
To be clear, our New Duchess is very different to the Duchess described by whistleblower Grigory Rodchenkov in connection with the Russian doping crisis that included a monstrous scam involving secret labs in hidden rooms beyond fake power sockets through which samples were switched.
Rodchenkov's Duchess cocktail was a mixture of three anabolic steroids and Martini-brand vermouth.
The New Duchess is "a trifecta of substances – two of which are allowed, and one that is not allowed," says United States Anti-Doping Agency Chief Executive Officer Travis Tygart described the finding of Swedish analysis.
In combination, this 'New Duchess' is doping, experts suggest.
Tygart put it this way: the combination "seems to be aimed at increasing endurance, reducing fatigue and promoting greater efficiency in using oxygen."
Hearings and explanations, arguments and counter arguments will flow with legal bills in the days and weeks and months ahead.
Valieva's December 25 positive was not revealed until February 8, Beijing 2022 underway.
CAS's argument that a temporary suspension of the skater would cause her 'irreparable harm' in the long run is one that fails to acknowledge or deal with the harm done to other athletes by allowing any athlete to continue to compete pending a hearing after confirmation of a positive doping test.
CAS noted: "The panel was concerned that if – after the completion of all procedures – she would not be sanctioned or would have a very low sanction, the provisional suspensions would have caused serious damage."
I don't have the legal training to know what the scales of justice have to say on the risks inherent in decisions made on the basis of an assumed outcome but if the cocktail in question is added to what we already know of the abuse of athletes underway in Russia, we have to ask what kind of responsibility is accepted by the CAS and any others involved in providing fairness and justice aimed at delivering clean sport; how many points would they merit out of 10 for meeting the mission, achieving the goal?
It is understood that WADA, an organisation that has surely felt that its primary business has been countering Russian misdeeds in recent years, privately disputes the CAS interpretation of the Code. If that is so, it would be easy to see why WADA might take that view, given that aforementioned mission.
According to the IOC, Valieva argues that her positive drug test was caused by a mix-up with her grandfather's heart medication. The New York Times has reported that Valieva's grandfather submitted a video testimony for the hearing in which it is claimed that he explained he used trimetazidine periodically when he suffered 'attacks'.
It is then claimed that he showed a packet of the medication to the video camera as part of his testimony.
Meanwhile the show must go on, it seems. It is a piece of dark theatre, where the lights go on, the curtains roll back and we are all invited to celebrate human achievement, when in fact we might be celebrating a worst version of humanity and a system that props up the abuse unfolding in full view.
As Valieva steps up to seek a second win at Beijing 2022 tomorrow, those tuning in might want to listen intently to the hush that descends just before the performance begins. Is that the chortle of a rogue we hear from behind the curtain stage left and right? Or just our active imagination in a world of masquerade and Compromat?
For the record: no, those who raise the issues above are not anti-Russian. Quite the opposite. Russian children heading into sport have the same right as children from anywhere in the world to expect a safe and healthy environment free from those who lead them into the temptation of 'success' through doping and persuade young minds that 'everyone is doing it … only pathway to winning'.
The heart and soul of criminality and corruption in sport is confirmed by a horrid history that the IOC has yet to deal with and continues to fend off even when it's only answer, 'statute of limitations', is irrelevant.