Wellbrock Big In Japan – Tokyo Olympic Champion Leads Germany 1-3 For World 10km Title In Fukuoka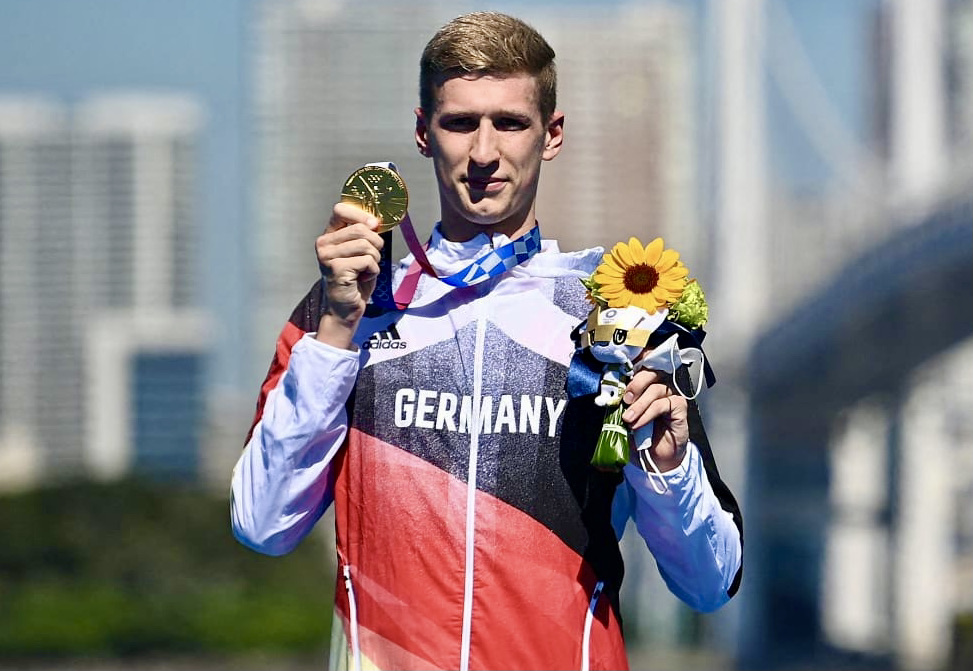 Germany's Florian Wellbrock evoked memories of his dominant victory at the Tokyo2020ne Olympics with a masterclass in marathon racing on his way to the World title in Fukuoka, Japan, today.
Bib 68 was No1 among the 69 entries (two did not finish, two did not start) just about all the way. Wellbrock's split times along the course of the 10km race at Seaside Momochi Beach Park show only four occasions when another's hand passed a timed point a fraction ahead of his. Wellbrock, coached by Bernd Berkhahn, wore them down from start to finishing on 1hr 50mins 40.3sec, 18.7sec ahead of his closest opponent.
Silver went to Hungary's Kristof Rasovszky in 1:50:40.3, while the champion's teammate Oliver Klemet on 1:51:00.8 for bronze, a day after Leonie Beck claimed the women's 10km crown. That's 2 gold, 1 bronze in two marathon finals a year out from the Paris 2024 Olympic Games, three quarters of the tickets available for any one nation secured for Germany.
Only one other managed to get within a minute of Wellbrock: Domenico Acerenza, on 1:51:16.7, his teammate, 2016 Olympic champion and 2022 World champion over 1500m and the marathon, Gregorio Paltrinieri, on 1:51.40.7 in fifth and leading those more than a minute behind the German winner.
A years ago in Budapest, Paltrinieri and Acerenza punched a 1-2 ticket for Italy ahead of Wellbrock 12-14secs back.
All but the podium placers must now seek tickets to Paris 2024 at the 'intercalated' World titles in Doha next January as a consequence of contracts that found themselves washed into white water by the Covid pandemic. Never before have there been four World Championship showcases in four consecutive years; never before have there been two World (long-course for swimmers) Championship showcases just six months apart. Never again is a common refrain.
Wellbrock, who celebrates his 26h birthday next month, emerged to say: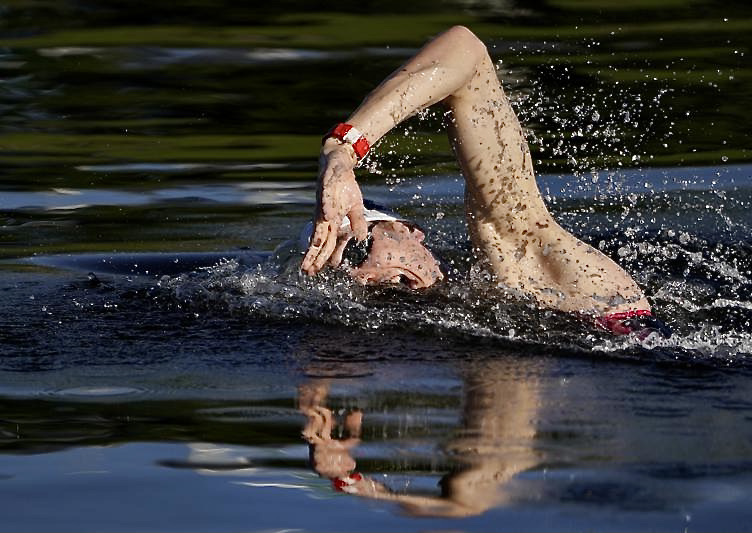 "It's amazing; back on the top of the world. Double gold for Germany and also one bronze medal, so three Olympic spots for the German team. It's unbelievable. I love to be in the open water to swim with my friends and with the competitors but I wouldn't say I like to get stuck in the pack, to swim at the feet behind someone. I like to set the pace, to decide where we have to go and when we have to be faster or slower. This is really nice. The support was amazing. Before the world championships and the Olympics, all the big events, you can fuel the fire of fans and family and I am so thankful for all of them."

Florian Wellbrock
Rasovszky's take: "I'm really happy. I got a second and it means I got a qualification for next season's Olympic games, so I couldn't ask more. Maybe the first place Florian was much stronger in the last lap so I'm really happy I could be. The other German for second place, it's everything I saw. Next race for me is the 5km relay, and the pool swim will be the other plus side. I could get an Olympic qualification and I'm really happy."