'We Need To Be Aware Of Challenges Clubs, Coaches & Swimmers Face' – John Atkinson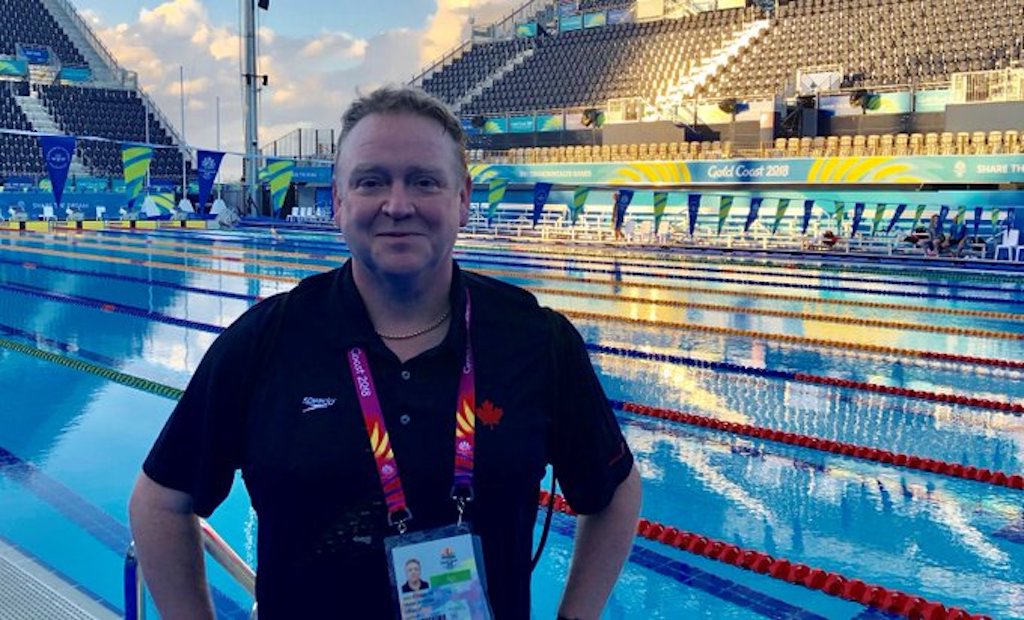 John Atkinson started to work with Swimming Canada as the High Performance Director and National Coach working with coaches and swimmers from early 2013. As he has continued to develop Canada's High Performance programs, the results have followed at all levels of international championships and Games. But all the work done over the last seven years could not have foreseen what has unfolded in 2020. The pandemic has forced the postponement of the Olympic/Paralympic Games and many other national and international competitions, turning the usual High Performance calendar upside down at a time when Olympic sport faces challenges on many fronts as history catches up on the Movement.
Courtesy of Swimming Canada, this is the first in a series of Q&A discussions with John Atkinson on his approach to leading high performance during these uncertain times:
Q: How have the programs and plans impacted performance since you started with Swimming Canada in 2013?
A: It takes time to put plans in place and develop a team culture that allows all to feel they can prepare individually within a team environment focused on performing at the highest level. For Swimming Canada this started back in 2013 at the FINA World Championships in Barcelona and continued through the Olympic quad to Rio in 2016. We have been refining and developing year on year to be ready for the Tokyo Olympic Games. Little did we know we'd be waiting an extra year for those Games!
We had a great Olympic Games in Rio, coming away with six medals, including Penny Oleksiak's gold in the 100-m freestyle, Canada's first since Mark Tewksbury in the 100-m backstroke at Barcelona 1992. Along with 1976 and 1984 this ranks as one of our best ever performances at the Olympic Games, and I would say with the number of nations competing now, all with refined High Performance programs, it was our best ever Olympic result.
We've continued to build from Rio towards Tokyo with strategy and purpose. For example, our 2017 FINA World Junior Championships team in Indianapolis was our best ever performance at that event (15 medals, 7 gold). We raced our best female relays and those young women went on to race in relays with others at the 2018 Commonwealth Games and Pan Pacific Championships, then the FINA World Championships in 2019. At those championships in Korea Swimming Canada won, for the first time ever, medals in all three women's relays. This, along with our individual performers, boosted the team's total to nine medals (including one in open water), placing Canada fourth in the world on total medals. With two world champions (Maggie MacNeil in 100-m butterfly and Kylie Masse repeating in 100-m backstroke) for the first time, the depth and quality of performance was showing.
Our men are young and they also started to show progression in Korea with Markus Thormeyer breaking through into the final of the 200 back, and the improving men's relays. The world juniors in 2019 (12 medals, 2 gold) also showed great promise with our male team having its best event for a number of years and our females continuing to have strong performances. Four swimmers competed at both senior and junior worlds, which was a great experience for them, and once again a development strategy we thought out and put into place.
Q: How have you been able to enable this team culture to grow, and has this helped prepare for what has happened in 2020?
A: Our team has developed key words for how we work and react to things. They are: focused, professional, relaxed (or calm) and adaptable. We added in the phrase of "No Drama" along the way. We talk to the athletes and staff on the team (including coaches) and ask what these all mean to them. They need to consider what that looks like for them, how they live it and how this is something they can bring to each team.
I think this has stayed in our team's mind for the last few months, and we've heard many of our top athletes talk about being adaptable, focusing on what they can control, and keeping as calm and professional as possible.
You never want to rest on past achievements, so our swimmers and coaches were working hard to prepare for the Olympic Games in 2020. To have our trials for the pool and open water teams cancelled basically days before the events were to happen was very difficult for all to adapt to. There was some hope initially that the Games would happen in 2020, and then the realization began to sink in when the Canadian Olympic Committee made the announcement that the Canadian team would not go if the Games took place in the summer of 2020. It was another hard moment, but I explained to all our swimmers and coaches it was the right decision.
Then the Games got postponed and pushed back to 2021 and that provided a sense of relief, a time to re-focus, a time to adapt, to stay professional and calm, and do it with no drama. Our team have been outstanding in the way they have trained – initially on their own at home – through probably the longest enforced period out of the water ever, and certainly longer than other top swimming nations.
As well as the athletes and their personal coaches we also have a great team of staff and coaches in the Olympic and Paralympic High Performance programs who really work hard to keep our entire program improving. They are all helping make a difference in what is happening now and what will happen in the future. This, along with the support of the Swimming Canada CEO, Board and various committees in allowing us to do our job really makes for a great team to implement the plans.
Q: How is the return of swimmers to swimming training going now that pools are beginning to open?
A: Now the return to swimming is well underway, we have all worked hard to keep things positive and forward thinking, and asked how we can use what has happened to progress. Our athletes have adapted. We have training centres in Vancouver (based at the University of British Columbia) and in Ontario (based at the Toronto Pan Am Sports Centre) back training for several weeks. The return has been safe, modified and most of all responsible. Our swimmers are aware they all have a social responsibility to do this right, and looking to come back stronger to prepare for what 2021 will bring. As the national team we are planning for different scenarios and have a Plan A, Plan B and Plan C leading to Tokyo. Most of all we will live up to being adaptable and also supportive of our athletes who have been great through this pandemic and the lockdown.
As a sport we need to look ahead, and be aware of the challenges our clubs, coaches and swimmers will face. Sport is part of Canada and our communities. It plays a very important part in society as a whole and you cannot put a figure on this. As our provinces are going through different stages of their opening plans, it is so important that sport resumes, both for physical and mental health and the long-term impacts on the health and well-being of the country as a whole. The key in this is support for the facilities to open. With a significant period of time out of the water – 12 to 16 weeks, and longer for others – getting back to training is so important and then to plan ahead for a slightly longer preparation for 2021 and use that to our advantage.