Wang Shun (1:54.62 200IM) & Pan Zhanle (46.97, 100 Free) Crack Asian Records In China Bull Run As Home Games Begin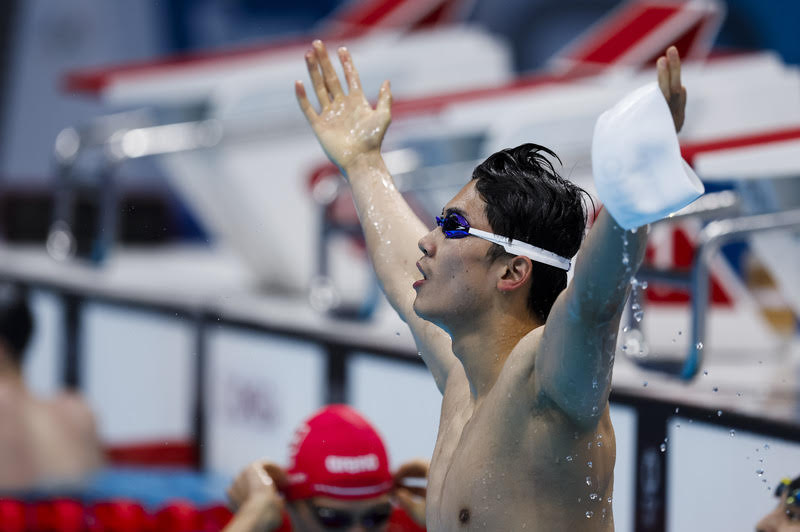 Wang Shun and Pan Zhanle set Asian records as China took all seven golds, five of them 1-2 finishes, on a bull-run of an opening day for the hosts at a home Asian Games in Hangzhou.
Wang, the Olympic 200m medley champion from China who bombed out in semis at the World Championships in July, broke his own Asian record to claim the Asian Games title in 1:54.62 as action got underway in Hangzhou today, a time that would have taken gold ahead of France's Leon Marchand in Fukuoka two months ago.
All seven golds on day 1 went to China, the fifth final of seven the first in which a swimmer from another nation finished in the top 2 – and the only final that did not witness a Games record – and only then because the Asian record had been broken in heats by the Chinese swimmer on her way to gold.
Pan Zhanle On Fire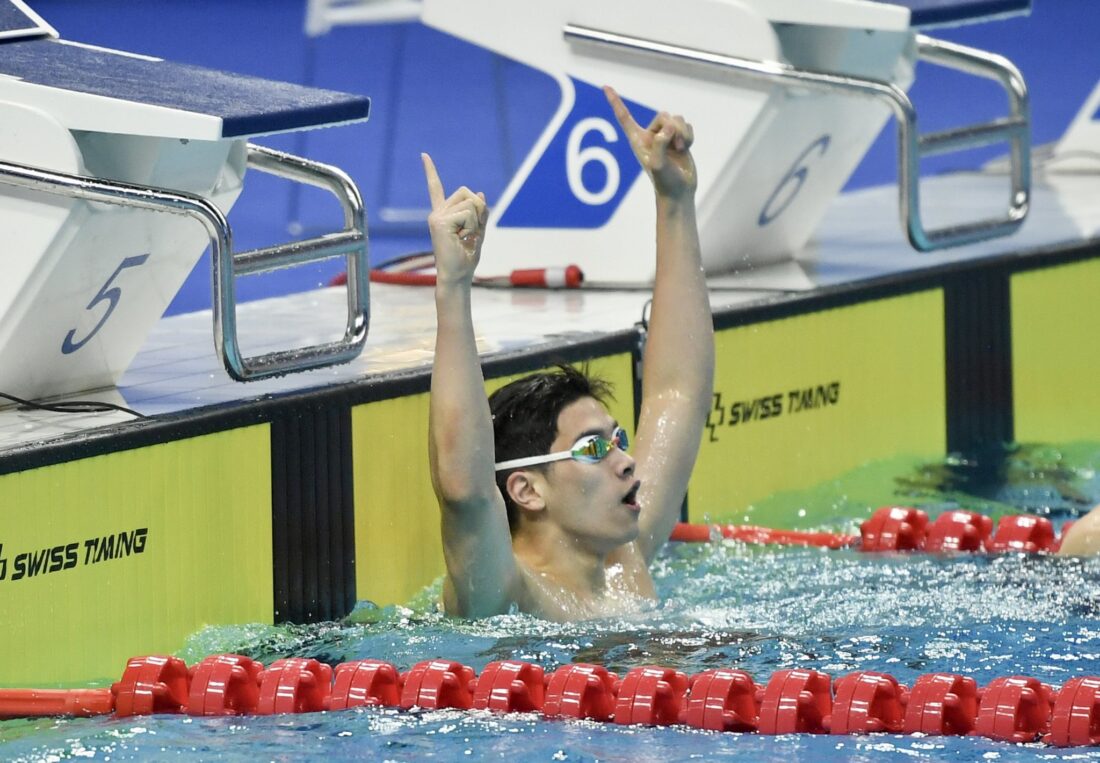 In the midst of that gold rush, there was an Asian record of 46.97 from Pan Zhanle in the 100m freestyle and Games record for Zhang Yufei in the 200m butterfly, Li Bingjie in the 1500m free, Xu Jiayu in the men's 100m backstroke and a women's 4x100m freestyle quartet that included Zhang.
All seven golds on day 1 went to China, the fifth final of seven the first in which a swimmer from another nation finished in the top 2.
Out in 22.45, Pan was home in 24.52sec to become only the third man in history after Caeleb Dressel (USA, 46.96, 2019) and David Popovici (ROU, 46.86 WR, 2022) to dip below 47 in a textile suit.
The all-time top 5 in textile:
22.74, 46.86 (24.12) Popovici 2022
22.29, 46.96 (24.67) Dressel 2019
22.45, 46.97 (24.52) Pan 2023
22.54, 47.04 (24.50) Cameron McEvoy (AUS) 2016
22.79, 47.08 (24.29) Kyle Chalmers (AUS) 2019
Pan's previous best was a 47.22 from China nationals earlier in the year, while at World titles in July he finished fourth in 47.43, 0.01sec shy of the podium. Silver in Hangzhou went to Wang Haoyu in 48.02, the bronze to Hwang Sunwoo of Korea in 48.04
In a Chinese swim history stacked with troubles, it has not been uncommon for China teamsters to target the Asian Games and even domestic All China Games above the global event of the year. Zhang, Li, Pan and Qin Haiyang, second to Wang in the medley today, have excelled on multiple occasions this year.
Shun is the latest to have made his mark in domestic waters well ahead of the pace of his best in global competition this season: his dominant 1:54.62 victory at a home meet today made him only the fourth man ever to break the 1:55 mark after Americans Michael Phelps (2007), Ryan Lochte (2009) and Marchand (2023).
Wang had held the Asian record at precisely 1:55.00 since his victory at the Tokyo 2020ne Olympic Games 0.28sec ahead of Britain's Duncan Scott, who finished second to Marchand in Fukuoka in July on 1:55.95, with teammate and Olympic 200m free champion Tom Dean third in 1:56.07.
Wang did not make the final. After 1:59.05 in heats, which allowed him rio scrape into semis in 16th and last place, he improved to 1:57.97 in semis but that left him 11th overall 0.74sec shy of a place in the showdown.
Today in Hangzhou, Wang led a China 1-2 with treble breaststroke world champion of Fukuoka Qin Haiyang, on 1:57.41, ahead of a man who has known many a World-Championship and Asian Games podium before on medley, Daiya Seto, of Japan, on 1:58.35.
The splits compared:
24.53; 53.38 (28.85) 1:26.94 (33.56) 1:54.62 (27.68) AR Wang, Asian Games, Sept 2023
24.94; 53.60 (28.66) 1:26.54 (32.94) 1:54.82 (28.28) ER Marchand, World Champs, July 2023
Wang's finishing freestyle speed is a bit of a mystery. In Tokyo he closed in the swiftest last 50m in history, on 27.37, Scott, a Commonwealth champion in the 100m freestyle and the owner of the fastest 100m free relay textile-suit split in history, the second-fastest ever on 27.46.
Those last lengths stack up with these previous bests:
1:54.00 200IM WR – 27.49 Lochte WR
1:54.16 Phelps best – 27.36, locked in battle with Lochte, World titles 2011
Tokyo 2020 in 2021
24.78 – 53.78 (29.00) 1:27.63 (33.85) 1:55.00 (27.37) Wang Gold
25.06 – 54.52 (29.46) 1:27.82 (33.30) 1:55.28 (27.46) Scott Silver
Wang's keen progress on the last 50m at World titles since his teens:
2019 World Championships
25.53 – 55.04 (29.51) 1:29.35 (34.31) 1:56.91 (27.56) Scott 5th
25.06 – 54.66 (29.60) 1:28.80 (34.14) 1:56.97 (28.17) Wang 6th
2017 World Championships
24.92 – 54.57 (29.65) 1:28.39 (33.82) 1:56.28 (27.89) Wang bronze
Zhang, Li, Xu & 4×100 Freestyle women Set Games Record As China Sweeps Gold Standard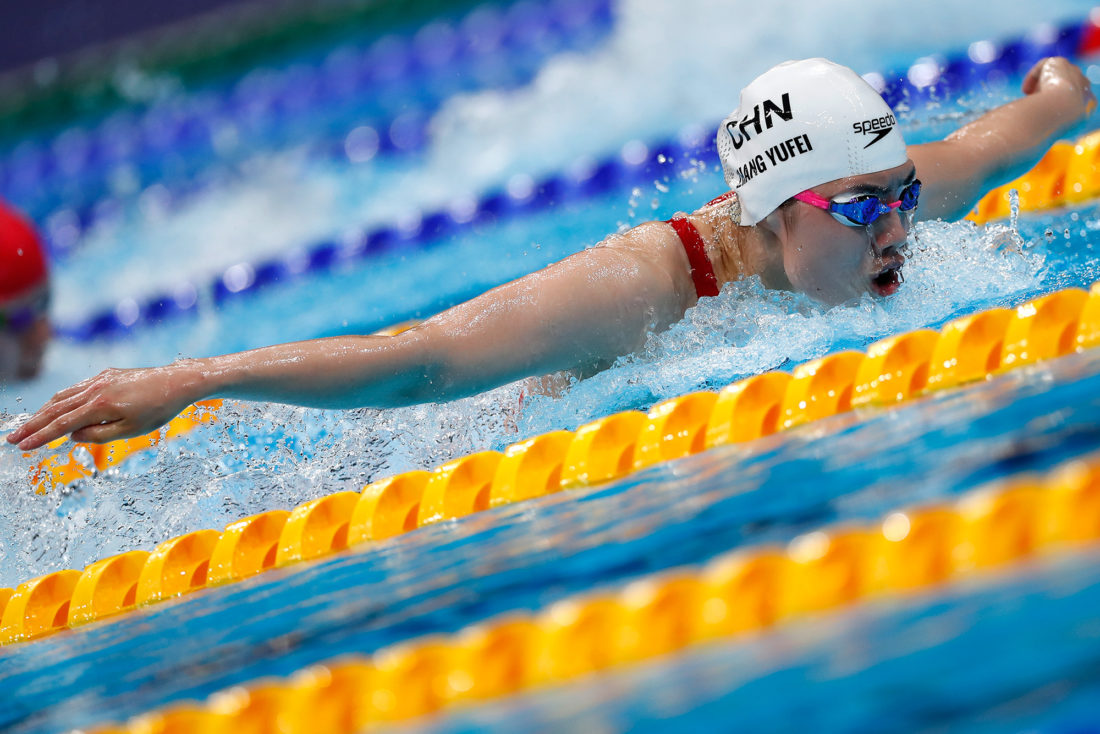 Wang's teammate, Zhang Yufei bypassed the 200m butterfly at World titles isn Fukuoka two years after claiming Olympic gold in Tokyo. Today in Hangzhou she clocked 2:05.57 for a dominant Games-record victory. The Games standard had stood to compatriot and 2012 Olympic champion Jiao Liuyang at 2:05.79 since 2010.
The World title was retained by Canadian teen Summer McIntosh in a World Junior and Americas record of 2:04.06 in July, while Zhgang's pace today would have placed her between silver and bronze medallists Elizabeth Dekkers, of Australia (2:05.46) and Regan Smith, of the United States (2:06.58).
In Tokyo, Zhang became the first woman in history to claim Olympic 200 'fly gold in a time under 2:04sec, her 2:03.86 the swiftest time ever in a textile suit though far shy of compatriot Liu Zige's 2:01.81 shiny suits World record from 2009.
The first race for the Games in the pool was also the first China 1-2, Yu Liyan home in 2:08.31, with Japan's Hiroko Makino taking bronze in 2:09.22.
The third China 1-2 of day 1 followed soon after as Li Bingjie took gold in the 1500m freestyle in a Games record of 15:51.18 ahead of Gao Weizhong, on 16:05.73, and Japan's Yukimi Moriyama, on 16:17.78.
In the last solo final of the day, Xu Jiayu clocked an Asian Games record of 52.23 to take the 00m backstroke title ahead of Japanese seasoned international Ryosuke Irie, 0,53.46, and Korean Juho Lee, on 53.54.
Final No 5, the women's 50m breaststroke, gave China its fifth gold of the day, Tang Qianting on 29.96 ahead of Satomi Suzuki, 30.14, and Hong Kong's Olympic 100 and 200m free silver medallist Siobhan Haughey, on 30.36. In heats Tang's 29.92 made her the first Asian woman to race below 30sec, after she established the continental standard at 30.08 at the World Championships in Fukuoka, Japan, in July.
The session came to a close with a Games record for China in the women's 4x100m free, courtesy of Yang Junxuan (53.86); Cheng Yujie (53.07); Wu Qingfeng (53.84) and Zhang Yufei (53.19), the latter claiming her second gold of the day. The Games standard had stood to Japan at 3:36.52 since 2018. It was silver for Japan this time round, 3:38.48 the combined time of Nagisa Kemoto, Chihiro Igarashi, Rikako Ikee and Rio Shirai, with bronze for Hong Kong, 3:39.10 the sum of Lily Mei Cheng, Haughey, out in 24.72, home in an 51.92, Lam Tam and Stephanie Au.