W50fr – Emma McKeon 23.81 OR Gold Bolsters Best Olympic Campaign For Aussies; Sjöström & Blume Seal Podium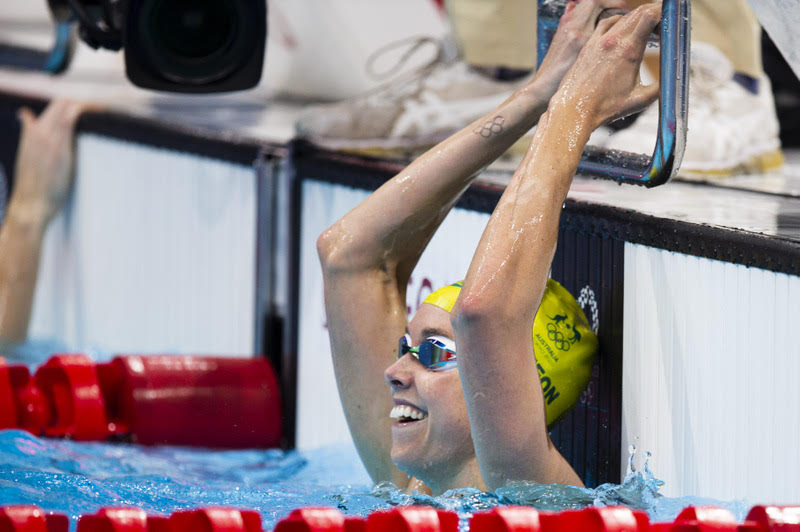 Tokyo 2020 Olympic Games, Women's 50m freestyle – Emma McKeon added her name to the book of Olympic double sprint freestyle champion with a 23.81 Olympic-record victory in the dash that took Australia's tally of titles to eight here in Tokyo before the Dolphins' women's 4x100m medley quartet made it a record nine.
Australia has never had so many golds at one Games and McKeon has played a big part in that, with four golds (50, 100 and the 4x100m relays, freestyle – in World-record time – and medley) and three bronze medals (4x200m free, 4x100m mixed medley and 100m butterfly): her seven medals makes her the most decorated Australian Olympian at a single Games.
In swimming terms, one Australian record that remains a global standard remains firmly in place: Shane Gould's 1972 tally of five solo medals, three wins in world-record time in the 200m and 400m freestyle and 200m medley joined by silver in the 800m freestyle and bronze in the 100m freestyle – a mega range never repeated – is the standard the world aspires to yet.
McKeon is only the second woman in history to win seven medals in a single Olympics, Soviet gymnast Maria Gorokhovskaya having achieved the feat in 1952.
In the dash final, McKeon lowered the Olympic record of 24.02 she set in semis with the first sub-24 in Olympic waters, her 21.83 as close as anyone has come to the World record (23.71) held by the rival closet to her in battle today, Sarah Sjöström.
The Swedish ace had every reason to celebrate what was an against-the-odds success: her Tokyo campaign was thrown off course by a slip on ice back in February and the recovery and rehabilitation that followed after an operation on a broken elbow.
Sjostrom took silver in 24.07, the defending champion Pernille Blume, the Danish ace who had just watched her partner Florent Manaudou claim silver in the men's 50m final, third in 24.21, 0.09sec ahead of 2012 champion Ranomi Kromowidjojo of The Netherlands.
McKeon was back in the fray within 45 minutes for another gold with mates in the 4x100m medley relay. Kaylee McKeown, the 100-200m backstroke champion, handed over to Chelsea Hodges in a strong position and. the Aussie debutant managed to stay with American 100m breaststroke Olympic champion Lydia Jacoby before McKeon landed a punch on butterfly to send Cate Campbell off the blocks with Abbey Weitzeil on the way to an Aussie victory in Olympic record time.