W4x100Fr – Australian Gathers Unstoppable Momentum On Decade-Long Bull Run With Timewarp 3:27.96 World-Record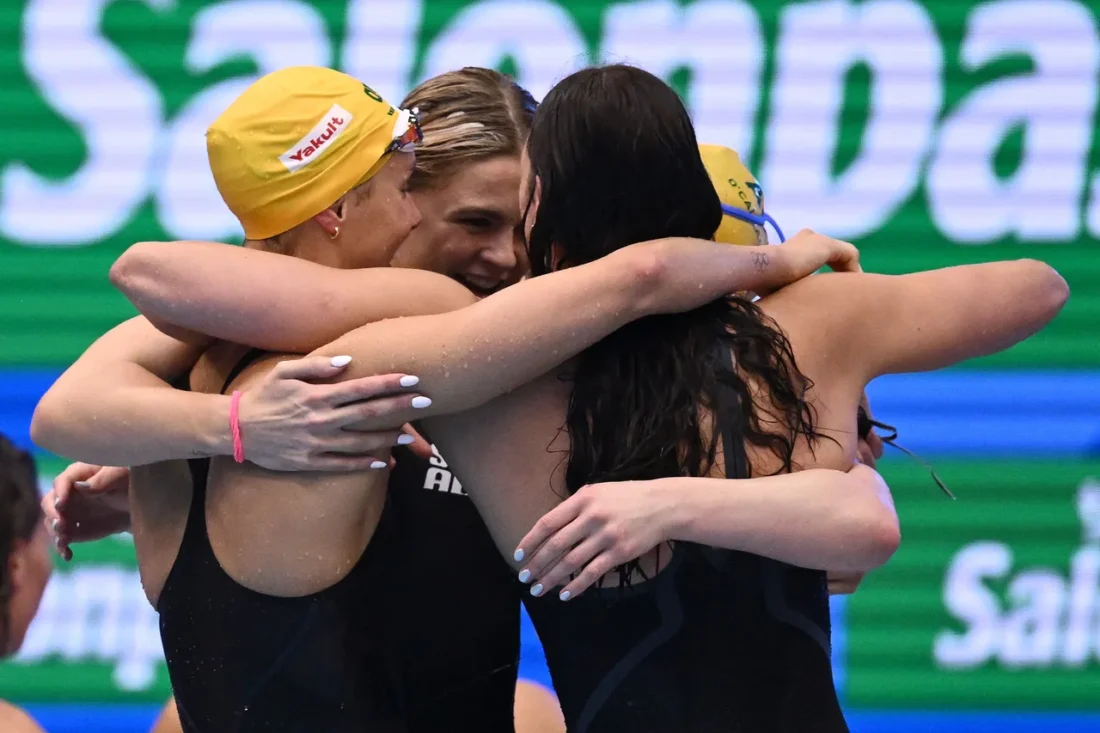 The tide is not for turning on a flow of three Olympic crowns and four World titles since 2012, Australia's latest female 4x100m free force Mollie O'Callaghan, Shayna Jack, Meg Harris and Emma McKeon changing the sprint relay game this evening with a 3:27.96 sledgehammer.
O'Callaghan, solo 100m World champion last year in Budapest, set the tone: 52.08 told the rest they were racing for minor spoils, the crown was in the bag with a personal best by 0.4 just when it most counted. Up to sixth swiftest ever, O'Callaghan handed over to Jack, back from a doping suspension she contested and faster than ever and everyone else in the race: 51.69.
The Dolphins were 1.78sec ahead of next best and rolling, Harris confirming that gold would go to no-one else with a 52.29 third leg that gave Olympic 100m champion McKeon clean water for a 51.90 part of a phenomenal 3:27.96.
Think 1972 and the four American blokes who put the USA in lane 4 so that Mark Spitz could race for one of his seven golds at the Munich Olympics. The Aussie girls were faster today, without the sisters Campbell, Cate and Bronte, who helped deliver Olympic gold in the first sub-3:30, a 3:29.69, just two years ago.
It seems the rest just cannot get remotely close to the Australian time-warpers racing ahead of their generational curve.
The USA's Gretchen Walsh, Abbey Weitzeil, Olivia Smoliga and Kate Douglass, who came home in 52.28, took silver in 3:31.91, China's Cheng Yujie, Yang Junxuan, Wu Qingfeng and Zhang Yufei on 3:32.40 for bronze and Britain's Anna Hopkin, Lucy Hope, Abbey Wood and Freya Anderson (52.51) setting a national record of 3:33.90 on an encouraging curve of progress ahead of Sweden and The Netherlands.