W400 Medley: Katinka Hosszú Matches Yana Klochkova For Record Fourth European 400IM Gold On Way To A Shot At Ukraine Star's Quadruple Olympic Height
Katinka Hosszú will head to for the defence of the Olympic 200m and 400m medley crowns in Tokyo this July with several more lines penned in her history book, including a record fourth gold that she flipped into her vault with a 4mins 34.76sec victory at the third home Budapest European Championships she's raced at in the past 15 years.
The first session of finals in Budapest witnessed a World record when Kliment Kolesnikov of Russia clocked 23.93 in his semi-final of the 50m backstroke. Said Kolesnikov: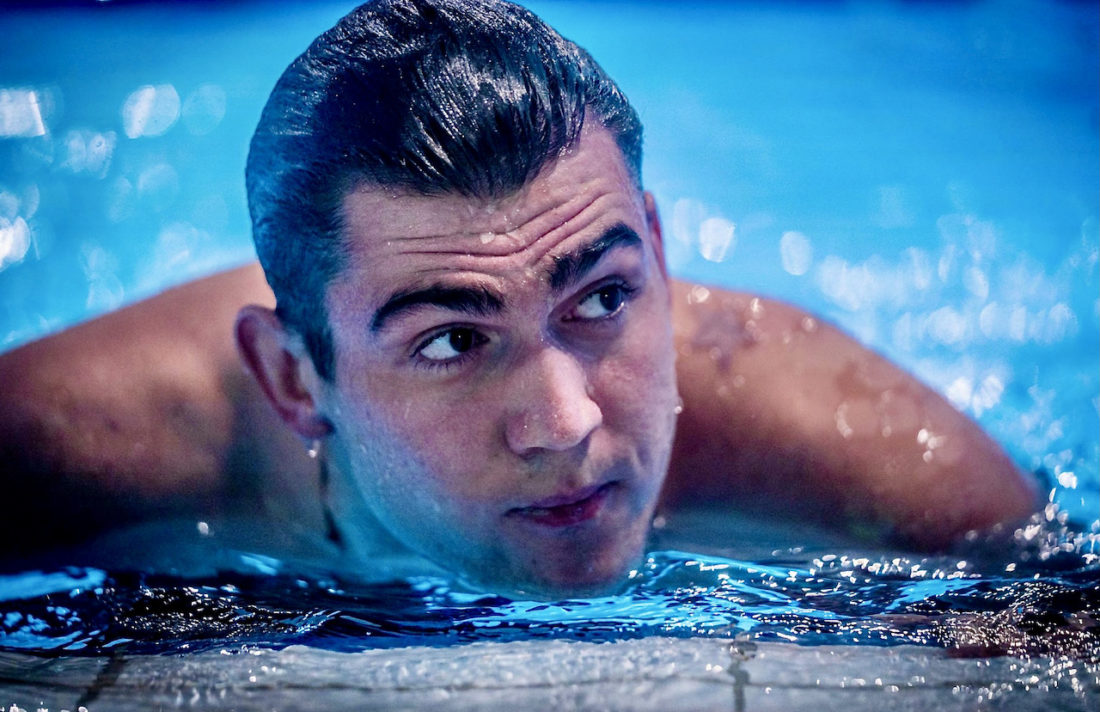 "Wow, it's an incredible feeling, I was thinking of beating the world record but I didn't focus on that, only thought of the first place and of the swim. Somewhere deep in my mind I was ready for this result but at the same time I freed myself for this race."

Image – Kliment Kolesnikov – by Mine Kasapoglu, courtesy of the ISL
The event is not on the Olympic program. The women"s 400IM is – and Hosszú is aiming to keep the crown.
Today at the Duna Arena, Britain's Aimee Willmott got to the first wall ahead of Hosszú but that would be the last time the Hungarian would be led. She settled into her rhythm and by the end of butterfly had a 1-sec lead on the best of the rest on 1:02.43. Willmott fought hard on backstroke, the stroke on which the Hungarian claimed gold over 100m and silver over 200m at the Rio 2016 Olympic Games. Going into breaststroke, the gap was just 0.52sec, Hosszú at the helm on 2:13.11.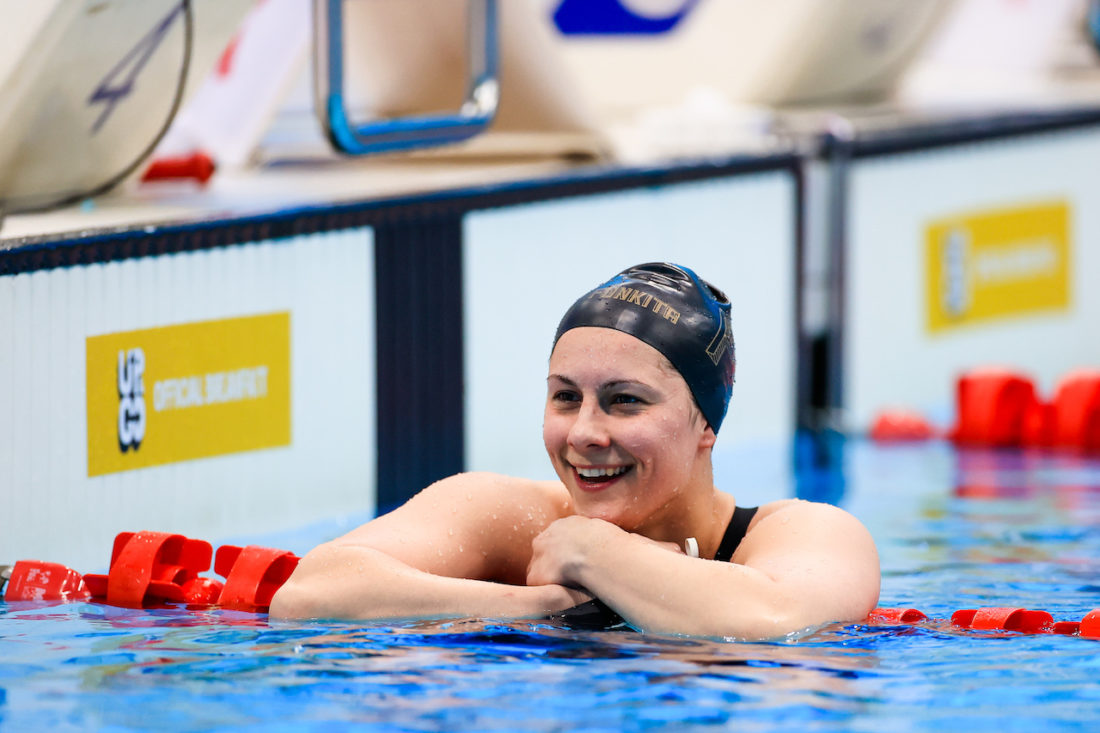 The Olympic champion pressed on, building a lead of 1.47sec on Willmott by the turn to freestyle and 2.4sec by the turn for home. The clock stopped for Hosszú in 4:34.76, while Willmott hung on for silver in 4:36.81, though she had company to the hundredth of a second, her time matched by the fast-finishing Hungarian teenager Viktoria Mihalyvari-Farkas, who granted the hosts two medals in the first pool race of the Championships.
With four golds, Katinka Hosszú is now one title beyond the three claimed by fellow Hungarian, the legendary member of the Olympic Triple Crown Club (over 200m backstroke), Krisztina Egerszegi and level in European waters with all-time medley queen and quadruple Olympic medley champion Yana Klochkova, who claimed the 400m crown in 1999, 2000, 2002 and 2004.
In Tokyo, Hosszú has a chance to match medley queen Klochkova's Olympic double-double achievement. Into battle with 13 of the swiftest 20 swims over 400m medley in history, any suit and 8/10 of the best in textile, Katinka Hosszú is back at the top of the annual World rankings, a familiar place ever since a turn in her career in 2013.
If another golden day for Hosszú marked a record seventh podium in European long-course 400IM battles since 2008, it also granted the hosts the first gold of the sixth days of racing in the pool at the championships and tumbled the tallies off history.
Hosszu's win brought Hungary level with the GDR on all-time gold count in the event, 32 years after Daniela Hunger claimed the seventh title for East Germany just three months after Hosszú was born on the cusp of the fall of the Berlin Wall at the death of the systematic-doping State Plan 14:25. Between 1970 and 1989 lost just one 400IM final, to Naomi Lung, of Romania in 1987.
In the company of Hosszú, it was especially hard for Viktoria Mihalyvari-Farkas, 18 this year and on a 4:38.07 career high in heats this morning, to live up to her given name but her International senior podium debut meant that Hungary now has more overall medals in the 400IM since it was added to the European Championships schedule in 1962 than the GDR: 17 to 16.
It will take all other European nations a decade or more to get close, though it takes no more than a couple of superstars to make the difference: Egerszegi claimed three straight titles in 1991, 1993 and 1995, while Hosszú's victories were claimed in 2012, 2014 and 2016 before she bypassed the event in 2018. There were also silvers for Hosszu, in 2008, behind Italian Alessia Filippi, and 2010 behind Britain's Hannah Miley.
Hosszu has thrived on racing constantly for the best part of a decade now and was glads top get back to practice and back in the habit after the unusual circumstances and challenges of COVID-19. She said: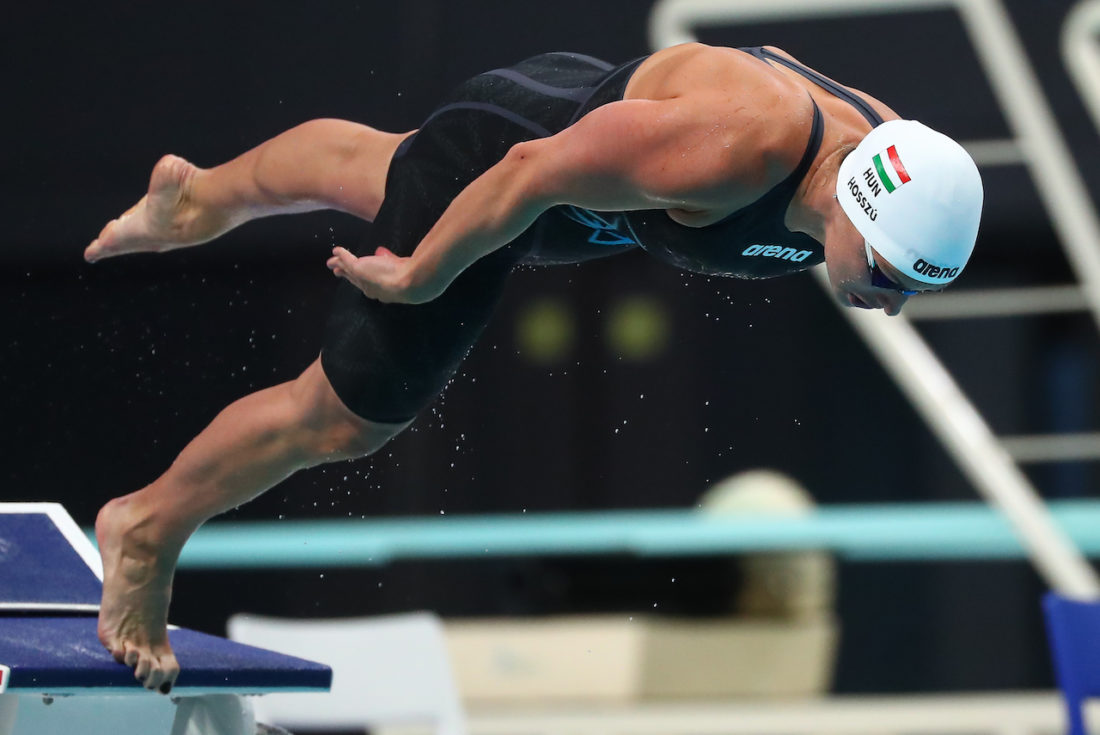 "I knew I needed these championships and all the other coming competitions in order to be in top shape for the Olympics. I'm working like this, I need races, races, races to be on top. This swim was painful but it had to be. Before the event I told everyone, there was a time in my head which I had to achieve in order to be content with myself. I can tell you now that it was under 4:35 – so it's a calming win."

Image – Katinka Hosszú – courtesy of the Hungarian Swimming Federation
Her teammate Mihalyvari-Farkas celebrated a first big senior podium by saying: "Looking for words now… I can't believe this, I don't know where it has come from… I was already super happy to make the finals, to clock an Olympic A cut in the morning but this… It was great to swim next to (Ilaria) Cusinato as I focused on only one thing, to beat her because that would mean something. So I set my eyes on her as Katinka was a bit far away. When we turned to the last 50m and I was ahead of her, I told myself, now it's time, you could never do a proper finish in your entire career but you must do it now… Leave nothing but anger at the end… – this was the driving motto. And now here I am, with a silver, there is no anger, just the utmost happiness!"
For Willmott, the race was a sound building block for Tokyo and marked a return to the continental podium for the first time over 400m since 2014: "I feel really happy to be back on the podium after 2014. It was not as fast as I had hoped it would be but it's a good platform for the summer."
Coached by Steven Tigg in Stirling, Willmott added: "It was good to actually get in and swim a race, as at British trials a couple of weeks ago it was just me and the clock – I'd have liked to swim a little bit quicker than that, but I guess this is just a stepping stone and a platform to the summer. To take away silver, I'm pretty chuffed."
Martin Malyutin Takes 400m Freestyle Crown
Martin Malyutin opened Russia's gold count in the pool with a 3:44.18 win in the 400m freestyle ahead of Austria's Felix Auböck, on 3:44.63 and Lithuania's Danas Rapsys, on 3:45.39. Malyutin and Auböck, who is based in Britain at Loughborough University, now top the 2021 World rankings.
Malyutin, whose best had been the 3:45.92 he clocked at Russian nationals last month, is also now the fastest Russian ever in a textile suit and No 3 on the all-time Russia ranks adrift the national record of 3:43.45, established by Nikita Lobintsev in the heats at the 2008 Olympic Games.
The race locked out Italians Gabrielle Detti, the 2016 champion and Olympic bronze medallist over 400m and 1500m the same year, on 3:46.07, and Marco de Tullio, on 3:46.36 after both had swum 3:44s at Italian Olympic trials last month.
The 400m freestyle is an ever-changing picture in world waters at a timer when seasons have not been what they might have been and schedules have been altered as a result of the coronavirus pandemic. Olympic trials will take place in the U.S., Australia and Canada next moth, while there are several other qualification events yet to be held in Europe and elsewhere.
Malyutin said: "I feel really happy. I think I was really prepared for this race. The result is also very cool. This is a step up from Glasgow and the time is one second better than the one I clocked at the Russian championships. This is a great start for the summer."
For Auböck, a debut big-occasion podium was "very special". He said: "I'm incredibly happy, this is my first-ever medal at majors. I came fourth twice at the last Europeans so this podium is very special. I changed coaches last year so I'm really glad to achieve this result."
Rapsys hadn't ventured into a big 400m for some time but was glad he'd done so in Budapest: "This is my first 400m in long-course after a long-long time, I've not done any that seriously recently. I didn't expect this medal because this morning I didn't feel so well but I tried my best and it ended like this."
4x100m freestyle relays – women and men
Results / Livestream (with login access for extras) / LEN Championship website / Day 1 Heats
See Tokyo 2020 Table of Target Times below qualifiers
Results, Budapest 2021, Day 1 Finals
Women's 400IM
Place
Lane
Nation
Name/DoB
R
TIME
Gap
1
4
HUN
HOSSZU Katinka
(03 MAY 1989)
0.67
4:34.76

2
5
HUN
MIHALYVARI F. Viktoria
(26 NOV 2003)
0.79






4:36.81

2.05
2
3
GBR
WILLMOTT Aimee
(26 FEB 1993)
4:36.81

2.05
4
6
ITA
CUSINATO Ilaria
(05 OCT 1999)
4:38.08

3.32
5
8
ITA
FRANCESCHI Sara
(01 FEB 1999)
4:40.74

5.98
6
2
SRB
CREVAR Anja
(20 NOV 2000)
4:40.84

6.08
7
1
GER
VOGELMANN Zoe
(21 SEP 2003)
4:45.61

10.85
8
7
ESP
CORRO LORENTE Catalina
(14 APR 1995)
4:46.03

11.27
Men's 400m freestyle
P
L
Nation
Name
R
TIME
Gap
1
7
RUS
MALYUTIN Martin
(05 JUL 1999)
0.68
3:44.18

2
6
AUT
AUBOECK Felix
(19 DEC 1996)
0.72
3:44.63

0.45
3
1
LTU
RAPSYS Danas
(29 MAY 1995)
0.63
3:45.39

1.21
4
3
ITA
DETTI Gabriele
(29 AUG 1994)
0.73
3:46.07

1.89
5
2
ITA
DE TULLIO Marco
(21 SEP 2000)
0.66
3:46.36

2.18
6
4
SUI
DJAKOVIC Antonio
(08 OCT 2002)
0.66
3:46.54

2.36
7
5
NOR
CHRISTIANSEN Henrik
(09 OCT 1996)
0.72
3:46.87

2.69
8
8
EST
ZIRK Kregor
(03 JUL 1999)
0.63
3:48.35

4.17
European Goals – Tokyo 2020 Olympic Target Times