W400 Free – Ariarne Titmus Turns Three-Way Fight Into A Left-Right Knockout With 3:55.38 World Record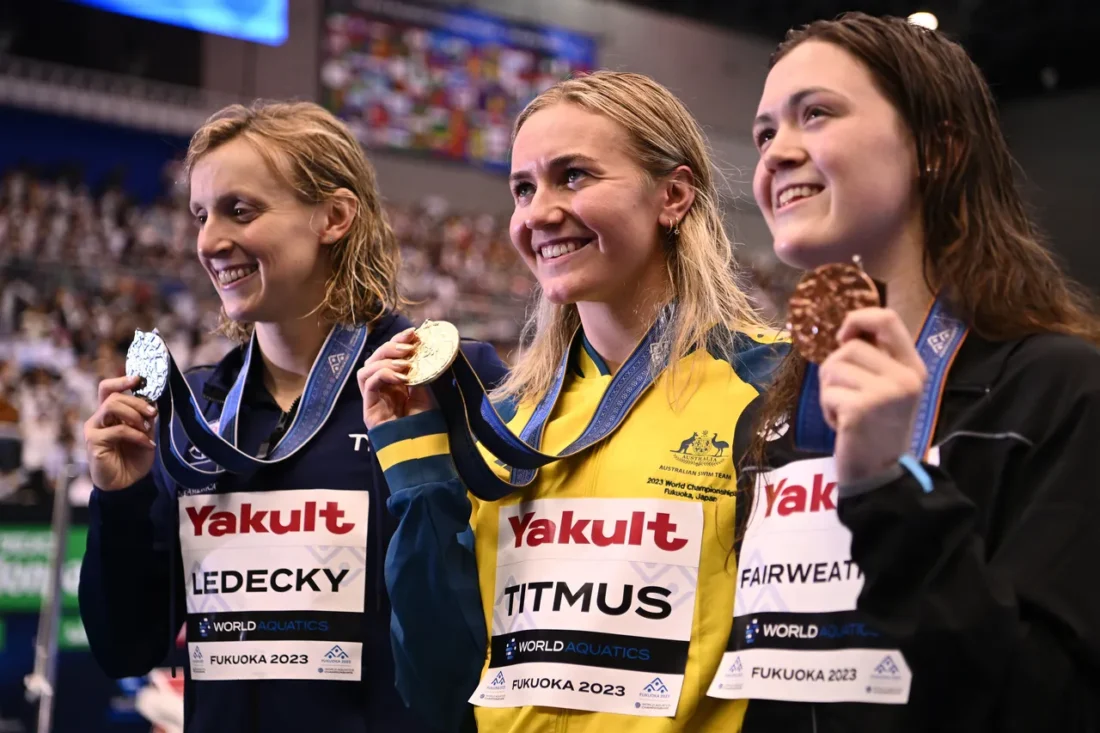 It was billed as a three-way thriller of 3:56 400m freestyle world-record holders past and present, a neck-and-neck to end 'em all … until it wasn't, because Australia's Ariarne Titmus made it a 3:55.38 World-record knockout.
The 2016 Olympic champion Katie Ledecky first succumbed to Titmus over 400m at the 2019 World Championships and made hay when the Aussie was away last year in Budapest, where she fended off the growing force of Canadian teen Summer McIntosh.
The dynamics shifted earlier this year when McIntosh did to Titmus, the 202One Olympic champion, what Titmus had done to Ledecky: she took the World record, moving it on to 3:56.08. Stage set for neck and neck.
It was not to be, not only because Titmus believed, lived up to her nickname The Terminator and stepped up to deliver her and the all-time best over 400m free but because her closest opponents were off their best this day. Mind thyme gap.
The Australia's new page left her 3.35sec ahead of Ledecky, challenging the American's 3.89 record for the biggest winning margin, established in 2017, in the event since it all began in 1973.
Never predict. It was as if the fates wanted to remind us of that in a world of swim coverage often too remote from the coal face of preparation to be able to do what not appears to be ion love with: call the result before the gun goes off.
The day not with her, McIntosh faded to fourth in 3:59.94, as another "no-predictions" reminder joined the sub-4-min club as its fifth member since Federica Pellegrini became the founder member back in 2009: Erika Fairweather, of New Zealand, was never far off the pace and down the last length, her Canadian quarry to draw on, she passed McIntosh to grab bronze in 3:59.59.
The splits compared to the best of the Worlds record holders points to the skill of the Australia and her coach Dean Boxall – own race, never waiver, respond if you have to but stick to the plan because all is well and the taper is when and where it needs to be, so to speak.
56.92; 1:56.94; 2:56.90; 3:55.38 WR – Titmus, Fukuoka 2023 World Title
56.46; 1:55.91; 2:55.84; 3:56.08 WR – McIntosh, Toronto 2023
57.13; 1:56.99; 2:57.37; – 3:56.40 WR – Titmus, Adelaide 2022
57.05; 1:57.11; 2:57.62 – 3:56.46 WR– Ledecky, Rio 2016 Olympic Gold
Titmus emerged to note that the hype of a tussle of three had not bothered her. She was just happy to be part of a "great show of women's swimming". She added: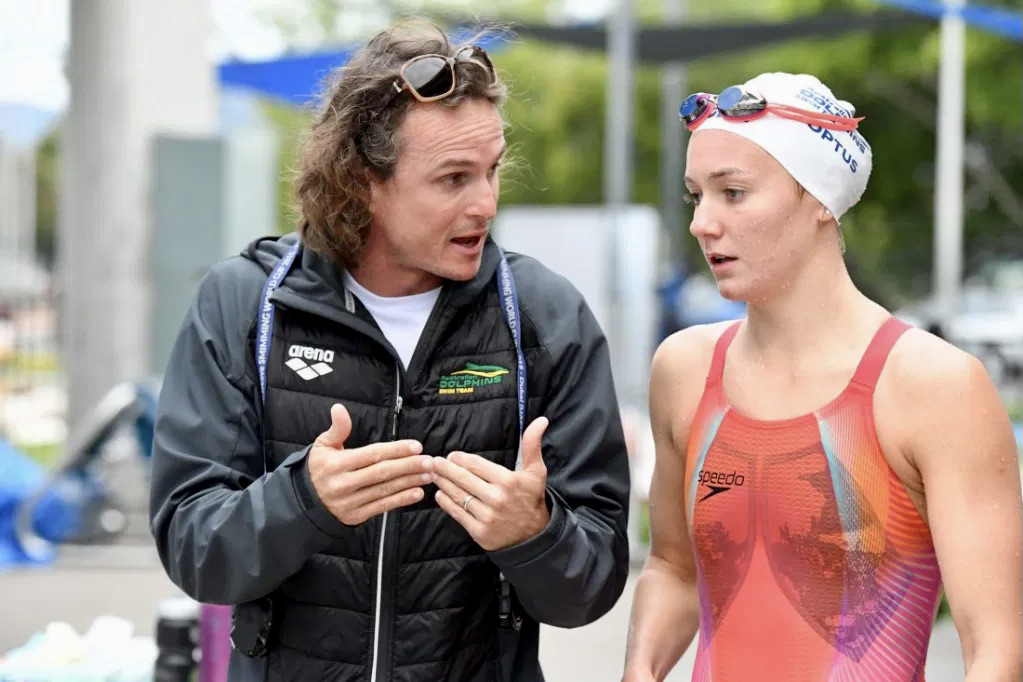 "It's probably my most satisfying win. I feel like I didn't have the most perfect prep coming into this and I think it all came together in the last few months. To swim like that and swim really free and fearless, I feel really over the moon to get that one."

Ariarne Titmus – Photo … and her coach Dean Boxall, by Delly Carr, courtesy of Swimming Australia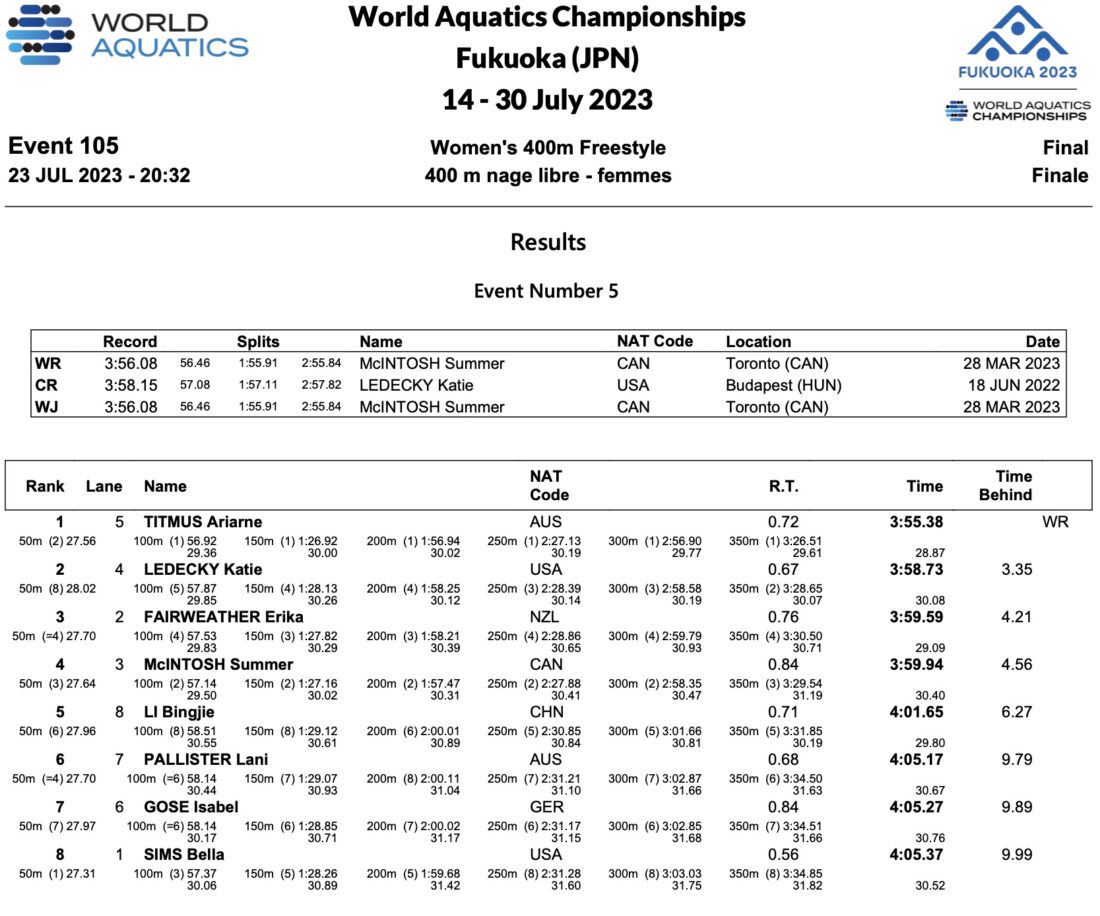 Titmus – Trust Yourself & Be Fearless
Titmus said that it all came down to "trusting yourself," adding: "I've got 'fearless' tattooed on my foot so I can see it right before I dive. Just trying to swim like that little girl that I was. When I was first up against Katie, I was never afraid to take it to her. And Summer and Katie are world-record holders, so I feel like the only way to beat them was to take it out and see who had the most fight and who had the most left in the tank at the end. I'm happy that it worked."
Ledecky was pleased to be back on the podium 10 years after she claimed the title at Barcelona 2013 aged 16. "I can't really complain. I think I executed the race the way I wanted to. I thought that Ariarne and Summer would be out fast, so I wanted to stay in contact and build from there. I felt like I did that. Ariarne just took off. I just lost contact."
By breaking the four-minute mark, Fairweather joined exclusive company as just the fifth woman in history to dip under that barrier. It was an effort that seemed to be within reach, and was deeply satisfying.
"I'm really stoked," Fairweather said. "This has been the goal for a while. I dropped to that four-minute mark a couple of months ago, so to dip under four minutes is unreal."
Meanwhile, McIntosh, the 200 'fly and 400m medley World champion last year, will bounce back. She said: "Obviously it wasn't the best night that I've had racing so far. But I'll just kind of try and use it as a learning experience heading into the next following days and, of course, Paris as well. Not every race can be a 10 out of 10 so I'm going to try and push forward as much as possible and learn as much as possible from that."