W200Fly: Zhang Yufei Takes Pace Of Four Lengths Fly Below 2:04 For First Time (No Shiny Buoy)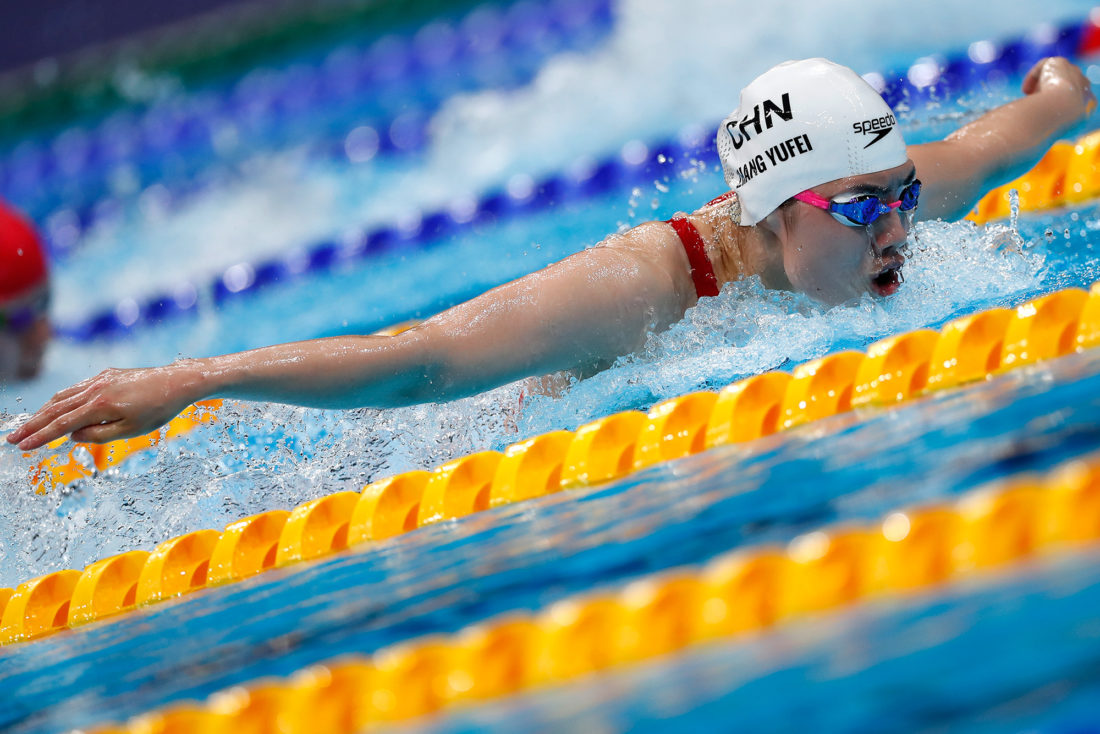 The pool announcer screamed "third fastest time in history", which missed the point as Zhang Yufei sped home to gold in 2:03.86, the fastest ever in a textile suit inside the 2:04.06 in which Beijing 2008 silver medallist Jiao Liuyang claimed London 2012 gold.
The Olympic record was gone, though not from China. There was no getting to the swiftest moment ever over four lengths butterfly: Liu Zige, 2:01.81 at the All-China Games beyond the sight of the world back in 2009 in a time beyond even the shiny suit she was wearing.
Hard to say in a world that throws up the odd Mary T. Meagher, the American on 2:05.96 back in 1981, a time that was still standing as the World record in May 2000, when then reigning Olympic champion Susie O'Neill went 2:05.81.
In the Tokyo final today, Zhang, who had given warning of her consistently strong form at Chinese trials, was followed home by Americans Regan Smith, 2:05.35, and Hali Flickinger, 2:05.65, both best times, Smith's effort pushing Meagher down a further slot to 7th all-time, sixth in the suits that measure swimming speed, the 2:04.14 American record set in heats at the Rome 2009 shiny circus by Mary Descenza standing yet.
China has won three of the past four titles in the 200m butterfly to draw level with the United States on the all-time gold count back to Ada Kok's great victory in 1968 for The Netherlands. The China run was interrupted at Rio 2016 by Mireia Belmonte when she became the first Spanish woman to claim gold in the Olympic pool.
Closest to the podium in Tokyo was 2019 World champion Boglarka Kapas, of Hungary, on 2:06.53.
The 200 'fly Chase that Zhang dictated included an opening 100m in 58.29, beyond the national records for a bulk of nations over two lengths. Having put conviction into her courage, Zhang maintained a speed the others could cope with – but all too late:
26.92; 0:58.29 (31.37) 1:31.03 (32.74) 2:03.86 (32.83) Zhang
28.12; 1:00.39 (32.27) 1:33.20 (32.81) 2:05.30 (32.10) Smith
28.43; 0:59.86 (31.43) 1:32.37 (32.51) 2:05.65 (33.28) Flickinger
Smith's progress past Flickinger raises questions about her preparation for this Olympic summer. At trials she swam 2:06.99 to make the grade over 200 'fly in a week she missed the cut for the 200m backstroke well shy of her 2:03 World record. Smith said:
"It was a great race. I was really pleased with my prelims and semis times but I knew I still had some stuff to clean up to get better. And I think I did just that. I'm super psyched. I was just super surprised. That's my best time by over a second and 2:05 is really, really good. I'm really excited and really happy."

Regan Smith
Flickinger, 27 and a touch inside her trials 2:05.85, collected her second bronze of the week after third place in the 400m medley one the opening day of finals. She told media:
"I was able to stand up and swim for our country, and there's nothing better than that. We're coming home with medals, both silver and bronze, so that's exciting. … It was nowhere close to a swim that I'm capable of doing. But I got to stand up on the podium and represent the U.S., and that's all that matters here."

Hali Flickinger