W200bk – Kaylee McKeown Goes Back-To-Back Titles Ahead Of Masse As Seebohm Bows Out With A Bronze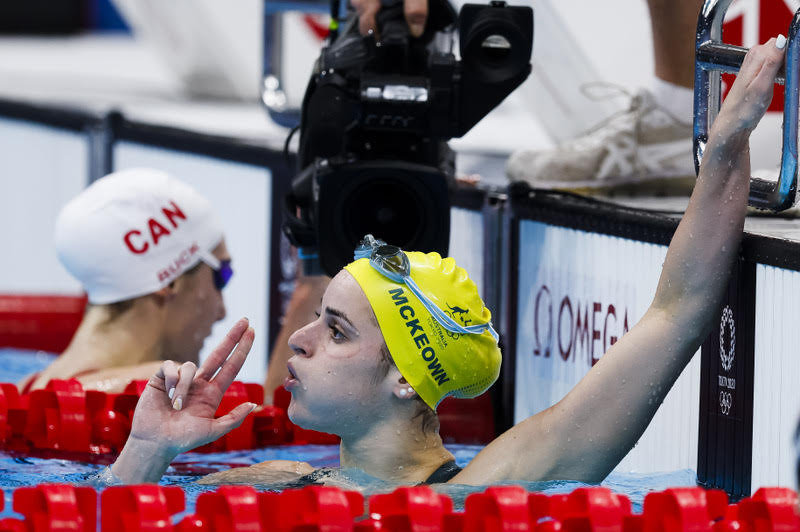 Tokyo 2020 Olympic Games, Women's 200m backstroke – Kaylee McKeown gold, Emily Seebohm bronze and hard to imagine that those are only the second and third medals for Australia in this event since American Pokey Watson became the first champion when the 200m was added to the program in 1968.
All three Australian medallists were in the building today, two in the water – McKeown on 2:04.68, Seebohm on 2:06.17 – and the other, Nicole Livingstone, who claimed bronze at Barcelona 1992, was up in the stands in a commentary box broadcasting news that her club had just tripled in size.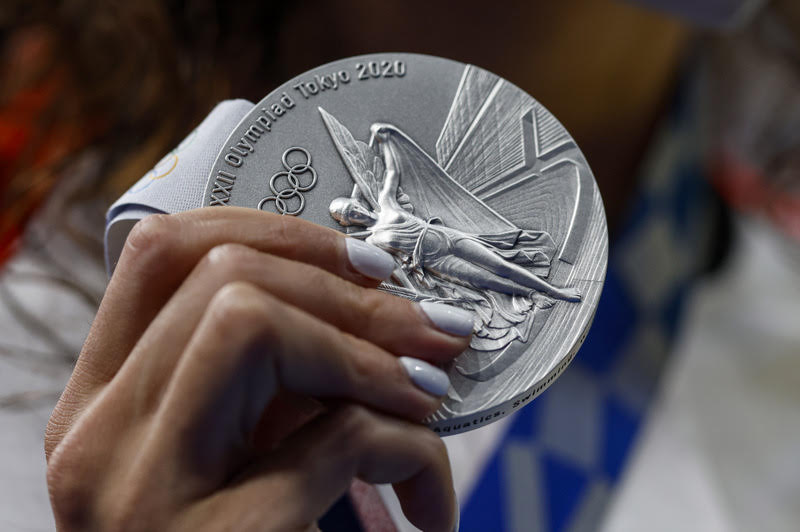 Canadian Kylie Masse divided the Australians to add a second silver to Canada's tally in 2:05.42 after second place in the 100m behind the same opponent.
McKeown's win, carved out in a home-length battle with Masse, left Missy Franklin's 2012 Olympic record of 2:04.06 to fight another day at Paris 2024. Seebohm won't be there. Sobbing with joy and relief, she told reporters here in Tokyo that she would be going out on this Tokyo Olympian Height, her illustrious career done at 56 podium places for Australia since she claimed her first big crown, Olympic gold as a member of the winning 4x100m medley quartet at Beijing 2008. Her Games account closes at 2 gold, 3 silver and the bronze she won today to complete the set.
In a stroke-for-stroke scramble for the wall, Americans Rhyan White and Phoebe Bacon got locked out, on 2:06.39 and 2:06.40, the USA beyond the medals for the first time since 2004.
Masse set the pace throughout, turning in 29.30, 1:00.74 and 1:32.92 before a 32.51 brought her home. As she tired, the Aussies stepped up, McKeown dropping a 31.08 for gold after turning in 29.39, 1:01.54 and 1:33.60.
Seebohm, in 5th at the last turn, followed a similar pattern: she clawed back a second on Masse with a 31.45 split, in the process edging past the Americans to grab the bronze.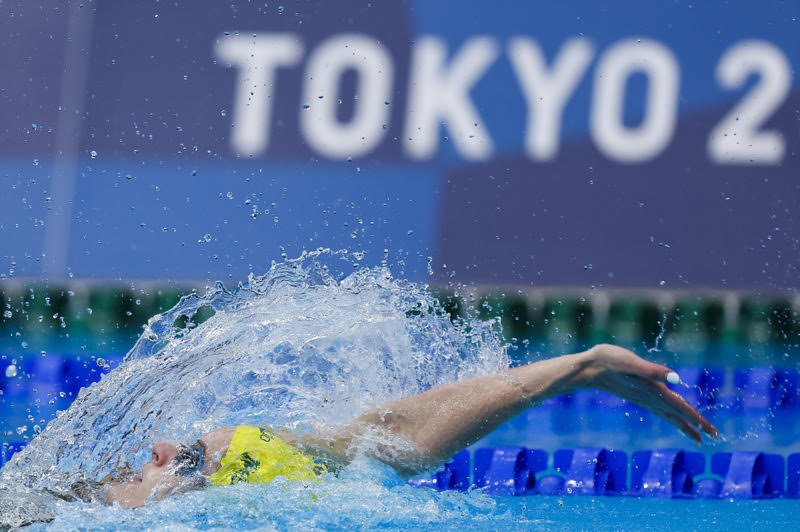 McKeown is the backstroke queen of Tokyo: coached by Chris Mooney, she not only added the 200m to her 100m crown today but bagged a bronze with mates in the mixed medley relay behind Britain and China.
The seventh woman and first Australian to claim the backstroke double, McKeown set a World record of 57.45 for victory in the 100m this week. The final today left American Regan Smith's 2:03.35 global 200m standard intact in a final that went without the 2019 World champion who missed the cut in third place at Olympic trials last month.
McKeown, 20, is the younger sister of Taylor McKeown, breaststroke international for Australia. In August a year ago, their father, Sholto, died after a two-year battle with brain cancer. His daughter has a tattoo on her foot in his memory. It reads: "I'll always be with you" … every kick and pull of the way today.
Kaylee McKeown's family could not hold back their tears and excitement after the swimming ace delivered gold against what has been a tough 12 months.
Taylor McKeown told Channel 7 after her sister's 100m victory: "That is so amazing. I don't even have words! I can't talk! I literally can't talk. I'm so happy for her. She just looks so beautiful on TV as well. It was such grace. I just … I'm lost for words. I can't talk! So rare for me."
Their mother Sharon added: "Her daddy would be so proud. Hasn't sunk in. So happy and excited. Can't wait to give her a cuddle." It had been a touch time for the family, she added, but that had made Kaylee's success all the more meaningful.
"It's been pretty tough," she said. "You know, COVID's probably been a bit of a blessing and Kaylee's been able to focus and fly under the radar. She's done a great job. It's been great. She knows Dad is watching over her."
Kaylee McKeown, who this time last year was helping nurse her 53-year-old father, said the past year had made her stronger. She told Channel 7: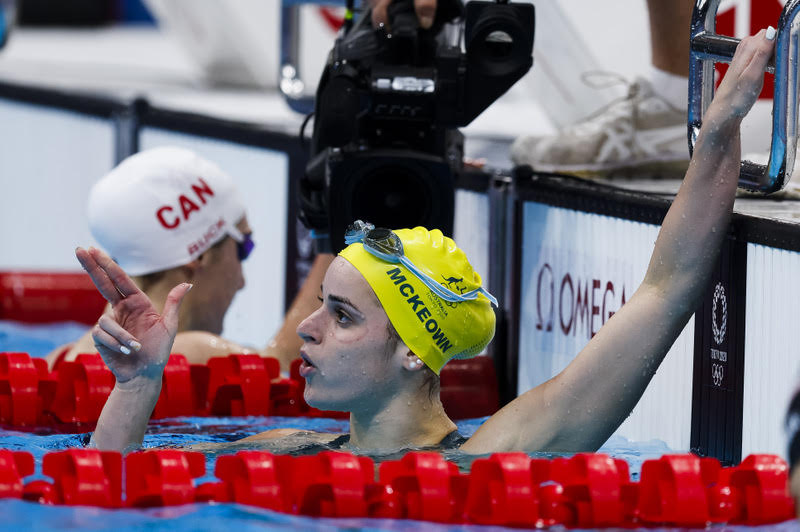 "It's not necessarily what I've been through – everyone has a journey of their own – it just happens mine has been a really tough one. I wouldn't have it any other way because I don't think I'd be where I am today without all that happening."

Kaylee McKeown – on target – by Patrick B. Kraemer
McKeown dedicated her 100m gold medal to her dad with the words: "I hope you're proud and I keep doing you proud."
Meanwhile, Seebohm's tears tugged on Australia's heartstrings. Speaking to Channel 7 after battle, Seebohm, the 2015 double World champion who backed up in 2017 when she retained the 200m crown, broke down when she tried to find the words to express how she was feeling: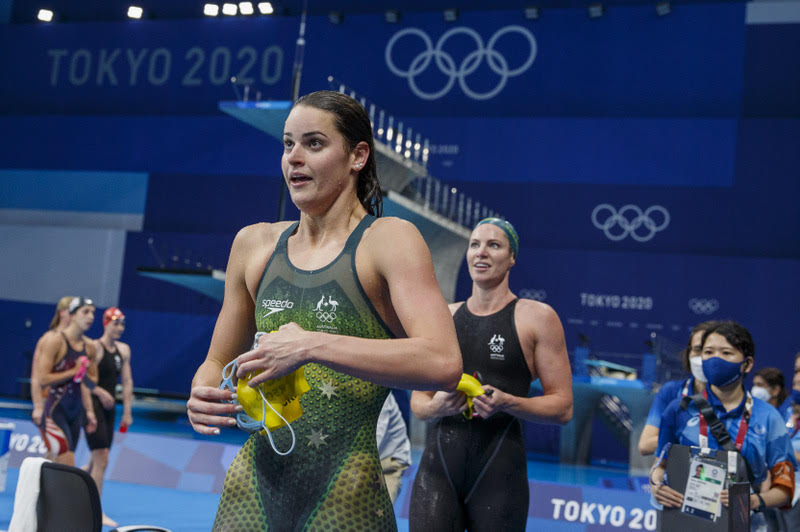 "It's so amazing, I never thought this was going to happen again. I just feel so lucky. I'm not a crier normally, I'm not a crier at all. I'm just so proud. The team has done so well and it's an absolute dream to be on this team and I'm so grateful for all the times I've been on the Australian swim team. Honestly, it's been the favourite thing of my entire career to be on this team. I feel a bit like wine, it gets better as it ages. I feel like a bit of a fine wine at the moment."

Emily Seebohm – photo – (L-R) Olympic champion Kaylee McKeown of Australia and teammate Emily Seebohm beyond battle that kept the Dolphins leaping – by Patrick B. Kraemer