W100 Butterfly – Maggie Mac Neil Flies To Canada's First Olympic Butterfly Crown in 55.59
Tokyo 2020 – Women's 100m butterfly final – Out in lane 7 on the wing, Canadian World champion Maggie Mac Neil was out to prove she was no flash in the pan and she delivered her evidence with a 55.59sec thump for an historic gold as the first Canadian ever to claim the crown.
The silver medal won by Penny Oleksiak as a 16-year-old in Rio five years ago was the first medal in the Olympic women's 100m butterfly that Canada had ever won. No Canadian has ever won a 200m Olympic medal of any colour, while Mac Neil is also the first woman of Asian descent to claim the 100m title since Japan's Mayumi Aoki produced an upset victory at Munich 1972.
Now the Canadians are celebrating their first 100 'fly champion after Mac Neil got her hand to the wall 0.05sec ahead of China's Zhang Yufei, 55.64, the bronze to Australia's Emma Mckeon in 55.72, which locked American teen Torri Huske out by 0.01sec.
They played a version of ABBA's Dancing Queen straight after the race. It didn't fit the winner this time round but it was a fine acknowledgement of the presence in the race of the defending champion Sarah Sjöstrom. She clocked 56.91 after being left behind at the start, her first 50m a 26.91 that left her the best part of a second off the pace. Retaining the crown was not to be, the events of winter spoiling into summer.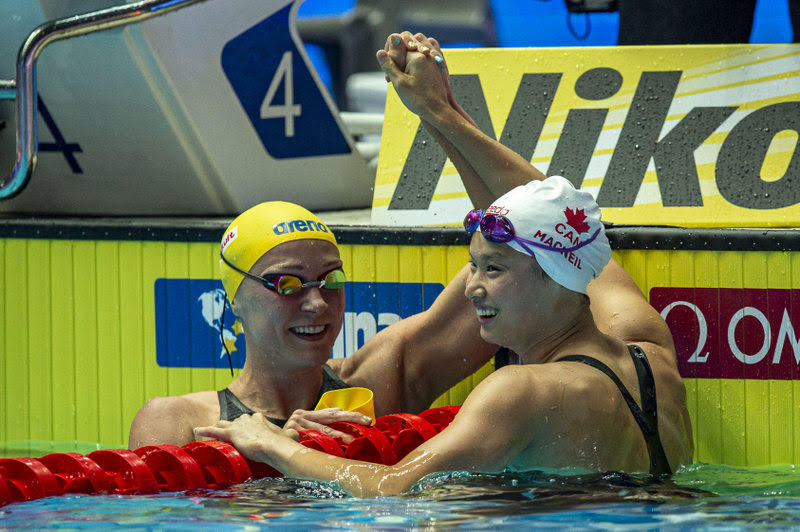 Mac Neil's 55.59 elevated her to all-time No2 on the clock behind Sarah Sjostrom's 55.48 World record and No 3 on the all-time performances ranking adrift the Swedish ace's best two career efforts (she claimed the 2017 World title in 55.53.
Zhang led at half-way omen a blistering 25.84, Mac Neil within .3sec and all main contenders from that point racing all but stroke for stroke all the way home.
No Olympic 100 'fly final had ever produced more than the winner in the 55sec zone. In Tokyo today, four women swam that way and stopped the clock with a 0.14sec window gold to frustration.
Mac Neil's time was the third fastest ever swam in the event. It broke her Canadian record of 55.83 seconds and set an Americas record.
It took Mac Neil a few seconds to realize she was the Olympic champion. "I heard my name called so I thought I did something well," said Mac Neil. "I turned around and scanned the scoreboard. I don't think it will process for a little while."
Mac Neil was being celebrated back home as Canada's first gold medallist of the Tokyo Games. Hundreds of friends, fans gathered at a drive-in theatre at Woodstock, Ont., Sunday time there to watch Mac Neil's gold-medal swim this Monday morning in Tokyo.
Mac Neil gave them all a shoutout : "Thank you, guys, so much. It means the world to have your support."
Andrew Craven, head coach at London Aquatic Club, told CBC that Mac Neil is "disciplined, focused and a tremendously hard worker."
"We saw history, a fantastic race by Maggie," Craven said. "It all came together for her tonight … we're all just so proud."
Craven coached Mac Neil from 2013 until 2018 when she graduated and left the club to attend the University of Michigan. Asked if she felt the pressure of being World champion coming into the Games, Mac Neil said:
"I felt like I was coming in here with a target on my back. Going into worlds I was relatively unknown. I had that to my advantage. Going into (the Games) with expectations that I wanted to do well, that added pressure and makes it a little bit more challenging."
The win came while Mac Neil was still trying to process Canada's silver medal in the 4x100m free relay yesterday. "It was more than what I was hoping for," she said. "I was really just trying to enjoy the experience and have fun, which I think I did tonight."
John Atkinson, Swimming Canada's high performance director and national coach, said the support from Own the Podium, Sport Canada and the Canadian Olympic Committee has contributed to Canada's success in the pool.
He also praised the work of Andrew Craven, Mac Neil's first coach:
"It shows how important the club system is in Canada and how we are working with every athlete to find a way so that they can do what they need to do. We're working with our athletes to help them in any way we can."
Sjöstrom & The Slip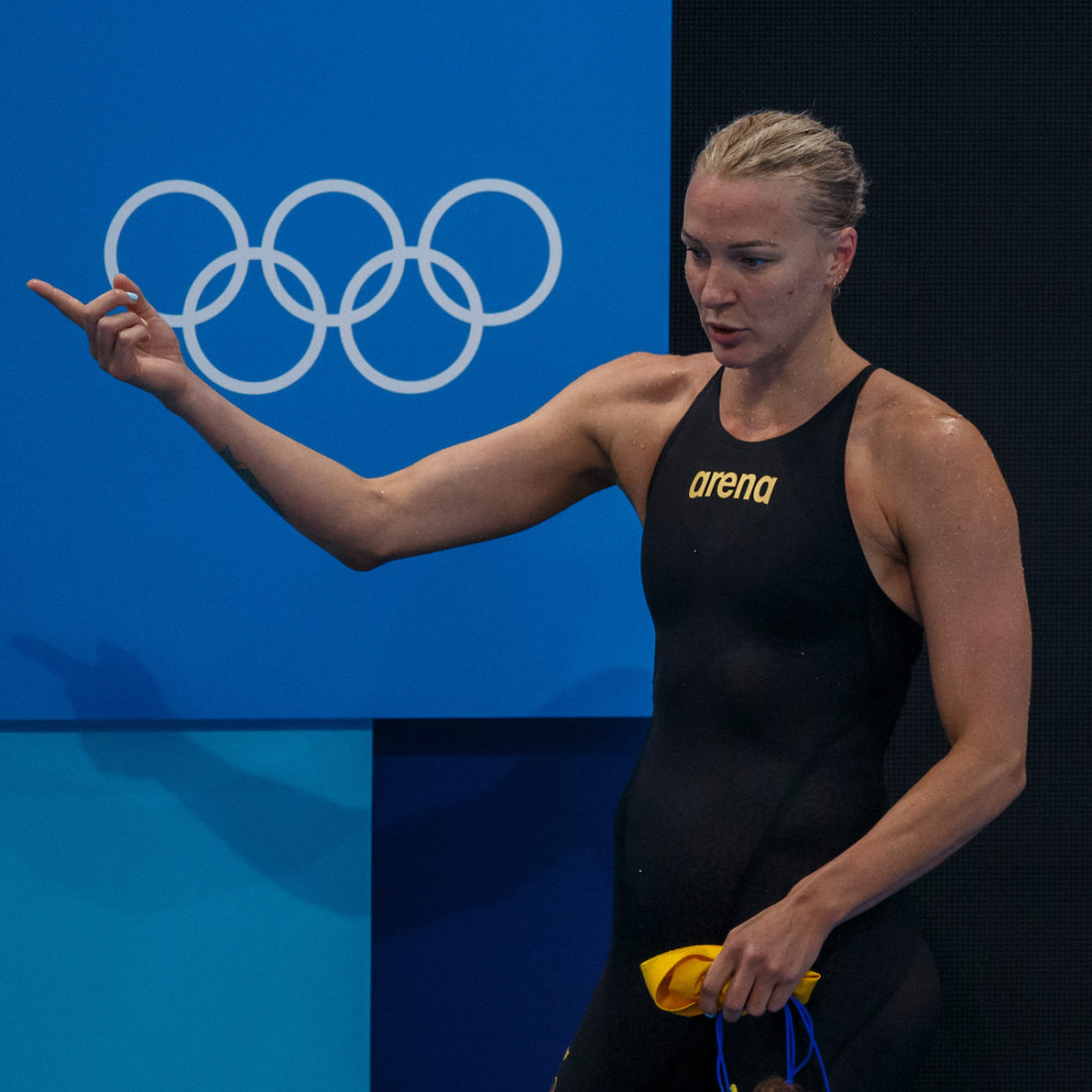 Sjöstrom – whose surname is a combination of 'Lake' and 'current' – is used to escaping at least some of the long Swedish winter for warm-weather training. Not in a pandemic. She stayed home,. slipped on the ice – and broke her elbow.
"Because of COVID I've been staying a lot in Sweden (and) then the risk of slipping on ice gets much higher. So I slipped and I fell on my elbow and I broke the bone," she said.
Four years of preparation for the first Swedish woman to win gold in the Olympic pool stood on the brink. Experts rallied round and Sjöstrom went under the knife to have the break secured by metal plates. A period of healing and then rehabilitation followed.
Two days after the accident in early February, Sjöström was sitting up in bed after a metal plate and six screws had been inserted to hold the break together. Sixteen stitches mark the spot, the scar – stretching from above her elbow down into the tattoo of the Olympic rings and Swedish flag on her forearm – worn with pride today in an Olympic final it looked like she might never get to back in the spring.
In June at the Seven Hills meet in Rome, she told AP: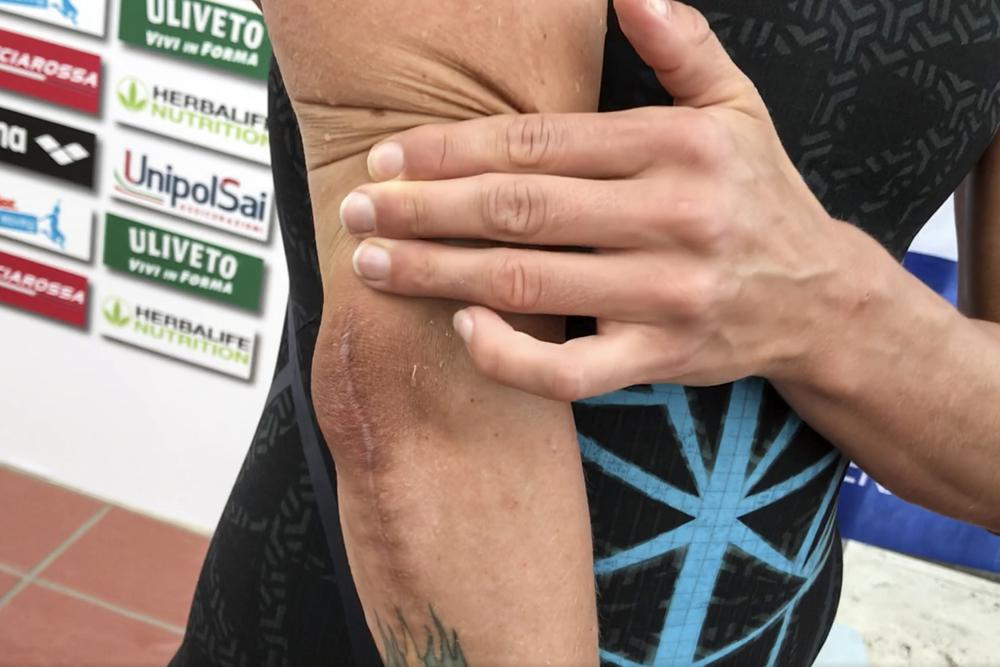 "So I'm almost like a robot now. It was a long way back. When I took my first strokes after the surgery I was like, 'I can't do this anymore. I can't see myself swimming butterfly again.' It was just impossible. … I did a lot of single-arm swimming in the beginning, just to do something."

Sarah Sjostrom – image – the snap taken by AP reporter Andrew Dampf at the Rome Seven Hills meet in June
The 2016 Olympic champion, who has also won seven of the eight world titles she's contested open butterfly, looks to freestyle for opportunities beyond what is widely viewed as her signature event: In Rio, she also took silver in a tight tussle with Katie Ledecky of the U.S., in the 200m freestyle and bronze in the 100m freestyle and holds the World Records in the 50 and 100m free.
Back in Rome in June, she wondered whether she might have to focus on freestyle only because the elbow had recovered enough to feel "comfortable" on that stroke but not on butterfly. In Rome, she clocked 57.65 in the 100m butterfly at her first competitive test since the accident. Not quite her 55.48 World record from Rio but the signs looked hopeful that she might at least make the race after all.
Asked how she'd got through the untimely challenge, Sjöstrom said: "My main focus has always been to really enjoy when I have progress in my rehab. So every time I make a small, little step in my rehab I celebrate. So it made me stronger as an athlete mentally. Now that my injury is much better, I really, really appreciate all the progress I've made. make. Before, I almost took that a little bit for granted, whenever I had progress in training. But now I'm like, 'Yes.' I'm so happy all the time."