Vision & Veracity Must Fill The Void In Kieren Perkins' View On The State Of Swimming, Fair Play & Fun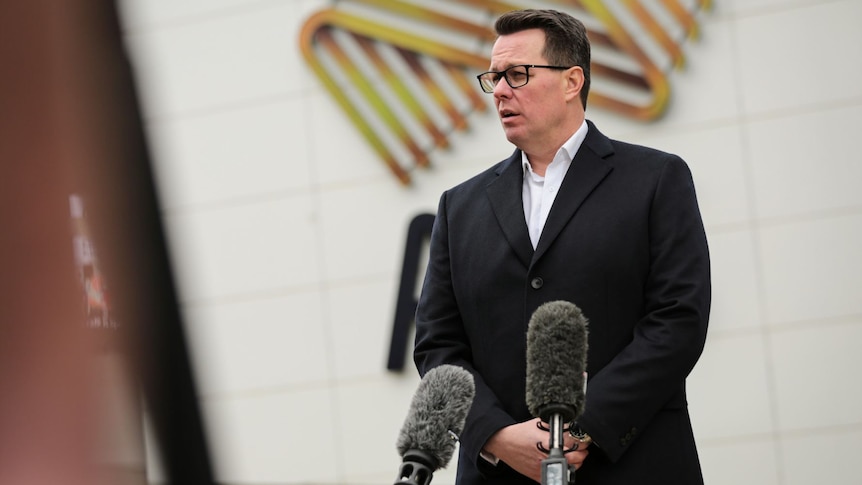 Editorial – When Kieren Perkins speaks, decision-makers (of which he is one), policy and rule setters, funders, sponsors and government folk listen, not because he had fun, enjoyed time in the community alongside others being enriched by the swim, run, throw, wheel and leap of it all, nor because the consequences of big events unfolding at the time he made his name in the pool appear to have flown right over his head on a prevailing point of critical importance to sport.
No. They listen because he's a double Olympic 1500m champion and a pioneer of pace in the 30-length race that Australia has long pegged its swimming fortunes to in a way that has thrilled and enthralled so many of us who love the sport he excelled in.
It's more than three decades since I observed the crush and scrum of reporters crowding a young chap called Glen Housman at the far end of a portable cabin-turned-interview room at the Perth 1991 World Championships.
It seemed pretty pointless standing at the back asking 'what did he say? … blessed are the cheesemakers?' and chasing what everyone else would have in abundance on a story of a record stolen by incompetence I'd already covered.
And so it was that my angel and I made our way to the near end of the cabin to sit down for a short while with a young Kieren Perkins to hear about him and Mr. Carew instead.
A few days later, young Kieren was hurtling towards his fate, already a World silver medallist in a 1500m behind a World-record swim for Jorg Hoffmann at his first major event beyond the fall of the Berlin Wall. In Hoffmann's rear view were events that paved the way for a reunified Germany that, all these years on, I am a citizen of, alongside two other identities: my British nationality that no blip of Brexit could ever break and my guest pass to the soul and spirit of Portugal thanks to a childhood spent in the company of her, her people, their history, language and culture.
My relationship with swimming is little different. So it goes with love and politics.
Fast forward to 2022. Perkins has spoken and this is what he had to say at the latest SwimCon (yes, they did call it that) gathering, a two-day meeting for swimming executives, among them Brent Nowicki, the American lawyer into his second year as director of a reforming FINA, and an assortment of invited guests with an interest in the business of sport: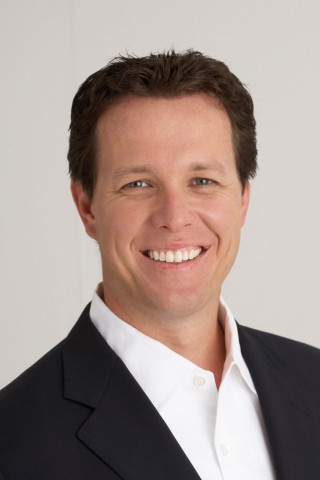 "Sport needs to take some time having a really good hard look at itself. If we just want to win, and we're happy just putting people into the meat grinder and seeing how many kids survive to get gold medals, if that's all that matters … fine, I can buy gold medals, that's not hard.

"But I think we can do better than that, I think we can create a culture and an environment in Australia where everyone as they go through their life's journey … starts from learning basic skills and having lots of fun to being an adult that would love nothing more than to give their free time to help sports succeed.

"We want all Australians, regardless of their background, to have access to quality sporting experiences. We do live in a world of great diversity whether that be gender, race, culture, age, sexual orientation, abilities, skills, experiences and or values.

"By valuing that diversity and engaging with it the strength that can be created for sport in this country and that sport can help deliver in building inclusive communities is imperative."

Kieren Perkins at SwimCon '22
Devils are sometimes to be found in the absence of detail.
In the same speech, Perkins also said the below before he left the stage on his way to take part in the ABC's latest Q&A program, on transgender inclusion and the rights of biological women to fair play and a healthy environment in sport (NB on two scores: a panel at ABC without a single biological female athlete; how could they let that happen? And – the quotes from Perkins' speech were first reported by ABC in a news take that includes loaded commentary such as "Despite not being one of the most pressing challenges facing women's sport"; one can only imagine the reaction if any of us were to write 'despite not being one of the most pressing challenges facing indigenous people…' – says who – and who was asked?):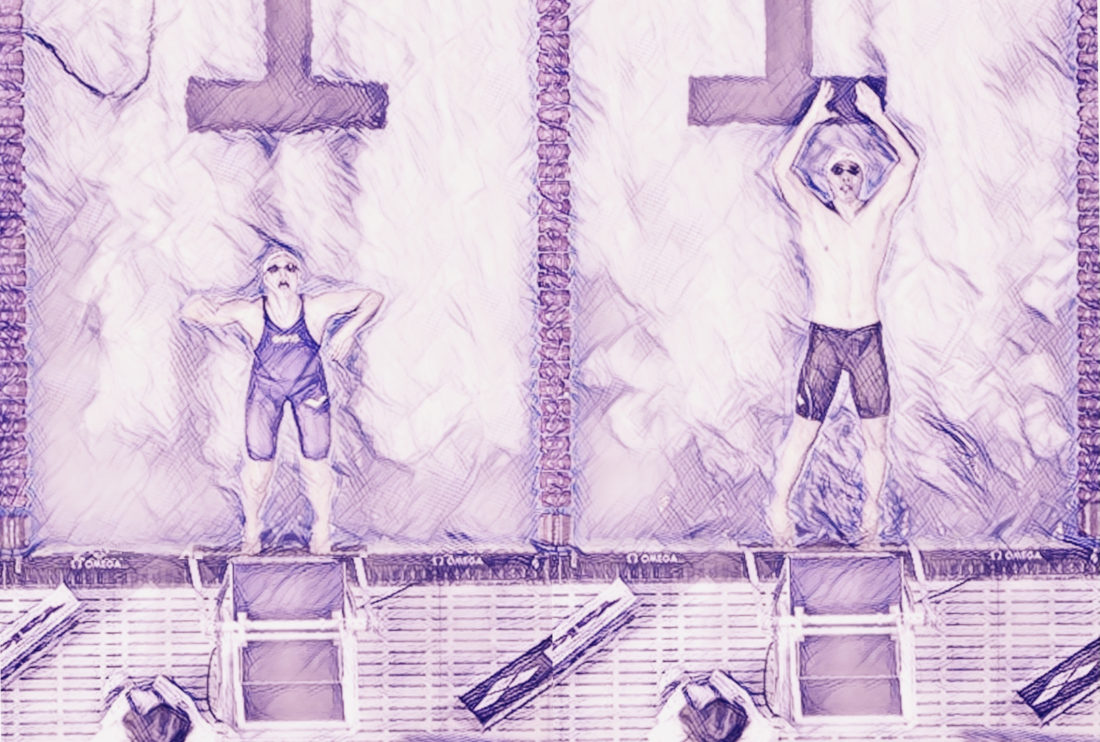 "It would be somewhat disingenuous of me to go through a conversation like this without at least not touching on one of the more vocal, but probably less significant, population level issues around transgender athletes in our sport.

"I know that the decision that FINA has made to deliver their position on swimming, and the opportunity for transgender people in sport has caused plenty of headlines.

"But what I would ask, and what I would acknowledge, is that the international level decision has significant impacts and repercussions for sport in domestic communities and we've seen that here in Australia.

"I have seen communications go out at community level sport, [saying] FINA's made their call, does that mean we no longer have to play against these blokes in women's sport anymore?

"This kind of bigotry and embedded cultural problem that we have in Australia is at risk of being exacerbated dramatically if we don't find a way to be inclusive in our policies, to find a way to navigate these very difficult and nuanced topics in a way that allows us to continue to ensure the integrity of sport, to ensure the cultural value that sport drives.

"But more than anything, recognise that unless we are actually playing for sheep stations, and there is life and death involved … we should not be creating an environment or a position where anybody feels like they are not allowed or should not be involved in what we're trying to deliver."

Kieren Perkins – image: The advantages over women in sport of a transgender athlete who benefitted from male puberty can be seen off every wall and the splits down the lane line – image, cartoonized photo by Patrick B. Kraemer
I'm not yet privy to the entire speech but hope to see it at some stage in order to fill the void now meaning with the vision and veracity required to make the words of Perkins meaningful.
One of the key phrases that needs far more meat on bone is this one: "… building inclusive communities is imperative". Few reasonable folk would argue but questions swirl around definitions, meanings and intentions when it comes to sport.
What, for example, does Perkins mean by "inclusive" in the context of the perception, at the very least, that his reference to FINA's new policy suggests that he does not feel the fair play principle that guides the international federation's new and most-welcome approach to inclusion of transgender athletes in female sport matters that much at "community" level.
Perhaps Perkins meant something else but, setting aside the world of Dolphin might on the crest of the performance wave and, in the shallows, the under 10s one-length at an average local swim club Down Under, there's a whole world of community sport in which things like this have been happening: a 36-year-old self-identifying "trans dyke" (biological male) shows up to compete in a 16-years girls Gaelic football tournament, helps the 'inclusive team' win, and not a single person in authority raises a red flag, neither on grounds that the player is clearly not female nor on the grounds of age.
Where feelings are allowed to freeze truth, common sense, science, the nature of sport and much else out of existence.
The level of toxicity and duplicity in the entire transgender debate has become such that authorities, politicians, our representatives and regulators appear to fear 'consequence' of calling out an extreme of inclusion that is so remote from fair play and honesty that many feel it has no place in society, let alone female sport.
In the mix, the majority in general not only those at the extremes, are called out as intolerant bigots and discriminators against minorities that must have their rights considered above and beyond those of others on grounds that they are the oppressed party. Ideology hangs heavy in the air. And all in sport with an eye to see and ear to hear know precisely where that can lead.
It is against that backdrop that biological women in sport and science, such as Nancy Hogshead-Makar, Sharron Davies, Linda Blake, Dr. Emma Hilton, and a fair few men alongside them, like Jon Pike, Tommy Lundberg, Ross Tucker and Co, have been arguing for recognition of the facts gathered by a panel of world-class experts in a number of fields, including science, law and human rights, that led to FINA taking its stand in June this year.
As said, Perkins may be far better understood when he puts meat on the bones of words reported from his speech that suggest he hasn't yet grasped all the issues when it comes to inclusion, what shape inclusion should take and why it must hold hands with Fair Play on a two-way street in sport if women's sport is to be kept out of harm's way.
The 1500 legend mentions "…one of the more vocal, but probably less significant, population level issues around transgender athletes in our sport". So, it comes down to numbers? Really?
Perkins, of course, has enjoyed a largely win-win experience in sport, unlike generations of his female teammates in swimming, who faced and largely got thumped into submission by the 'tiny minority'* of androgenised girls and abused athletes of the German Democratic Republic and experienced a wholly different outcome in their sporting days.
* – (fair: churned though they were, it took an average of 12 teenage girls per Olympic cycle to cause mayhem and change the face of female sport for the best part of 20 years)
With a memory to jog when it comes to the thumping damage just one case of an athlete like Sun Yang can do in the tow of anti-doping scars, and with homework to do from all those years ago at the time I asked him what must have been some of the first international questions he ever faced, Perkins has responsibility not only to minorities but majorities, too, as CEO of the Australian Sports Commission with oversight of Sport Australia and the Australian Institute of Sport (AIS).
Perkins ought to know the story of small numbers in sport and what can happen. If he needs help or a reminder, his oversight of the AIS will allow him to take a trip to the library at the Canberra heart of the institute and seek out the research filed away over three decades ago when Bill Sweetenham asked permission of the Australian Government to invite a guest from East Germany to share information on the workloads and 'science' behind the dominance of two decades in the pool.
There, on the shelves of the institute, Perkins will find papers submitted and highlighted by Prof. Helga Pfeifer, one of those who counted them in and counted them out of the flumes and workloads between Oral Turinabol injections and pills from the age of 12 and 13. Girls were the key focus of the GDR's State Research Plan 14:25 because sometime in the 1960s scientists had worked out quite accurately that if you lend just a touch of the benefits boys get at puberty and in the first years after the testosterone kicks in, then girls will be more like boys and beat hands down the other girls in the global placebo group of female-puberty experience.
It is in that context that I would ask Perkins to consider the meaning and nature of inclusion, the FINA policy and why that matters just as much at the level of division 3 youth sport in the community as any other level. Do not all girls and women have a right to fair play in sport?
In his current position, Perkins has the welfare of biological women and their right to fair play in his hands, while his reference to "community" is surely one that comes with a realisation that, like him, all great women athletes arrived in the big pond through "community" streams and the opportunities open to them in female sport, starting with making a little-league team, being selected for a squad, gaining access to the coach beyond the teacher, and so forth?
Surely the Fair Play that Emma McKeon, Tracy Stockwell (nee Caulkins) and Emily Seebohm spoke about when giving honest answers to legitimate questions, applies just as much to the next level and the next level down in sport, if Perkins' wants that healthy environment we can all subscribe to?
Cultural shift worth having will not survive the road test unless the majority travels with you down a two-way street.
Perkins on "…putting people into the meat grinder and seeing how many kids survive to get gold medals"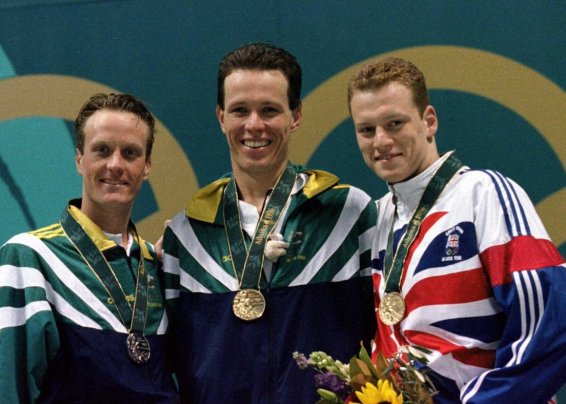 Meanwhile, there is the elite end of swimming to consider. Says Perkins: "If we just want to win, and we're happy just putting people into the meat grinder and seeing how many kids survive to get gold medals, if that's all that matters … fine, I can buy gold medals, that's not hard."
That's a fascinating phrase, particularly when spoken a year after the greatest Aussie women's team result in Olympic waters in history by a man who understood well the world of singular dedications, determination, discipline and consistency of commitment required to crack out a 14:41 and the like a quarter of a century ago.
The clue to what Perkins might have been getting at is to be found in these words from his speech when he noted his return to sport after 15 years or so working in the banking sector beyond retirement from the fast lane: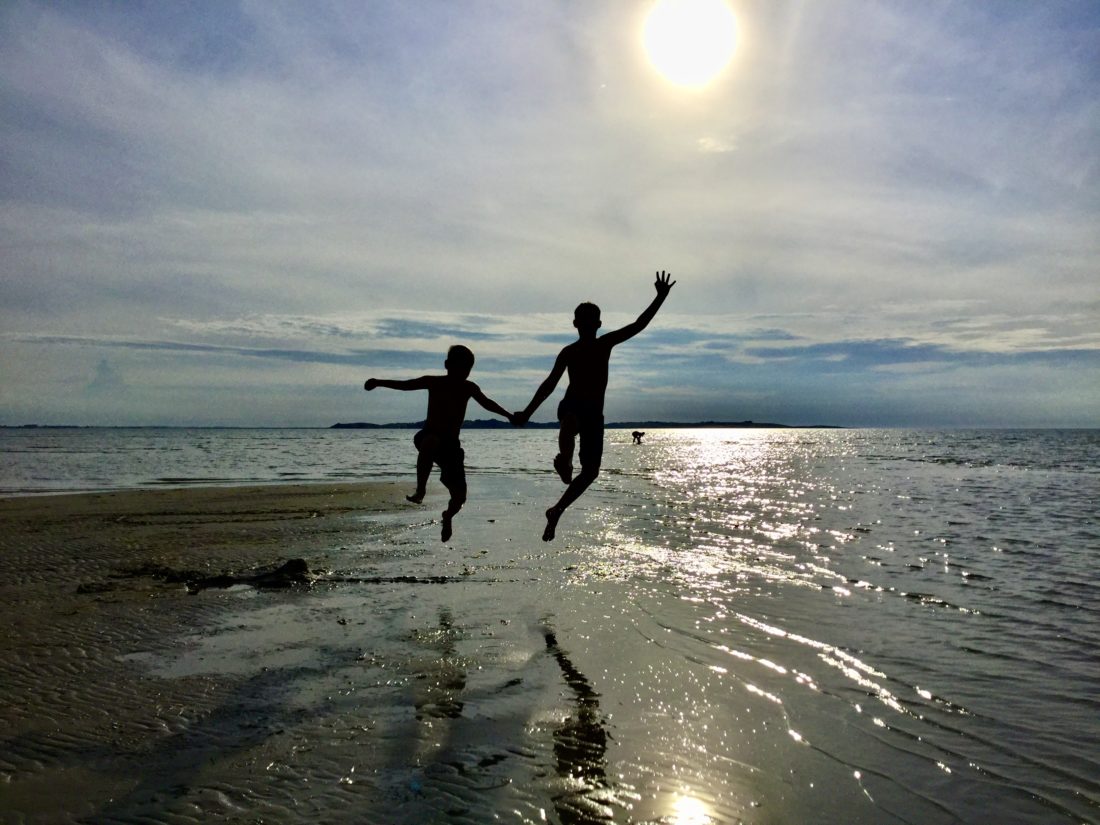 "It's quite extraordinary, I did talk about this when I stepped back onto the [Swimming Australia] board back in 2018 or '19, whenever it was. Recognising that what I came back to was a sport that looked pretty much the same as it did when I was competing.

"It's not surprising when you consider that the government's position and programs all being delivered were essentially unchanged since 1979.

"The world's changed, dramatically, the cohorts of individuals who want to engage or be involved in sport are very, very, different to the children who wanted to be involved in sport in the 60s, 70s, and 80s."

Kieren Perkins. Image: The thrill of a day on the water's edge beyond the swimming lessons that stamp a ticket to health, wellbeing, sport, elite sport, rehabilitation and much more to be gained from a life in the swim – photo by Craig Lord
Spot on. But how and in what way? Perkins raises a theme that is far better understood away from a conference speech in the depth of work such as that conducted by of Wayne Goldsmith when he tackles the reasons swimming may be turning off many a family and their offspring because of an adherence to old practices and habits that stretch to achingly long heats and finals sessions at youth competitions that contribute to the destruction of fun and family life, for example.
Swimming must compete for the attention of youth, families, audience and media with the likes of surfing and skateboarding, which joined the Olympic realm in Tokyo last year. The challenges the likes of Nowicki and Perkins must tackle to help swimming keep its head above water are substantial. Here is Perkins' take on a theme Goldsmith, among others, has been raising for many a long year: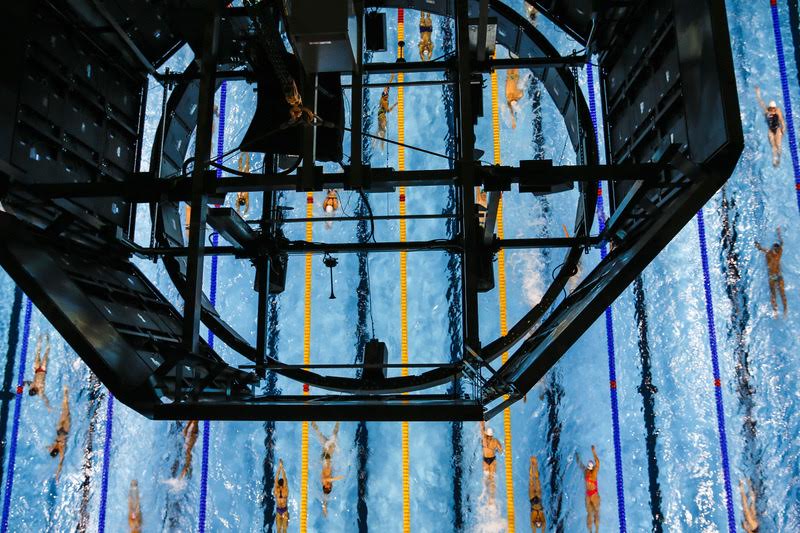 "That's got absolutely nothing to do with elite [sport]. They were in Tokyo and that helped but actually, that's people doing an activity that they engage with on their terms in their time. And we've got to understand that.

"I do honestly believe that there is a massive opportunity for sports that are trying to create Olympians or Paralympians to actually understand what's happening in the community and link into it.

"Not try to change it or blow it up because that doesn't fit our model of what we think is acceptable or should be the way things are done.

"If you've got a couple of hundred thousand people doing a sport because they love it on their own terms, leave them alone.

"But … when we find people who are talented or could have an opportunity to be good, how do we nurture them and help them grow and bring them forward, not oh you need to become a member of the club or we'll refuse to support you."

Kieren Perkins. Image – the swimming environment in focus – Photo by Patrick B. Kraemer
Well, yes to all that in a number of ways, though, again, careful when it comes to interpretation: regulation is there for good reasons, including fair play, safety, accountability, which brings us back to those community issues and inclusion.
The fun and thrill of experience in sport cannot be had in a place where parents withdraw their kids from girls rugby and other sports because the opposition team keeps showing up with teenage boys bearing male strengths while said to be on a pathway to a new identity. When Perkins' comes to put meat on the bones of his speech at SwimCon '22, perhaps we will understand better how he intends to deliver equality of experience for all stakeholders in a complex world with many levels.
Sport is made all the more complex by the archaic governance structures of the Olympic Movement. Self-declared autonomy of rule has been largely accepted by Governments around the world and that has led to a loss of trust all round.
Says Perkins: "The reality is that government does not trust sport because they don't know who to listen to. It's not a portfolio that comes with a whole lot of high-fives and whoopees."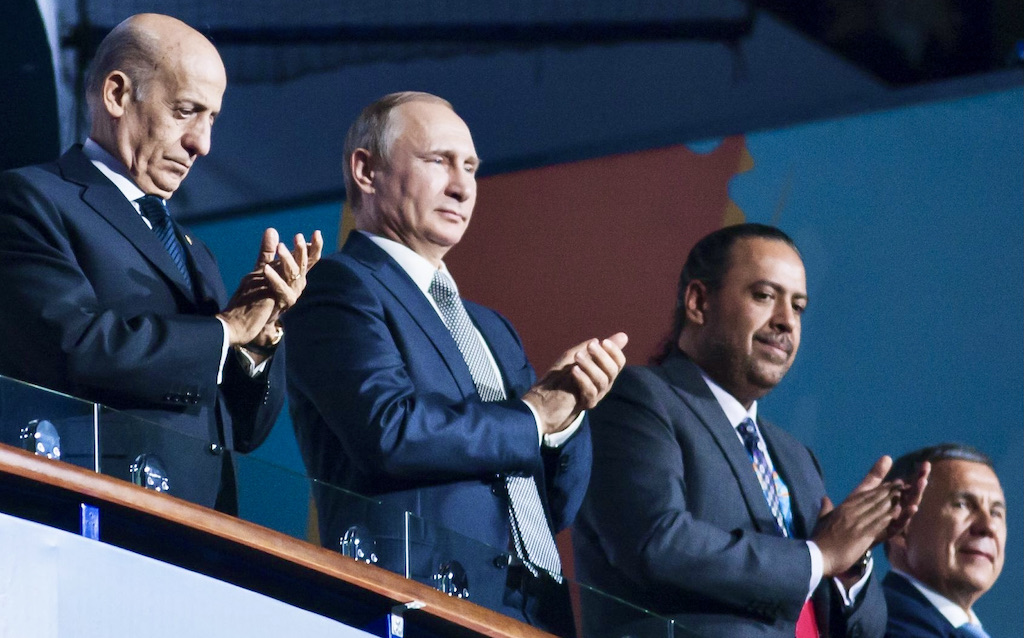 Mmm. Well. There's also this kind of stuff. Take the omertà at the heart of swimming governance down the years, apply it to Australia and ask whether Matt Dunn and the like truly represented athletes as they were appointed to do when the Sun Yang saga reared its ugly head, complete with a cover-up this reporter uncovered; take the story of corruption and decay at the heart of FINA and the IOC when it came to Putin, Russia and a nest of assorted vipers; take the passing of envelopes filled with many thousands of dollars; take the thousands of questions ignored; take the contracts that agreed to discredit the work of critics, undermine and weaken coaches and coach representation at domestic and international levels; take the budgets that have paid more for bureaucracy than athletes and coaches receive in return for the show they provide; take it all and wonder once more about where trust is lost.
Perkins' words once more: "The reality is that government does not trust sport because they don't know who to listen to. It's not a portfolio that comes with a whole lot of high-fives and whoopees," he said.
Understood, though perhaps the word "know" ought to be a repeat of "trust" . Also worth noting: it's not like "high-fives and whoopees" are not part of the picture. Certainly, the Australian public, just as the public in nations from the U.S. Britain, Germany, and as far and wide as the eye can see, are full of "high-fives and whoopees" when it comes to gold medals.
How does the public think gold medals are won? Do they understand what it takes? Do they question that and then have a change of heart when it comes to gold medals? What does Kieren Perkins mean when he refers to the meat grinder? What does fun mean? In these days when we are told to respect the self-identity of others, what respect is being given to the identity of the athlete in a bubble of autonomous governance that could quite easily have been said to have stolen identities galore down the decades? The questions run and run.
The public has a view – and a say on what it wants in return for its investment.
Survey after public survey in places where lottery and public money go into sport come back with the same answer: we want winners in return for our money; we want sport to deliver the feel-good factor that politicians are very happy indeed to hold hands with when welcoming athletes back home after overseas campaigns of glory, what with all those snaps of high-fives and whoopees to be had. We don't want" 'plucky X finished 12th in the semi-finals'.
Perkins, meanwhile, called on unity in the sporting ranks. "How about we come together with some consolidated strategic views on things," he said. "A little bit more of a singular voice … so that when the government does get confronted with choices, they can make choices which are strategically impactful not helping one small group who scream the loudest."
It is not clear in ABC's coverage which "small group who scream the loudest" he had in mind. Did Perkins mean that half of all sport that constitutes the biological female population (can't be, far too big, surely) or did he mean the small minority of very aggressive transgender women sports people who insist they are women in all ways and realms, including sport, and demand access to female sport with no more requirement that self-identity and a season or two of hormone reduction therapy?
Perhaps, Perkins meant neither of those groups and had something else in mind but in the toxic debate on transgender inclusion in sport and the need for Fair Play to be upheld, clarity is paramount.
It is possible to read Perkins' words and conclude anything along a spectrum of "great" to "really – how would that work in practice" and on to "woeful", depending on meaning, motive and, most critically, vision.
May the next speech Perkins makes show us the painter and his painting. Let the legend bring oil and brush to the stage and sketch on a giant canvas precisely what he thinks the world of sport, all levels, should look like.
And then let's hear it from other swimming stakeholders and have Nowicki put together a working group tasked with turning the tide for swimming, a sport capable of magic and majesty yet still saturated in calendar chaos and at risk of towing old culture and bad habits into the infancy and dawn of reform.