USA Brings Challenging Fukuoka Campaign To Golden Crescendo In Medley Relays
Team USA could not match the might of the Australian Dolphins, with 13 gold medals and five of the 10 World records to fall, during these past eight days of thrilling races at the 20th World Championships in Fukuoka but the Eagles soared to a double medley relay triumph to close their campaign on a high, the women claiming the 4x100m title for the fourth consecutive showcased and the ninth time since 1978, the men reclaiming pride in a winning tradition lost in a series of defeats since 2017, first to Britain and then to Italy, the defending nation that missed the cut for the final in 9th place this morning.
The American women brought the championships to a close with Regan Smith, Lilly King, Gretchen Walsh and Katie Douglas stopping the clock at 3:52.08. Australians Kaylee McKeown, Abbey Harkin, Emma McKeon and Mollie O'Callaghan took silver in 3:53.37, Canada the bronze courtesy of Kylie Masse, Sophie Angus, Maggie McNeil and Summer McIntosh, not long after her 4:27.11 triumph in the 400m medley, in 3:54.12.
Smith pipped pioneering treble backstroke champion McKeown, the official female swimmer of the championships, on 57.68 to establish a lead the USA would never relinquish. King followed through with a 1:04.93 split on breaststroke before Walsh clocked 57.06 on 'fly and Douglass brought home the bacon in 52.41.
The Australians would walk it if they had a breaststroke swimmer capable of taking on King. As it was, McKeown's 57.91 led to Harkin on 1.07.07 before McKeon's 56.44 handed over to queen of the meet O'Callaghan, who rattled home in 51.95, a swimmer who played a part in four world records in eight days (200 free, 4×100 free, 4×200 free, 4×100 free mixed)
The American men were led by Ryan Murphy on 52.04, faster than the 52.22 in which he claimed his first 100m World title this week. Nic Fink was in next and a 58.03 split, Murphy's dominance over China's Xu Jiayu making Qin Haiyang's 57.43 split a mute point as far as gold went. Dare Rose kept the ball rolling in 50.13, against a sensational 49.27 split from France's Maxime Grousset, with Jack Alexy then sweeping the Stars and Stripes home to gold with a 47.00 split that took the sum of fast parts to a shiny suit dunking championship record of 3:27.20, No2 on the all-time performances list adrift the Americans' world record of 3:26.78 set battling with Britain at the Tokyo Olympics.
Britain sorely missed Adam Peaty in Fukuoka but should he return to best will be competitive once more in a world where China is on the rise in the medley relay. Pan Zhanle anchored in 46.62 after Xu, Qin and Wang Changhao, Qin's 57.4 securing silver silver with a time of 3:29.00 for China's first visit to the medley relay podium. Australia, with Kyle Chalmers, Bradley Woodward, Zac Stubblety-Cook and Matt Temple took bronze in 3″29.62.
Watch too for France: Yohann Ndoye-Brouard, Leon Marchand, the triple champion and male swimmer of the championships, Grousset and Hadrian Salvan clocked 3:29.88 for fourth ahead of Great Britain's Oliver Morgan, James Wilby, Jacob Peters and 200m free champion Matt Richards, whose 46.93 anchor was one of the gains in solid 3:30.16 finish, the loss of Peaty meaning a drop of two very significant seconds.
The Results In Full – Men – Women
Australia Dominate Gold Count As Dolphins, Eagles & Dragons Take Lion's Share Of Medals
The championships ended with the USA collecting what was described as the second biggest haul in their history, though the gold count stopped at 5. Those historic hauls for all teams are relative, of course. There are now two mixed relays in the mix that were not there for most of the past 20 years and there are six 50m stroke events, an 800 for men and a 1500 for women that were not there for almost three decades of world-championship history. Caveat Emptor on the stats and claims.
The Top 12 On The Medals Table Led By Australia Ahead Of The USA & China
Rank
Nation
Gold
Silver
Bronze
Total
1
AUS
13
7
5
25
2
USA
7
20
11
38
3
CHN
5
3
8
16
4
FRA
4
0
2
6
5
GBR
2
2
4
8
6
CAN
2
2
2
6
7
TUN
2
1
0
3
8
LTU
2
0
0
2
SWE
2
0
0
2
10
ITA
1
4
1
6
11
RSA
1
1
0
2
12
HUN
1
0
0
1
The 10 World Records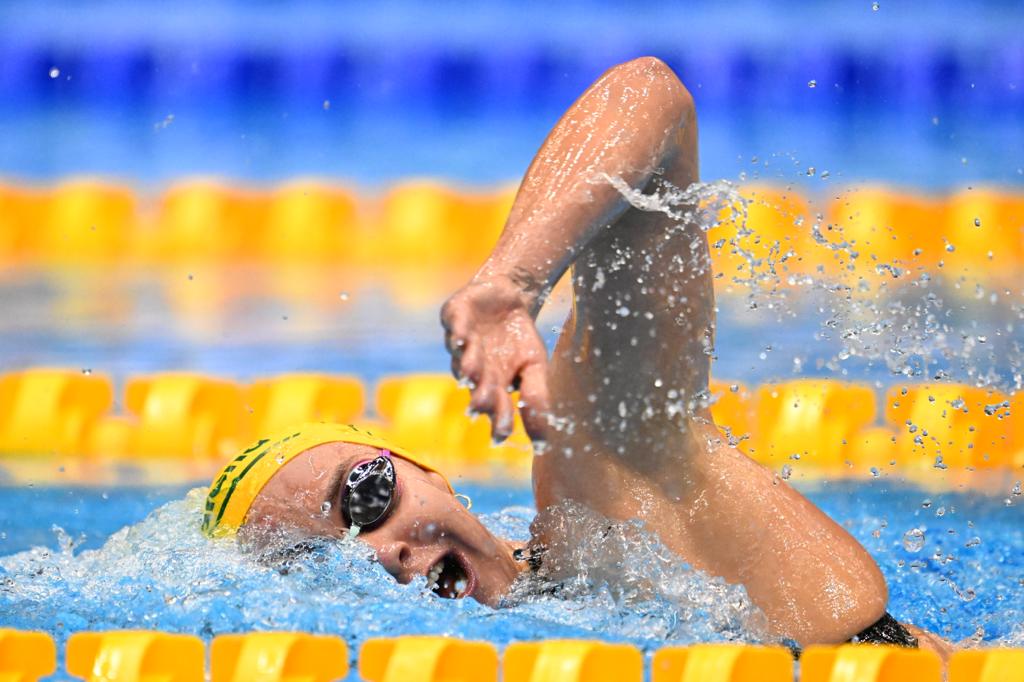 Women:
50m freestyle: Sarah Sjostrom Sweden 23.61
200m freestyle: Mollie O'Callaghan Australia 1:52.85
400m freestyle: Ariarne Titmus Australia 3:55.38
50m breaststroke X 2: Ruta Meilutyte Lithuania =29.30 and then 29.16
4×100 freestyle: Mollie O'Callaghan (52.08) Shayna Jack (51.69) Meg Harris (52.29) Emma McKeon (51.90) Australia 3:27.96
4×200 freestyle: Mollie O'Callaghan (1:53.66) Shayna Jack (1:55.63) Brianna Throssell (1:55.80) Ariarne Titmus (1:52.41) Australia 7:37.50
Men:
400 medley: Léon Marchand France 4:02.50 (race video)
200 breaststroke: Qin Haiyang China 2:05.48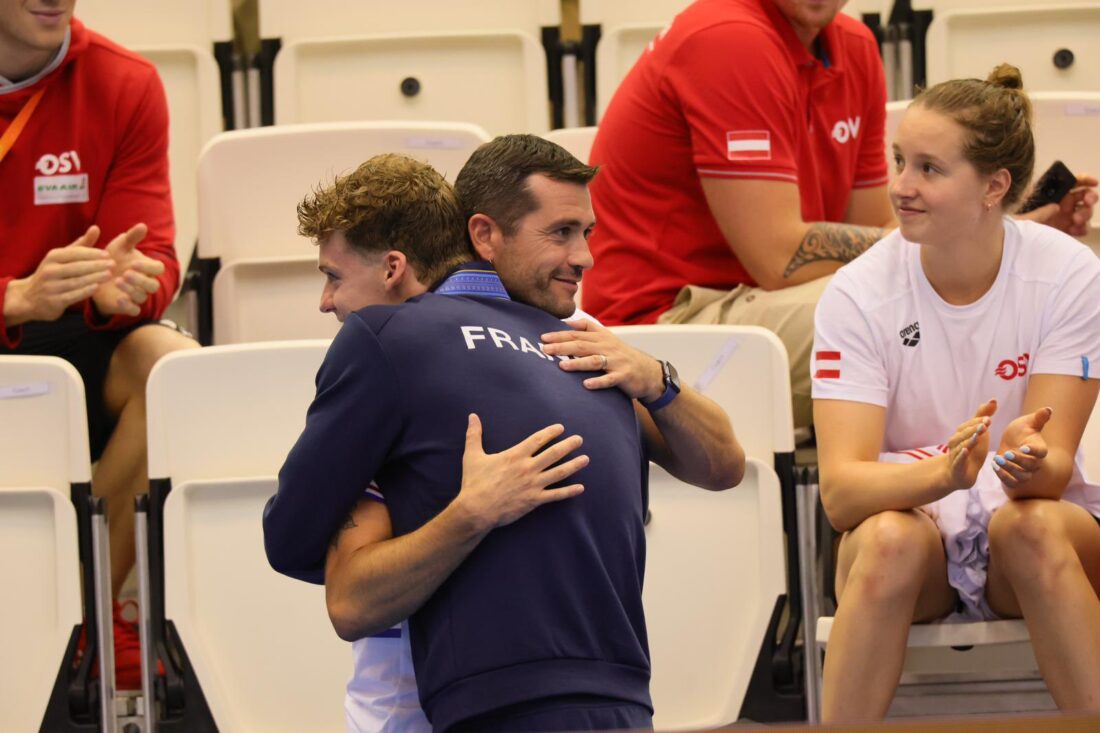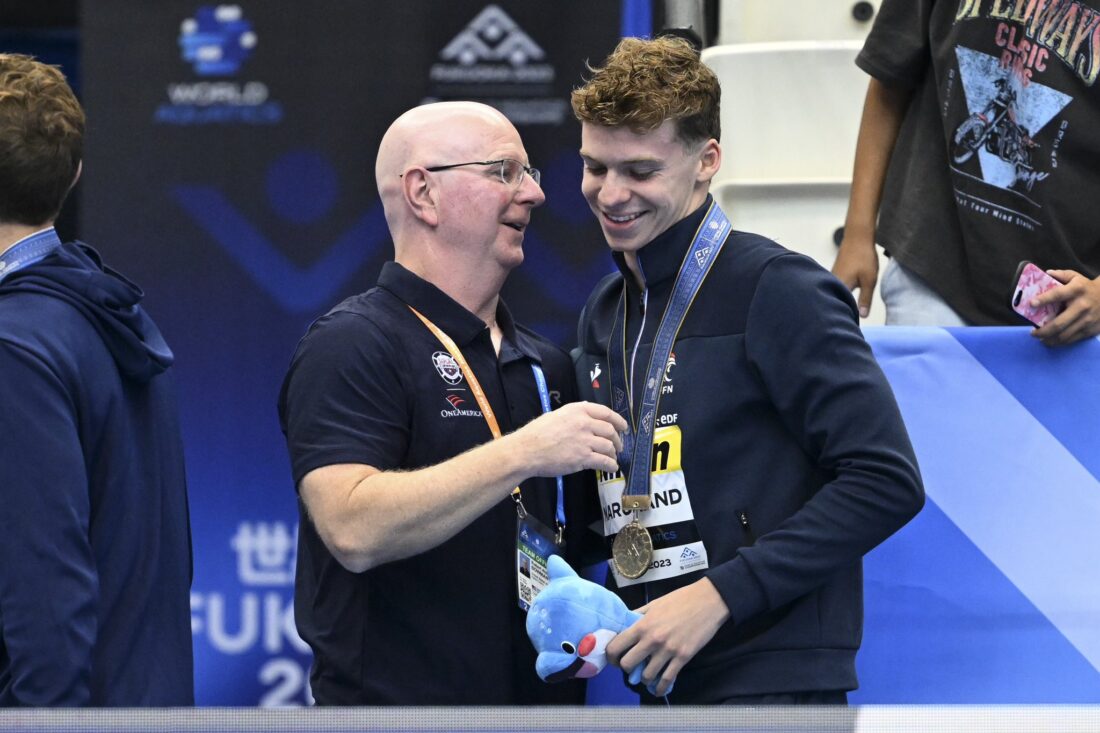 Mixed:
4×100 freestyle – Jack Cartwright (48.14) Kyle Chalmers (47.25) Shayna Jack (51.73) Mollie O'Callaghan (51.71) Australia 3:18.83