USA 4x100m freestyle Gold In 3:08.97 World Textile Best Ahead Of Italy's 1st Ever Medal & 46.44-Chalmers-Boosted Aussies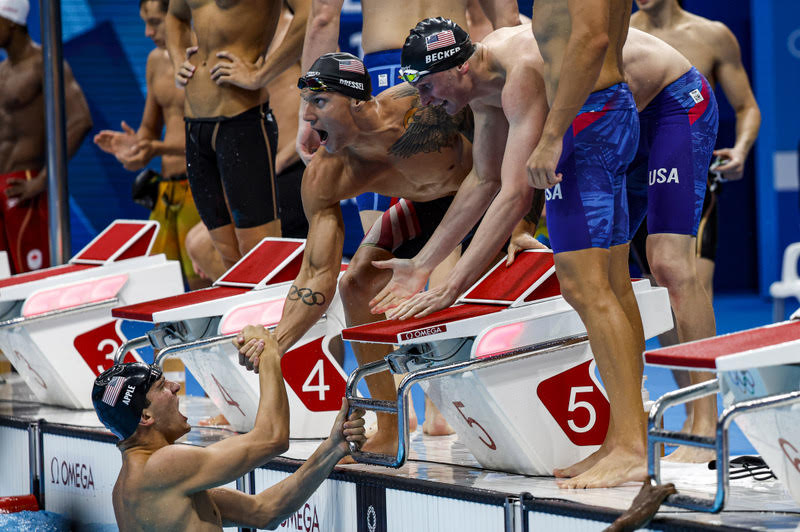 There was a touch of strength standing still in USA 4x100m freestyle fortunes and a sprinkling of strength lost in a few others capable of bringing the fight when the Stars and Stripes struck gold in Tokyo today.
Wherever the balance rests right now and whatever former loses may be – the Americans lost in 2000 (Australia), 2004 (South Africa) and 2012 (France) – today was a fine one for Caeleb Dressel, Blake Pieroni, Bowe Becker and Zach Apple, the swiftest 4×100 quartet evert in textile.
Best repeat the names of the men who were able to give a little extra for all, Apple for the sole 46+split among Americans and Dressel, who collected his gold after a 3:08.97 victory and then handed it straight over to Brooks Curry, the heats man he said merited the prize for playing his part in getting the quartet into the main fight.
The gesture was a token one: all heats swimmers in relays get a medal but not at the official ceremony and not until the competition is over. Dressel wanted to have Curry to wear his prize straight up as a badge of honour.
Italy took an historic silver (their first Olympic medal in there 4×100) in 4:10.11, a national record inside their time in heats, while Australia claimed bronze off the back of the sizzle-king of splits in the final, a 46.44 from Olympic 100m defending champion Kyle Chalmers. That left Canada and Hungary locked out in respective times of 3:10.82 and 3:11.06.
The world textile best had stood at 3:09.06 to the USA since 2019 World Championships. In that sense, the Americans are more of less where they were before the big let rip. Counting the shiny stuff with a ball and chain round its ankle at the bottom of the Mariana Trench, today's U.S. victory was achieved in the third fastest time ever, after the 3:08.24 to 3:08.32 battle of Beijing that ended in favour of thew Stars and Stripes after Jason Lezak overhauled Alain Bernard in spectacular fashion.
The USA has won the crown ten times, no other nations with more than 1 victory in their treasuries.
Dressel, out in 22.2, said: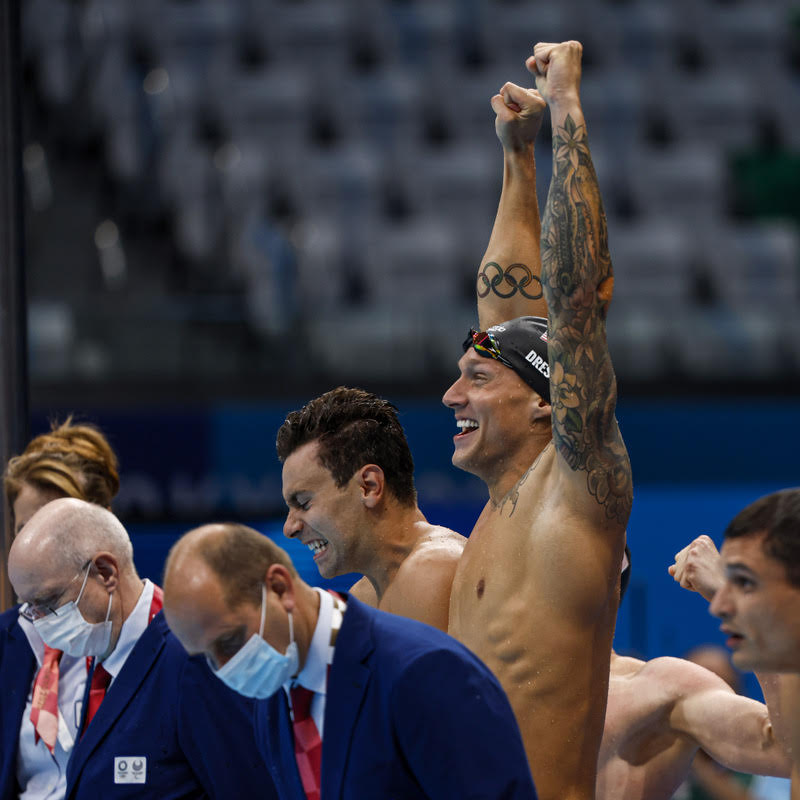 "I felt good the whole way. I knew I had to get my hand on the wall first, get some clean water. Everyone did their job. It's a relay for a reason. There's four guys for a reason. It's certainly not just me, and it's certainly not just one guy. I wasn't ever scared. The scariest part was my leg for myself because I had control over that. I knew they were going to get the job done. I wasn't nervous at all, especially when (Apple) hit the water. I saw him break out and I knew it was over."
The medal is only the second podium prize in a relay for the Italian men in Olympic waters, after bronze in the 4x200m in Athens.
"It's so awesome from Italy that we won (a medal)," leadoff man Alessandro Miressi said. "It's the first time this relay made it to the podium in the Olympics, so we are very happy."