Unrested Adam Peaty Looking Sharp on 58.58 For British Title, James Wilby On 59.17 On Way To Budapest World Titles As Dan Jervis Goes 3:46 Lifetime Best 400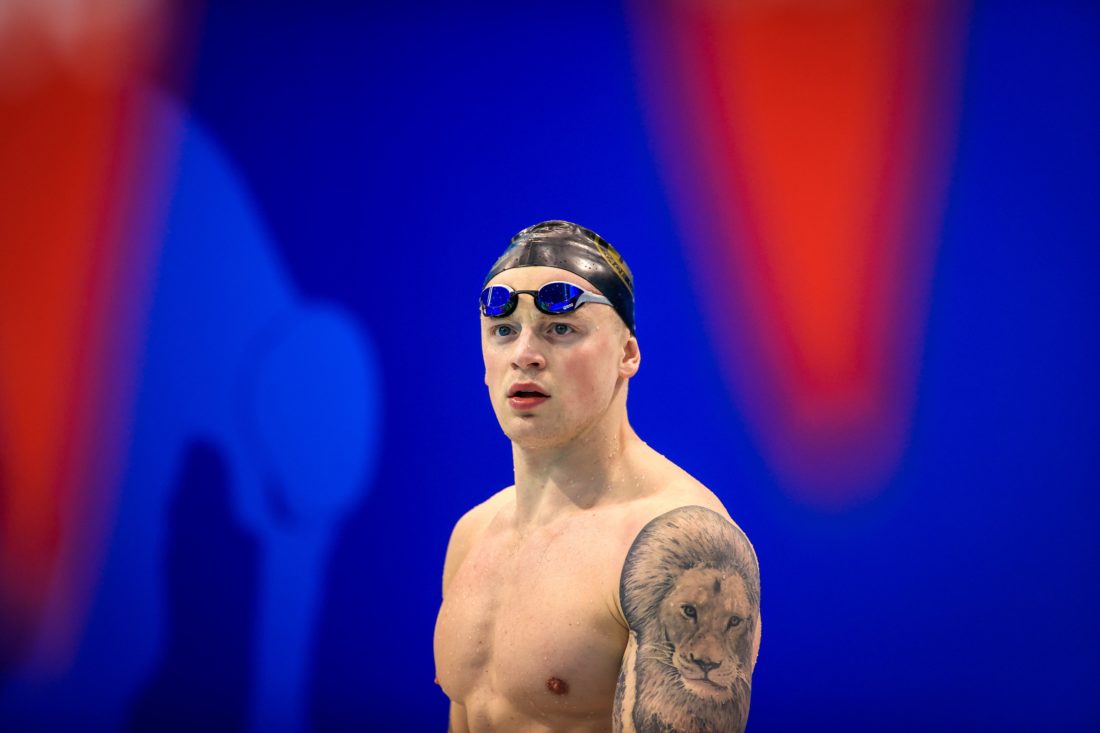 Adam Peaty, James Wilby and Dan Jervis had already qualified for World titles (see selection policy below) but that didn't prevent them from showing the work on the way to the global showdown in Budapest in June is heading in the right direction.
In a battle with fellow Worlds podium placer and Oympian James Wilby, Peaty, the 2016 and 2020ne Olympic champion and global record holder, kept the crown in 58.58, good for fourth at Tokyo 2020, good for a place in any Olympic final in history, good for a great swimmer racing unrested and good for thinking that a record fourth 100m breaststroke World title is in his sights. Good for … well, not in his personal top 30. That's how good he is.
Wilby, who also trains at Loughborough, stopped the clock at 59.17 in the day 1 highlight at the British Swimming Championships in Sheffield that double as selection trials for Budapest 2022 for those who arrived at the Ponds Forge pool looking for tickets.
Peaty and Wilby would have had to clear 59.44 for Budapest 2022 selection in the 100m breaststroke had he not been preselected as the pioneering force of sprint-breaststroke pace that he's been since 2014, the year his bull run of victories over 100m began. It remains unbroken this evening.
The time challenge was secondary to their personal tests of speed relative to where they are in preparation. If Wilby raced to confirm that he has shaken off the disappointments of Tokyo 2020ne, Peaty was looking for confirmation that the work he's put in this year since a post-Tokyo break from swim training is moving him back to where he needs to be to fend off pretenders to his World crown.
Chief among them is Arno Kamminga, of The Netherlands, and Nicolo' Martinenghi, of Italy, the two rivals who shafted the Olympic podium with Peaty in Tokyo.
Kamminga, who also claimed silver in the 200m breaststroke in Japan, tops the 2022 long-course ranks with the 58.52 he clocked at the Eindhoven Meet in February.  This past weekend at the Heidelberg Q! Cup he added two more sub-59s to his 2022 practice list, a 58.68 in heats, off an opening 27.48, and a 58.85 in the final.
Peaty was out in a sizzling 27.18 in Sheffield this evening, Wilby on 27.84. The three-times World champion tightened a touch in the closing 10 metres, rest for peak performance well ahead of him. , close to his season best of 58.52 at the Eindhoven Meet in February. 
Only the second man in history too race inside 58sec, Kamminga's best sits adrift the 17 best efforts of Peaty, on 57.3 for the Olympic crown last year. His World Record stands at an other-world 56.88 from 2019. Martinenghi, meanwhile, may extend the club of 2022 sub-59ers when the Eindhoven Qualification Meet gets underway on Thursday.
Reflecting on day 1 at nationals, Peaty said: "This morning was ropey. Three races into my season, it's always going to be like that, no matter whether it's a British Champs or an open meet in the middle of February.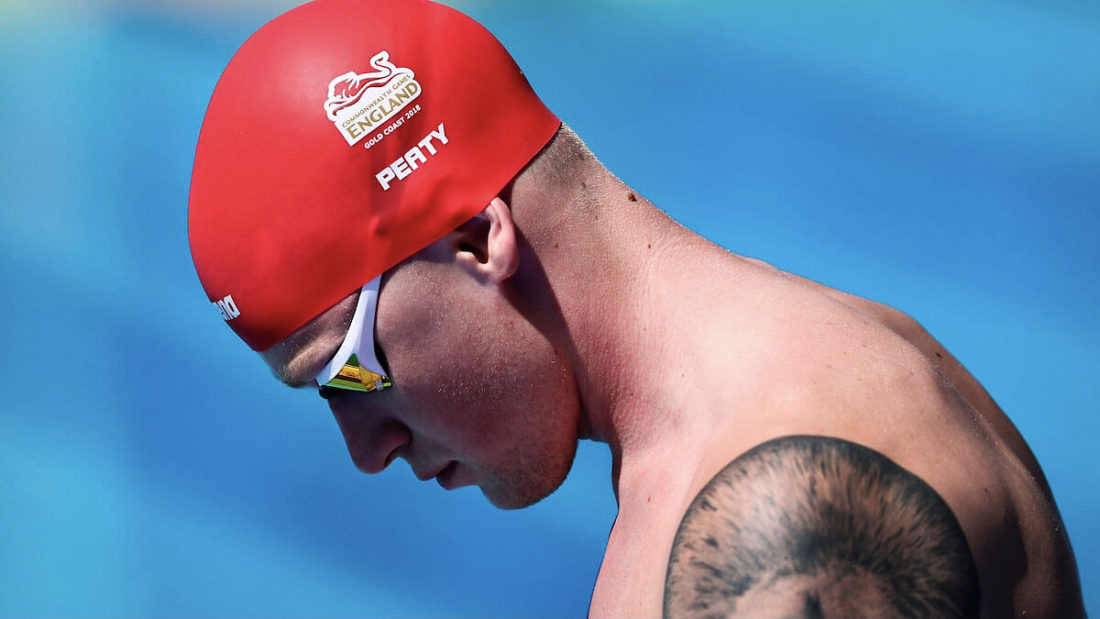 "For me, it's good progression. It shows the speed is there, it's a little bit harder to get there – I'm usually out in a 26.7, tapered. But that's a real confidence boost for me because this year, it's more of a comeback than a continuation of what I'm doing.

It's not continuing over – when you have five months off, you see the likes of Michael Phelps having five months off after the Olympics, it's hard to get back to that stage quickly.

We've had the delay in the Worlds, so we can now do it in June. I know I can get down to something there if I apply myself right, but I've got nothing to prove now. I said over there, this is bonus territory now – I've won everything there is to be won, as humbly as I can say that.

Adam Peaty, image courtesy of Team England
All About Paris
Peaty has a shot at joining the Triple Crown Club Paris 2024 as only the second through the door after Michael Phelps. On that journey, he said: "I'm so grateful to the team around me that keep me in top shape when we can. Obviously you're going to get a bit of illness, a bit of injury.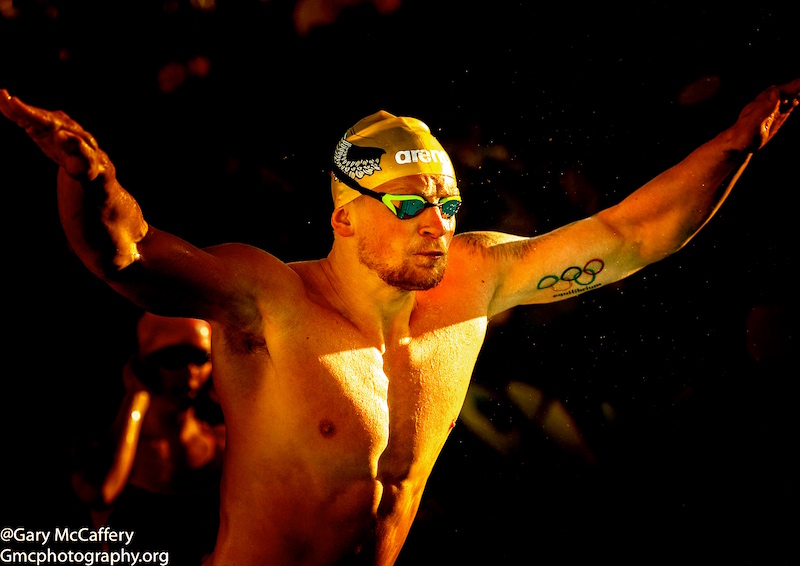 "But I'm happy with where I'm at. I'm happy with my lifestyle, I'm happy with my training. This year, I've got nothing to prove, it's all about Paris.

"It's a good place to be. I just want to take as many people on this journey into Paris now as I can. I don't think I could've done that tonight without having my family in the crowd, having all these people in the crowd.

"This is what sport is all about, right? It's not about the time on the clock, it's about the winning, showing you can do it when you're not meant to do it and breaking world records when you can do it! It's very simple for me. This is what it's about, this is what it's always been about.

Adam Peaty – image: A golden approach to the Olympic Games and the "further attack" on the title he claimed in 2016, Adam Peaty also has the mixed medley relay among his targets – snapped by Gary McCaffery on a training camp in Tenerife – courtesy of Gmcphotography.org
Adam Peaty – "Seeking To Inspire"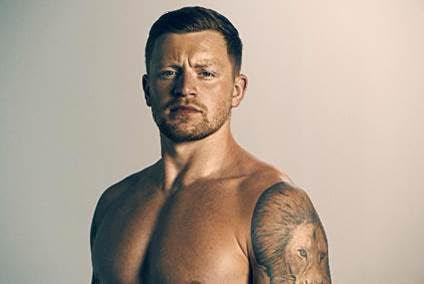 Speaking after his win, Peaty, 27 and a recent edition to Team Speedo, said it was "a very nice way" to get his season going in what was his fourth 100m breaststroke race of the year. "It's going to get more difficult as you get older; it gets hard to race." Even so, he was delighted with where he was, noting with a nod to coach Mel Marshall: "We've overcome some obstacles and we're in a good place."
The dance show "Strictly" ballroom helped keep Peaty in shape after he kept the 100m crown in Tokyo as the first British swimmer ever to retain an Olympic swimming crown. Swim-specific fitness for purpose in his heavy element is something else, of course.
Asked about Strictly, Peaty said: "It was hard, very hard. Like anything, I like to challenge myself and go outside my comfort zone; that's where you grow."
For Adam Peaty, World titles in June will be followed by Commonwealth Games in July/August and then the European Championships in August at which he will seek to keep alive a sensational golden streak: in 16 races since 2014, Peaty has claimed 16 gold medals.
Asked about the trio of challenges ahead, Peaty said: "I want to grow through the rounds. I've done everything I want in the sport but my aim now is to inspire everyone else … I just want to inspire people around the world."
He has entered all three breaststroke events this week in Sheffield. In Budapest, Peaty will aim to become the first man to claim four successive world championship doubles, having won the 50 and 100m breaststroke at the 2015, 2017 and 2019 championships.
Live Stream of Day 1
Dan Jervis 3:46 Lifetime Best Augurs Well For 1500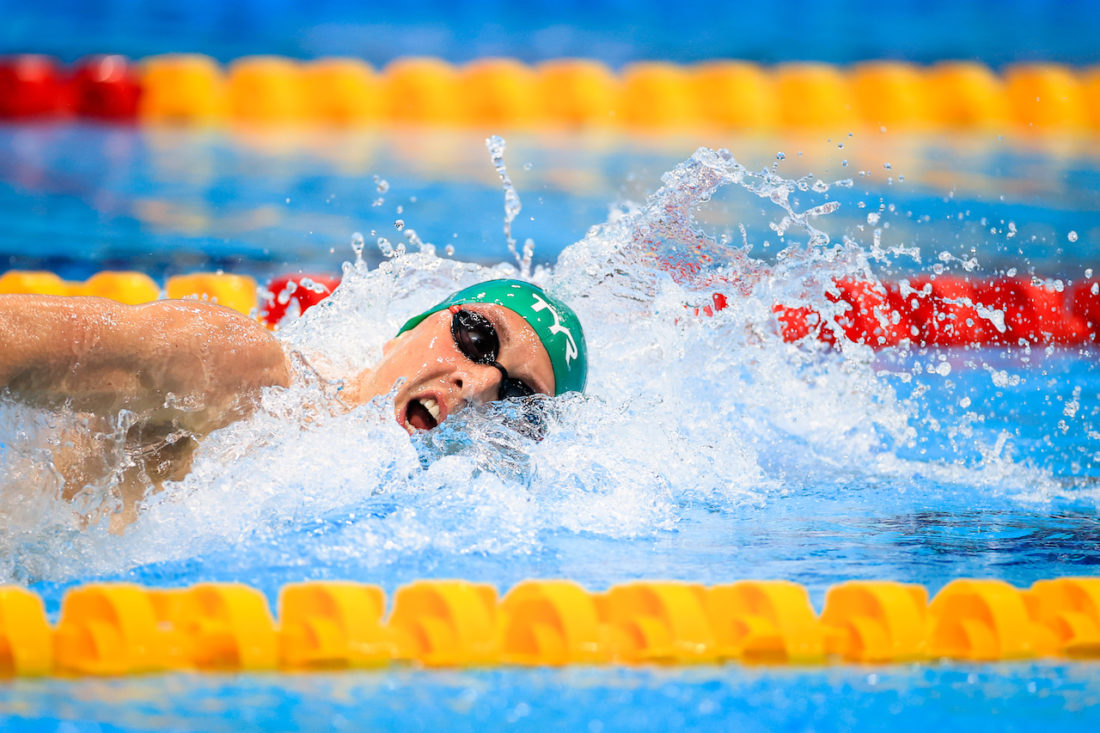 Dan Jervis, who will race for Wales at the Commonwealth Gamers in Birmingham this summer and in the 1500m free for Britain at World titles after finishing fifth at the Tokyo Olympic Games last year, scorched a lifetime best of 3:46.44 for a solid victory in the 400m freestyle.
The time, a second inside Jervis' previous best, fell 0.1 shy of automatic qualification for Budapest 2022 Worlds but selectors have discretion to add swimmers to events if they are already on the team. Progress of s sec and over 400m augurs well for the champion's 1500.
An elated Jervis said: "I'm really happy with that swim there. At the Swansea Performance Centre, we've trained harder than ever but also smarter than ever this year." It showed, as did emotion when a joyful Jervis, who turns 26 a fortnight before the global showcase in June, noted that the race was the first his parents had been there to watch since the Covid pandemic shut crowds out of venues.
"The work has been going well," said Jervis.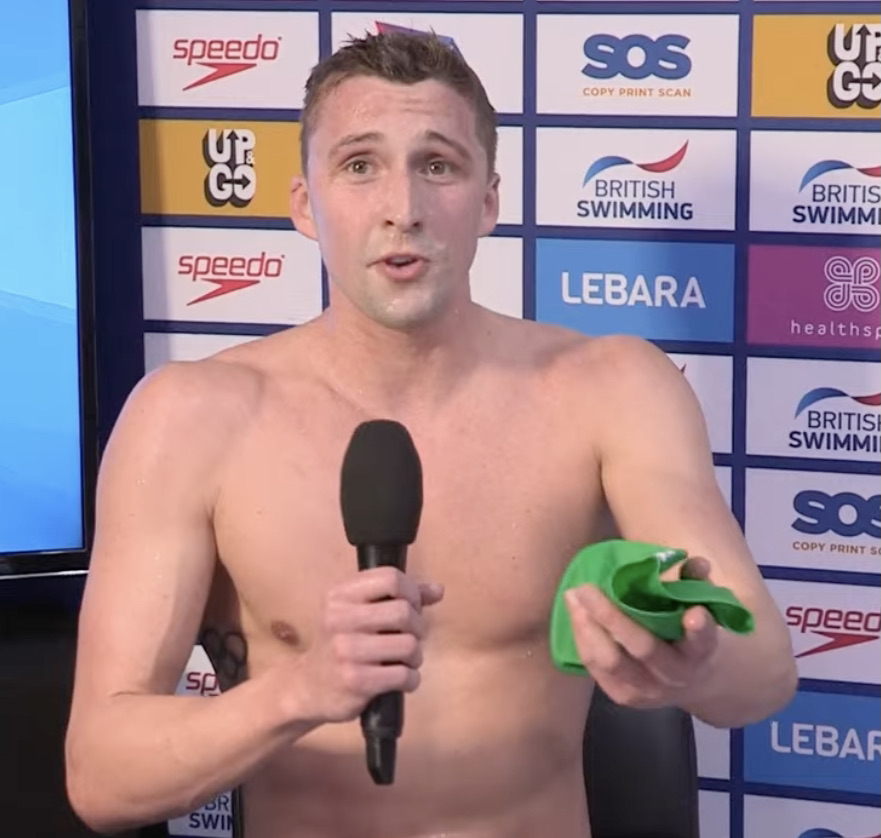 "Huge credit to my coach Adam Baker, because we've really trained hard into this competition and it's going to be a good week. The 400m and 1500m, there is such a big difference – but I felt good in that race, I felt strong. I have nothing to lose. I'm very fortunate that I have been pre-selected for the competitions this summer, so this competition here, I am just here to relax and enjoy myself – and I am!"

Dan Jervis – image, screenshot courtesy of British Swimming Livestream
The podium was completed by Bath's Luke Turley, on 3:48.52, and teammate Kieran Bird, who made his Olympic debut in Tokyo last year, on 3:48.58.
Jervis, whose Olympic qualification was one of the highlights of Britain trials last year, has been heading in the right direction in Commonwealth waters for the past eight years over 1500m: bronze medallist at Glasgow 2014, he stepped up to silver at Gold Coast 2018 and will be a contender again this summer in. Birmingham, when his ultimate result would be to emulate fellow Welshman David Davies, the Delhi 2010 Commonwealth 1500m champion who claimed Olympic marathon silver in 2008 four years after Olympic bronze in the 1500m.
Jervis has fine memories of Sheffield and merged from his latest progress at Ponds Forge to say: "Sheffield is my favourite pool in the world. I've been fortunate to swim all over the world, I've seen some fantastic venues – but there's just something about Sheffield. I don't know if it's because I remember it from when I was younger and it's homely to me, but I love it here.
Abbie Wood & Freya Anderson Lead Chase For 4×200 Slots, Freya Colbert 3rd Before Taking 400IM Crown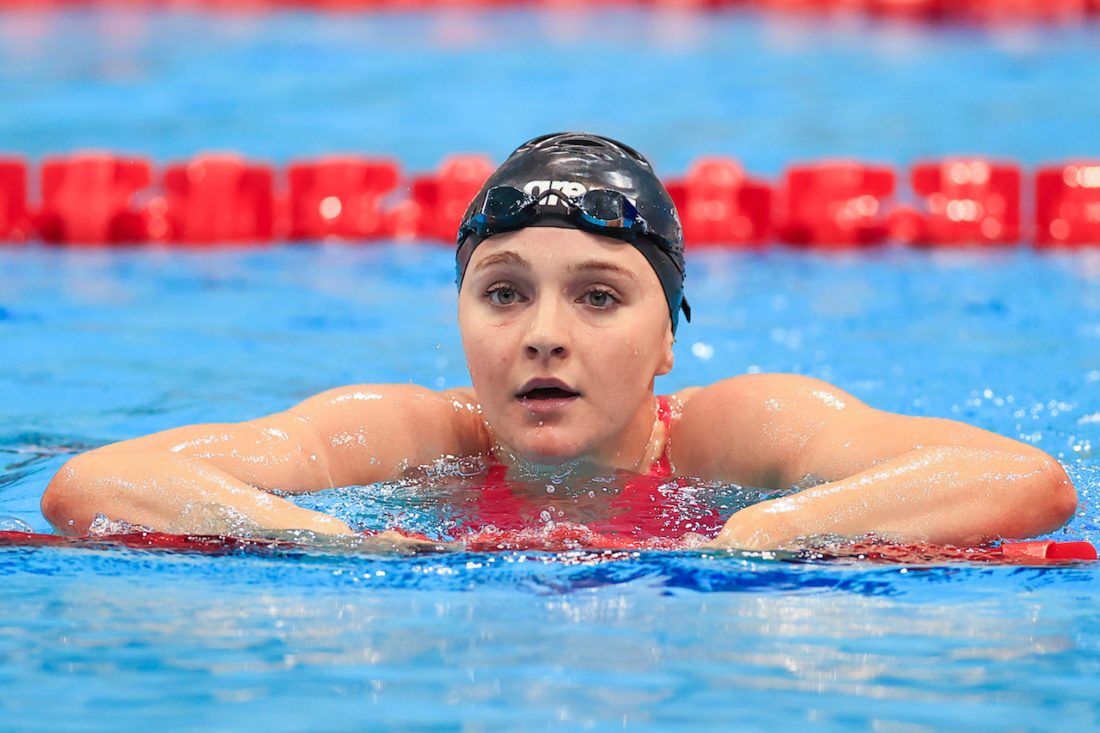 Loughborough's Abbie Wood, so near but so far from the 200m medley podium in Tokyo last summer, pipped Bath's Freya Anderson, 1:57.61 to 1:57.63 in the 200m freestyle, with Freya Colbert, of Nova Centurion, third in a big lifetime best of 1:57.90.
None got inside the Budapest qualifying time but the 4x200m free relay has a shot at making it, with Medi Harris, of Swansea Uni, fourth in 1§:59.44, and Tamryn Van Selm, of Millfield, fifth in 1:59.80.
Abbie Wood said: "I think I've surprised myself there, definitely. I was quite ill over Christmas with glandular fever, so after that, this season was all about getting back down to where I was in Tokyo, and if I do that here, it's a headstart from where I was. So I am really, really happy with that.
"This was a nice warm-up event and it's always something I want to be in the mix with for the relays because I love doing any kid of relay I can get involved in. My real aim here was to get top two to be in with a chance of swimming mixed relay or women's 4x200m. They all build in to my 200m IM as well.
"Dave (coach David Hemmings) wants me to have a busy programme to replicate what it will be like, because I think the Olympics were a bit of a shock because it was so busy."
Colbert was back in the fray later in the session for victory in the 400m Medley on 4:41.27.
Selection Policy For Budapest With Adam Peaty & Tom Dean At Helm
Over six days, British Nationals serve as the second of a two-stage selection policy for the World Championships in Budapest this June.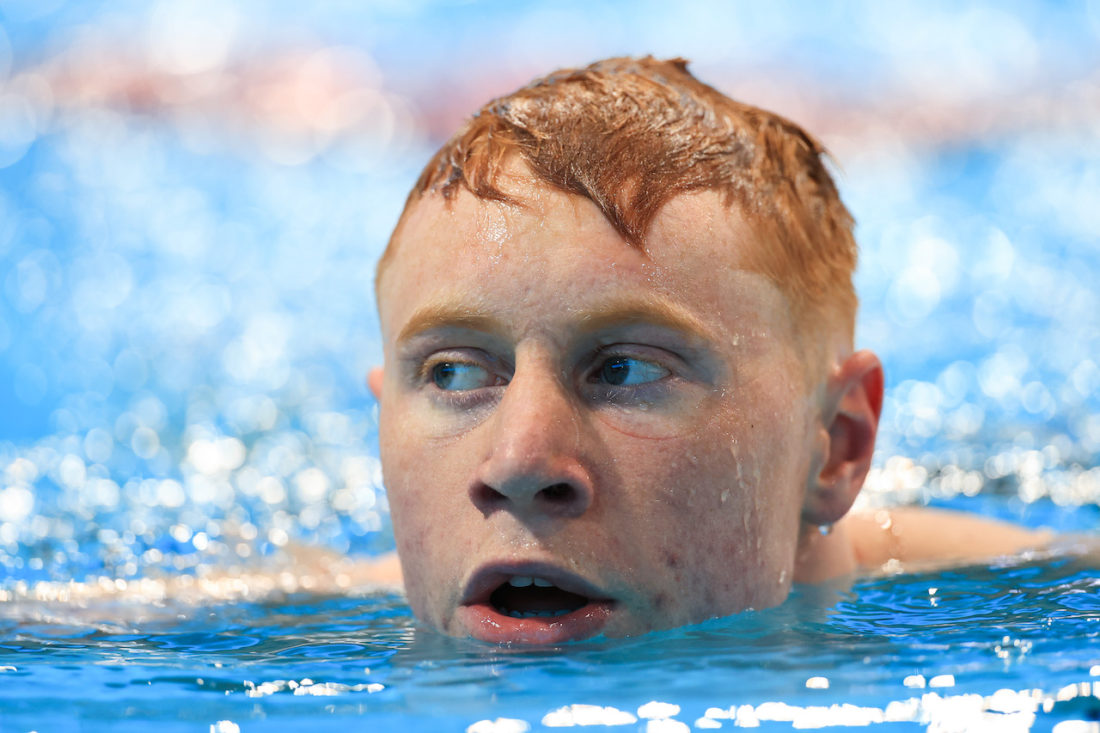 The first round of selection was done last summer: swimmers who finished in the top 6 in individual finals at the Tokyo Olympic Games have been pre-selected for Budapest 2022 on the strength of individual events. They are:
Tom Dean (200 free)
Adam Peaty (100br)
Duncan Scott (200IM)
Kathleen Dawson (100 back)
Abbie Wood (200IM)
Dan Jervis (1500 free)
Luke Greenbank (200 back)
Max Litchfield (400IM)
Ben Proud (50 free)
James Wilby (100 and 200br)
If more than one athlete achieved a top-six finish, the highest-placed swimmer is selected to the team for the event, with the other finisher selected to the team only.
The Britain swim team will comprise a maximum of 30 swimmers with a maximum of two selections per individual event and one relay team per event. Olympic relay medal winners are also selected for Budapest but only if they raced in the final in Tokyo. That means the following swimmers are also ion the way to Budapest:
Anna Hopkin (4x100m mixed medley)
Matt Richards (4x200m free)
James Guy (4x100m Men's and Mixed medley and 4x200m free)
Swimmers wishing to be selected for Budapest must place first or second in their event and their times must equal or better the qualification marks set by British Swimming: