Ukrainian Swimming Says Athletes/Coaches Injured & Insists FINA Does Have Legal Basis For Full Russia/Belarus Ban: Discrimination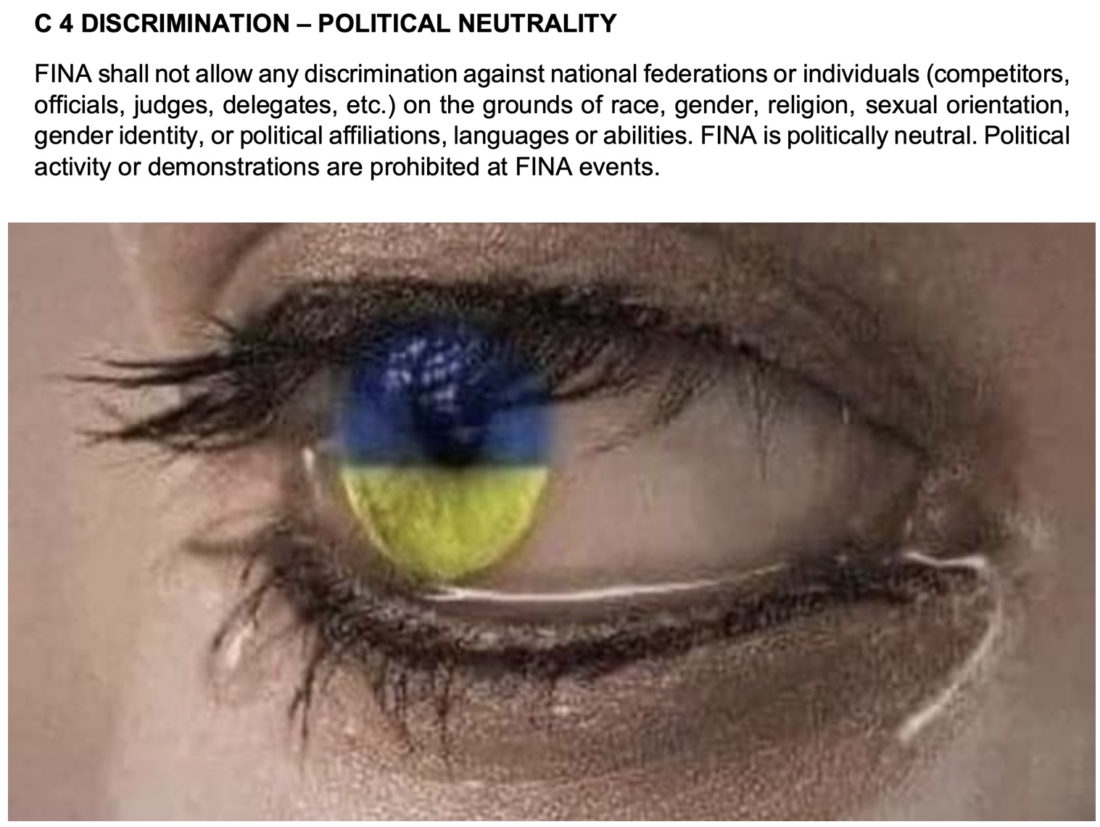 The Ukrainian Swimming Federation has claimed that some of its athletes and coaches have been injured in the Russian invasion of their country and insists that FINA honour its Constitutional obligation to forbid discrimination on political grounds by removing Russians and Belarussians from the World Championships in Budapest this June.
FINA yesterday announced its decision to allow Russians and Belarussians to compete on grounds that there was "no legal basis" to remove them.
Ukraine begs to differ. Its challenge at a time when the nation is under attack from Russian troops sent by Vladimir Putin, the president and former Soviet KGB operative who has been stripped of the Olympic Order and the FINA Order since Sunday, is a fascinating one. The interpretation of C4 Discrimination and handling an apparent contradiction are now in focus, along with the importance of making rules and regulations as clear as they possibly can be.
C4 DISCRIMINATION – POLITICAL NEUTRALITY states:
"FINA shall not allow any discrimination against national federations or individuals (competitors, officials, judges, delegates, etc.) on the grounds of race, gender, religion, sexual orientation, gender identity, or political affiliations, languages or abilities. FINA is politically neutral. Political activity or demonstrations are prohibited at FINA events."

FINA Constitution
FINA has interpreted its rule to mean that it cannot punish athletes on the basis of political acts in its country, even when those acts are acts of war against a sovereign nation.
Discrimination works two ways, however. In a situation in which Ukrainians have been discriminated against on political grounds because war will prevent them – but not athletes from the aggressor countries – from being able to attend and race in good form for prizes and associated funding at the World Championships, Andrii Vlaskov, president of the Ukrainian Swimming Federation, argues that FINA can cite its constitution to impose a heavier sanction on Russia and Belarus than it announced yesterday.
In a letter to FINA today in which he calls on Russian and Belarussian athletes to agree to a ban and take "an active position to stop the aggression against Ukraine and return [to sport] on an equal footing", Vlaskov describes Russia's attacks as a "high threat to the life of our athletes and coaches" if they attempt to get passed Russian military blockades and convoys to take up offers of support from neighbouring countries.
The Czech Swimming Federation, yesterday, and the German Swimming Federation, DSV, have made fine offers of solidarity to Ukraine Athletes to house and feed them and provide training facilities for them. However, Vlaskov suggests that many will simply not be in a position to take up the offers.
Vlaskov adds: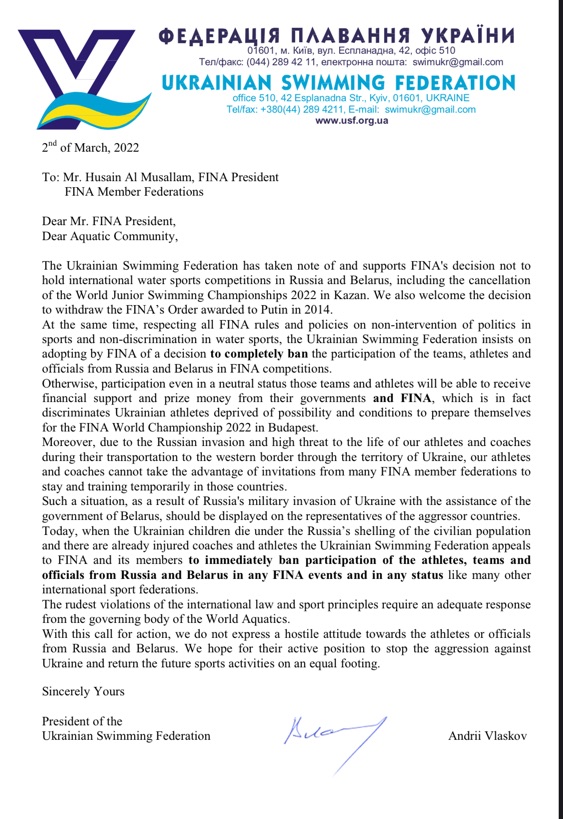 "Today, when the Ukrainian children die under the (sic) Russia's shelling of the civilian population and there are already injured coaches and athletes, the Ukrainian Swimming Federation appeals to FINA and its members to immediately ban participation of the athletes, teams and officials of Russia and Belarus in any events and in any status" in common with action taken by other International federations.

Andrei Vlaskov
Vlaskov cites the anti-discrimination rules of FINA before noting that the organisation he leads "insists on [FINA] adopting a decision to completely ban the participation of teams, athletes and officials from Russia and Belarus."
His grounds are clear: while Ukrainian athletes have been "deprived of possibility and conditions to prepare" for Budapest World titles, Russians and Belarussians who can continue to get ready "will be able to receive financial support and prize money from their governments".
FINA appears to have interpreted the rule as meaning that they cannot bar Russians or others on the grounds of political events. However, those same political events mean that FINA has accepted that it will discriminate against Ukraine athletes as a direct consequence of the invasion of its country by Russia, which has Belarus as accomplice. The war brought by Russia on a sovereign nation is said to have cost almost 10,000 lives, more than 2,000 of them civilians, among them children.
The Presidency of the International Criminal Court ("ICC" or the "Court") has assigned the crisis unfolding in Ukraine to Pre-Trial Chamber II after ICC Prosecutor, Karim A.A. Khan QC asked for a case to be opened to investigate alleged war crimes and crimes against humanity in Ukraine from 21 November 2013 onwards.
Vlaskov believes FINA would have grounds to impose a ban on Russians and Belarussians, stating: "The rudest violations of the international law and sport principles require an adequate response from the governing body of the World Aquatics."
He insisted that there was no hostility in Ukraine against Russian and Berarussian athletes and looked to them to engage in Fair Play, namely, for them to take "an active position to stop the aggression against Ukraine and return [to sport] on an equal footing".
Related SOS Coverage
British Swimming To Boycott 2022 World S/C Titles & 2024 Euro Champs If They Stay In Kazan, Russia As FINA Says 'No Legal Basis' To Ban Athletes
Vladimir Putin Stripped Of FINA Order But Russia / Belarus Athletes Only Barred From Flying Flag
No More Bubbly – Putin Stripped Of Olympic Order As IOC Bosses Tell Feds To 'Ban All Russian Athletes & Officials'
Ukraine Athletes Call On IOC To Ban All Athletes & Olympic/Paralympic Committees Of Russia/Belarus
Kazan Stripped Of World Championships As FINA Responds To Ukraine Invasion & Pressure From Swim Feds
Ukraine Swimming Federation Calls On FINA To Suspend Russia / Belarus & Cancel All Events
Nordic Swimming Feds Call On FINA To 'Immediately Suspend Russia & Belarus' Pending Peace In Ukraine
Red Card For Russia Is The Only Moral & Ethical Response From Sport To Putin Power
IOC Urges FINA & Other International Federations To Cancel All Events In Russia Or Belarus; LEN Scraps Russian Competitions
FINA Cancels Two Events But Leaves World Championships, Junior & Senior, "Under Close Review" As Putin's Murderous Attack On Ukraine & Its Sovereignty Continues
Blood In The Water & Why Sports Leaders Cannot Allow Warmongers To Use Sport As A Bargaining Chip In Their Olympic Power Games
Putin Putsch: FINA Must Cancel All Events In Russia To Guarantee Athlete Safety As No1 On 4-Point Priority Plan To Honour Olympic Charter "Neutrality" Key To Autonomy
The Red Lines Between Beijing 2008, 2022, Olympic Governance, Games Investors & Athletes Demanding Cultural Revolution