Tracy Caulkins & The 40th Anniversary Of A Record Lost In A Career Of Gains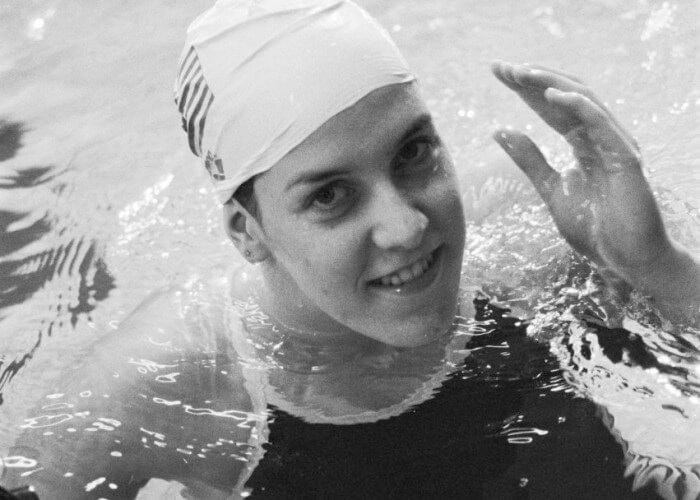 Sunday Essay: Anniversaries are usually celebrated not for the loss but the gain of something but this day is different, one that marks a 40th milestone graced with the name Tracy Caulkins on it because of the status she relinquished, one that changed the face of women's medley swimming for almost three decades.
Consider this from the dark chapters of swimming history, keeping in mind that the protagonists in focus are underage teenage girls: after Petra Schneider shaved Caulkins' 200m medley world record back to 2:13.00 on May 24, 1980, from 2:13.69, set by the American on January 5, 1980, almost 28 years would pass before the global standard would return to the ownership of a swimmer that did not tow the doubt of doping to her blocks.
Australian Stephanie Rice, with a 2:08.92, buoyed at Australian Olympic trials by a 50% polyurethane suit that would, with other non-textile garments like it, be banned from January 1, 2010, became only the fifth world-record setter since Caulkins over 200m medley on March 25, 2008.
The gap between Caulkins and Rice was filled by Schneider, GDR teammate Ute Geweniger (2:11.73, July 4, 1981); then, in the China-Crisis torn 1990s, Li Lin (2:11.65, July 30, 1992 for Olympic gold), and Wu Yanyan (2:09.72, October 17, 1997). Li never tested positive but she raced at a time when the Chinese swimming program was about to be swamped by doping cases, some reported in 1993-95 dating back to 1990.
Flick the history page over and ponder the pattern over 400m medley: Caulkins set the World record at 4:40.83 for the World title at 16 years of age in Berlin on August 23, 1978. Those were the World titles that went without Olympic distance freestyle champion Petra Thumer and GDR teammate Christiane Knacke, who a year before had become the first woman ever to break the minute over 100m butterfly.
Reports from the time suggest one of them slipped in a shower and hurt herself, while the other was suffering from a heavy cold. When time caught up with truth, both had been taken south to the IOC-accredited laboratory and associated clinic at Kreischa in Saxony to be 'cleaned up' after they had tested positive for elevated testosterone levels, according to Stasi (state police) documents uncovered after the fall of the Berlin Wall in 1989.
Caulkins lost her 400m medley mark to 17-year-old Schneider on March 30, 1980. The East German clocked the first sub 4:40 with a 4:39.96 at the GDR Vs USSR Freundshaftsländerkampf (friendly) in Leningrad in the Soviet Union. At that pace, she won the race over 1976 Olympic champion Ulrike Tauber by 10 seconds.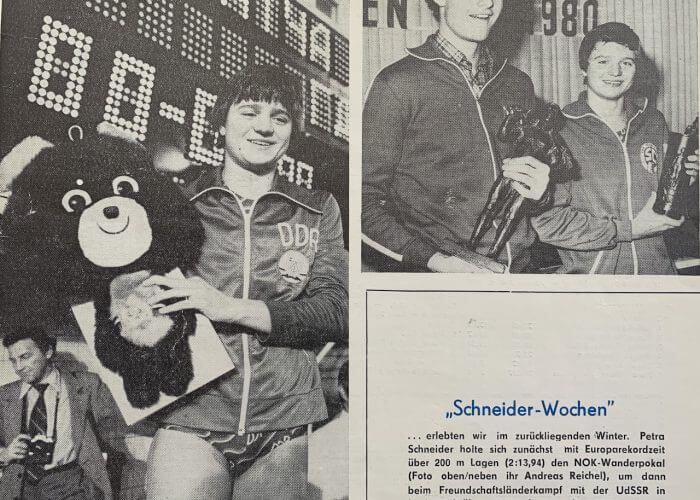 That same year, Schneider would take the 400m mark down twice again, first in 4:38.44 in Magdeburg 40 years ago to the day this coming Wednesday, three days after having claimed Caulkins' 200m mark for Olympic gold 10secs ahead of Britain's Sharron Davies in Moscow, the American barred by her nation's boycott, Schneider left the world mark at 4:36.29. Davies was the first swimmer home with a clean record, state records would prove after the fall of the Berlin Wall in 1989.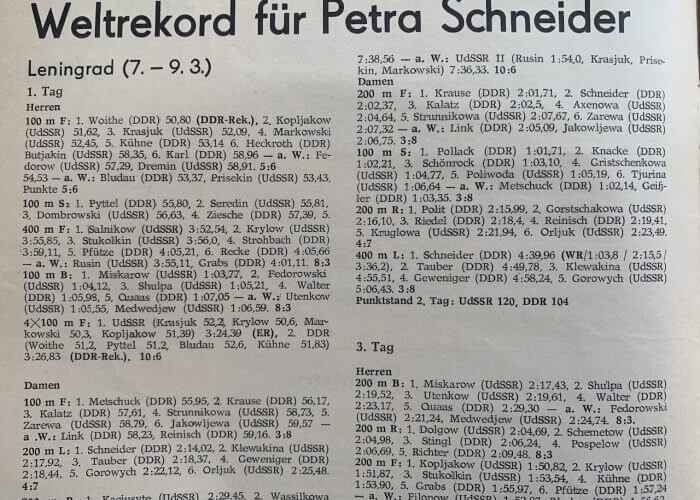 Two years later at the World Championships in Guayaquil, Schneider would claim double medley gold, the 200m title her's in 2:11.79, Geweniger on 2:13.38; the 400m title Schneider's in the last world record of her career, 4:36.10, teammate Kathleen Nord second in 4:43.51. Caulkins collected two bronzes, in 2:15.91 and 4:44.64, the pain of 1980 coursing in her yet just as Oral Turinabol coursed in those ahead of her.
Schneider's 1982 world mark would survive until China's Yan Chen took it down to 4:34.79 on October 13, 1997 at the same All China Games meet that saw Wu Yanyan take the 200m pace below 2:10 for the first time. Cue deep and lasting skepticism at a time when China's doping count in the pool had exceeded 50 suspensions, most of them related to positive tests for high-end banned substances returned by underage teenage girls.
So, recap that history: over 200m medley, 28 years went by with the world record in the ownership of deep doubt; and over 400m medley, 22 years went by between Caulkins and Yana Klochkova's 4:33.59 for the Olympic title for Ukraine at Sydney 2000 on September 16, coming up for 20 years ago. That's half a century in which women swimmers were locked out of pace-setting on medley by GDR and Chinese swimmers.
Tracy Caulkins – A Great Of The All-Rounder Pantheon
Tracy Caulkins was one of the all-time great all-rounders (U.S. records all strokes, plus medley, in her day) whose career played a part in the greatest all-round career there ever was before the owner of that crown, Michael Phelps, was even born.
As a boy, coach Bob Bowman – who became a Beethoven fan with a degree in developmental psychology, minoring in musical composition – had been taken along by his dad to watch a swim meet featuring Caulkins.
Born the year after Caulkins' three-gold-medal Olympic swansong at Los Angeles, Michael Phelps walked into Bowman's pool in Baltimore in the mid-1990s.
Phelps's arrival was the answer to Bowman's prayers after several failed and "overzealous" (to use the coach's own word) attempts at translating to sports coaching the rigour and repetition drummed into him as a music scholar. Bowman learnt to play the piano at 10. At 12, Bowman accompanied his dad to a meet. Caulkins topped the bill. Watching her was "like hearing an orchestra play", Bowman would say.
The first mention of Tracy Caulkins in the mainstream media can be found in the New York Times archive of April 7, 1977. The headline read "John Naber captures 14th Amateur Athletic Union title in 200-yard backstroke".
Four golds and a silver in the bag at the 1976 Olympic Games, Naber was living the life of the swim giant he was with an effort that just missed his own record.
The first sentence after the top line on Naber was this summing up of the best of the rest: "Tracy Caulkins twice lowered the US women's record in the 100-yard breaststroke, to 1:03.89 in trials and 1:03.08 in finals. Linda Jezek set the US record for the 200-yard backstroke at 2:00.52. Jennifer Hooker set the US record of 4:42.62 in the 500-yard freestyle. Nancy Hogshead set the US record of 54.57 in the 100-yard butterfly."
The report makes no mention of her age: Caulkins is three months past her 14th birthday.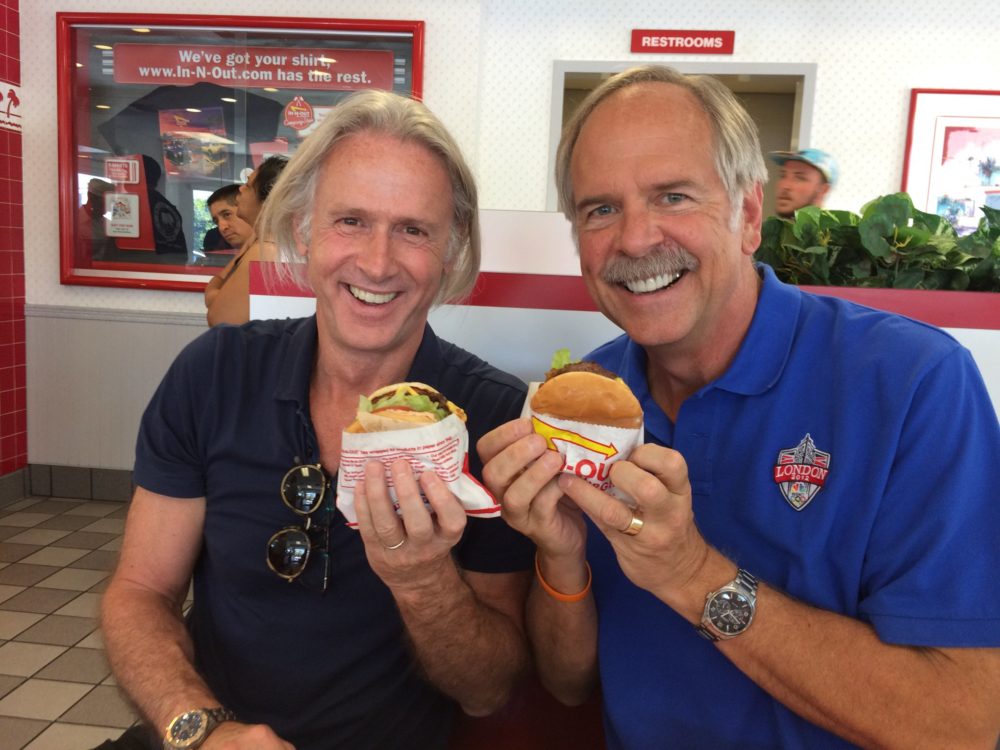 A day after two new standards in two races, the New York Times reports on the third day of action at the AAU short-course swimming championships in Canton (Ohio): "John Naber captures 15th AAU title as he sets record of 49.31 seconds in 100-yard backstroke; Alice Browne becomes 1st woman to break 2-minute barrier in 200-yard butterfly in US record of 1:57.84; and Tracy Caulkins sets new US record of 2:16.98 in 200-yard breast-stroke."
Skip forward to January 1978 and Caulkins, her versatility showing through three days before her 15th birthday, is in record-breaking form at the 1st US women's international meet at Brown University in Providence, Rhode Island. American women won 16 of 18 events at the meet, Caulkins to the fore on day 1 with U.S. records in 200yd breaststroke and 200yd medley, the latter a U.S. Open mark too.
Caulkins would blaze a train through the whole meet, trimming more than two seconds from the 400y medley U.S. Open record on 4:16.75, inside the mark set the year before by another whose career was blighted by the rot of the GDR's State Plan 14:25, Canada's Nancy Garapick and a 4:19.04.
Caulkins of Nashville, Tennessee, cracked her own U.S. and Open marks with a 2:16.47 in the 200yd breaststroke ahead of soon-to-be world-record holder Russia's Julia Bogdanova, on 2:17.60. The writing was on the end wall: here was a prodigy on the cusp of 15 who by Moscow 1980 would surely be taking on the best of the GDR and hosts USSR for Olympic glory.
In Providence, Caulkins also wiped 2.45 seconds off the U.S. and U.S. Open standards in the 200y medley but the divine guidance the city's name speaks of would not be with her on the Olympic trail for another six years courtesy of stormy political seas brewing.
That day in Rhode Island, Caulkins outdistanced Nancy Hogshead by more than four seconds at 2:00.27, to crunch another of Garapik's marks, a 2:02.72. It would be six years before Caulkins and Hogshead would grace the Olympic podium in a USA 1-2 over 200m medley at the 1984 Los Angeles Olympic Games void of GDR results courtesy of boycott returned.
Berlin 1978
In August 1978, Caulkins converted her promise to global waters at the third World Championships at the pool used for the 1936 Olympic Games or "Hitler's Olympics". The venue adjoined the huge stadium that was supposed to have witnessed the triumph of the Aryan race. It didn't, the Fuhrer's fury carved in the stone that records what happened under a seas of swastikas: Gold – 100 m . . . Owens, USA; 200 m . . . Owens, USA; Weitsprung . . Owens, USA. Jesse's joke was on them.
Caulkins was in Berlin just six years after the Munich 1972 Olympics had wept over the murder of Israeli athletes at the hands of terrorists. There would be no repeat, Germany had declared. As such, we find a contemporary Globe and Mail report of August 22, 1978, noting from the World Swimming Championships:
"Police cars lurk outside the athletes' hotels, and the swimming stadium is full of friendly looking young men in warmup suits who look just like swimmers, until they ask to see your pass. Passes there are in plenty, no fewer than 17 categories all letter-and color-coded to show who is what and where allowed to wander. Different classes of passholders are kept in almost watertight compartments. During competition, for example, the press people are strictly separated from the athletes' section, and they can get only brief, crowded interviews with the winners after the races. To be fair, it is probably the only way to handle things, considering the numbers on hand. The organizers, who planned for 500 press people, have been swamped by more than 700 journalists, commentators and technicians. That is to cover a total of 828 competitors from 49 countries."
Fast forward to recent World Championships and 700 journalists would be a flood compared to the attention swimming receives today.
Wrote the Globe and Mail: "The pack of 'journalists' includes another relic from the past, a certain Mark Spitz. Spitz, who won a remarkable seven gold medals in the Munich Olympics, is doing commentary for television and shilling for a swimwear company. Not a single world record of his remains, and today the talk is all of the latest U.S. wunderkind, Tracy Caulkins."
Berlin 1978 produced 13 world records in the 29 swimming events. Caulkins, 15, was the star of the show, with gold in the 200m butterfly, 200 and 400 medley, 4x100m free and 4x100m medley, a joint silver in the mix, too, over 100m breaststroke.
In the 200m medley, Caulkins set a world record of 2:14.07, three weeks after having established the first global standard of her career, a 2:15.09 at Woodlands in qualification at U.S. Trials and Championships. Over 400m, Caulkins' 4:40.83 took down Tauber's Olympic-gold winning 4:42.77 from Montreal on July 24, 1976.
The last day of competition in Berlin was marred when Russian swimmer Viktor Kuznetzov was disqualified and stripped of his bronze medal in the 100m backstroke after two dope tests proved positive for what was described colloquially in some media at the time as "horse hormones".
The Russian team immediately appealed the disqualification, claiming the tests were part of a plot to discredit the Soviet Union. The swimmer's samples could have been switched with someone else's during testing, a Soviet spokesman suggested.
In a letter to all members of the International Swimming Federation (FINA), the Soviet Swimming Federation denied that Kuznetzov had taken anabolic steroids, while Russian head coach Sergei Waitzhekowski was reported as saying: "I spit on FINA. The urine samples were in the fridge for 24 hours and anyone could have exchanged them."
Los Angeles 1984
On August 3, 1984, The Washington Post started its report: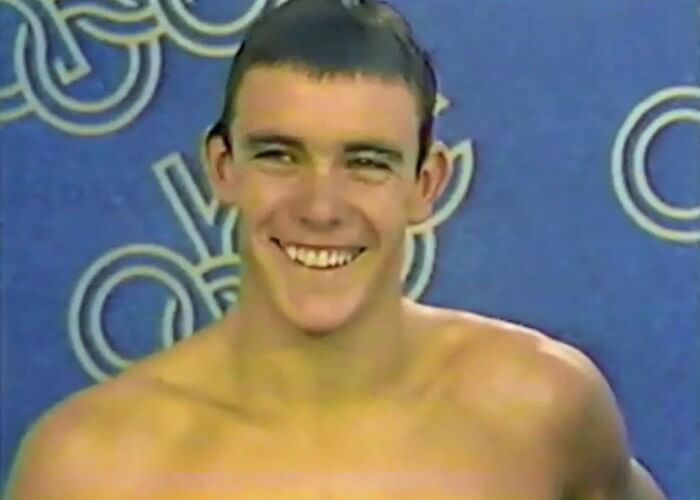 "On any other night, Rick Carey, Tracy Caulkins, Tiffany Cohen or Nancy Hogsheadcould have been the star of the Olympic swimming. But tonight, the four Americans had the spotlight stolen by a 17-year-old Australian named Jon Sieben, who pulled one of the most extraordinary upsets in Olympic swimming history."

Washington Post – image Jon Sieben, courtesy YouTube
A fair way in to a report on all the action, topped by the Sieben shocking world-record holder Michael Gross "The Albatross" of West Germany. Gross' world record of 1:57.05 was downed by 1/100th of a second over 200m butterfly.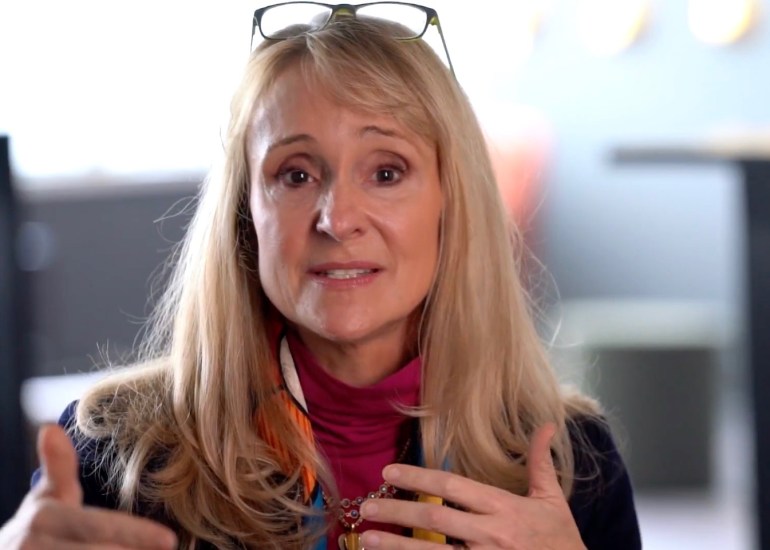 On July 29, Caulkins claimed the 400m medley crown in a U.S record of 4:39.24 for her first Olympic gold 9secs ahead of Australian runner-up Suzanne Landells. That same day, Nancy Hogshead, who would go on to become one of the world's leading advocates for Safe Sport and women's rights in sport, and USA teammate Carrie Steinseifer made history with joint gold in the 100m freestyle, both Olympic champions in 55.92. On August 3, there were two more golds for Caulkins: a dominant victory in the 200m medley, in an Olympic record of 2:12.64 led a U.S. 1-2 with the 2:15.17 for silver from Hogshead.
Caulkins, swimming breaststroke and Hogshead, swimming freestyle, then each won their third gold medals of the Games, as members of the 4x100m medley relay, alongside backstroker Theresa Andrews and butterflyer Mary T. Meagher, who each won their second golds.
That was Caulkins' farewell. She handed over to another denied what might have been her best Olympic moment back in 1980, Meagher, in second place behind the West Germans. It was Meagher who put the United States in command, opening up a huge lead for anchor Hogshead to bring home the gold.
There was much talk in the media of Caulkins heading for retirement "without having claimed back the medley world records", as the Post report put it when contemplating the swimmer's imminent retirement.
Why no world record, Caulkins was asked after the 200m medley. She replied:
"I think I was too keyed up for the IM. I just couldn't relax, it was a hard swim, but a win."
A hard career, too, in ways that ought not to have been. But it all ended in two wins that day in Los Angeles.
Caulkins' pantheon and legacy must forever be viewed through the prism of the Sporting Crime of the 20th Century but to those who know she will forever be known as one of the most versatile, skilful and thrilling swimmers of all time.
Tracy Caulkins On Retirement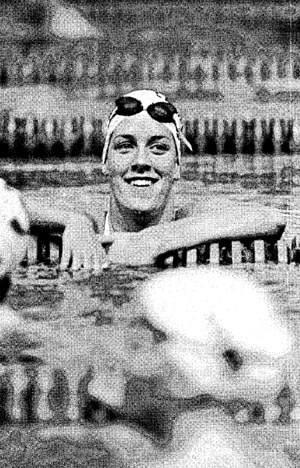 On the day of her last triumphs, the New York Times wrote:
"The best swimmer, man or woman, in U.S. history, if not world history, will climb out of the pool tonight as a competitor for the last time … whenever she goes swimming in the future, it will be because she wants to – not because she has to."
"She doesn't want to talk about it now," Randy Reese, her coach at the University of Florida, told the paper, "but I'm recommending that she retire. She's had a tremendous career in swimming. Now it's time to start another career in broadcasting and to take advantage of the endorsement opportunities available to her."
By then she had set 63 American records and five world records – and won a record 48 national titles, having surpassed Johnny Weismuller's total of 36 in 1982. Caulkins won national titles in all four strokes and medley. A rare feat anywhere in the world; an outer-orbit fly past in the context of the United States.
Back on August 6, 1984, Tracy Dodds, of the Los Angeles Times, paid tribute to Caulkins in a feature looking back at the swimmer's career. She wrote:
"When Tracy Caulkins started swimming, she would swim nothing but the backstroke. She did not like to put her face in the water. She did not like to get wet and cold, either, so she would shiver and whine, playing the pathetic, skinny little 8-year-old, until the coach told her she could wrap up in a towel and sit at the side of the pool. All true, she admitted, laughing as the legends were brought up yesterday afternoon."
Caulkins was asked if she could recall her first press conference after she claimed her first world record back in 1978. She replied:
"Oh, I was so bad. I couldn't believe they were making me do that. I had just performed well in the pool and then they wanted me to come in and perform for the press. I couldn't believe what they wanted from me – whole sentences!"
Peering into the rear-view mirror, Caulkins noted:
"My swimming career has been so enjoyable, so full of fond memories, that this is kind of sad. But it's exciting, too. It's time to go on to other things."
Don Gambril, the U.S. Olympic coach, had called her the greatest female swimmer ever. In 1984, he said:
"Her longevity, her world records in so many different strokes and at different lengths all prove that. She's a genuine champion, and she's been an inspiration to us all."
In introducing her to her final press conference in Los Angeles, Jeff Dimond, public relations director for United States Swimming, called her "the greatest female swimmer in the world, bar none."
When she was 15, she was the youngest winner in the history of the Sullivan Award, given by the AAU to the nation's top amateur athlete each year.
At 21, she was about to leave the stage. Why?
"I guess it was mainly the general feeling that it was time to move on in my life. Going into the Olympics I had a good idea that this was going to be it . . . but it's hard to finally say it, to finalize it."

"After the last relay. I kinda thought, 'Well, I don't know. It's hard to say it's finished.' That's so final. But I'm pleased with the decision. There was no main reason, just a feeling it was time to step on in life.

"Also, my dad said, 'You're 21 years old!'"
Many years before, Tom Caulkins had told her, as well as her older siblings, that however far they got in the pool was fine with their parents. He told the Washington Post in 1984:
"There were times the kids would be in three different pools at three different times. My wife and I would meet in a traffic tie-up, she going one way and me another; we'd wave. At times like that, I'd wonder, 'What in the world are we doing?' But several years ago I said if the kids never won another medal it would be worth all we've invested. It's what strong families and strong relationships are made from."
At her final press conference she was asked about endorsements and how close she might get to Carl Lewis. She laughed and said:
"I've heard about him making like $900,000 a year or something – and here we are in debt."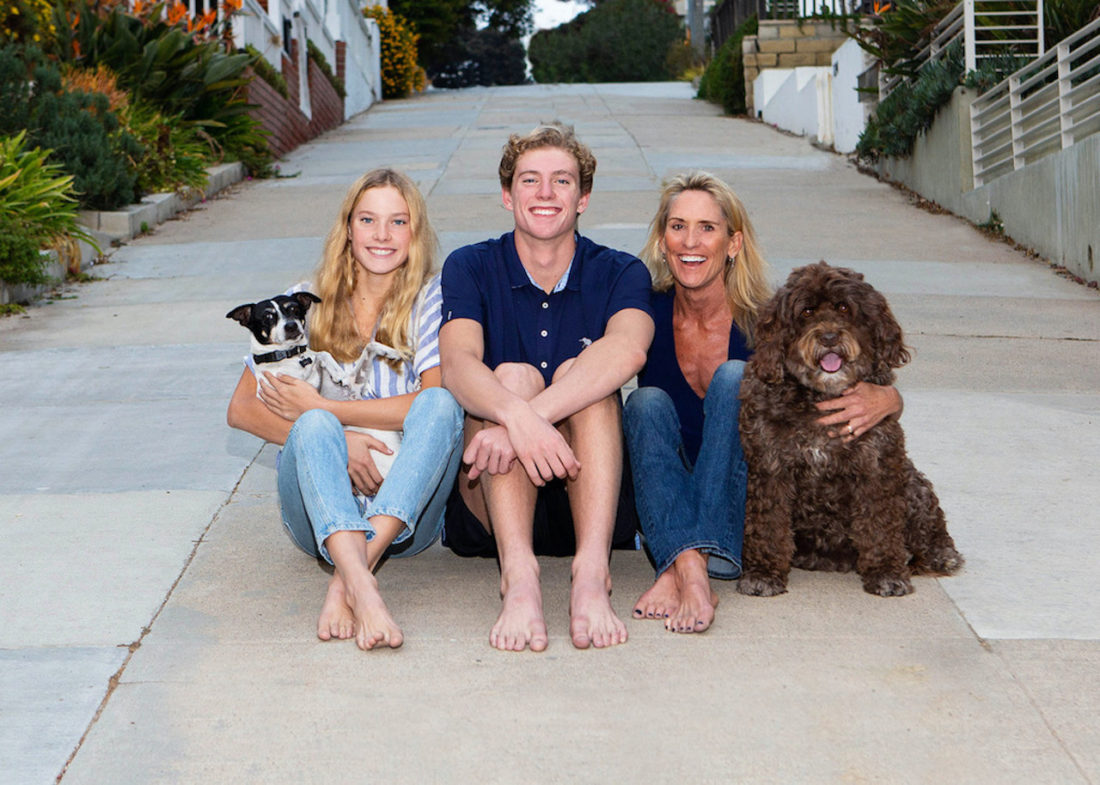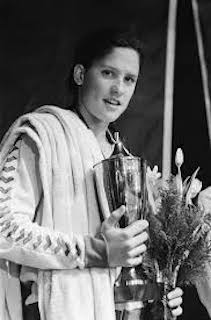 The scars of Moscow 1980 were accompanied by the soaring determination and drive to overcome that Caulkins had shared with other teammates who made good at Los Angeles 1984, like Mary T. Meagher, Rowdy Gaines, Steve Lundquist, Nancy Hogshead, Theresa Andrews. Some world record holders, like Sippy Woodhead, were never seen in Olympic waters at their very best. Others, like Craig Beardsley, were never seen in Olympic waters at all.
Caulkins retired with a year remaining at the University of Florida. She said that August 5, 1984:
"I know I'll miss swimming. I know that when I go to see my college team swim a collegiate meet, I'll want to go put my suit on . . . but if I swam next year, after accomplishing what I wanted to accomplish in the Olympics, it would be just for enjoyment. I couldn't train with the intensity that Randy Reese would expect from me. If I get out there, I have to give it my all, and I don't think I could still do that. Randy understands that and he's being very supportive. That makes this a lot easier."

"Now, I can go out dancing and stay out late. Now I can go to the beach or to the lake – And not to swim."
Swimming would remain a part of her life though. In 1991, in Nashville, she married Australian sprinter Mark Stockwell. The couple had five children, among them the sprinter William Stockwell, while Caulkins, as Tracy Stockwell, serves on the Board of Directors of Swimming Australia.
In 2011 during the Australian floods that year, residents of one Brisbane street among many found themselves having to shift furniture to upper levels of their homes as the Brisbane River at Yeronga burst its banks.
The street was probably among the safest places to be in a slow-rising flood: among the residents, two Olympic champions with their fair share of experience of tides high and low, Susie O'Neill and Tracy Caulkins.