Tom Dean, James Guy, Abbie Wood and Freya Anderson Dominate 4×200 Mixed To Keep GBR On Track For A Medal In Every Relay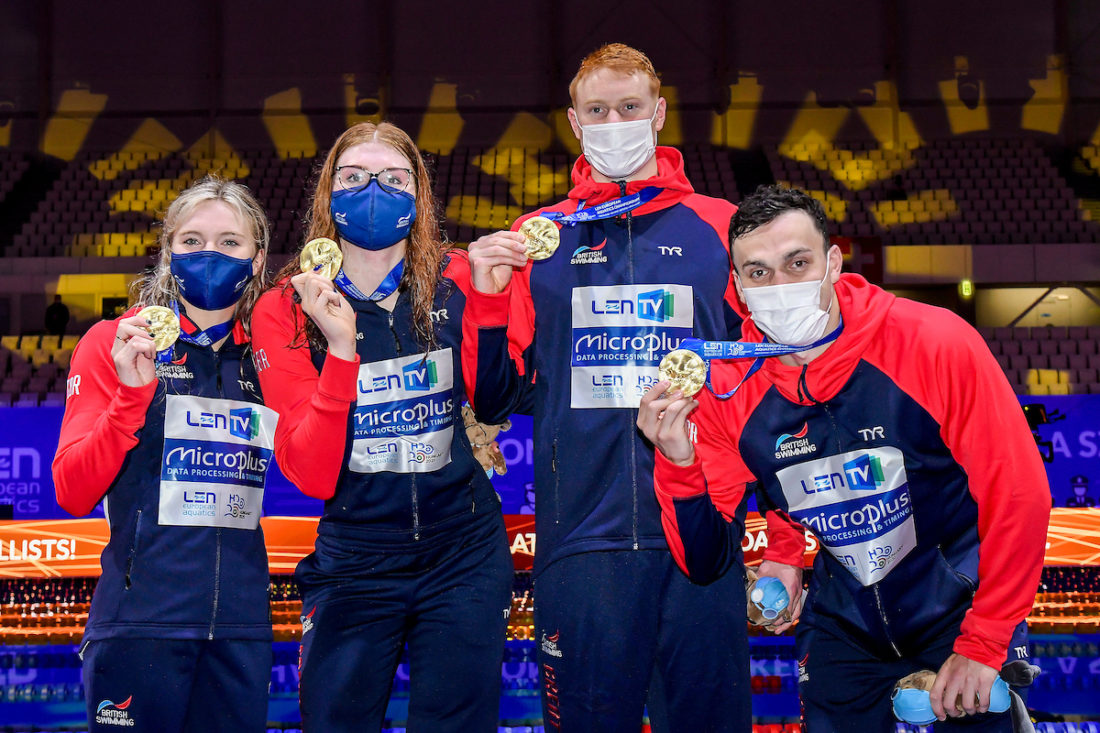 The Mixed 4x200m Freestyle quartet of Tom Dean, James Guy, Abbie Wood and Freya Anderson claimed gold in a European record gave Britain its second gold of the day after Adam Peaty's victory, their 7:26.67 a Championship record and World best.
The latter is an American-style "World Series" jest in Europe: the mixed 4×200 free is unique to the continent's showcase competition, is far removed from Olympic waters – and does not count for any records but its own.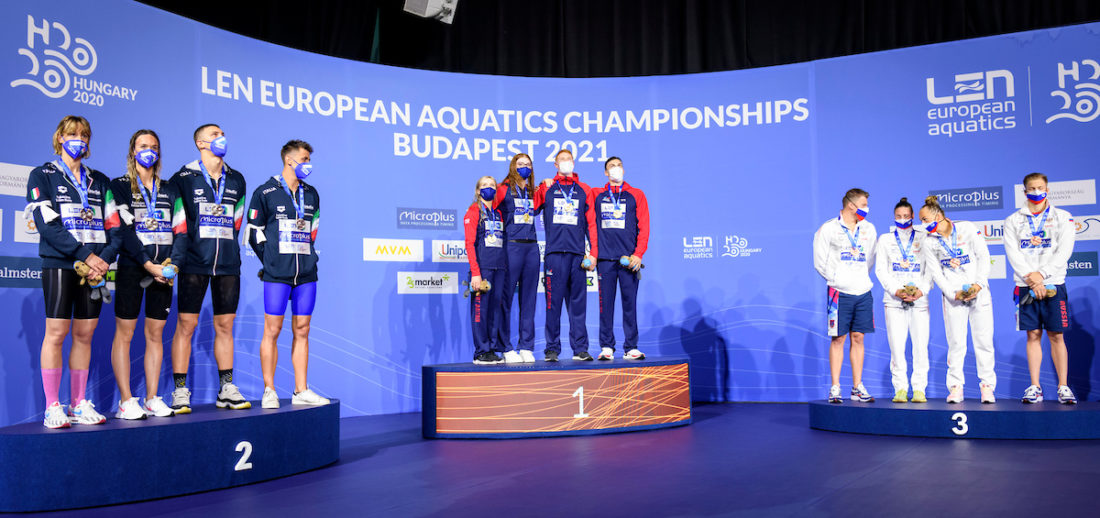 None of which prevented the British quartet from putting their best hand, foot and ambition forward for a dominant victory over teams from Federica-Pellegrini-powered Italy and Russia and keeping Britain on target for a full compliment of relay medals at this meet.
Tom Dean got the party started in 1:46.54, followed by a stalwart of British medal-winning relays for the past several years, James Guy, clocked 1:45.43 to give the British quartet a lead of more than a bodylength over the Italians, the Russians a swimming of an arm further away.
In went Abbie Wood, chased by the queen of 200m swimming, Pellegrini. The Italian chased her quarry down with a 1:55.66 split but Wood refused to yield and a 1:56.678 kept the Brits ahead as she handed over to Freya Anderson, whose 1:58.06 was good for gold and good for the Championship and British record inside, respectively, the 7:28.43 of Germany back when the event was first tested in 2018 and the 7:29.72 that gave a different British quartet the bronze.
Dean, Guy and Anderson came into the line-up to replace Calum Jarvis, Joe Litchfield and Lucy Hope, who got the team into the final. For Wood, Anderson and Hope, the relay meant a second gold in two days, after they helped Britain to victory in the 4x100m freestyle, while for Dean, Guy and Litchfield, the win marked a second medal, too, after they all had a hand in silver in the 4x100m free on day 1.
James Guy – 'One More Gold & 4 really Good Swims'
Guy noted: "This is quite a new team and quite a new event for the world of swimming, but tonight it was a really good swim by all four of us. The main focus here is just trying to progress things on, as the main meet for us is obviously the Olympic Games, but it's another gold for the team and four really good swims."
Wood added: "It's been nice to be part of the relay teams for a change. I've got a day off tomorrow and then it's the start of my individual events, the 200 breast and 200 medley, but this has definitely built my confidence ahead of those events, which are more in my comfort zone!"
Anderson, who at 20 years of age has already won six European medals, was happy, too: "This is a nice confidence boost and a really nice way to get into the meet, to go out there with your team – to have two golds is just a bonus! I'm really excited to get going on the individuals now."
The Podium and Just Shy:
P
L
Team/ swimmers / DoB
200m splits
TIME
GAP
1
4
GREAT BRITAIN DEAN Thomas – 02 MAY 2000 GUY James – 26 NOV 1995 WOOD Abbie – 02 MAR 1999 ANDERSON Freya – 04 MAR 2001
1:46.54
1:45.43
1:56.67
1:58.03
7:26.67 CR
2
5
ITALY BALLO Stefano – 18 FEB 1993 DI COLA Stefano – 11 DEC 1998 PELLEGRINI Federica – 05 AUG 1988 PANZIERA Margherita – 12 AUG 1995
1:46.96
1:46.16
1:55.66
2:00.57
7:29.35
2.68
3
7
RUSSIA SHCHEGOLEV Aleksandr – 06 APR 2002 KRASNYKH Alexander – 19 JUN 1995 EGOROVA Anna – 31 MAY 1998 KIRPICHNIKOVA Anastasia – 24 JUN 2000
1:46.66
1:47.05
1:58.52
1:59.31
7:31.541:46.66
3:33.71
5:32.23
7:31.54
4.87
4
6
ISRAEL LOKTEV Denis – 04 JUN 2000 POLONSKY Ron – 28 MAR 2001 MUREZ Andrea – 29 JAN 1992 GORBENKO Anastasia – 07 AUG 2003
1:48.08
1:48.71
1:57.31
1:58.86
7:32.96
6.29
British Record For Molly Renshaw In 100m Breaststroke Semis
The good news for Great Britain flowed in several events, including semis. Molly Renshaw qualified third fastest for the final in 1:06.21, a British record inside the 1:06.34 clocked by Siobhan-Marie O'Connor in 2016 on her way to taking silver a hand behind Katinka Hosszu in the 200m medley at the Rio Olympic Games. O'Connor was forced to withdraw from this season through illness.
A 200m specialist by trade, Renshaw used her strength to devastating effect down the back end, and was clean on the wall to advance third quickest overall – Sarah Vasey was fifth in the same race in her second fastest ever swim and will join her compatriot in tomorrow's final.
Of her record-breaking performance, Renshaw said: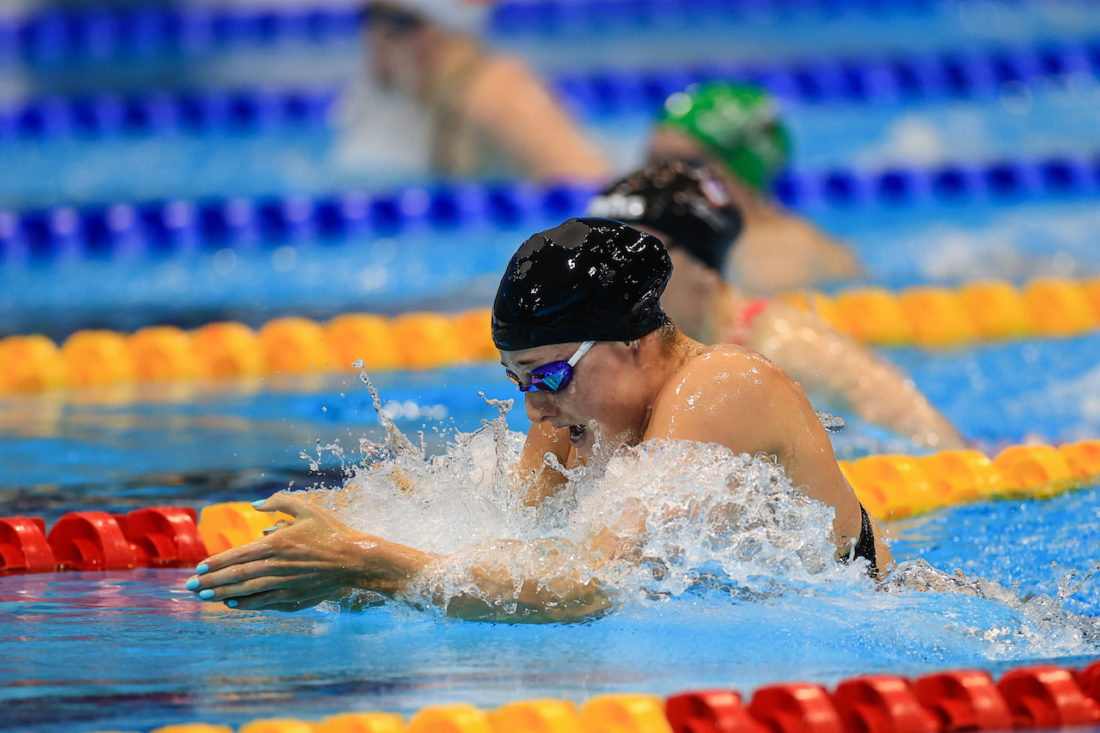 "I'm over the moon with that – I'm a bit surprised to be honest! I know I made a few mistakes at trials and so the time wasn't as quick as I wanted, but I didn't expect to come here and drop that much time. When it comes to the 100, sometimes I try too hard and I try to up the rate and end up going slower. So this morning I took the [stroke] rate down a few notches, tried to keep it controlled and then bring it home as well as I could with my legs – it seems to have worked, so I'm really happy!"

Molly Renshaw – photo by Georgie Kerr, courtesy of British Swimming
The Qualifiers:
P
S
L
Nation
Swimmer
DoB
R
Time
Gap
 
Q
1
2
5
SWE
HANSSON Sophie
02 AUG 1998
0.73
1:05.69
Q
2
1
4
ITA
CARRARO Martina
21 JUN 1993
0.63
1:06.09
0.40
Q
3
1
6
GBR
RENSHAW Molly
06 MAY 1996
0.67
1:06.21
0.52
Q
4
2
4
ITA
CASTIGLIONI Arianna
15 AUG 1997
0.63
1:06.24
0.55
Q
4
2
2
RUS
EFIMOVA Yuliya
03 APR 1992
0.83
1:06.24
0.55
Q
6
1
2
IRL
MC SHARRY Mona
21 AUG 2000
0.71
1:06.42
0.73
q
7
1
7
EST
JEFIMOVA Eneli
27 DEC 2006
0.68
1:06.47
0.78
q
8
1
3
GBR
VASEY Sarah
29 AUG 1996
0.67
1:06.53
0.84
q