Tokyo 'Going To Be Phenomenal' Says Canada Boss Atkinson, Sustaining Performance Over 9 Days Among Key Challenges For All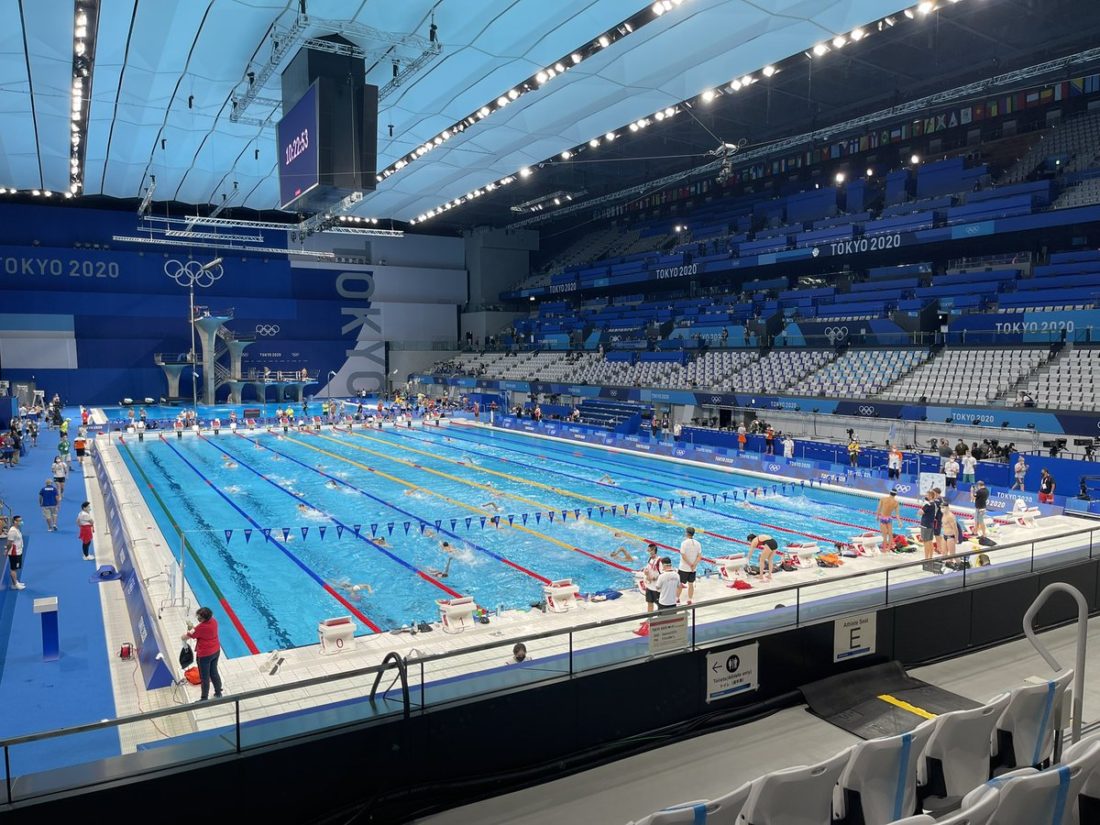 John Atkinson, head of performance for Canada, believes the coming nine days of racing at the Tokyo Olympic Aquatics Centre "is going to be phenomenal", among key challenges for all "how you sustain performance, how you recover, how you look after yourself".
It's been a long haul to get to Tokyo for swimmers, with some nations more affected by lockdowns and local restrictions than others during the pandemic. At the Tokyo competition pool today, Atkinson was asked if there was a sense of relief among athletes that they finally got to a Games that was postponed for a year and had long been at risk of being cancelled altogether.
Said Atkinson through his mask: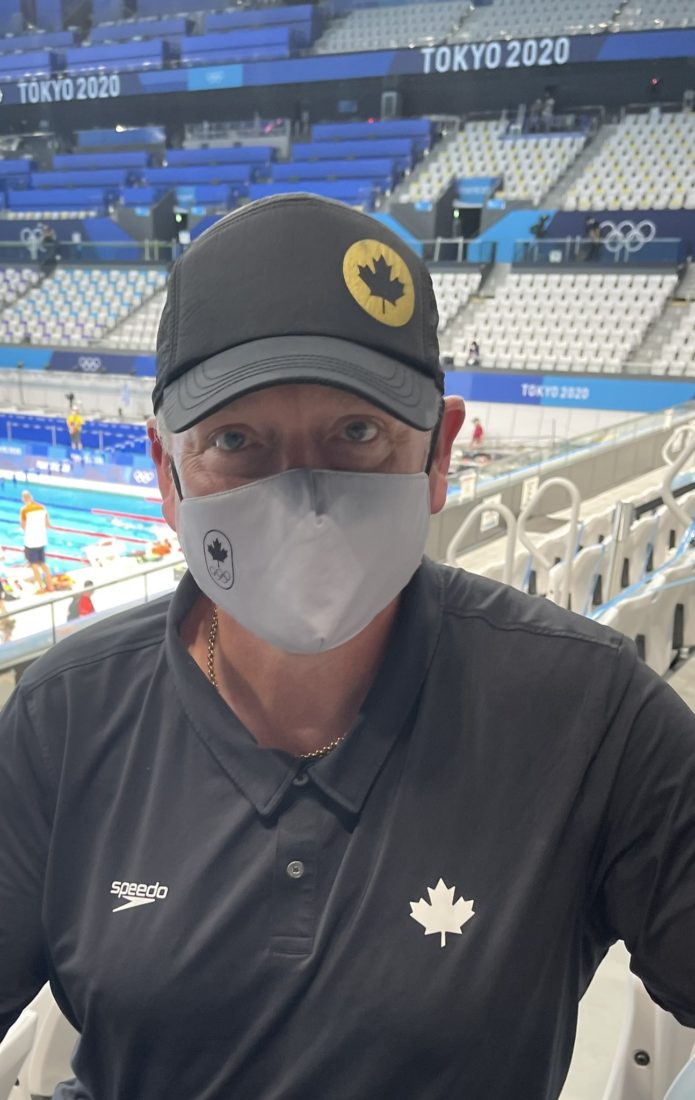 "I think even though they're focused on what they can control, and that's their own training and their own performance, when you push trials back twice there becomes some doubt as to how this is going to happen. So when we could actually confirm the trials were happening, then I think that everybody got on and raced and raced very, very well at the trials.

"We stayed in Canada for the staging camp rather than going to the city of Toyota and when everybody arrived there and I did the first team meeting we talked about how it was almost two years to the day that we had actually met in person and that was at the end of the last session in Gwangju at the 2019 World Championships."

John Atkinson – image courtesy of the man himself
Canada has a team capable of doing damage and muscling in on the medals over the nine days of racing, starting with evening heats on Saturday. Penny Oleksiak will defend the 100m freestyle title she won as a 16-year-old who celebrated four medals at Rio 2016 as the breakthrough act of the Games five years ago. Her victory in the 100m freestyle included a snap with American Simone Manuel, who missed the cut for her own defence of the crown when she fell shy of making the final at USA Olympic Trials last month.
Sudden success and the fame that goes with it take time to adjust to, says Atkinson, when asked about Oleksiak and whether she had been able to stay motivated from 16 to 21 years of age:
"When you reach the pinnacle of your sport there is an adjustment period and I think a four-time Summer Games medallist at 16-years-old was unique for Canada. There comes an adjustment period of finishing school with sorting out life as well as becoming accustomed to being a household name.

"I think it has been a journey and she has found where she's at this last year again in training back at the High Performance Centre in Ontario. I think that it's fair to say there was an adjustment period to everything that happened and now she is very focused on what she needs to do here and her performances at the trials showed that."

John Atkinson … Photo: Simone Manuel and Penny Oleksiak – snap gold! – by Patrick B. Kraemer (all rights reserved)
Many roads and unusual pathways had to be taken to get to the Tokyo Games but despite all the challenges, Atkinson thinks we're in for a spectacular nine days of racing:
"I think it is going to be phenomenal. The challenge with any Olympics is who can be recovered to swim multiple times in nine days so by the time you come down to day nine, are your athletes still able to perform to their best when they might have also raced on day one. Nine days – how you sustain performance, how you recover, how you look after yourself, are going to be the key things because not always the fastest swimmer wins."
Canada's swim teams spans a 14-year-old debutant on the edge of podium pace – Summer McIntosh – through to a 37-year-old on the comeback trail after being a World champion and Olympic podium placer in his twenties and now heading into his fourth Games – Brent Hayden. How does that kind of age-and-experience dynamic work out?
Says Atkinson: "I think one of the things we have worked on over the last five, six years is this focused, adaptable and professional calm and now we've started talking about resilience. And for everybody to be able to do their own thing in a team structure and environment.Issues are only issues if you make them issues so we don't have any of them – they just keep focused on what they need to do."
Hayden sets an example for younger team members simply by doing just that, says Atkinson: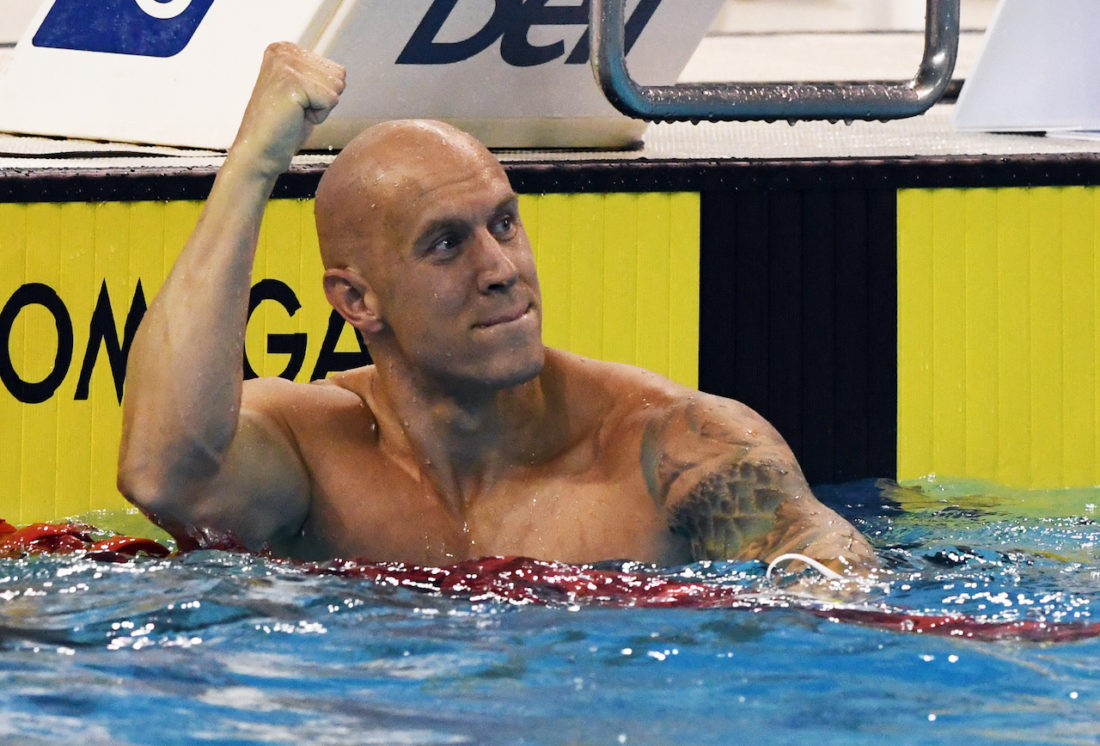 "The role he shows by his actions are that he is able to do what he needs to do. We run a team that really does allow individuals to do what they need to do. We have minimal meetings, we meet with smaller groups, I work with the coaches, the coaches work with the athletes. It's going to be nine days and allowing people to rest when they need to rest if they're still swimming in the meet, to do their own individual thing while under the team umbrella is something that we really try to work on and make that happen."

John Atkinson – photo: Brent Hayden – back for a fourth Olympic Games for Canada – photo Scott Grant, courtesy of Swimming Canada
Standing in an Olympic venue that would normally be like the quiet before a storm of spectator noise, Atkinson contemplates what it might means for swimmers not to have a crowd cheering them on because of the necessary COVID-related restrictions.
"I think the athletes are very adept at adjusting to the environment they are in," he says. "We piped in noise at the pool in Toronto (for trials) to create some atmosphere for when they stood on the blocks and they had a very good trials so now it's a matter of take that mindset and bring it to Tokyo and be ready for how it looks, how it feels.
"I think when you've looked at the athletes when they've come in this week walking into this phenomenal stadium is a lift for everyone. You can see that people are excited to be in here and whether there's one fan or 15,000, it's the Olympic Games and it matters."