Titmus Gets Going With Games Record As Dolphins Leap To Two Sweeps In First Three Finals & 4/5 Golds For Booming Start In Birmingham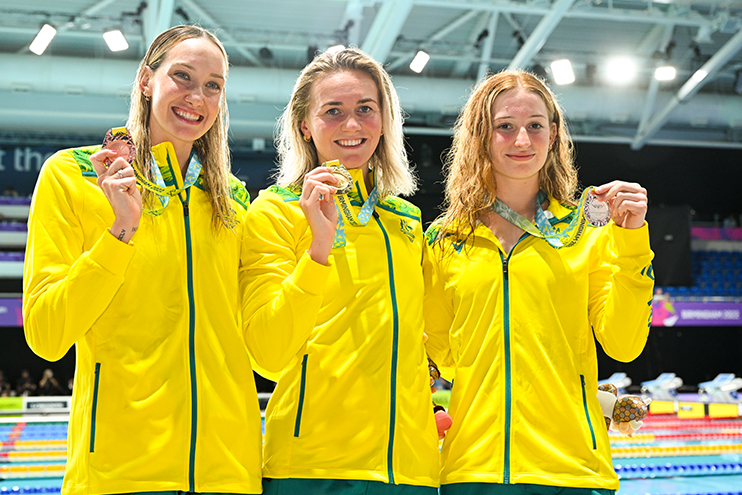 Games records for Canadian 15-year-old Summer McIntosh and Aussie Terminator Ariarne Titmus combined with a pair of Australian sweeps in the first three finals gave the swimming at the Birmingham 2022 Commonwealth Games a roaring start. By the close, the Dolphins had taken four of the five golds and plenty of other prizes. They also claimed 5/7 golds counting the Paralympic events.
In the first swimming final of the Games, World champion Elijah Winnington dominated the 400m freestyle to give St Peters Western coach Dean Boxall and the Dolphins the first of two golds in the first three finals of the meet ahead of mates Sam Short and Mack Horton.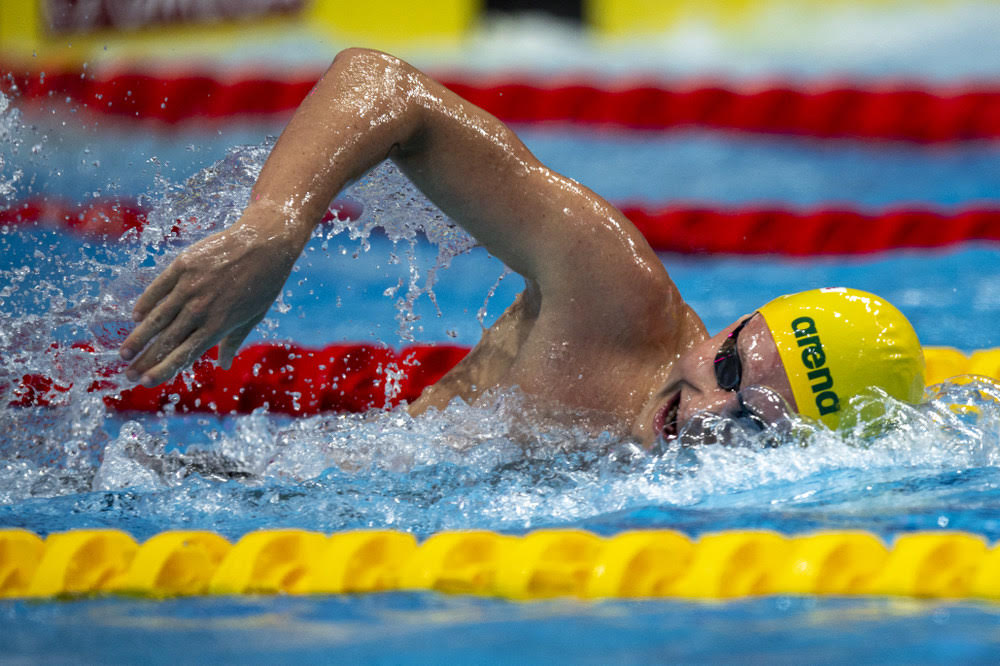 Winnington, World champion in Budapest last month in a stunning 3:41, took an early lead and then raced away from rivals in the second half of battle to stop the clock at 3:43.06. Two international titles in just over a month. Mot bad for a man who almost quit after the Tokyo Olympic Games after he fell shy of the goals he'd set himself.
Short took silver in 3:45.07, while 2016 Olympic champion and defending Commonwealth champion Horton completed the first sweep of the Games in 3:46.49 – but only just. Watch out world: Ireland's Daniel Wiffen is getting faster and faster with every passing meet. On 3:46.62, he clobbered his national record: no medal – yet. His best events, the 800 and 1500 are yet to come.
Said Winnington with a nod to his journey from a setback 2021 to soaring 2022 : "It was really tough coming off the back of Toyko, I almost quit. I decided to keep going and put myself and my mindset in the right spot to achieve what I have achieved this year."
Winnington has two targets ahead of him on the clock, Ian Thorpe's 3:40.08 world textile best, albeit in a bodysuit, and Paul Biedermann's 3:40.07 World record from shiny suited 2009. Says the current World champion: "It's something to chase. It is pretty hard being the hunted but having that world record there means I'm still the hunter."
Winnington, the 10th Australian to take the crown since 1970, raced on the eve of the 20th anniversary of Ian Thorpe's magnificent 3:40.08 World record at the 2002 Commonwealth Games in Manchester. What a moment to witness. Here is where that fits in to best of best: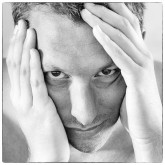 The All-Time Splits compared:
Textile Top 3
53.02; 1:49.57; 2:45.43; 3:40.08 Ian Thorpe AUS Manchester 2002, Commonwealth Gold
53.59; 1:50.52; 2:46.64; 3:40.14 Sun Yang CHN London 2012 Olympic Gold
52.96; 1:49.97; 2:46.89; 3:41.22 Elijah Winnington Budapest 2022 Gold
Shiny Top 3
54.42; 1:51.02; 2:47.17; 3:40.07 Paul Biedermann GER Rome 2009 Worlds Gold
53.86; 1:50.44; 2:46.29; 3:41.11 Ousamma Mellouli TUN Rome 2009
53.97; 1:50.71; 2:47.15; 3:41.35 Zhang Lin CHN Rome 2009
And Another Dolphin Sweep…
Next up to keep the Aussie medals-machine rolling, Titmus, recently recovered from a Covid infection and lacking the edge needed to achieve her stated aim of taking down the 200m freestyle world record, delivered the second Australia and Boxall-charge gold of the evening with a 1:53.89 Games-record victory in what turned out to be a tight tussle with teammate and Mollie O'Callaghan, on 1:54.01 for silver a month after claiming the World title in the 100m free in Budapest.
Madison Wilson delivered the second Dolphins sweep in 1:56.17, locking out England's Freya Anderson, on 1:56.83. Titmus paid plaudits to 18-year-old O'Callaghan, saying: "I knew coming in she would be there. She's young. She's feisty. She's hungry. She's what I was like – and I am still like that – but it's exciting to have a bit of a battle out there."
Australia wasn't done there.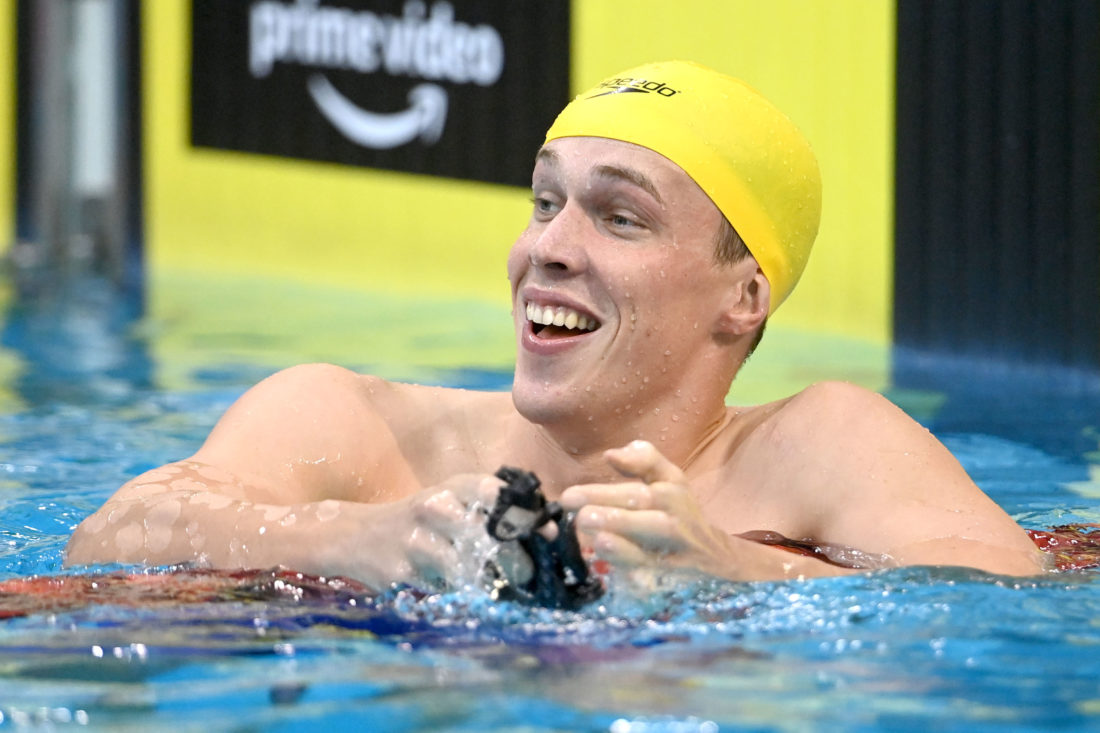 Olympic and World champion and record holder Zac Stubblety Cook made it gold No 3 for Australia with a narrow victory over England's James Wilby 2:08.07 to 2:08.59 in the 200m breaststroke, the 2014 champion for Scotland, Ross Murdoch, adding a bronze to his collection in 2:10.41 a reach ahead of the second Aussie home, former World record holder Matt Wilson, on 2:10.57.
The Dolphin landed Gold No 4 in the 4x100m mixed freestyle relay in 3:21.18 (Willian Yang, Kyle Chalmers, Mollie O'Callaghan and Emma McKeon) ahead of England's 3:22.45 (Lewis Burras, Tom Dean, Anna Hopkin and Freya Anderson) Canada taking bronze in 3:24.86 (Javier Acevedo, Josh Liendo, Rebecca Smith and Maggie O'Neil).
There had been talk of Titmus taking down the 1:52.98 World record that has stood to Italian ace Federica Pellegrini since shiny suited Rome 2009 Worlds.
Covid appears top have taken the edge off Titmus' chances, the ebb and flow of her race, and the way O'Callaghan stormed back to almost cause in-camp upset, suggesting that the Olympic 200-400m champion is not quite back to where she'd hoped to be before the scourge of a bug batted a shot at Pellegrini's peaky blinder into the long grass, for now.
A soaring time from a time of apparel banned since January 1, 2010, lives to fight another day – and even when it falls, Pellegrini's pantheon will live eternal: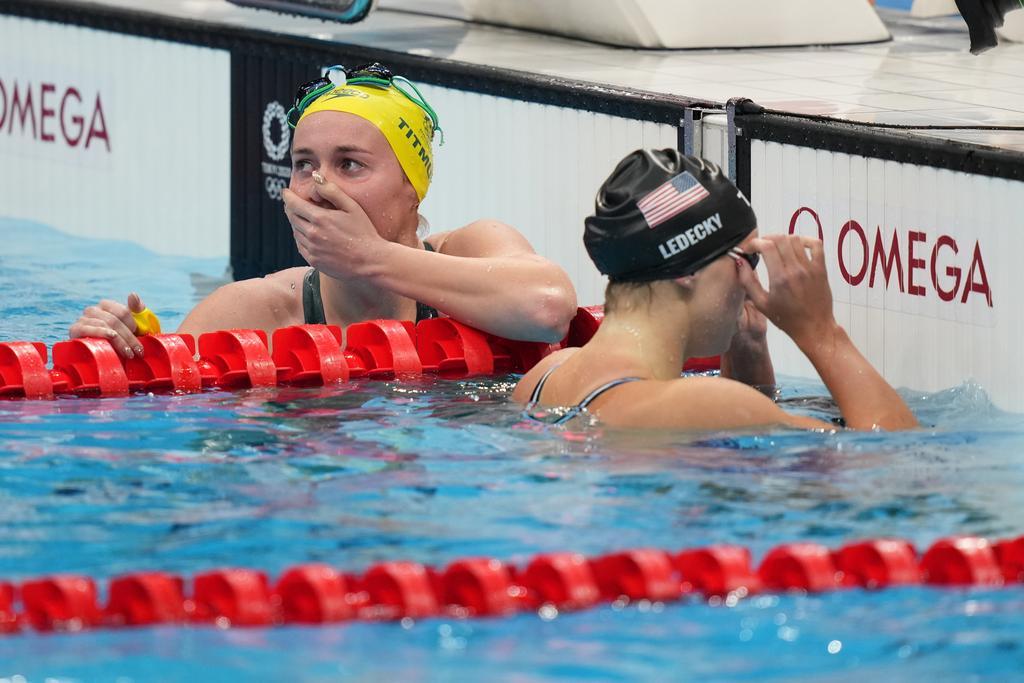 Titmus – known as The Terminator since becoming the first to topple Ledecky, the American who has dominated distance freestyle swimming since she claimed the first of her three Olympic crowns over 800m as a 15-year-old at London 2012 – now has four entries in the all-time top 10 over 200m freestyle – three of them in the top 5.
Today's efforts by the top two Australians demoted to 12th all-time Pellegrini's textile best, the 1:54.22 in which she claimed the last of her World titles, in 2019.
The slowest of Titmus's top 3 efforts is her Olympic-title-winning 1:53.50, a pace no other woman has ever swum at in a textile suit.
Titmus Sets Up First 200-400-800 Sweep Since Karen Moras In 1970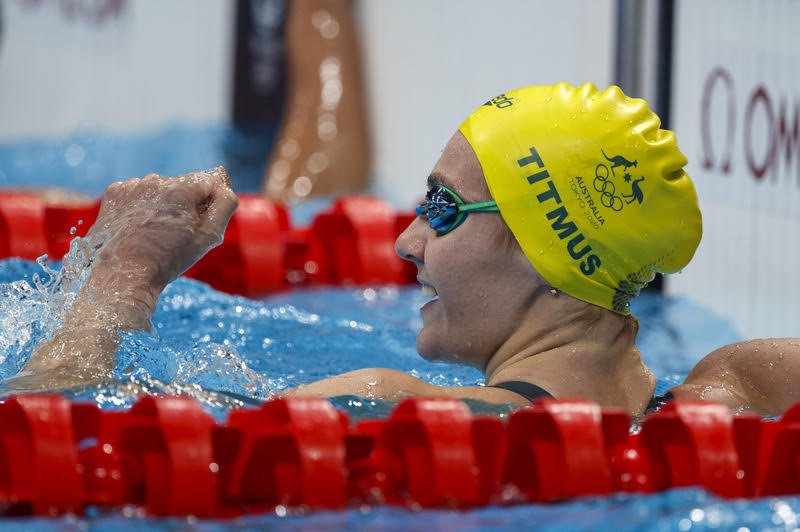 Gold No 1 for Titmus sets her up nicely for the defence of the 400 and 800m crowns she claimed four years ago at the Gold Coast Games. If she retains those titles she will become the first since fellow Australian Karen Moras to take the triple since it was possible to do so back in 1970. No-one has matched that feat since, while within that stat Titmus would also become only the second woman to claim the 400-800 double at consecutive Games, after another fellow Australian Tracey Wickham (1978, 1982).
The only swimmer likely to challenge Titmus is Canadian 15-year-old Summer McIntosh, who today claimed her own first gold of the meet with a 4:29.01 Games record in the 400m medley.
McIntosh joined the sub-four-minute 400m freestyle club in finishing second to Ledecky at World titles in Budapest last month in the absence of Titmus, who opted to bypass a meet she had not planned for in her 2022 schedule. After Titmus' 3:56.40 World record, established in May, comes Ledecky's 3:56.46, Pellegrini's 3:59.15 from 2009 and then McIntosh's new 3:59.39.
Titmus's 400m freestyle world record is three minutes 56.40 seconds with Ledecky (3:56.46), Federica Pellegrini (3:59.15) and McIntosh (3:59.39) the only other women to swim sub-four minutes.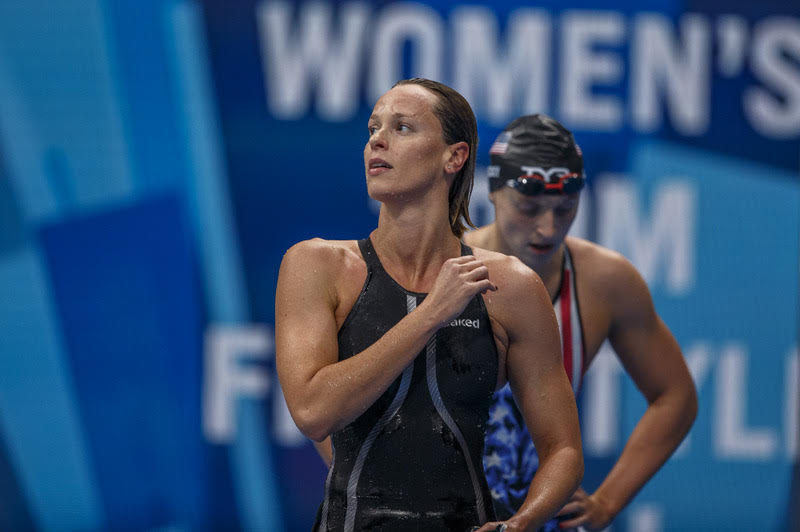 Over 200m, there will be a brighter moment for Titmus, in all likelihood. Today, the sound of Pellegrini purring in retirement remains the mood music in the 200m ranks.
She hung up her goggles after her fifth Olympics in Tokyo last year, and is now the longest holder of the 200m World record in the modern era.
Fifth in her last Olympic final, Pellegrini was not the only one who could fend off Titmus, who claimed the 400m title ahead of Ledecky after the Australian had set a World textile best of 1:53.09 at Olympic trials on the way to becoming the first Dolphin to claim the title over four laps freestyle in Games waters since Shane Gould in 1972.
Gould also remains the last Australian to have held the World 200m record, while Pellegrini will forever remain No02 on the all-time longevity stakes among record breakers over four lengths: there was no getting past Denmark's Ragnhild Hveger, who set the mark in September 1938 as the Second World War was underway. It would be February 1956 before the record was broken, by 100m legend Dawn Fraser at the start of an Australia bull run of six standards exchanged between Fraser (4) and Lorraine Crapp (2) all ten way from 2:20 to 2:11 by 1960. And there it stayed until American Pokey Watson ended the Aussie stretch in 1966.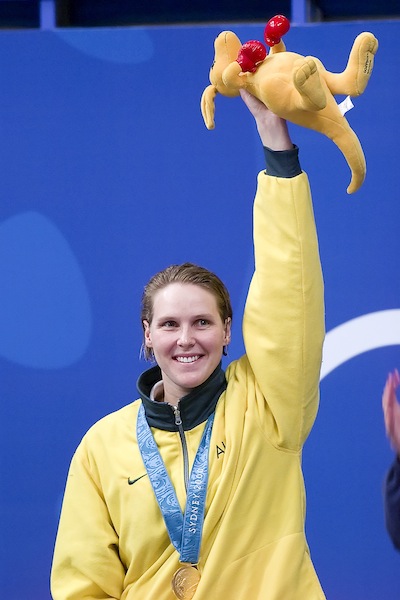 Titmus, silver medallist behind Canadian Taylor Ruck four years ago at a home Gold Coast Games, is the ninth Australian (see World-record progression below) to claim the Commonwealth 200m title in 13 times of asking since the event joined the program in 1970 and Karen Moras lifted the crown.
After Moras, there were titles for the Green and Gold from Sonya Gray (1974), Susie Baumer (1986), Hayley Lewis (1990), Susie O'Neill (1994 and 1998 as the only swimmer to retain the title as she prepared for victory at the Sydney 2000 Olympic Games), Kylie Palmer (2010) and Emma McKeon (2014).
Those who halted Aussie ambition were Rebecca Perrott (NZL, 1978), June Croft (ENG, 1982), Karen Pickering (ENG, 2002), Caitlin McClatchey (SCO, 2006) and Ruck for Canada in 2018.
Coached by Dean Boxall at St Peters Western, Titmus emerged from a bout of COVID-19 to deliver an ominous warning to rivals around the world on the eve of the Games: having taken down Ledecky's 400m world record at Australian Trials this year.
Titmus, whose mum and dad started to eve the family home from Tasmania to Queensland back in 2015 so that their talented daughter could get the training she needed, headed into Birmingham believing she had made improvements since breaking the World 400m record in May despite the common setback of our times.
Titmus told News Corp: "I had such a great lead-up to trials and I felt like everything fell into place. Things have changed since then, obviously getting COVID post-trials put a bit of a spanner in the works. But I think everyone has kind of gone through that, so I'm just trying to get myself feeling back to (my best) and I feel like that now."