Titles For Ceccon, Kos, & Pudar On Last Night Of Nine Finals In Rome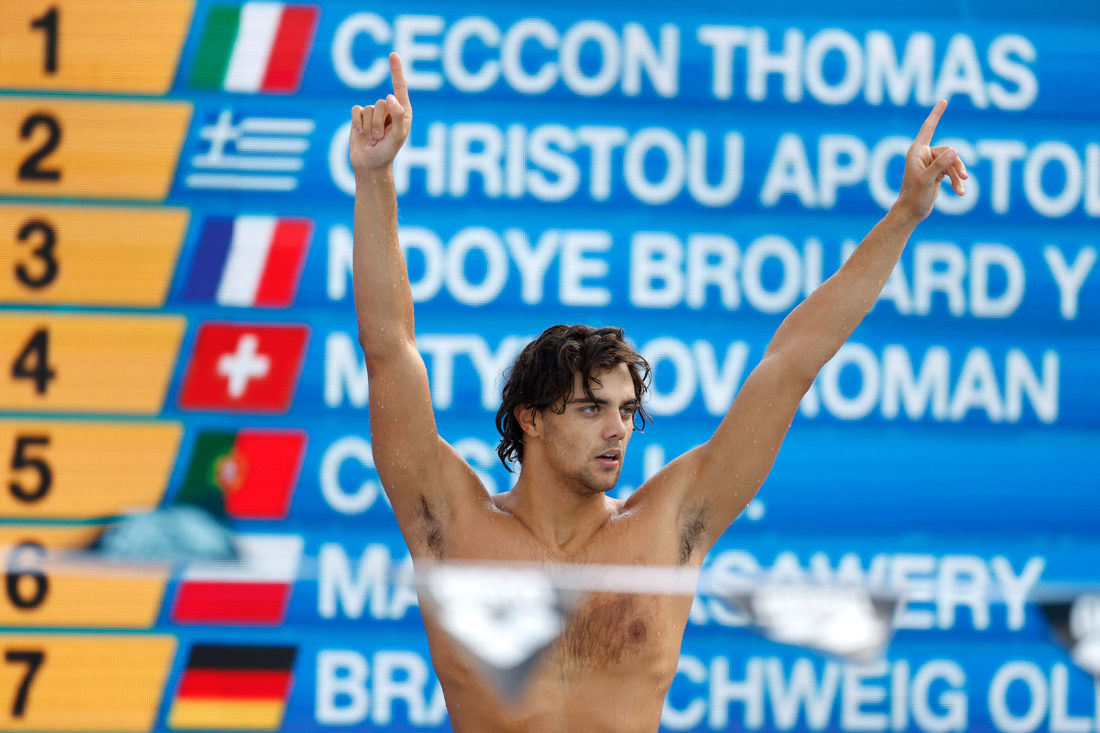 Thomas Ceccon claimed not one but two golds on the final night of action at the European. Championships in Rome, which witnessed debut senior crowns for Hubert Kos, of Hungary, and Laura Pudar, of Bosnia and Herzegovina.
Ceccon's double came in the 100m backstroke and then in the same event but as part of the Italian men's 4x100m medley, a curtain-closer on a dominant display by the hosts of the championships, a top team celebrating 13 titles atop 35 podiums.
The calendar chaos being what it is, Ceccon claimed the World title and World record in June before becoming the first Italian man to win the European 100m backstroke crown. Fine moment, all the more so in from of a roaring crowd at home in Rome.
He didn't get down to the stunning 51.60 global standard he set in Budapest in June less than two months ago but then his program in Rome was somewhat busier: the 21-year-old took to the water with two gold and two silver medals in the bag and two strong chances of gold ahead of him.
Ceccon was never behind, and, from about 20m out was in a class of his own when it came to endurance and rolling all the way into the wall still gaining oil his rivals on the way to a 52.21 victory. Apostolos Christou, the Greek ace who pipped Ceccon for the dash title, rallied in the closing 5 and though it was close, he couldn't get there: silver in 52.24. The bronze went to France's 200m champion, Yohann Ndoye Brouard, in 52.92.

Ceccon said: "After the 50m I wanted to fight back though I knew that the Greek was in great shape. I wanted to pace myself and then do a faster finish but I started off quickly and finished it that way. And now I'm really the number one in the world."
Men's 200m Medley: Hubert Kos Honours Hungarian Tradition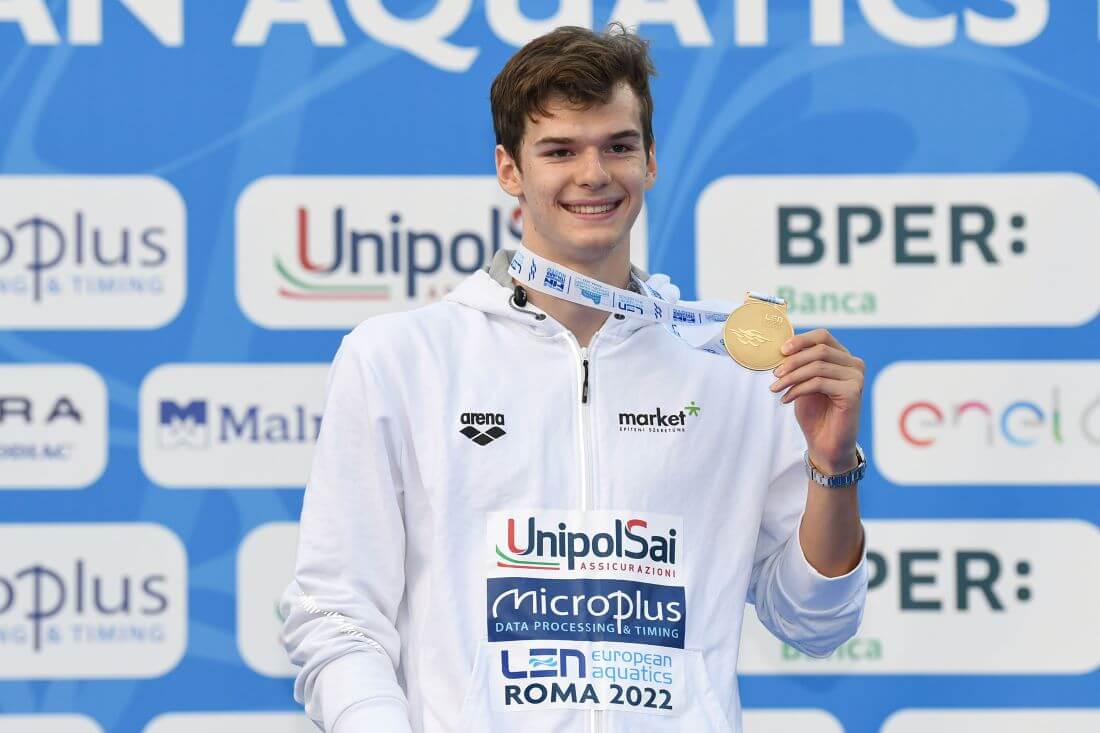 Andras Hargitay, Tamas Darnyi (x3), Laszlo Cseh (x5) and now Hubert Kos, the latest in a line of Hungarian 200m medley champions of Europe.
The crowd on his side and Kos' back, Alberto Razzetti produced a late rally as the splits below show but Kos had got there: 1:57.72 to 1:57.82 after closing lengths of 28.93 and 28.34. The bronze went to Portugal's Gabriel Lopes in 1:58.34, the race without the World champion Leon Marchand, of France, Olympic silver medallist Duncan Scott, ion Britain and several other 1:55-56 swimmers.
"It's not as good as my personal best, but here, only the win mattered," Kos said. "This gold is a gift, as we don't have (world champion) Leon Marchand here, who is the best today. I didn't really see much from the race, but I was feeling all the way that I was holding on and had a chance. I wanted to enjoy the last five weeks of my prep. That was my sole goal and I had the same approach towards this final. To enter the pool, jump in, swim the event and see what happens, no pressure. It worked."

Women's 200m Butterfly: Lana Pudar Flies High For Bosnia and Herzegovina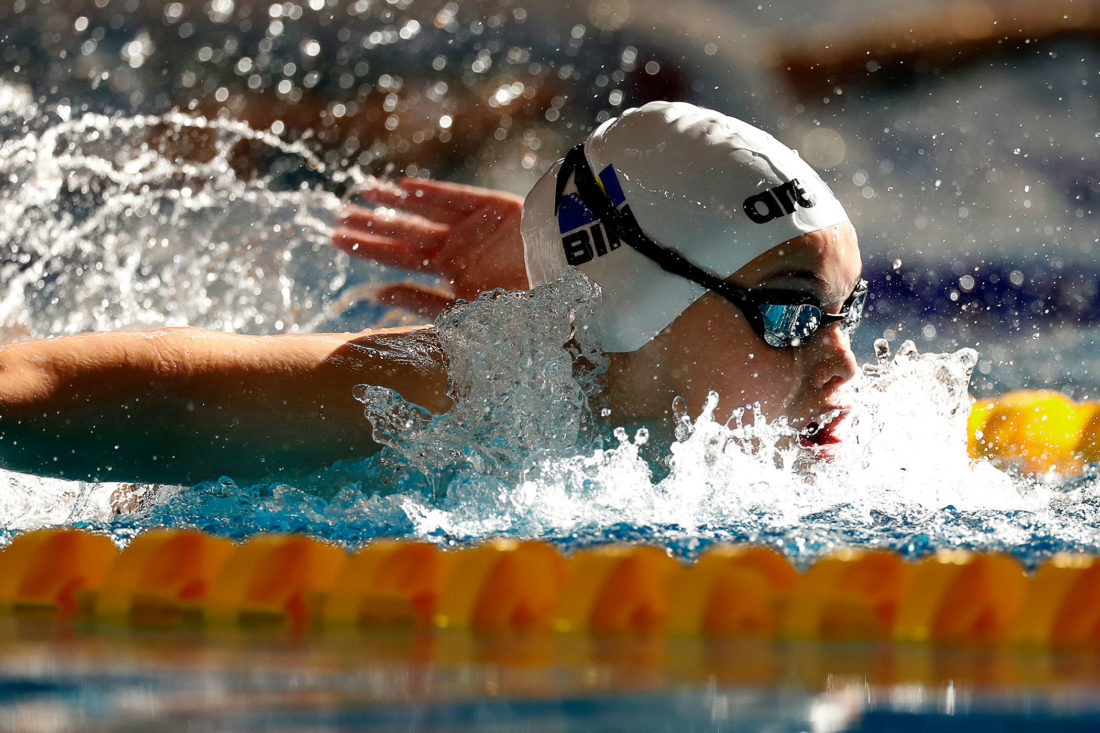 Lana Pudar slapped the water in delight when she turned to see her name with a 1 next to it after producing a 2:06.81 victory fo Bosnia and Herzegovina.
A year ago, Pudar finished 19th in the 100 butterfly age the Tokyo Olympic Games but the writing was on the end wall with gold a few weeks ago when the 16-year-oldclaiomed the European junior 200m title.
Denmark's Helena Rosendahl Bach took silver in 2:07.30, Italy's Ilaria Cusinato he bronze in 2:07.77.
"I'm overjoyed. This is my first senior European title and a new personal best," Pudar said. "I really don't know what to say. I'm lacking the words. I felt great in the water today. After the 100 fly, I felt really tired and exhausted both physically and psychologically. I didn't really believe myself that I could perform like this today. This is the best possible end of this very long and successful season. It has been my first with such intensity. I hope there will be many more."