Time For IOC To Renew Its Vows With Sex-Based Sport & End Sorority Struggle For Fair Play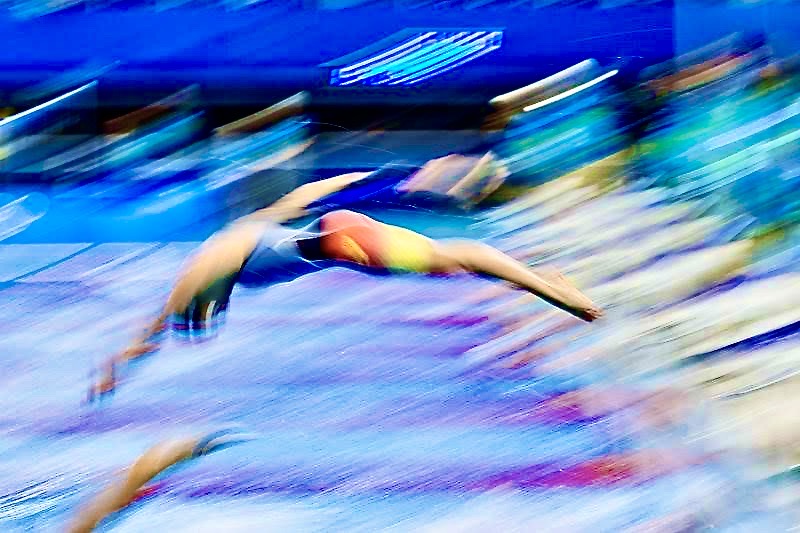 Editorial: Another week, another round in the ring for women fighting off the fibs (to put it mildly) of trans activists keen to transmogrify female sex-based rights to safe spaces and races in sport, among other realms where sex-based provisions in law are coming under constant and consistent fire.
Three events highlighted the sorority's latest preventable struggle last week. All involved International federations but just one sports authority is ultimately to blame for all that has come to pass: the International Olympic Committee.
The three events:
Early in the week we heard news of a much-misinterpreted human rights ruling in favour of Caster Semenya, which sparked a riot of inaccurate reporting in mainstream media, a flock of fabrication on social media and a flurry of falsehood from trans activists (including misrepresentation of the athlete's status in law, in society and in sport) determined to colonise female spaces and races with misogyny and male supremacy.
2. Para athletics witnessed a male runner already barred from female competition by World Athletics make the podium in female competition. It seems that "no" is never the end of unfair and the beginning of acceptance for those who feel entitled to a place in women's spaces and races protected by rules designed to ensure safety and fair play for female athletes. I'll return to that case in the conclusion to this editorial.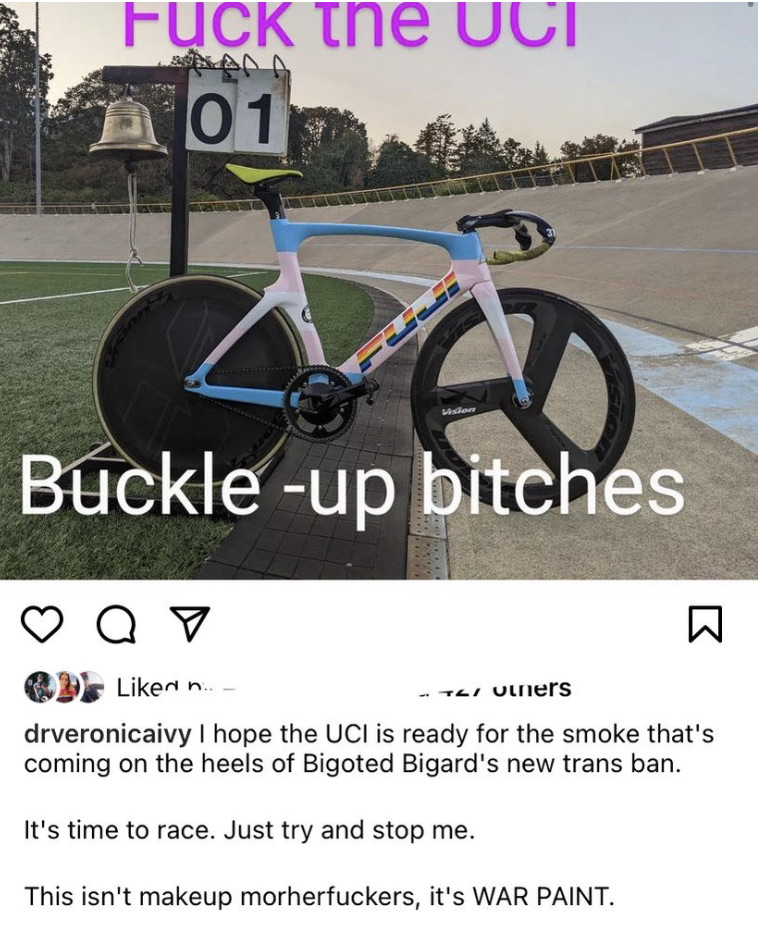 3. The past week also delivered news that the UCI had finally caught the wave of common sense and fact-based reasoning washing through International federations in Olympic sports since aquatics opted in June 2022 to make male puberty a bar to entry into any women's competition. The sex-based, fair, sensible and welcome decision was derided by trans activists such as Rachel McKinnon/Veronica Ivy, nee Rhys McKinnon, who threw toys out of pram after the UCI ruling and issued her latest vile threat to those who don't agree, including the international federation that points Ivy to the appropriate sex-based category, open, for all biological males, none of whom belong in female racing: "Fuck the UCI … Buckle Up Bitches … I hope the UCI is ready for the smoke … It's time to race. Just try to stop me. This isn't makeup motherfuckers, it's WAR PAINT".
That's the kind of voice the IOC has listened to and welcomed guidance from in recent years, while apparently being happy to ignore scores of female athletes. Women have been forced to fight fires set at their feet not only because of aggressive trans activists insisting on male force in female sport but by Olympic guardians, mainly male, seemingly happy to tear down the key pillar supporting fair play, safety and equality in a wide range of sports: sex-based categorisation.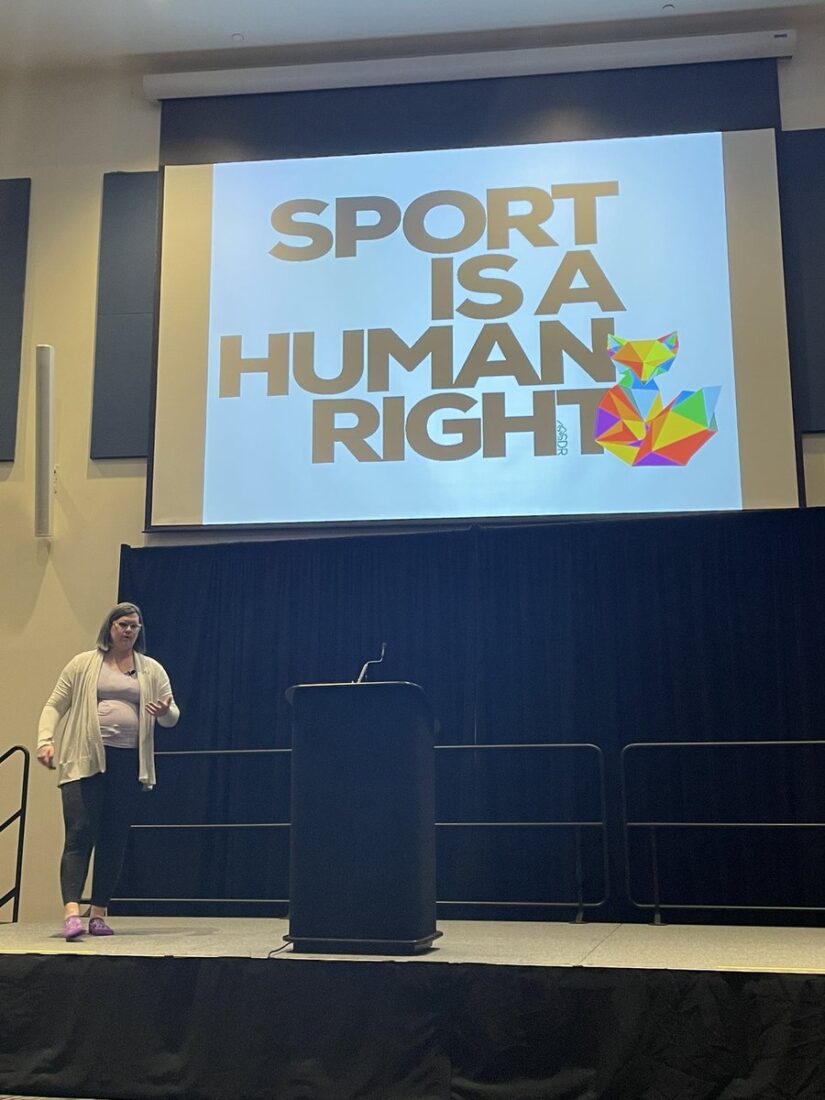 Earlier this year, Ivy gave the keynote speech at the Center for Sociocultural Sport and Olympic Research Annual Conference in which the biological male said that the only reason for refusing to compete against male athletes is because he's a woman. No, I'm not using "she" and refuse to do so for any transwoman who refuses to acknowledge the difference between being a woman and being a transwoman, the latter the truthful definition of Ivy's status and deserving of respect up to the point where the principle of "do no harm" is clobbered with a sledgehammer, as it is in sport.
It's all free speech. There's also a strong case for some of what Ivy has said this past week to be judged in contravention of UCI codes and the Olympic Charter. Ivy is entered in the upcoming World Masters and talks of insisting on staying in the women's race. The UCI has penalised women riders before now for protests seen to insult the federation as rider Chloe Hoskings notes in this reaction to the latest rule change. In 2012, Hoskings was fined for calling the then head of the UCI "a bit of a dick" after he said that women's cycling wasn't developed enough to warrant a minimum wage.
Let's see what "Fuck the UCI" results in, Ivy's outburst coinciding with separate events on the theme of trans-activist aggression after Sarah Jane Barker, a transwoman who cut off his testicles while serving 30 years in jail for attempted murder, was accused of incitement to violence and what would amount to grievous bodily harm when inviting a London Trans+ Pride rally to assault women speaking up for the sex-based provisions they are entitled to in law.
Barker was later arrested and questioned by police. London Trans+ Pride issued a statement condemning calls for violence but at the same time "offering some context as to why Baker used the inflammatory words".
To understand just how troublesome that "context" is, listen to this terrific explanation from criminologist Prof. Jo Phoenix, in which she explains the concept and reality of "neutralisation":
The clip was retweeted by Dr. Jon Pike, one of those whose research and incisive thinking has contributed to the common sense gradually sinking it at international federations and overtaking the IOC's abdication of responsibility in the trans inclusion debate. On that score, I thoroughly recommend Jon's academic paper on "meaningful competition", a term that he takes a torch to in the context of the myth of mitigation to the point of fair play in female sport when male advantage is granted a ticket to women's competition.
On the trail of comprehensive explanations sought in the research for Unfair Play, by Sharron Davies and this author, we looked at 18 peer-reviewed studies that trash the notion of mitigating male advantage to the point of fair play in female sport. Here's a great place to start for anyone who wants to deal in science and fact, courtesy of one of the lead researchers, Dr. Emma Hilton, who points to two papers in particular in this Twitter thread.
Her work, like that of Dr. Tommy Lundberg, is the model of academic integrity in key regards, including what might be described as a passionate pursuit of truth in the 'impassionate', scientific tense: when asked at a recent Free Speech Union event marking the launch of Unfair Play this month what level of menace she had faced as one of those women fighting fibs on a daily basis, she noted that while she had faced the wrath of activists, she had been strongly supported by her faculty. She had made it easy for them by rigid adherence to high academic standards. Some who have done the same have been let down by institutions no longer committed to academic integrity.
Free speech has been sacrificed with truth in the toxic swell of a tide the IOC could have turned long ago. On that score, I also recommend this in the depth of a debate in which war has been waged on language and freedom of speech: just one of many fine editorials by Helen Joyce, author of Trans: When Ideology Meets Reality. And if you haven't done so, catch up with the work of Miroslav Imbrisevic too.
Back to those three key sports-related events of the past week:
The Much-Misused Sex-Based Caster Case
In the latest development on Caster Semenya, the European Court gave a thumbs down to the process that ran through the Court of Arbitration for Sport and, on appeal, the Swiss Federal Tribunal, the authority that tests challenges to CAS judgements in the context of Swiss civil law because the sports tribunal is based in Switzerland.
Contention focussed on that part of a ruling that prevented Semenya from participating in international competition unless she underwent hormone therapy. The athlete refused to do so and was therefore barred from entering female races over 800m on the track, the event in which Semenya claimed Olympic gold in 2012 and 2016 and World titles in 2009, 2011 and 2017.
What so much of the Twittersphere and vile end of reaction overlooks is the reality of Semenya's condition in the context of sport. The athlete's particular DSD (disorder of sexual development) is 5-alpha reductase deficiency (5-ARD), which confirms the runner as biologically "male", with full access to male levels of testosterone and an unfair sex-based advantage over others competing in female track races against the South African.
World Athletics said it stood by its rules, which would remain in place for now, and added they will encourage the Swiss Government to ask for a review of the ECHR judgement.
"We remain of the view that the DSD regulations are a necessary, reasonable and proportionate means of protecting fair competition in the female category as the Court of Arbitration for Sport and Swiss Federal Tribunal both found, after a detailed and expert assessment of the evidence," World Athletics said in a statement.
The ruling did not change the decision of CAS nor the SFT nor did it pass judgement on the merits of those cases and their outcomes. It did open the door for Semenya, the 2012 and 2016 Olympic women's 800m champion at the helm of a Rio podium of three athletes from Africa reported to have the same DSD, 5-ARD) .
The ECHR judged that the legal process in Switzerland represented a violation of Article 14 (prohibition of discrimination) taken together with Article 8 (right to respect for private life) of the European Convention on Human Rights, and a violation of Article 13 (right to an effective remedy) in relation to Article 14 taken together with Article 8 of the Convention.
Suggestions that this may lead to a reversal of the CAS and SFT decisions are far-fetched, however: the ECHR's ruling fails to explain what it would have to explain if female athletes were ever to have to mount a not-dissimilar challenge to that presented by Semenya's legal team: how would the inclusion of a biological male in their races represent anything other than discrimination, as in the sex-based discrimination barred in Swiss and international law, including the very articles cited by the ECHR?
When asked on the BBC Radio 4 Today program "what next" for Caster, the athlete's lawyer said that was a matter of client confidentiality and she was not at liberty to comment. As things stand, the ECHR's ruling has no impact on the decisions of CAS and the SFT unless used as a reason too launch a fresh challenge, one that would require other lawyers to raise the issue of discrimination against female athletes protected by sex-based regulations in sport as well as sex-based laws at national and international levels.
In short, the ECHR ruling did not reverse the World Athletics ruling and the same questions and barriers to female competition that Semenya has faced in recent years remain in place, as Oliver Brown explains well in this Telegraph column.
Experts weighed in when the trans-activist fibs took off on social media and in some mainstream media interviews.
Cathy Devine, whose excellent work in the fight for fair play and enforcement of sex-based rules in women's sport exposes how the IOC has ignored the voices of female athletes, pointed out why the ECHR has got its rights in a twist:
Dr Carole Hooven, author of T: The Story of Testosterone, provided the following brilliant explanations, which are well worth reading in full at source:
The Fight For Fair Play Goes On
So, the struggle to preserve women's sport for female athletes continues because the IOC continues to ignore all of the above in favour of sticking to the false premise that males can compete in female sport fairly through T suppression. There is not a shred of evidence in support of what the IOC has encouraged.
Thank heavens for the tireless truth being told by female athletes under fire for telling it: the likes of Inga Thompson, Alison Sydor, Mara Yamauchi, Sharron Davies, Riley Gaines, Nancy Hogshead-Makar, Amelia Strickler, coach Linda Blade – with her feet in all camps, athlete, coach and scientist – and many more speaking up all for one, one for all in support of girls at grassroots as much as those denied their just rewards at elite and masters level.
Much of the pain of the past few years could all have been avoided had the International Olympic Committee understood the nature of women, the nature of men, the nature of sport and the nature of truth and integrity. Thomas Bach is the man at the helm. His errors have multiplied beyond versions of his vision, as things stand. As Sharron Davies points out in this Planet Normal podcast with the Telegraph journalists Liam Halligan and Allison Pearson.
Just as it's been in its relationship with Russia, the IOC has backed itself into a corner on trans inclusion. In later 2015, it took another policy detour on the road to abdication of its responsibility as the ultimate guardian of Olympic sports, the keeper of a contested Charter (example: Rule 50 and matters of integrity it raises with each passing hosting crisis).
Trans ideology has held female sport in thrall ever since Olympic leaders removed the only barrier to toxic, unsafe and unfair male inclusion in women's competitions: all remaining limits to sex-based male advantage were thrown to the wolves the moment genital surgery (which relatively few transwomen opt for, official statistics show) was no longer required as a prerequisite for trans access to female sport.
As Oliver Brown writes in The Telegraph: "If it had the will or the courage, the IOC could solve all trans controversies in sport at a stroke. It was with dizzying speed that sports became captive to the blind zealotry of transgender ideology. Now, belatedly, they discover they can throw off the yoke of noisy, belligerent activism just as quickly. It is just 76 days since Austin Killips, a biological male and novice cyclist who only began transitioning in 2019, writing a blog about the process entitled "Oestro Junkie", won the women's Tour of the Gila in New Mexico. The injustice was so stark, so inexcusable, that even Michael Engleman, the race's competition director, told The Telegraph: "This could kill the sport."
Spot on. Taking sweets from the mouths of babes was never an enduring tactic in sport. The season was bound to last only as long as the IOC's latest tomfoolery, guidelines that suggest mitigation of male advantage to the point of fair play in female sport is possible, held any sway. Truth washed in on the next tide, including the 18 peer-reviewed studies trashing the IOC position, Ross Tucker's fallacy of T arrow-to-the-heart of failing Olympic leadership, more than a century of sports results and their sex-based, Mind-The-Gap sledgehammer, and the lessons we learn from the biggest heist in Olympic sports history.
Correction is always inevitable. It's just a matter of time. And it's time the IOC shredded its guidelines and wrote a general rule for all international federations in line with those now in place for aquatics, athletics and cycling: no athlete who experiences male puberty Tanner stage 2 can ever be eligible for the female sports category in a wide range of sports where sex matters and the citius, altius, fortius can only be measured within the sex-based boundaries of biological male and female.
Lia Thomas in swimming, Austin Killips in cycling. Just two of the examples that prove the point. International federations know it but the IOC has not been listening. French champion road racer Marion Clignet presented a survey to the UCI last year: 92 per cent of female cyclists said there should be an outright ban on transgender riders. As Brown puts it: "And the board ignored it, convinced that burnishing their corporate credentials on inclusion mattered more."
Good that the UCI got there; unacceptable that they didn't listen to women and act sooner, the damage done now irreversible because "it was all within prevailing rules and policies" because federation bosses have bowed to ideology and their masters, the IOC.
Olympic Timeline of a Tragedy
2004: IOC allows post-operative trans athletes a ticket to women's events and expects limited impact
2015: self-identification and the myth of T suppression as a mitigator fit to circumvent sex-based sport are given the upper hand at the IOC's top table. Testosterone reduction below 10 nanomoles per litre = a ticket for male advantage to the ball of unfair play in female sport.
The switch of policy, the impact of which was not visible on the field of play until 2017 at the earliest, was made without women athletes being asked for their view on such questionable statements as that of IOC medical director Dr Richard Budgett when he said that "everyone agrees transwomen are women".
Everyone did not agree. In fact, a great many disagreed and still do. Transwomen are transwomen is the definition where respect and acceptance begins. Invasion and colonisation make for war.
Instead of asking female athletes what they thought, the IOC turned to Dr Joanna Harper, an academic who transitioned from man to transwoman relatively late in life, and signed up to the one-eyed brew that "trans rights are human rights" and "trans people only want to enjoy the same things everybody else does", as Harper put it. Similar messages can be heard from Madeleine Pape, the IOC's inclusion lead and a former athlete whose views merit more scrutiny. Neither blazers nor those they listed to appear able to see the blindingly obvious: sex matters in sport and explains why the entry gate to competition is divided into men and women.
No minority view could ever change that because safety and fair play boxes must be ticked for inclusion to be a viable option in sport. It's the stuff of kindergarten. Ask the new intake: do you think Bob, 32, should be allowed to race in the under 10s 100m freestyle at school sports day next week? There's only one answer: no. Biological males seeking to transmogrify their status, ranking and earning power in sport by racing among women know that answer applies equally to them.
Yet, as Brown notes, we got to Tokyo 2021 to find this scenario he describes in his latest column on the issue in The Telegraph: "To walk into the weightlifting venue at those Games – where New Zealand's recently-transitioned Laurel Hubbard, 43, had taken the place of an 18-year-old Nauruan – was to be confronted by scores of leaflets by lobby group Athlete Ally, left on the desks of journalists as instruction in what terminology to use. To read it was to be struck by the purest propaganda. In the "terms to avoid" section? "Born male/born female. No one is born with a gender identity."
And on the horrid hypocrisy in play he notes that the IOC default is to crack down severely "on anything resembling ideological language", yet in the Hubbard case, silence, Olympic leaders "the IOC it stayed silent, "content to surrender the stage to the bullhorn slogans of the trans agitators."
The IOC's guidelines have led sports governors to don the Emperor's New Clothes, Olympic president Thomas Bach exposed to the naked light of the Movement's hypocrisy.
Like this: ridiculous held hands with absurdity at the world para-athletics championships in Paris last week when Italian Valentina Petrillo, a 49-year-old biological male 18 years older than any other medal winner, claimed bronze in the women's 400 metres final for visually impaired athletes.
Officials cited IOC guidelines when suggesting they could do nothing about it, Olympic governance in the grip of a Kafkaesque nightmare: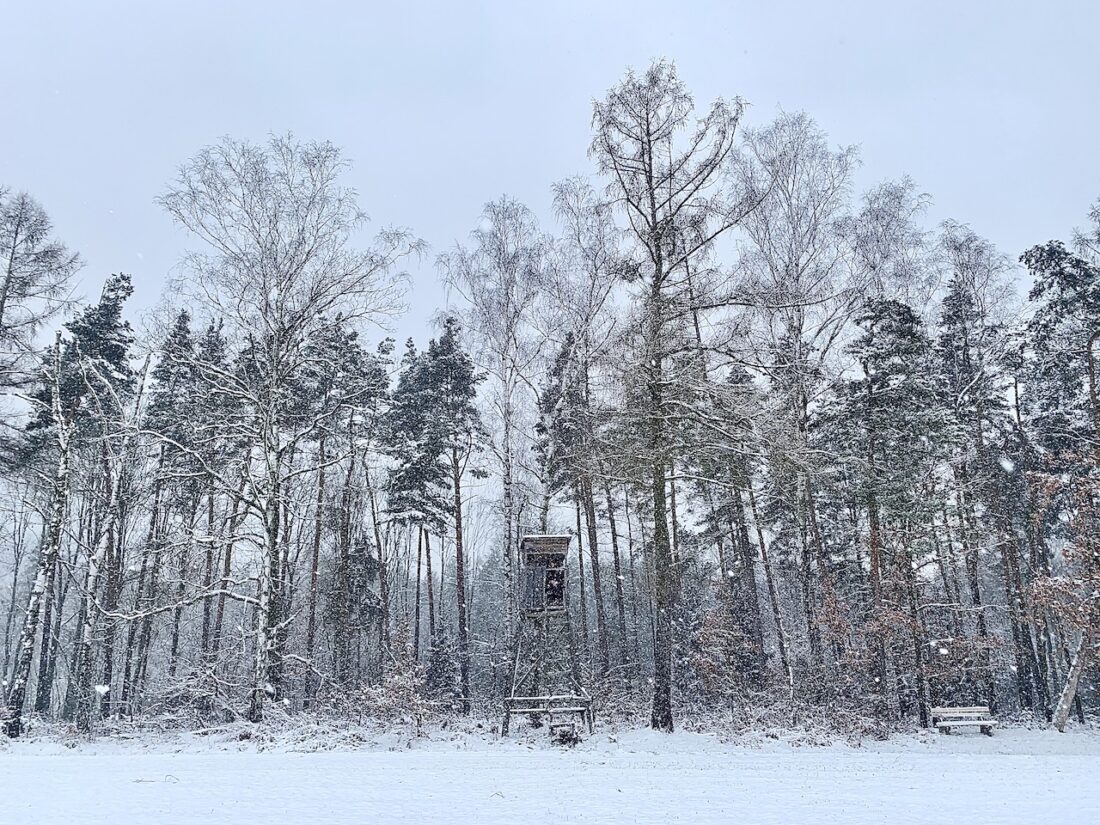 "I ran past the first watchman. Then I was horrified, ran back and said to the watchman: 'I ran through here while you were looking the other way.' The watchman gazed ahead of him and said nothing. 'I suppose I really oughtn't to have done it,' I said. The watchman still said nothing. 'Does your silence indicate permission to pass'?"

Franz Kafka, The Watchman, Parables and Paradoxes (Parabeln und Paradoxe). Photo: Watch Tower – by Craig Lord
The IOC can change all of that in an instant by renewing its vows to the sex-based nature of sport. Scrap the guidelines, reach for the rule book and ring-fence women's sport for females only.