The Vortex World Championships Diary – 7-Finals Curtain Closer Nigh at Budapest's Duna Arena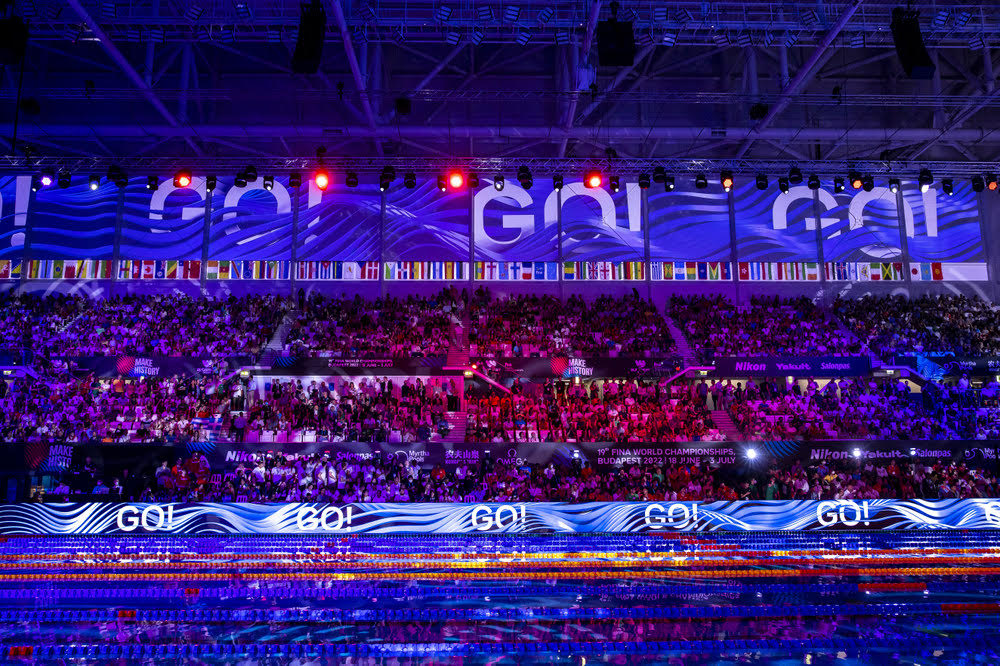 The Vortex, SOS' weekly day-by-day digest of developments in swimming, turns into our World Championships Diary for the coming couple of weeks as Budapest hosts the FINA showcase. Beyond our coverage of swimming finals from the Hungarian capital and its Duna Arena, here's where we'll round up heats, related news, views, top picks and links to other coverage
Key Links:
Saturday June 25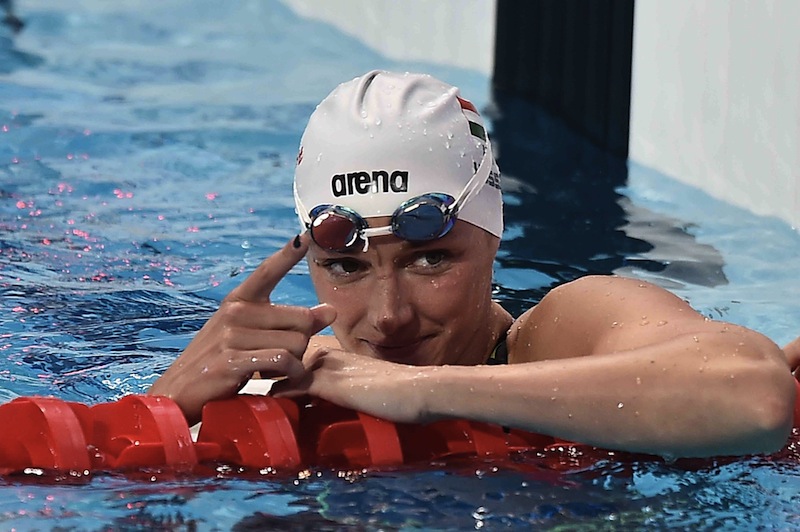 The last session of finals at the 19th FINA World Swimming Championships is nigh and Budapest and the Duna Arena will get to pay homage to Katinka Hosszu in what may be the last major event of her career in which she races in her home pool.
Hosszu, the 2016 triple Olympic champion, is among qualifiers for the 400m medley, one of seven finals this evening, including three dash showdowns, the men's 1500m freestyle and the medley relays for each sex category, in long-held tradition.
Women's 400m medley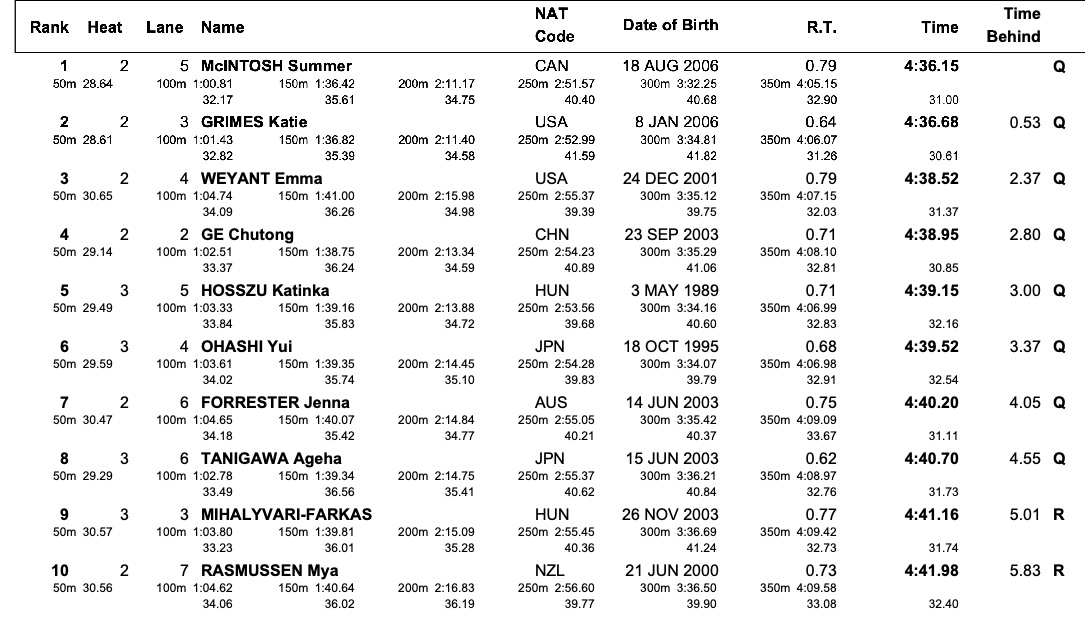 Men's 4x100m medley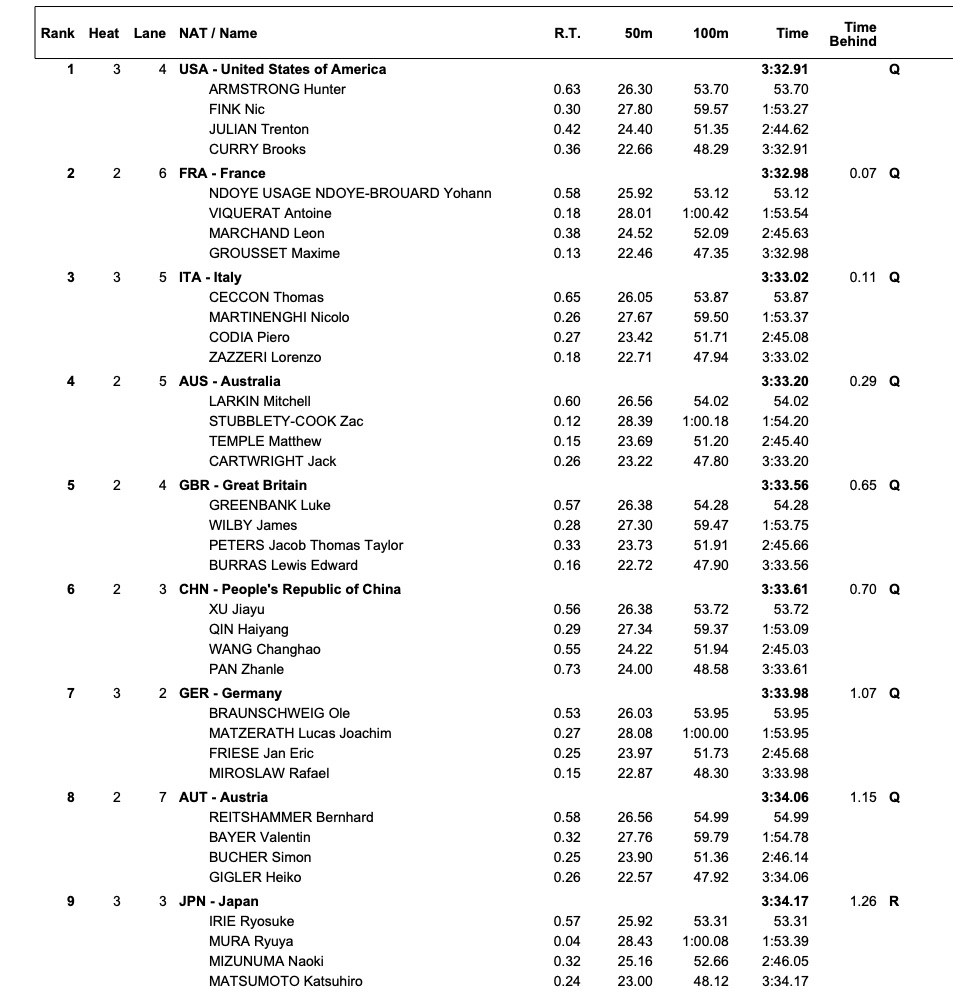 Women's 4x100m medley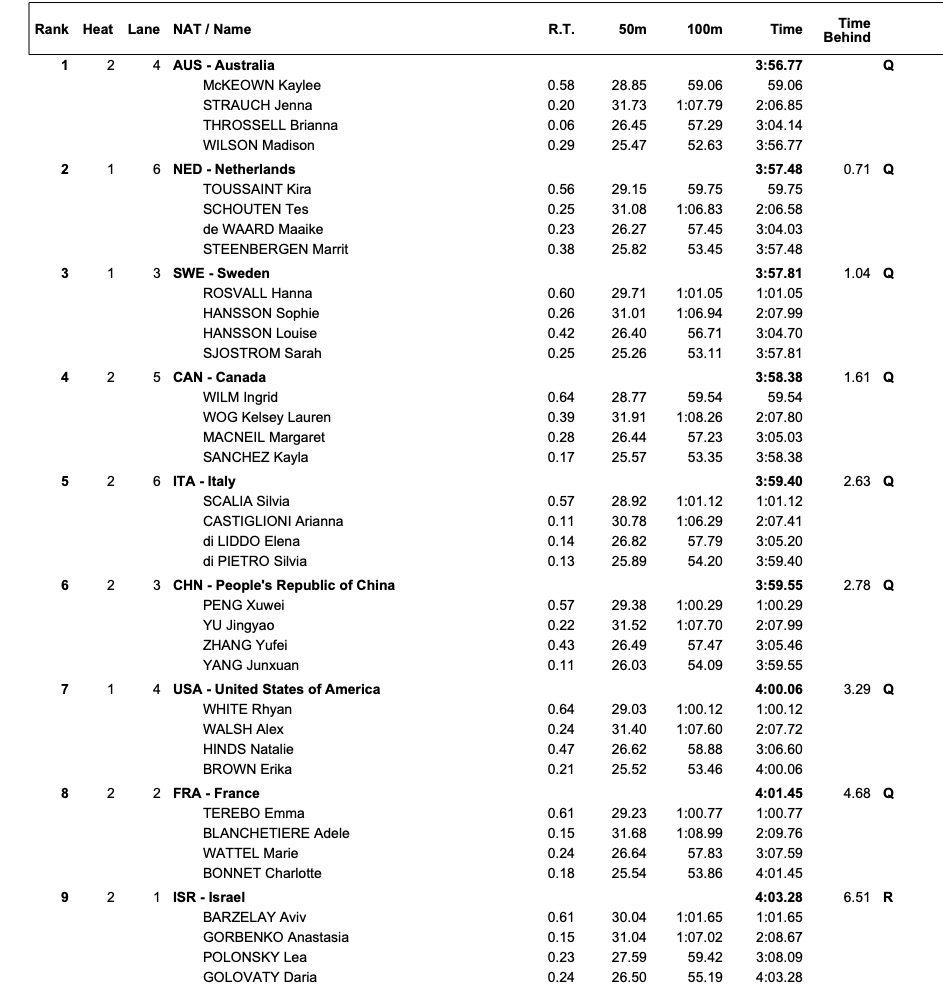 Friday June 24
Can Wellbrock, Romanchuk & Co Find A Way To Cancel Finke's Last-Lap Fury?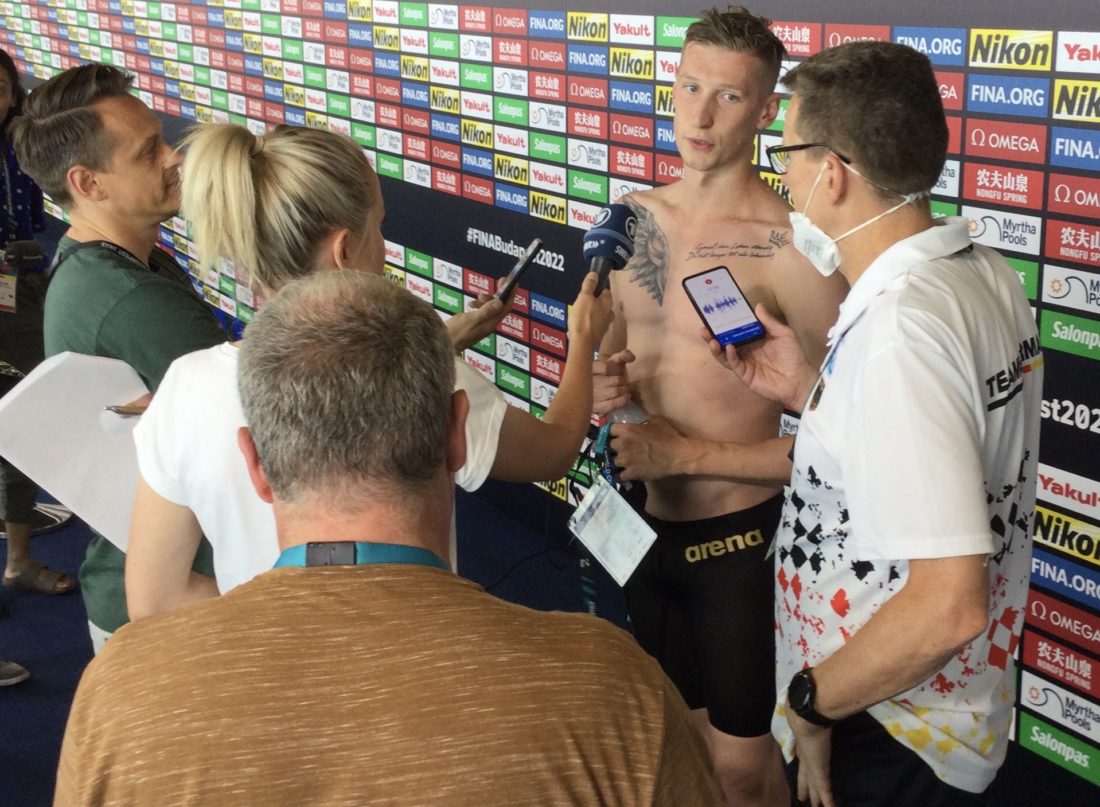 Men's 1500m freestyle: Can Florian Wellbrock and Co find a way to make Olympic champion Bobby Finke's last-lap off-the-chart rocketing redundant. That is the question. Mykhailo Romanchuk, of Ukraine, swam stroke for stroke with Wellbrock this morning before Finke took the following and last of three heats, all three main contenders on 14:50s. It took 14:56. 8 to make the final, leaving Daniel Wiffen as first reserve on 14:57.66, a national record that makes him the first Irishman to have swum the 30-lap event inside 15 minutes, two days after he raced in the 800m as the first Irishman to make a World-Championship final, and that beyond a 7:46 Irish standard in heats.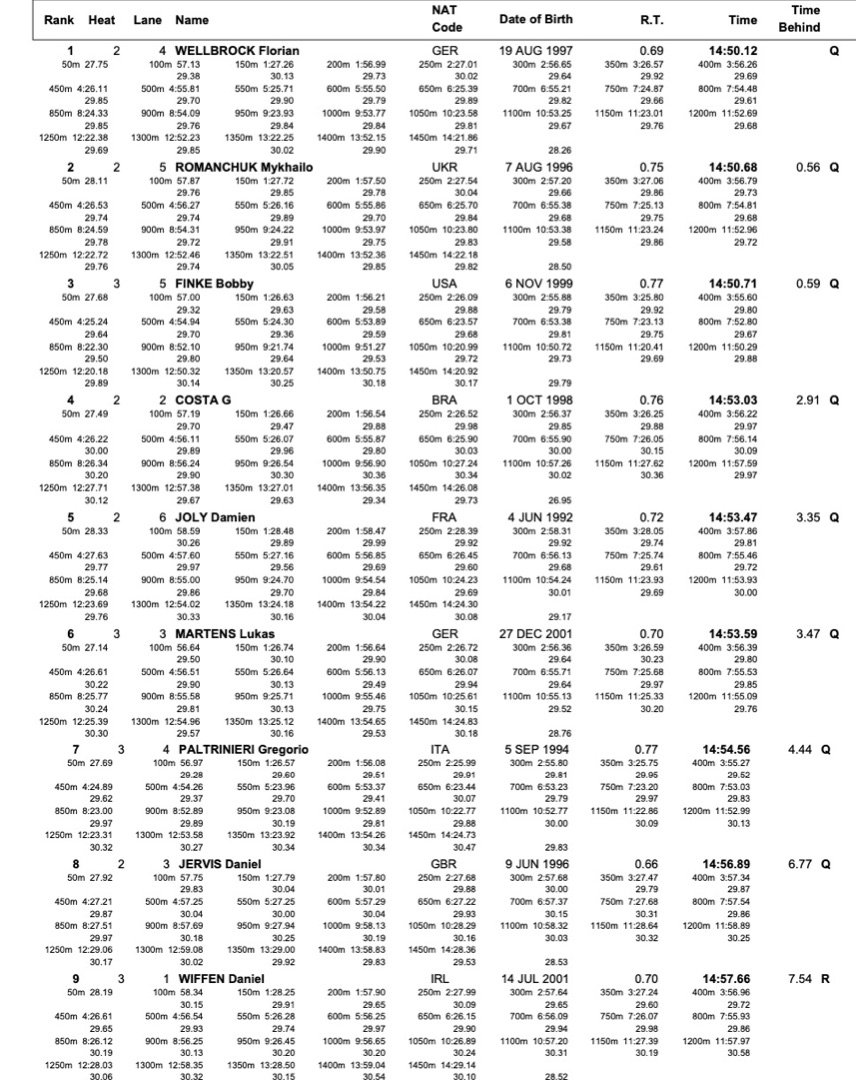 Women's 50m freestyle: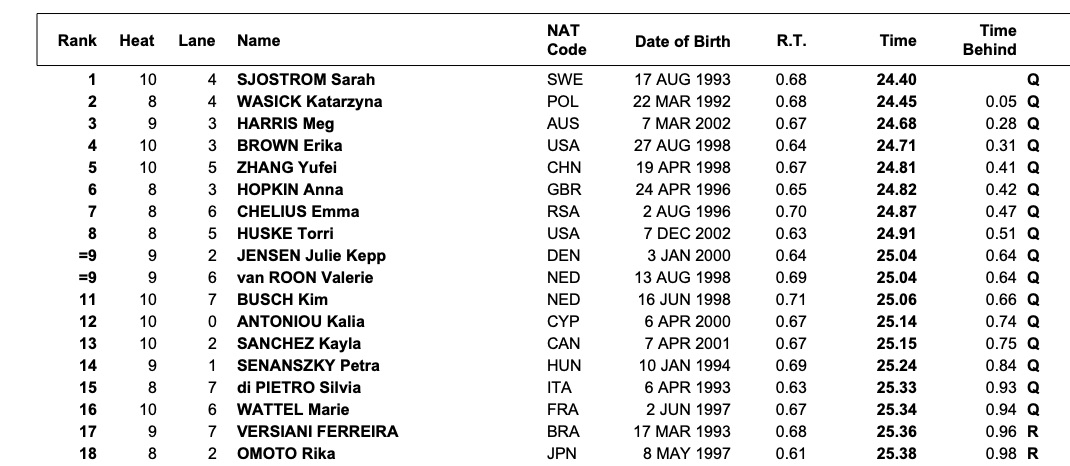 Men's 50m backstroke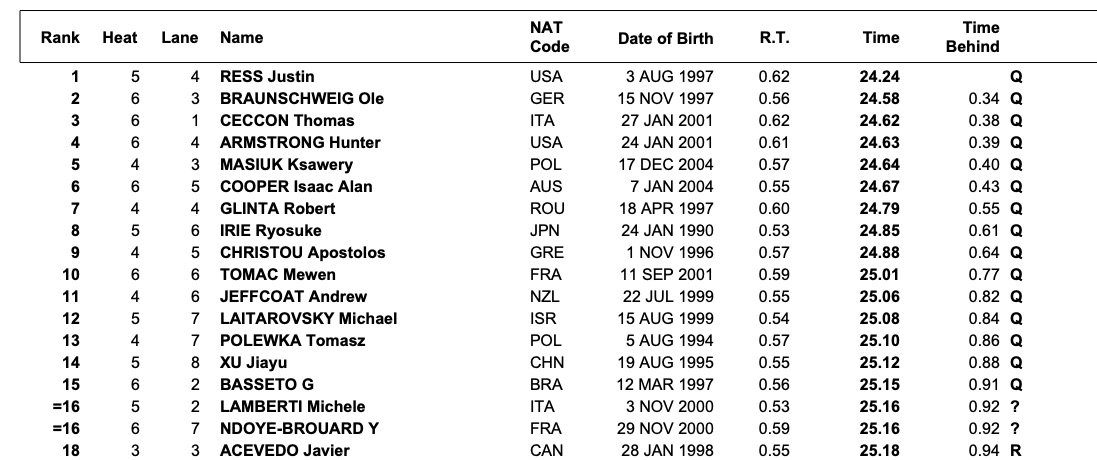 Women's 50m breaststroke: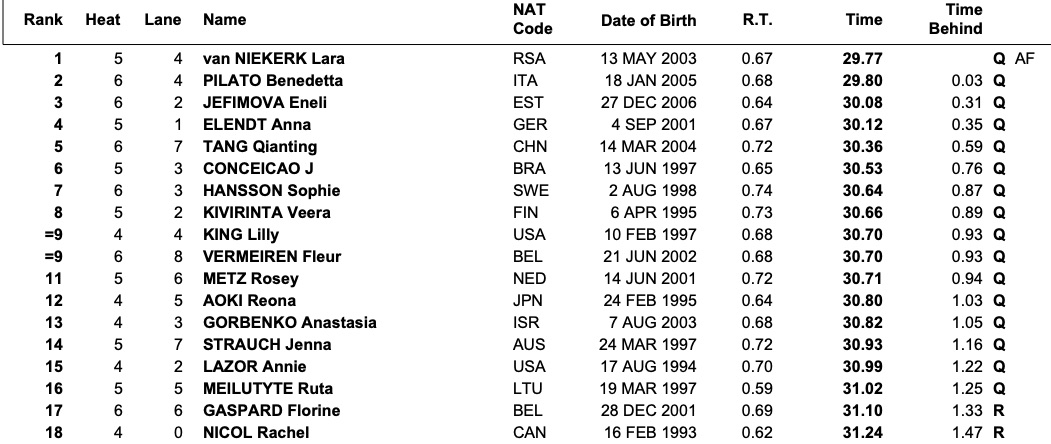 Mixed 4x100m free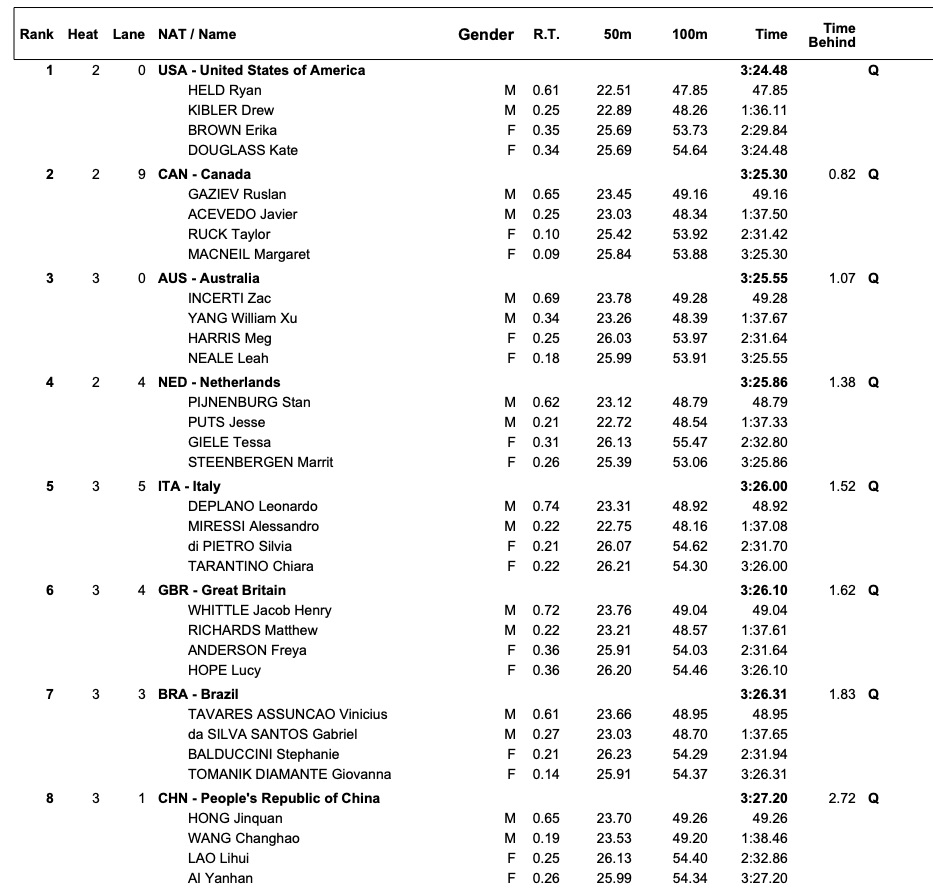 Thursday June 23
Shayna Jack Heads Home For Surgery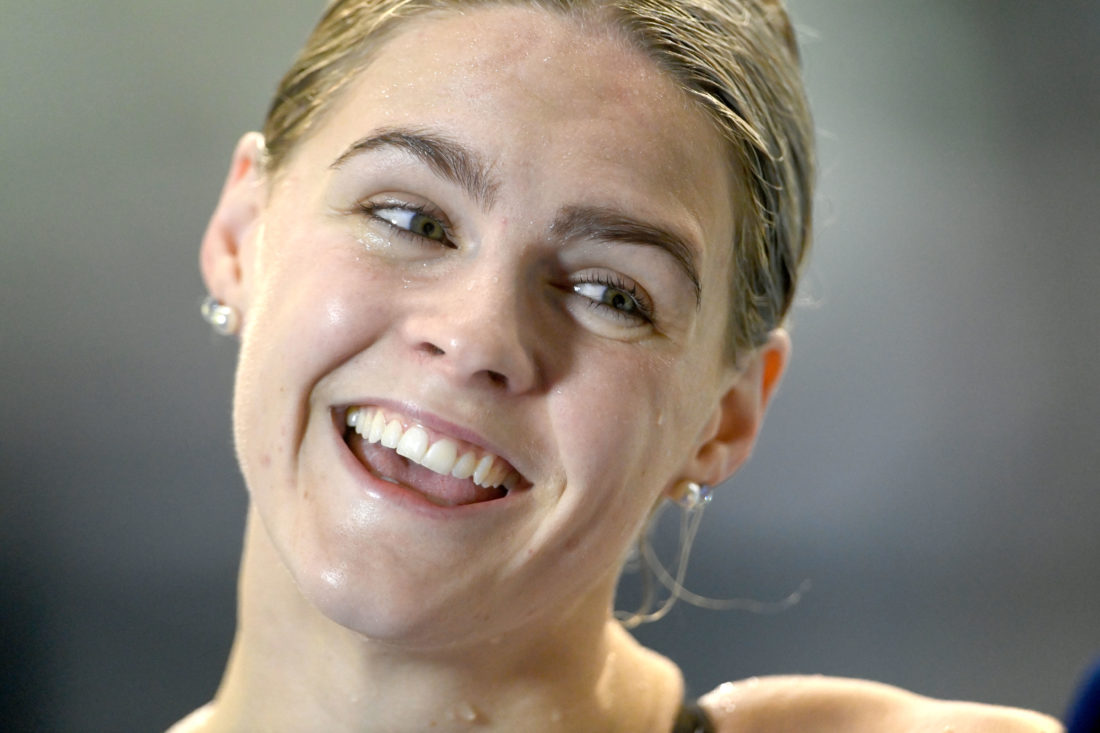 Shayna Jack, who broke the fourth metacarpal of her left hand after she got tangled in the suit of another swimmer in warm-up heading into heats of the 100m freestyle on Thursday, is heading home o Australia for surgery.
Jack, who is back from serving a doping ban in a case of an adverse finding she argued was inadvertent, may miss the Commonwealth Games after breaking the the tiny bone in the palm that connects the fingers to the wrist. Grip on water and the pull phase in swimming is of critical important to swim speed. The good news for Jack: the break is clean and may heal quickly and in time for her to fly back to Europe in time for the start of the Games in Birmingham, England, in late July.
, after she got tangled in the suit of another swimmer.
The 23-year-old Queenslander was take to a Hungarian hospital for X-rays immediately after the accident. She said she was in "shock and disbelief".
Australian head coach Rohan Taylor explained: "She was coming into the wall, basically taking a stroke into the wall and a girl in front of her just turned and pushed off and as she went by, her finger got caught in the suit."
"She thought she'd just dislocated it first so got out and called the doctor (Luke Eggleston). He said 'we've got to get you to a hospital for an X-ray' because they could see an ­indentation."
If all goes well, she hopes to rejoin the Australian team at its training camp in Chartres, France, before the Commonwealth Games.
"She's very, very determined to get that done and get back on the team and participate and I said 'great, we're happy to have you back. We want you back'," Taylor said.
Budapest 2022 World Championships, Day 6 Heats:
How High Can Milak Fly In A Dressel-Free There & Back?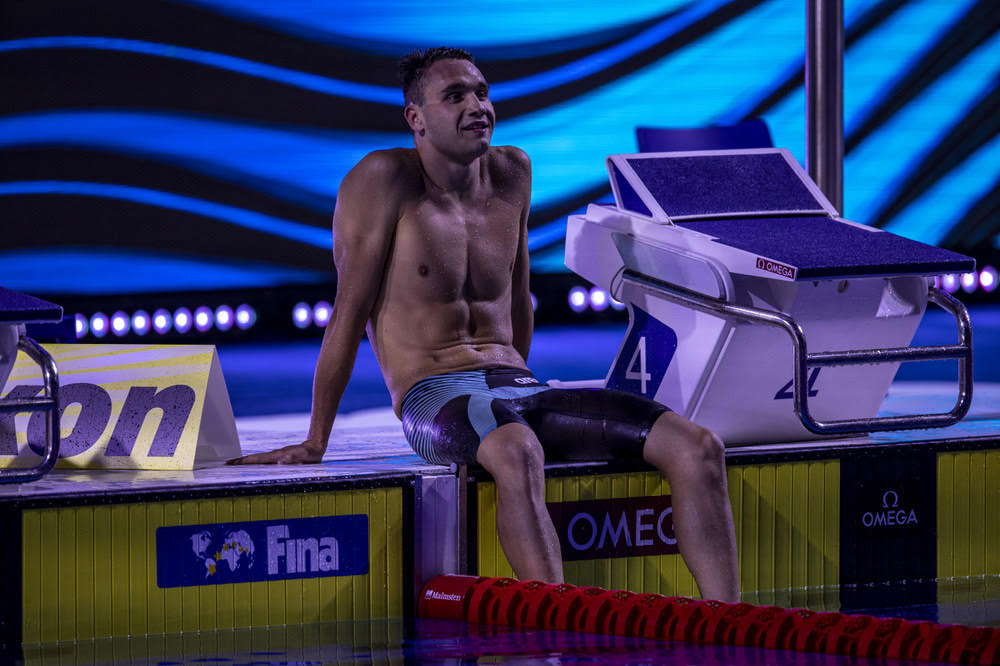 Men's 100m Butterfly: No Caeleb Dressel (out of the championships through illness) to draw on but Kristof Milak appears to be in the sprint form of his life, a 46.89 split in the 4x100m free relay preceding his 1:50.34 World-record in the 200m butterfly through break-neck splits. When he's going 'slow' and then when he's in full flow, Milak is Phelpsian in so far as he can switch from looking a little lumpy and low to flight-of-eagles mode in a flutter of hip and heartbeat.
The Tokyo Olympic final was a blockbuster, Dressel and Milak setting World & European records.
Here comes the 100m: 50.68 in heats. Josh Liendo, bronze medallist in the 100m free last night, was the only other under 51 this morning, on 50.97. The one big name missing was Kyle Chalmers: 22nd in 52.76 after the controversy of a late decision to change his mind and throw his name in the ring for Budapest after a 51-mid in the 100 'fly for second place at Australian Championships and trials.
That kept Cody Simpson off the team for Budapest by a slither and the Aussie media had a field-day with stories of a love triangle involving the pop singer, the golden girl of the Games of Tokyo and the 2016 Olympic 100 free champion. Chalmers didn't show for the team announcement because he said the coverage and controversy had caused him mental-health anguish. Now, all water under the bridge, the Australians will be hoping as Chalmers, Simpson and Emma McKeon head to Birmingham, UK, for the Commonwealth Games next month.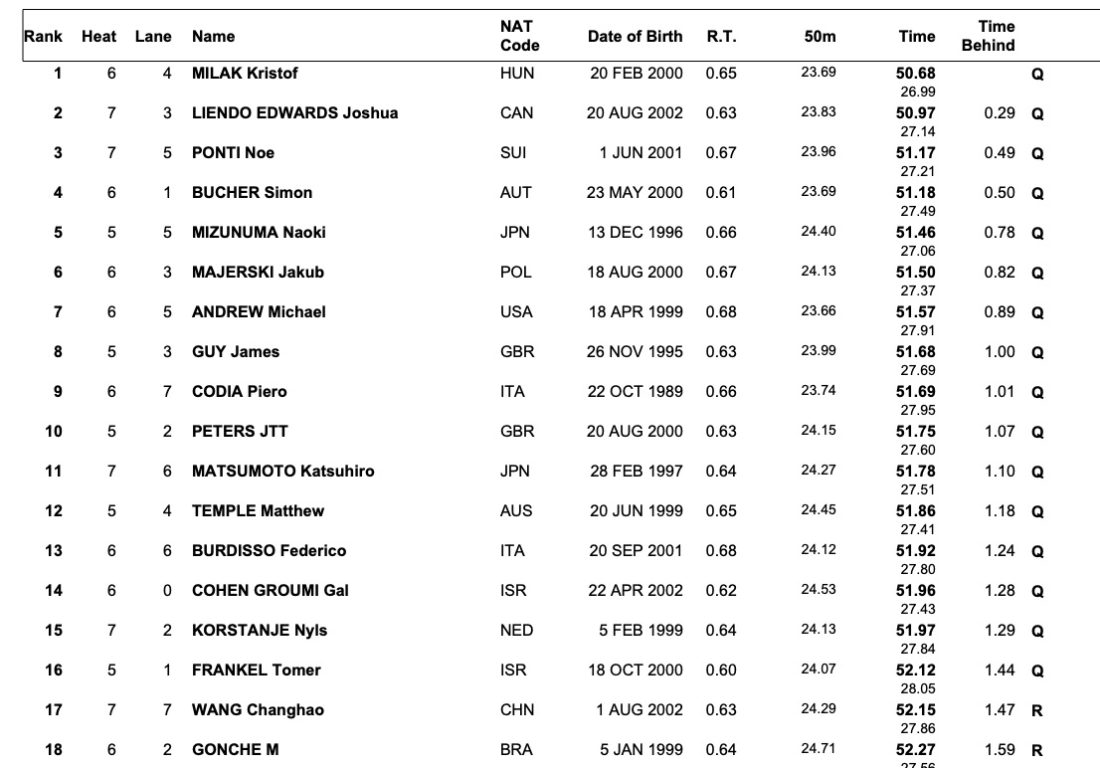 Women's 50 fly: The return of Sarah Sjostrom, the owner of a 24.43, one of the most stunning world marks on the books, from Boras in 2014: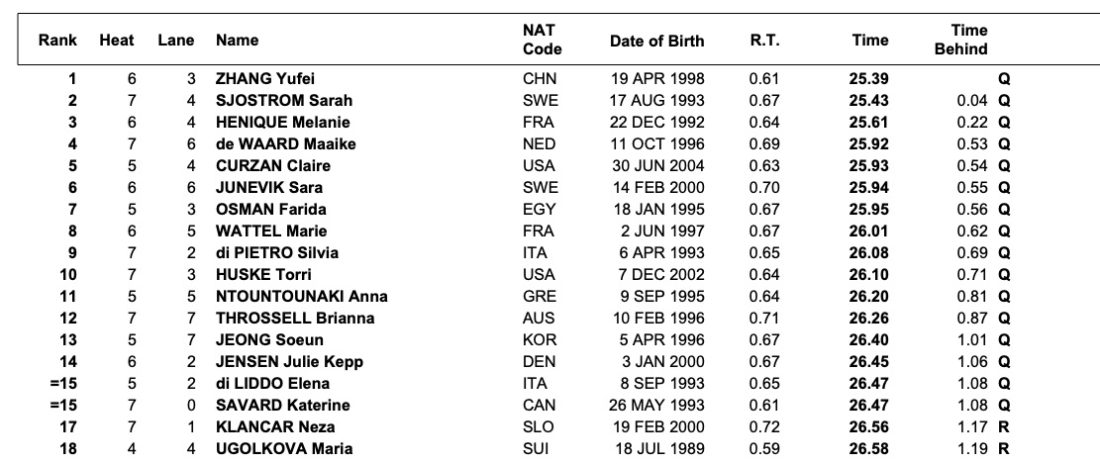 Men's 50 free: Bruno Fratus led the way in 21.71, with Josh Liendo on 21.72 in the second of his heat swims this morning. Michael Andrew and Ben Proud next though inside 21.8: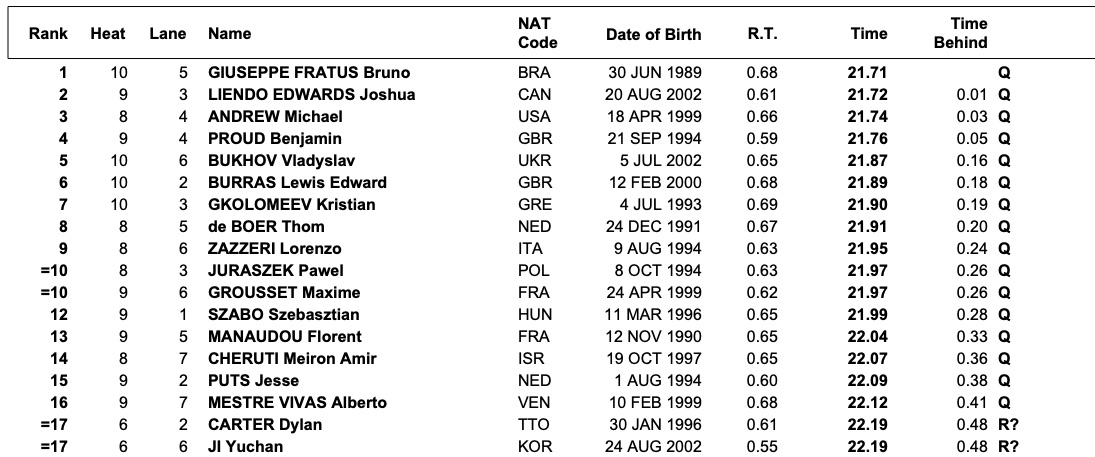 Women's 200m backstroke: all big names safely through, led by Phoebe Bacon on 2:07.89:
Men 4x200m free: Italy was the big team that didn't make it, while Russia is barred and Britain, Olympic champions, are without Duncan Scott (recovering from a Covid infection a couple of weeks before the championships) and the full fitness of the Games last year, courtesy of several months-long breaks from the pool in the latter half of 2021.
The dynamics are different and here's how the contenders stack up, the USA at the helm on 7:04, Brazil on 7:06, Hungary on 7:07 and a few teams after that win 7:098s but capable of big time drops in the final: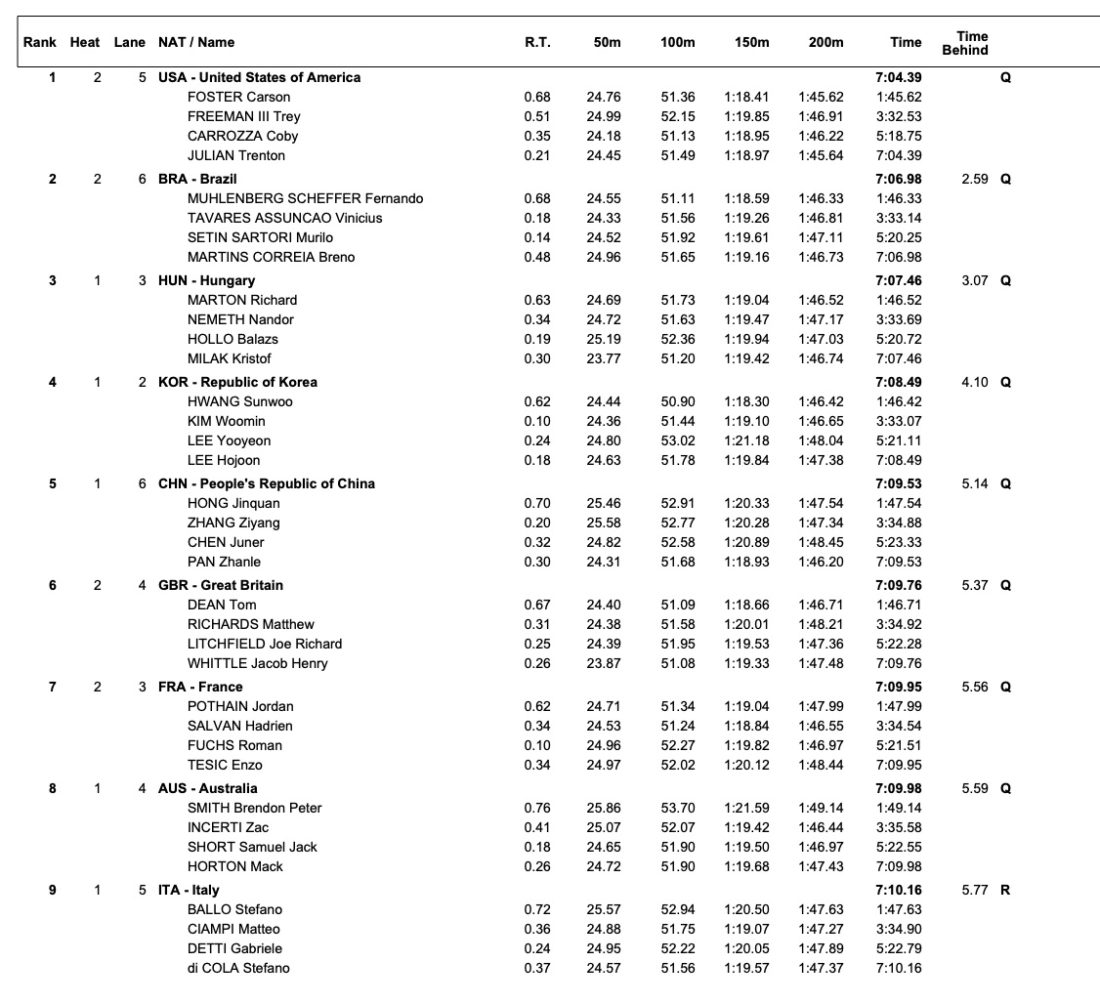 Wednesday June 22
Budapest 2022 World Championships, Day 5 Heats:
Shayna Jack Out With Broken Hand As Dolphins Set Up Wave Of Golden Shots In Day 5 Heats
A steady morning with no major upsets at the Duna Arena… except in the 100m free for women…
Women's 100m freestyle
Shayna Jack's comeback World Championships are over after she broke her hand in warm-up this morning. One of the favourites for a shot at the 100m crown, the Australian now faces a race against time to see ion the injury will heal in time for the Commonwealth Games.
Back from a doping ban, Jack, 23, might have gone home with a few medals from Budapest but her silver as a member of the 4x100m mixed medley relay looks set to be it.
Jack confirmed the news on social media, posting: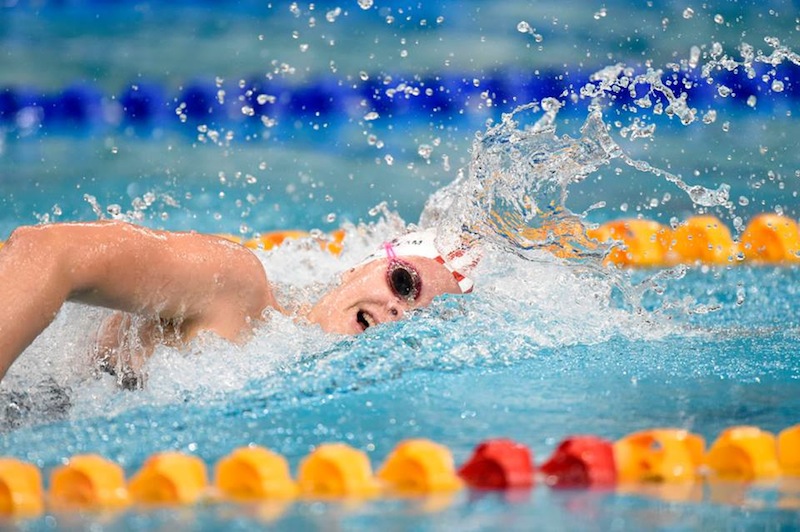 "Due to an unfortunate incident in this morning's training session, I have broken my hand. I am broken-hearted to announce that I have to withdraw from the rest of the competition and that I won't have the opportunity to achieve everything I wanted to. However I am still so proud of what I've achieved, how far I've come and the amazing teammates I've been able to medal with. As I always do I turn my focus to the future, and that is the Commonwealth Games. Starting this afternoon I'll be back in the pool doing a kick-session."

Shayna Jack – Photo by Delly Carr, courtesy of Swimming Australia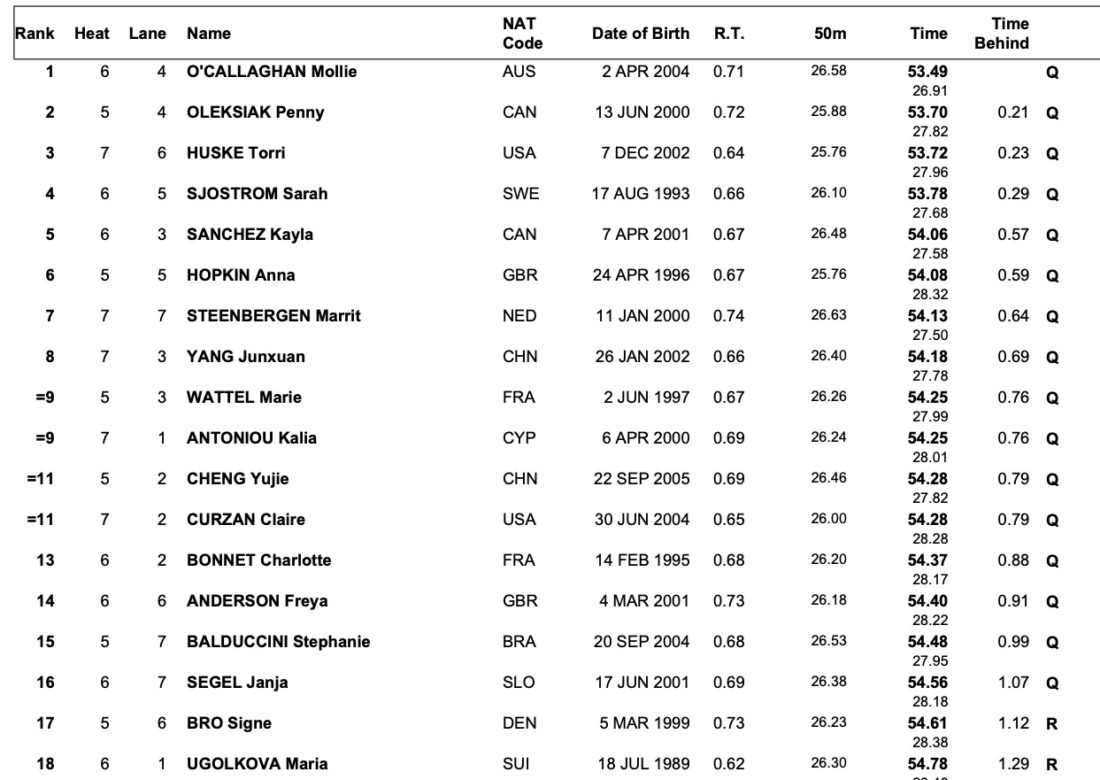 Men 200m Backstroke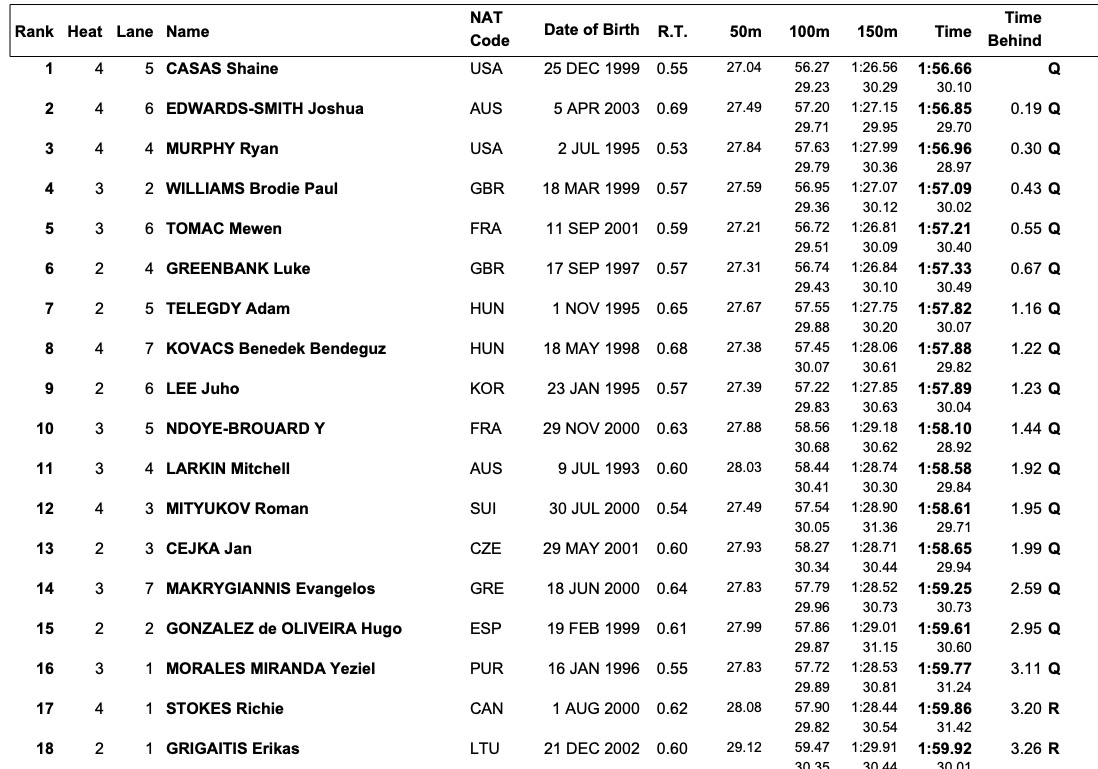 Men 200m breaststroke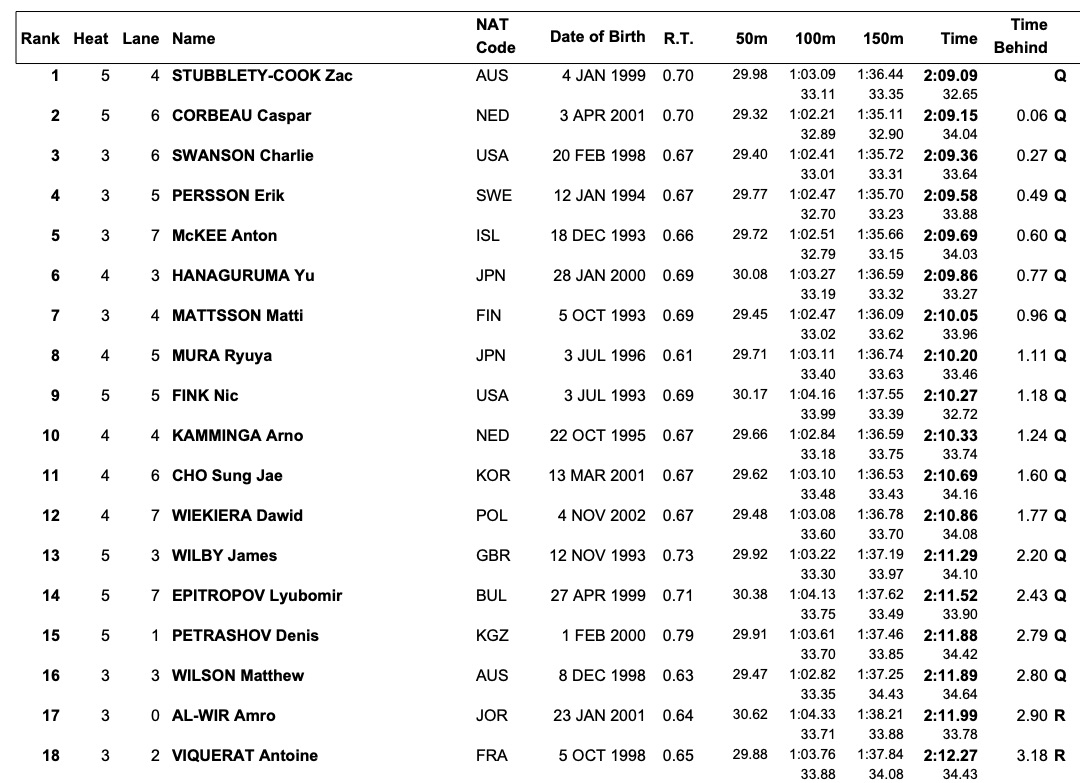 Women's 200m breaststroke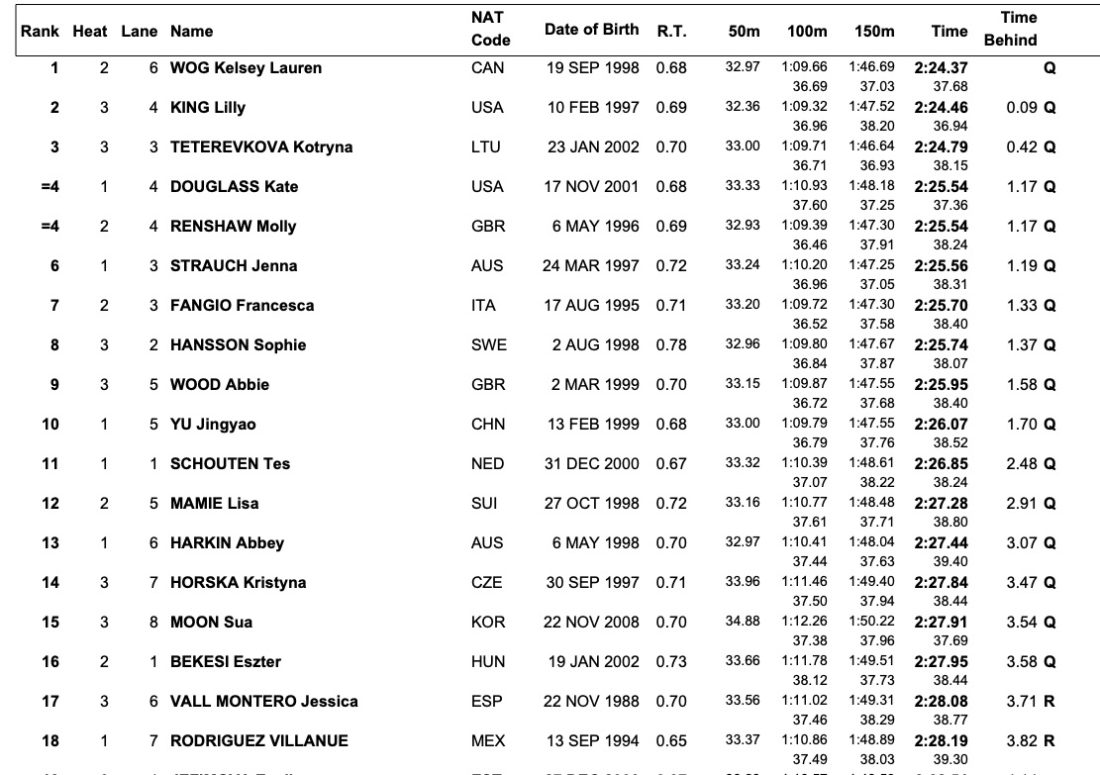 Women's 4x200m freestyle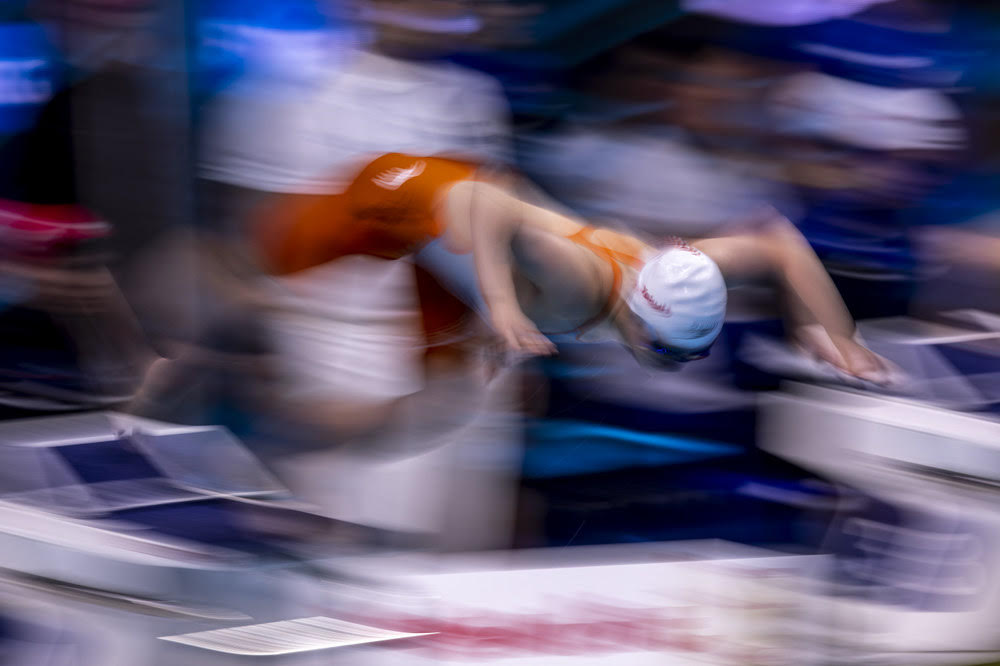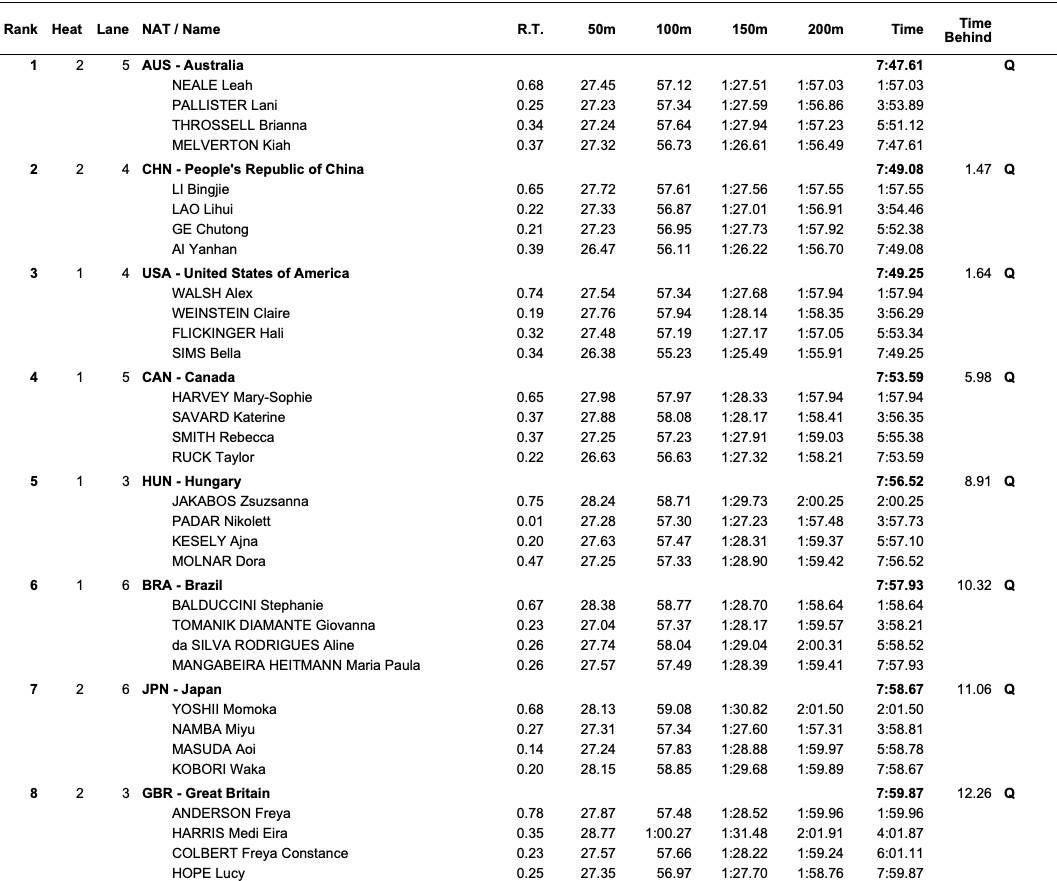 Tuesday June 21
Budapest 2022 World Championships, Day 4 Heats:
Popovici 47.60 In Heats Of A Moment Of Doubt For All Those He Challenges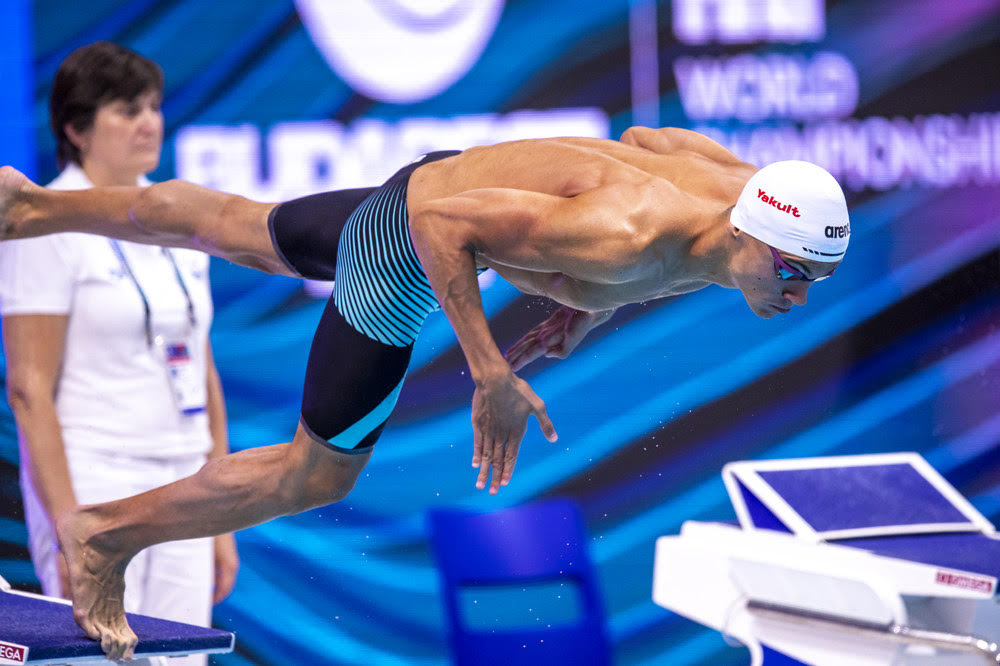 Men's 100m freestyle: David Popovici took off where he'd left off with a stunning 1:43.21 victory in the 200m freestyle last night: 47.60, showing no sign of breathlessness or effort at the end of his 100m freestyle semi. Next in was Caeleb Dressel, the Olympic and defending World champion: 47.9 as the only other sub-48 in morning prelims.
The semis will tell us a touch more about a towering 17-year-old talent dedicated to his art and posing a threat to the established order and form guide of a 100m event that's never safe from danger at both ends of the spectrum: those dragging the lightning rod of dashing 50m pace into two lengths with them and those bringing the endurance of the 200m to the party as constant reminders that no aspiring two-lap champ can afford to forget those back in the wash at the turn. Questions of balance and progress ahoy: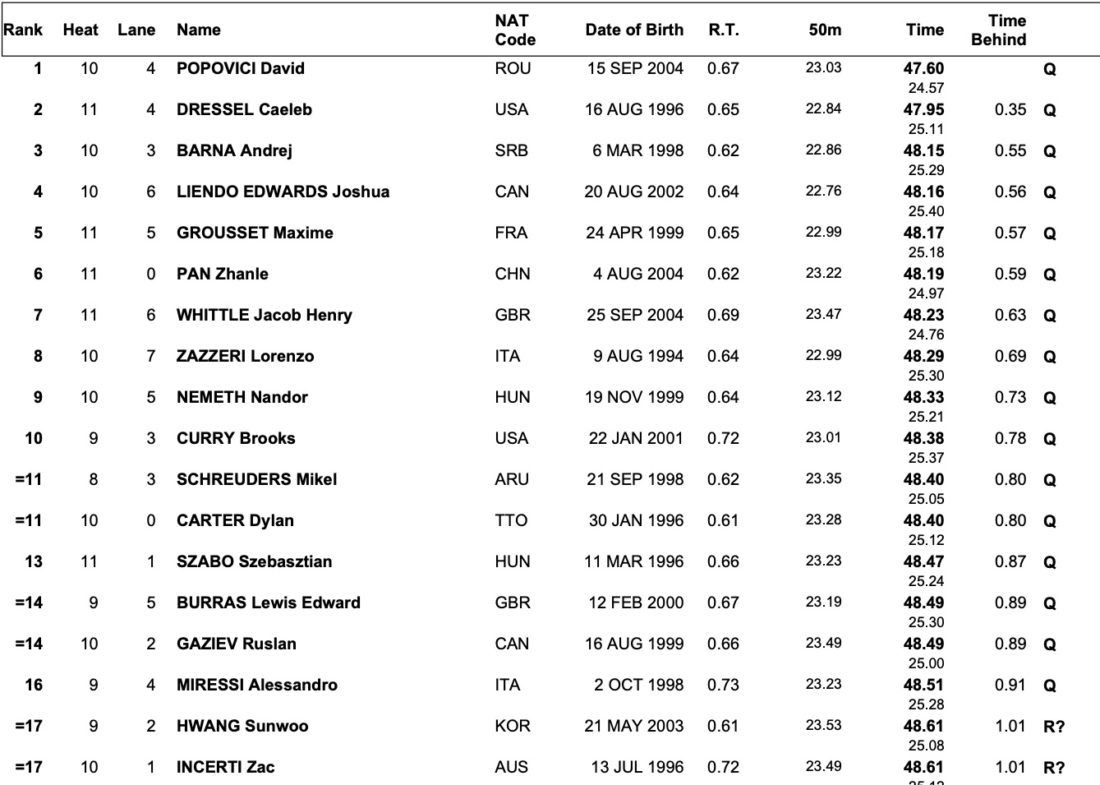 Women's 50m backstroke: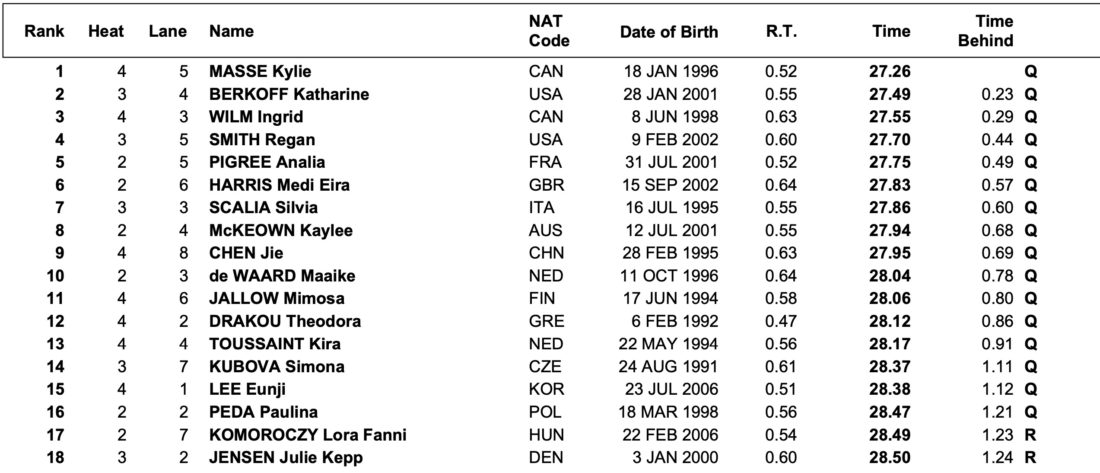 Women's 200m butterfly: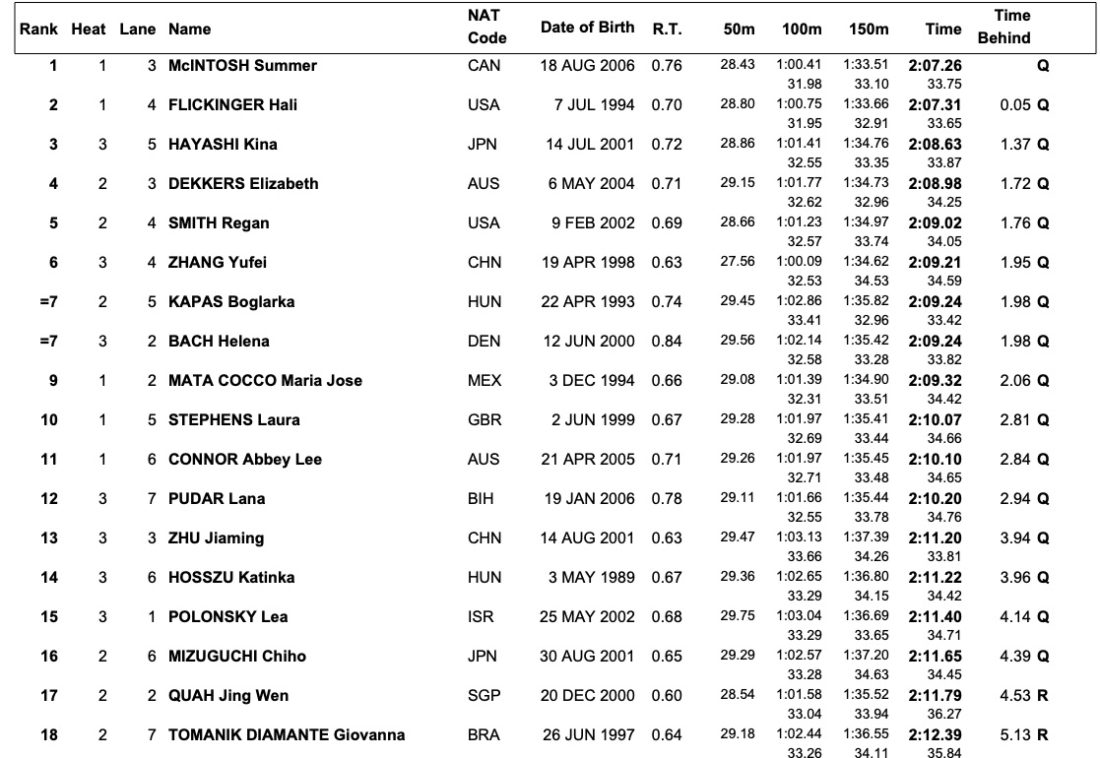 Men's 200m medley: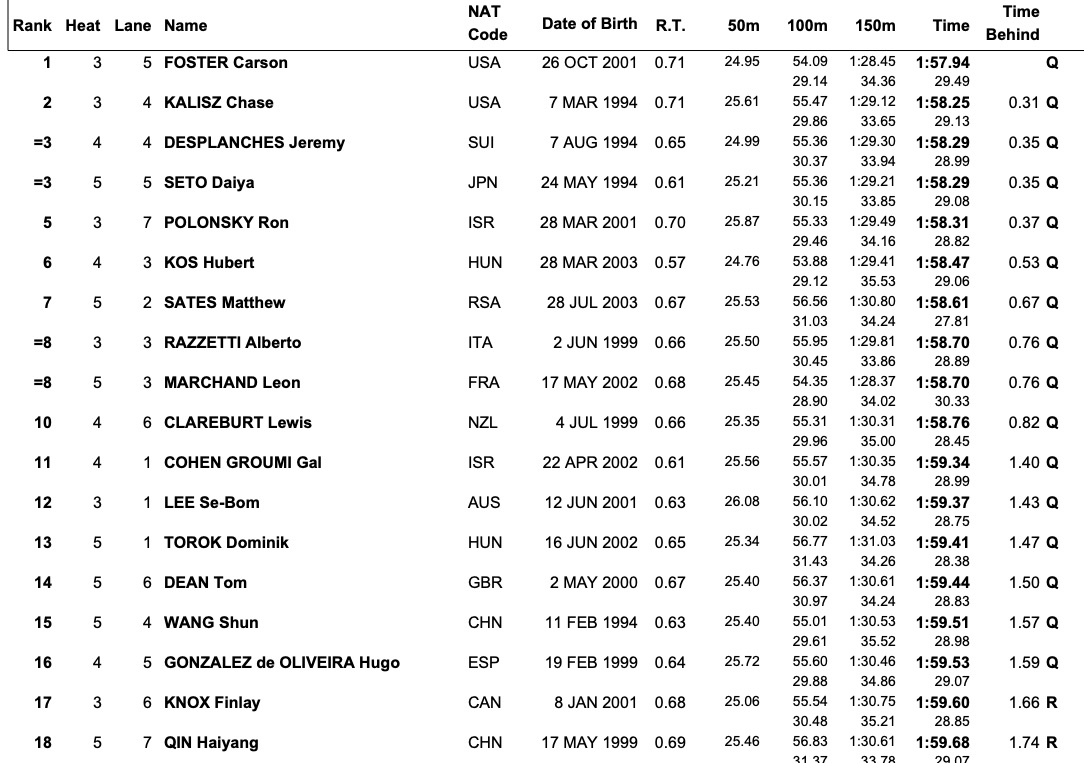 Mixed 4x100m medley – qualifiers for the final: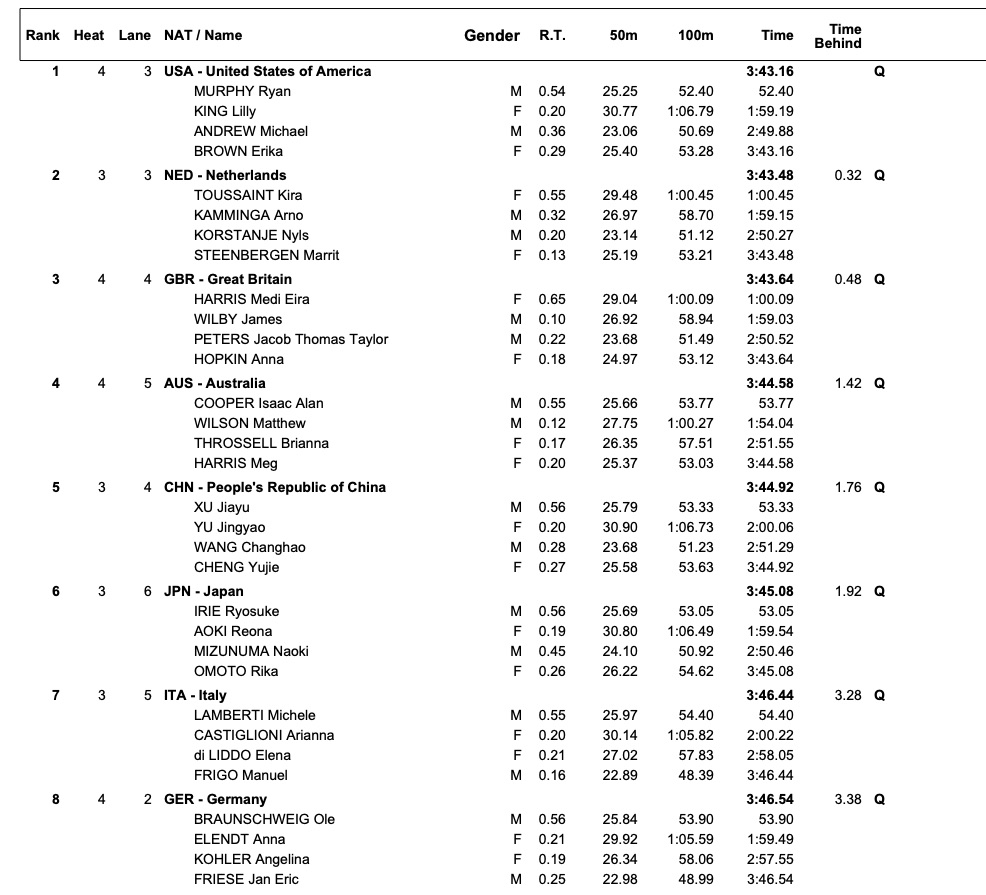 Monday June 20
Budapest 2022 World Championships, Day 3 Heats: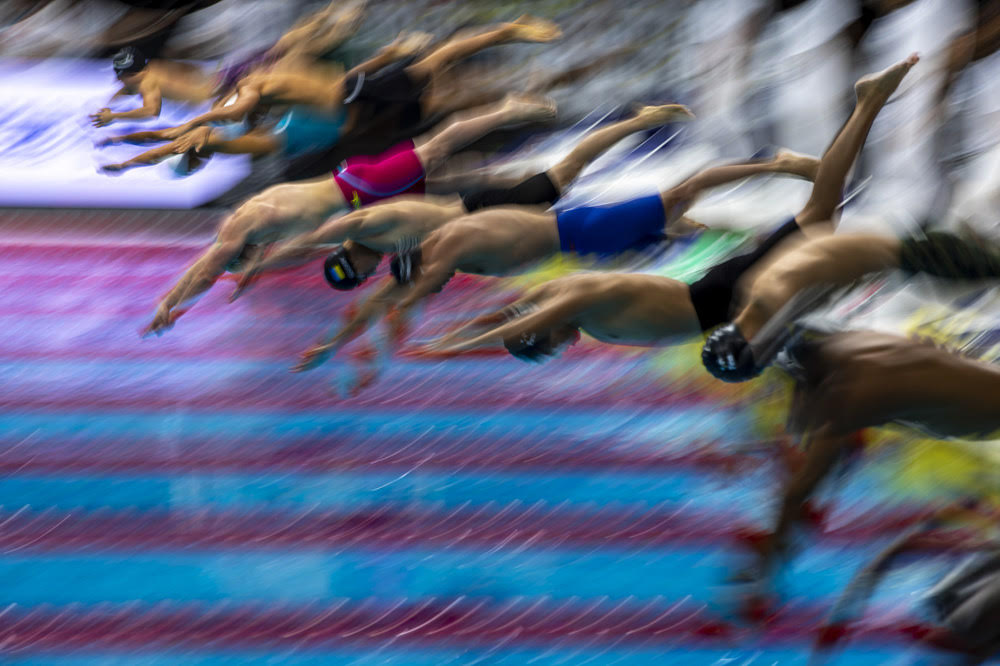 The third morning of heats included two big withdrawals. Olympic 200m freestyle Silver medallist Siobhan Haughey, of Hong Kong, was a no-show for the 200m freestyle, while Chad Le Clos, the 2012 Olympic 200m butterfly champion from South Africa, has withdrawn from the event that made his name well beyond the pool and all other events.
A spokesman for the South African team said: "The (team) manager has confirmed that he (Chad LeClos) has a medical (condition) and has withdrawn from all his events."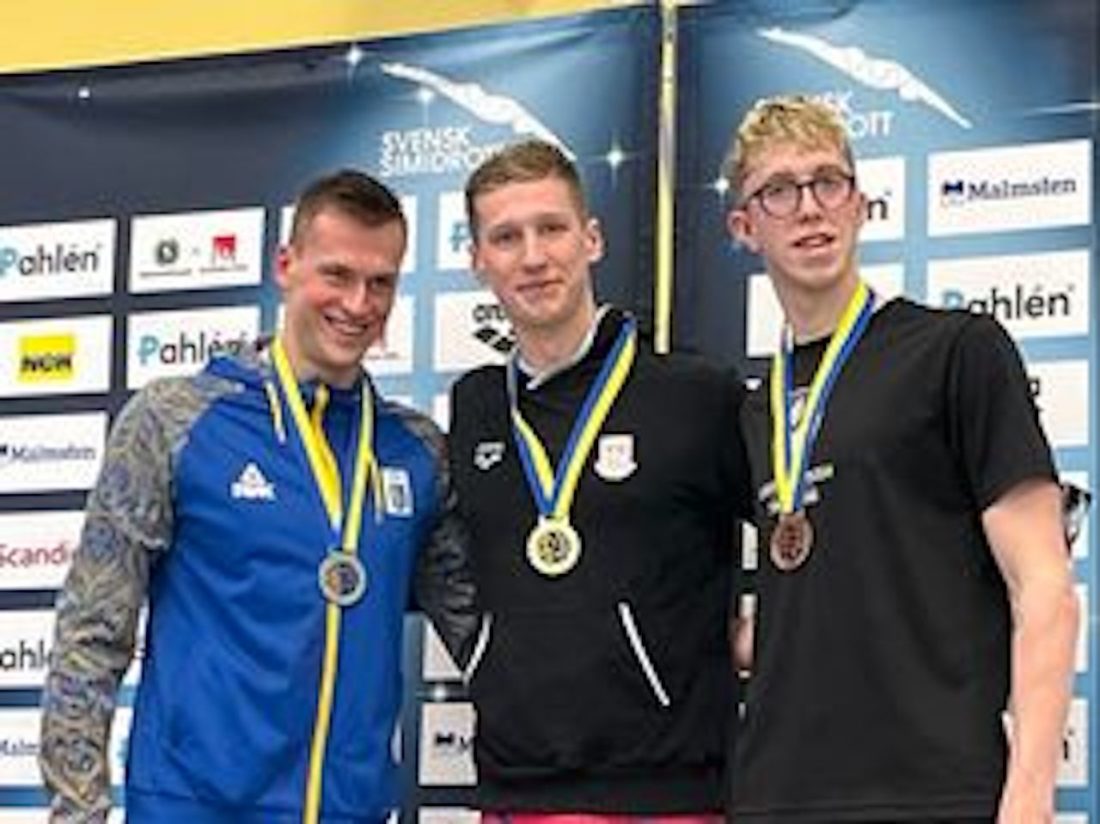 Men's 800m freestyle: Mykhailo Romanchuk and and the man who provided him with a haven away from war-torn Ukraine, Germany's Florian Wellbrock, the Olympic marathon and defending champion over 1500m and in the marathon here in Hungary, will race side by side in lane 4 and 5 the final of the 800m freestyle tomorrow, their heat swims having set the pace at 7:44. Elijah Winnington opted out and the rest of the action went more or less according to form, barring a terrific swim from Ireland's Daniel Wiffen, who took a sledgehammer to his own Irish record of 7:50 with a 7:46.32 for fifth place through to the showdown. Wiffen, based at Loughborough, has spent the past two years chipping away at distance freestyle standards and racing the big hitters like Romanchuk and Wellbrock at meets like the Stockholm Open, and now stands on the cusp of a World-Championship final within the wash of title contenders and this morning ahead of the pace of Olympic champion Bobby Finke: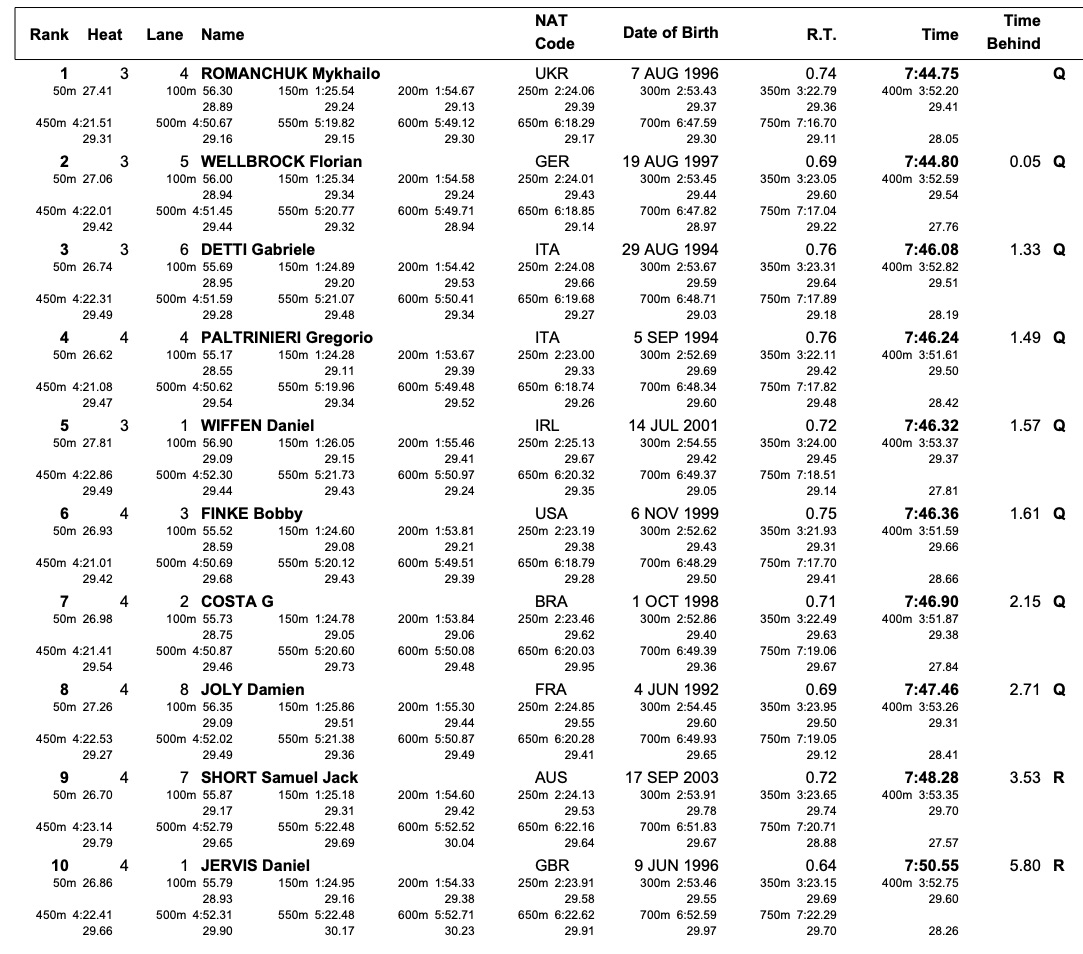 Men's 200m butterfly: With some ease and a touch of Phelpsian prelim pacing just shy of what might be described as loping, home hero Kristof Milak headed into lane 4 for the defence of the crown: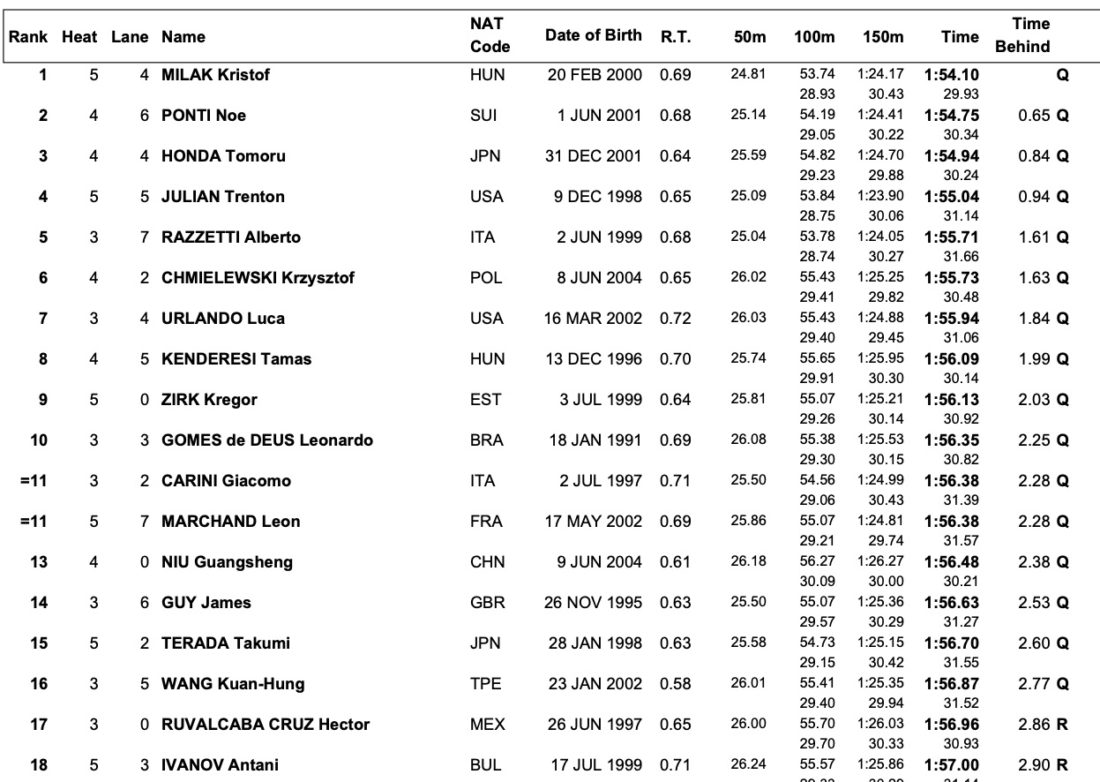 Women's 200m freestyle: No Olympic champ, Ariarne Titmus bypassing Budapest, and no Olympic silver medalist, Siobhan Haughey a no show this morning. Two got below 1:57 in heats, Yang Junxuan and Madison Wilson: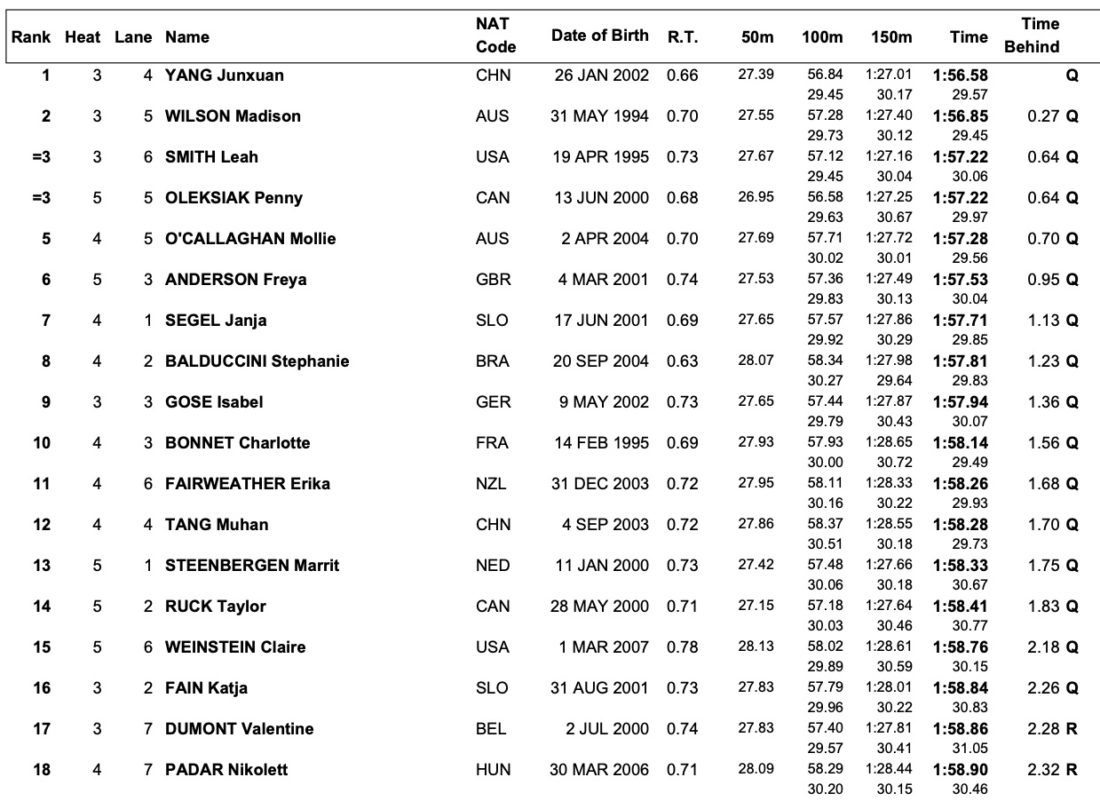 Men 50m breaststroke: Nicolo Martinenghi, on a roll after his first World long-course crown in the 100m last night, set the pace into semis at 26.68, Michael Andrew 0.03sec away: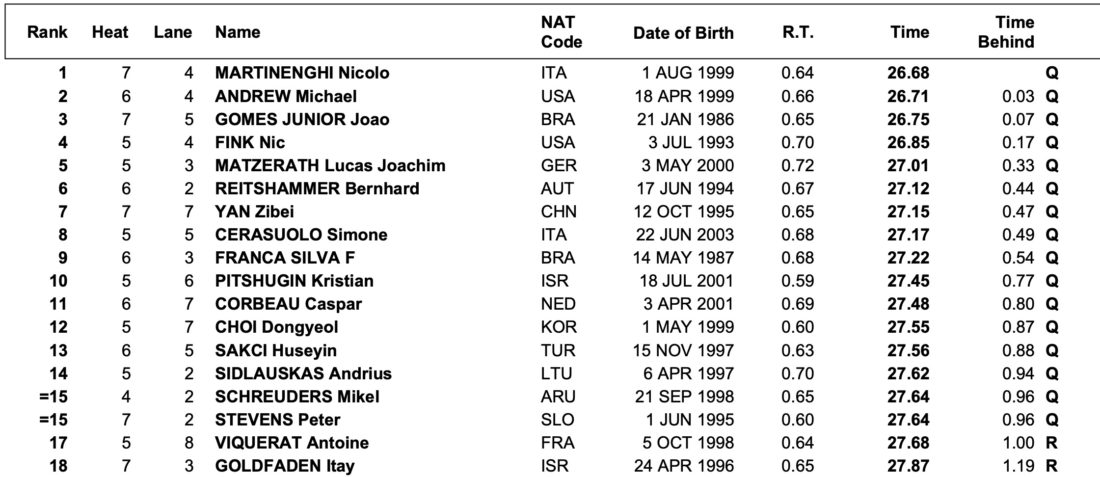 FINA Renews Partnership With International Testing Agency (ITA)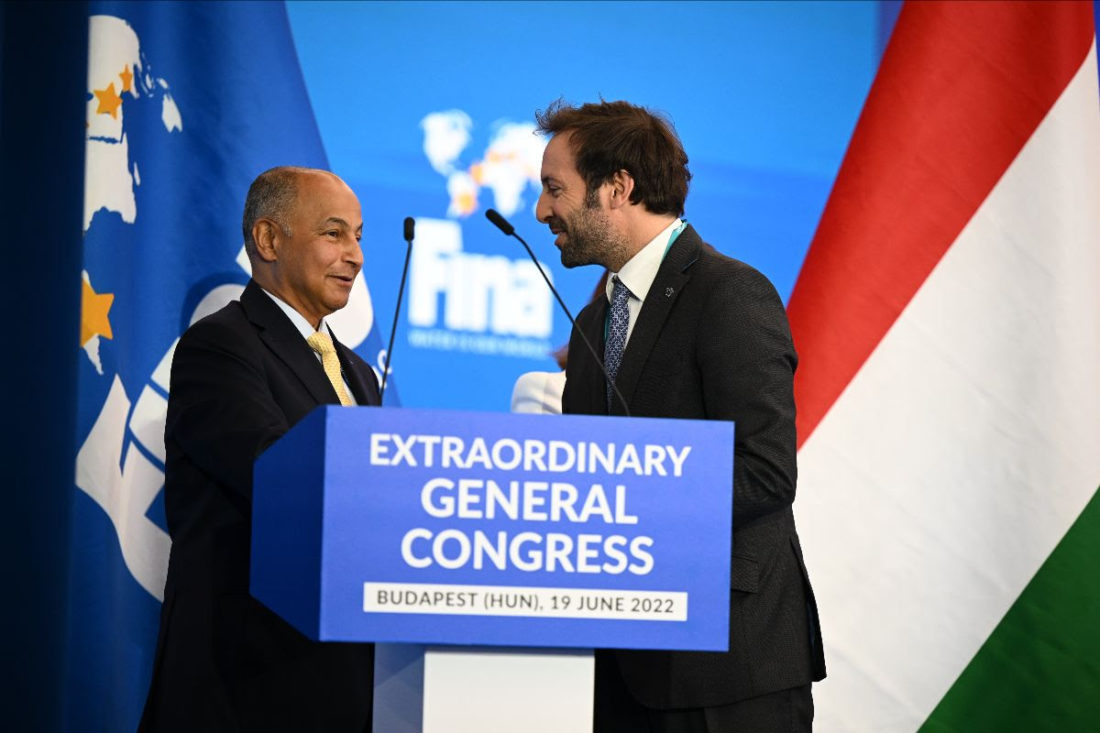 The Fédération Internationale de Natation (FINA) has renewed and extended its partnership with the International Testing Agency (ITA) until the end of 2023. The world governing body for aquatic sports is further strengthening and enhancing the independence of its anti-doping program by delegating additional clean sport activities to the ITA.
FINA first partnered with the ITA in January 2019 as one of the first major Olympic Federations looking to further professionalise its anti-doping program and increase independent implementation.
During the FINA Extraordinary Congress in Budapest (HUN), FINA President Captain Husain Al-Musallam announced a partnership renewal with the ITA and delegated further parts of its clean sport programme to it.
Previously, the ITA has managed FINA's risk assessment and test distribution planning, the implementation of the federation's out-of-competition testing program, the Athlete Biological Passport (ABP) administration and the coordination of FINA's long-term storage and re-analysis program.
Starting in January 2022, the ITA is now also managing the federation's in-competition testing and the administration of Therapeutic Use Exemptions (TUE) applications. Furthermore, the ITA is tasked with the establishment and management of FINA's Registered Testing Pool (RTP) based on risk assessment. The ITA will also support FINA with its Intelligence & Investigations and Results Management activities, including the handling of whereabouts failures and anti-doping rule violations, in close cooperation with the newly established FINA Aquatics Integrity Unit.
"I am very happy to announce this enhanced collaboration with our partner FINA and thank them for their commitment to keeping aquatics clean," ITA Director General Benjamin Cohen said. "We are honoured by the increased trust that one of the largest Olympic Federations puts in the ITA as it shows that our focus on delivering the best independent anti-doping programs possible can give a large amount of support to any sporting body and help them focus on the development and promotion of their athletes and sport. We have worked hard to protect FINA's athletes in the past two years and during the Olympic Games Tokyo 2020, and we will continue to do so throughout this new collaboration period. FINA should be commended for the significant reforms they are undertaking, and we look forward to working closely with them and its Integrity Unit moving forward."
FINA President Husain Al-Musallam emphasised how the expanded collaboration with the ITA helps the specific needs of the Aquatics Integrity Unit to protect aquatics athletes and ensure a level playing field.
"On behalf of FINA and the entire aquatics family, I am delighted to renew and extend our collaboration with the International Testing Agency. FINA is completely committed to protecting clean athletes and promoting clean sport," FINA President Husain Al-Musallam said. "Today's agreement with the ITA will help ensure that the field of play is equal for all athletes, and forms part of FINA's wider strategy to fight doping in sport."
Sunday June 19
Budapest 2022 World Championships Day 2 Heats
McKeown Out Of 100 Back, Popovici Chucks 200 Free Gauntlet; Ledecky In Line For 1500 Gold No4
Women's 100m backstroke: The title favourite, Kaylee McKeown, withdrew as part of a plan to test her strength in the 200m medley on the way to Paris 2024. Regan Smith and Kylie Masse produced the two sub-59sec efforts this morning:
Men's 100m backstroke: Hunter Armstrong led the way to semis as the sole sub-53sec man, on 52.81:
100m breaststroke: Lilly King is aiming to become the first woman ever to claim the title three times. She went through to semis in 7th place this morning, the pace led by China's Tang Qianting in the sole sub-1:06, by 0.01sec. Former World champion and 2012 Olympic champion Ruta Meilutyte, on the comeback trail, clocked 1:06.71 to go through in 9th: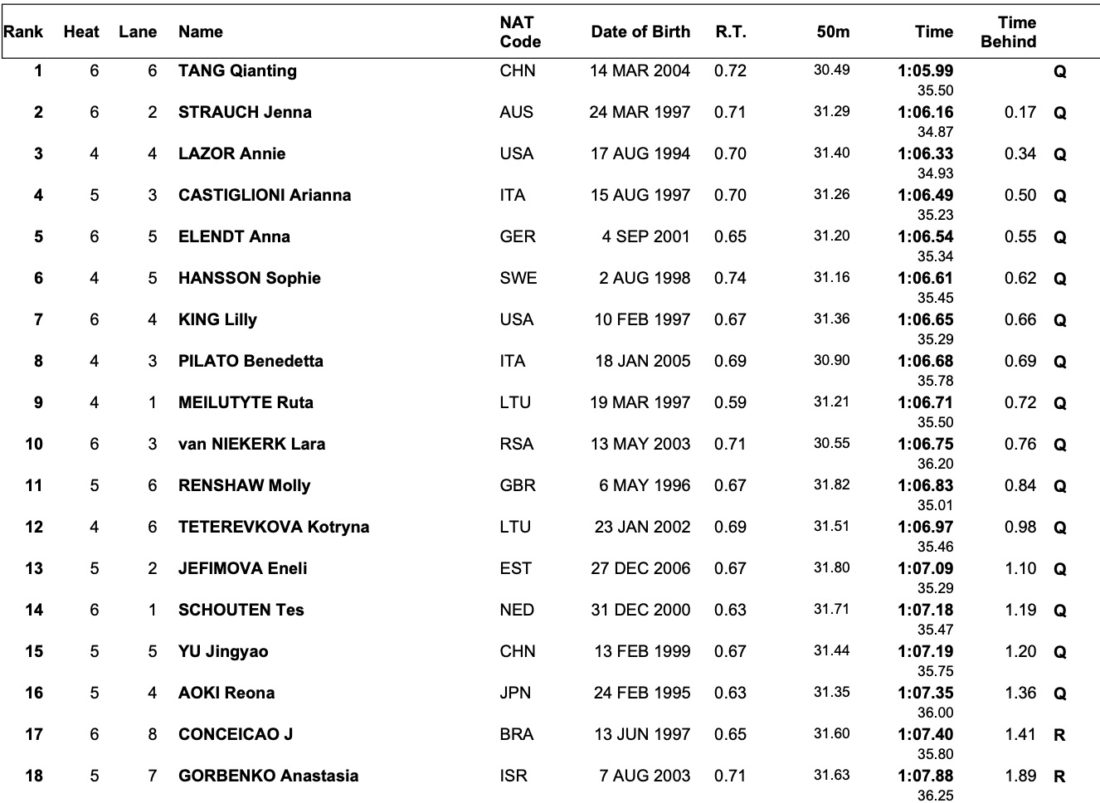 Men's 200m freestyle: Heat 7 had it all: the top 5 finishers topped the overall list of qualifiers with four 1:45s and one over into the 1:46 zone. David Popovici, the Romanian teenager, led the pace on 1:45.18, with Korean teenager Hwang Sunwoo on 1:45.79, Austria's Felix Aubock on 1:45.84 and Olympic champion Tom Dean on 1:45.99. A fast semi in prospect: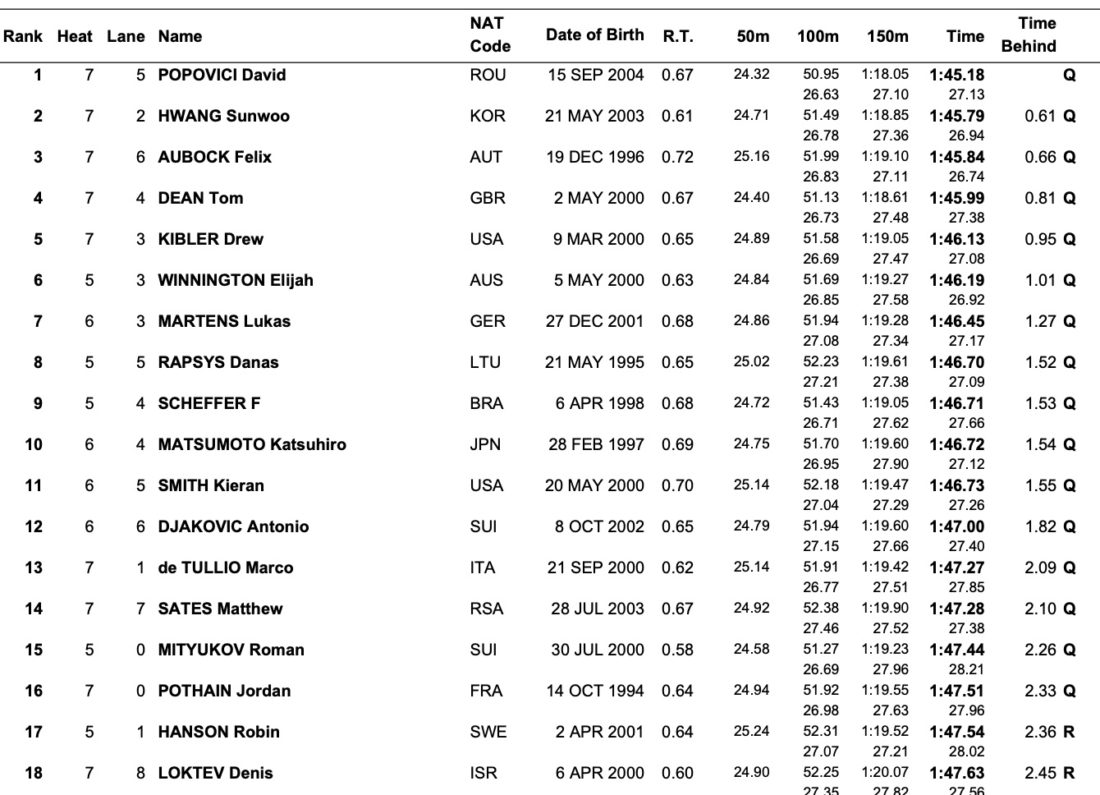 Women's 1500m freestyle: Defending champion Katie Ledecky claimed lane 4 for a shot at reclaiming the crown she lost in 2019 when she withdrew through illness after three wins in 2013, 2015 and 2017: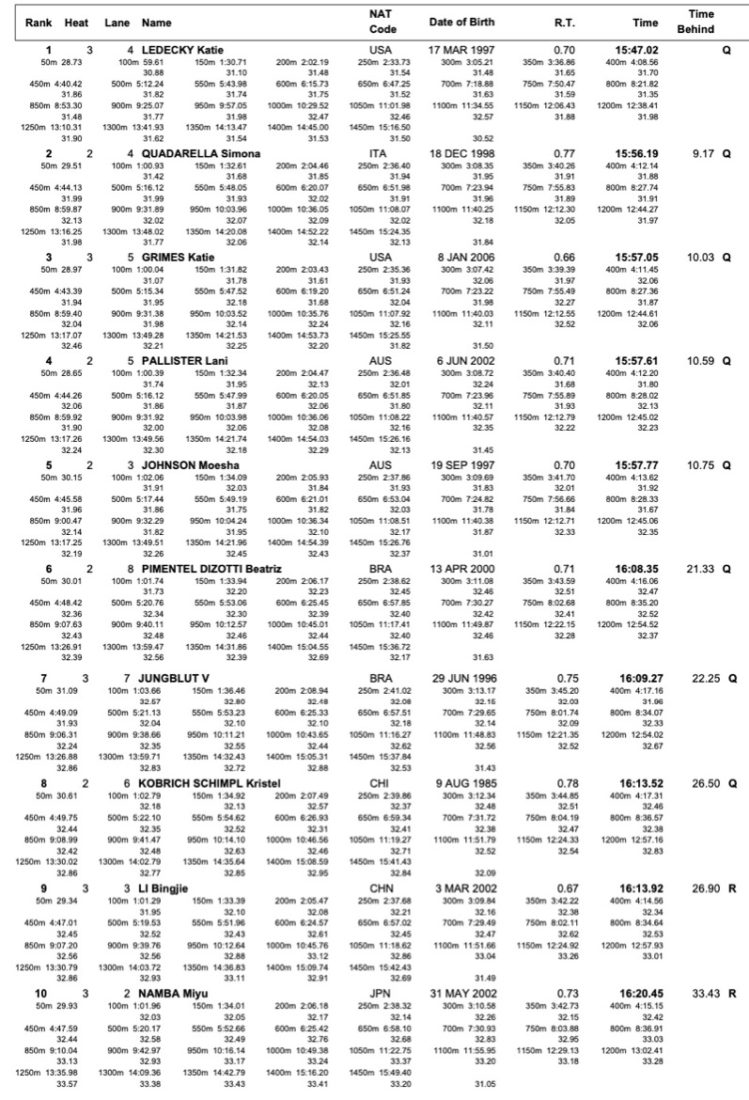 Saturday June 18
Budapest 2022 World Championships – Day 1 Heats:
Men's 400m medley: Leon Marchand, coached by Bob Bowman at ASU, took down his own French record with a 4:09.09 at the helm of pace on day 1 of racing here at the Duna Arena in the Hungarian capital. Marchand's standard had stood at 4:09.65 since French Olympic trials last year.
The third of four heats provided a solid preview of the battle to come this evening, with Americans Carson Foster, 4:09.60, and Olympic champion Chase Kalisz, 4:10.32, following Marchand into the wall, Hungarian Balasz Hollo on 4:10.87. In the last of the heats, Japan's defending champion Daiya Seto entered the final fourth fastest: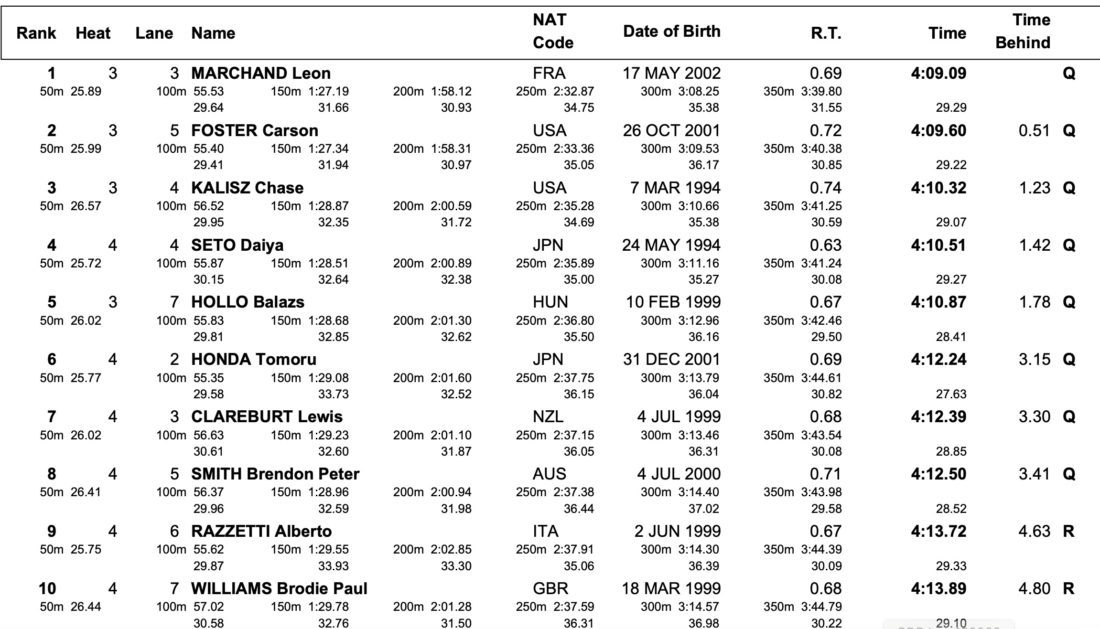 Men' 400m freestyle: the start of the fourth of five heats reflected the need to get as close to certainty as possible among men conscious of the line-up watching in the wings knowing what it would take to make the cut for the showdown.
Inside World-record pace for the first 200m, Australia's Elijah Winnington set the pace ahead of Olympic bronze medallist Kieren Smith (USA), Guilherme Costa (BRA) and Felix Aubock (AUT). Winnington held sway at the last turn before Aubock cracked out a 27.18 last length to take the lead and lane 4 for the final in 3:43.83, the Australian on 3:44.42, 0.1sec ahead of Costa.
In the last heat, Lukas Martens, German World No 1 own the clock this year, clocked 3:45.04 ahead of Italian Marco De Tullio, 3:46.47 and 2016 Olympic champion from Australia Mack Horton, 3:46.57, that 0.1sec deficit costly: 9th and out a year after a third place at Olympic trials Down Under ensured the Rio king of the 400 watched his crown pass to Ahmed Hafnaoui, of Tunisia, in one of the upsets of the delayed Tokyo Games.
Horton simply miscalculated and will be kicking himself in the stands all the way to the decision in the final this evening, and perhaps beyond too, on then way to Commonwealth Games in Birmingham in late July.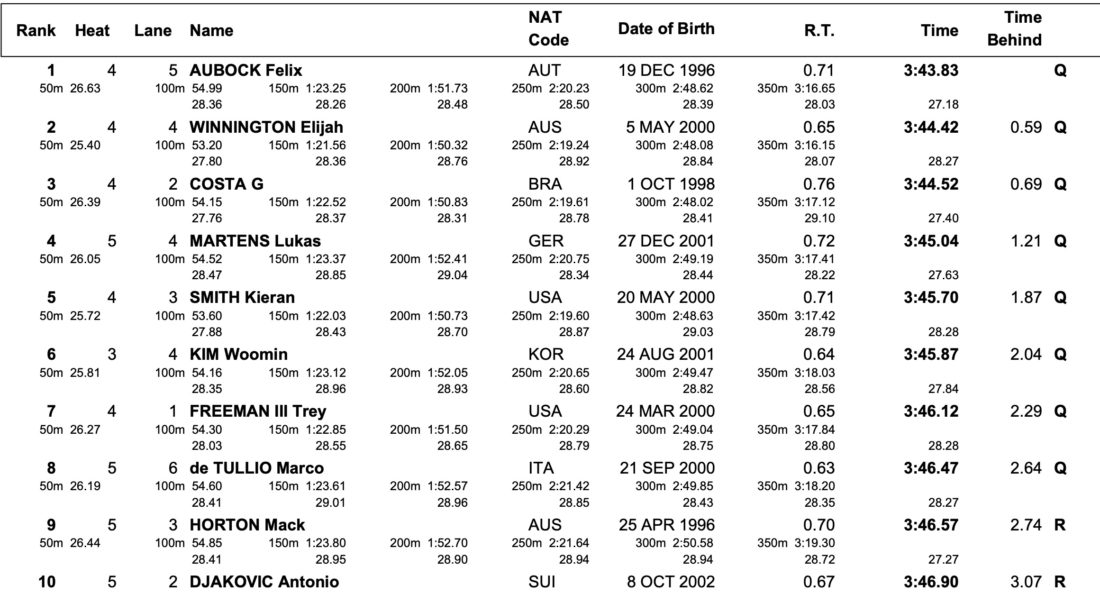 Women's 400m freestyle: the absence of Ariarne Titmus, the Australian Olympic champion and World-title holder from 2019, did nothing to take the edge of Katie Ledecky's focus. For the fourth time in major international waters since 2014, the American ace with Olympic gold over 200, 400, 800 and 1500m, as well as 4x200m, in the pantheon, raced below 4mins in heats, on 3:59.79, inside her 3:59.97 from Gwangju 2019 heats on the way to silver in the final and withdrawal from the 200m and 1500m events through illness.
At Australian Championships last month, Titmus, who also claimed Olympic 200m gold in Tokyo, took down Ledecky's 2016 World 400m record with a 3:56.40. The Budapest final: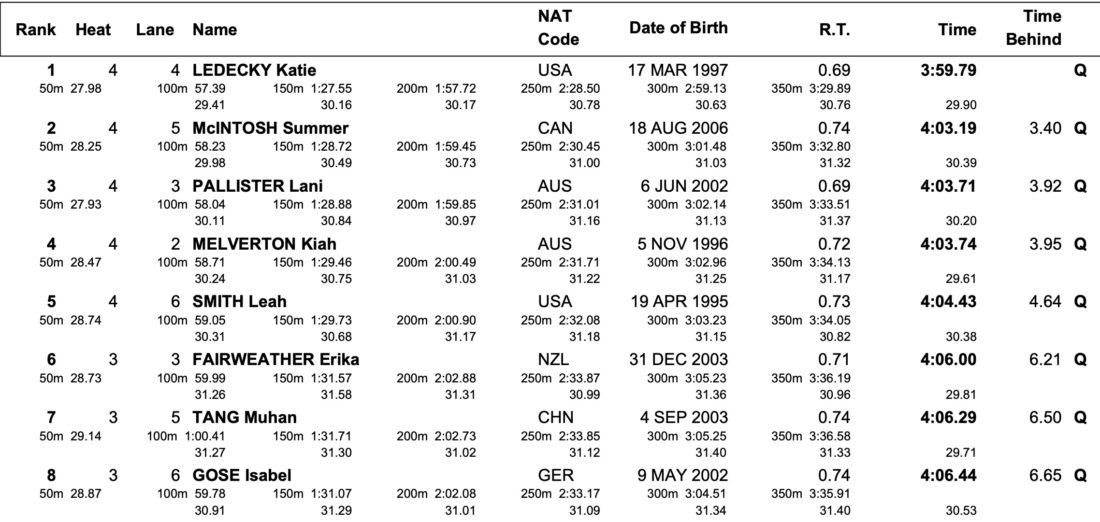 Men's 100m breaststroke: Arno Kamminga (NED) led the pace in heats as the fastest of three sub-59s, on 58.69, the event going without defending champion and Olympic king of 2016 and 2020one, Britain's Adam Peaty, who broke a bone in his foot on training camp last month: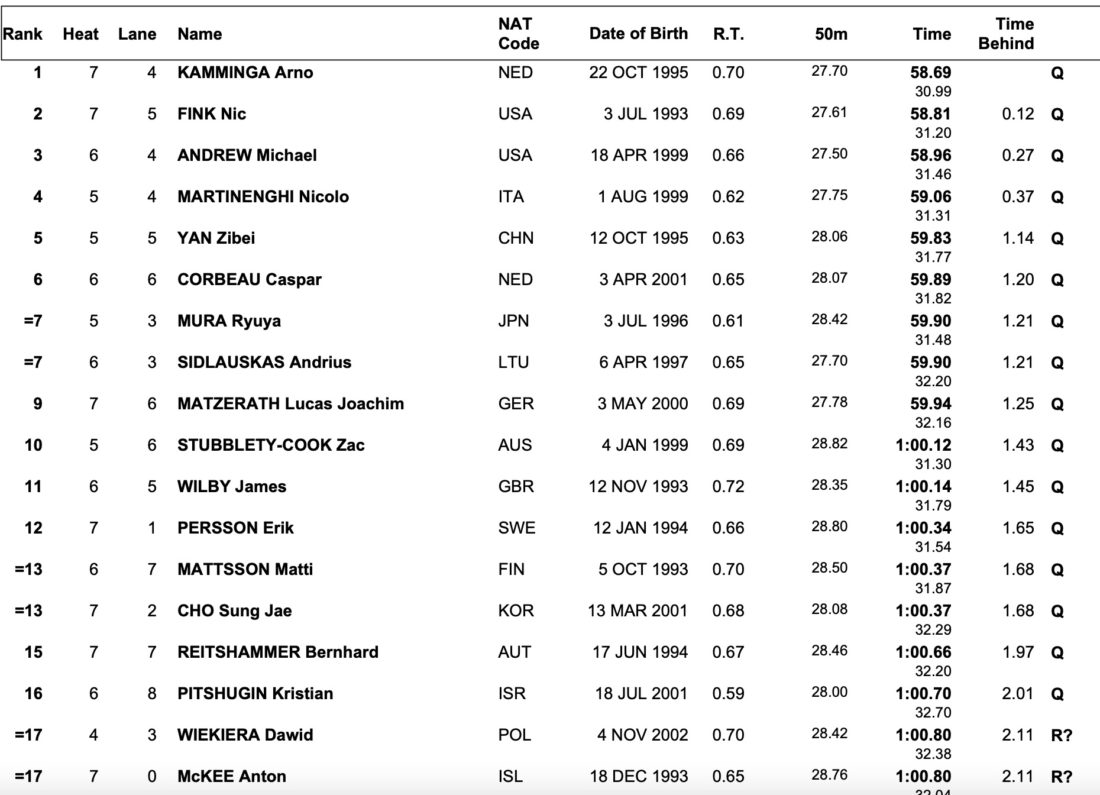 Women's 200m medley: Americans Alex Walsh and Leah Hayes produced a pair of sub-2:10s, at 2:09.41 and 2:09.81 respectively: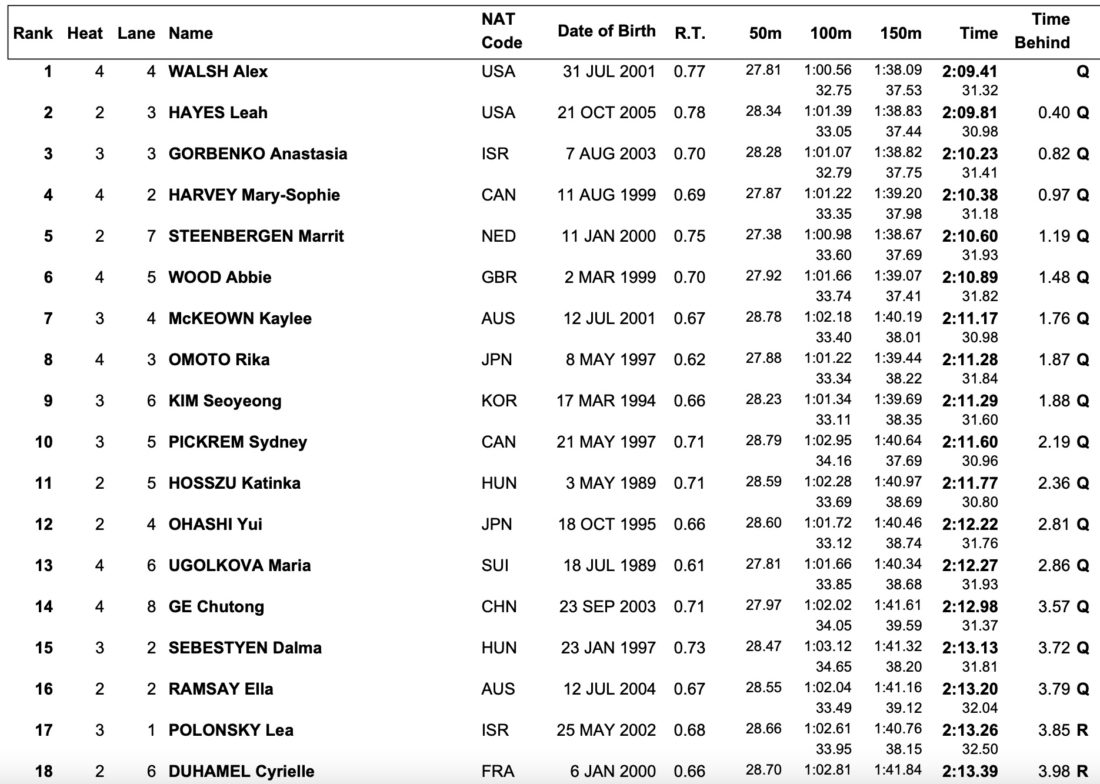 Women's 100m butterfly: American Torri Huske led the way to semis as the sole sub-57, on 56.82. The race went without the two biggest hitters on clock and podium in recent years, 2016 Olympic champion and World record holder Sarah Sjostrom (SWE) and 2020ne Olympic and World champion of 2019 Maggie Mac Neil (CAN):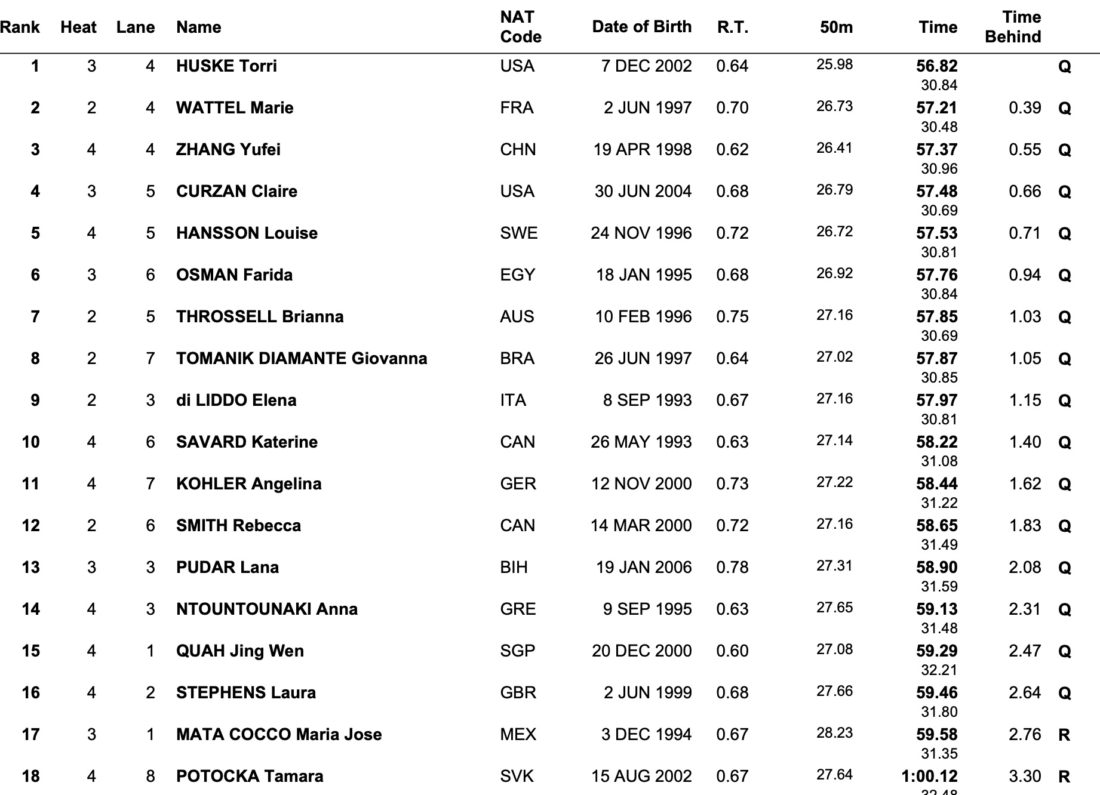 Relays:
Women's 4x100m free heats: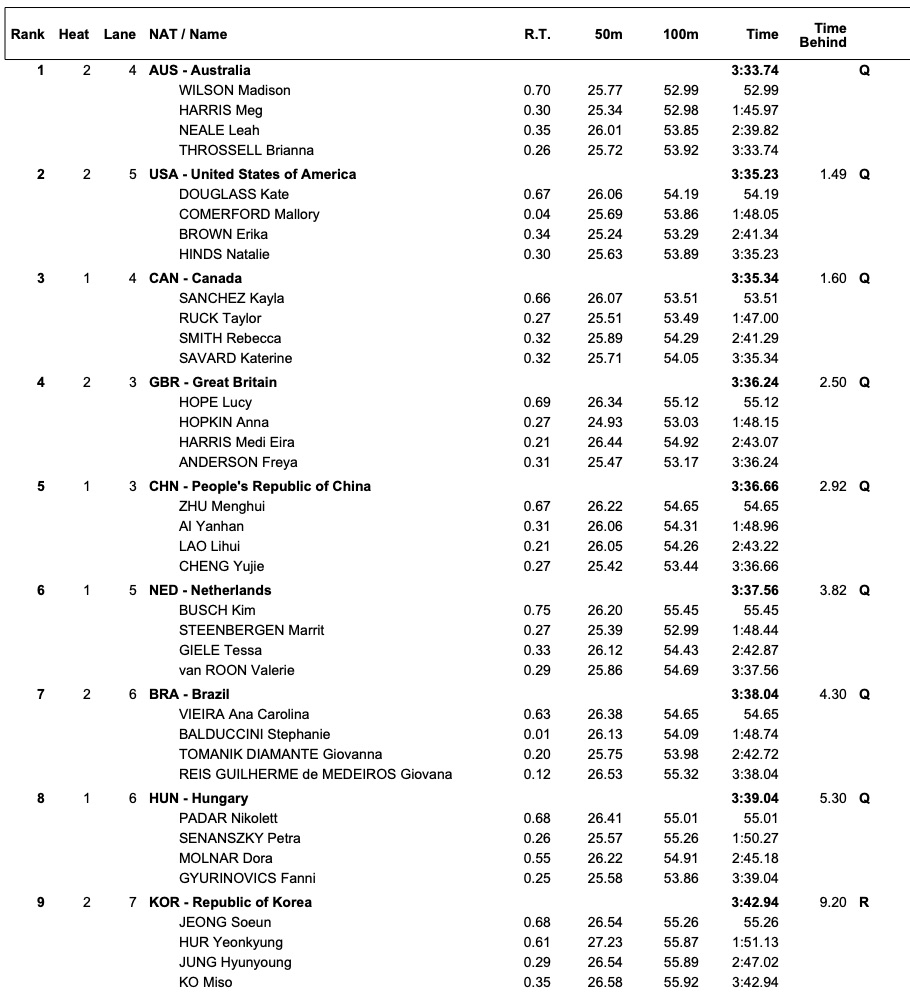 Men's 4x100m free: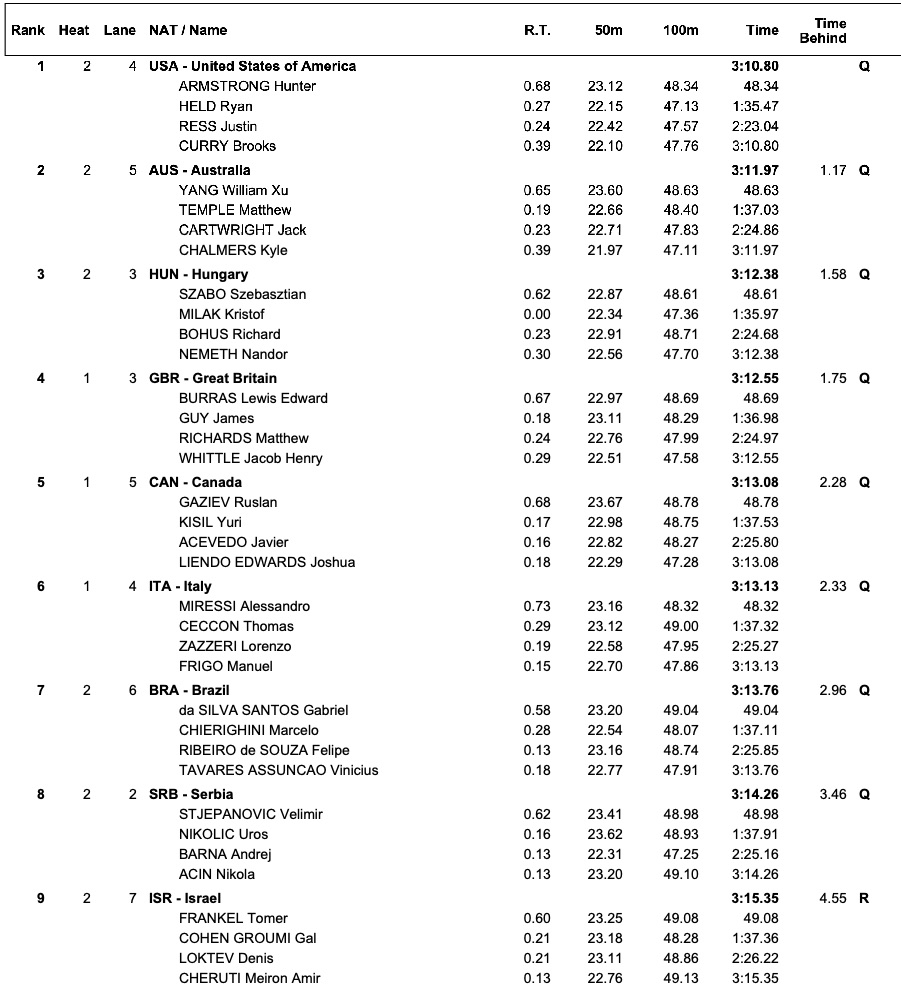 ---
Friday June 17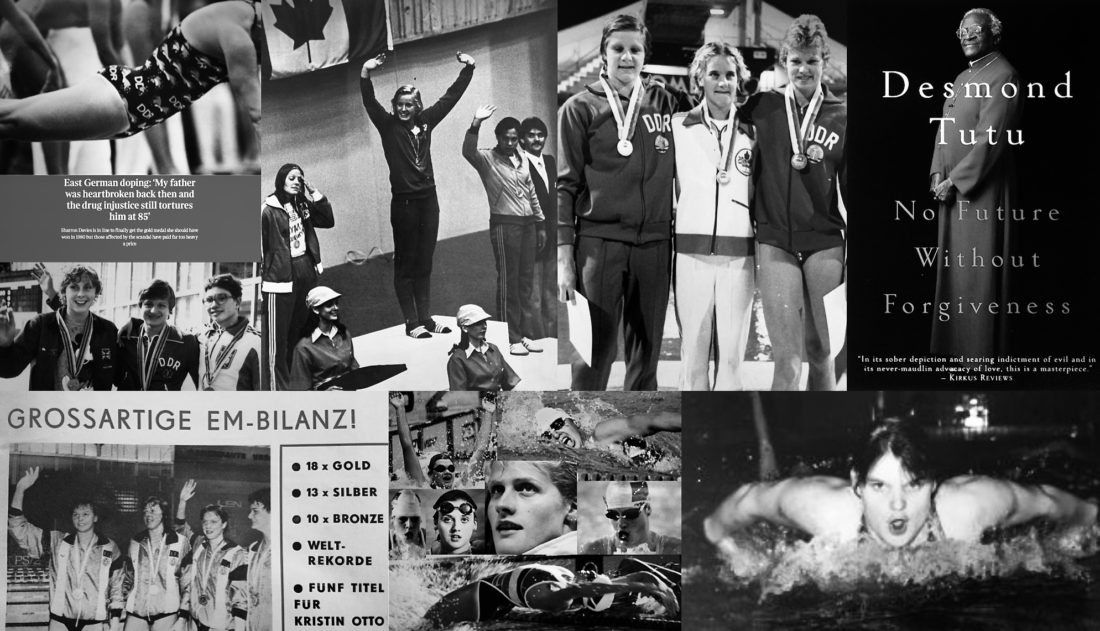 Thursday June 16
Wednesday, June 15
Athletes' Committee: Star Turns Among The Candidates
Olympic and World champions and podium placers top the list of candidates for the FINA Athletes' Committee to be voted into positions of influence from this weekend in Budapest, scene of the World Aquatics Championships for the coming two weeks from this Saturday June 18.
Among the candidates are some star turns, including Dutchman Ferry Weertman, the Olympic marathon champion of 2016 who wants to pour his knowledge of the sport and that acquired through studying for a Bachelor's degree in business administration into the same pot in order to represent athletes and their interests.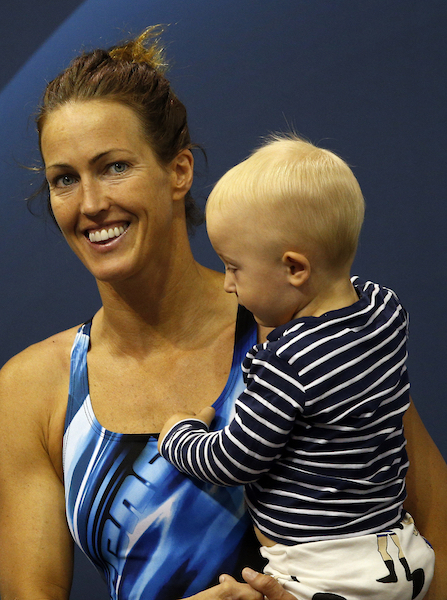 Then there's Sweden's Therese Alashammar, who amassed a vast pantheon of honours racing for Sweden, including 72 international medals topped by three Olympic podiums, 25 World Championship medals and 43 European Championship podiums alongside 14 World Records during her illustrious career.
Also throwing their hats into the rings are Ana Marcela Cunha, the Brazilian winner of Olympic marathon gold at Tokyo 2020ne, and Siobhan Haughey, who became Hong Kong's most successful Olympic swimmer in Tokyo with silver medals in the 100m and 200m freestyle, and Matt Sates, the young South African gun acknowledging his youth in his official candidacy as he heads into the biggest long-course action of his career in Budapest from Saturday with his Olympic debut in the bag last year.
Australian top breaststroker Jessica Hansen, Trinidad sprint star Dylan Carter, Ireland's backstroke ace Shane Ryan and French open-water challenger Caroline Jouisse are also standing for election.
You can read their reasons for wanting to stand – and those of 11 other candidates at the FINA website page dedicated to the Athletes' Commission election.
Tuesday, June 14
Duncan Scott "Gutted" By Decision To Withdraw From Word Championships As He Focusses On Covid Recovery
Duncan Scott, the biggest hauler of medals for Great Britain on the most successful British Olympic swimming team ever at Tokyo 2020ne, at a Games who won four swimming medals and anchored a British relay to gold at the Olympics, will miss the World Championships that start Saturday as he recovers from COVID-19.
In a further blow to Britain's chances after Adam Peaty broke bone in his foot on a training camp last month and was ruled out of the defence of the 50 and 100m breaststroke World titles, Scott announced his withdrawal on social media.
The 25-year-old sprinter, who revealed he was Covid-positive on June 1, described himself as "gutted" and "Devastated" at having to withdraw from World championships but explained: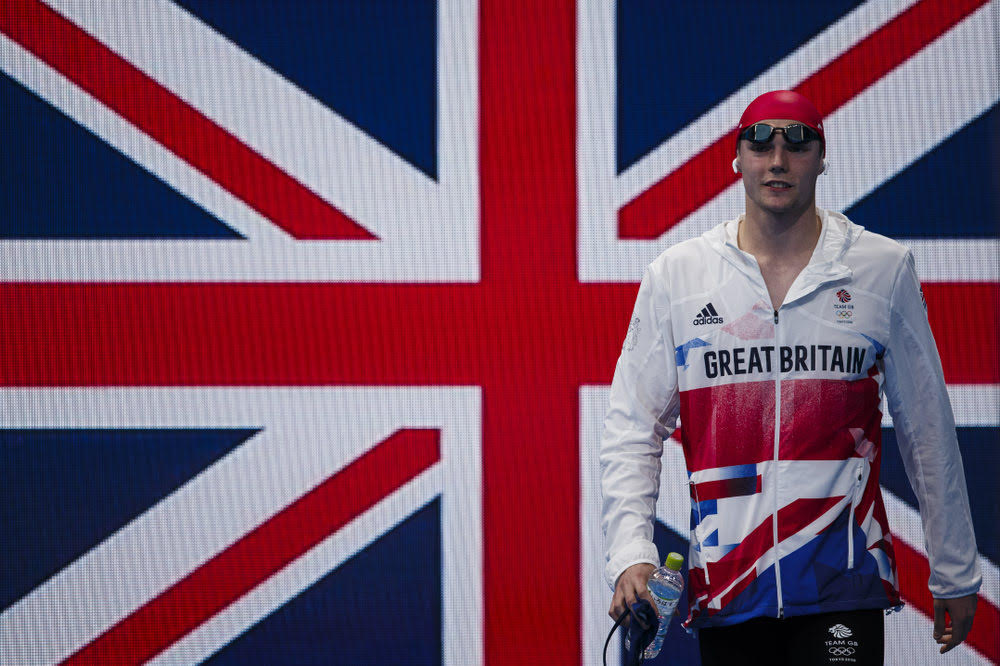 "Since returning from covid I've been really struggling with high intensity! Now it's time to put my health first and focus on recovery."

Duncan Scott, Twitter – image: Duncan Scott walks out for the seventh of his nine races in Tokyo, a Commonwealth record of 1:55.28 delivering a second silver to add to gold, with one battle yet to come… – by Patrick B. Kraemer
Like Peaty for England, Scott aims to be back in action in time to race for Scotland at the Commonwealth Games in Birmingham in late July before rejoining Britain mates at the European Championships in Rome in August.
World Championships History
In Gwangju, South Korea, at the last World Swimming Championships in 2019, before the Covid pandemic struck, Scott scorched the fastest-ever 100m freestyle relay split in history (unassisted by the buoy of non-textile suits banned since 2010) to deliver a knockout punch to the United States for gold in the 4x100m medley relay with Peaty, Luke Greenbank and James Guy.
It was the first time Britain had ever beaten the Americans in a medley relay, Australia the only other nation to have beaten the USA in a final since World Championships began in 1973, France having won in 2011 after the Americans were disqualified for a false start in heats.
The absence of Peaty and now Scott in Budapest will severely weaken Britain's medal chances in both breaststroke sprint events, the men's and Mixed medley relays and the 4x200m freestyle relay that Scott anchored to gold in Tokyo for the first British victory in the events since London 1908.
Scott also claimed Olympic silvers in the 200m freestyle, just 0.06sec behind teammate Tom Dean, the 200m medley a whisker behind China's Wang Shun and the men's 4x100m medley behind the USA. His four-medals haul is the best by any British athlete in any sport at a single Games throughout history:
Without Scott and Peaty, Britain may still make relay podiums but the chance of gold may have slipped away.
In Gwangju in 2019, Scott made headlines when he refused to shake hands and pose for podium photos with China's Sun Yang* during the medal ceremony for the 200m free. Sun, who at the time faced a challenge from the World Anti-Doping Agency (WADA) and was awaiting a Court of Arbitration for Sport anti-doping hearing that would lead to him being banned for eight years, later reduced to four years and three months, claimed gold, Scott bronze.
Under a giant Championship logo of "Dive Into Peace", Sun shouted in Scott's direction before the Chinese anthem played and as the swimmers left the podium stage screamed at Scott: "You are loser, I'm winner." Both swimmers and Australian Mack Horton, who staged a similar protest after the 400m freestyle final, were handed warnings by international regulator FINA.