The Vortex – September 2023: 90 Years Since Maehata's Pioneering WR En Route To Becoming Asia's First Female Olympic Champ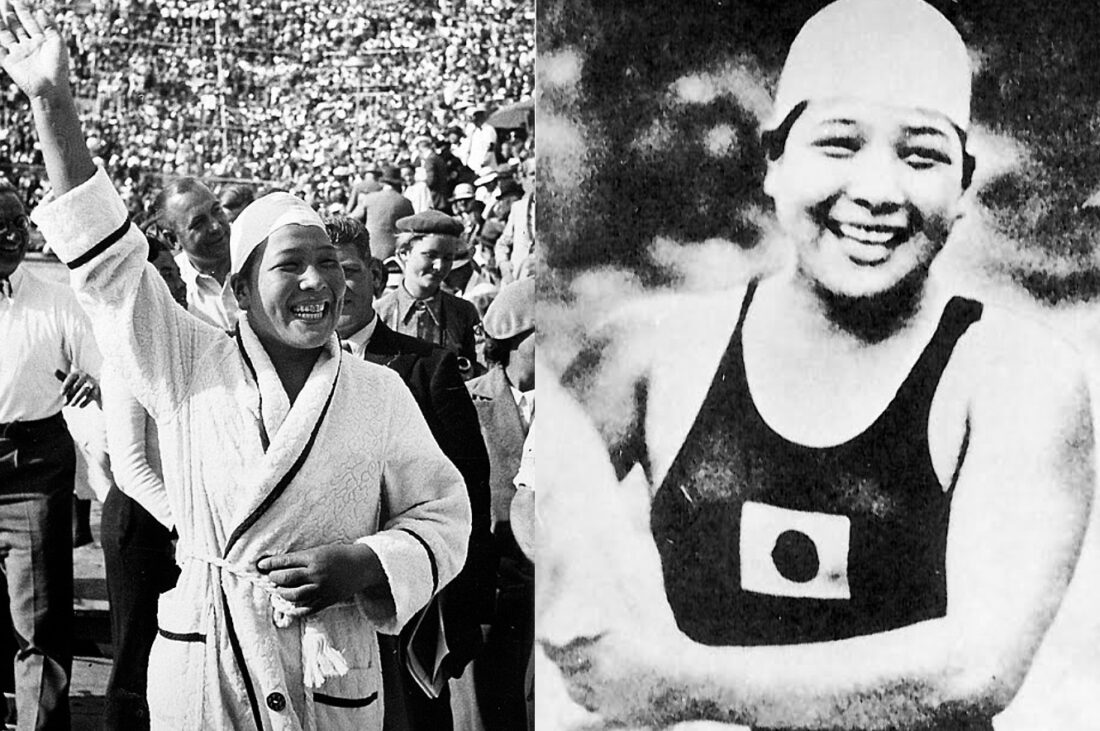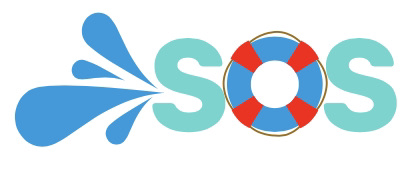 The Vortex is SOS' digest and soak of swimming news, views and links to big events, with new snippets added each day and collated in one monthly file
Saturday Vortex, September 30
Today marks the 90th anniversary of the day Hideko Maehata wiped three seconds off the world 200m breaststroke record to announce her candidacy for the Olympic crown she claimed three years later in Berlin as the first Asian and Japanese woman to celebrate gold in any Olympic competition.
Born on May 20, 1914, in Hashimoto, Wakayama, Maehata was the daughter of a tofu producer. She learned to swim in the Kinokawa River in Nara (where it is known as the Yoshino River) and Wakayama Prefecture. The river flows from Mount Ōdaigahara to the west. It pours into Kii Channel at Wakayama city.
Maehata was a good swimmer from a very young age. In the fifth grade of elementary school, she set an unofficial youth record for the 50 metres, went on to win numerous competitions, and was sponsored to attend a women's boarding school in Nagoya which specialized in swimming.
The sudden death of her parents in 1931 meant that she was forced to leave her school and return home but she continued to swim and after being selected for the Japanese Olympic swimming team for the Los Angeles 1932 Olympics, she raced just 0.1sec shy of Australia's champion Clare Dennis for silver in the 200m breaststroke.
During homecoming celebrations after the Games, she said she might retire from competitive swimming due to family issues but then Tokyo mayor Hidejirō Nagata reportedly asked her why it was silver note gold. Maehata had a new mission!
On September , she clocked 3mins 00.4 t axe 3secs off the World 200m record in Tokyo. The standard had belonged to Denmark's Else Jacobsen since May 1932 before she took bronze in Los Angeles behind Dennis and Maehata.
In Berlin, swastikas draped from every pillar and post, Maehata, then 22, clocked an Olympic record of 3:01.9 in heats, German national champion Martha Genenger, only 14, closest.
Maehata walked out for the final with a small piece of paper in her hand. It contained a prayer, which she read one last time to herself before claiming gold in 3:03.6, a victory she celebrated by eating the soaked paper with the prayer on it. It would be 36 years before another Japanese woman would claim Olympic swim gold, Mayumi Aoki the 100m butterfly champion in 1972. 
Maehata's 1936 podium was stacked with history: the champion was the first Japanese and Asian woman to win an Olympic gold medal in any event. It was 1936 but Japan celebrated immediately because, despite the time difference and the technology of the day, the race was broadcast live in Japan by NHK Radio. The silver went to Geneger and the bronze went to Inge Sorensen, the Dane who remains the youngest Olympic medallist in Games history, across all sports: she was 12 years and 24 days old.
Then there was the new 'butterfly' action allowed in breaststroke: Maria Lena, of Brazil, was the first to use the overarm movement with breaststroke legs. She did not make the final. Maehata did not use the 'fly style: her stroke was a traditional flat-lined surface stroke.
Maehata's career was also marked by world records in the 400m and 500m breaststroke before those events became 'discontinued'.
In 1979, Maehata told Japanese media celebrating her induction in the Hall of Fame: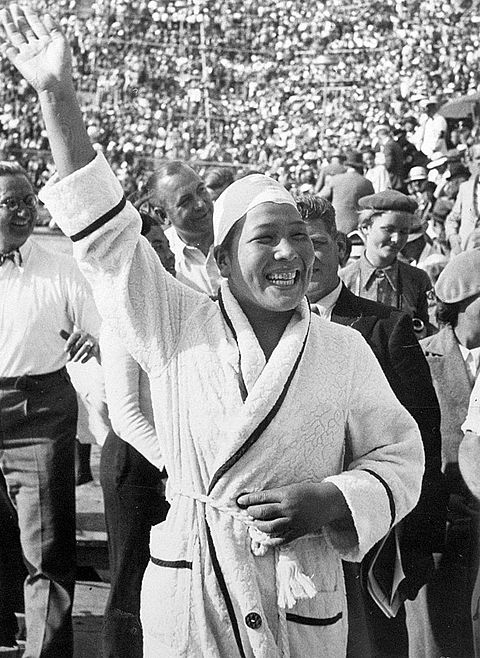 "When I began swimming. Everybody would say 'what a tomboy: swimming!' or 'There is no need of swimming for girls. The only thing they need to do is help with the housework and the sewing.' So the girls who started swimming at that time were really very unfortunate… it [swimming] is an ideal sport for girls and helps them become strong mothers in the future. It is the hope of Japanese girls to develop into women with good physical bodies so that they will not be ashamed before the women of foreign countries. I will illustrate this by giving the impression I received in the Olympic Games in 1932. I felt that we were so small in comparison with the girls of foreign teams that we seemed like children to them."

Hideko Maehata
In 1937, Maehata married Masahiko Hyodo, a professor of the medical school of Nagoya University, and retired from competition. She was awarded the Purple Ribbon of Merit by the Japanese government in 1964. Nineteen years later, she suffered a cerebral hemorrhage, the condition that had killed both her parents. However, Maehata recovered.
In 1990, two years before Kyoko Iwasaki became the next Japanese woman to claim the Olympic 200m breaststroke crown, Maehata was designated a Person of Cultural Merit, the first sportswoman in Japan to receive that honour.
Maehata was 80 years old when she died of renal failure in 1995.
Phelps, Bowman & Kitajima In The Swim Hall of Fame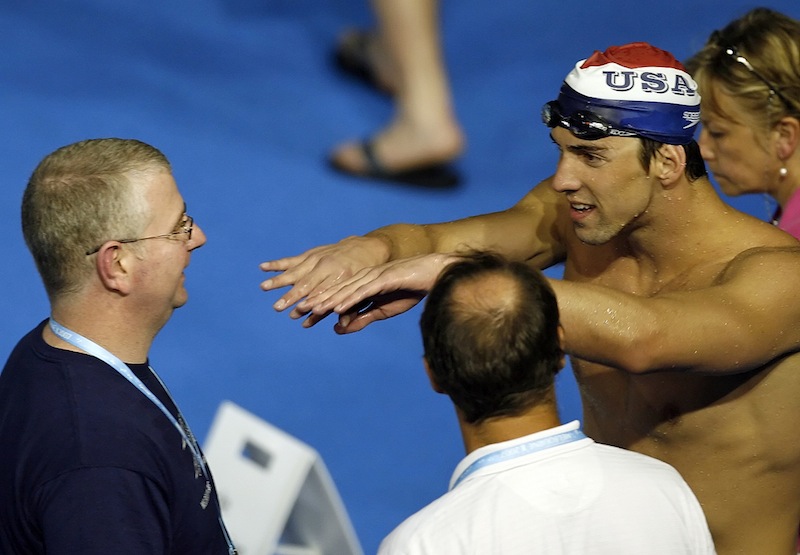 Michael Phelps, the most decorated Olympic of all-time, all sports, with 23 gold medals atop 28 podium places 2004-2016, his coach Bob Bowman and Kosuke Kitajima, the most decorated breaststroke swimmer in Olympic history with double 100-200m gold in both 2004 and 2008, were among those who entered the Swimming Hall of Fame at an induction ceremony in Florida today.
Phelps is the first (and so far only) man in history to have claimed Olympic gold in the same event at three Games and the first swimmer ever to achieve that triple feat in more than one event and the first swimmer ever to win the same event at four Olympic Games: the 200m medley (2004, 2008, 2012, 2016); 100m butterfly (2004, 2008, 2012) and 200m butterfly (2004, 2008, 2016). The height of his five Olympic Games campaigns (the first at 15 and already capable of making the 200m butterfly final), eight golds at Beijing 2008 produced the highlight in terms of the title sweep.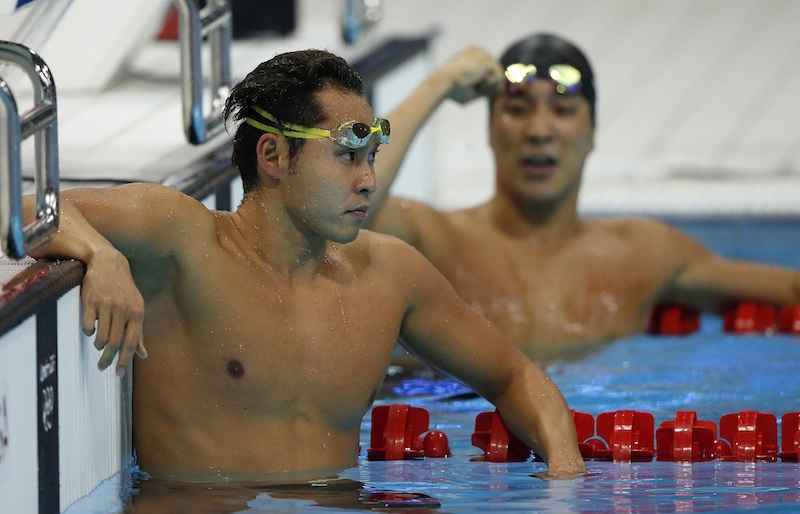 Kitajima is the first (and so far only) man in history to win the 100 and 200m breaststroke Olympic double twice, and then in succession. The first man to break 2:10 over 200m breaststroke, with a 2:09.97 at the Universiade in Busan 21 years ago this week, on October 2, 2002, Kitajima held the 200m standard three times and the 100m global mark twice, all between 2002 and 2009. His 2004 Olympic campaign included an Olympic record of 2:09.44 in the 200m, while his 2008 campaign included gold in the 100m in a World record of 58.91 and gold in the 200m in an Olympic record of 2:07.64, Beijing the first and only Games in the pool to feature polyurethane suits that were banned from January 1, 2010 because of the very significant and artificial buoy they gave to different swimmers to different degrees.
Friday Vortex, September 29
Qin Hints At World-Cup Clash With Peaty; Dolphins Head For European Tour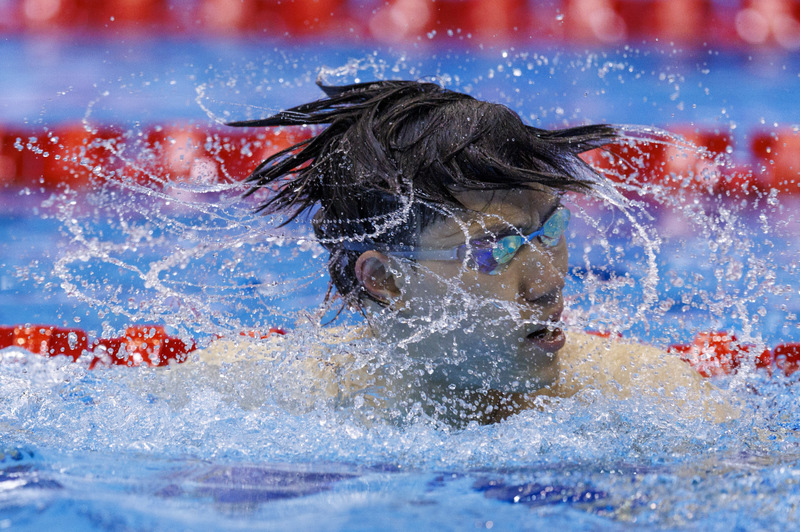 Qin Haiyang, the triple World breaststroke champion, completed his Asian Games campaign with another treble triumph on 25.35 in the 50m in Hangzhou today before announcing his intention to race on World Cup tour next month.
It may be as early as next week – and if Qin shows up for the opening Berlin round of the series from October 6-8, he'll clash with Adam Peaty as the British double Olympic champion and 50-100m World record holder, tests his form and feel for competition after a break from racing to recharge mental-health batteries left drained by an incessant pursuit of excellence over the past decade.
Cup clashes, usually short-course but long in pre-Olympic season, in the calm of October are fairly meaningless, especially when one swimmer is heading into the test in a heavy work phase and the other tapered and racing off the back of a long-course meet. Still, the sight of the No1 and No2 all-time 50 and 100m men on the clock in one pool at the same time is sure to whet appetites and feed tanks that can do with any fuel they can put to use on the way to Paris 2024.
SOS Coverage Of Games Finals:
Day 6: China Rules The Home Waves In Hangzhou With 28 Asian Games Titles & Record Six Swim Crowns For Zhang Yufei
Day 5: Kim Woomin Downs Sun* Standard With 7:46 Victory in Hangzhou 800
Day 4: Korea's Hwang Sunwoo Takes Down One Asterisk, Misses The Other By 0.01sec For 1:44.40 Asian-Games-Record 200 Free Victory
Day 3: China 4×100 Medley Men Rattle USA's WR With 3:27.01 Asian Standard After Hong Kong's Siobhan Haughey Blasts 52.17 Mark For 100Fr Gold
Day 2: Haughey (1:54.12 200Fr) & Qin (57.76 100Br) Dominate With Asian Games Record Wins As Korea's Men Stun Rivals With 7:01 Asian 4x200m Mark
Day 1: Wang Shun (1:54.62 200IM) & Pan Zhanle (46.97, 100 Free) Crack Asian Records In China Bull Run As Home Games Begin
Strauch Back In Dolphins School To Join McKeown, Campbell Sisters, Pallister, Larkin, Short & Co On World Cup Campaign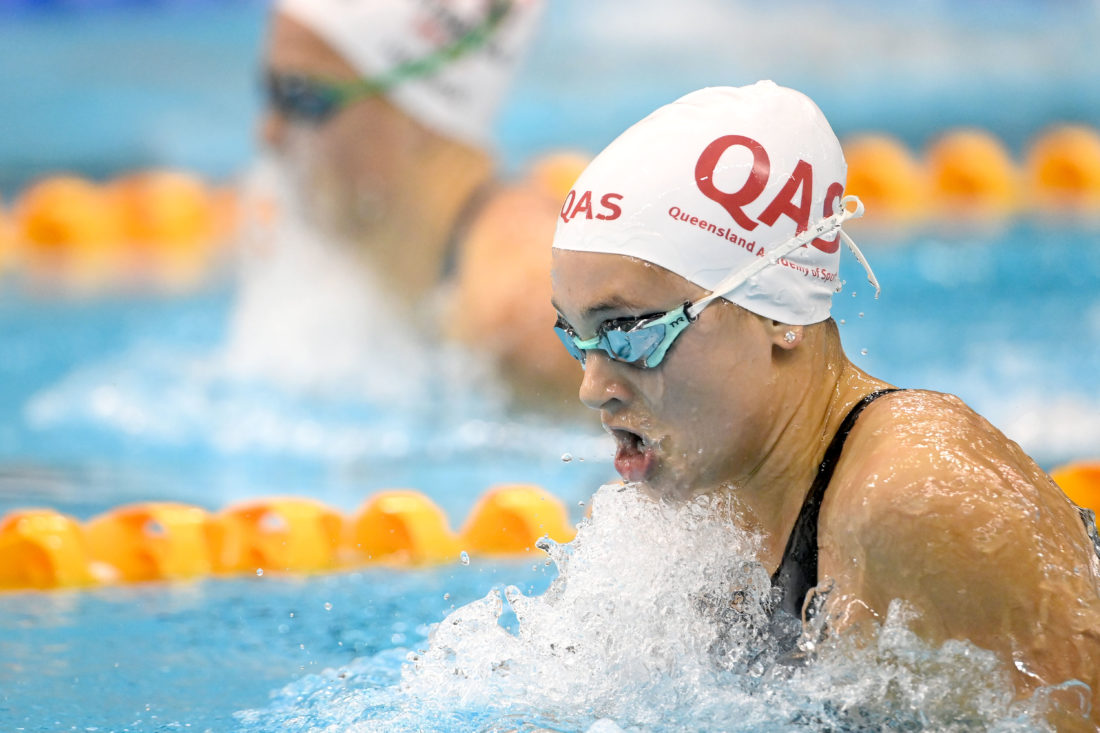 Breaststroke ace Jenna Strauch is back from knee rehabilitation in the Australian Dolphins school and will join teammates on a World Cup campaign of three European events next month.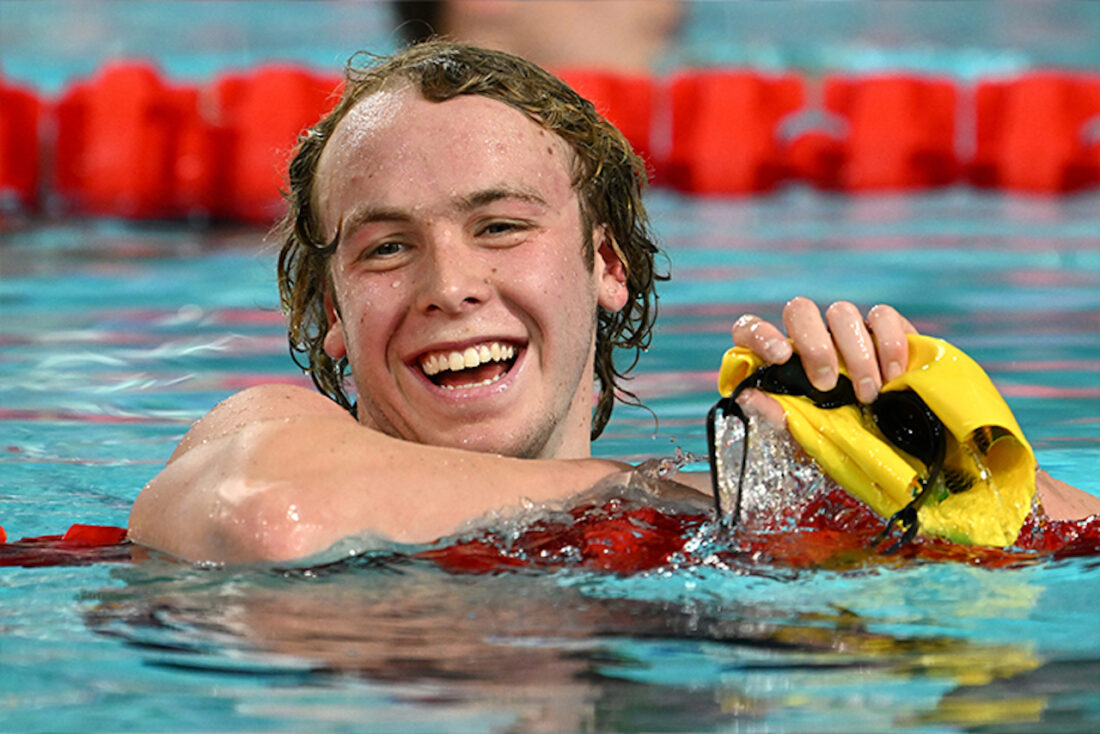 Strauch, who leaves for Europe with Cate and Bronte Campbell, Kaylee McKeown, Lani Pallister, Sam Short, Mitch Larkin and others today in readiness for the opening round of the cup in nBerlin on October 6, will use the tour to test the strength of the knee she's been nursing for several months.
With the World Aquatics Championships in Doha in February and ahead of the Paris Olympic Games, the World Cup will be back to the long course format.
Speaking through Swimming Australia, Strauch said: "I haven't really tested myself for some time … my last competitive swim was Nationals in April, so this is a great opportunity to get some quality racing. Watching the world championships from the sideline was great motivation for me and the racing in Europe will also allow me to test out the knee under heavy load."
National head coach Rohan Taylor said the return of the 26-year-old would boost Australia's "as would also bolster Australia's "already blue-chip relay stocks", as the Dolphins statement put it.
"Jenna is one of our athlete leaders, she's a world championship silver medallist and she brings a lot to this team," said Taylor. This World Cup campaign is all about giving the athletes coming back from injury or rest an opportunity to race – as well as exposing some of our younger swimmers to better competition and how to best handle the challenges of long-haul travel and racing.
"I can't wait to see who seizes the opportunity and puts their hand up ahead of Paris."
Additional financial incentives for winning at the World Cup include a USD $10,000 bonus for setting a world record as well as USD $10,000 bonus for athletes that complete a "crown" by winning the same event in all three cities.
Cup Dates:
Berlin: 6-8 October
Athens: 13-15 October
Budapest: 20-22 October
Dolphins 2023 World Cup Team
Dylan
Andrea
Chandler
Ben
Armbruster
Bond Uni
Bronte
Campbell
Cruiz
Cate
Campbell
Chandler
Shaun
Champion
Abbotsleigh
Jesse
Coleman
Bond Uni
Isaac
Cooper
St Andrews
Josh
Edwards-Smith
Griffith Uni
Maximillian
Giuliani
Miami
Zac
Incerti
USC Spartans
Mitch
Larkin
Chandler
Kaylee
McKeown
Griffith Uni
Leah
Neale
Chandler
Lani
Pallister
Griffith Uni
Alexandria
Perkins
USC Spartans
Samuel
Short
Rackley
Cody
Simpson
Griffith Uni
Brendon
Smith
Griffith Uni
Mikayla
Smith
Griffith Uni
Jenna
Strauch
Miami
Qin Haiyang 26.25 Asian Games Mark On Last Morning In Hangzhou
Qin Haiyang, the bolter from China who claimed a World-championship treble on breaststroke in Japan in July, set an Asian Games record of 26.25 in the heats of the 50m on the last morning of action in Hangzhou. The meet mark fell just 0.05sec shy of the Asian record Qin set in Fukuoka.
Thursday Vortex, September 29
Play by Sharron Davies& Me Makes William Hill Sports Book of Year Longlist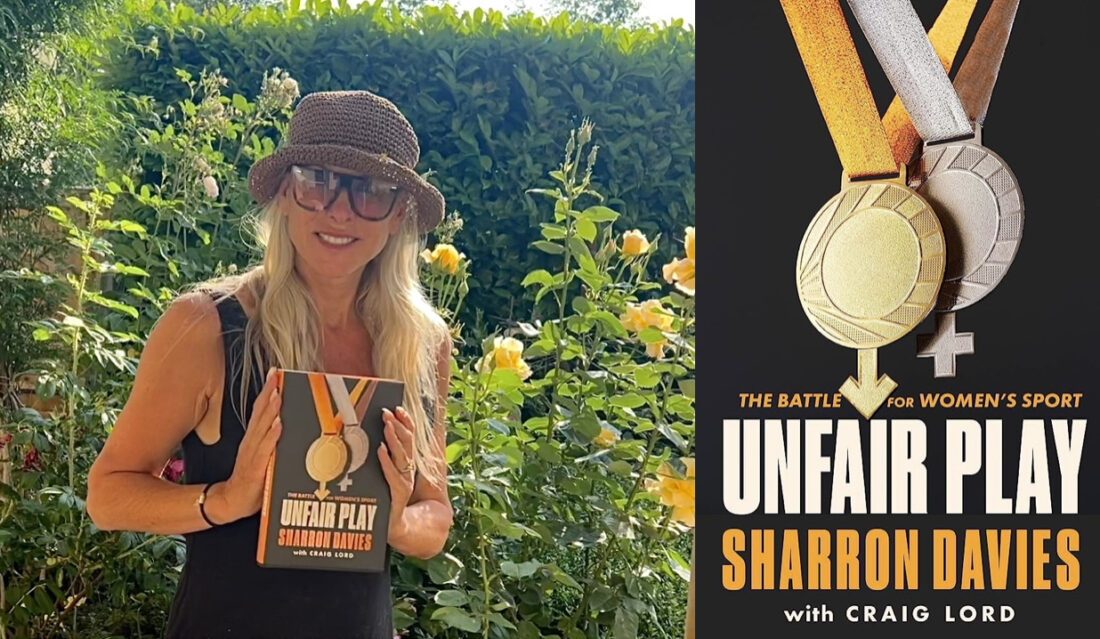 Unfair Play, the Battle for Women's Sport, by Sharron Davies (with me), has made the William Hill Sports Book of the Year Longlist. The competition now moves to a shortlist before a winner emerges. The 18 books make up a library of knowledge and fine reads on diverse topics thrilling in depth and alive with the red threads of history…
What Unfair Play is all about:
Unfair Play Out Today – Why Males Don't Belong in Female Sport
The William Hill Sports Book of the Year Longlist
When Two Coaches Chat About Governance, Micro-Dosing & Other Age-Old Challenges for Swimming in 2023
When Two Coaches Talk: In conversation between George Block, former head of the World Swimming Coaches Association and fellow American coach Steve Friederang, Block talks about the time in 2019 he had a conversation with a Russian team swimmer who said that her coach had told her he was into medicine as an aid to performance sport. When Block asked her how old she was when that started, she replied: "11".
According to Block, some swimmers were being "injected with steroids and growth hormones from age 11". That reference came after a nod to the fast swims unfolding at the Asian Games, China and its men in particular focus, but Korea also chiming in to make a nation such as Japan, with all its history and expertise, no longer look like a candidate battling for No3 in the world but one fighting to be better than No3 in Asia.
The chat between the coaches, posted by Friederang, is often informal and 'chewing-the-cud' style discussion one might hear at break time in the conference coffee bars or at the bar in the evening. It reflects the divide and common ground, much based in sound reasoning and experience, between coaches, nations and governance of the sport.
Block and Friederang talk about the recent USA board elections, why Mark Schubert may no longer be there; the decreasing influence of coaches and others prepared to raise red flags even though they know such things carry risks; the micro-dosing doping culture that is more prevalent in sport than many in the house would care to admit; the fact that cheating that makes you stronger is a cheating effect that never goes away (Ed – making something of a mockery of time in sin bins and returns to the fray in a way that often seems to be with the full backing of governance and anti-doping structures and their lawyers who turn a blind eye to the reality of banned substances that build the beast and benefit the beast long after the beast no longer has a hand in the cookie jar).
Friederang posts the video with this note: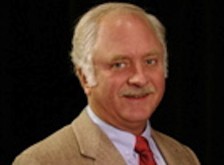 "Frank interview, actually a George interview with one of the sharpest knives in the world swimming leadership drawer and the publisher of Competitive Swimmer Magazine (www.competitiveswimmermag.com). What needs to be changed about USA Swimming before it can re-live its previous glory, about the unwritten agreement among cheating athletes, and more. George coach San Antonio Aquatics to 1200 + plus swimmers at all levels, from beginners sponsored by the school district learn to swim through Olympians. He's been Vice President of USA Swimming, President of the American Swimming Coaches Association and is presently vic e President of the World Swimming Coaches Association. He and his ideas are good for swimming, even if al they do is create the right dialogue."

Steve Frierrang – image: George Block
So, not a formal meeting, presentation, media interview … but a glimpse into the kinds of conversations that take place among coaches and others all over the world:
Kristof Milak To Bypass Berlin World Cup In Favour Of Paris Prep
Kristof Milak has opted to bypass the opening round of the World Cup short-course series on October 6-8 after holding talks with his coach Balázs Virth as we reported when the Hungarian Olympic 200m butterfly champion announced his return to the fray after a break from the sport to recharge his batteries.
Milak hopes to compete at the Budapest round of the cup later in October but even then he may only do so too . Sources in the Milak camp say that Milak's return to swimming is going well but the world record holder is not yet in shape to make any race tests meaningful at this stage and all focus is on fitness for the only goal that matters: Paris 2024.
Another Games Record In heats For Zhang Yufei
China's Zhang Yufei set yet another Asian Games record in Hangzhou heats when she clocked 24.50 in the 50m freestyle, 0.03sec inside the 2018 standard of Japan's Rikako Ikee, who raced in the next lane to Zhang this morning, finishing third in the heat on
25.68. Ikee missed the final.
Lane 5 in the showdown presents the biggest threat to Zhang: Hong Kong's Siobhan Haughey, in form, the 100 and 200m titles in the bag this week and on 24.94 this morning in a season she set the Kong Kong record of 24.56 at the Canes round of the Mare Nostrum series back in May.
There was also a Games record in the men's 50m butterfly on day 5 of racing in Hangzhou: The 23.46 standard set by China's Shi Yang in 2014 was broken by Korea's Inchul Baek in 23.39 for a ticket to lane 4 in the showdown this evening.
Wednesday Vortex, September 27
Zhang Yufei Warms Up With 56.20 Asian Games Mark In 100 'Fly Heat
Zhang Yufei, of China, set an Asian Games record of 56.20 in day-five heats of the 100m butterfly in Hangzhou this morning. The standard had stood to Japan's Rikako Ikee at 56.30 since 2018. Ikee booked an outside lane for the final as slowest qualifier this morning on 1:00.34.
There was also a near miss on the Games-record front in Day 5 heats when Satomi Suzuki of Japan booked a ticket to lane four for the 100m breaststroke final in 1:06.49, 0.09sec shy of the meet mark she set for victory in 2018.
Tuesday Vortex, September 26
The Vortex – September 2023: The "Remarkable Benefits" Of Swimming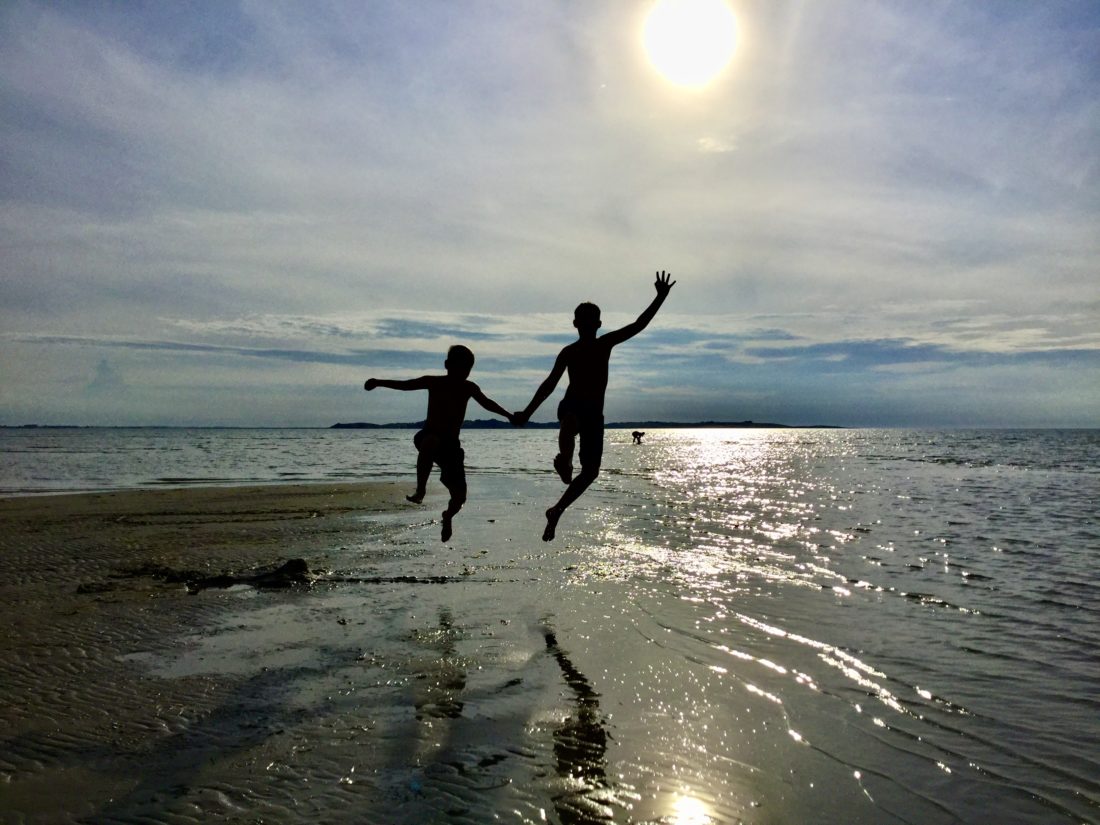 The man behind the eponymous "Just One Thing – with Michael Mosley" podcasts on BBC Radio 4 and BBC Sounds has added "Swim" to his 15-minute tips on what you might add to your regular routine for the sake of health and longevity.
Mosley notes that swimming is good for the body and the brain and improves, memory and reaction time. It boosts the heart because swimming improves the elasticity of arteries in ways that land based exercised don't. The "remarkable health benefits" extend to longevity, he adds.
That swimming is good for you is nothing new, of course. Mosley cites a 2009 study by a team at the University of South Carolina: the Aerobics Center Longitudinal Study (ACLS), which stretched over 32 years and followed more than 40,000 men aged 20 to 90 for an average of 13 years. It found swimmers had a much lower death rate in the sample than non-swimmers. They were also 50% less likely to die from "all causes" than runners and walkers", Mosley notes. The study takes into account age, body mass index, smoking status, alcohol intake, hypertension, other medical factors and family history.
Swimming, Mosley says, is "good for brain power… improves memories of rats… research on people shows similar results".
A study in New Zealand found that a 20-minute swim boosted brain function and reaction times in the study sample.
Why? "… partly it's [swimming] such a good overall workout. It works lots of different muscle groups and … most significantly, you're working against the weight of the water… [while] swimming seems to make your blood vessels more elastic. " says Mosley.
At the time of the University of Carolina study, lead researcher Dr. Stephen Blair, an Arnold School exercise expert, noted that there was nothing to suggest the results would be different among women. He said: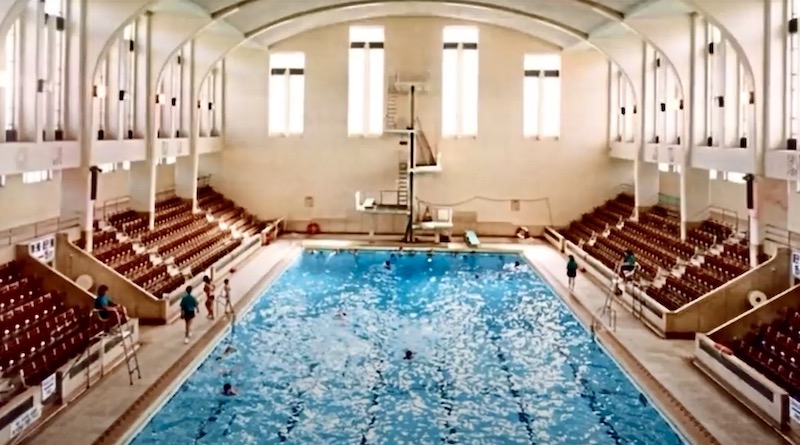 "Swimmers had the lowest death rate. This is the first report that examined mortality rates among swimmers in comparison with other types of physical activity and sedentary lifestyle. We conclude that men who swim for exercise have better survival rates than their sedentary peers.

"The ACLS includes extensive medical and physical activity data on more than 40,000 men, age 20-90 years. "These lower rates in swimmers compared with walkers and sedentary men might well be expected but it is surprising that we also observed lower mortality in swimmers than in runners. Therefore, swimming appears to be a healthful alternative to other types of physical activity."

"The study population was limited to white, well-educated, middle- to upper-class men. While this limits the ability to generalize the study, it should not affect the study's internal validity.

"There is no compelling reason to assume that the benefits of swimming would be different for women or for men in other socioeconomic groups. In an earlier study in this same population we found that both women and men had similar benefits from swimming in terms of fitness and other health indicators."

Dr Stephen Blair – Photo: When the water was there … Bon Accord Baths, Aberdeen, the deep-end, diving tower and the pool this author trained in every day for many moons many moons ago – Image Courtesy of Stills from Urbandoned
Listen to the Swim Episode on BBC Sounds:
Swim: Just One Thing – With Michael Mosley (listeners in the UK get to hear episodes a week before they're available to some overseas locations)
World Aquatics Confirms Doha 2024 Competition Schedule
World Aquatics has confirmed the event's competition schedule for the Doha 2024 World Championships, an event usually held every two years but to be held for the first time ever in Olympic year next February as organisers try to catch up with contracts and Covid cancellations that have dictated a World long-course championships every years between 2022 and 2025. The multi-discipline event will unfold between February 2-18 in Qatar next year.
Monday Vortex, September 25
Asian Games Marks For Qin Haiyang (58.35 100Br) & Ji Yuchan (21.84 50Fr) In Day 2 Heats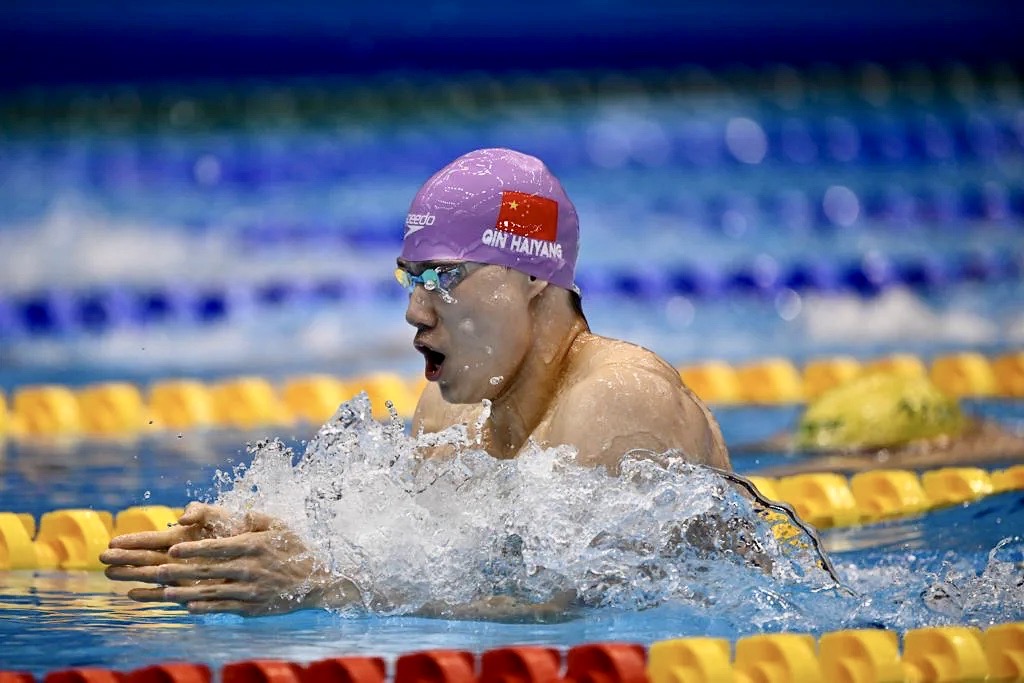 Triple World champion Qin Haiyang woke the crowd up with a 58.35 Asian Games record in day 2 heats of the 100m breaststroke in Hangzhou. There was also a Games record in the men's 50m free, Ji Yuchan of Korea clocking 21.84 to ensure China did not have a monopoly on records after the hosts claimed all seven golds, set three Asian records and notched up five out of six possible 1-2 finishes on the opening day of action in the pool:
Day 1 Finals: Wang Shun (1:54.62 200IM) & Pan Zhanle (46.97, 100 Free) Crack Asian Records In China Bull Run As Home Games Begin
Sunday Vortex, September 24
Norovirus Infections Suspected After Athletes Suffer Sickness In Triathlon-Series Waters in UK … & say race should have been cancelled
At least 57 athletes competing at the World Triathlon Championship Series in Sunderland, England, became sick after swimming in polluted waters this weekend.
The race off Roker Beach featured 2,000 athletes and warnings had been given. Three days before the event, UK Environment Agency samples taken from waters on and around the course revealed 3,900 E. coli colonies per 100ml of water, 39 times higher than readings taken a month earlier. However, those figures were not seen by organisers until after the race, and subsequent tests have all revealed the presence of Norovirus, which is the biggest suspect when it comes to what cause illness among athletes, according to the local Chronicle.
Sickness spread through the swimmers fairly quickly. Jacob Birtwhistle, an Australian triathlete, posted the Environment Agency's results on Instagram and wrote, "Have been feeling pretty rubbish since the race … The swim should have been cancelled."
British Triathlon, the regulator responsible for the event, noted that the sample findings showing E. coli weren't published until after the race had taken place. It said it conducted its own tests of the waters prior to the competition, which passed the required standards.
The news is part of a worrying trend in British waters. The race in question took place along a stretch of coastline where the government and local campaigners have clashed over sewage discharges in the water.
Northumbrian Water, a water services and sewage company, insists it hasn't detected any sewage discharges that would have affected the water quality at Roker Beach since October 2021. However, according to data published by the Rivers Trust, a sewer discharged near Roker Beach for a total of 370 hours in 2022. Northumbrian Water said these discharges wouldn't have affected water quality at Roker Beach.
More on the state of British waters: at The Conversation:
UK waters are too polluted to swim in – but European countries offer answers
Sunday, September 24
Sunday Essay: Olympic Chiefs Plan Charter Changes That Will 'Erode Athlete Rights As Direct Result Of Russian War On Ukraine'
Friday September 22
Feature: Perseverance Paying Off For Canadian Paris 2024 Prospect Sophie Angus
Thursday Vortex, September 21
Anthony Nesty & Todd DeSorbo: USA Head Coaches For Paris 2024 Olympics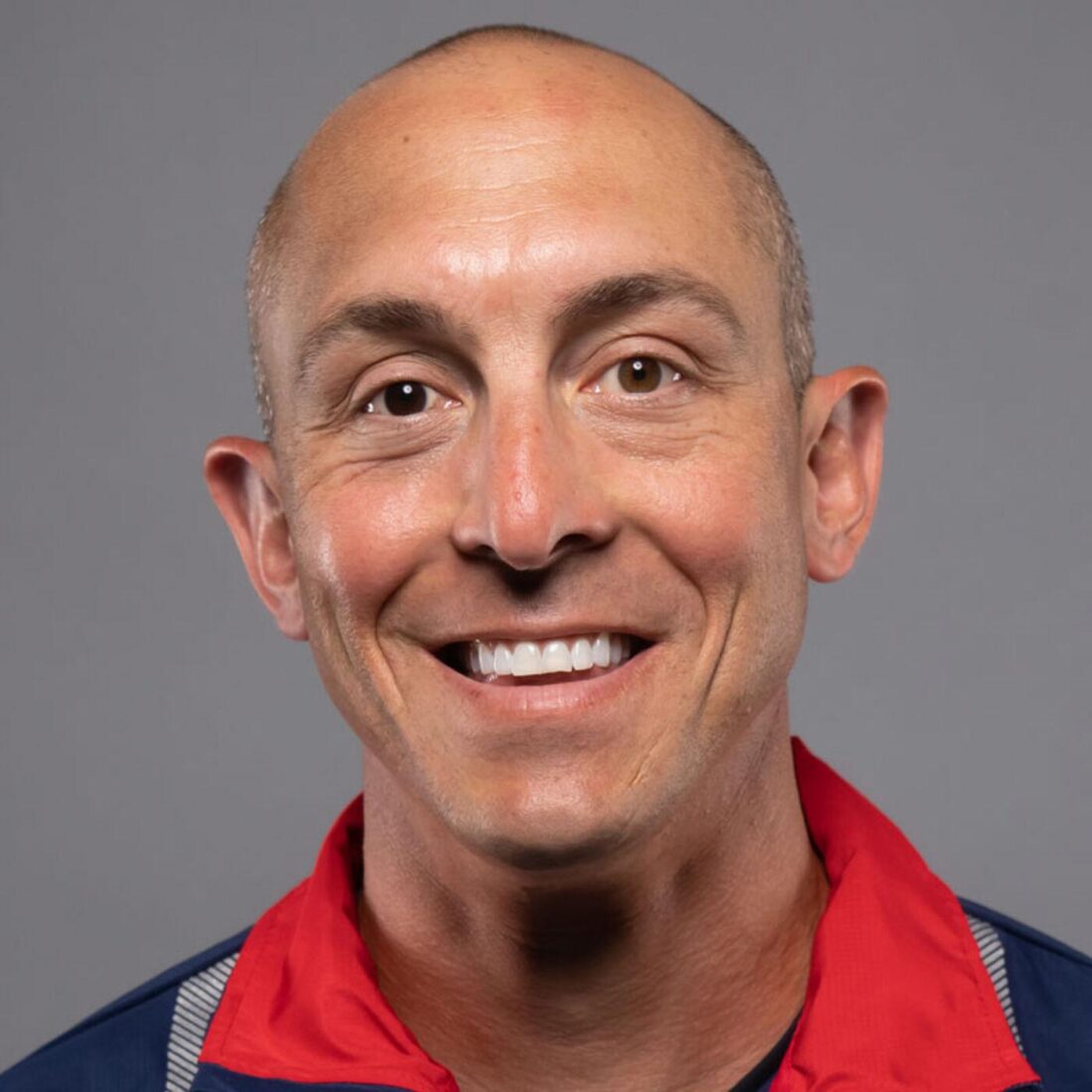 Anthony Nesty and Todd DeSorbo will serve as head coaches of the U.S. men's and women's swim teams at the Paris 2024 Olympic Games next year. They join a Who's Who of USA Head Coaches back to the last time the French Capital hosted the Games, in 1924, when Louis De B Handley led the women and Johnny Weissmuller's mentor Bill Bachrach led the men.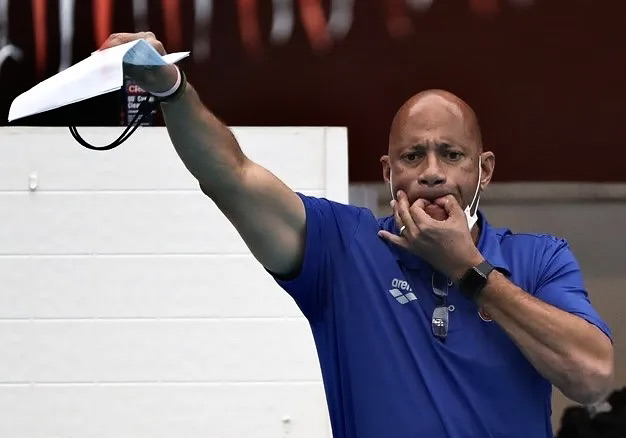 Nesty, long-time coach at the Florida Gators, is already in the history books for his mentoring and for his own Olympic career as the 100m butterfly champion for Suriname at the Seoul 1988 Games. That made him the first black swimmer in history to claim Olympic gold, 12 years after Enith Brigitha of The Netherlands would have been that history maker had it not been for East German dominance by doping.
Now, he will become the first black head Olympic swimming coach to the United States.
Nesty cut his teeth as a coach under the tutelage and guidance of Gregg Troy at the Gators, where America's No1 superstar Katie Ledecky is based.
Katie Ledecky Leaves Stanford In Shift To Surinam Olympic Legend & Florida Gators Coach Anthony Nesty For Next Wave Of Her Career – including a memory of Nesty's Seoul 1988 triumph
The USA men's team heads into Paris as the top male squad in the world, Americans having topped the gold count at all Olympics in the pool since 1996 four years after the Unified Team (Russia) matched the American men at Barcelona 1992. With five golds, the USA reign was challenged in Spain and matched by Alex Popov's sprint double, Yevgeny Sadovyi's 300-400m free double and world-record victory for the Russians in the 4x200m relay.
The USA women's team will arrive in Paris under the stewardship of DeSorbo as world No 2 chasing the Dolphins, whose female force ensured that Australia topped the gold count at 2023 World Championships for the first time since 2001, both events in the same Japanese city of Fukuoka. DeSorbo has rocketed through the coaching ranks in recent years: at the Tokyo 2020ne Olympic Games, he led four of his then-University of Virginia swimmers to a total of 18 medals and a year later landed the USA women's head coach honour for the 2022 World Championships in Budapest.
USA Swimming noted the following with its statement today:
"I am thrilled Coaches DeSorbo and Nesty will be joining us in Paris and am looking forward to the experience and leadership they will bring to the Games," said Lindsay Mintenko, Managing Director of the USA Swimming National Team.
Both Nesty and DeSorbo served as assistant coaches with the U.S. Olympic Swimming Team at the Olympic Games Tokyo 2020, leading the team to 30 total medals. Together they served as head coaches for the U.S. team at the 2022 FINA World Championships in Budapest, Hungary where American swimmers earned 45 medals in the pool – good for the most medals ever awarded at a world championship, surpassing the previous U.S. record of 38.
Coach Anthony Nesty's efforts in Tokyo helped lead his University of Florida swimmers Bobby Finke and Kieran Smith to three medals, including two gold. Nesty's Florida collegiate and pro groups combined to send seven swimmers to the 2022 World Championships in Budapest, where they claimed 12 medals. The USA Swimming men's squad tallied 20 total medals and sent two Americans to the podium in six individual events. Nesty also served as an assistant coach for the open water World Championships team in Budapest.
An accomplished Olympic athlete in his own right, Nesty was the first Black swimmer to win an Olympic gold medal in 1988 and was the first medalist for his native Suriname.
"I'm excited to be the men's head Olympic coach in Paris," said Nesty. "Todd and I look forward to coaching these athletes to the best of their abilities in Paris next summer."
As an assistant coach at the Tokyo 2020 Olympic Games, Coach Todd DeSorbo led four of his then-University of Virginia swimmers to 18 total medals. At the 2022 World Championships in Budapest, DeSorbo was the head coach for the American women's squad that won 23 medals, nine of which were claimed by his University of Virginia Cavaliers swimmers.
"I'm excited to be leading Team USA next summer in Paris," DeSorbo said. "I'm looking forward to working with Anthony and the rest of the USA Swimming staff to help the athletes perform at the highest level in Paris."
The Team USA pool roster for the Olympic Games Paris 2024 will be decided at the U.S. Olympic Team Trials – Swimming, set for June 15 – 23, 2024…
Boston College Suspends Swim & Dive Teams Over Hazing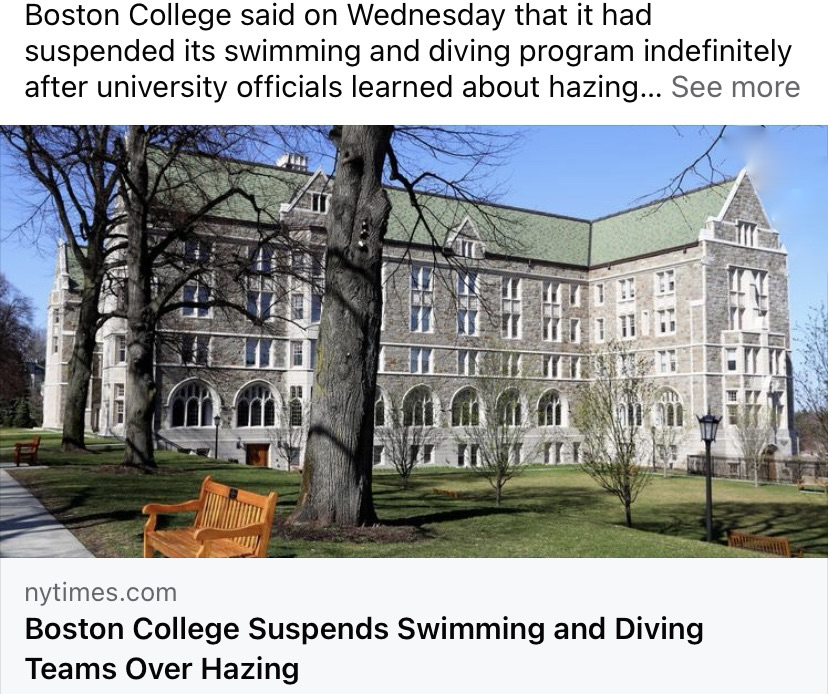 Swimming is in mainstream media headlines for all the wrong reasons once again, the New York Times reporting yesterday that Boston College has suspended its Swimming and Diving teams over hazing or a form of initiation culture.
The indefinite suspension was imposed just days before the college swim season was due to get underway. Boston College gave no details of what its officers had uncovered but noted in a brief statement: "The university does not – and will not – tolerate hazing in any form. The students affected would "have access to academic and medical resources provided to all Boston College student-athletes," a college spokesman confirmed.
Boston College is the latest major American university to be hit by what is an age-old culture of initiation that Americans, in particular, refer to as hazing. Bottom line: it often goes all beyond having a teammate colour their locks bright green. Much h of it is far more toxic than that.
In July, Northwestern University fired Pat Fitzgerald, its longtime head football coach, after an investigation revealed that players had participated in widespread hazing.
There is no suggestion of any direct involvement of coaches at Boston. Even so, the NY Times noted that Joe Brinkman, the head coach of Boston College's swimming and diving program, and Brian Keane, an assistant coach – both on place for around a year – did not immediately respond to requests for comment, neither did diving coach Jack Lewis.
Wednesday Vortex, September 20
Two Katies, Ledecky & Grimes Lead Golden-Google Shortlist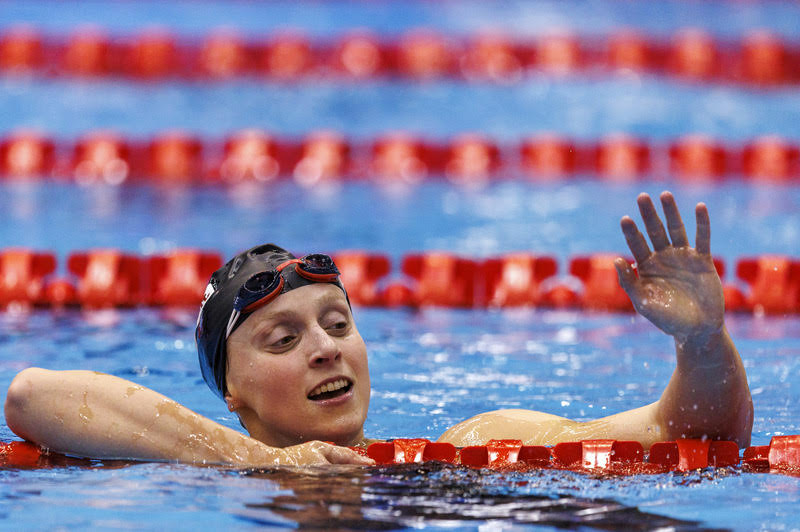 Katie Ledecky leads a star-studded line-up of nominations for prizes at the 20th Annual Golden Goggle Awards on Sunday, November 19 , in Los Angeles. Another Katie, Katie Grimes, leader the ranks of those with most nominations, at four.
Ledecky's Latest Sensational season:
Gold – Ledecky A Legend In Lights Of An 8:08 Record 6th 800 Free World Title, Li & Titmus On 8:13 Asia/Oceania Marks
Gold – Katie Ledecky Makes It A High-Five Splash of 1500 World Titles In A Decade Of Dominance
Silver – Ariarne Titmus Turns Three-Way Fight Into A Left-Right Knockout With 3:55.38 World Record
Silver – Dolphins Destroy 4x200m Free WR – 7:37.50 From O'Callaghan, Jack, Throssell & Titmus
The short lists are largely based on results at the World Championships in Fukuoka. SOS wrap coverage, with links to all race reports:
Australia Dominate Gold Count As Dolphins, Eagles & Dragons Take Lion's Share Of Medals
Cate Campbell Fires Broadside At USA With "Sore Losers" Jibe After Broadcaster's Bellyflop On Medals
Why Australia Did Not Only Win On Gold Count But Was The Best Team At World Championships
The complete list of 2023 Golden Goggle Awards nominees by category below below. USA Swimming notes that bios are included on the online ballot , open to fans until quarter to midnight on October 15.
The Nominees
Breakout Performer
This award is given to the athlete whose performance(s) stand out in relation to other years, with special emphasis on the 2023 World Aquatics Championships.
Thomas Heilman
Jack Alexy
Dare Rose
Katie Grimes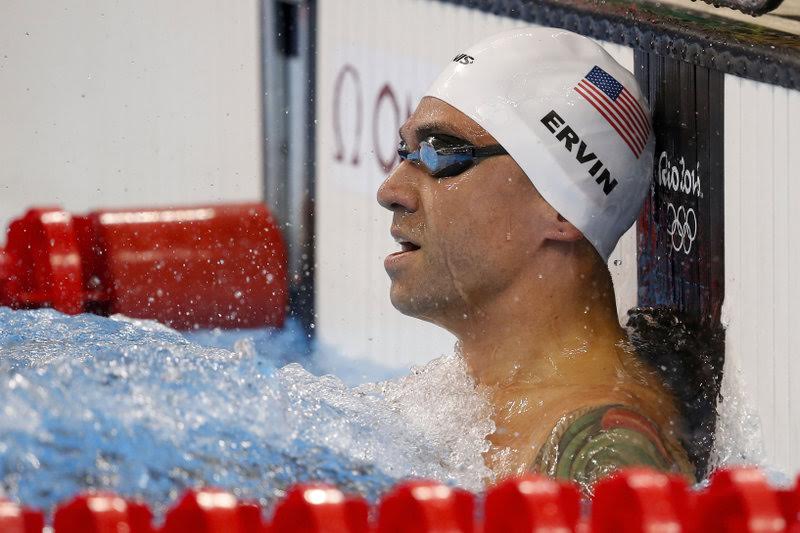 Coach of the Year
This award is given to the coach whose athlete(s) performed at the highest level throughout the year, with special emphasis on the 2023 World Aquatics Championships.
Todd DeSorbo
Anthony Nesty
Dave Durden
Ron Aitken
Bob Bowman
Relay Performance of the Year
This award is given to the best team relay performance, male or female. The performance considered must be a finals performance, with special emphasis on the 2023 World Aquatics Championships.
4x100m women's medley
4x100m men's medley
4x200m women's free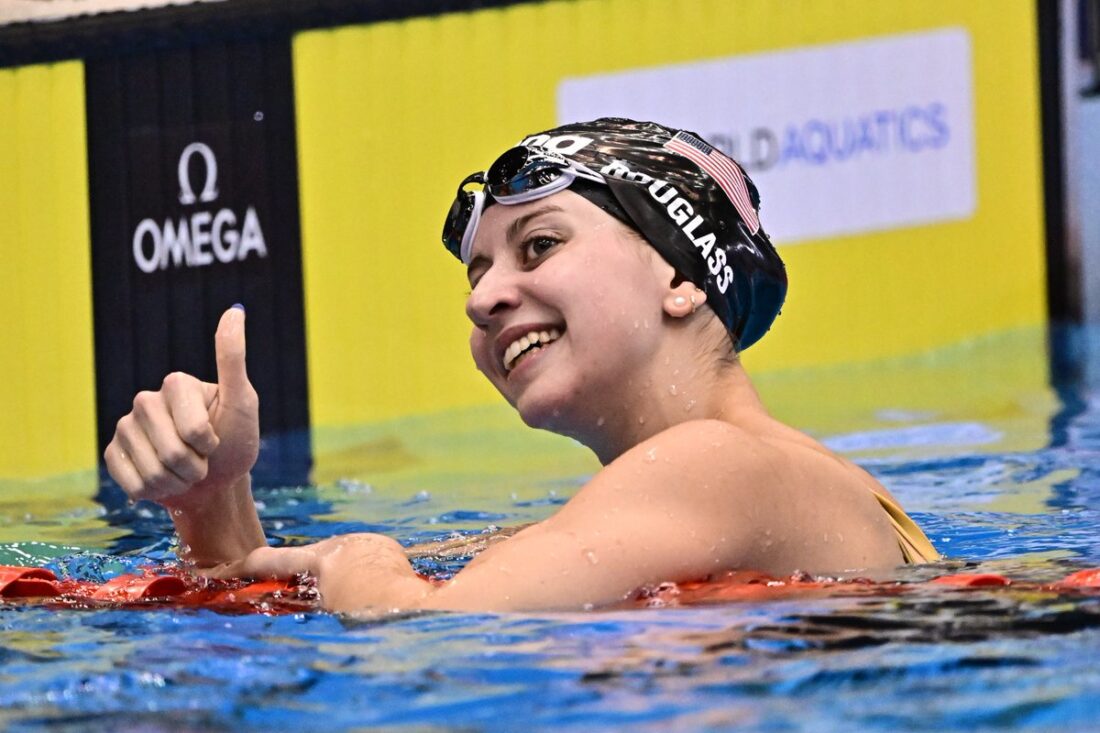 Female Race of the Year
This award is given to the female swimmer with the greatest single individual race of the year, with special emphasis on the 2023 World Aquatics Championships.
Kate Douglass, 200m IM
Katie Ledecky, 1500m free
Katie Grimes, 10k
Male Race of the Year
This award is given to the male swimmer with the greatest single individual race of the year, with special emphasis on the 2023 World Aquatics Championships.
Bobby Finke, 1500m free
Jack Alexy, 100m free
Ryan Murphy, 100m back
Female Athlete of the Year
This award is given to the top female swimmer of the year with special emphasis on achievements at the 2023 World Aquatics Championships.
Katie Ledecky
Kate Douglass
Regan Smith
Katie Grimes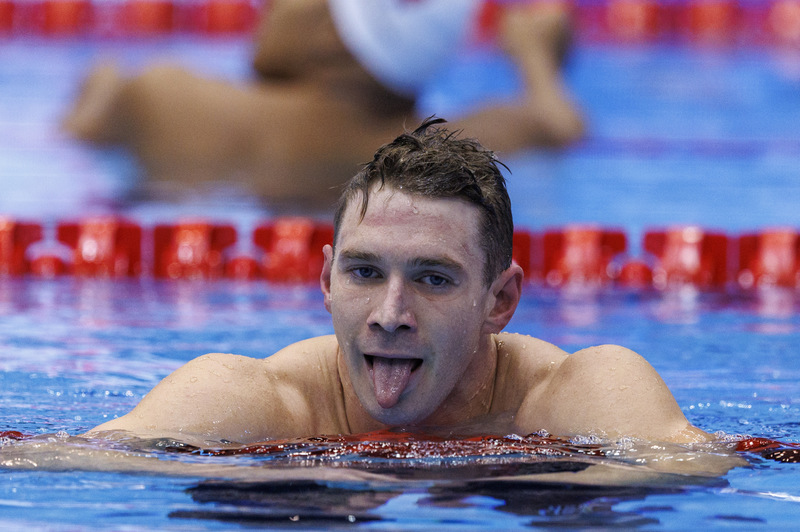 Male Athlete of the Year
This award is given to the top male swimmer of the year with special emphasis on achievements at the 2023 World Aquatics Championships.
Ryan Murphy
Bobby Finke
Jack Alexy
Carson Foster
Perseverance Award
This award is given to the athlete who came back from adversity, retirement, sickness, injury, etc., to have an outstanding performance(s) in 2023, with special emphasis on the 2023 World Aquatics Championships.
Lydia Jacoby
Ashley (Twichell) Wall
Fran Crippen Open Water Swimmer of the Year
This award is given to the athlete who had the most outstanding year as an open water swimmer, with an emphasis on the 2023 World Aquatics Championships.
Katie Grimes
Mariah Denigan
Tuesday Vortex, September 19
Canadian Swimming Mourns Coach Herb DeBray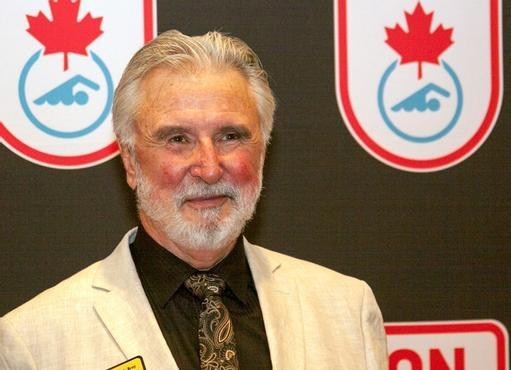 Canadian swimming is in mourning for Herb DeBray, the founder of Badgers Swimming at Brock University who served as Head Coach to the program for 30 years and was inducted in to the Ontario Aquatics Hall of Fame in 2015.
The program at Brock issued a statement on social media paying tribute to DeBray and noting: "Some of the top athletes Herb coached during his career included Swim Ontario Hall of Fame and Brock Athletics Hall of Fame members Kathy Richardson and David Shemilt. He also coached three top Paralympians including six time Olympic medalist Elisabeth Walker, Tyler Emmett and Tom Hainey. RIP Coach.
Funeral details are available with this memory and tribute:
It is with heavy hearts that we announce the sudden passing of Herbert Ferdinand de Bray on September 16th 2023. Devoted husband of 53 years to, Mary de Bray (nee Wrigley); loving father to: Holly (Shawn) Benard, Benjamin (Denise) de Bray and Megan (Brad) Dawson; wonderful Papa/Grandpa to Jocelyn, Jasmine, Arthur, Abigail, Aidan and Edward.
Herb retired from Brock University where he spent 30 years as Varsity swim coach and Athletic Facilities Manager. During his time there, he had the privilege of representing Canada as a coach at multiple international swimming events and was honoured to help guide hundreds of athletes over the years to being the best that they could be, both as athletes and as individuals.
He was an avid runner/marathoner and always supported his children's sports. Later in life, Herb shared his knowledge and love of swimming by coaching the Ancaster Alligators swim team and his love of football by assisting with the St. Catharines Collegiate football team.
Lover of skiing, car racing, poetry and all the small joys of life. Herb loved the outdoors, especially in Parry Sound, where he lived and went to school as a boy, spending summers on Huckleberry Island. He loved to travel, with Montreal having a special place in his heart, where he met his love, Mary Wrigley.
Farewell Coach
In June last year, when David Ling was named as the new head coach to the Brock Badgers swimming program on the retirement of longtime head coach Peter Bradstreet, Ling, a former student-athlete there, paid tribute to DeBray, when he said: "We're going to work hard, continue to build up the Badgers swimming community and lift the program to new heights," Ling said. "I chose to come to Brock because this role represents a form of homecoming for me. Peter has had a tremendous influence on my life and career, so it's an honour to build upon the legacy he and Herb deBray have built at Brock."
Monday Vortex, September 18
USA Swimming Announces 2023-24 National Junior Teamsters & Appoints Posegay As Junior Team Director
USA Swimming has announced the names of 74 athletes on the 2023-2024 National Junior Team with news that Erik Posegay is to serve as the director and national coach of the American junior squad.
USA Swimming noted: "Prior to joining the USA Swimming staff in Colorado Springs, Posegay boasted more than 15 years of coaching experience, most recently as the Associate Head Coach at the University of Wisconsin. Posegay coached numerous Olympians, U.S. National Team members, World Championships competitors, Paralympians, and grassroots athletes before taking on staff lead of the USA Swimming National Junior Team. Under Posegay's leadership, the young Americans won both the 2022 Junior Pan Pacific Championships team award with 46 overall medals and the 2023 World Aquatics Junior Championships team award with 33 overall medals.

"We are proud to promote Erik to National Junior Team Director and National Coach," USA Swimming National Team Managing Director Lindsay Mintenko said. "This move demonstrates our commitment to growing exceptional talent in the pool and on the pool deck, and we will continue to invest in those who so expertly lead and coach the best in the world."
Mack Horton Marries His School Sweetheart Ella Walter
Mack Horton, the 2016 Olympic 400m freestyle champion for Australia, and his high school sweetheart Ella Walter got married at the weekend. The two were wedded on Saturday in Australia.
A picture (among lots of beautiful shots on the couple's insta page) paints a thousand words: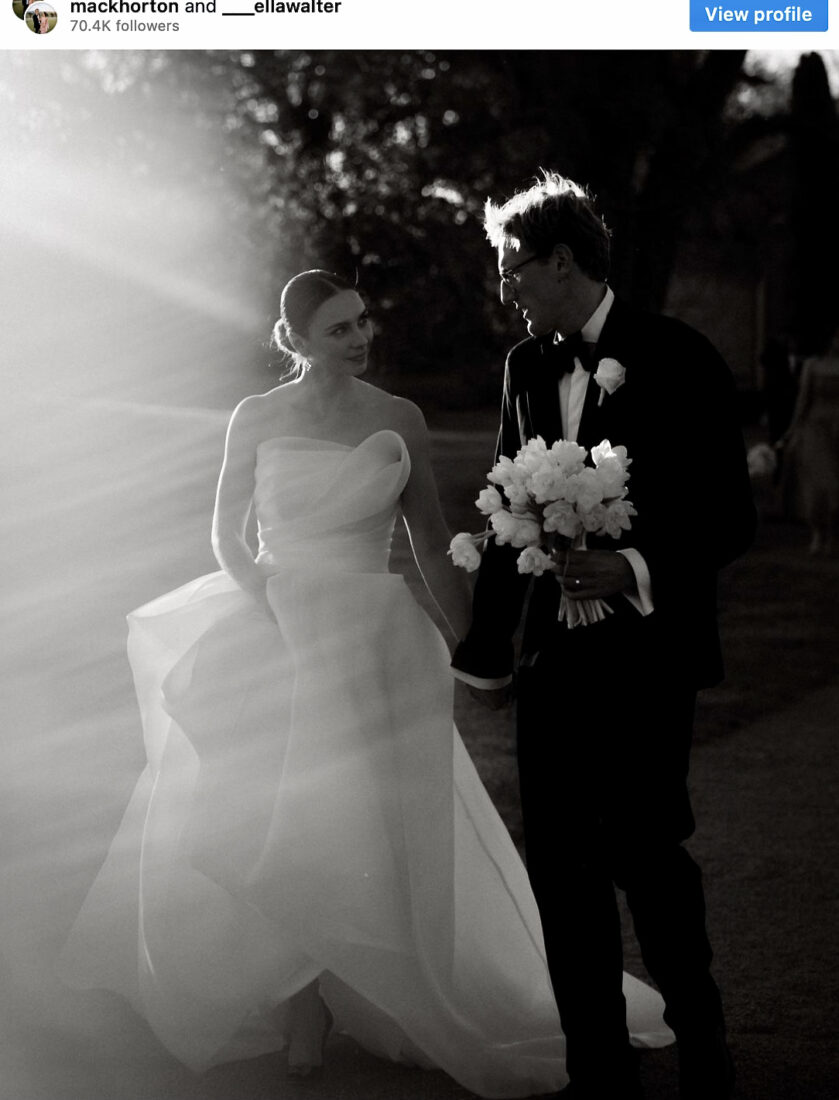 The Battle For Women's Sport Continues Apace
Sports organisations continue to make a mockery of sex-based Fair Play rules by allowing biological males to invade female spaces and races in moves that grant males three shots at 'success' in sport' while reducing the chances of females winning prizes in the one category they have a shot in. Here's an example of a bunch of blokes in 'crop tops' declaring themselves non-binary and picking up prizes as mediocre males in a category that's 'non-binary' but only ever features males as winners unless female 'non-binary' athletes happen to be the only ones who show up. That's more than rare. Here's the majority of folk picking up prizes in a third category available to biological males, alongside men and women's events in sports where organisers allow trans women (biological males) to compete for female prizes:
A good suggestion:
And the ludicrous backdrop to it all, Canada one of the worst offenders on the scale of discrimination against female athletes as things stand, and as highlighted by coach Linda Blade:
The related story in French about the women's professional hockey league allowing biological males to compete in female competition:
Sunday, September 17
James Guy Returns To Millfield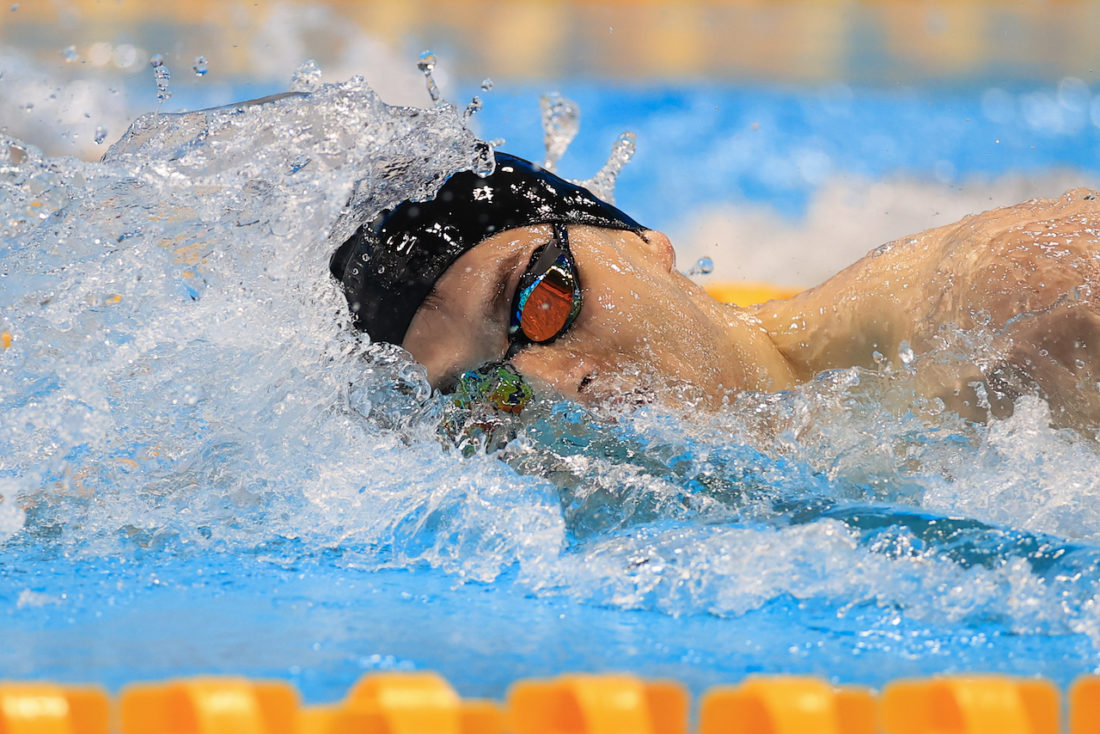 James Guy, member of Britain's Olympic and World-Championship gold-medal winning 4x200m freestyle quartets, is moving back to Millfield from Bath to be coached by Ryan Livingstone, the GB coach of the year, and Director of Swimming Euan Dale.
Guy was based at Millfield with coach Jon Finck at the time he claimed the World 200m freestyle title in 2015. Now he will make a return after seven years at Bath, making the same move current World champion Matt Richards made a year ago. The move leaves Olympic 200m free champion Tom Dean at Bath without two of his previous big training partners. The fourth member of the GB 4×200 quartet, Duncan Scott, has never trained on a permanent basis with his Britain teammates.
Guy posted a note on Instagram late last week noting: "After 7 years of being at the Bath National Centre and 4 years under Dave Mcnulty and 3 years under Jol FinckI, I have made the decision to change my training program for the Olympic year. I believe life is about having no regrets especially for us athletes with a limited time in the sport. In recent years of working with David Mcnulty, winning European, World and Olympic Gold and giving us the medal we always dreamed of and him being the right man, but much more than a coach, a father figure. I've decided for a change of stimulus for Paris 2024, this wasn't an easy choice at all, but I'm excited for something new heading into the coming year, as a senior athlete, I feel like it's time for a change physically and mentally. Thank you to everyone at the Bath National Centre for the 7 years and the work day in and day out of you helping me. We were inevitably a small family, great team mates and more importantly friends, which will always be carried on post swimming careers. Thank you ❤️ @bathperformancecentre and also to @finisswim for there continued support on my career!
In spring this year, Guy revealed that he is planning to be a luxury market estate agent when his swim racing days are done, the buzz of a securing a £15m house sale the closest thing he'd ever felt to claiming Olympic gold with his relay teammates.