The Vortex – October 2023: Savage Waters – A Tale Of Tall Waves, Thrill, Terror, Team Bonding, Passion, Psychology – In Extremis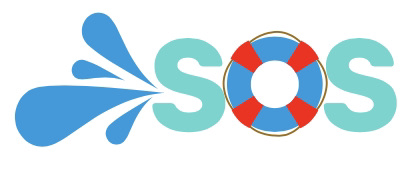 The Vortex is SOS' digest and soak of swimming news, views and links to big events, with new snippets added each day and collated in one monthly file
Friday Vortex, October 27
Savage Waters opens in UK cinemas today. I haven't seen it yet, but will. The film and writer and director Mikey Corker's story with co-writer Nic Guttridge chart the passion of legendary big-wave surfer Andrew Cotton and English sailor and modern adventurer Matt Knight. The two set off on a quest to find the perfect wave. They use a journal written by a 19th-century treasure hunter called E F Knight as the compass to guide them on a daring and dangerous mission to their destination: a handful of rocky atolls in the Atlantic called the Savage Islands.
Charles Dance narration of the documentary has earned the plaudits of reviewers: "[his narration] is every bit as eloquent and evocative as you'd imagine. ('The uneventful days passed by and I grew stout on laziness, salt beef and duff,' recites Dance of a particularly glum moment for the mariner.)", states a Timeout review that includes this precursor to the terror or thrill in it all, depending on how you see a tall wave as tantalising or treacherous when both apply: "Aerial footage of the man riding the epic seas of Nazaré in Portugal offer a reminder of the enduring appeal of dry land."
Nazaré means much to me. In the land in which I spent my formative years, Nazaré is where our dad wished his ashes to be scattered. And so it shall be.
In his Timeout review, writer Phil de Semlyen notes: "The spirit of Robert Louis Stevenson and seafaring adventure courses through the film … Much more than just a surfing or sailing film, Savage Waters offers sharp insights into the unique psychology of extreme sports, the power of a united family, and the daring and resilience it takes to reach your goal when your every instinct is to play it safe. It teases the tantalising idea that life's uncharted corners are where the real treasure lies. Just lay off the salt beef and duff."
Into the Vortex… The folk behind it – and The Trailer: 
Director: Michael Corker
Writers: Michael Corker, Nic Guttridge
Lead Actors: Matt Knight and Suzanne Hobbs; Alex Botelho; Andrew Cotton; Charles Dance
Producer: Ghislaine Couvillat
Executive Producers: Maia Norman. Kathleen Glynn. Peggy Cafferty. Lorcan Kavanagh
Assistant Producer: Luke Oliveira-Davies
Wednesday Vortex, October 25
Unfair Play By Sharron Davies (& Me) Shortlisted For William Hill Sports Book Of The Year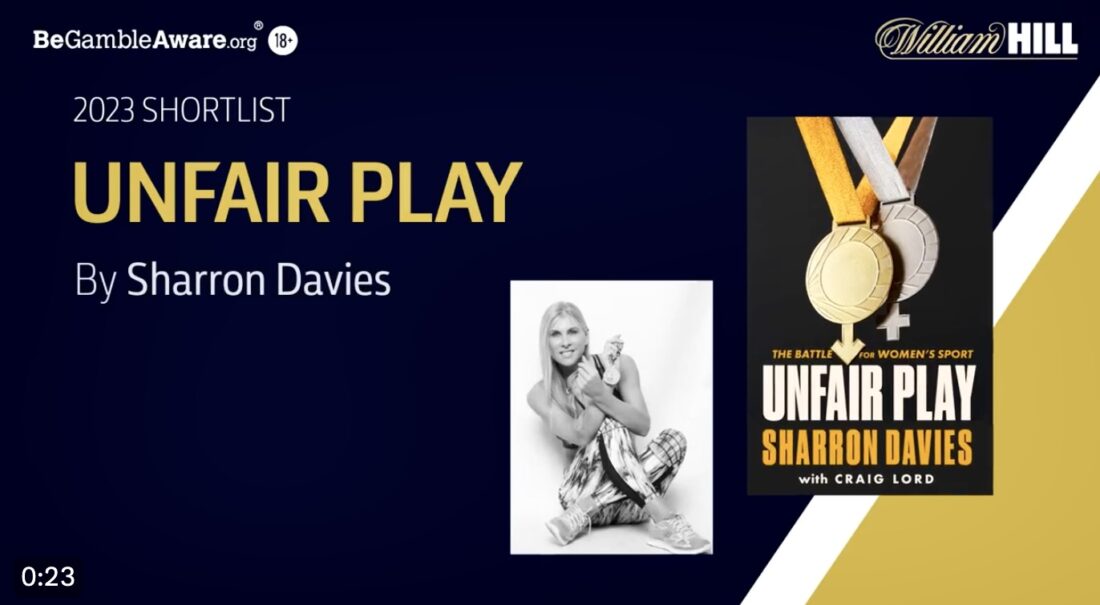 Unfair Play, the book co-authored by Sharron Davies, Olympic swim ace (and an expert commentator since her racing days) and this author, has been shortlisted for the prestigious William Hill Sports Book of the Year award. (Lovely to have our work recognised along so many terrific titles across the sporting spectrum, long- and short-listed. Ed)
5-Gold-7-Podium Pan Am Games For Canadian Maggie Mac Neil As Action Wraps Up In Santiago
The Pan Am Games wrapped up in Santiago, Chile, today, Maggie MacNeil, Olympic 100m butterfly champion from Canada, the most decorated swimmer, with five golds (3 of them solo), a silver and a bronze for seven podiums in all.. Some day-by-day highlights:
Day 1: Guilherme Costa of Brazil took the 400m free in a 3:46.79 Pan Am Games Record ahead of Alberto Mestre (VEN) – 3:47.62.
Day 2: Canadians Mary-Sophie Harvey and Maggie Mac Neil claimed gold, in 1:58.08 over 200m free and 56.94 in the 100 'fly respectively.
Day 3: Maggie Mac Neil was back in for more gold, setting a 53.64 Pan American Games Record in the 100m free; the men's equivalent went to Brazil's Gui Caribé in 48.06 ahead of a tie of USA teammates Brooks Curry and Jonny Kulow, on 48.38s; a Canadian 1-2 in the 200m breaststroke was a close affair, Sydney Pickrem on 2:23.39, Kelsey Wog 0.1sec away.
Day 4: solo gold No 3 for Maggie Mac Neil, on 24.84 in a snap victory with Gabi Albiero (USA).
Day 5: Another 1-2 for Canadians involving Sydney Pickrem and Mary-Sophie Harvey, respectively on 2:09.04, a Pan American Games Record, and 2:11.92 in the 200m medley; the men's 200IM also went to Canada, Finlay Knox on 1:58.74. The meet ended with the medley relays and relative newcomer Caribé brought Brazil home to silver behind the USA men with a 46.94 split. Mac Neil claimed the last of her five golds and seven podiums with Canadian mates in the women's medley.
"Tran-sanity": How Can A 50-year-old Male Be Granted Access To 13-Year-Old Girls Races & Spaces? – In Canada, 2023
Local officials blame Swimming Canada "if" the following happened because of the federation's "registration system". SOS has asked but it seems unlikely to be a registration problem: take gender away and 50-year-olds are not allowed in a 13 years race. Beyond that, local organisers can, of course, use their eyes and remove the cheat if the following unfolded as parents and Rebel News have reported it:
Tuesday Vortex, October 24
Wiffen Twins & Mates Test Themselves At Home Loughborough International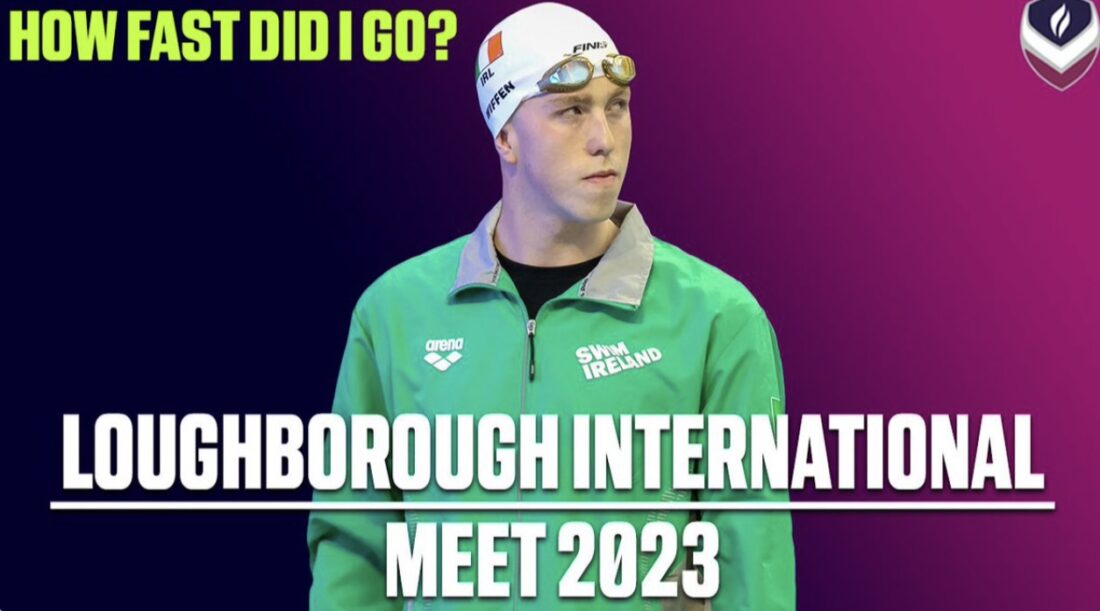 The Wiffen Twins vlog, by Ireland and Loughborough swim brothers Daniel and Nathan, charts many aspects of the lives of professional swimmers. We're posting all their videos in our Vortex round-up column all the way to Paris 2024.
In their latest vlog, Dan, Nathan and teammates have their in-training form tested at a home meet, the first Loughborough International – and talk us through the process. Dan and Nathan's main focus is shared by fellow distance swimmers and training partners Tobias Robinson and Belgian international Lucas Henveau in a short-course 800m freestyle. Here's how it turned out, with Dan leading the pace throughout:
Daniel WIFFEN 22 Loughboro Un 7:35.36
Lucas HENVEAUX 23 Loughboro Un 7:37.01
Tobias ROBINSON 27 Loughboro Un 7:47.56
Nathan WIFFEN 22 Loughboro Un 7:50.09
Tobias topped the 1500m in 14:52.34, while Nathan got one over his fellow distance racers, including open-water ace Hector Pardoe, in the 200 'fly won by with Loughborough European Junior medallist Reuben Rowbotham-Keating, 1:58.15 in the 200 'fly, finishing fourth in 2:01.79, twin Dan, who delivered more historic results for Ireland this year at World Championships back in July, on 2:06 for last home in the final.
The meet also witnessed a backstroke sprint double for Loughborough's World-champs teamster Lauren Cox (27.05, 50m; 59.02, 100m), a 47.39 win for Britain teammate Lewis Burras in the 100m free, and wins for 16-year-old Eva Okaro, Repton, in the 50 (24.82) and 100m (53.78) free and 100 'fly (59.40). The men's freestyle dash was led by Ireland's Thomas Fannon, NC Dublin, on 21.51, Burras on 21.73 for Loughborough, with Shane Ryan, NC Dublin, 21.92, and Alex Cohoon, Loughborough, 21.99, also inside 22. Leah Schlosshan, Co Leeds, took the women's 200IM in 2:11.38, while Loughborough's Honey Osrin clocked 2:07.09 at the helm of the 200m backstroke
Monday Vortex, October 23
On This Day: 13 Years Since Fran Crippen's Preventable Death In The FINA World Cup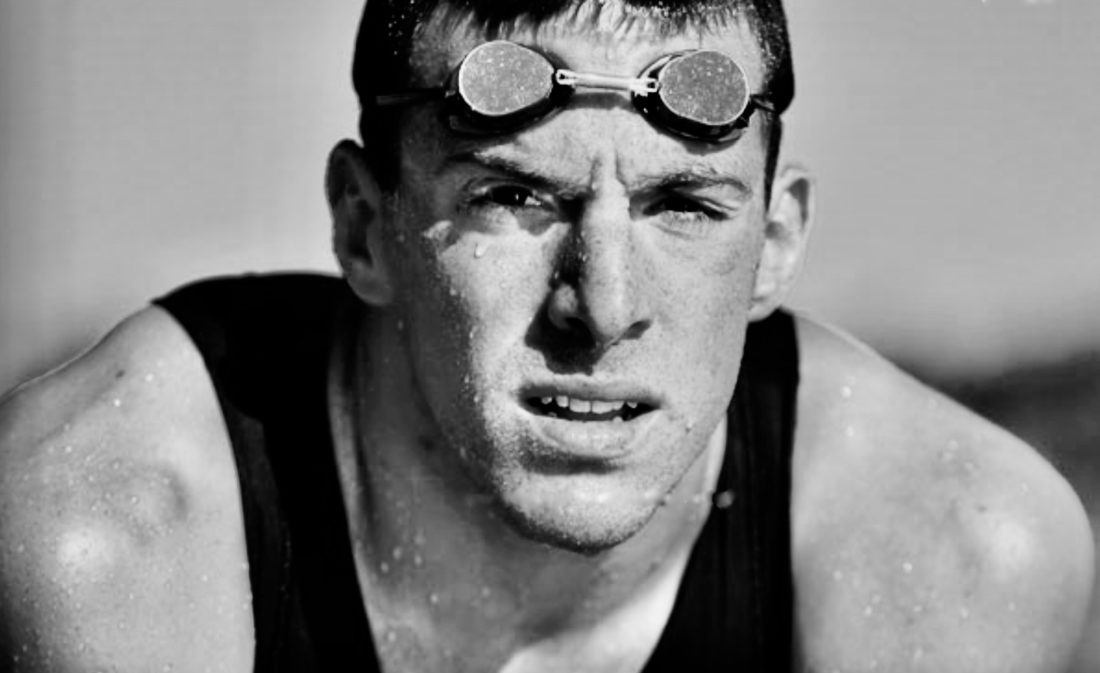 Fran Crippen lost his life in a FINA World Cup race off the coast of the United Arab Emirates with no official USA Swimming staff present 13 years ago this day, 10-23-10. He was 26 years old. His passion lives on in the work of the Fran Crippen Elevation Foundation (FCEF).
The death of the American swimmer on October 23, 2010, in mid-cycle racing and as a key contender for Olympic marathon gold come London 2012, was, his mother Pat told S.O.S, "tragic, senseless and preventable".
Today marks the 13th year since the tragic events that costs Fran his life. There is no more apt way to spend a moment thinking about Fran than to hear the voice of his mother, which we first published on the 10th passing of the day since the Crippen family lost a son, a brother, a grandson, a partner, friend and teammate.
Fran Crippen A Decade Gone: His Mother's Song Of Sorrow & Salvation in The 'Reservoir Of Joy'
This time next year, we will tell the story in a different way after a lamentable but unavoidable delay in completing a worthy tribute to a swimmer and man who passed in circumstances that no reform process will ever be able to heal.
Sunday Vortex, October 22
McKeown Caps 2023 World Cup Tour With Aus$300,000 Pay Day After 2:04 World Cup 200m Record For 9 in 9 Backstroke Wins, 2 WRs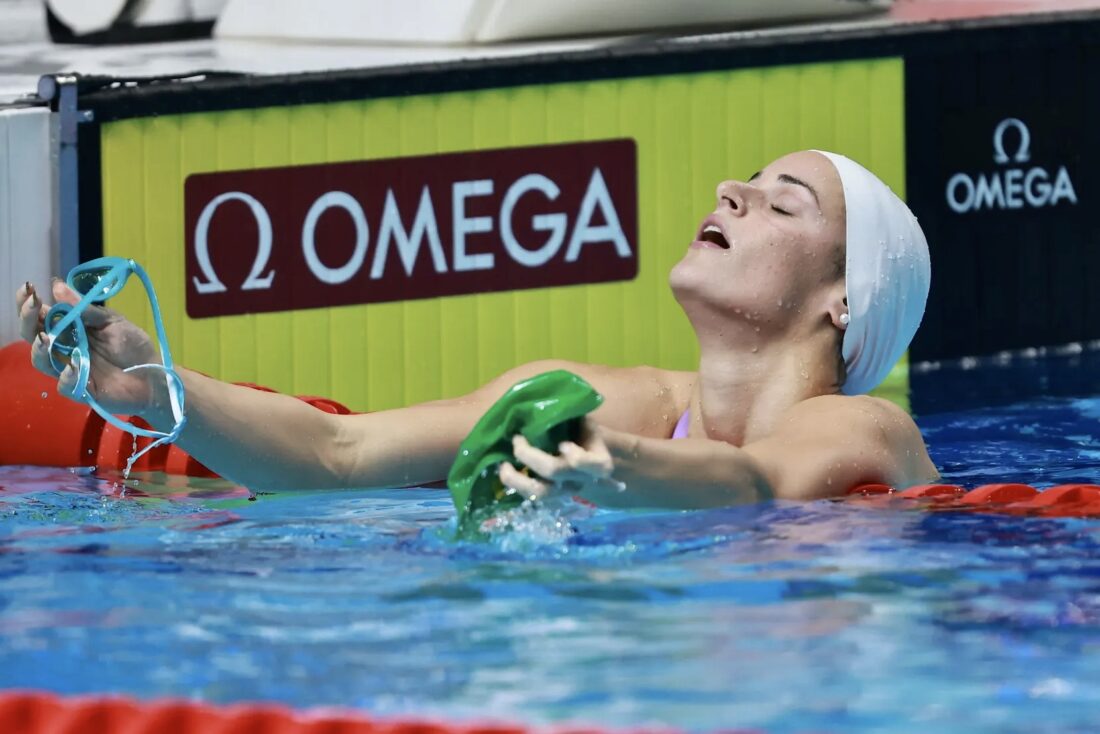 Saturday Vortex, October 21
McKeown Shadows Pace Of Matthes: 57.33 For World Record No 2 in 24 Hours
Friday Vortex, October 20
Kaylee McKeown Mangles 50 Back WR In Thumping 26.86 To Go With 100 & 200 Marks
Shymanovich & Mates Return As Neutral Athletes Caught In A Neutrality Mission Impossible
Dolphin Roller-Coaster: Peace With World Aquatics Follows Word On Why Gina Rinehart Pulled Her Millions From Swimming Australia
Thursday Vortex, October 19
Swim England Apologises After Young Swimmers Sent "Scaremongering" Email With Warning Of Club Suspensions
Wednesday Vortex, October 18
What Should We Make Of The IOC's Move Into Safeguarding?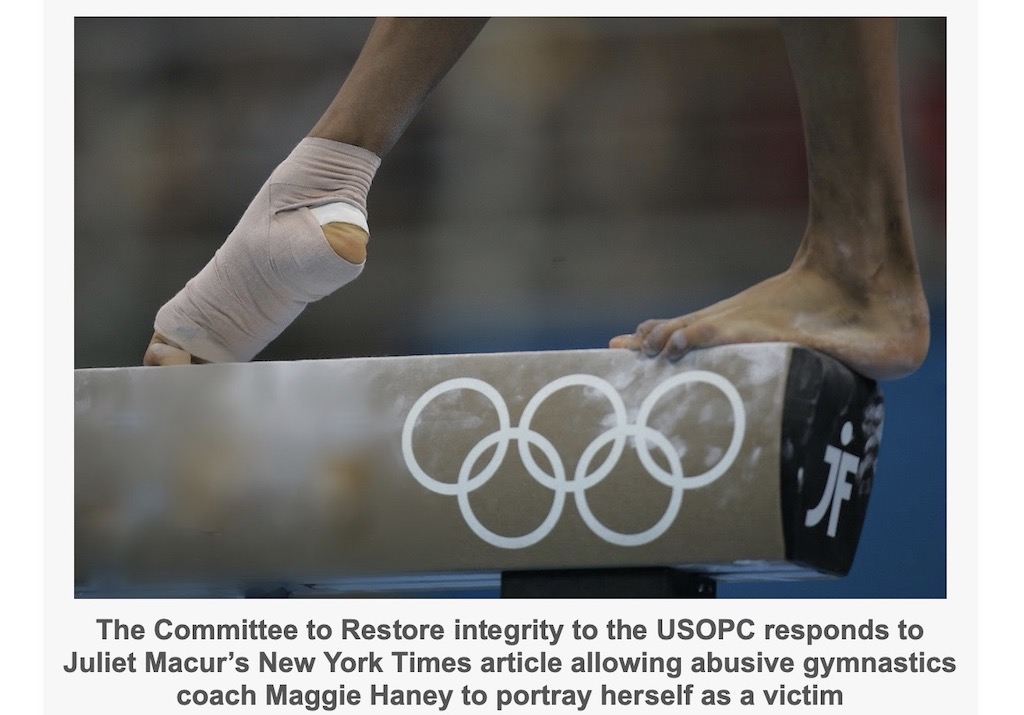 Olympic bosses have often strayed from their self-declared bubble of autonomy to quaff with dictators and press the flesh with the Putins and Xis of the world if it meant status and cash flowing Faster, Higher, Stronger – Together.
If Olympic history is anything to go by, gold certainly blinds one to systematic doping and other forms of abuse endured down many decades by young athletes, women in particular.
The dark side of the Olympic Movement has long held hands with a culture of self-preservation among the ruling class and folk in positions of authority over athletes. Taking responsibility has never been their creed, alien to them the concept of reconciliation, a prerequisite to the guardians of the Games ever getting close to being able to declare the realm they govern safe.
So, best we sit up and pay attention when bosses at the International Olympic Committee (IOC) announce they intend to take responsibility for their latest passion: safeguarding.
Yes, Safeguarding. It's always great news when sports organisations wake up to athlete welfare and give it their required attention. But as Olympic bosses plan 'safeguarding hubs' around the world, in which work will be carried out with 'local organisations', questions of jurisdiction and responsibility arise, not least of all because of the IOC's own history of wilful blindness in the face of mistreatment of athletes and harmful, long-term consequences of abuse both physical and mental, women very clearly the biggest victims down long decades.
To read further, the feature in full:
IOC's safeguarding: a Schengen move when it suits
Yes, its a long read but it's a timely gateway to a topic that The Inquisitor will be tackling from a variety of angles from our growing network around the world.
Tuesday Vortex, October 17
The Inquisitor, A New Home For Investigations & Analysis Of Sport In The Andrew-Jennings Tradition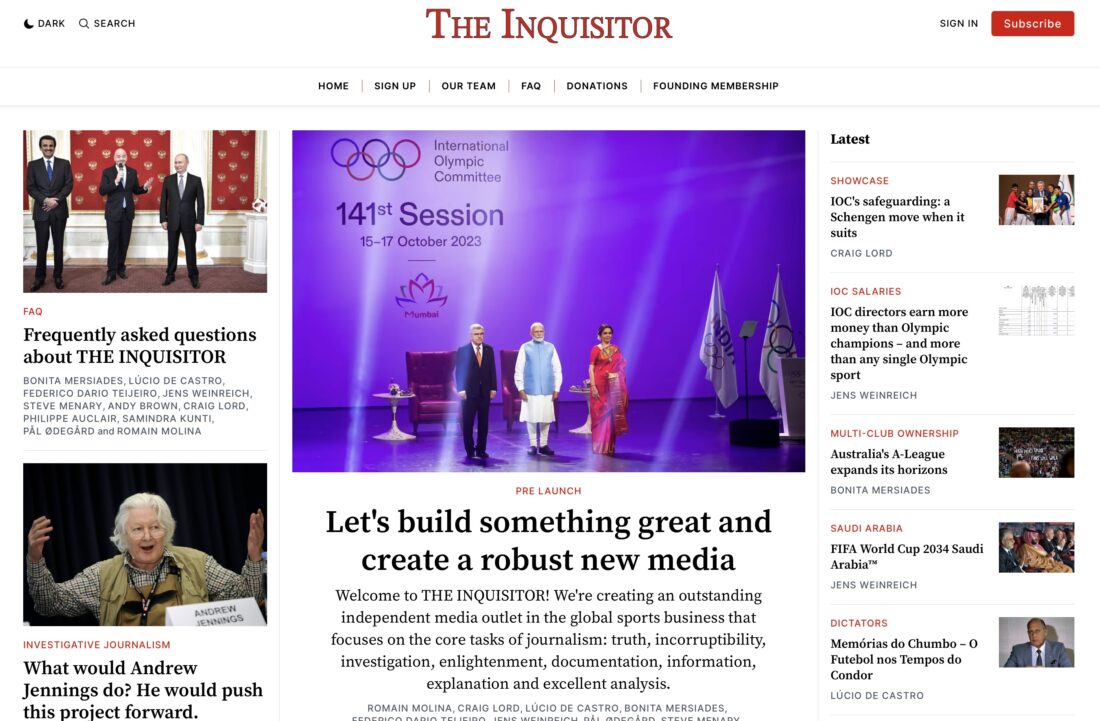 Today marks the soft launch of a new venture, The Inquisitor, a collaboration of experienced and multiple award-winning investigative journalists, reporters and whistleblowers from all continents with a focus on Olympic and other leading sports and how they do business – and what that means for athletes.
This author is a member (along with Romain Molina, Jens Weinreich, Andy Brown, Lúcio de Castro, Bonita Mersiades, Federico Dario Teijeiro, Pål Ødegård, Steve Menary, Samindra Kunti and Philippe Auclair, with more colleagues to be announced in the near future) of the team, a unique alliance in the journalistic tradition of the late Andrew Jennings, our late colleague and a master investigator who set out on the trail of the mafia in Italy and ended up being drawn to the sports world when he saw parallels in practices at the IOC, FIFA and other leading federations.
The project seeks to shed more light on the fundamental problems of world sport, including abuse, safeguarding and the lack of independent, quality, and in some cases any, judicial processes designed to ensure fair hearings, justice and healthy outcomes. Independence; what does it mean? Transparency; what does it mean? Integrity, what does it mean? We'll be taking a deeper look.
It's a journalistic mission that hardly any other media consistently fulfils to such an extent as we hope to do with the support of readers and subscribers who love their sport but know that governance of sport and its athletes is a realm in need of independent scrutiny.
The main language of the service will be English but our network of journalists around the world will also be writing in French, Spanish, Portuguese and German for local and regional readerships.
You can sign up to receive news, free and subscribed services from The Inquisitor – and follow us on X (Twitter). In several weeks from now, State of Swimming (SOS) will also have news about our swimming focus for Olympic year and our Paris 2024 service for those who wish to support our work and see it grow.
Monday Vortex, October 16
'How a Professional Swimmer Analyses a Workout' – The Wiffen Twins
The Wiffen Twins vlog, by Ireland and Loughborough swim brothers Daniel and Nathan, charts many aspects of the lives of professional swimmers. We're posting all their videos in our Vortex round-up column all the way to Paris 2024. In their latest instalment, we gain insight into 'How a Professional Swimmer analyses a Workout':
In Mourning For Ursula Carlile (1937-2023)
Ursula Carlile 1937-2023 – Obituary, Memories & Tributes To A Swimming Treasure
Ursula Carlile, Pioneering Coach & Chaperone To Gould & Generations Of Swimmers, Joins Forbes In The Heavenly Pool
IOC Gives Thumbs Up To Adding SportsBaseball/Softball, Cricket (T20), Flag football, Lacrosse (sixes) and Squash To LA2028 Games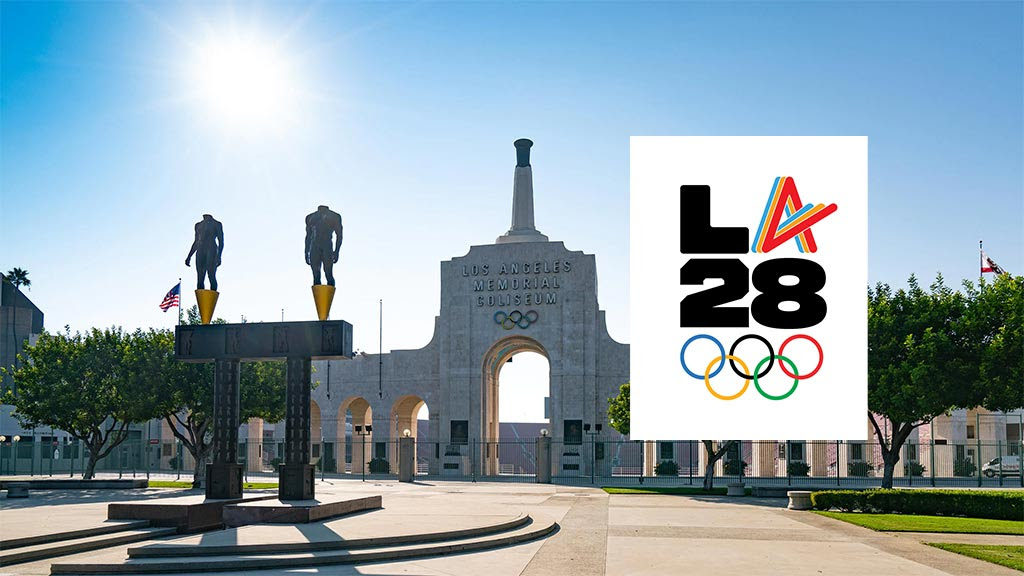 The latest IOC Session has approved LA28's proposal for five additional sportsBaseball/softball, cricket (T20), flag football, lacrosse (sixes) and squash have been officially included as additional sports on the programme for the Olympic Games Los Angeles 2028 (LA28). The decision was taken by the 141st Session of the International Olympic Committee (IOC) in Mumbai, India
Sunday October 15
Sameh Reveals He's Had Death Threats For Supporting Palestine After Murderous Hamas Attacks On Israel
Zhang Yufei's Stellar Season Of Plenty Boosted By 56.06 World Cup 100 'Fly Mark
AQUA Director On State Of Australian Swimming: "… It's Pretty Rotten … Athletes Tell Us It's Just A Broken Board, Broken System"
Saturday October 14
McKeown Tops The Athens Day 2 Bill With 57.63 Cup Mark A Touch Away From Her WR
Swimming Australia Plunged Into Crisis Over Details Of Shocking Abuse Report
Friday October 13
McKeown Rattles World Record With 27.02 Oceania, Commonwealth & Cup Dash Mark In Athens
Thursday Vortex, October 12
Michael Klim Made Australian Red Cross Lifeblood Ambassador To Raise Awareness Of Critical Need For Plasma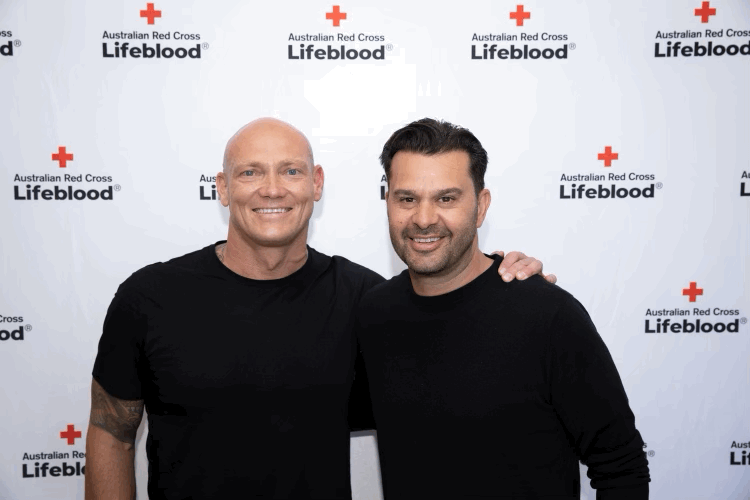 Michael Klim, an Olympic and World champion for Australian a couple of decades back, has been announced as an Ambassador for the Australian Red Cross Lifeblood.
He lives with a rare neurological disorder after a 2020 diagnosis for chronic inflammatory demyelinating polyneuropathy (CIDP). As part of his treatment, Klim relies on regular infusions made from donated plasma, which has overtaken blood donations as the type of donation most needed by patients and hospitals.
Winner of 25 titles and 54 medals in all for Australia during his swim career, Klim has teamed up with Australian Red Cross Lifeblood to raise awareness of the critical need for plasma. According to George Moskos, a Branding & Communications executive and friend of Klim's, 9,000 new blood and plasma donors are needed this October to keep up with the demand.
Those interested in donating and potentially saving lives as a result can find further information at lifeblood.com.
Klim set a world record over 100m freestyle leading the Dolphins to 4x100m freestyle victory at a home Games in Sydney in 2000 and claimed four golds, two silvers and a bronze for a then record seven-medal haul at the 1998 World Championships, against at home, in Perth.
Swimmers In The Pink Of Arena's Breast Cancer Awareness Collection In Aid Of Keep A Breast Foundation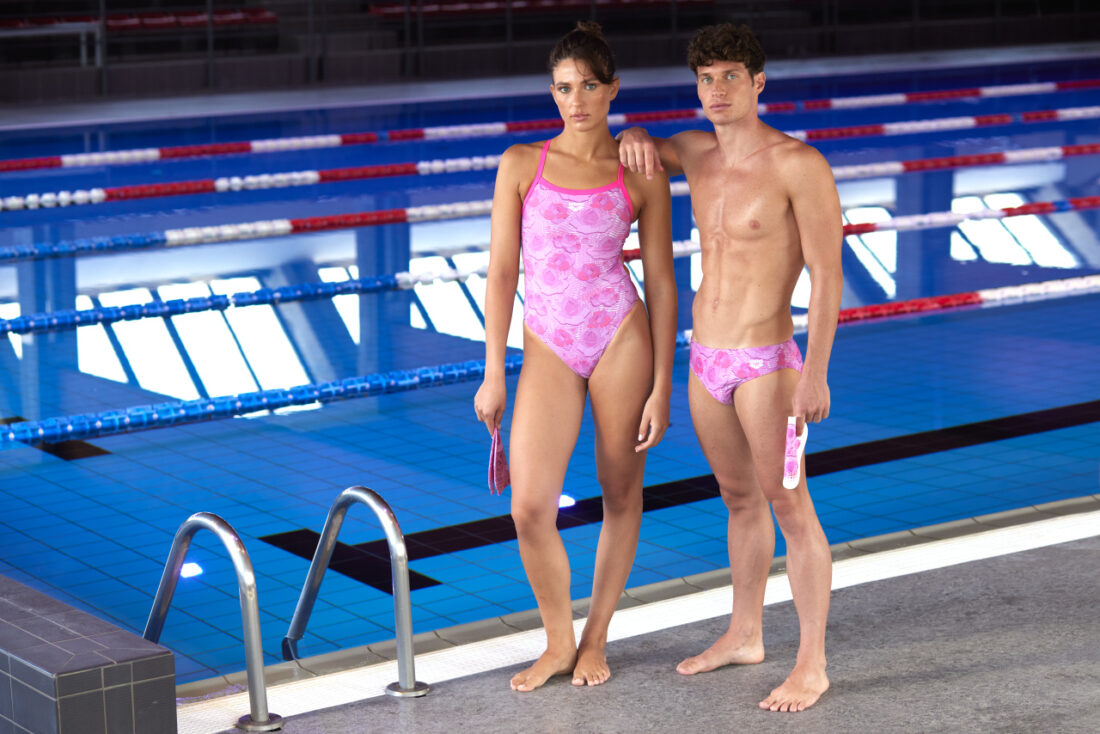 Global swimwear brand arena today unveiled its 2023 Breast Cancer Awareness Collection in Europe to benefit Keep A Breast Foundation.
The collection launches in time for Breast Cancer Awareness Month to underscore the importance of early detection and access to timely, high-quality care and stand in support of survivors of breast cancer. 50% of the proceeds will be donated to Keep A Breast, working to reduce breast cancer risk and its impact globally through art, education, prevention, and action.
"This is our third year working in partnership with arena. It's so wonderful to work with a brand that embodies our mission and has such inspiring athletes that live this message in their daily lives" says Shaney jo Darden, Founder of Keep A Breast.
Prevention is crucial and, with this limited-edition collection, arena wants to emphasize the importance of awareness, education, and support. Every suit features a QR code on packaging linking directly to the Keep A Breast app – a first of its kind step-by-step self-check tutorial that connects users directly with a telehealth medical professional, providing direct and instantaneous support to women that find something abnormal in their self-check. This initiative is much more than a collection; it is a gesture of solidarity to educate about prevention and encourage research.
Each garment and accessory are tangible symbols of the brand's commitment to the cause. With delicate details, shades of pink that evoke hope and positive messages, this collection represents the strength and determination of those fighting against breast cancer.
arena's Breast Cancer Awareness Collection is presented in hues of pink and fuchsia, recalling the iconic pink color that has come to symbolize the month of October, and features a trendy mesh pattern with stylized roses. The rose, a symbol of beauty and love, is a subtle reminder of the importance of self-love. It is that very self-love that leads to self-care: looking after one's health and taking the necessary preventive steps to ensure breast cancer is caught at an early stage.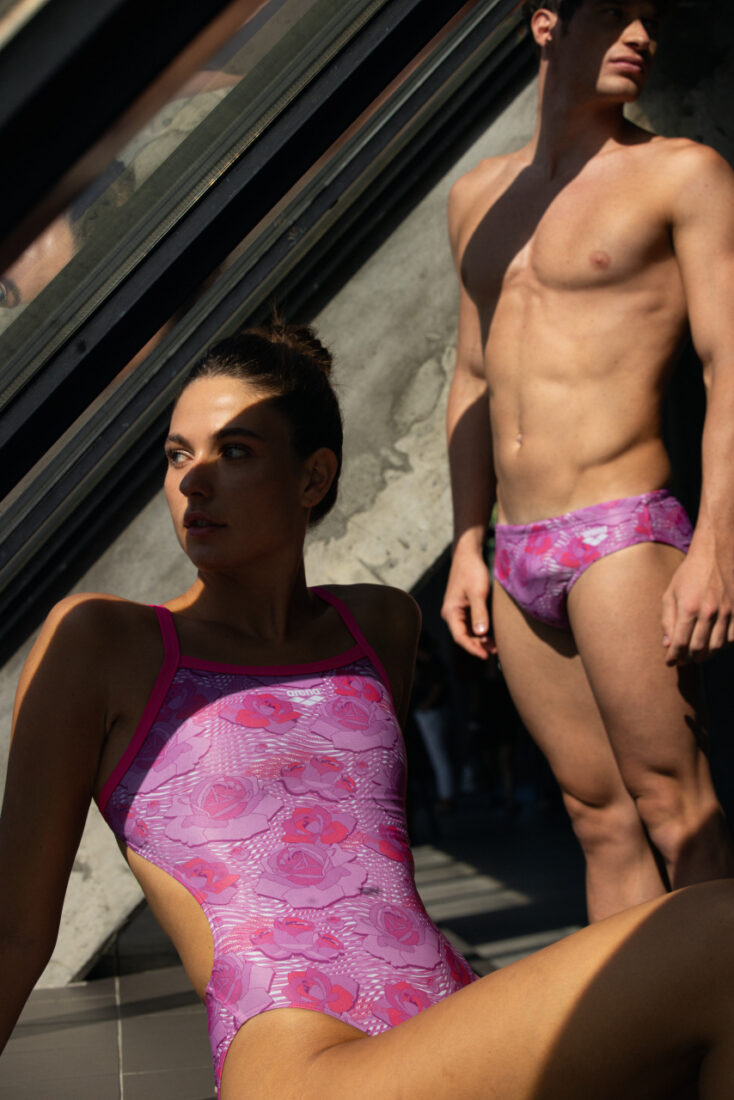 The collection is comprised of a one-piece women's swimsuit with a challenge back, perfect for intensive swimming, a men's 7cm classic suit, two swimming caps and two t-shirts. Both swimsuits are made with MaxLife Eco fabric, which is extremely chlorine resistant, durable, and fast drying while it is also composed of a minimum of 50% polyester made with recycled PET bottles. The caps, available in two colorways, are PVC-free and feature a smooth and soft construction, ideal for everyday use. The two t-shirts, available in an orchid or white version, with a print of the floral theme, are made in 100% cotton and have unisex fit.
arena is proud to have several of its swimmers help raise awareness by wearing the collection this October.
Sweden's first female Olympic swimming champion Sarah Sjostrom says: "I am wearing pink with arena in October to give my support, strength, and love to those affected by breast cancer. Wearing pink in October is a small gesture with a big message: We stand together against breast cancer."
Australian Olympic champion Cate Campbell notes: "I am proud to be wearing the arena Breast Cancer Awareness Collection, in Australia alone over 20,000 women are diagnosed with breast cancer each year. Cancer touches so many people's lives and I hope that the funds and awareness raised by this collection will lessen the impact that cancer has on women across the world."
South Africa's 2012 Olympic 200m butterfly champion Chad Le Clos recalled his own families battles with cancer, saying: "Breast cancer is very close to my heart as my mom got it twice in 6 years and she is the strongest person I know happy to be a part of such a great initiative".
By supporting the Keep A Breast Foundation, arena helps ensure that more people receive the education and resources they need to protect their health.
Wednesday Vortex, October 11
Silence Kills, Says Heraskevych In Call For Athletes To Act On Russian Return To Sport
Vladyslav Heraskevych, the first-ever Ukrainian skeleton racer, has urged athletes and the sports community around the world to act in the face of an IOC-led attempt to return Russian and Belorussians to competition, including the Paris 2024 Olympic Games.
Tired of seeing Ukraine athletes threatened with disqualification if they do not shake hands with Russians already allowed back in to sport, he refers to those athletes from Russia and Belarus who daily to condemn the murderous war waged on Ukraine and her citizens as "terrorists".
The Olympian took to X to issue the following call to action and recorded a video in English with moving images of destruction in the Ukraine that Global Athlete and many of those it represents around the world say the IOC and some of its affiliates are condoning and lending more support to than they are to the victim's of Putin's war.
Tuesday Vortex, October 10
Michael Andrew Calls On Fans To Join Prayers For Peace & Lend Israel Support In Hamas Attacks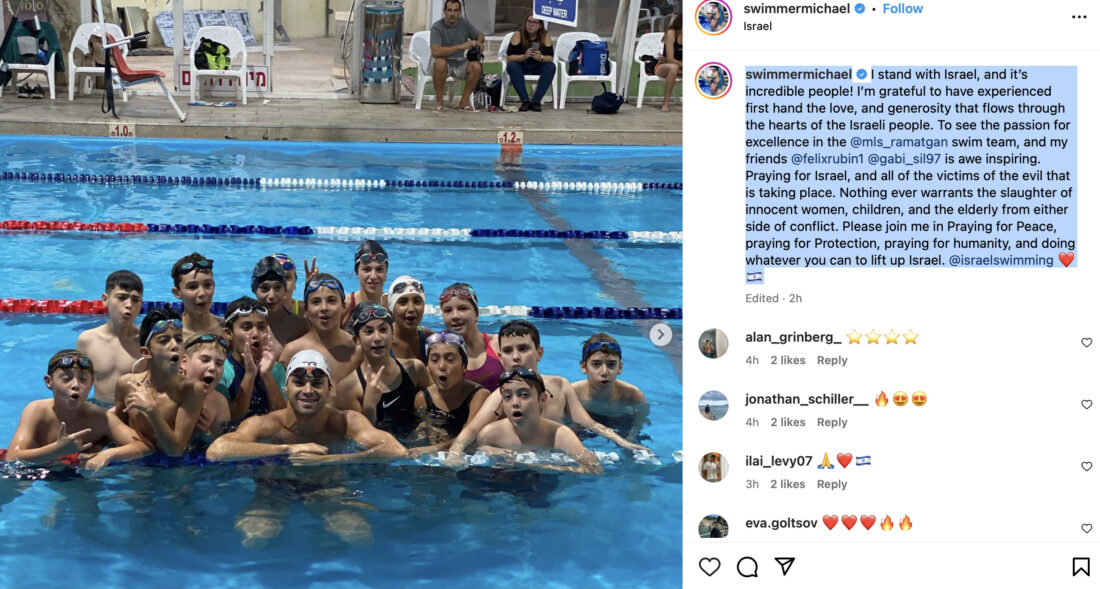 Michael Andrew, the American sprinter, has pledged his support and urged his fans and followers on social media to join him in prayers for peace and for the Israeli victims of the Hamas attacks that have led to the deaths of more than 1,000 citizens in Israel and more death among the Palestinian people represented by their Hamas regime.
Andrew lamented the deaths of citizens on both sides of an age-old divide and conflict, writing: "Nothing ever warrants the slaughter of innocent women, children, and the elderly from either side of conflict."
Around 100 Israeli hostages are reported to have been taken and Hamas has threatened to kill them. That (and apparent support for such a move from Iran) has been condemned by French President Emmanuel Macron. France will host the Olympic Game sin Paris next July against a world-politics backdrop that suggests a strong possibility of boycott as a result of Putin's illegal and bloody war on sovereign Ukraine and now the latest Middle East crisis.
The IOC, which is planning much-criticised changes to the Olympic Charter at its Mumbai Session next week, has suggested it would like to have athletes from the aggressor nations in the war on Ukraine, Russians and Belorussians, back in the fold by Paris. World Aquatics has suggested something similar and though there are conditions attached to a return to international racing for Russia and Belarus in time for the Doha 2024 World Swimming Championships, many nations will judge their level of participation in that event and even at Paris 2024 on how Ukrainians feel, especially at a time when the war rages on, about being forced to compete against any athletes from nations that have murdered family members, neighbours and fellow citizens and destroyed their country's infrastructure.
Meanwhile, Andrew, currently on World Cup Tour in Europe, posted the following on his Instagram page: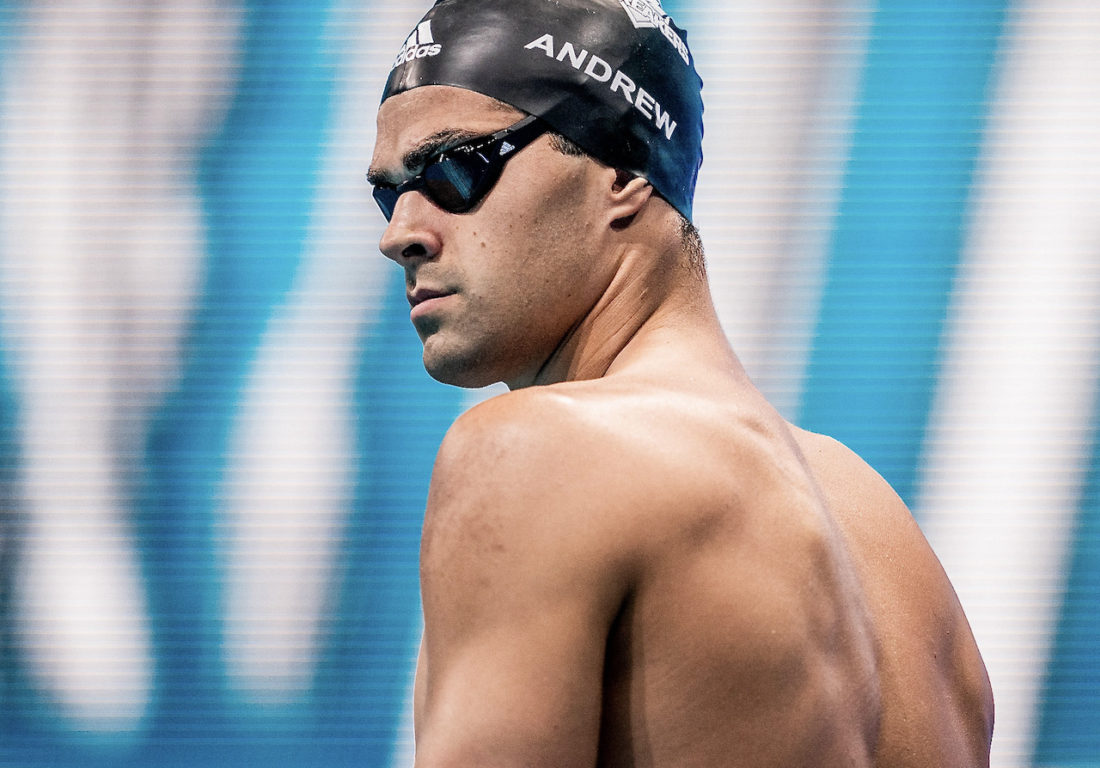 @swimmermichael – I stand with Israel, and it's incredible people! I'm grateful to have experienced first hand the love, and generosity that flows through the hearts of the Israeli people. To see the passion for excellence in the @mls_ramatgan swim team, and my friends @felixrubin1 @gabi_sil97 is awe inspiring. Praying for Israel, and all of the victims of the evil that is taking place. Nothing ever warrants the slaughter of innocent women, children, and the elderly from either side of conflict. Please join me in Praying for Peace, praying for Protection, praying for humanity, and doing whatever you can to lift up Israel. @israelswimming ❤️🇮🇱

Michael Andrew – Image courtesy of the ISL and the New York Breakers
Monday Vortex, October 9
The Blood Of Eden: Israeli Swimmer & IDF Officer Killed In Hamas Attack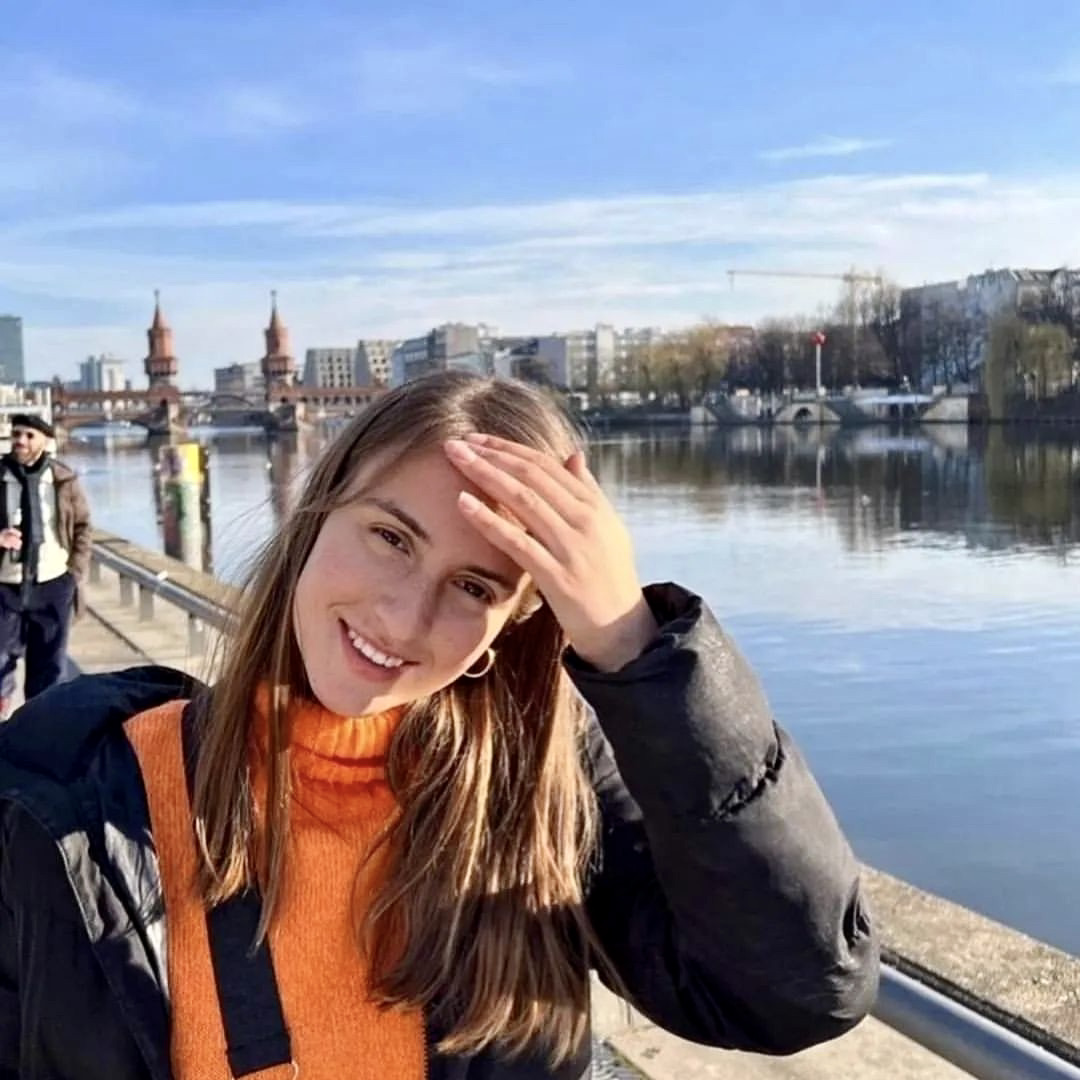 Eden Nimri, an Israeli swimmer and officer in the Israeli Defense Force (IDF) , has been killed in fighting in Nahal Oz in Southern Israel that followed attacks by foreign forces linked to the Hamas government of the Palestinian people.
Nimri was serving as a commander of a drone unit when she was killed. The 22-year-old swam at the Reut Water Park Club in her youth with her sister Noga. Her parents Michael, a masters swimmer, and Sharon are swimming officials
Nimri raced for the last time in December 2019 at the Israeli short-course nationals. Her last International for Israel was the European Junior Open Water Swimming Championships in 2018. Before that, she represented her country at the ISF World Schools Championships in 2017 and the Mediterranean Cup in 2014.
In mourning, the Israel Swimming Association noted on Instagram: "Eden was an amazing girl, a good friend, competitive, especially hardworking, had a high self-discipline, worked hard, always aiming high, set goals and met them."
Coverage of the atrocities in Israel
David Popovici Joins Wave Of Big Names Bypassing Doha 2024 Worlds
David Popovici, the Romanian World 100m freestyle record holder, will bypass the 'intercalated' World Championships scheduled for Doha in February next year, his coach Adrian Radulescu has told told Romanian news agency AGERPRES.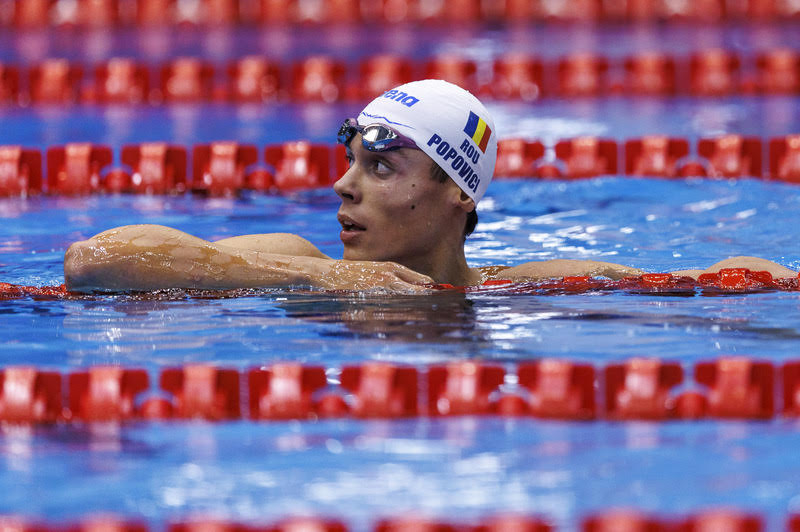 The event will be the first global long-course showcase ever held in Olympic year, courtesy of the Covid crunch of contracts that has dictated a World Aquatics highlight not once every year two years but every year between 2022 and 2025.
A wave of Europeans have already announced that they will not attend the event because Olympic trials season begins in March and runs until May for most leading nations. For some who do not have trials or only have trials in June, Doha may be a better fit but the only point of being there for many nations is to qualify their relays for the Paris 2024 Olympic Games. The top three quartets at Fukuoka 2023 Worlds in July qualified automatically for Paris and their nations can either bypass Doha or send a development/reserve team.
Radulescu said that Romania's World 100-200m freestyle champion of 2022 is focusing on
university studies, will race at the Romanian short-course nationals next month and then the European Short-Course Championships at home in in Otopeni from December 5 to 10.
Baseball/softball, Cricket, Lacrosse & Squash: LA2028 Sports?
Los Angeles Olympic organisers have named baseball/softball, cricket, lacrosse and squash as five provisional sports that it aims to stage at the 2028 Games. The issue will be voted on at the IOC session in Mumbai, India, on October 16. An original short list of potential sports for 2028 was whittled down when breaking, kickboxing, motor sport and karate were dropped.
Sunday Vortex, October 8
The Big 50m Challenge With The Wiffen Twins At Loughborough
As promised, SOS will follow the journey of "The Wiffen Twins", the story of Irish brothers Daniel and Nathan and their swimming voyage with teammates at Loughborough and in Ireland on the way to trials, and for those who make not, the Paris 2024 Olympic Games in July next year.
The first vlog of the Wiffen's twins to appear in the Vortex can be found below on October 2. Here's the next instalment, a Big 50m Challenge in which training partners challenge each other in pairs, sprinting on all strokes. The fun of competition:
The Wiffen Twins – the Whole Story since the vlogging began
Saturday Vortex, October 7
World Cup, Berlin, Day 2
Friday Vortex, October 6
World Cup, Berlin, Day 1
Thursday Vortex, October 5
Rivalries About To Be Renewed At Berlin World Cup
Swimmers have arrived in Berlin for the opening round of the World Cup, from Friday to Sunday at the German capital's Europasportpark pool, scene of many national and international championships down the decades back to the 1990s. The meet is held long-course in pre-Olympic season and has attracted one of the most decent line-ups in a history of slow decline for the event.
The hosts will have distances aces Olympic champion Florian Wellbrock and Lucas Martens extending their training head-to-heads in front of the fans alongside international rivals. [Since publication, Wellbrock withdrew from the Cup event as he recovered from a cold-like bug, while Martens swam day 1 heats in Berlin – see above – before withdrawing with the inset of similar illness]
Olympic and Worlds triple-gold star Kaylee McKeown, the Campbell sisters Cate and Bronte and Lani Pallister on the women's side as well as Jenna Strauch, Zac Incerti and Mitch Larkin form part of a string Dolphins touring team.
It will be the first time the Campbells compete together on an Australia touring team since the soaring success for the Dolphins at the Tokyo Olympic Games of 2020ne. In sprint freestyle events, they will rejoin battle with old friends and foe in the water, Sarah Sjostrom, Siobhan Haughey, Marrit Steenbergen and Torri Huske.
The women's sprint events are joined by the men's breaststroke battles on the list of highlights judged on the basis of the entry, though just where everyone will be in their preparations for the Paris Olympic Games is another matter.
The test is on, however, and will feature Adam Peaty, Nicolo Martinenghi, Arno Kamminga and the man who claimed an astonishing triple at World titles in July, Qin Haiyang, who's successes included the World record in the 200m breaststroke.
On the women's side, the sprinter to beat is Ruta Meilutyte, a World champion once more this year a decade after she first achieved that feat.
South Africans Chad Le Clos, now based in Germany with coach Dirk Lange and shaking off illness, and Matthew Sates both bypassed World titles this past summer but are back in the fray on the way to Paris 2024. Also testing themselves in international waters for the first time in a while will be Americans Michael Andrew, Beata Nelson and Sean Grieshop who are touring alongside Katie Grimes and Claire Weinstein.
Entries, start lists and results in full at Omega
Wednesday Vortex, October 4
A Branch Of The IOC Money Tree – "$10million Pay Day" Just The Ticket For 13 Staff
German investigative journalist Jens Weinreich at the subscription service Sports&Politics has published a table of salaries at the International Olympic Committee that shows 21 staff at the Lausanne-based organisation received more than $50m in renumeration in just one Olympic cycle.
The IOC is a "non-profit", which raises the temperature when it comes to understanding where and what and whom it spends its money.
Of the 21 people listed by Weinreich, 16 are paid at a rate of more than half a million dollars each year, according to a study of salaries based on the IOC's Form 990 information from the US Internal Revenue Service (IRS). The ProPublica platform has published the document (ObjectId: 202213209349302106 – Submission: 2022-11-16).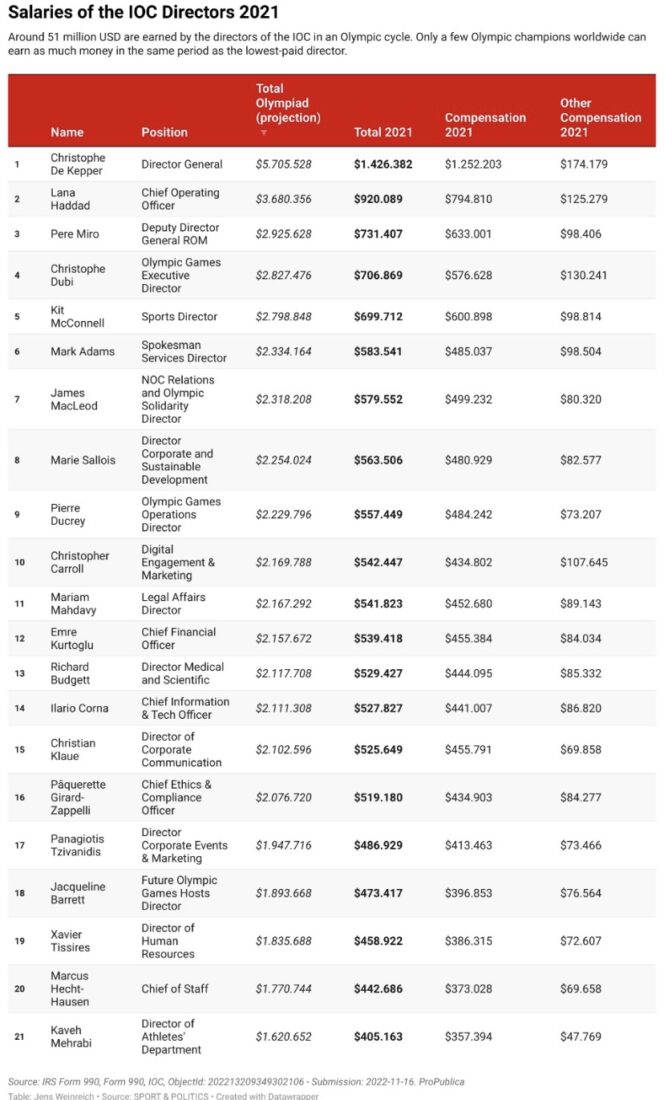 The list prompted Rob Koehler, director of independent representative organisation Global Athlete, to remind athletes of the power of collective bargaining they need to embrace if they are ever to get a decent share in the massive amounts of money that flow through the IOC.
Weinreich reminds readers of the IOC boast that it "redistributes more than 90 per cent of its income to the wider sporting movement, which means that every day the equivalent of USD 4.2 million goes to help athletes and sports organisations at all levels around the world."
The journalist invites readers to look at that from a different angle, noting: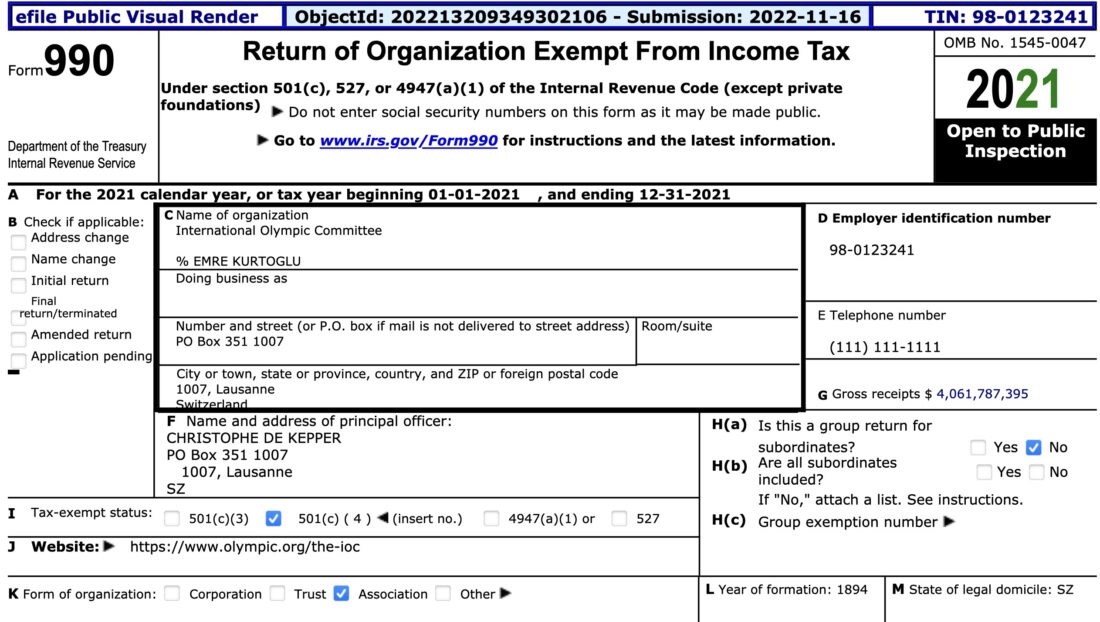 "Let's put it this way: The 1,620,652 US dollars that Kaveh Mehrabi receives as Director of Athletes' Department, extrapolated to one Olympiad, is paid to only a few Olympic champions worldwide in the same period. It's funny that the Director of Athletes' Department is the lowest paid of the IOC directors.

"Even here it shows once again where the priorities lie … Have fun studying the list. And don't forget:

"The International Olympic Committee is a not-for-profit, civil, non-governmental, international organisation made up of volunteers which is committed to building a better world through sport. It redistributes more than 90 per cent of its income to the wider sporting movement, which means that every day the equivalent of USD 4.2 million goes to help athletes and sports organisations at all levels around the world.

"That's what it says under every propaganda message the IOC sends out for ages."
Open Or Non Open, "No-One Is Barred From Sport" – Sharron Davies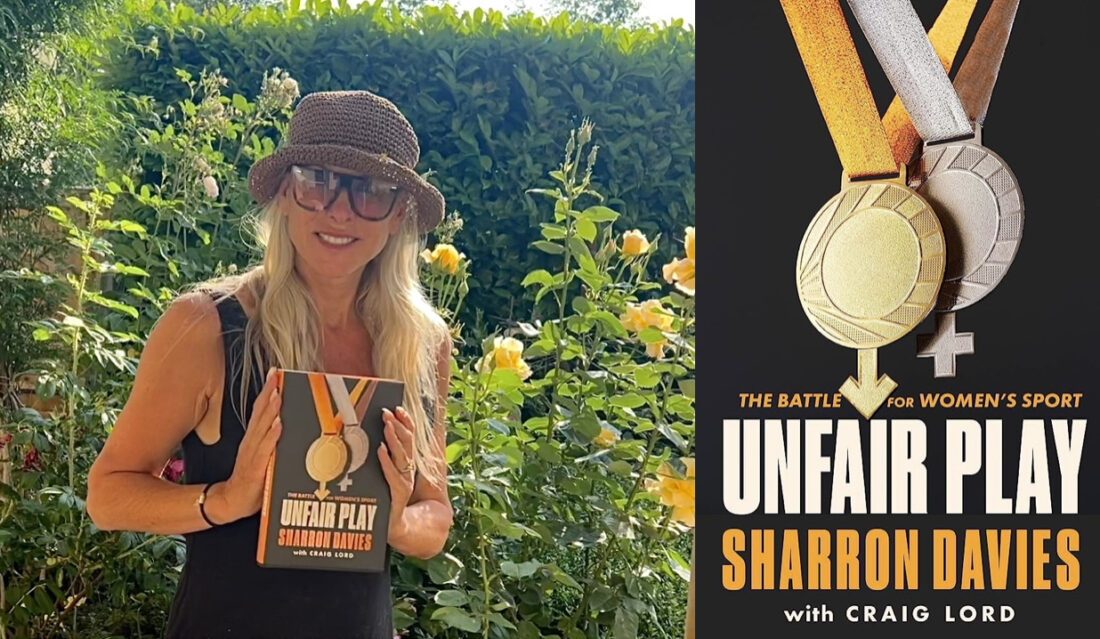 In reaction to the cancellation of the Open races planned for the Berlin round of the World Cup from Friday to Sunday this week, Sharron Davies, the three-time Olympian who campaigns for fairness for women in sport and is co-author (with me) of Unfair Play, notes: "There were several transgender swimmers racing in NCAA competition in recent years but when they're given a chance to have their own category, they'd rather not show up. We can only assume that inclusion is less important to transwomen than beating women in unfair competition."
She tells The Times: "All trans athletes are welcome in sport in peace and safety no matter how they present themselves or what they want to call themselves but all athletes have to race with others of the same sex I'm glad this happened on a day when we've heard good news for women on this issue in hospitals here in the UK. I followed that up with a call to the Sports Minister to now protect females in sport. Without sex-based fair play, women's sport would be meaningless."
Monday Vortex, October 2
Dan Wiffen Turns Light On In The Room For Improvement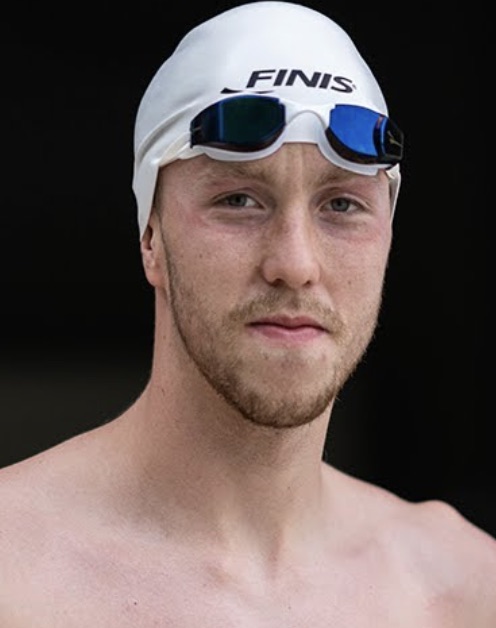 Daniel Wiffen, the Irish distance freestyle ace who has made great strides on his way to the ranks of big podium contenders over 800 and 1500m freestyle in the past couple of seasons, and his twin Nathan, also a national champion in the pool, produce regular mini-documentary progress reports from the training and competition trail with Swim Ireland teammates, coaches, sports scientists and other members of their support entourage.
Daniel Wiffen crushed his own Irish 1500 freestyle record with stunning 14:34.91 victory as 4th fastest ever at the Swim Open in Stockholm back in April.
That effort made him faster than the pace of Tokyo 2020 Olympic gold and on the all-time list shy only of three Olympic champions, Sun Yang* (2012), reigning world champion Gregorio Paltrinieri (2016) and Grant Hackett (2000 and 2004) have ever raced inside. At Fukuoka 2023 World titles, Wiffen's fourth place in the 800m delivered the best result in the history of Irish swimmers at World Championships.
The Vortex will feature all updates from the Wiffen Twins as they're posted all the way to Paris 2024. Some fine tips, twists and tales from the performance pathway. Here's the latest, focussing on a trip to Eindhoven to the Pieter Van Den Hoogenband pool and performance centre for tests that turn the lights on in the room for improvement.
How The Best Get 1% Faster – Keep Up With The Wiffen Twins In The Vortex:
The Wiffen Twins – the Whole Story since the vlogging began
ISCA Delving Into Mental Health & Swim Performance With Dr. John Heil
ISCA, the International Swimming Coaches Association, is working with psychologists Dr. Ina Harizanova and Dr. John Heil to spread awareness of mental health issues and their relationship to performance in sport.
In this podcast, the psychologists are joined by Egyptian Olympian Farida Osman and her Virginia Tech coach and former Spanish international (Olympic and European bronze 200m breaststroke and Mediterranean Games champion) Sergio Lopez Miro. The four discuss initiatives, barriers, team culture, and covid:
Dr Heil is a frequent speaker at the ISCA Summits. Here is a three part series of his on "Pain & Sport Performance: